Sunday August 15th, 2021, 0615-1000
Eliza Brook to Kinsman Notch, SOBO AT mm 389.4
8.6 miles
2175 gain, 3310 loss
I had an easy day into town, or so I thought. Someone annoyingly put another mountain in between that I hadn't noticed on the map. It wasn't a huge climb or terribly steep, it just really slowed me down. There were lots of the 4 Rs as usual. I took a side trail to an overlook at the top and there was zilch for a view. The trail was built for wishful thinking I guess.
The weather couldn't have been more perfect, though. It was so cool in the morning that I started out wearing my fleece. A nice breeze was blowing and the air was sharp. It almost felt like fall. I paused for a bit at a pond, hoping for a moose sighting but still no luck. At least I didn't strike out completely. Word traveled up the trail via some NOBOs and day hikers that there was trail magic at the parking lot. Sure enough, a whole family including an adorable dog was there feeding stray cats. And they were doing it in style! Sarah, the mom, made me coffee and then a turkey sandwich. I also chowed down on cookies, a cupcake, rice crispy treats, cherries, and watermelon. It was a cool morning and I wasn't too thirsty, otherwise I might have eaten that whole watermelon. It's one of the foods I dream about on trail.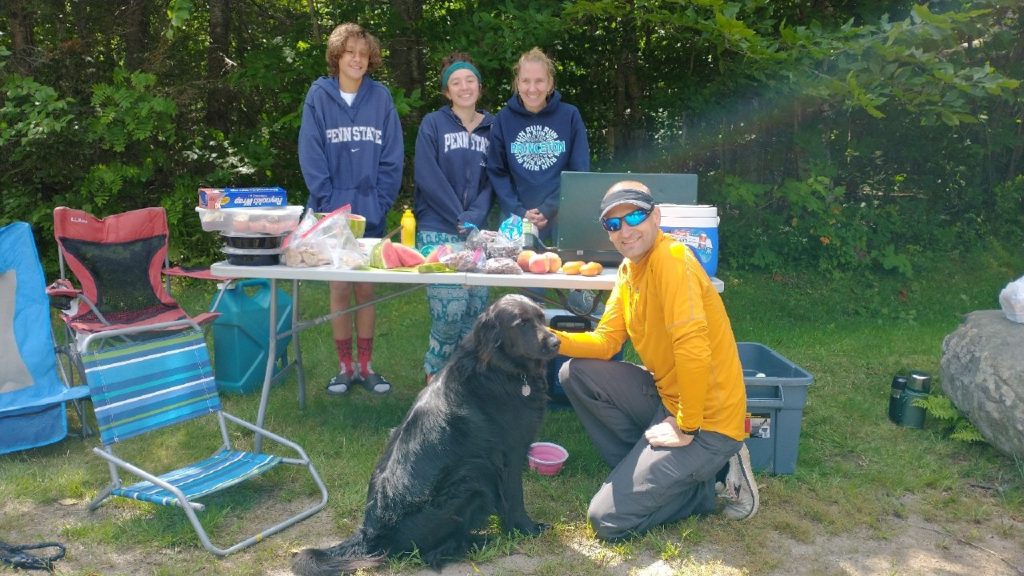 Several cops cars came by and finally one stopped. Perhaps the local town had recently banned stray cat feeding? No, the deputy was stopping to give Sarah a few bags of homemade cookies to add to the spread. Wow, it must be a really nice town if the cops also have time to feed stray cats.
John, the dad, drove me into Lincoln, where we found ourselves stuck in a traffic jam. There was a crafts and farmers market taking place, bringing the main drag to a standstill. I offered to jump out to walk the rest of the way so that John could escape. Finding myself in the middle of the fray, I decided I might as well walk through to look at all the stuff I would never buy because I don't want to carry it. Perhaps I might find some enticing food. To my surprise, I did find a trinket that I almost bought…the Jubo. It's a tiny plastic disk that a guy invented to make music easy and affordable. It sounds like a flute or recorder but only has 4 holes for changing notes. It would be the perfect backpacking instrument because it's tiny, 2 oz, indestructible, and easy. But since I'm not into making impulse buys, I passed but may get one online later.
I headed to where I was staying, a place I had read about in the notes. There's another hostel that's miles outside of town, which didn't sound conducive to getting chores done. Another place was booked, as it only had 6 bunks. And then there's Chet's Place, a donation-based or work-for-stay accommodation that is quite literally bunks and a lounge in Chet's garage. There's a small bathroom for hikers to use in his basement, along with laundry and a microwave. It's not a business, so he doesn't strive to impress anyone. He's quite simply a trail angel looking to lend a hand to hikers.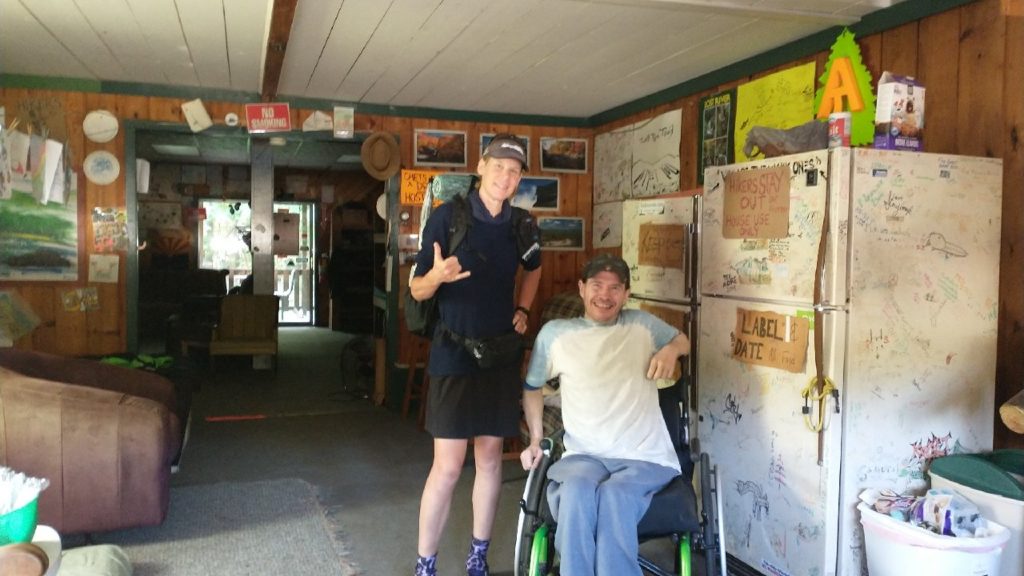 Chet also has one of the most incredible stories of anyone I've ever met. At 29, he was in a freak accident when a white gas stove exploded next to him. He was severely burned over 40 percent of his body and also inhaled the burning fumes, damaging his lungs. By all measures, it's a miracle that he lived. He was in an induced coma for months while the doctors performed numerous surgeries. He lost the use of his legs due to atrophy and suffered a laundry list of other complications, from pneumonia to bed sores. He didn't have medical insurance at the time and his hospital bill was in the millions.
But Chet's a survivor. His dad was a local guide and outfitter, so he became passionate about the outdoors at an early age. He's poked through nearly every nook and cranny of the nearby mountains and was even into spelunking. He was preparing to hike the AT when the accident happened. Loosing his accessibility to much of the outdoors was devastating for him. So in 2007, he opened his garage to hikers so that he could at least share in their stories. As a Kiwi trail angel told me once, "I need not travel the world when the world comes to me." The Te Araroa ran right past his house, so he would invite hikers up for tea, snacks and stories. That was when I realized the special power in being a traveler on foot…to share experiences with others along the paths I travel.
My discussion with Chet left me feeling sad but also very hopeful and grateful. Hiking the AT involves getting to know parts of the communities that surround it. As I've always done, I seek out trail angels and places like this so that I can gain a better appreciation for what life is like for the locals of these small towns. I learned so much about the surrounding area from talking to Chet. After all, he's spent his whole life here and is an expert. I should note that because of his many health concerns, he requires proof of Covid vaccination from all his guests. He said that some people had contested this, which boggles my mind. He also doesn't allow alcohol…not a party place like so many hostels have a tendency of falling into. His house, his rules, take it or leave it. Seems fair to me.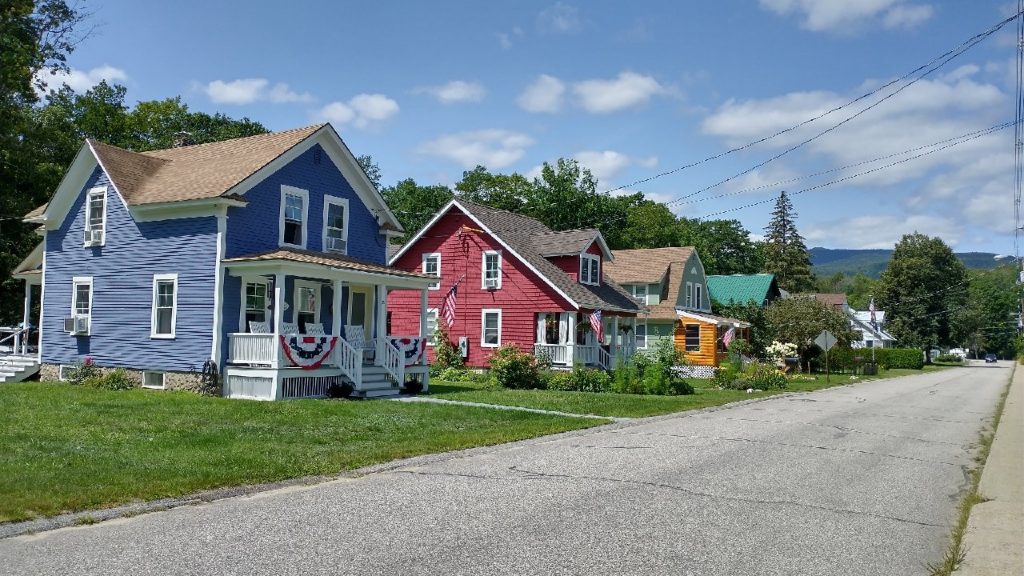 Besides the craft fair, I didn't see much of the downtown area. Lincoln's a ski and mountain tourist town, so the main street was hopping with pricey restaurants and shops. I was going to treat myself to a nice dinner but it sounded like I might need reservations for most places, so I opted for deli food from the grocery. I had to buy my resupply there anyway. I took my food back to Chet's place, where I finally met my bunk companions, Lemongrass and Ninja Turtle, a sister and brother duo that were taking a short vacation in the area. They had hiked a long section of the AT in 2019, when they met and became friends with Chet. It was nice to share the place with only a few others and the bunkhouse was as quiet as it gets when we all went to bed.