Sunday Oct 24th 2021, 0610-1920 
Little Laurel Shelter to north of Bluff Mountain, SOBO AT mm 1927.4
28.8 miles
7220 gain, 7070 loss
Getting to Hot Springs, NC was significant for me. It meant my completion of the AT, taking into account the 2 section hikes I'd done in 2017. I also needed to sort out a late arriving package. I'd had my spare Therm-a-rest shipped, since the baffles on my current one were coming apart, resulting in bulges that made it uncomfortable. It's also got a low R-value (2), which was great for summer conditions but leaving me a little to cool during recent nights. I needed my women's xlite mattress, which had been my tried and true option for the CDT, AZT, and GET, with a R-value of 4. I also needed a resupply of some vitamins and meds…all stuff I couldn't get at a store.
Of course this important package was late, estimated to arrive on Tuesday, days after I was getting to town. I didn't want to wait around that long, so needed to explore other options. I'd decided to take advantage of the good weather to hike past town, arriving Standing Bear Hostel the next day and working on logistics from there. I left the shelter early, eager to get to town for lunch, resupply, and to fix my trekking pole. It felt good to hit the trail so early and easy tread made it a cinch to hike in the dark for 1.5 hrs. The first rays of sun didn't hit me until 07:50 am.
Given my fast pace and early start, I had time to make a side trip to the Rich Mountain fire tower. The views were well worth the short but steep climb. I was able to spot Clingmans dome and many other peaks in the Smokies, plus views all the way back to Big Bald. The tower was very nice, seemingly pretty new. It would have been a great place to camp but signs warned that it was under surveillance.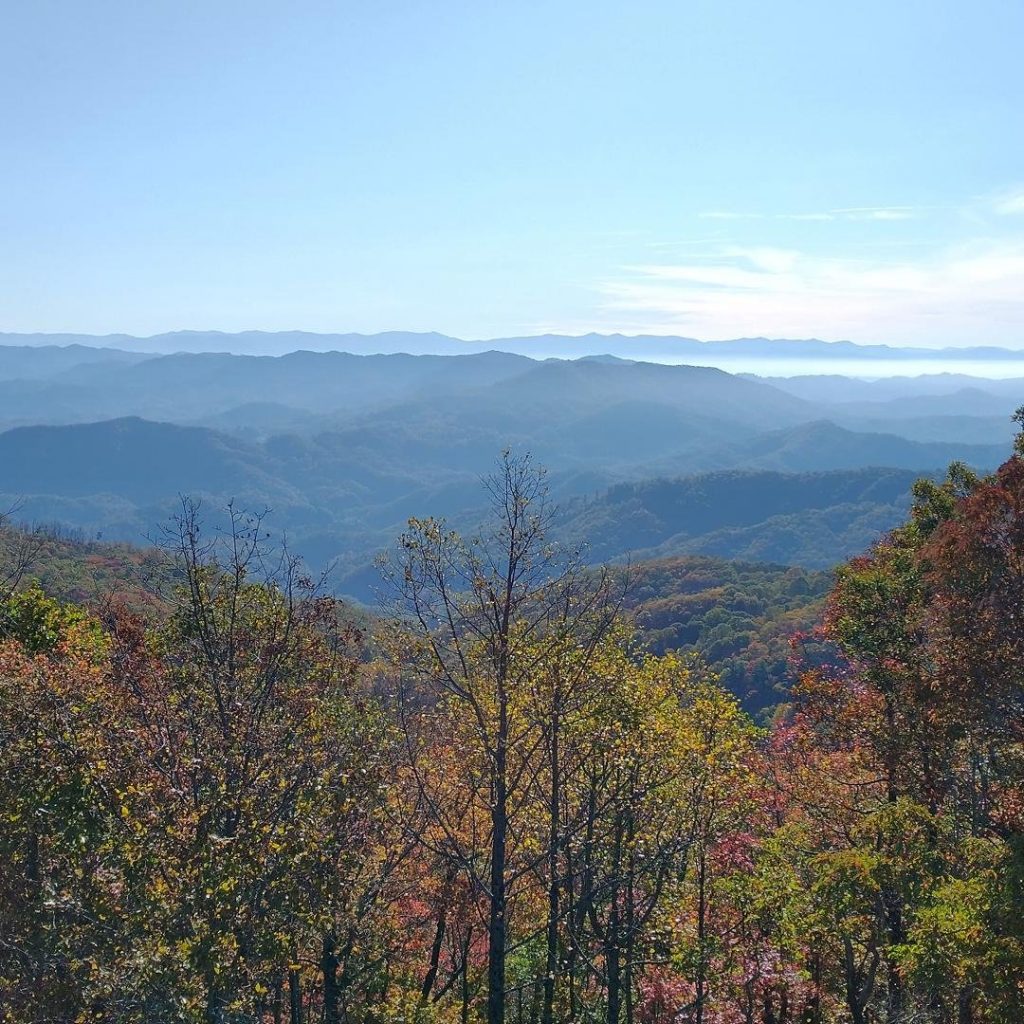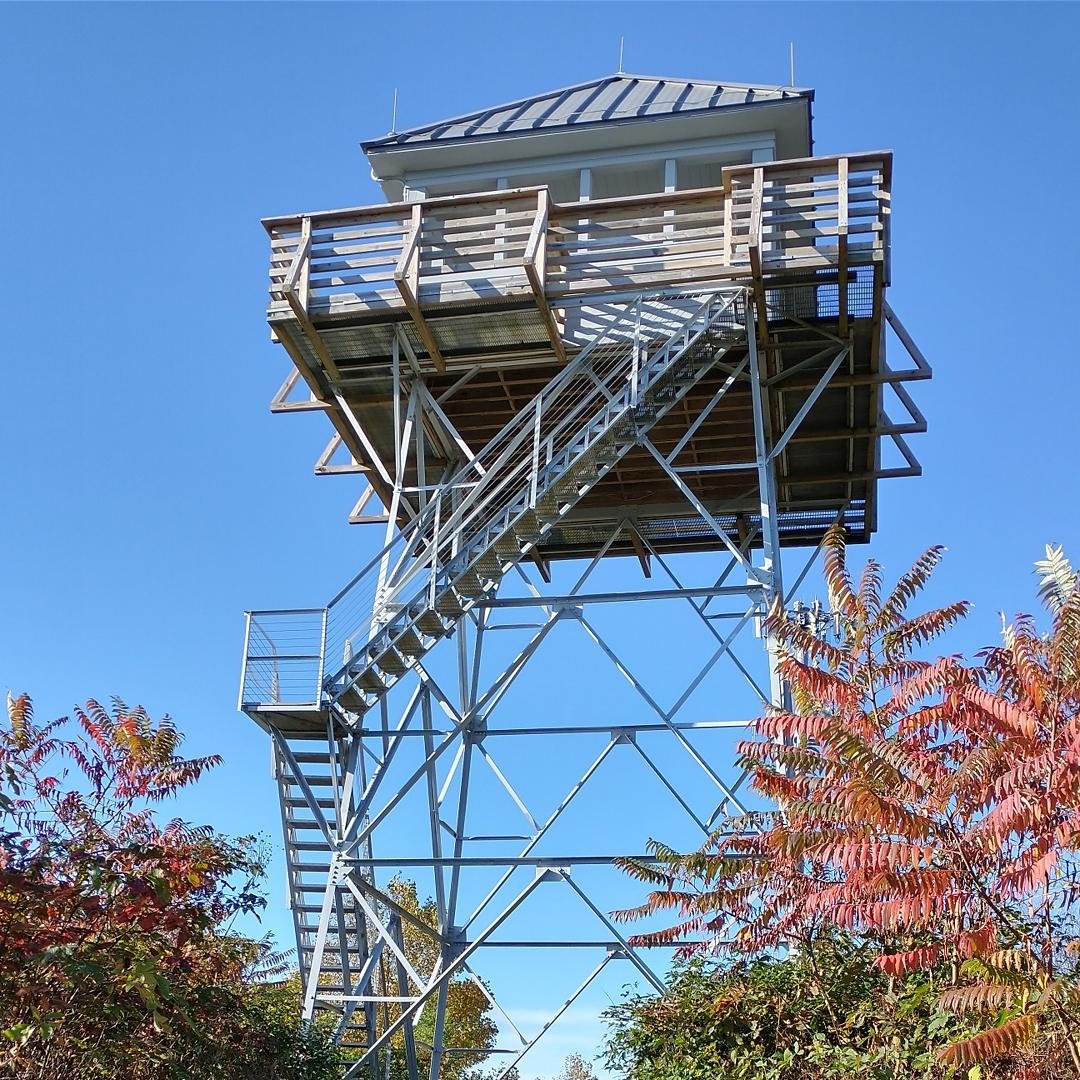 I flew through the rest of the miles into town, arriving just after noon (20 by 12:30). I shed a few tears acknowledging my accomplishment as I came across the bridge. I'd walked both ways on the AT to this point. But I wasn't done. I would walk the remaining 270 miles to Springer to make it a complete thru-hike. Town was extremely busy, with lots of motorcycles rambling about. Someone mentioned something about it being bike week.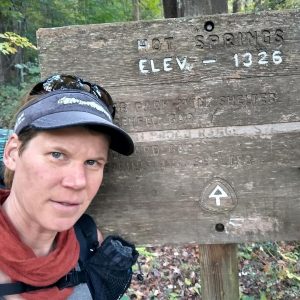 I went straight to the outfitters, intent on fixing my pole or getting a new one. A very nice employee, Wayne, immediately handed me a section of another broken trekking pole and wouldn't you know it, it was a perfect fit over mine. He gave me a hack saw and some duct tape and I set up my little repair shop right outside. I had to boil water to get the tip off so I could slide the aluminum sleeve on. I'd done all this once before when my other pole broke, so it was a fast fix.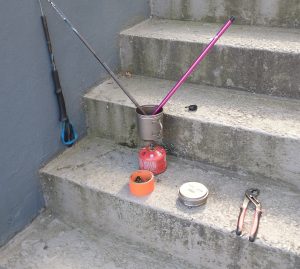 I was so relieved to get my pole back in commission. Walking the previous 50 miles with just one had left me feeling very crooked and sore. I'd grabbed a stick for awhile on my way into town, but it was to heavy and awkward to use for long. Mud had hiked all this way with a big stick he found in the 100 mile wilderness but I couldn't even do it for 10 miles. Wayne also helped me print my Smokies National Park permit…it was a requirement to carry a hard copy for some reason. What a nice store and guy…I felt bad for not even buying anything (though I'd bought something on my previous visit, at least).
I went across the street to have some lunch but there was a 45 minute wait just to be seated, reaffirming my hatred of coming into a town on a weekend. I kind of just hate weekends in general…a privileged sentiment for the unemployed and retired. I put my name on the list and went to the Dollar General to buy 100 miles worth of resupply. I try not to shop when I'm hungry but I also needed to be efficient with my time. I took the purchased food back to the restaurant, figuring my wait was nearly up and that I could repackage while I waited for a sandwich. They seated me at a table outside and next to an outlet. Everything worked out perfectly in the end. My chicken sandwich was delicious.
I said goodbye to Mud, who had arrived later and was having lunch with Meat Quilt. They were both staying in town but I was sure Mud would catch up the next day. I began the long haul up the many switchbacks leaving town, burdened by the weight of my newly acquired food. I knew exactly what I was in for, having walked down all the switchbacks last time. I passed the first shelter, just 3 miles from town. Already it was quite busy. I also passed quite a few new faces that were slack-packing, mostly flip-floppers. This turned out to be a very popular section to slack-pack but the logistics and shuttle costs made my head spin. It was just a lot easier for me to hike the trail straightforward, even with the food weight.
I continued the long climb toward Bluff mt, coming to a listed campsite at dusk. It was a terrible site, slanted and rocky, so I pressed on into the night. It had become a much longer day than anticipated but so it goes. I reached a spring to find 4 other backpackers in the dark, collecting water. They were Starlord, Little foot, Etch-a-Sketch, and Peptalk….a mix of section hikers and flip-floppers. Peptalk, who I'd first met at Delaware Water Gap, had skipped ahead a bit to finish the Smokies before it got too cold. It was great to see them again. They made a fire and we sat around well past 10 pm sharing stories. I even got a share of some bagels and cream cheese. It was a nice ending to a long day.