Monday Oct 25th 2021, 0630-1630
North of Bluff Mountain to Standing Bear Hostel, SOBO AT mm 1951.6
24.5 miles
5220 gain, 7320 loss
I was pretty tired in the morning, having a hard time waking up. I wonder why…all the big miles, late nights, lack of sleep….hmmm. I was looking forward to getting to the hostel early, maybe even taking a nap…yeah right. I finished the climb to Bluff mountain in the dark, glad I had broken it up over 2 days. Still it felt like it took forever. My headlamp stayed on until 7:25 am and I didn't see anyone until the next shelter, where I stopped to use the loo. A short walk through a nearby bald brought back pleasant memories of my previous section hike. I was excited for Max Patch, a large bald area just ahead. It had been raining during my previous hike but today promised perfect weather in the morning.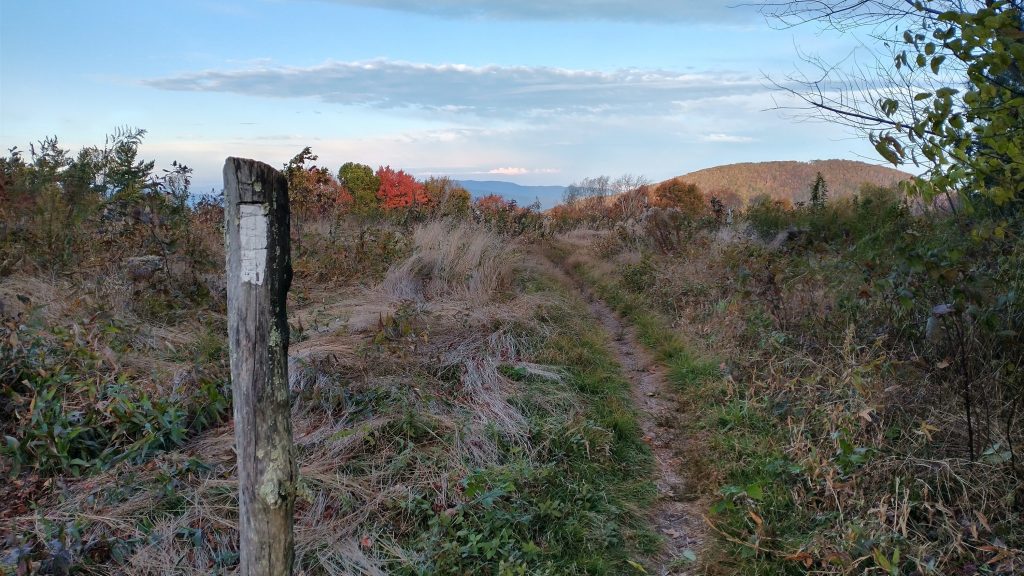 I started passing a few day hikers, knowing I must be close. There's a road and parking lot at Max Patch, which led to a lot of abuse over the years. The forest service closed the area to camping to let all the fire-ring scars heal…they were pretty bad last time I was here. There were signs posted everywhere with all the restrictions. Even still, there was a giant tent perched in the field as I approached. I guess some people still can't read.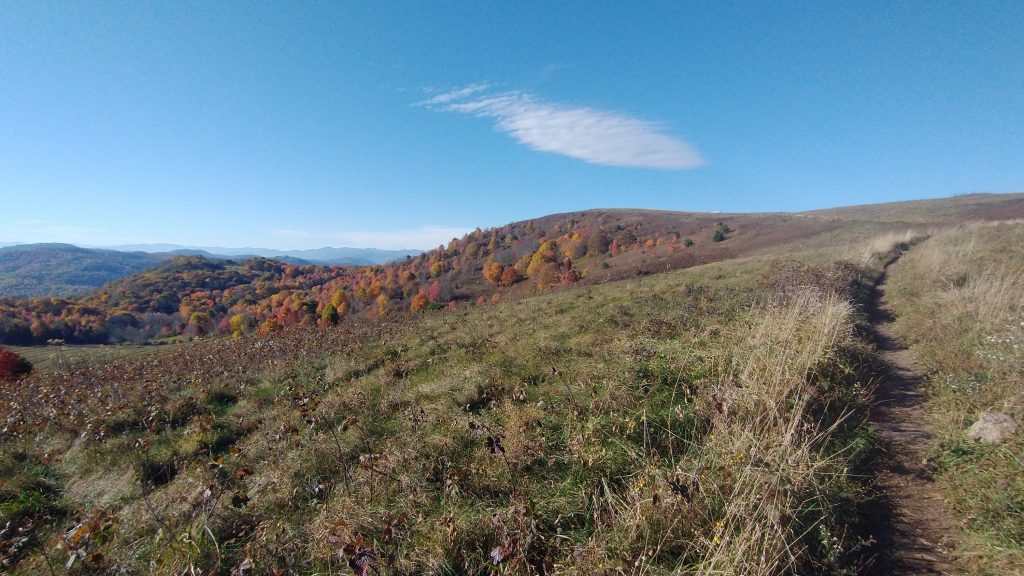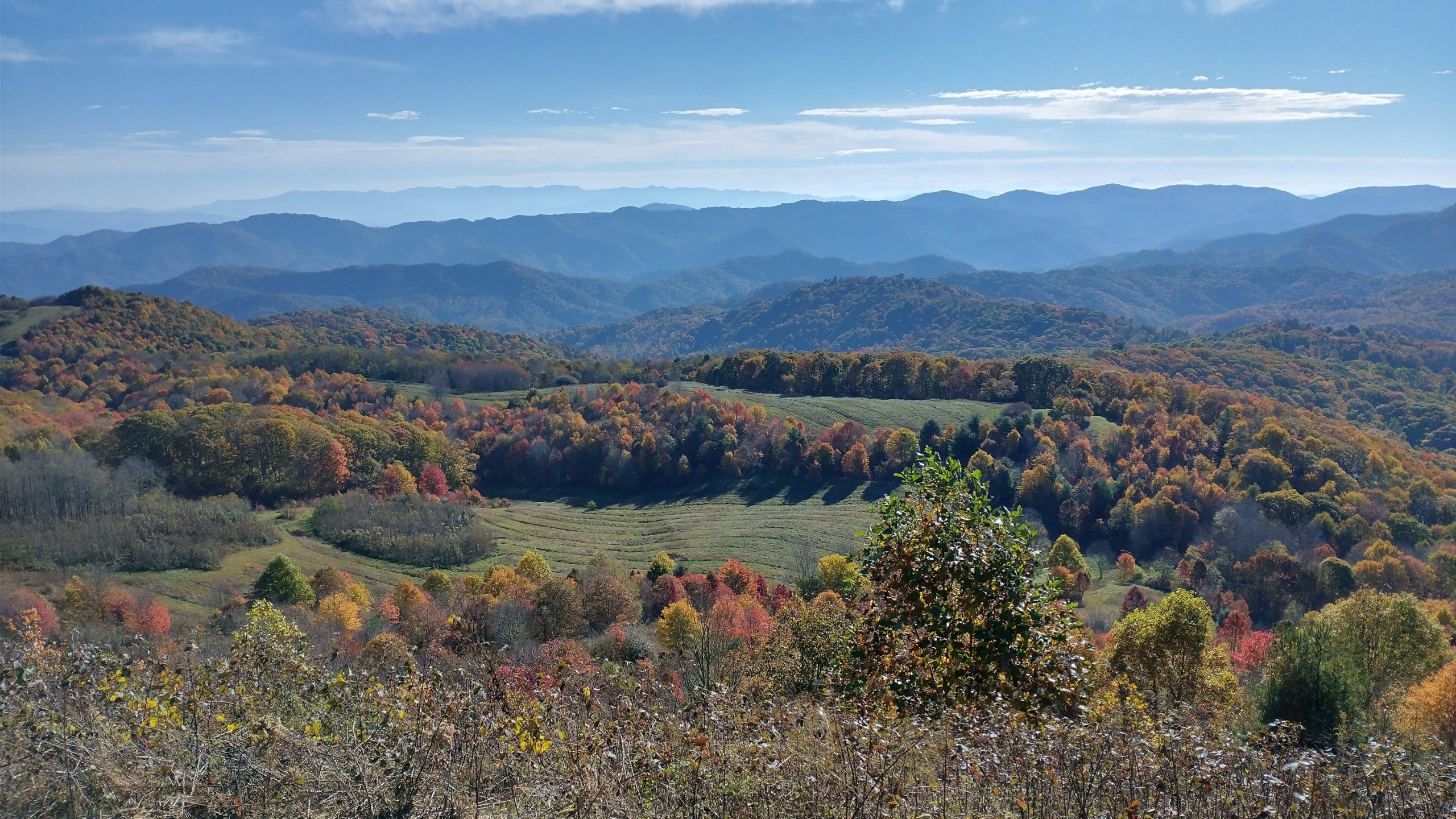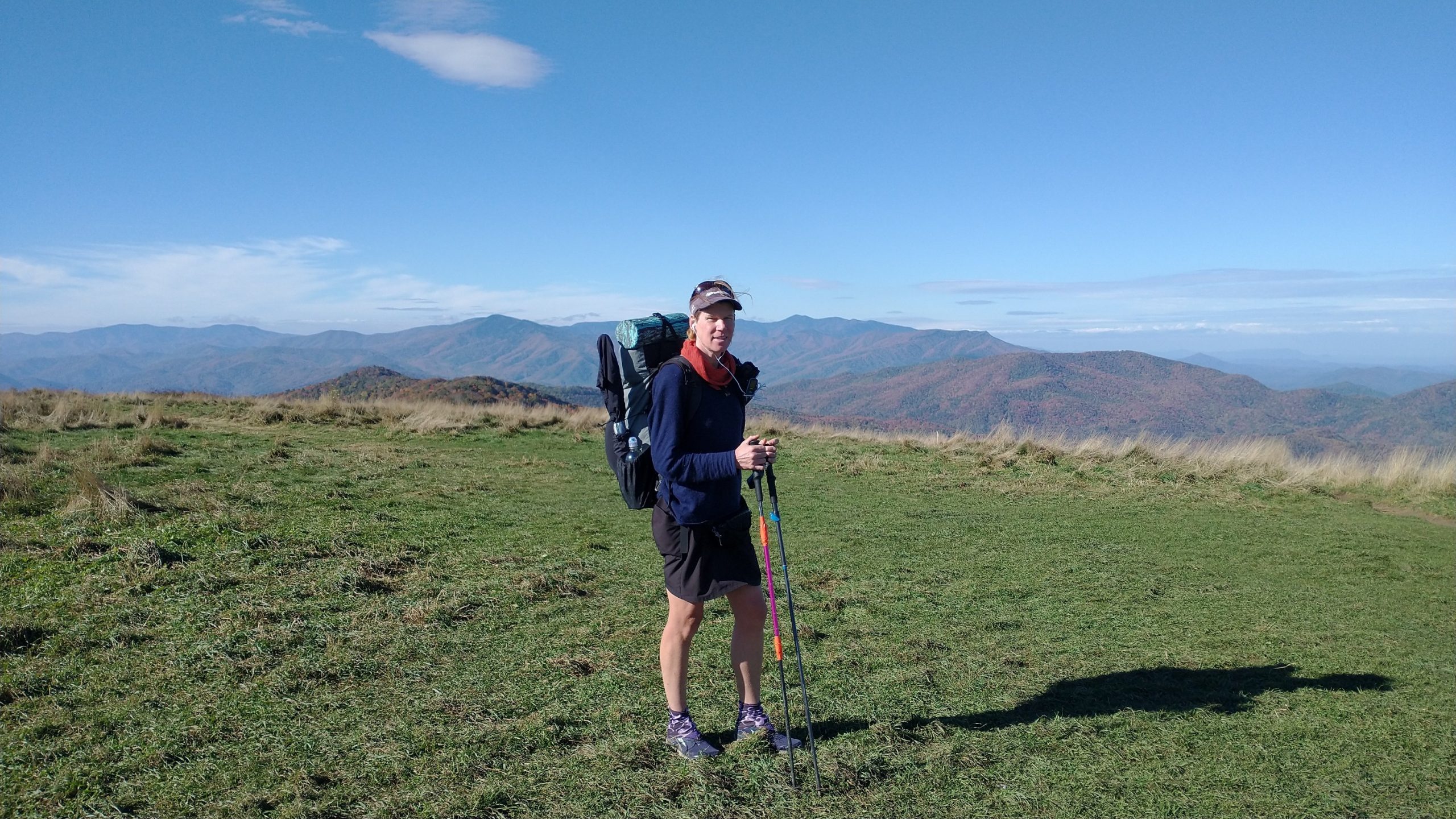 The conditions were perfect, if a bit chilly. I had great views of the surrounding mountains, including the Smokies. I couldn't imagine the fall colors being more brilliant. It was the perfect time to be up there and such a contrast to the lush green of last time. I could also see how much better shape the place was in after being managed. I wanted to stay longer but the cold wind pushed me on.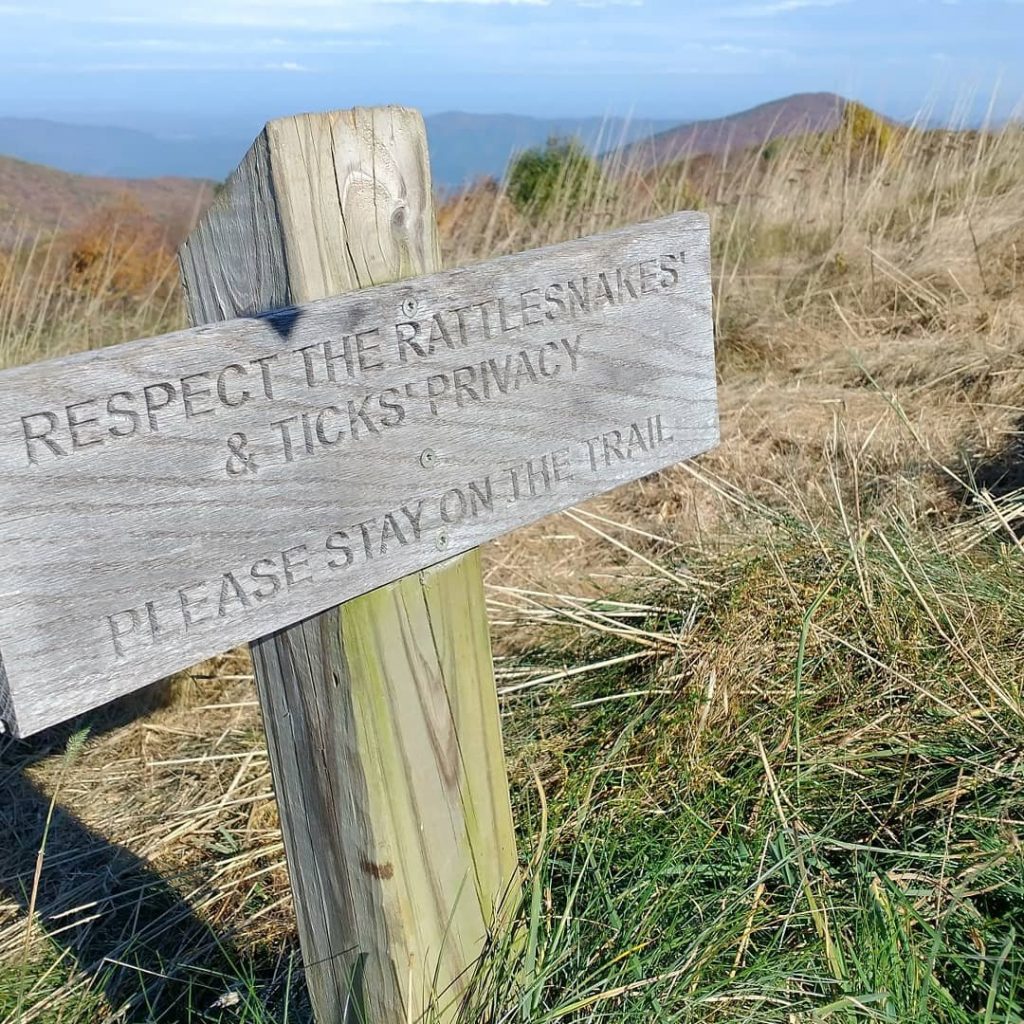 It was good that I waited to take a break, since shortly I came to a gap with a legendary trail angel, Appel. I knew I was dealing with a professional when I first saw his sign (see picture below). It's even rigged with a motion detector that sends him a signal, so he doesn't miss anyone…. dedication to the cause! Appel's the first TA I've met up with on multiple trails. I last ran into him in the bootheel area of the CDT, about 25 miles south of Lordsburg. He had his signature dome set up to provide shade, offering hikers soda and snacks in the desert heat. I almost caught him when I was hiking the CT in 2017. He had departed just days before. He travels around the country to provide trail magic on almost every trail, so heaps of people have met him.
On this day, I was one of only a handful to come by, and the only one for the 1.5 hrs I sat down to chat with him. I ate my lunch and a bunch of his candy bars. It was great to spend some time getting to know him and telling stories of the trail. He'd attempted a thru hike of the AT years before but the monotony got to him. He enjoys seeing the trails through the eyes of others now. It was really special for me to meet him again…a reminder of how far I've come and all my other trails. Thanks for all you do Appel!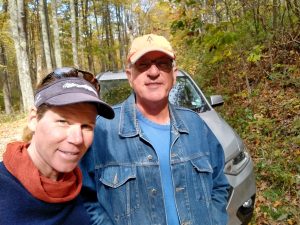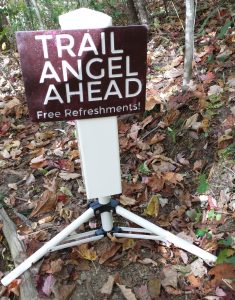 A front was coming in late afternoon, so I pushed harder in the last 10 miles. It was to no avail, as it started raining just as I crested Snowbird Peak. The rain wasn't too heavy and no big deal with my umbrella. I made good time down the mountain to Standing Bear Hostel. This was where I stayed in 2017 and I was looking forward to eating another frozen pizza that I knew they sold. Their resupply shed wasn't bad either. In fact, there was a rack of used clothes which contained some good picks. I decided to buy an additional pair of tights and thermal long-sleeve shirt to supplement my layers. The Smokies were forecasted to be quite cold.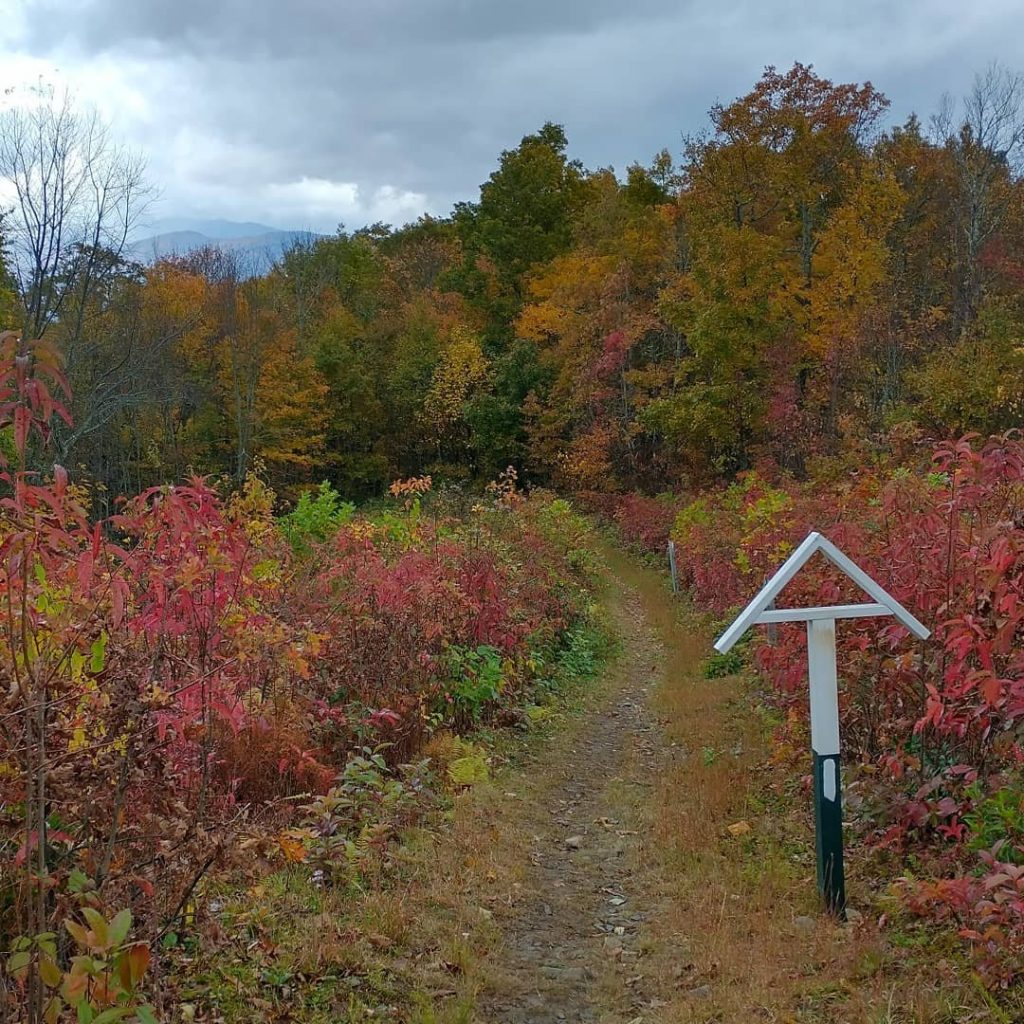 As for my package that was stuck in Hot Springs, well behind me, I'd called several shuttle drivers to see if I could piggy-back a delivery on one of their runs. One quoted me $40 to bring the package and it just wasn't worth that. So I asked the Post Office to forward it to the Nantahala Outdoor Center (NOC), about 100 miles ahead. Problem solved… except I still didn't have my warmer Therm-a-rest that I needed and I was short on my vitamins. Oh well, it would only be 4 more days. Or course, then I met several people at the hostel who had just gone into Hot Springs that day and could have picked up the package for me. So it goes.
Mud Lantern arrived by 6 pm, after pulling a 33 mile day, just as I was getting around to taking a shower. I was happy to see him again but afraid I'd created a monster, what with the big miles he's been doing so fast. I could barely keep up with him anymore. Some more hikers arrived, including Peptalk and Etch-a-Sketch. We all had a fun night hanging around but I got zero work done on my blog and of course had no time to take a nap. I did get to cuddle with a gorgeous long hair cat who made the rounds between all the bunks. Unfortunately I couldn't convince him to spend the night in my bunk. Cats, you know? But how I love hostel animals.