Tuesday Oct 12th 2021, 0625-1800 
Jenkins Shelter to Crawfish Trail Junction, SOBO AT mm 1640.5
27.9 miles
6950 gain, 6745 loss
We were off later than I hoped for but really, it's time to adjust my starting time expectations. It didn't get light until about 7:15 am this morning. The trail had been traveling such a westerly course that I'd walked into an even later part of the time zone. A big climb to the top of Garden Mountain and Chestnut Knob Shelter, 4400′, was the order of the morning. The mountains just keep getting bigger in southern VA. The trail was a bit overgrown, rocky, and generally tough but there were some nice views at the top. The shelter was fully enclosed with a door but felt a bit prison cell-like inside. We took a short break, then walked along a gentle ridgeline meadow for about a mile, with fine views to the south. My peakfinder app was showing me mountains in Tennessee (the Roans) but I wasn't sure I could make them out, since it was a bit hazy.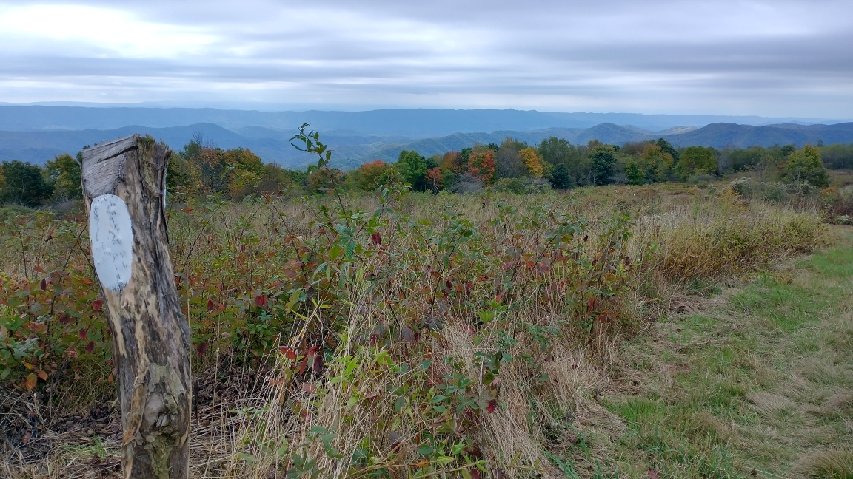 The rest of the day meandered around in lower hills. The trail finally turned due south so we could make some proper progress. No wonder it's so long in VA, the way it goes east-west and even north (when heading in a southbound direction) so much of the time. I'd started to feel like I was on a circular tour of the state. We took another break at a stream, pondering our slow pace this day. The trail just had a lot of ups and downs and was not cruisey like the day before. Perhaps it was some fairy hijinks slowing us down…we saw a few more houses and villages. No bother, we planned to make a resupply stop along a highway the following day, regardless of our miles this day. Whether it was a 5 or 7 mile walk the next morning didn't really matter.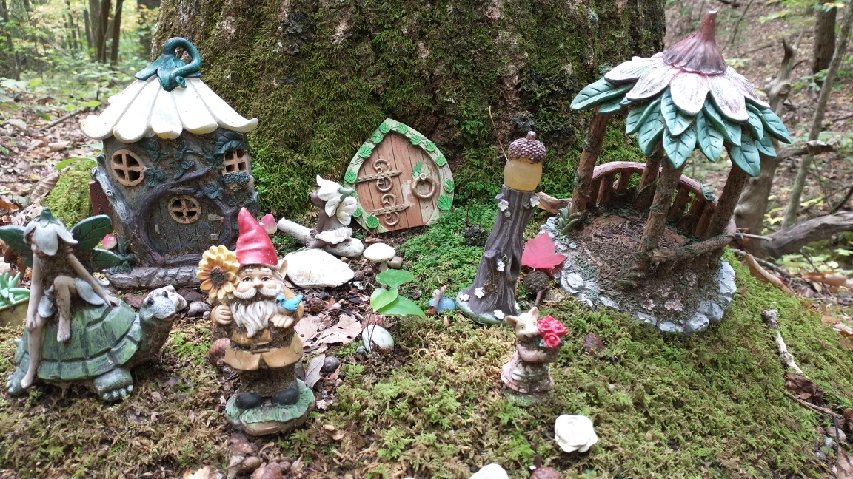 I was really dragging with almost 5 miles to go to a campsite in the late afternoon, so I took a dip in a creek. It had been cloudy all day and wasn't really that warm, but the cold water was incredibly rejuvenating. I flew over the last hill standing between me and a relaxing evening in my tent. We settled in amongst a mix of rhododendron, oaks, maples and a few sparse conifers. These mixed forests are really cool. Brian, my triple crown counterpart, came by just before dark but pushed on another few miles. We spent much of the day and night making up funny songs and stories about riding the Grayson Highland ponies off into the sunset and down to Georgia. We also practiced our Bigfoot calls, trying to lure one in…no luck. Yup, without any other form of entertainment out here, we come up with some crazy stuff.