Monday Sept 20th, 2021, 0700-1800
Raven Rock Shelter to Ed Garvey Shelter, SOBO AT mm 1160.7
29 miles
4715 gain, 5300 loss
My shelter mate snored all night but it didn't even bother me. At least he was a consistent snorer…no crazy snorts or such. Just like the katydids, it faded into white noise. The morning brought a cool breeze, great for knocking out a series of gaps and hills at the beginning. Then some flattish and cruisy sections brought me to my lunch spot and a nice tourist opportunity.
I was surprised to read on my map that I'd be passing the Washington Monument. This original Washington Monument sits atop a hill in western Maryland. Like its more famous counterpart that adorns the mall in Washington DC, it's a stone obelisk, albeit much smaller. It was built in 1827, 60 years before the larger one. The trail passed right by so I went up the short set of stairs for a nice view. Two guys were there, diligently counting raptors for their fall migration records. I tried to help for a spell but couldn't do much without binoculars. We got to see some vultures, an eagle, and a pair of kestrels.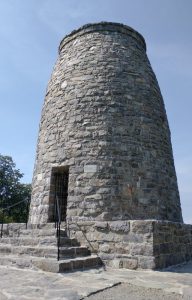 Lunch at the park was great. I ate the spoils of my yogi efforts from the previous night: salami, parmesan cheese, and crackers. It was gourmet compared to what I usually have. The rest of the afternoon was some nice ridge walking after a big climb. I saw a ton of backpackers and day hikers, which was surprising for a Monday. I guess it's the close proximity to Baltimore and DC that drew such crowds.
I passed through Gathland State Park, which was the second civil war historical site this day. Apparently this area was the only section where the AT travels through old battlefields. I'm not much of a civil war buff so the many information markers weren't of much interest.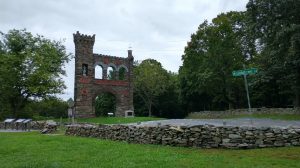 What was of interest to this hiker were the bathrooms and a water spigot. I loaded up for the final few miles to a shelter, since the shelter spring was half a mile down a side trail. I'd rather carry water for a few miles than walk an extra mile. At the shelter, I met a few section hikers as well as a new SOBO, Swift.
I debated whether to carry on to get closer to town. I had the option of taking a really early commuter train the next day or taking the mid-day Amtrak to DC…which was likely to be hours late after traveling all the way from Chicago. I opted to take my chances with the latter. Otherwise I would have needed to walk 6 miles in the dark to make the commuter or stealth camp closer to town. It was late and I was plenty tired after already having walked close to 30 miles.
I slept in the shelter, having a nice chat with the section hikers. They were pretty new to backpacking, so it was interesting to hear about the trail through their perspective. They slept in the loft above, leaving the bottom all to myself. It was another fantastic shelter, clean and modern. Three cheers to Maryland and PA on their shelters!