Sunday Sept 26th, 2021, 0615-1920
Compton Peak to 1 mile south of Skyland Resort, SOBO AT mm 1259.2
32 miles
7400 gain, 6600 loss
Hooray! I didn't become another story for the podcast overnight. I was a little disconcerted right up until I left in the morning, though. I slept well with the strong winds drowning out all other noises (for instance, screams). My camp mate was awake and moving about when I woke up, which was kind of strange since I wake up ridiculously early. It was around 4 am and his light was flashing all over. I did my usual morning routine but when I got out of my tent, I noticed that he was packed but just sitting there. He was probably eating breakfast, I just couldn't tell because I didn't want to stare at him in the dark. I bid him well and he wished me the same. I was off with a quick step, glancing over my shoulder now and again for the first mile.
Besides walking fast, another specialty of mine is being able to walk well in the dark. I usually keep my headlamp at the lowest beam and can even go a ways with it turned off if the moon is out. I came up behind Stellar in this way one morning, giving him a bit of a surprise. In other words, I can be stealthy when I want to. The morning was quite cold, so fast walking was on order. A quick climb over North Marshall mountain warmed me.
At a road crossing, I decided to try something I'd read from another hiker's Instagram. Skyline Drive is the scenic highway that runs the length of SNP, some 100 miles. It's an engineering feat, approximating the ridgeline and designed with overlooks every few miles. It offers way more views than the green tunnel (AT) that parallels it. Some non-purist thru-hikers walk parts of it instead of the trail. I became such a hiker this day.
The podcast story about the guy trying to abduct a woman on this very same road gave me a little pause. But I was more worried about a more mundane and likely event…a car hitting me. The road has no paved shoulder but there's usually plenty of grass to step off into. The posted speed limit for the entire way is 35 mph but no vehicle actually goes that slow. Things were very quiet on an early Sunday morning, so I decided to give it a try for just a mile. I shortly became addicted. The first overlook was wonderful and the walking easy and enjoyable. I could look all around, taking note of the rock formations, trickles of water flowing down, and birds flying about. I got some great pictures and made efficient miles.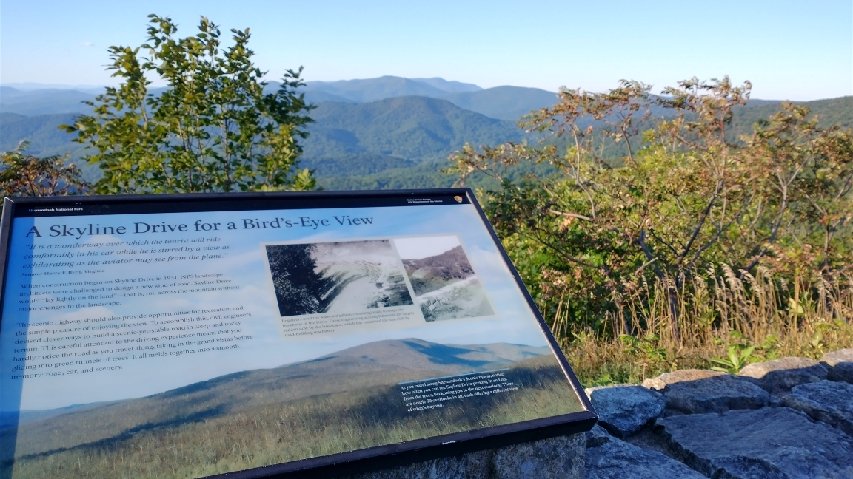 Eventually I got back on the trail and by 10 am, I'd already gone 12 miles to my first Wayside at Elkwallow Gap. These are basically a series of convenience stores along Skyline Drive. They are frequent enough that fast hikers don't need to carry much or any food in between. This was my plan of course. The restaurant part didn't open until 11 am, so I stocked up on snacks to consume while I waited. Chips, a hot pocket, candy bar and soda all went down the hatch. Time for seconds. I ordered a chili dog and potato salad. I ate everything in a hurry, partly because it was still so cold and also because I'd noted that if I did over 30 miles this day, I could make it to the next restaurant for dinner. Binge eat and walk to binge again.
I left the wayside feeling like I was about to burst. Of course there was a big hill to go up. My poor body…the things I ask of it. The trail flattened out nicely after that, then went down a long ways to Thornton Gap. I was cruising, feeling a lot better after the food digested some. I stopped briefly for water and caffeine. I needed a kick to go 1200′ up to Marys Rock, followed by more ups all the way to Stoney Man Mountain, the second highest peak in the park at 3972′. The AT skirts the summit, so of course I had to add peak bagging to my 30+ mile day with a half mile side trip. The views were ok…not 360 like I was hoping for. But at least I could say that I almost got to 4000′ again…I hadn't been that high since Killington Mt in Vermont.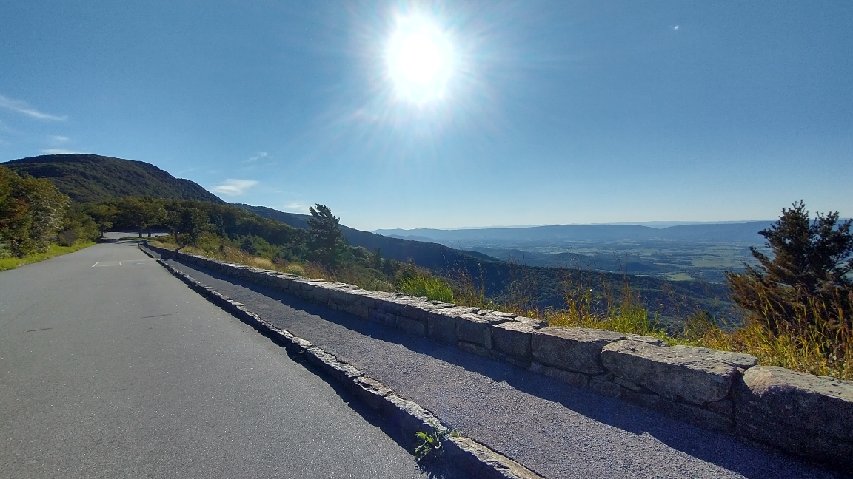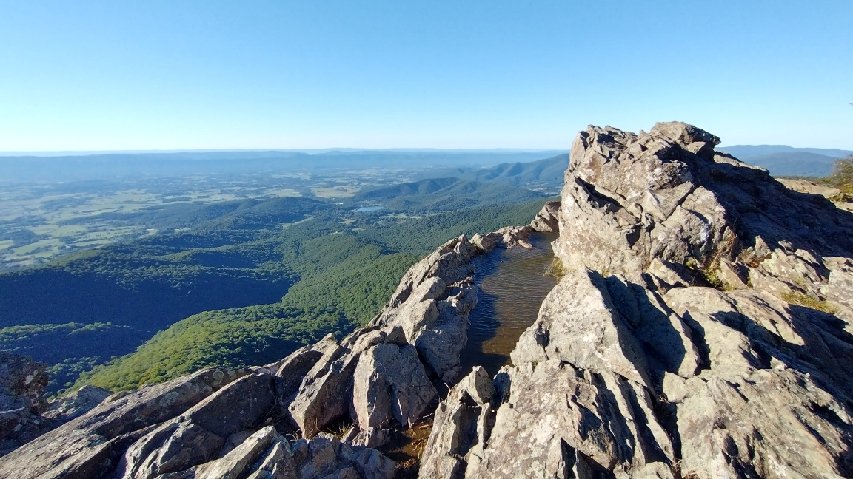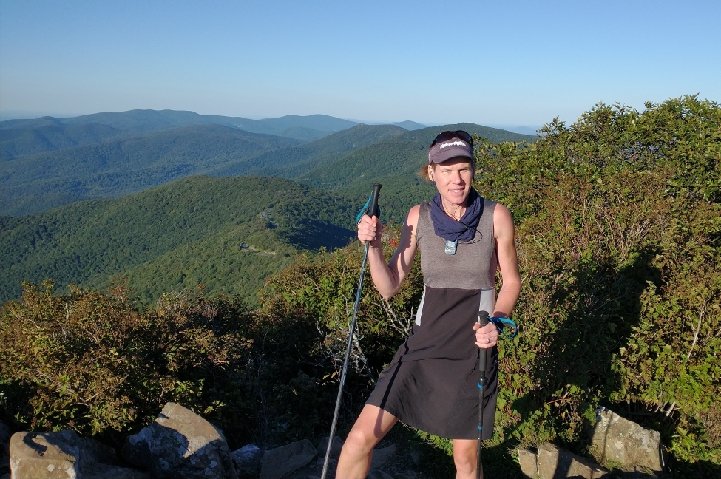 On the way up, I ran into a ridge runner who asked me where I was planning to stay overnight. Not realizing his position at first, I told him I was aiming for Skyland resort so that I could have dinner. He asked if I had reservations for a cabin or room and I just laughed. I had no idea how much such accommodations could cost but I knew I didn't want to pay for them. I told him that I was just going to stealth camp and he warned me of stiff fines if I was caught. Of course I didn't intend to stealth camp in the backyard of the resort, just somewhere a half mile or more down trail, which is totally legit according to park regs.
With that brief exchange, me being in a hurry and not properly explaining myself, I figured there was probably a BOLO out for me. I arrived the resort as planned, but as it was so sprawling, I wondered around for about 20 minutes trying to find the dining lodge. Everything was designed for vehicles in this park, so the maze of roads was confusing to me as a hiker. And every second was so precious, as I was trying to beat the dark to be able to find a good campsite.
The place was very busy with all the weekend tourists, so I ordered an expensive beyond-beef burger from the to-go menu, plus a beer while I waited. I didn't even take the food to go, as my intention was to eat and run. I wolfed it down at a table behind a partition in the tap room. A waiter had asked me to go there, I guess so I wouldn't be seen by the more valued patrons. The whole place was very snooty and over-rated, the food just ok. If it weren't that I was so hungry, I would have given it a hard pass. The main thing it had going for it were the views and the fact that it's the only game in town.
I left just in time to seek my own affordable room with a view…as in the free kind in the outdoors. I walked down trail for almost a mile while the sky turned a brilliant red. I missed the sunset proper, as could have been seen from the dining terrace… had my type been welcomed to eat there. But I was rewarded instead with a perfect campsite. On intuition, I followed a deer path around a rock outcrop, where there was a beautiful little flat and grassy spot. It was protected from the cold wind and totally out of sight of anything…namely the trail and road. A search party couldn't have found me there.
All's well that ends well. This had been another fully packed day, with tons of great happenings, but leaving me pretty tired. My sleep was restorative and peaceful.