Sunday September 5th, 2021, 0600-1700
Stream past Bear Mountain to Wildcat Shelter, SOBO AT mm 816.3
24.6 miles
6730 gain, 6355 loss
It was a night of crazy noise. The katydids and crickets went off at dusk but unfortunately they weren't enough to drown out the rave from what sounded like a nearby amphitheater. Booming techno and reggaeton music permeated the air starting around midnight. It felt like I was vibrating on my Thermarest at times, it was that loud. I have no idea what kind of sound system it was or how it was powered in the middle of nowhere but it was impressive.
Some animal crashed through the woods near me, making strange grunts…maybe a deer? It sounded annoyed and I wished I had the ability to run away from the noise in the dark, too. I had thought the noise pollution from transportation around the area was bad but I now knew there were worse levels. Labor Day weekend camping around NYC should be avoided at all costs.
Walking away from a place in the morning never felt better. The music of course stopped promptly when my alarm went off. But still, I was eager to put miles between me and the memory of that place. I had slept ok despite the music (thanks earplugs), so I felt pretty energetic. Stellar and Picky not as much. I was relieved that my toe infection felt a lot better, seemingly on the mend.
The morning consisted of some broad ridge walking through rocky outcrops. Some parts were quite open and grassy, giving the area a park-like feel. One small section ran through what's called the Lemon Squeezer, a series of rock scrambles and boulder weaving. I'd had my fill of this with Mahoosuc notch and was pleased to find a very easy alternate trail around it. Stellar went for it and came out the other side with a punctured water bladder, literally having been squeezed too much. That's the funny thing about the AT: it runs a hiker through all these challenging scenarios, often pointlessly. In good conditions, it's entertaining. But it also adds the risk of breaking limbs and gear.
I passed a few shelters and tents throughout the day but the trail was relatively quiet for a holiday Sunday. Later, we hopscotched with a number of SOBOs that we'd just caught up to. Some of the names I recall: Tarzan, Zombie, Jaybird, and Rally. It was a good day for walking, being overcast and threatening rain all day. It sprinkled a few times but wasn't enough to put up an umbrella. I came to a water crossing that required wet feet just in time for lunch, so I took the break to remove my hiking shoes and change into my camp shoes. They've been one of the most useful items on this hike… I'm so glad to change into them regularly, giving my feet a chance to dry.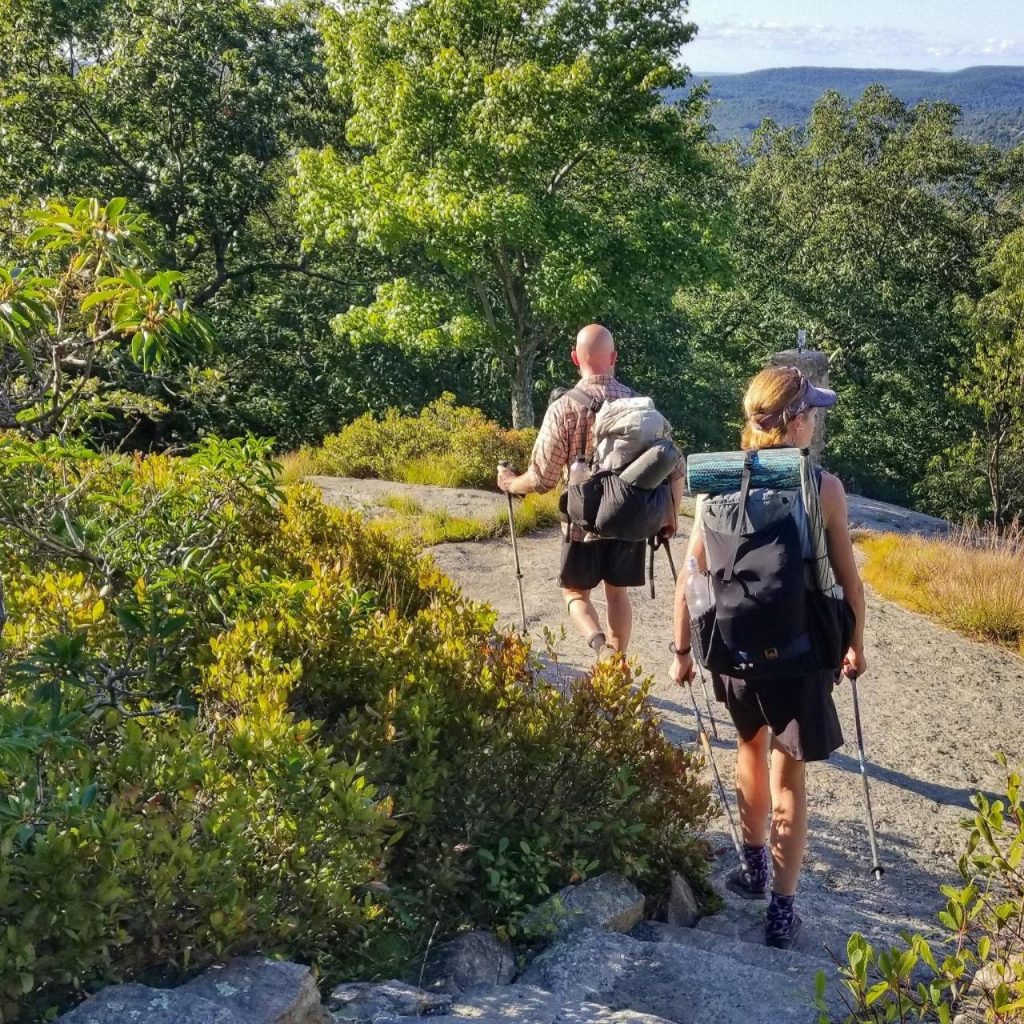 Despite the rain and efforts to keep my shoes dry, I still intentionally got my clothes wet. There was a nice waterfall at the end of the day, perfect for a shower. It'd been a hot minute since I'd last washed my clothes in a machine and took a real shower, but these stream showers and dunkings can do the trick for awhile. We hoped to be able to do some town chores the next day, if things worked out with meeting up with a friend.
The afternoon brought some wicked steep and rocky climbs that made me think I was back in southern Maine. But they were all rather short ups and downs….just a whole lot over the course of the day. Home for this night was a shelter with a cool name: Wildcat. But it should have been called Mosquito Shelter. They swarmed me as I set up camp. I hung out with the other 4 SOBOs at the shelter for a spell but was pretty quickly chased back into my tent. The mosquitoes have been the worst yet. I can't believe they are so bad this late into the year. It's the result of all the standing water after Hurricane Ida.