First and foremost, huge thanks to Mike Coronella and Joe Mitchell, the creators of this route. Their passion and vision for exploring the Colorado Plateau was groundbreaking. Such a challenging and remote route has only been made possible by the information generously shared by them and others that followed in their footsteps. There are also notable mapmakers and alternate-seekers that deserve some accolades: Jamal Green, Andrew Skurka, Li Brannfors and Nic Barth. I also benefited greatly from information contained in many blogs and videos, such as: Buck30, Wired, Katherine Cook, Carrot Quinn, Constantine and Plants, to name a few.
Carrot appropriately described the Hayduke Route, as this: "Walk cross-country towards a canyon, over lumpy slickrock and/or sagebrush plateau with the occasional stretch of faded jeep track. Drop into said canyon, at one exact specific spot (this is the ONLY way into the canyon!) by climbing down loose rocks and boulders and/or a series of ledges. Once in the canyon, traverse the length of the canyon, wherein you will encounter any number of the following: boulder chokes, impassible pour-offs, piles of flood debris, impenetrable tamarisk, slickrock, narrows, caves, ancient ruins, cowboy trash, petroglyphs, poison ivy, potholes full of water, alkaline springs, non-alkaline springs, mini waterfalls, no water at all, gravel, loose, deep sand, good hard-packed sand, walkable ledges, cruisy cattle trails, mud, quicksand, a river. Climb out of the canyon, via one exact spot (this is the ONLY way out of the canyon!!). Travel cross-country via lumpy slickrock and/or sagebrush plateau with the occasional stretch of faded jeep track, to another canyon. Repeat."
Of course, nothing beats the real-life visuals of a well-edited video. Fortunately, fellow Hayduker Worm created an awesome series of his experiences. He was only 1 or 2 days behind me for the first month, then about 4 days ahead of me through the Grand Canyon. As such, his journey is an excellent proxy, with most of the same routes, weather events and conditions. Thanks for all the hard work putting this series together Worm! It brought back many great memories. Mike Windsor: Hayduke Trail (2023) | Part 1, Hayduke Trail (2023) | Part 2, and Hayduke Trail (2023) | Part 3
As these videos and Carrot's description highlight, the Hayduke is a tough route, filled with a myriad of unique, rewarding, but ultimately many unfamiliar factors. It seems that it's destined to push some to or beyond their limits, which was certainly the case for me. Even though the individual days weren't as hard as I expected them to be, I think the few things that I was uncomfortable with here and there accumulated over time, making me feel overly anxious about challenges to come. An example that comes to mind is how I persevered through the floodwaters in Dark Canyon, only to become more worried and reluctant about upcoming creeks and rivers, especially those in the Grand Canyon. It was also one thing to tackle these challenges as a partnership in the beginning, having a 50/50 say in the decision-making and risk assessment. But when that equation changed, becoming the odd-one-out wasn't a position I had ever expected to be in or was prepared for. I started to feel that having reservations about a route, scramble or water crossing was acting as a hindrance to the others or a departure from my comfort levels and the control I had over my safety. In the end, it was easiest just to concede that this year's extreme snowpack involved too much risk, and that it was better to save the rest of the route for if and when conditions improved. After all, it seemed prudent to heed the warnings of the the Grand Canyon Park staff and other hikers, and to read the writing on the wall, given the trail closures.
Ending early was indeed a good decision, one that quite a few other Hayduke hikers made as well. Yet I've never felt as conflicted by a thru-hike as this one. I couldn't help the negative thoughts of feeling like a failure or unworthy of being part of the group that did have the drive and will to push to the end. In turn, I was left with a pretty negative outlook on the hike overall. I really wish that wasn't the case, because there were a lot of great moments overridden by the disappointment, mistrust and regret. I hope some solo time on new trails over the summer will help to build back trust and confidence in myself, preparing me to return strong and finish the route through the Grand Canyon to Zion someday. We shall see.
Total Distance Hiked: 600 miles, based on daily totals that incorporated alternate routes and sometimes extra distances due to navigational errors or side-trips. Not included in this total were any of the side trips around Escalante, about 60 miles during that interim week.
Dates: April 1st, 2023 to May 12th, 2023
Duration: 35 days hiking on the route
Average Daily Distance (w/o zeros): 19 miles
Longest day: 28 miles
Shortest day: 8 miles
Days hiking 15 miles or less: 9
Days hiking 15-20 miles: 9
Days hiking 20-25 miles: 11
Days hiking 25-30 miles: 3
Zeros: 3 (Hanksville, Escalante, Tropic), plus 1 week doing side-trips around Kanab & Escalante
National Parks hiked through: 5: Arches, Canyonlands, Capitol Reef, Bryce Canyon & Grand Canyon, plus Grand Staircase Escalante National Monument and Glen Canyon National Recreation Area
Biggest elevation gain / loss in one day: up and down Nanokoweap Trail Day 32
Favorite Days: HayDay 1: Arches April Fools, HayDay 7: Druid Arch, HayDay 9: Two Easy Ways to Die in the Desert, HayDay 17: In Traction We Trust, HayDay 32: Nankoweap, HayDay 33: The Grandest of Days
Least-Favorite Day: HayDay 22: Round and Round the Round Valley Draw
Favorite Sections: Arches NP, Canyonlands NP, Lower Muley Twist, Halls Creek Canyon, Stevens Canyon, Coyote Gulch, Hackberry Canyon and parts of the Paria, all of the eastern Grand Canyon.
Nights tenting on or near trail: 26 (19 stealth sites, 4 permitted/designated NP backcountry sites, 7 sites directly in a wash, 5 sites near roads (never heard any vehicles go by), 1 campground (Needles Outpost), Cowboy Camping: 1 night on a picnic table outside deserted Hite ranger station and another night in the Grand Canyon, 15 nights next to a water source)
Nights camping with only 1 or 2 others: 22
Nights camping with a group of hikers or around other people: 4
Nights Spent at a Trail Angel's place: 1
Nights in town at a hostel or motel: 9
Days seeing no other people: 4
Reunions with hiker alumni: Plants CDT 18, Number 2 PNT 22
Towns/resupply points visited, in order: Moab (left a small resupply at Gearheads outdoor store/purchased food at City Market), Basecamp Adventure Lodge (water only), Needles Outpost/Canyonlands (box mailed UPS/purchased some food/awesome hiker box!), Hite Marina (water & bucket cached inside grate), Hanksville (extra food left at campground office), Burr Trailhead (cache & water buried), Escalante (extra food left at Outfitters/purchased some food from outfitter, natural grocery and regular grocery), near Grosvenor Arch (cache & water buried), Tropic (extra food left at motel/purchased some food from general store), Kanab (some food left in car plus 2 great grocery stores in town).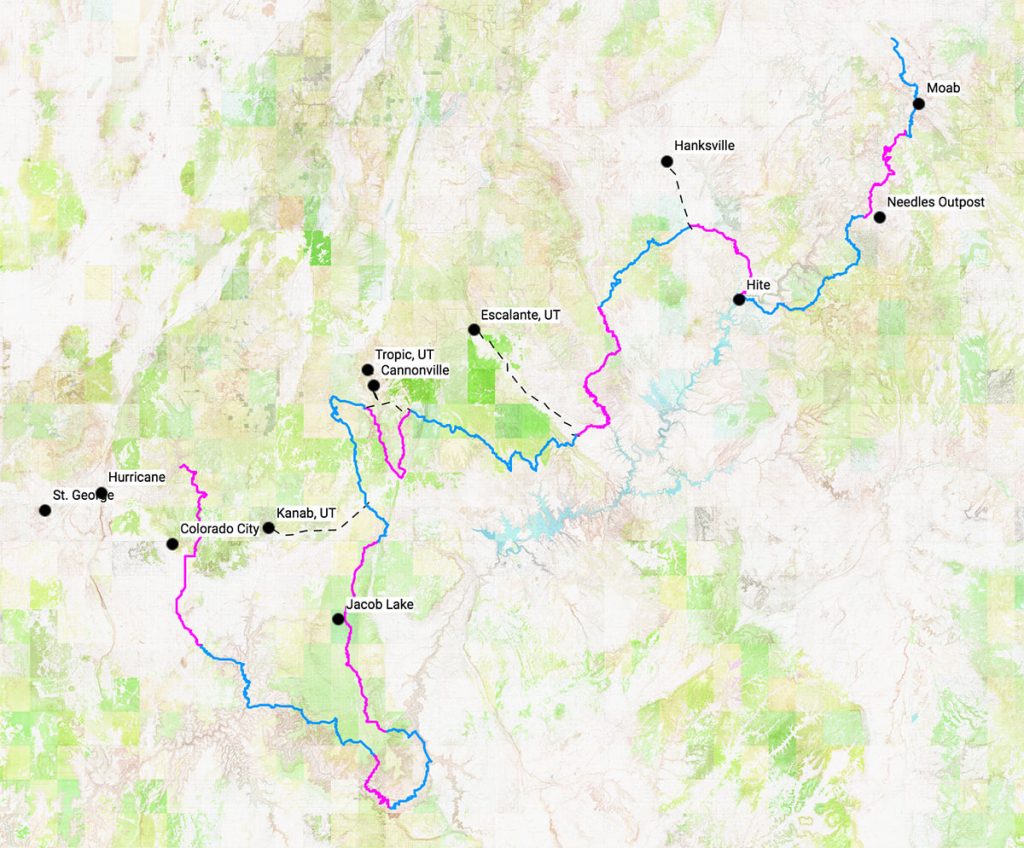 Resupply parcels mailed/cached/left in towns: 1/3/4
Longest food carry: 4.5 days
Best Food along the Hayduke: Escalante Outfitter's pizza and salads
Longest I went without a hot shower: only 4 days, with plenty of dunkings in the Colorado River in-between
Precipitation on the trail: 1 night of very light rain, 1 night with snow, 1 very brief thunderstorm during the day with grauple, 1 night with medium rain from thunderstorms.
Campfires enjoyed: 0…you've probably already heard me rant about not making fires in the desert. Though I gotta admit, a little extra warmth would have been REALLY nice a few nights!
Injuries: Miraculously, my worst injury was a stubbed and bruised toes on my second to last day. There were also a few cuts, scrapes, and bruises from bushwhacking and scrambling, but all very minor, considering.
Times the mosquitos were really bad: never…I think I saw 2 mosquitos the whole trip!
Animals sighted/signs/noises: the Henry's herd of 30 bison, 2 bighorn sheep, mule deer, jack rabbits, cotton tails, coyotes, turkeys, Mexican spotted owls, red-tailed hawks, ravens, Harrier hawk, 1 bullsnake, toads/frogs, 250 lb African tortoise, cows, horses, goats, dogs.
Times I wished I carried a gun or bear spray: 0
HDT sections not hiked: about 5 miles of road/wash walking from Needles Outpost to the Salt Creek Trailhead in Canyonlands, about 11 miles from the Sundance Trailhead to Hite, did not connect footsteps on the in and out of Hanksville or Escalante, Skumtumpah road walk into Tropic (about 15 miles), Wire pass to Jacob's lake (hiked during my AZT thru) then another 15 miles to where I picked up the alt to Nankoweap, South Rim-Grand Canyon all the way to Zion–about 160 miles, depending on the route.
Alternates taken: Devils Garden Arches National Park, Great Wall, Jackson Hole, The Boys Canyon, Jamal Green's Mushroom ridge alt near upper Lockhart Canyon, side trip to the Colorado River Bend, Jamal Green's best route through Canyonlands, Ruins Park road to Beef Basin, lower low route around the Henries to Pennellen Pass, Below Tarantula Mesa alts, Halls Creek/Baker/Stevens Alt, Right Hand Collet Canyon alt from Devils Garden Hole in the Rock Road, Hackberry Canyon upper canyon, Yellow Rock, Bryce Extension, Grandview Trail, low elevation House Rock road to Nankoweap, South Kaibab up to the South Rim.
Hitches & pre-arranged rides from Trail Angels: 19, Debbie–Kanab to St George, Plants–rides around St George, Kent & Sheila–Green River to Moab, Leah–Moab to outskirts of town, Mangesh & Sanjana–Tesla ride from Arches entrance to Devils Garden TH, Jill & Sarah–Needles Outpost to Salt Creek TH, Allan & Jeff & John–packrafters whose van we shuttled from the Sundance Trailhead to Hite, Cory–ride into Hanksville, Connie–ride out of Hanksville to Little Egypt, Tom–Hurricane wash to Escalante, Emily–Escalante to Devils Garden along Hole In The Rock Road, Yeti & Lemstar–Skutumpah Road end to Tropic, Woody–Buckskin Wash to Kanab, Steve–Escalante to Boulder, Michelle–Kanab to Buckskin wash, Joan Ted & David–Wire pass to Kanab, Stellar–Kanab to 15 miles east of Jacob Lake, Leah–South Rim to Flagstaff.
Trail Angels (in addition to those that give us rides): Jolly Rancher, Plants & Kay, Tom @ Basecamp Adventure Lodge, Amber & Caleb @ Needles Outpost, Mojo & Wiley, Steve & Page & Margay, Lemstar & Yeti, Jared JJ Giveaway @ Annies Place B&B, Monty and company…raft party on the Colorado River.
Hayduke Hikers Met: 20, Leah, Sky, Adrian, Stickers, Why Not, Cache22, Wolverine, Mac, Artemis, Trailcrew, Uncle Donn, Emily, Lemstar, Worm, Woody, Fancy Feast, Double Happiness, Weekend at Bernies, Mimi, MountainDog.
Gear: My gear was similar to what I carried on the AZT, GET, and MRT. See my gear list here
Shoes: 1 pair of Altra Superiors 4.5's. I would have broken into a second pair leaving Kanab, had I gone all the way through the Grand Canyon.
Least used items: my PLB (Personal Locator Beacon)…carried the whole way, never used…but that's a good thing. I also only used my rain skirt once. The umbrella was perfect for some really hot days in the Grand Canyon and on the Red Benches. I was VERY glad I carried it.
Gear lost/failures: Fortunately, I didn't lose anything major on this trip. To be expected, my tent zipper started to give out from all the sand. I brought my sacrificial Solplex tent for this very reason. Also, my black Purple Rain Adventure dress was completely ripped through in several places where my pack rubs my lower back. It was already completely thread-bare after the AT, so I put some patches on it and crossed my fingers that it would last to the end. It barely made it. This was my black HMG Hyperlite pack's 2nd trip. I have the one with the mesh pockets, which I expected to be a bad thing on this rough and thorny trail. It did get some tears in the mesh but not as many as I expected…still a bad design and I hate the side pockets on that pack.