What follows is a bullet list of the days and summary of activities (mostly for my own accounting & recall) of a week off from the Hayduke. We needed time to rework plans for the upcoming Grand Canyon segment and let some of the snow melt. In the interim, I had time to really assess my situation, coming to terms with many concerning factors. To finish the Hayduke route as it's officially outlined in the western Grand Canyon seemed nearly impossible, due to the record snowpack. The North Kaibab trail was closed until June and Saddle Canyon and Tapeats creek were likely too flooded to navigate safely. We submitted a request for an alternate permit/route, and a day after it was approved and paid for, a ranger wrote back to say: they strongly advised against taking the North Bass trail due to the dangerous flood conditions of Shinumo creek. Why then had they even approved our permit, I wondered? This worried me greatly.
Also weighing heavily on my mind was my aunt Peggy's memorial service on May 20th. It had been scheduled months after my Hayduke planning began, coinciding with dates for our original GC permit. By then, I'd already vested so much time and money into the trip, plus I didn't want to leave my hiking buddy hanging. But after all the changes and uncertainty with the Grand Canyon, I realized that my time and energy would be better spent attending the memorial. If I ended my hike at the South Rim, I'd still get to experience about half of the Grand Canyon section and be able to make it to the memorial. I just wish I'd come to this conclusion before paying for more nights on our altered permit, but oh well, hopefully the money goes towards improving and protecting the park for my next visit.
This being my 11th long distance hike, it was rather disappointing for it to become the first I may not ever complete. In doing so many hikes, at least I sort of understood how arbitrary a "trail" is, especially these routes that were basically invented by one or two people. As such, I'd made up my own endings in several cases, often doing extra miles just for the fun of it. The Hayduke was perhaps the most arbitrary of all trails I'd done, since I'd probably spent over half the time on alternate routes. It was a choose-your-own-adventure that didn't make any demands about being a purest. I tried to reason that the western terminus at Zion had always seemed a little forced. There was a long, hot and boring road walk to join the Grand Canyon, called the Arizona Strip. A 2018 landslide had further closed the trail to the Weeping Wall, the official terminus in Zion. Most Haydukers were now finishing at the park's first road intersection…a rather unceremonious and uninspiring location. I kind of liked the idea of ending at the South Rim instead, with its prominent world status and famous vistas. Plus, I could easily come back to complete the official route through the western canyon when conditions were more favorable. I still had hopes and options that I could check-off the Hayduke as completed…someday.
So that's where I was in the midst of this 'week off', working through a lot of emotions and figuring out new logistics. Even the process of taking a week from the trail derailed my motivation quite a bit. I'm usually pretty goal oriented towards finishing a trail once I begin, rarely taking more than 2 days off in succession. I don't even take that many zeros…4 during the whole AT, 5 on the PCT. I'd already surpassed those numbers on the Hayduke, in just a quarter of the distance. I felt pretty rudderless, so it was good to commit to an end date and location, focusing on getting back to my family.
Sunday, April 30th, 2023: zero in Kanab, reworking plans.
Monday, May 1st: Drove to Escalante and then 22 miles down the Hole In the Rock Road, day hiked a 5 mile loop up Peekaboo slot canyon then down Spooky slot canyon. Funny sign at trailhead depicting the width of the slots…if one can't fit through the bars, then one might get stuck and need rescue. I mistakenly brought my backpack as a daypack, otherwise the width wouldn't have been much of a problem. Camped a few miles before Egypt trailhead.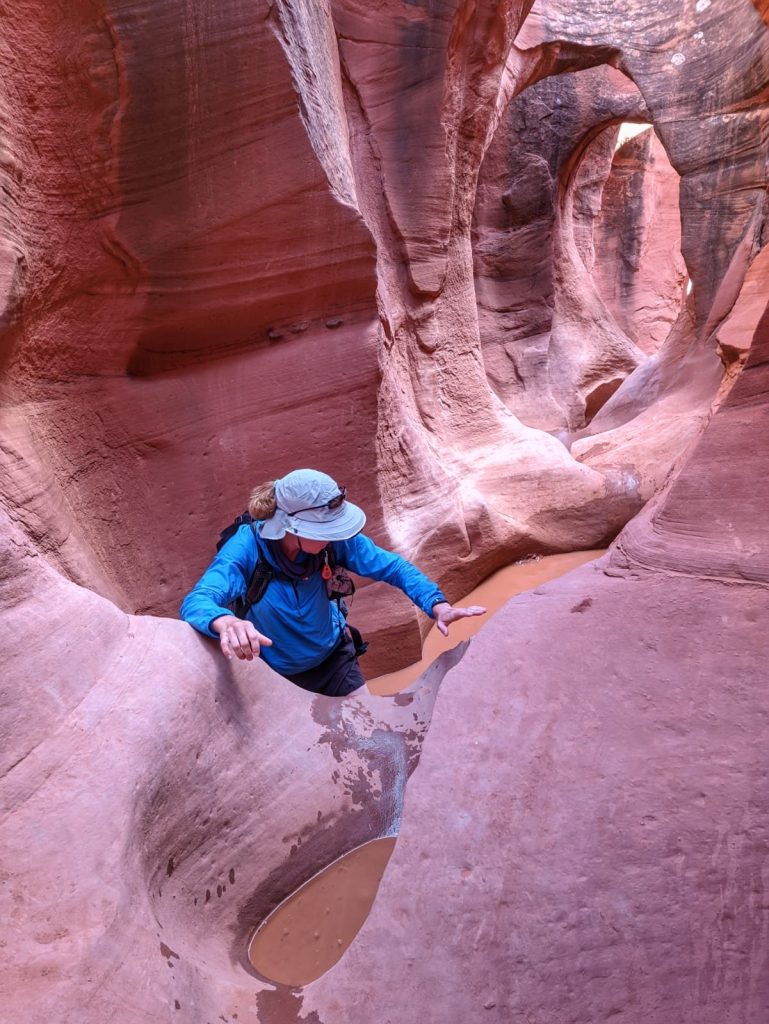 Tuesday, May 2nd – Wednesday, May 3rd: hiked 3 miles down to the Escalante River, dropped packs for a 4 mile side trip to the Golden Cathedral, ran into Number 2–a hiker I'd met on the PNT who still remembered me, continued 2 miles up river, went up Choprock canyon about 10.5 miles to a mesa, found water in pipe trough, camped among junipers next to a wash. Next day went 10.5 miles down Silver Falls Canyon, walked down the Escalante river, went up Harris Canyon a bit to collect water, then climbed out of the canyon near the rincon feature to go 5 miles cross country along the bench back to the trailhead. Total distance: 35 miles. Really amazing canyons similar to Muley Twist, Stevens, and Coyote Gulch. Went back to town for dinner and stealth camped just outside of town near the trailhead we planned to hike the next day.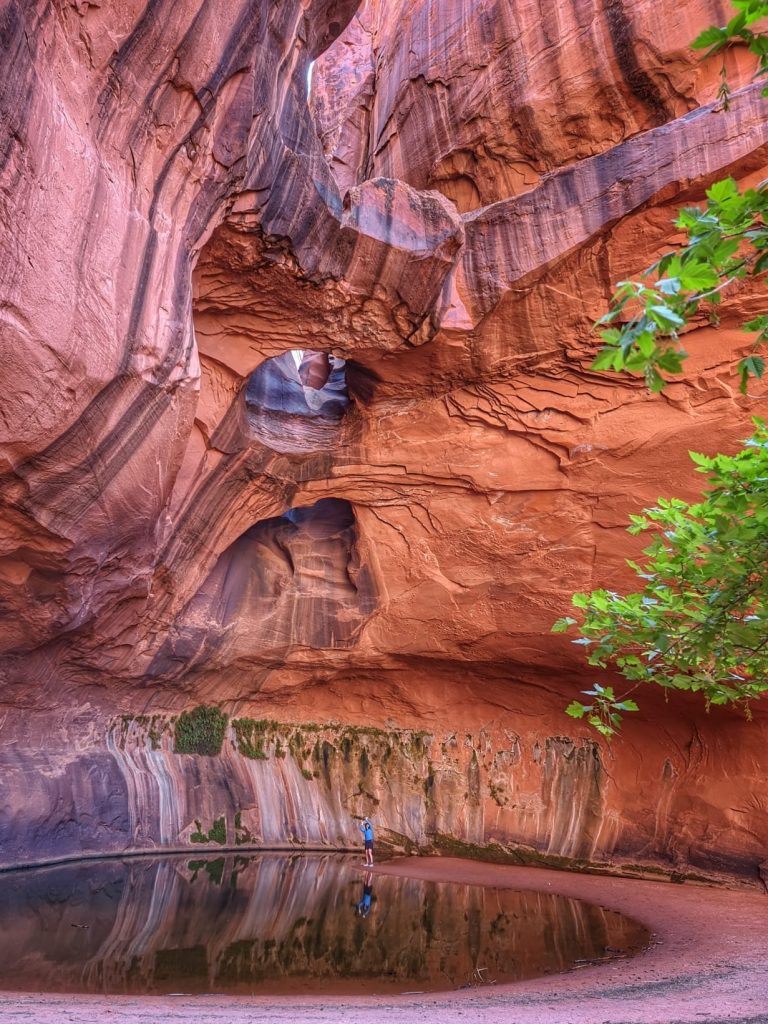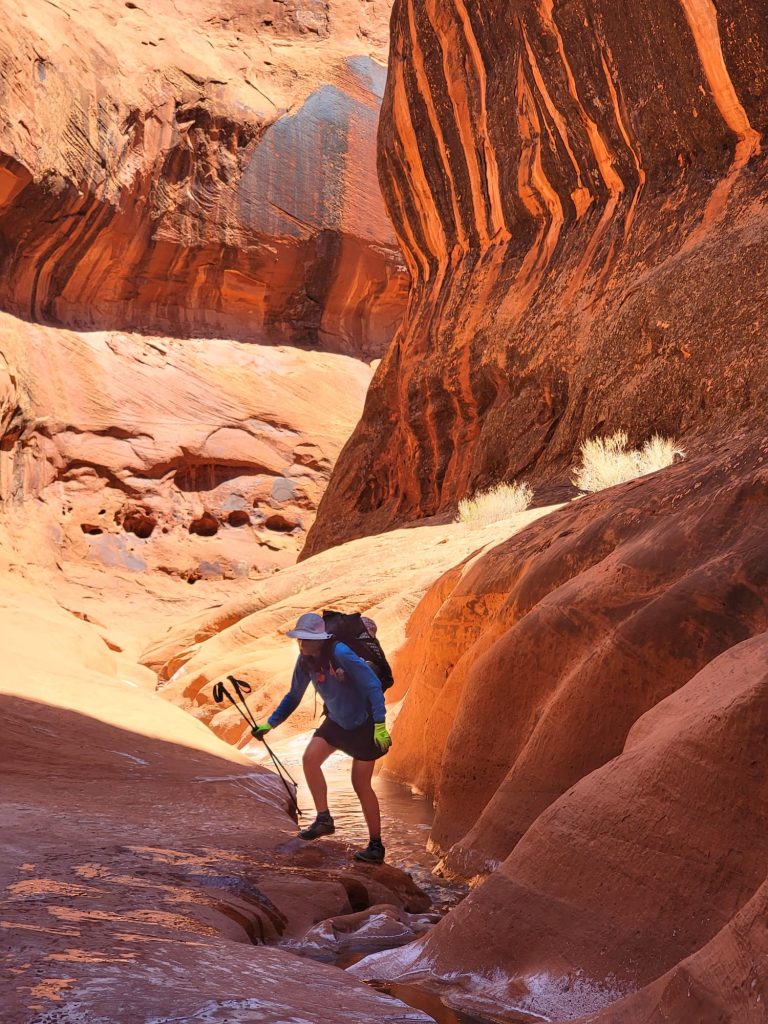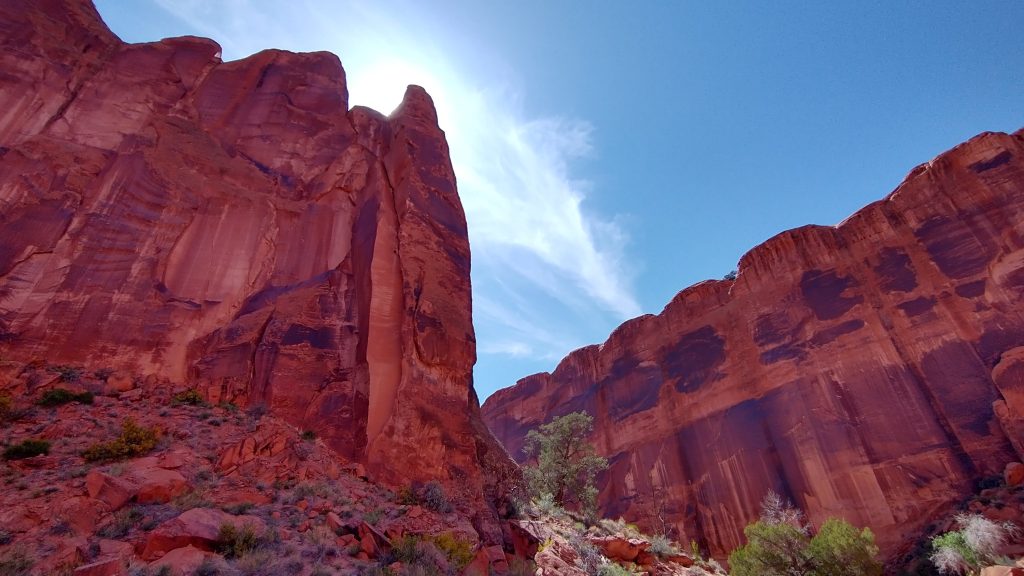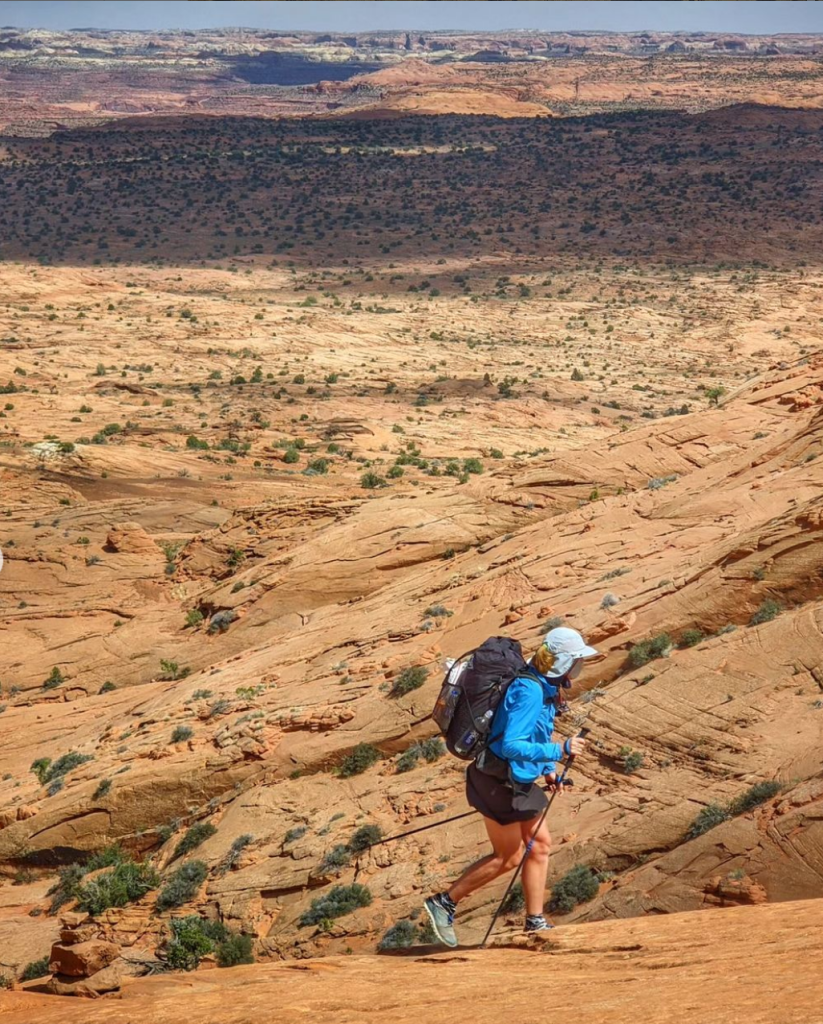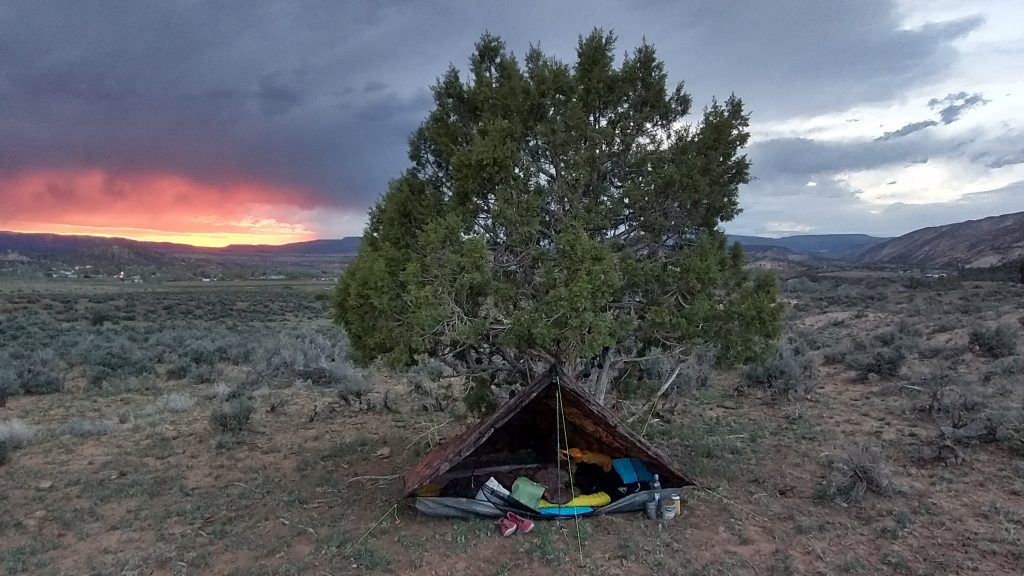 Thursday, May 4th: woke up at 5 am to pack and drive to Trail Angels Steve and Page's house, got a ride up to Boulder with Steve on his way to work, dropped off near the Boulder airport to start the Boulder Mail Trail by 7 am. Total distance: 16 miles, lots of up and downs through drainages, cool section through Death Box Hollow, tons of waterpockets…swimming pool size, and gorgeous white slickrock throughout. Great day hike or overnight. Saw about 8 other backpackers, including Fancy Feast, a Hayduker from Fall 22 and PNTA employee (hiked with Horsepower, who I met on the PNT). Finished the trail around 2:30 pm and was picked up by Plants, who just happened to be in town guiding a trip for Andrew Skurka. Had a late lunch reunion at the Outfitter pizza place. Drove back up to Boulder to stay with Jared, another PCT hiker that had reached out to Artemis about offering trail magic. Turns out he manages and chefs a B&B Annie's Place, that's owned by his aunt. He'd offered to make us dinner and let us take showers and do laundry…so incredibly kind and appreciated! The meal was fiesta lime chicken cutlets with rice and beans…delicious! The evening got late and JJ Giveaway (his trail name) graciously offered for us to stay in a spare room at the the B&B. It was the most luxurious accommodations and pampered treatment we had all trail!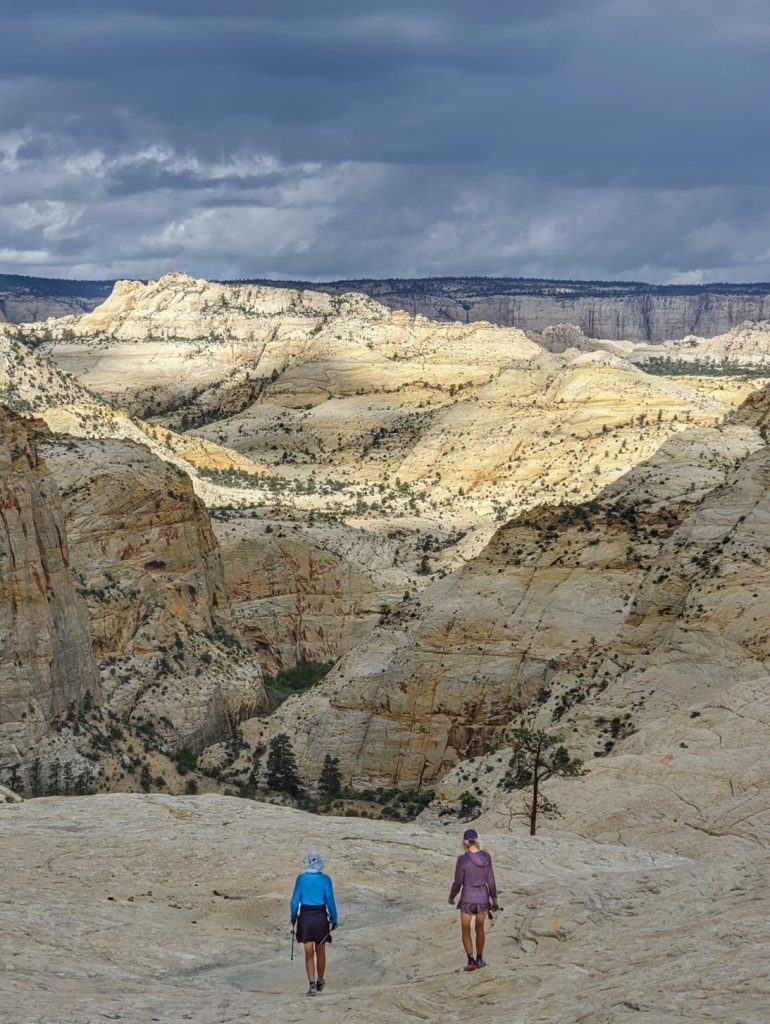 Friday, May 5th: We had an amazing and professional breakfast prepared from locally produced sausage, egg, and oven baked pancakes with buttermilk syrup. Jared also gave us the VIP tour of his family's home, with beautiful landscaping all around and a peaceful stream running through. Met his parents and later his aunt, who owns the B&B and also runs the well-provisioned general store and gas station…I had to giver her a hug. Jared took us to the Singing Slot Canyon, down the Burr Trail, so we could practice our vocals. It's a very short and easily accessible slot with wonderful acoustics. We finally bid farewell to Jared and headed a short ways back towards Escalante. We stopped at Calf Creek to camp at the BLM site for the night and go for the 5 mile round trip to Calf Creek Falls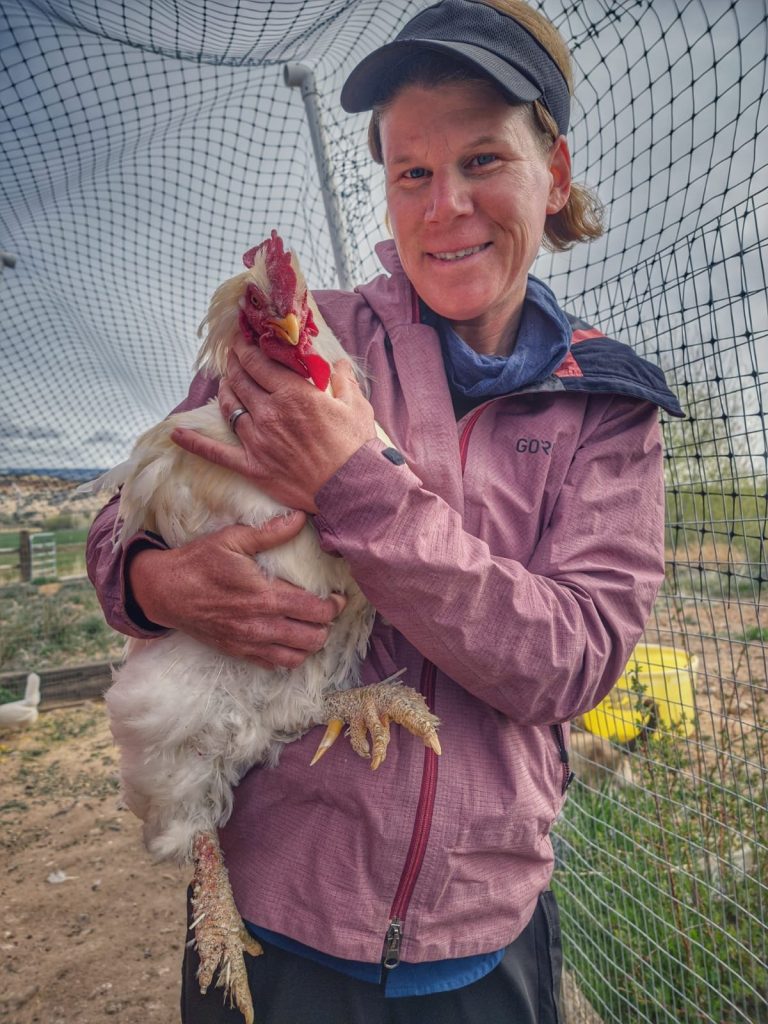 Saturday, May 6th: drove back to Kanab and I hurriedly worked to ship all my extra stuff home, since I didn't have a need for anything in Stellar's car anymore. I worked on some more logistics for how to get back to Denver. I figured out a plan to meet up and hike with Sky on their Grand Canyon permit, since my other permit was now completely irrelevant and it was too late/tied up with the others' to change. We met up and had dinner with new-to-us Hayduke hikers Weekend and Double Happiness, a couple that had been about a week ahead when we'd started. They'd skipped ahead to hike the Zion portion and were now back in Kanab, ready to begin the GC section. I was anxious and happy to get back to hiking the route for a final week.