Sunday, May 7th, 2023, 1130-1500
Hwy 89 to Wire Pass
14 miles, elevation 4750′
First thing in the morning, I booked a flight from Las Vegas to Denver for May 16th, committing to a pretty tight timeline. I left myself about a week to finish the hike through the eastern Grand Canyon. I planned to meet Sky at Jacob Lake at the end of the day to start from there. Since I'd already walked the section from the Utah\Arizona state line to Jacob Lake on the AZT in 2019, I decided to skip it in the interest of limited time. But I still felt a need to hike the 14 miles from the highway (where I'd gotten a ride to Kanab a week before) to Wire Pass (where I began my AZT hike). There was a portion near the end that would give me a taste of Buckskin Gulch, the longest slot canyon in the world. The surrounding sandstone also reflected a little of the swirls and patterns that make the nearby "wave" canyon so popular. I figured a day hike was the perfect thing to fill the day.
Only problem was, it was a hell of a hitch to get out there and back, plus also then make it Jacob Lake. The far easier plan would have been to get a ride from Stellar on his way to set caches around the North Rim. But I really felt a longing to hike and figured I had time to at least try getting a ride the 30 some miles one way. Stellar dropped me off at the outskirts of town, to better my chances. There I stood, trying to look 'decent' for a ride, whatever that might be. I usually have great luck but wasn't feeling it much this morning. Twenty minutes went by, then another 20. I think it's generally hard hitching in Utah (plus technically illegal) and I guess my luck had run out. I decided I would call it quits after 1 hour.
Precisely 1 minute before the hour was up, a woman pulled over and told me she was giving me a ride "so that some creep didn't pick me up instead." I loved that reasoning, even if I didn't quite think it was very reflective of my experiences. Michelle was from New Jersey and lived near the AT. She was such a joy to talk to that I totally missed the spot where I was supposed to get off, driving past it by 5 miles. I felt terrible but Michelle insisted on driving back to the correct spot. Ironically, we turned around at the road that goes to Pariah townsite, which I'd walked past weeks before. I could see Yellowrock, the sandstone peak we'd hiked to the top of, along the Paria river.
At the right spot, I started down Buckskin wash. I was kind of excited about being on my own, eager to listen to some podcasts and sing to my music. The wash was a little boring. I'd give it a C+ in terms of ideal substrate. The cows had really torn up the sand, making it lumpy, and there were a fair amount of rocks. I'd become a wash expert, seeing the gamut of conditions, from awful and unpredictable quickmud to perfectly hardened and flat sand. Gradually the canyon walls rose and I pondered the rock reflecting back at me. It was nothing compared to the magnificent canyons of the Escalante region but still better than being stuck in an office. I saw a few climbers near where the official trailhead came in, plus one other day hiker. At a trailhead, I used the privy and signed the trail register. Good thing I brought plenty of water, as there was none all day. My pack was very light, since I'd left the majority of my things at the outfitter in Kanab.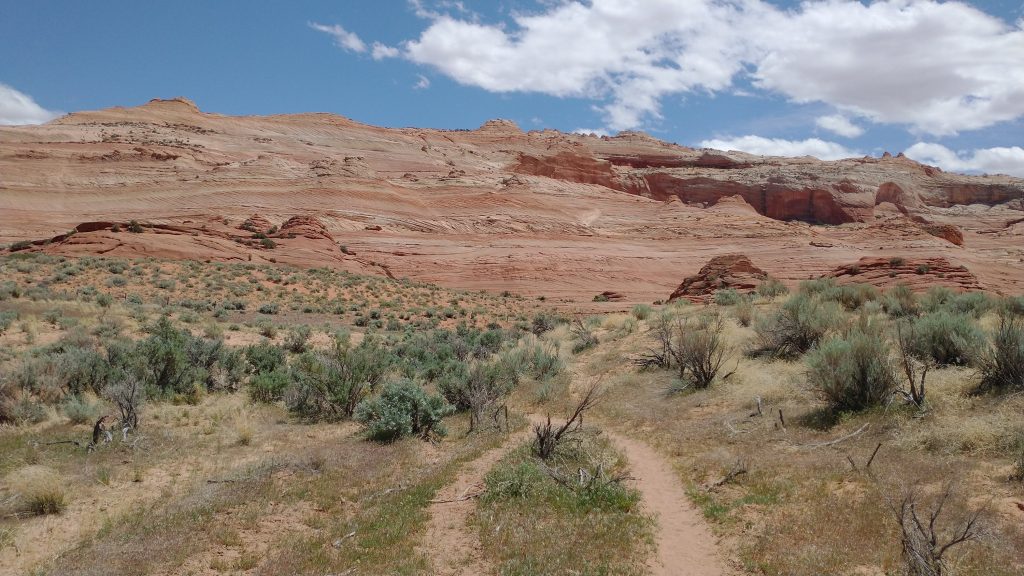 This second phase brought the more interesting stuff in terms of the cool sandstone and slot canyons. I was really enjoying the scenery for the last few hours. I knew someday I'd come back to hike all of Buckskin Gulch and maybe even the Wave, if I could ever get a permit. I'd tried the lottery several times before with no luck and this crowded weekend certainly wasn't the opportune time to be sneaking a peak. Luck was on my side in a different way, though. The first family I passed made a comment about how I looked like their daughter, Stumbles, that had hiked the PCT in a dress. That was all the more invitation I needed for striking up a conversation and asking about a ride. Of course the family was happy to help me and I hiked with them the rest of the way. I needed to slow my pace but really enjoyed the conversation. David the son was also an avid hiker and parents Joan and Ted were obviously very outdoorsy, all living in Montana. Ted was also a birder, so we compared notes on what we had seen\heard. I still don't consider myself a birder but I do love paying attention to some of the little things.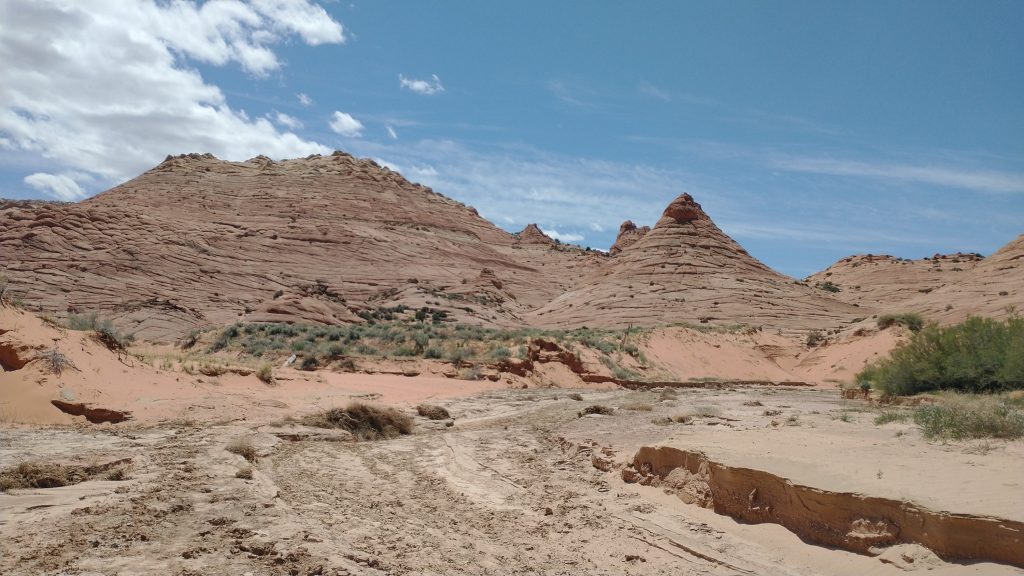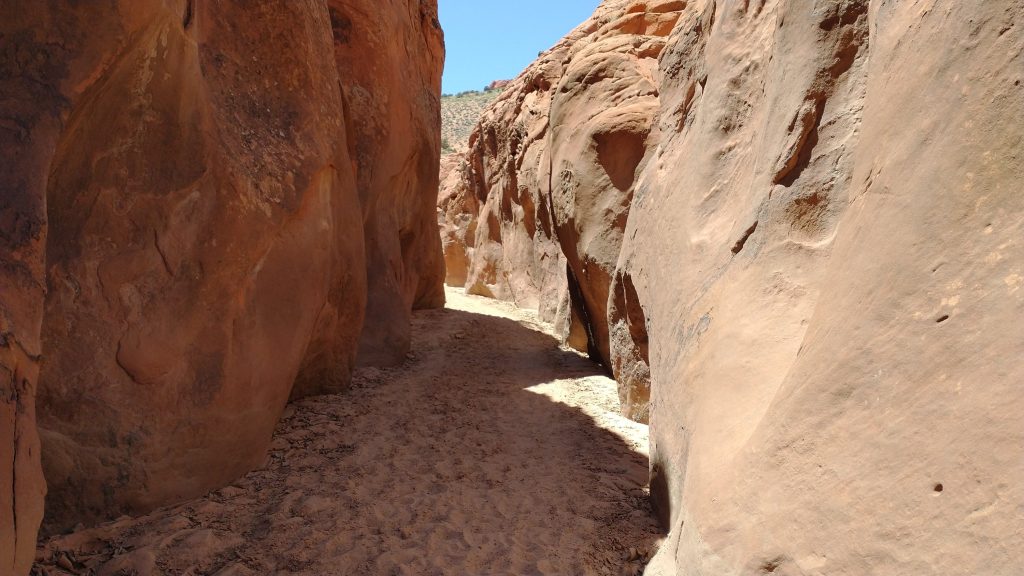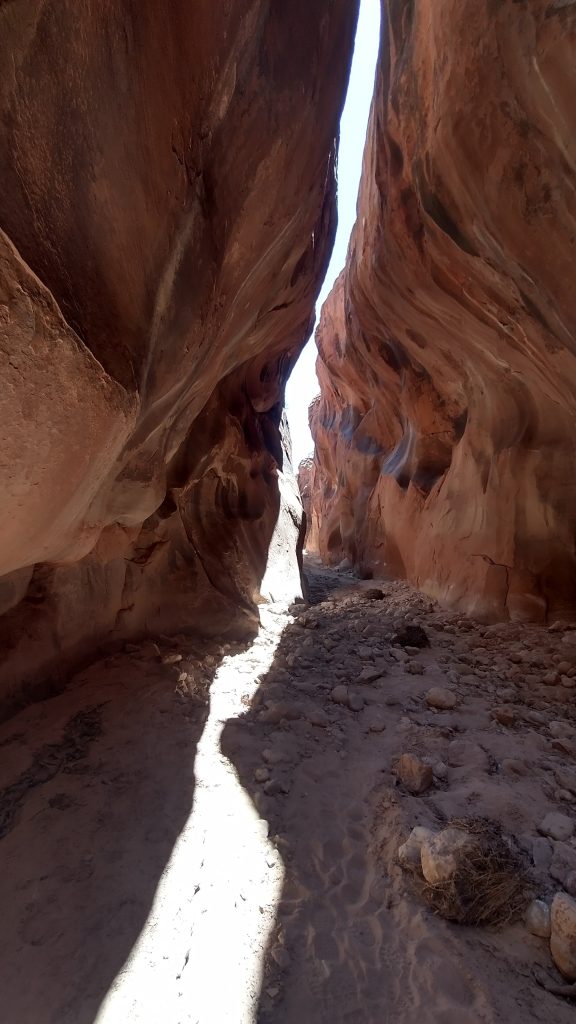 I contemplated going all the way to the state line to take more pictures at the AZT monument but with a ride already secured, I abandoned the idea. I was happy having seen and done what I did for the day, feeling that I'd made up one more piece of the puzzle. I'd made it to Arizona…the state I planned to end in. I was done with Utah, for the time being anyway. The family dropped me off at the highway, as they had a tour scheduled in Page for later in the day. I stayed at the road intersection, even though I was on the wrong side of the highway, in a terrible spot in the middle of a curve. I figured I had a better chance of getting a ride from someone coming from the dirt road. I was right…the second vehicle to come along stopped for me. They were a nice couple from Utah. It took me an hour to get a ride out and 5 minutes to get 2 rides back.
I requested a drop off at the grocery store, only to be reminded by the empty parking lot that it was closed on Sundays. So I went next door to the Subway, finding Artemis and Stellar waiting in line just in front of me. They informed me that they'd given Sky a ride back to Kanab, given the much more affordable hotels and food. That suited me since it negated another difficult hitch at end of the day… though I'd been somewhat looking forward to camping under a ponderosa in the vicinity of Jacob Lake. I joined Sky at the good old Redrock Inn, where a room was only $50 a night! Officially this was the start of our hiking partnership, but we'd already shared a room back in Hanksville and I'd first met Sky and Leah on my Day 0 in Moab. We all knew each other fairly well by this point.
I was excited to hike with Sky through the Grand Canyon. Leah had started a few days earlier, since she also had a personal time commitment coming up. We joked that I was just filling the 'Leah void'. Sky and I had a lot in common when it came to funny gear items: we both had orange Thermodrop thermometers and used Exped Schnozzel packliners. Same Katabatic quilt too. Perhaps we were somehow destined to become friends. To wrap up the day, I procured an exciting frozen dinner from the open grocery store, looking forward to finally getting out of Kanab and Utah for good the next morning.