Saturday, Oct 7th, 2023, 0700-1300
East Fork Virgin River & Poverty Wash to HWY 9, later a visit to the Weeping Wall
6 miles (this is a guess, I forgot to check)
It was a lovely night and we woke to our last day on the official Hayduke route. In true Hayduke style, we had to face several more challenges, even though we only had a few miles remaining. First was braving the cold water in the morning, but this was pretty easy. I'd gotten really used to wet feet on the Hayduke and the water wasn't all that cold. Next we had a final waterfall to bypass. I was so glad I downloaded the bypass description from Across Utah, because there was definitively no way I would have tried to climb down the side of the waterfall. It was roaring and looked impassable from above. It took me a bit to realize that Jamal's description was from the perspective of looking upriver, while we were approaching it looking down. We located the correct side, noted several cairns, and followed them up a steep scree slope. We then had to wedge ourselves into a crack and scramble down through a cavern of crumpled boulders, which all seemed as if they were about to collapse more. There was a fixed rope to aid in the descent, albeit very frayed and sketchy looking. Worm lowered the packs to me and we got it done with little fuss. Jamal described it as the "rabbit hole", but we decided it should be re-titled "the Wormhole". Worm barely fit through the first crack. It was all the standard Hayduke stuff that made us laugh and joke a lot…a nice reminder of the nature of our route on the last day.
Our last challenge was simply climbing out of the canyon. But first we dropped our packs and went about half a mile down the river to check out more of the slot sections. We also found the memorial plaque to John Wesley Powell, mounted on a wall in the canyon. Both diversions were well worth it. We met 3 people in this area, the only we had seen since descending into the canyon the day before. The middle fork of the Virgin River is where one will find a very popular hike in Zion NP called the Narrows. I'd say that the section we hiked along the East Fork was just as scenic, minus the hundreds of people. I'm not exaggerating. We later walked to the start of the Narrows at the end of the day (6 pm) on a Wednesday, and still passed dozens of people. Worm tried to go back to hike it at 6 am on a Friday and there was already an hour-long line waiting for the shuttle, so he just gave up. If a more intrepid hiker can figure how to get down to and back from the East Fork, I highly suggest doing this instead. Best of all, it's not even inside the park, so we didn't need permits to camp where we did.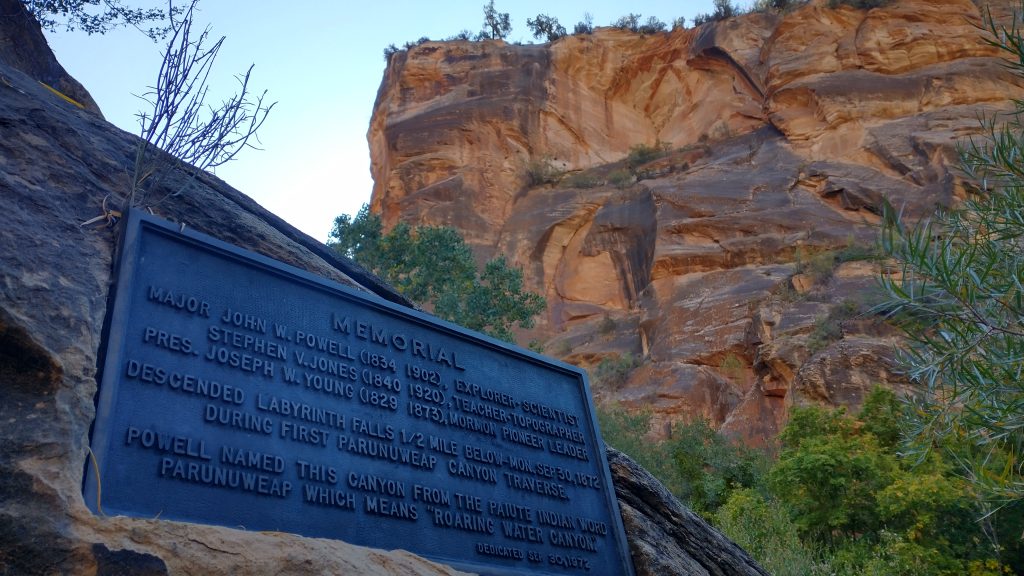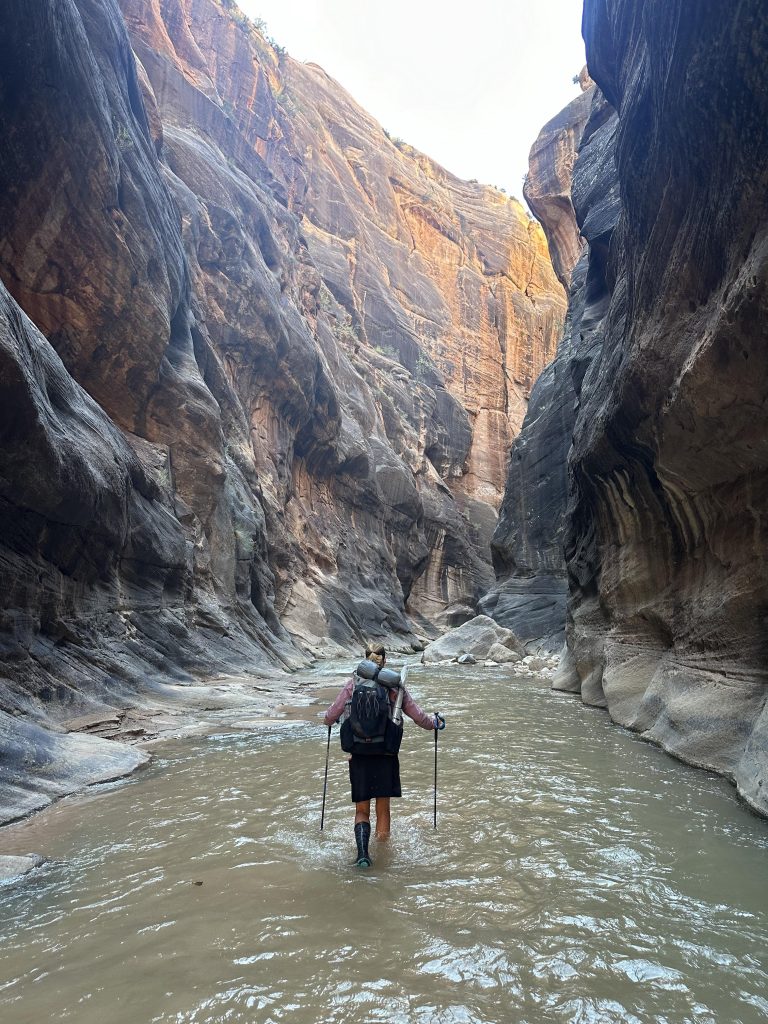 The scramble out of the canyon was pretty straightforward, but definitely steep. I didn't have to take my pack off but was doing some 4 point climbing up the rocks. Again, we took Jamal's advice about an alternate to the official Hayduke exit, which looked even steeper and was choked with poison ivy. There was actually the most poison ivy I'd seen in any canyon, but maybe I just didn't see as much before since it was early in the season. As soon as we left the canyon, the heat was oppressive. It went from the 50's to 80's almost immediately. We followed some cairns and faint trail through more sandy hills and beautiful slickrock, past more massive mounds of pizza sandstone that looked like beehives. I yearned to scramble right up the side of one of these but didn't think it was actually do-able. The Hayduke had messed with my mind forever. I couldn't look at a geologic feature and wonder if there was a way up, over, or through it.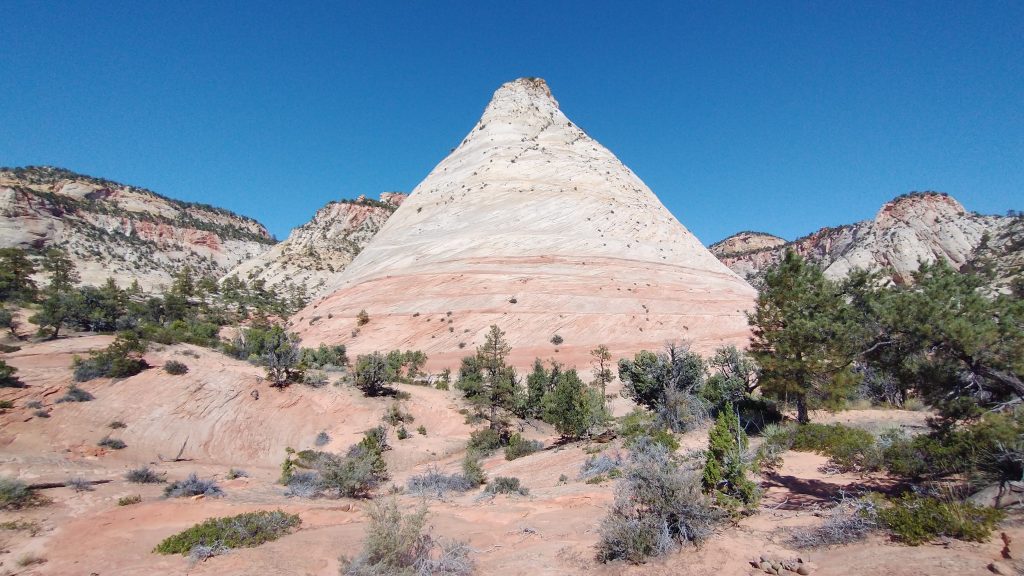 I was actually hoping that the last mile to the highway would turn into an easy, well-trodden tourist path. But of course it didn't, if anything, it got worse. We went over a steep saddle between the giant beehives, then had to slowly pick our way down through the narrow creek bed that was chocked full of boulders and brush. We passed 5 or 6 day hikers that were daring to venture into the unknown. One couple asked us "was it worth it?" We had no idea what "it" was but we enthusiastically said, hell yeah! Trekking 800 some miles across Utah and Arizona through some of the craziest terrain, you bet! But we figured they probably meant hiking down to the river, or perhaps far enough to get views of the beehives. Based on their attire and shoes, possibly lack of water too, we judged that we better temper our responses. The Hayduke was satisfying tedious right up to the very end. But Highway 9 wasn't supposed to be the end. The official route terminated at the Weeping Wall, an attraction in the main canyon in Zion NP. This was another 5-10 miles away, but a 2018 landslide obliterated the trail leading down into the valley from Checkerboard Mesa. Most Haydukers now ended unceremoniously at the highway and do some day hikes or longer alternates around the park. There were perhaps some technical routes down into the canyon as well, but this wasn't on our agenda.
We instead had aspirations to hitch back to Kanab, gain some wheels (Worm's van was parked there), and begin our next adventure. Days before, on the walk into Colorado City, Worm unexpectedly scored permits for 2 nights in the Buckskin Gulch, Paria River and Vermilion Cliffs special use area. This is a pretty famous and popular hike, one that I intended to do in the spring, but things didn't pan out. Since we'd just finished the Hayduke so unceremoniously, this bonus hike was a great way to cap things off. Luckily we were able to get a quick hitch in a Mini Cooper and then a jeep…I daresay the Mini had more room in the back. We finally got to take showers (first one since I left Phoenix) at the Kanab RV park and began an existence of van-lifing for a few days. Worm taught me some very good pointers in this regard. Stay tuned for another post detailing the Buckskin/Paria hike, plus some more fun in Zion, which we came back to about 5 days later.