February 11th
Anne Hut (km2067) – Boyle Village (km2095)
Mileage: 17.4mi/28km
Town was calling. More importantly, a soak in a hot springs was calling. But the rain was coming down heavy in the morning, as predicted. The hut was so nice and new (2011), I really could have stayed there the whole day. I had plenty of food. But I would have been alone, as everyone else was packing up pretty early. I still took it easy, not leaving until around 8 am. The Fins and D&T all set out at the same time, so we got a couple of cute group photos in our rain gear.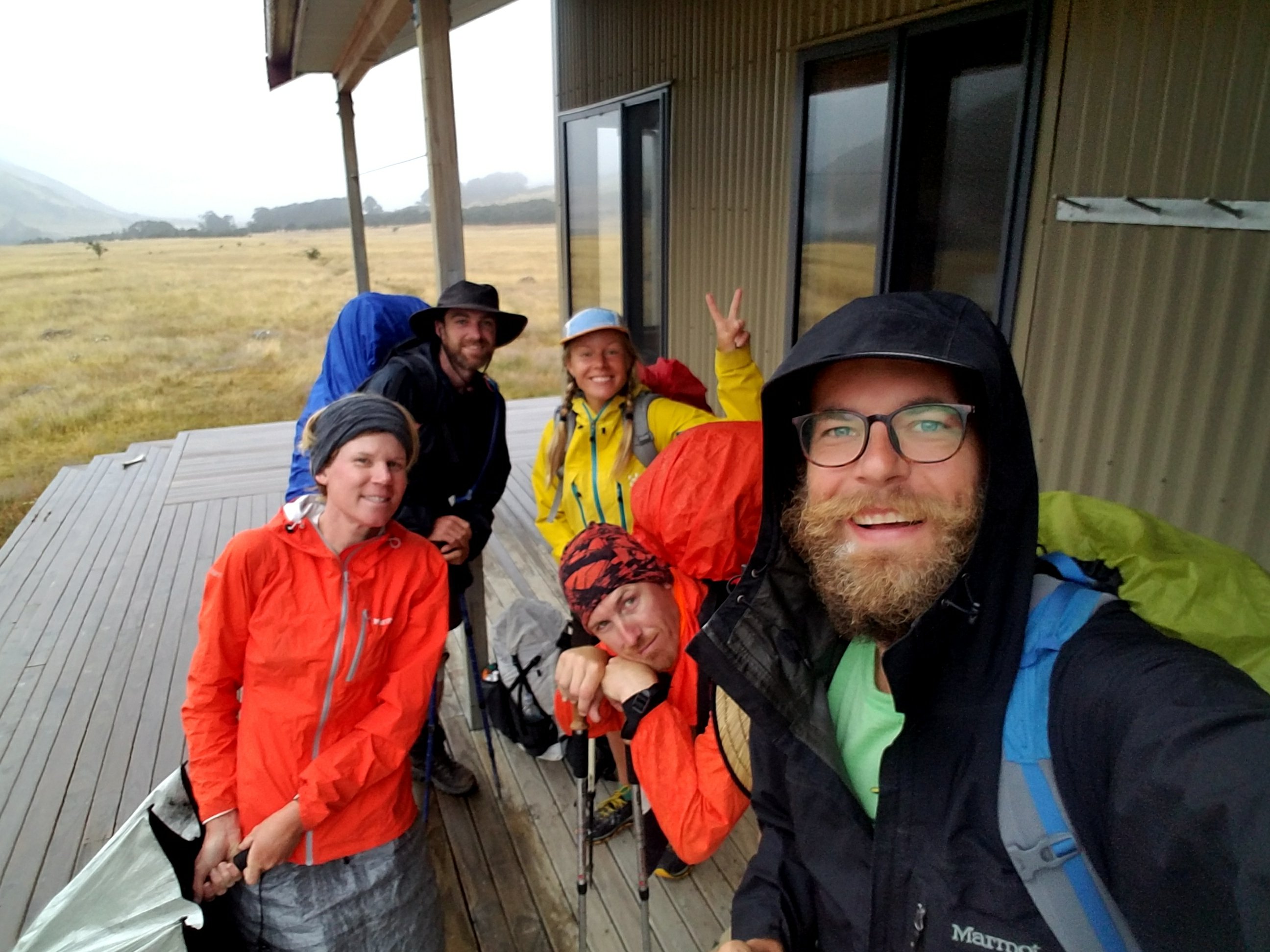 The umbrella came in really handy today. I got too hot in my rain jacket so I was able to take it off and still stay dry. There were some areas that were overgrown with tree branches, so I did have to do a bit of gymnastics to squeeze by. The several swingbridges were also an interesting obstacle for the brella. Good thing it's easy to collapse.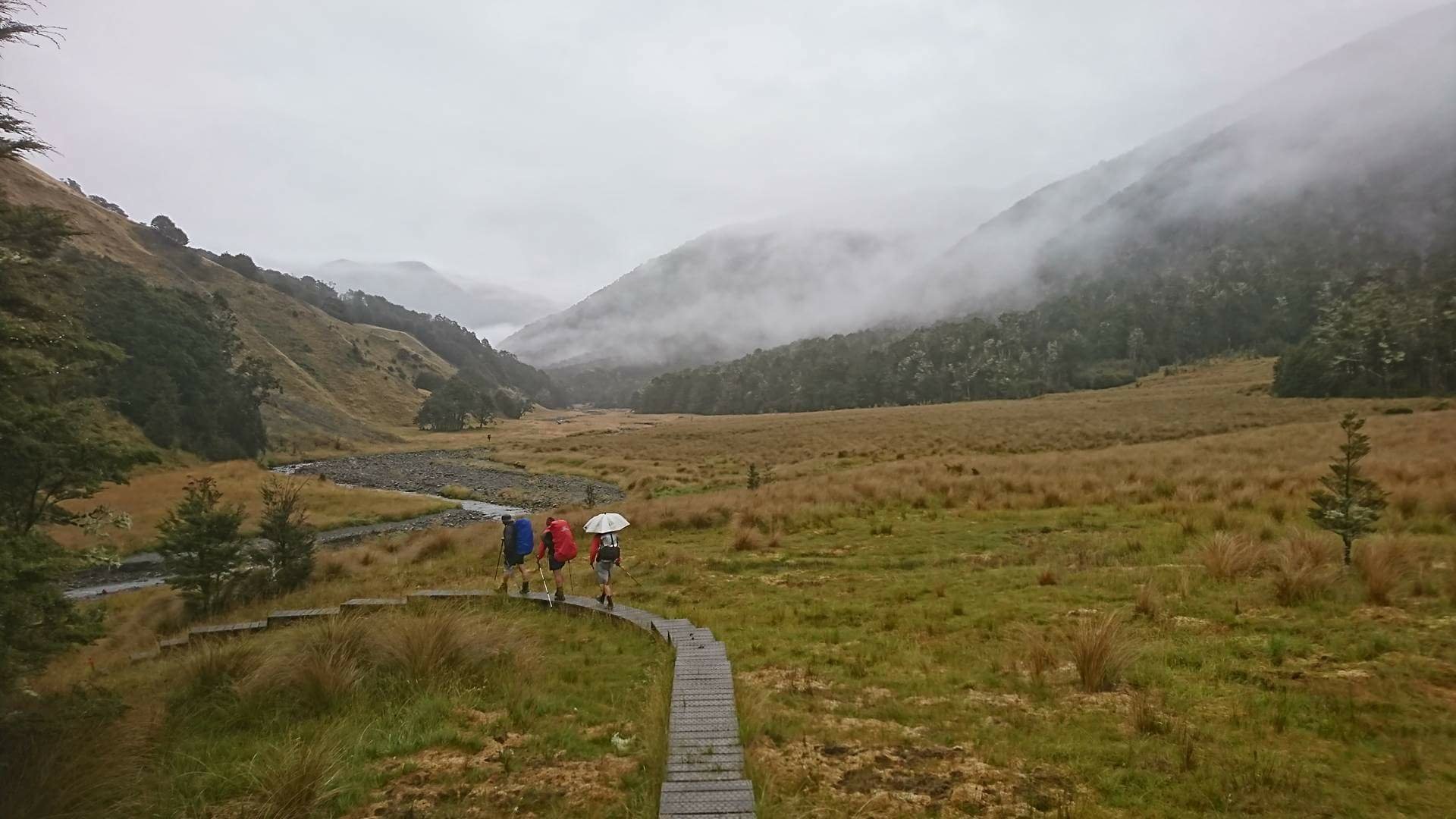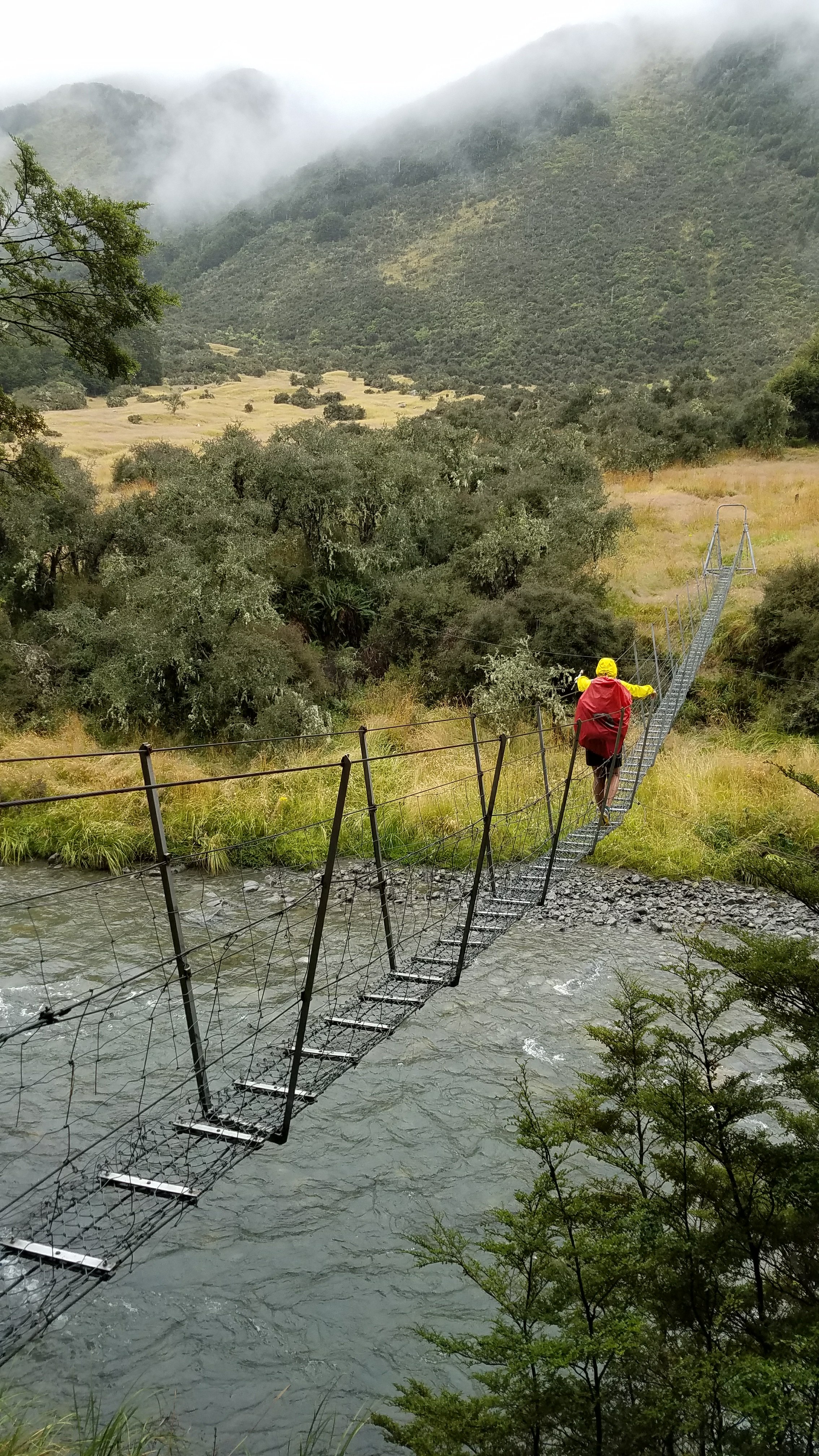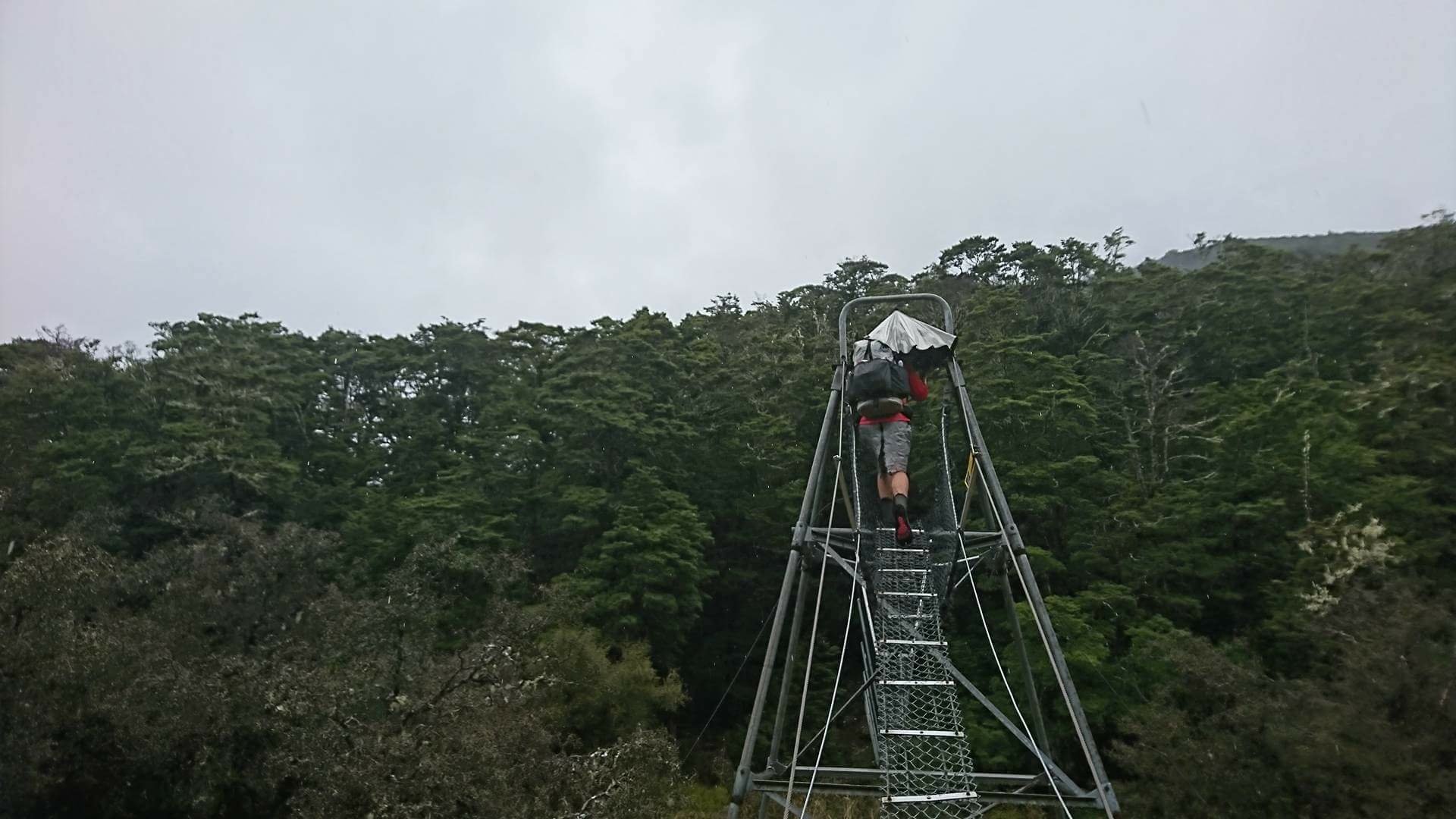 We pushed hard all day, with only one break at a hut. I had time to make hot green tea. I wasn't really that cold, since my core stayed dry. But it felt like a nice thing to do on a gloomy day.
The trail was a mix of open grass fields and forest. Our feet were soaked immediately, first by the overgrown grass, then by the near constant puddles in the trail. There were small stream crossings but all the large ones were bridged. The waterways were running slightly silty and pretty full from all the rain. Considering we were following a river downstream all day, we did an awful lot of climbing above it to avoid slips. I felt as though I was going slightly uphill much of the time. It was all just the draining effect of the rain.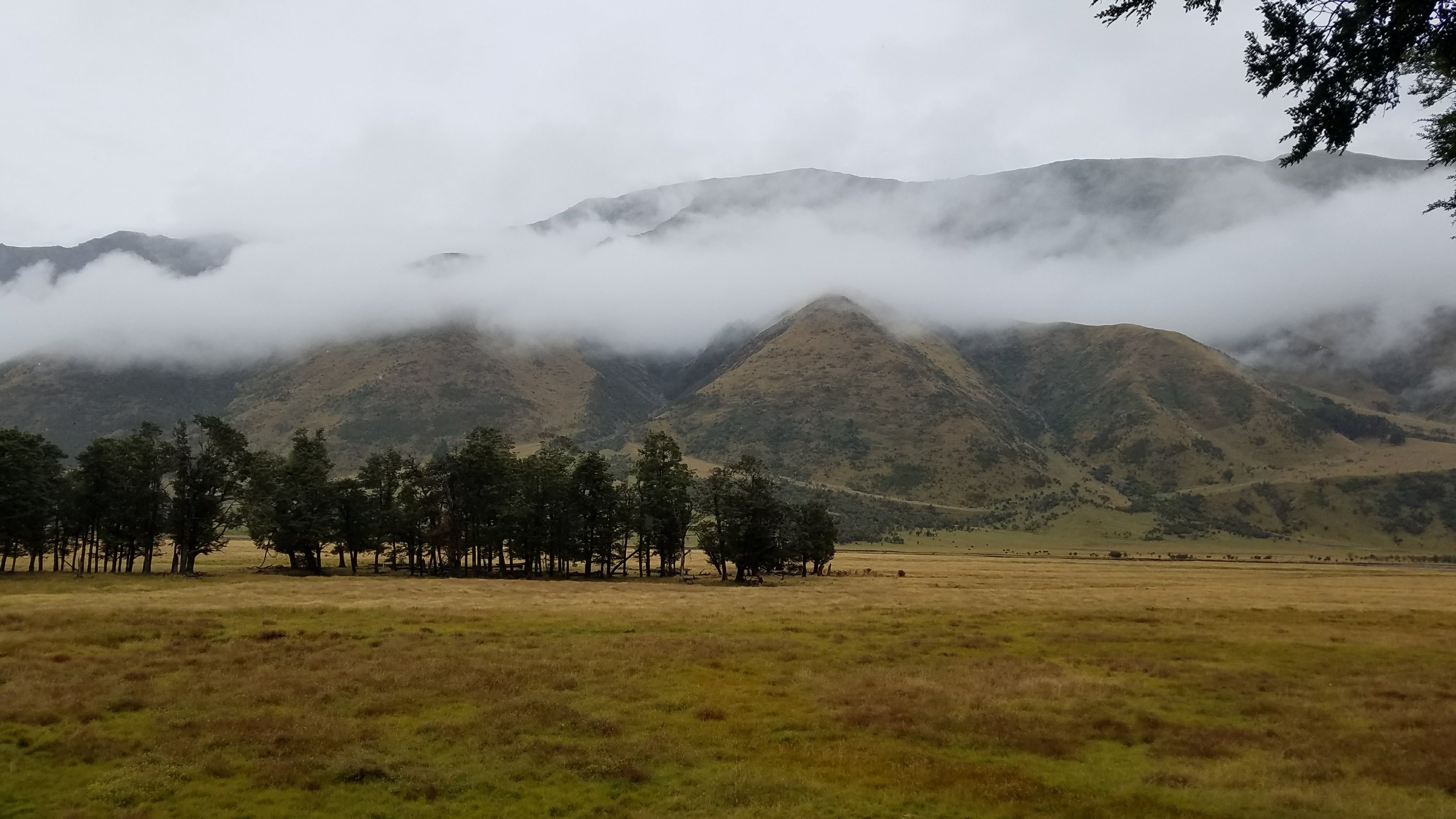 We got to the highway around 3 pm. It had stopped raining at least and the 3 of us (the Fins and I) were able to get a ride in the direction of Hanmer Springs pretty quick. The first ride dropped us off at the road junction to the small resort town and after another 5 minutes, a British pair on holiday picked us up. We crammed into the back of their Nissan, all three holding our packs on our laps. It was only 7 kms but I became quite fond of Tom and Jan in that short time. They were very sweet guys. I would later run into them at the grocery store, backpacker and hot springs over the next 2 days…it's a small town.
We made it into town just after 4 pm and got the last 3 spots at Hanmer Backpacker, one dorm bed and a double room, perfect. We all got cleaned up and went to the local pub for dinner. I went with the standard hamburger. They had a special on jugs so we got cider and beer. The Isaacs cider on tap was surprisingly dry and good, so I'm a big fan of that now. We had time to shop for our resupply just before the 4 Square closed, then went back to the backpaker where I met about 4 more TA walkers hanging out in the lobby. (Edit: this is where I first met Isha from Belgium, who I would later run into again on the PCT—small world!). And then it was time for bed. Not a bad ending to a rainy day.