February 10th
Blue Lake Hut (km2025) – Anne Hut (km2067)
Mileage: 26.1mi/42km
I have an illness. It makes me want to walk for 14 hrs straight, soaking up as much of the most spectacular scenery that I can pack into one day. And I may have passed this illness onto others, who, truth be told, were probably already infected. We all have the Walking Fever. It's not quite the same as the Walking Dead, because we're pretty good at crossing water. And we feed off chocolate, granola bars, and caffeine, not brains. But I felt just about dead by the end of this day. I did one of the hardest climbs on the trail, then walked another 26 kms in the late afternoon.
The alarm went off at 5:30 am. I had already been outside around 3 am to see that it was still clear skies. I was ecstatic that the weather had held off for the morning. My gamble to take half a day at Blue Lake had paid off. The forecast was for increasing clouds throughout the day, showers by late afternoon, then heavy rain all the next day, Sunday. This forecast has been driving my whole schedule since my last day in the Richmonds. I'd learned from Wired's blog posts that it's not just Waiau pass that requires good weather but also the many water crossings after the pass. I knew that if we could get all the way to Anne hut, we'd be clear of all the potentially difficult crossings. If not, we could get trapped by rising waters. Wired had to go 6 kms out of the way just to get across the Ada River. Fortunately, the rivers are running much lower this year…but that can change with just one day of heavy rain.
By the time I was ready to leave the hut at 6:30 am, I was pleased to see that Anna and Tuomas were ready to go too. We started up towards Lake Constance, which was a repeat of the day before for me. We climbed a steep slope of scree to avoid some cliffs along the lake front, then slid all the way back down to the lake shore.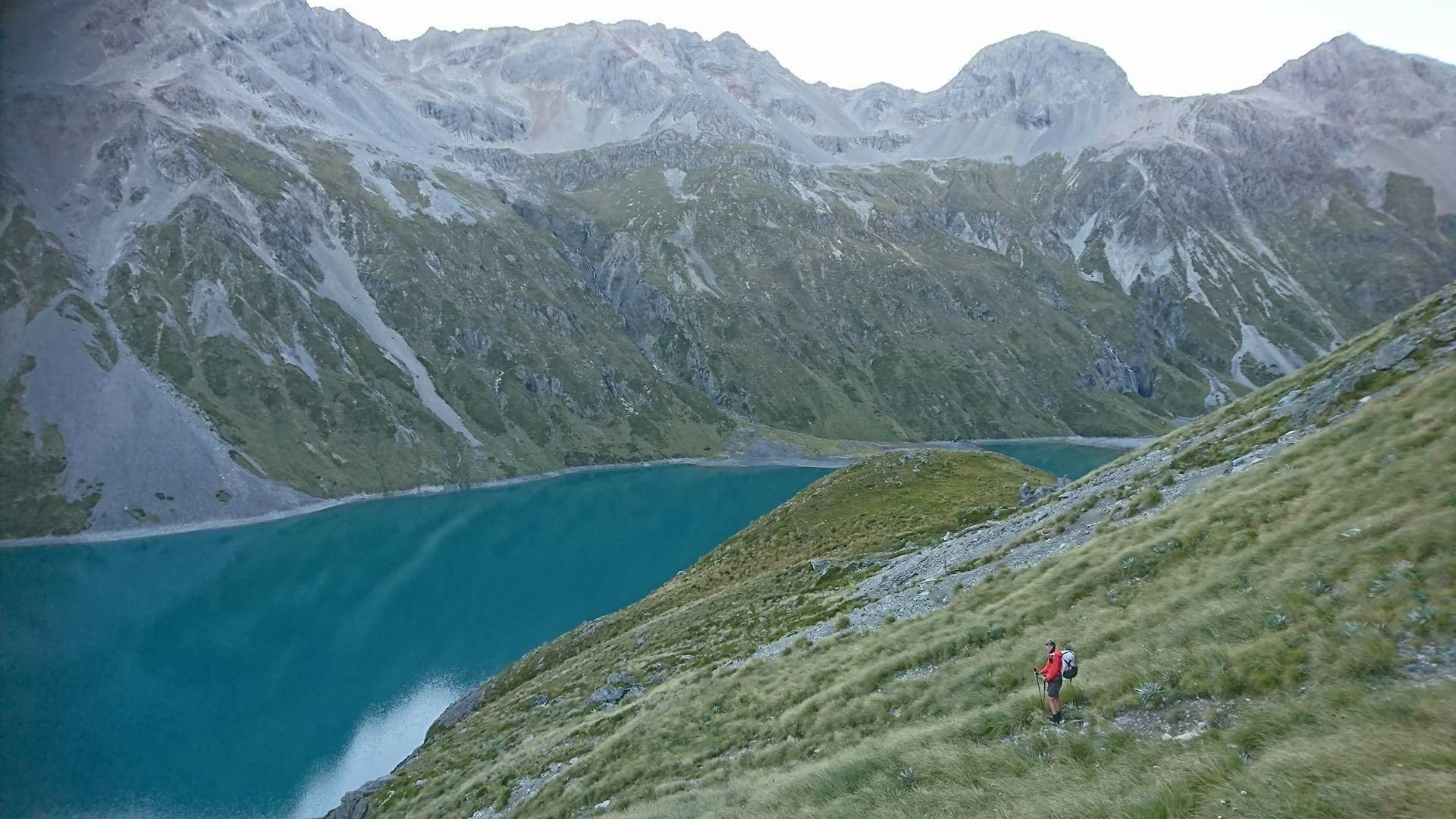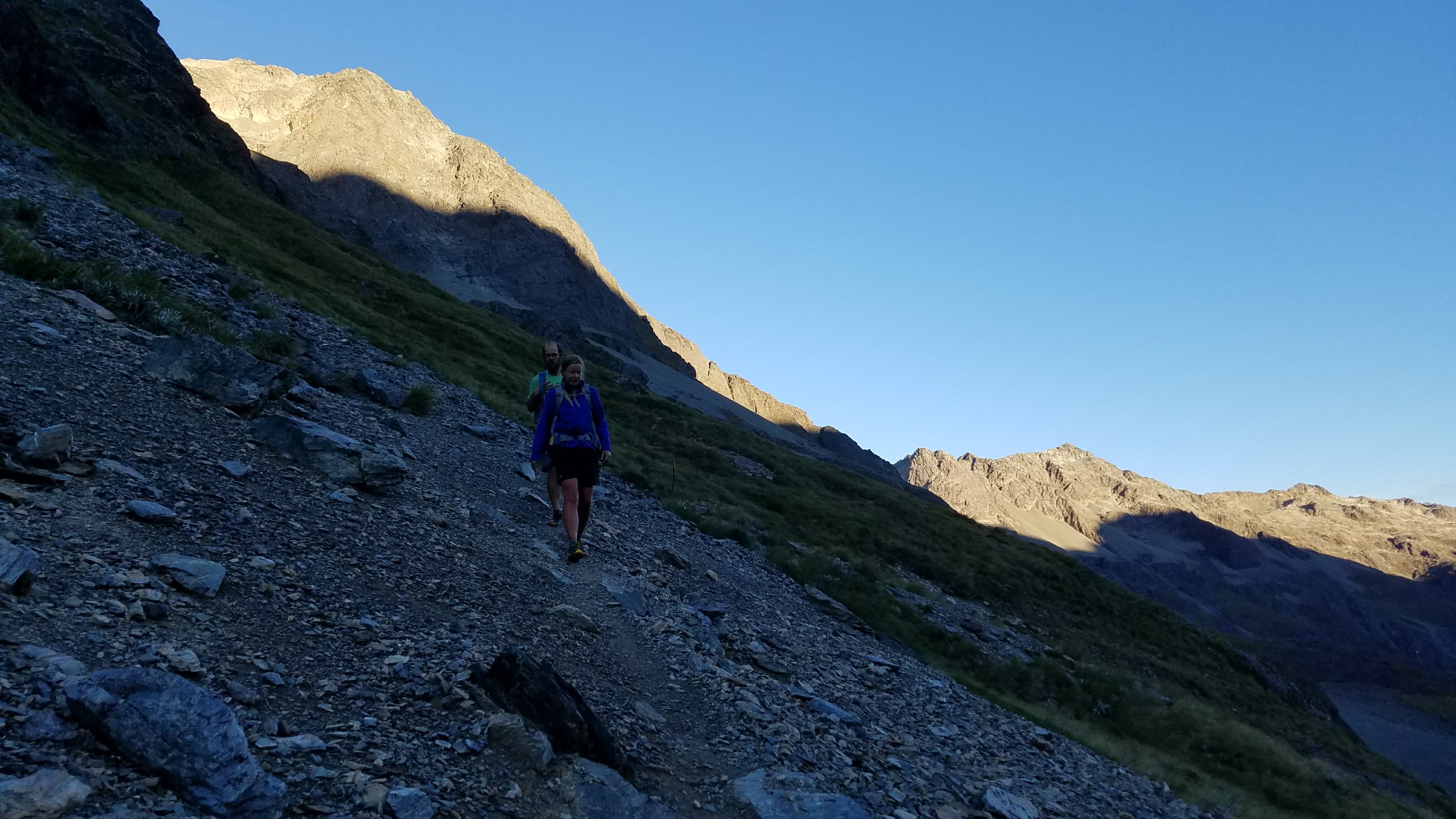 Last year, Wired had to wade hip-deep through the lake, while following the actual trail. The lake level was very low on this day, leaving plenty of room to walk with not even a threat of wet feet.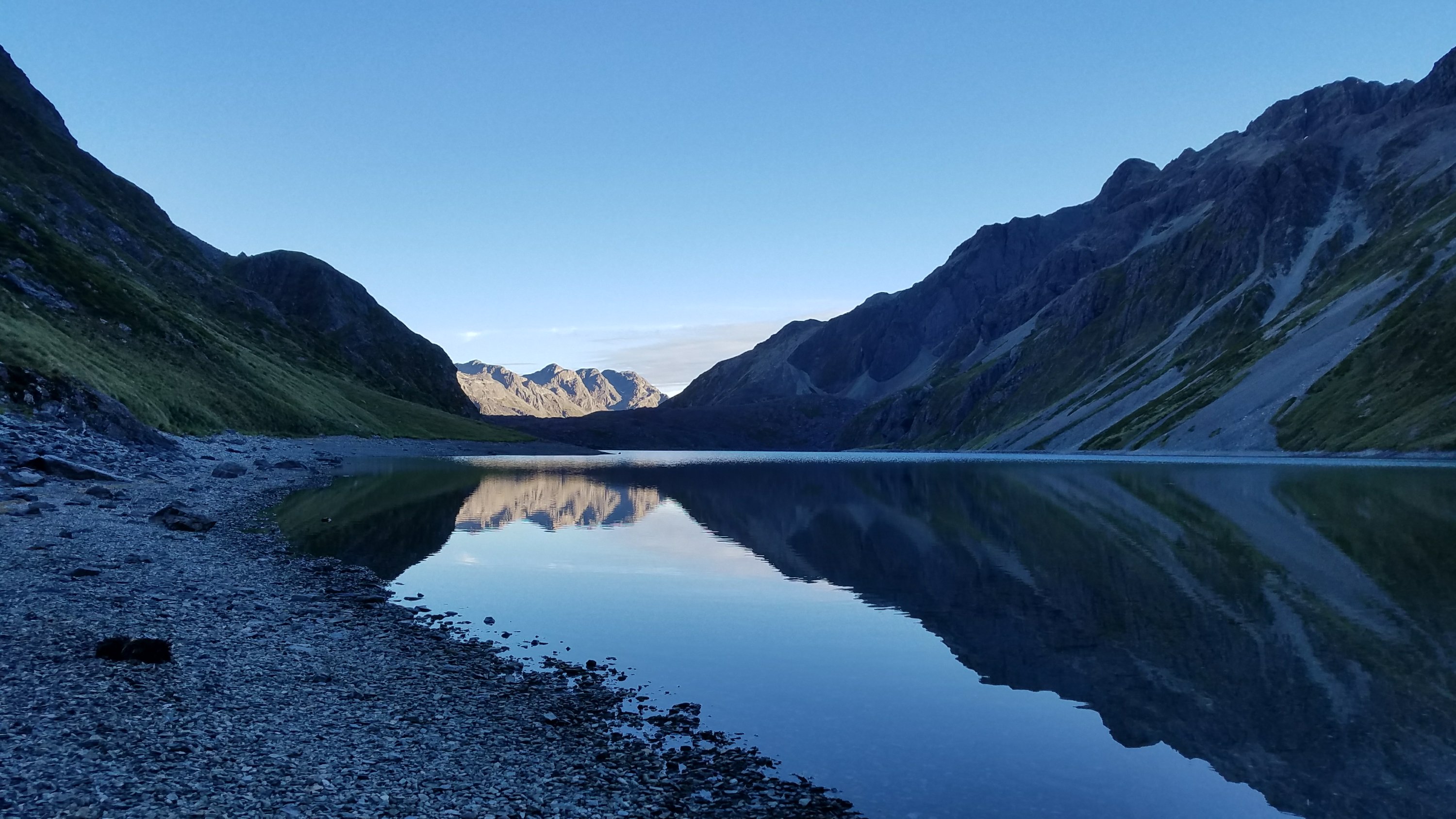 After the lake, we faced our next big challenge. We had come to the end of the valley and were surrounded by a bowl of rock faces. The route goes nearly straight up a scree slope for about 1500′. It is hard to get a sense of the gradient in the pictures.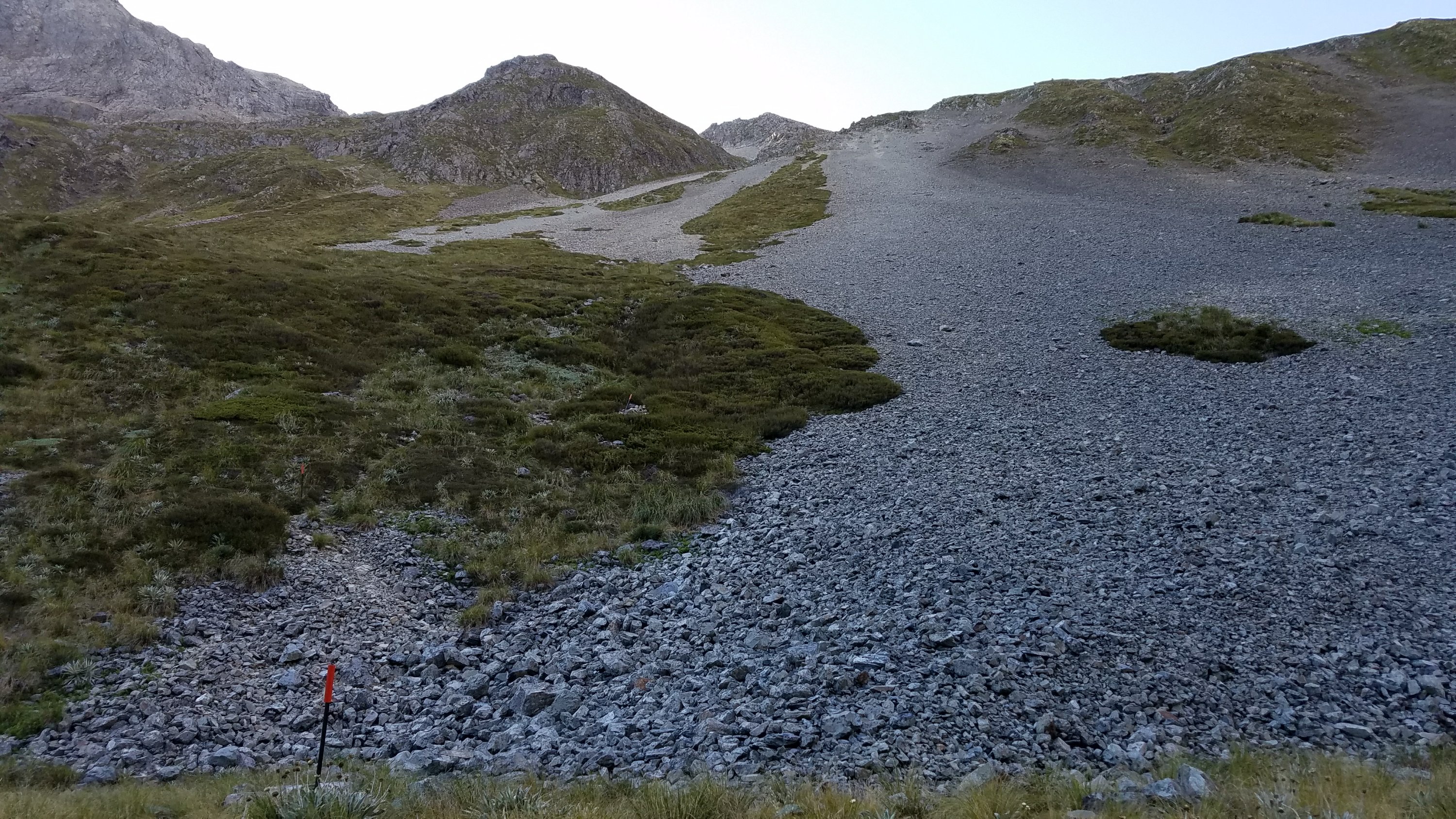 There was one section that required sidling/climbing across a narrow, slanted, gravel goat trail that was actually quite scary. One slip would send you down the slope a long ways. This was probably the most sketchy scrambling I've done yet. I went first and was even more nervous watching Anna follow behind. Because I was ahead, I was also very conscientious of dislodging rocks onto my hiking buddies' heads.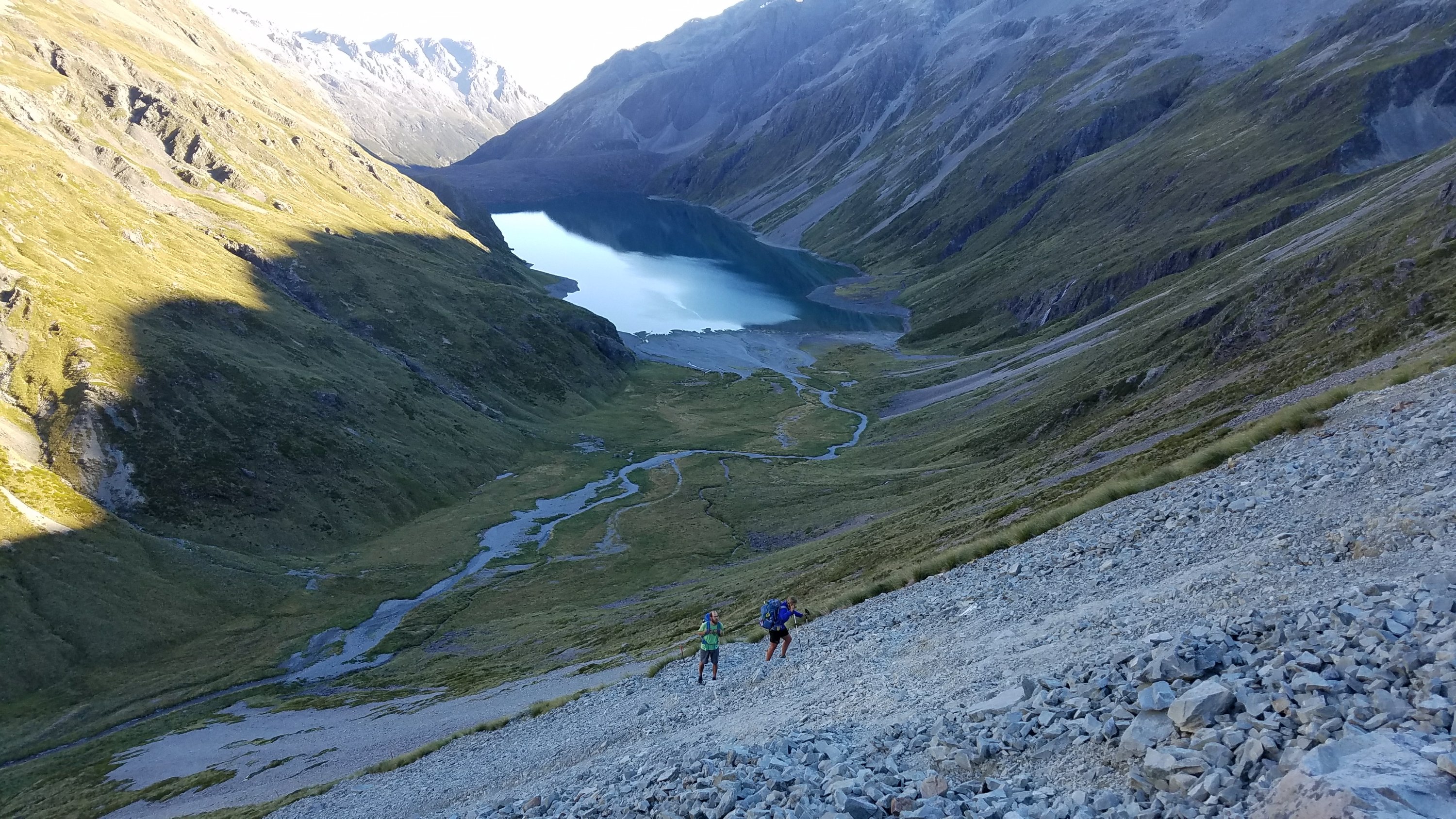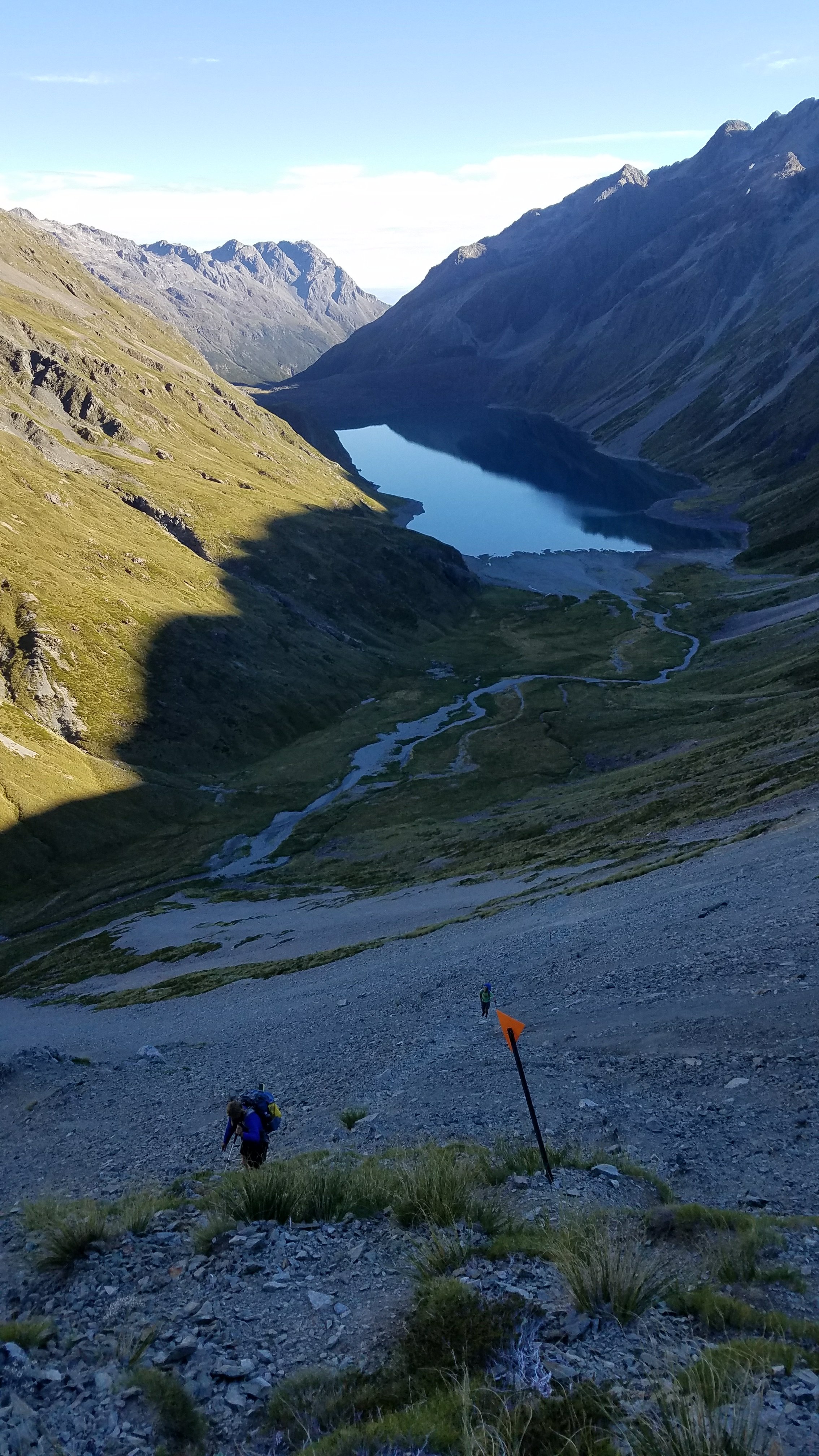 The grade eased near the top and we were finally at the saddle just after 9 am, the second highest point on the trail at 1870 meters/6135′.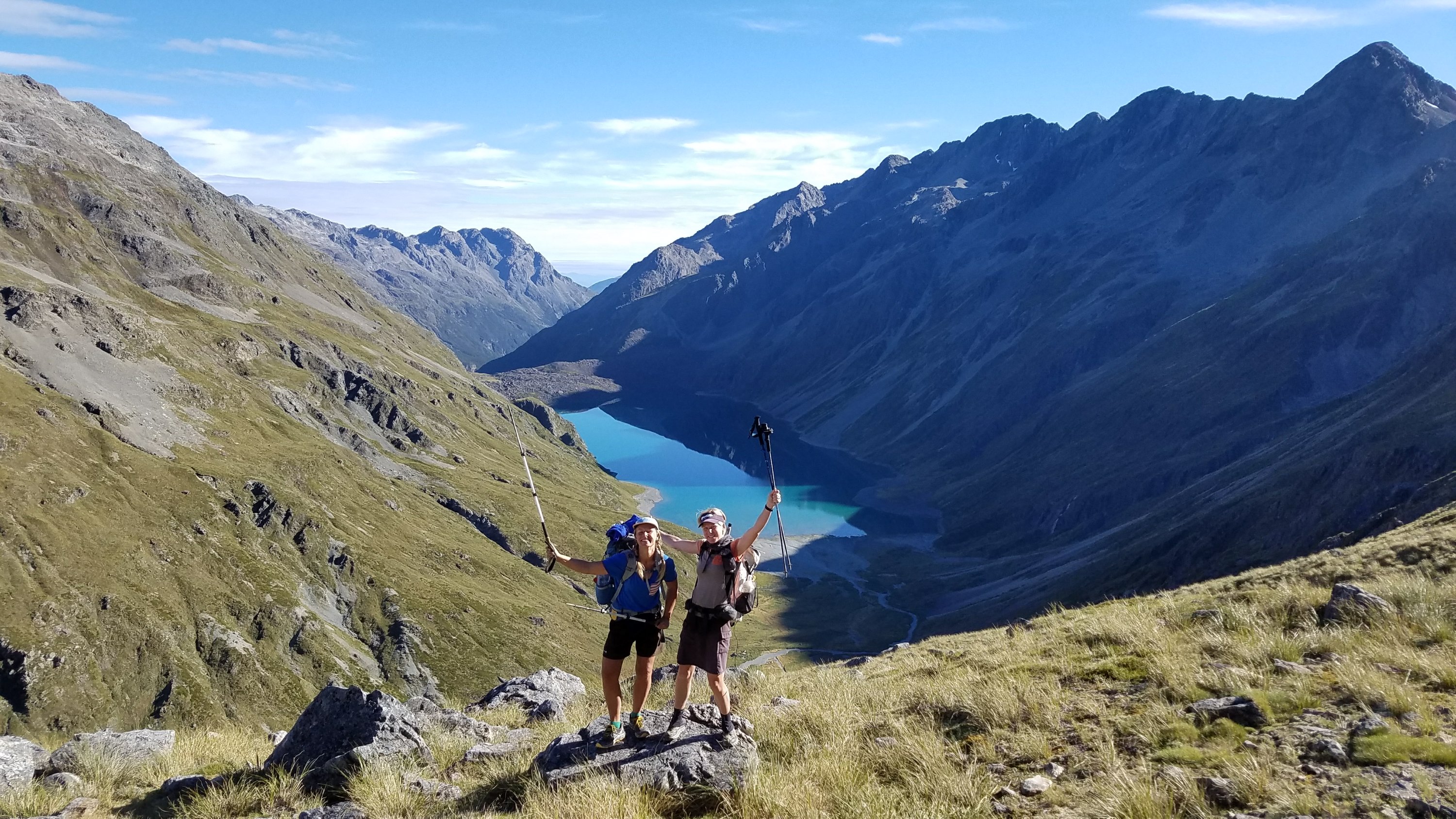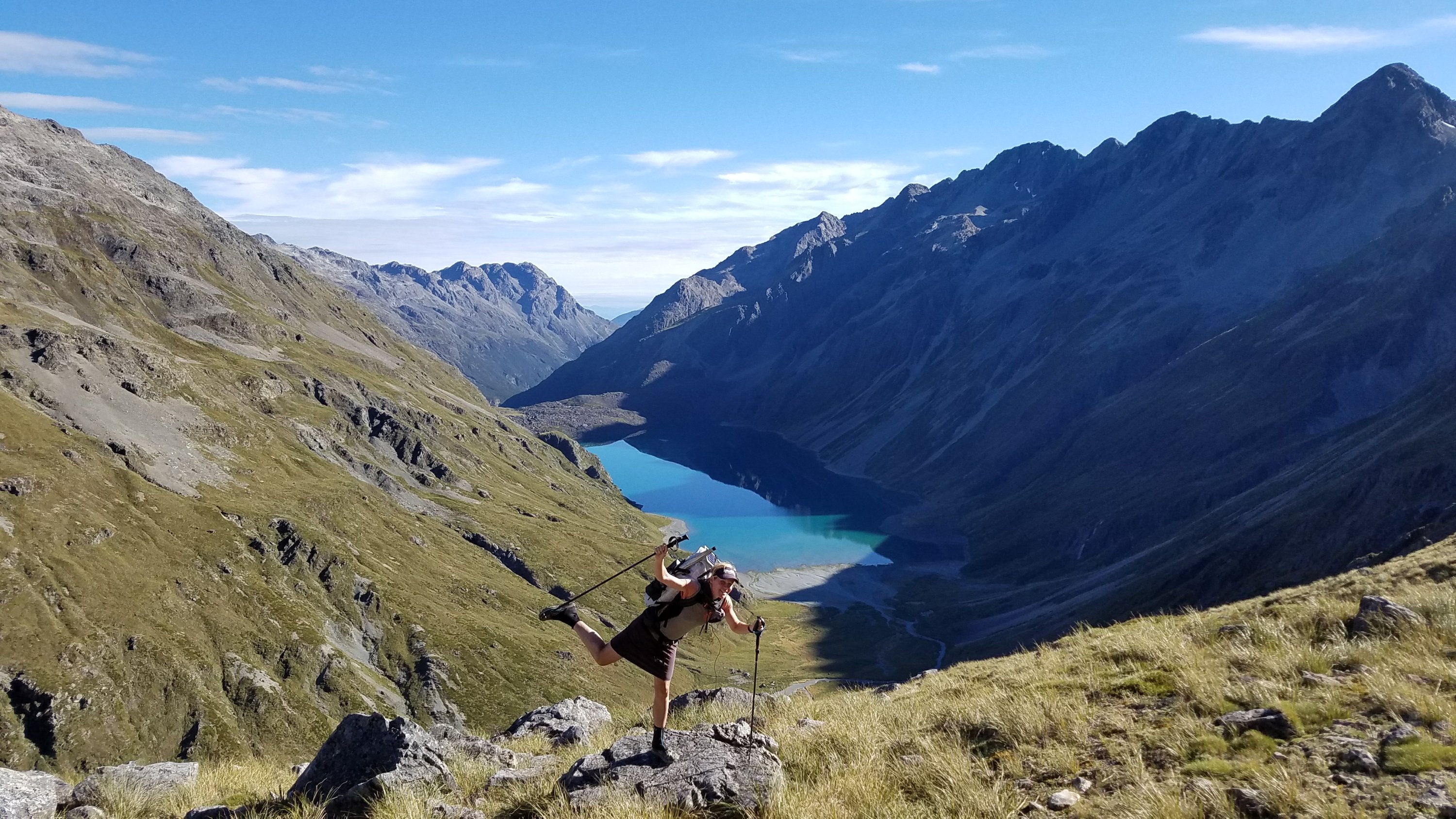 We had been climbing pretty fast but we also took our time along the way, just soaking in all the scenery. It was one of the most spectacular alpine areas I have ever visited…definitely a highlight of the trail. The weather was perfect. No wind, clouds, or freezing temps. Just brilliant blue skies and sun. I could see the clouds to the north but it was still hard to believe that it would be all socked-in and raining merely 6 hours later. We were so lucky.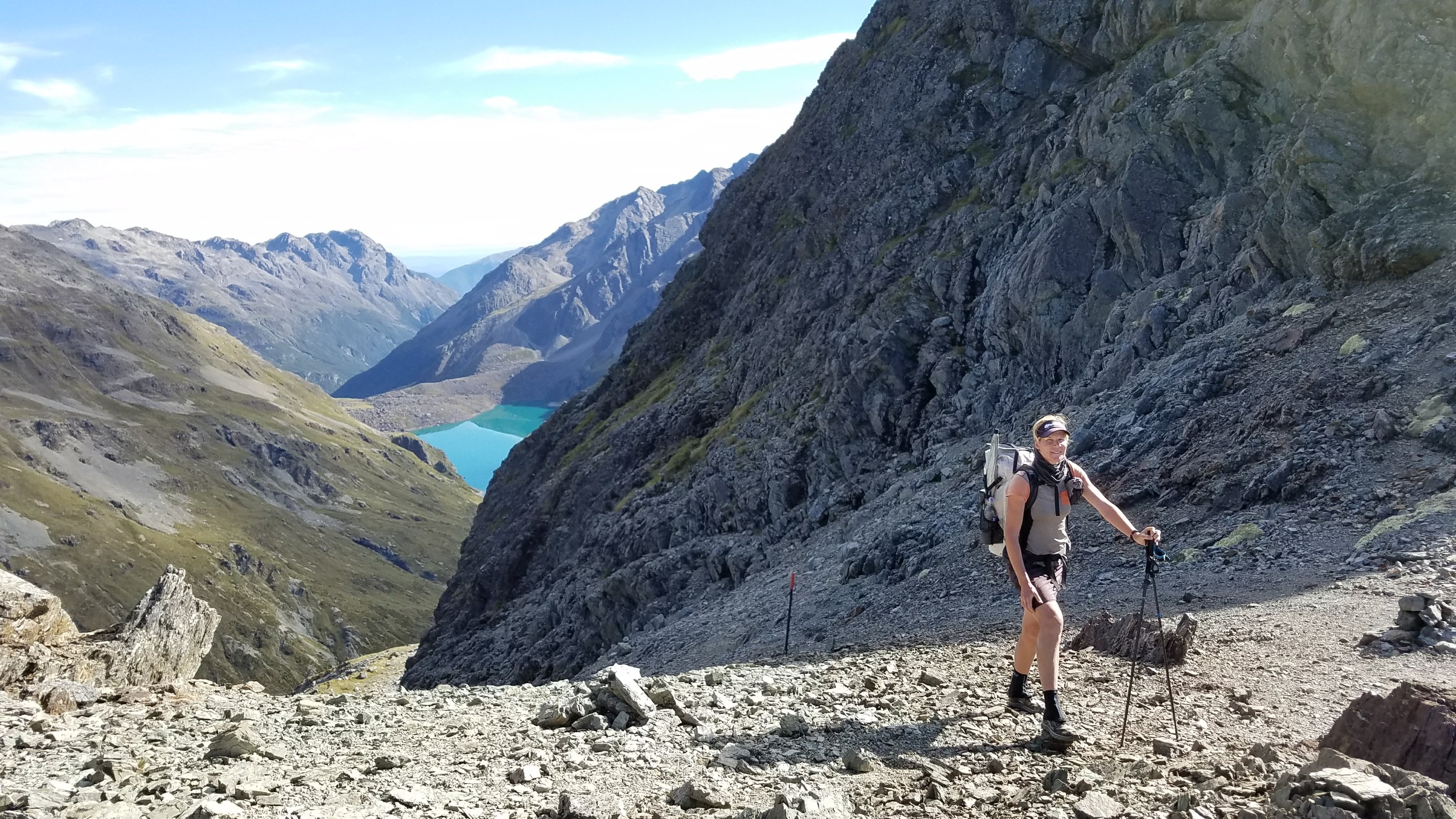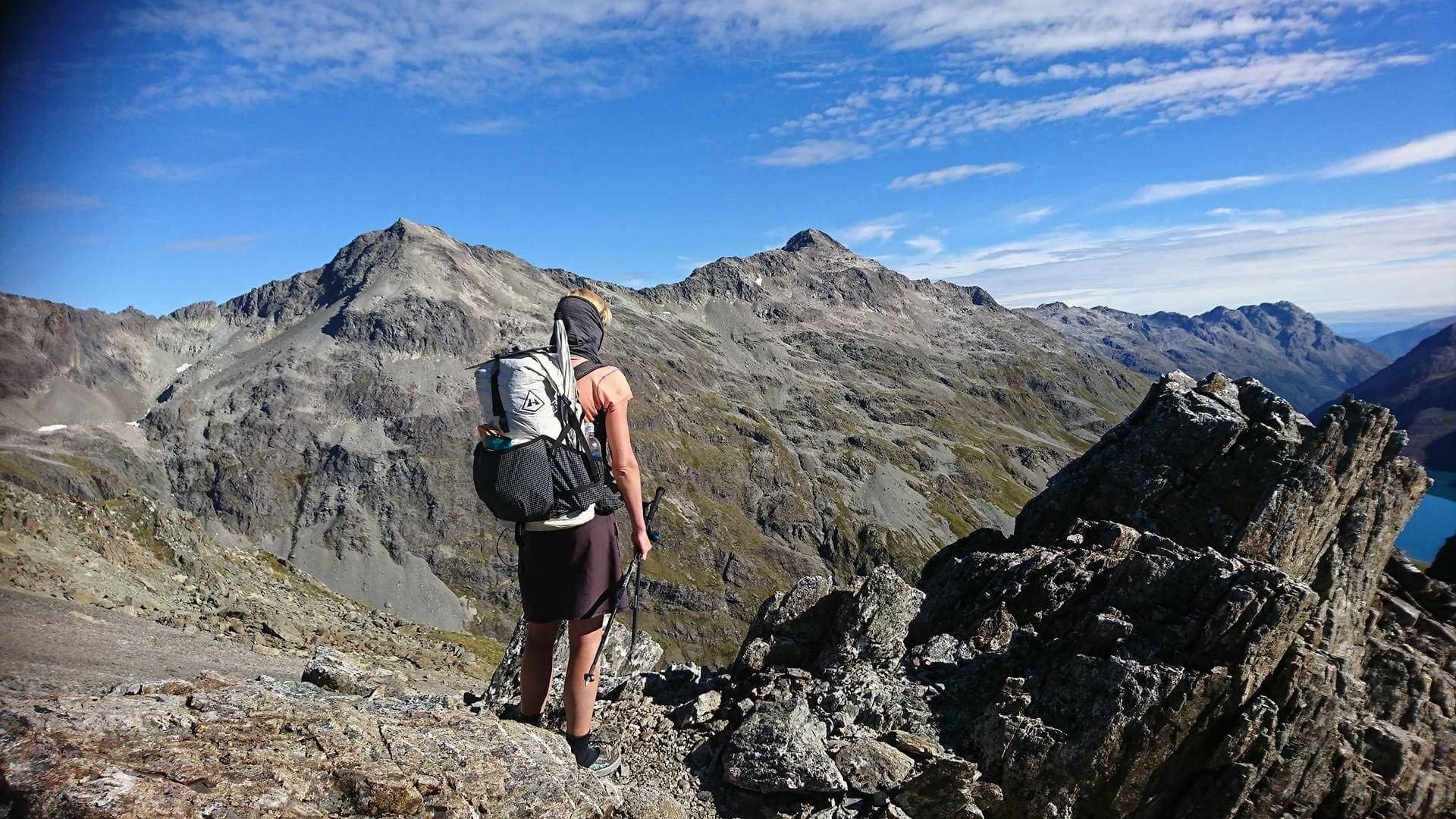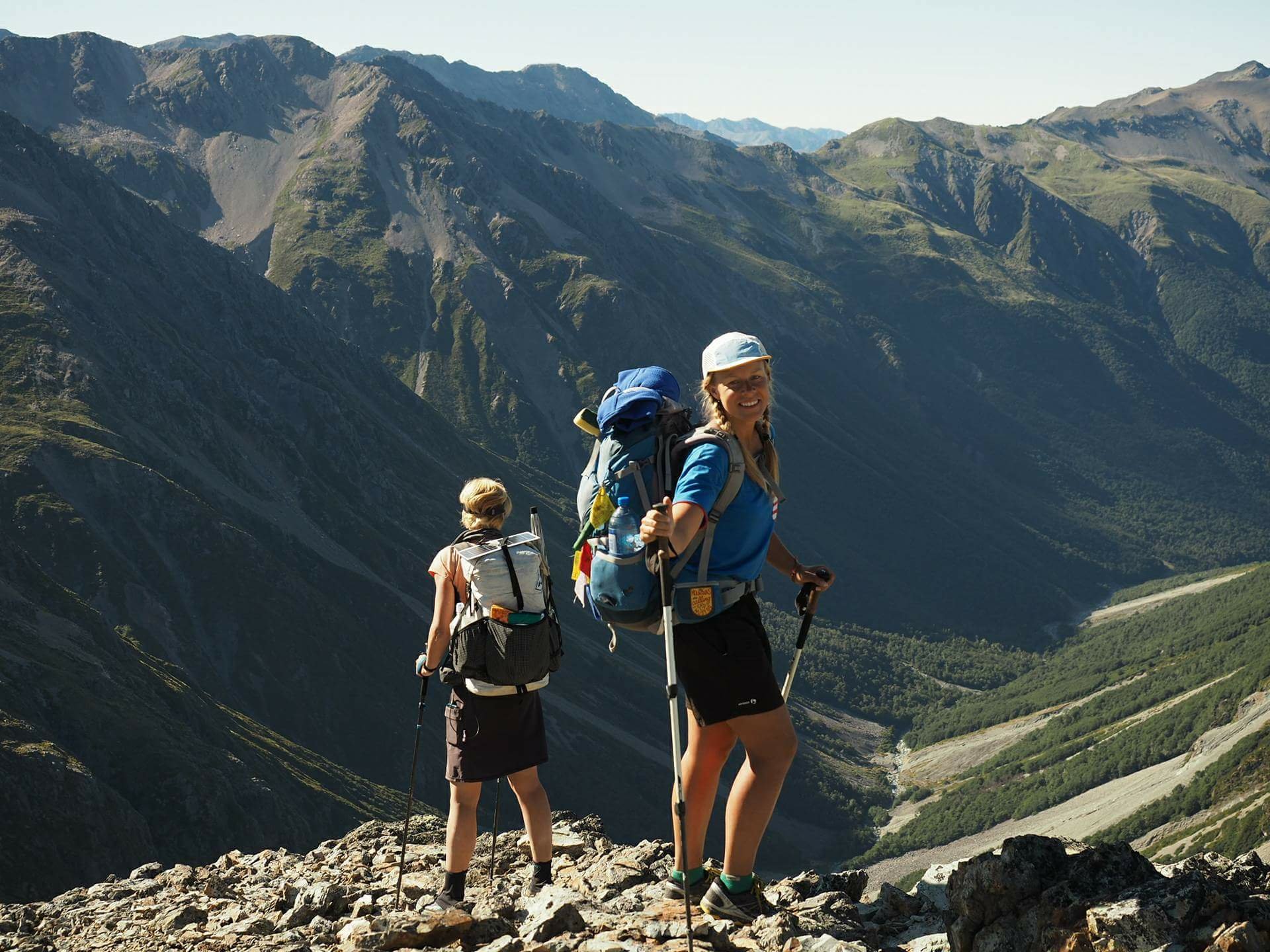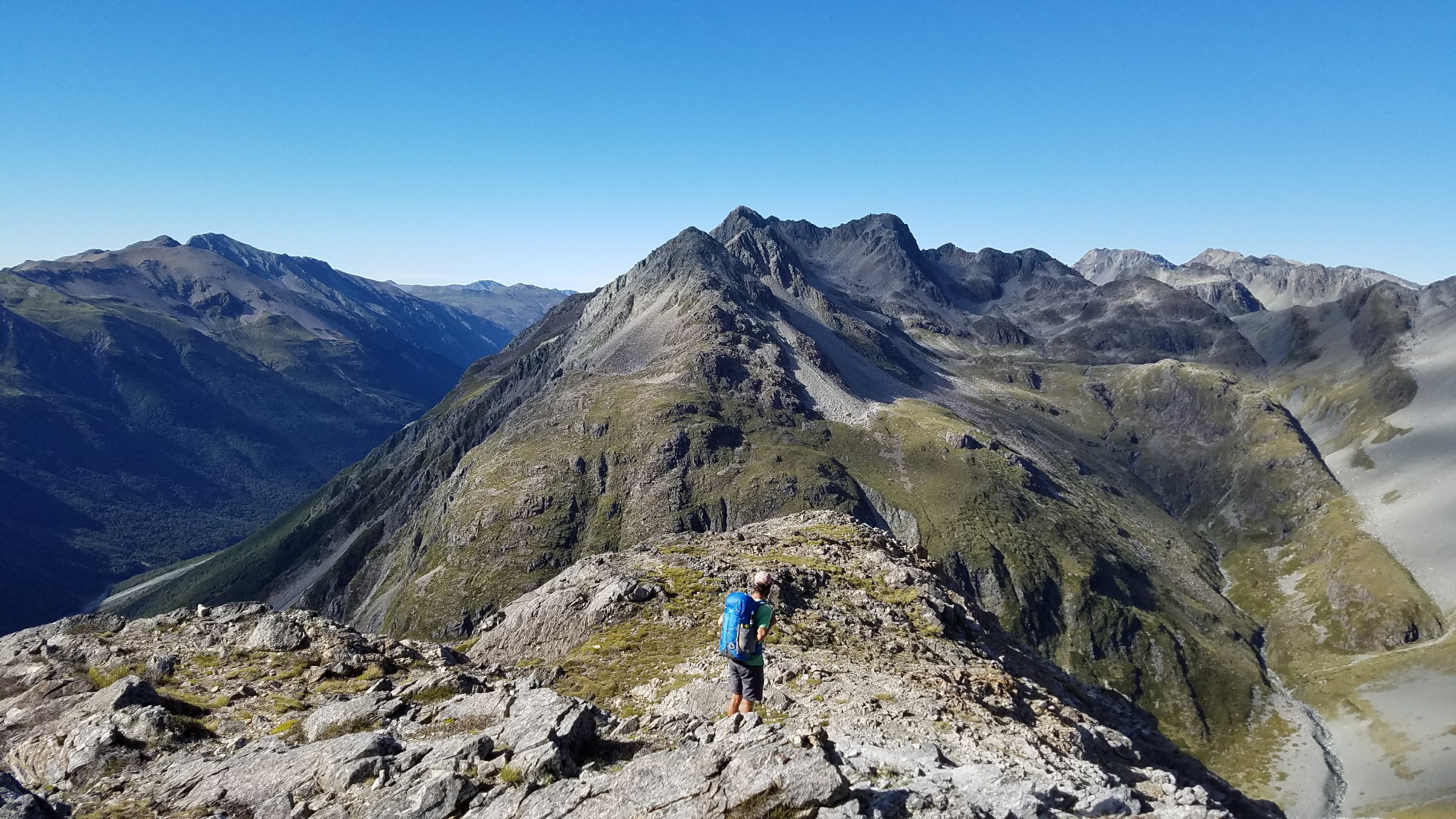 We hung out at the top for about half an hour then reluctantly started down. There was a short section that required some boulder scrambling, both climbing down facing the rock and also shuffling on our butts. Anna proved to be a great model, demonstrating how it's done.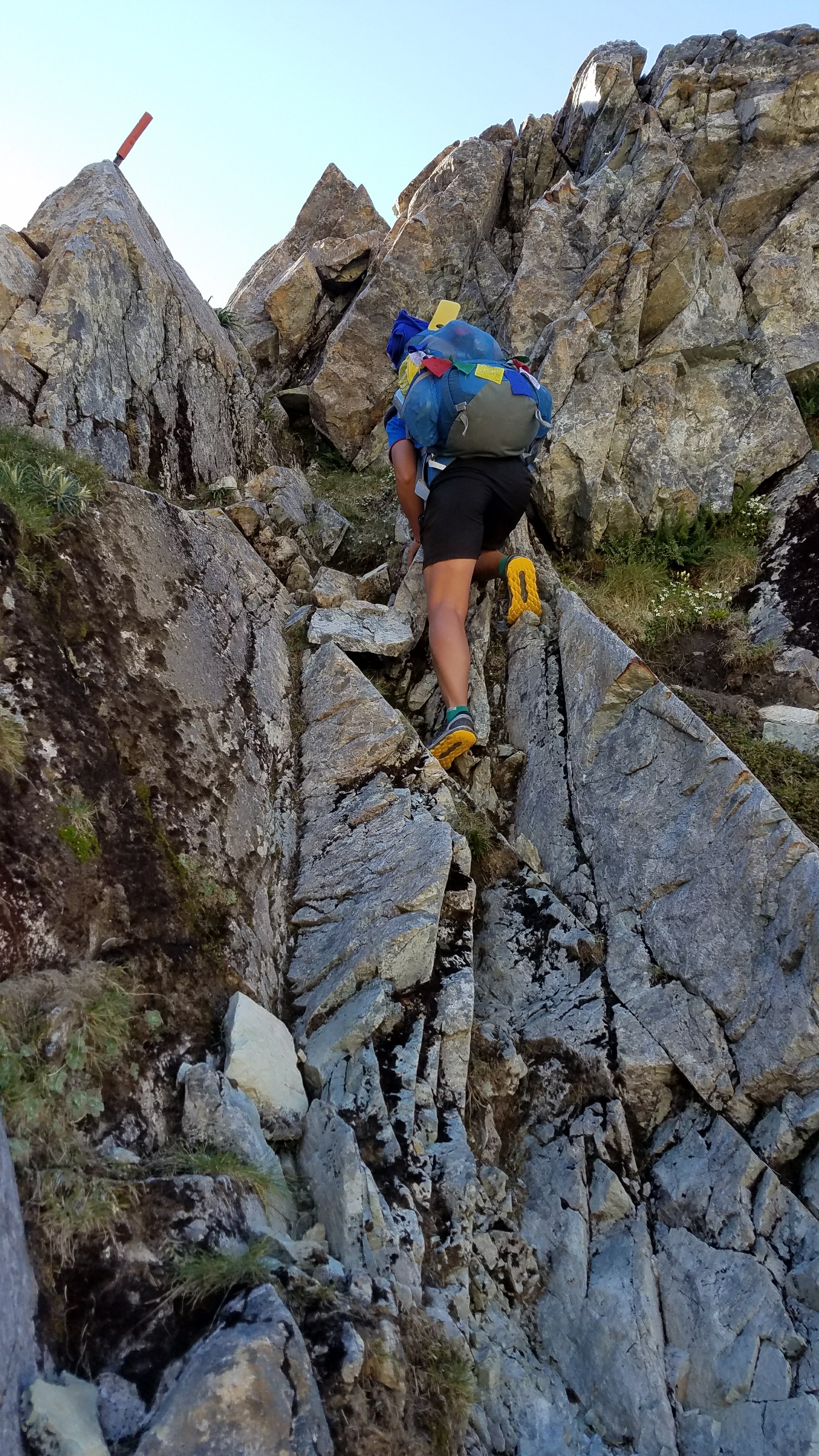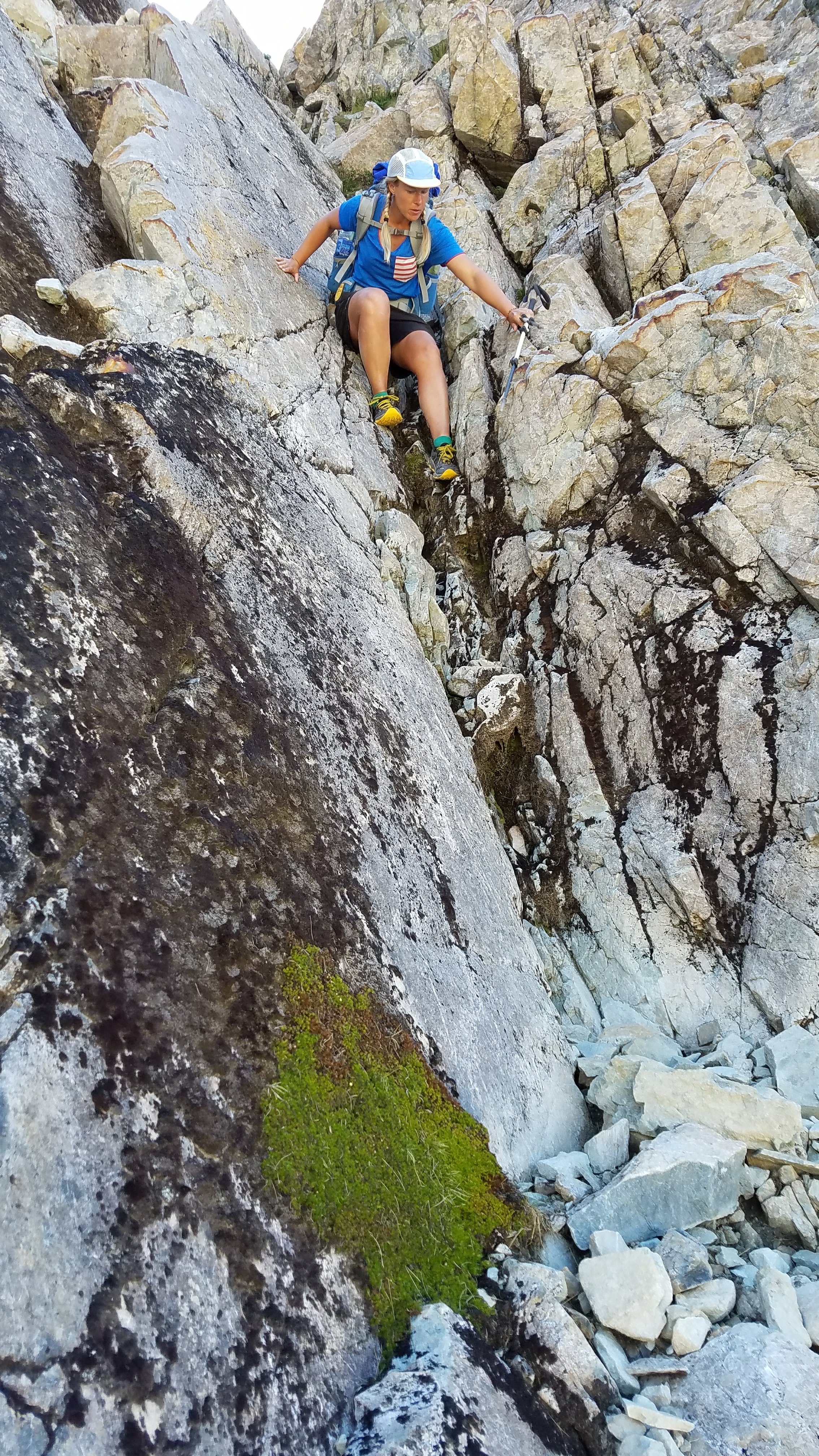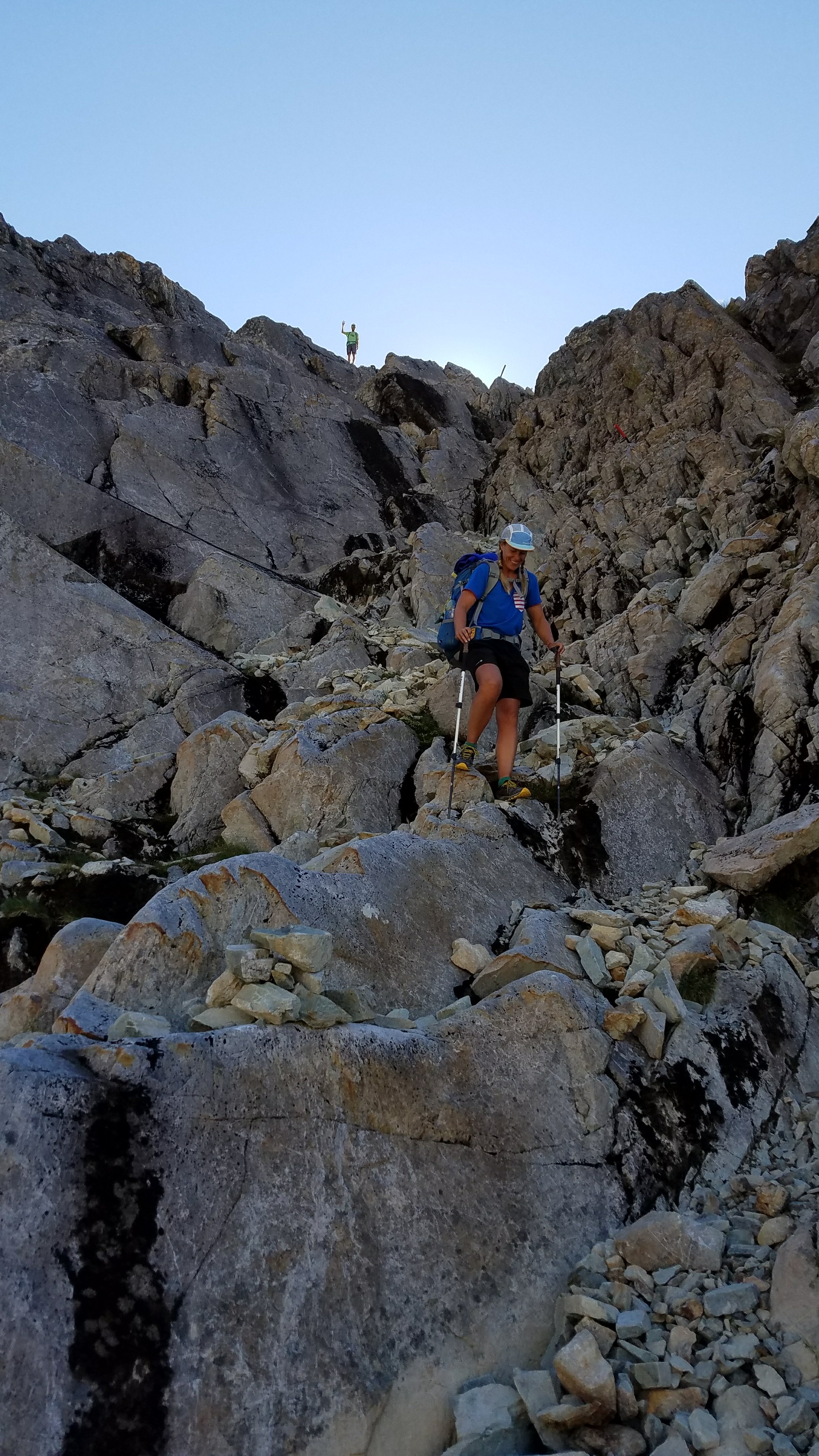 Some find this part to be the most challenging but we all thought it was kind of fun. There was the potential for a bad fall of around 10′-15′ but the rocks had lots of handholds and were very grippy. Thankfully we also all had small packs, as I can see it being very difficult with a big load.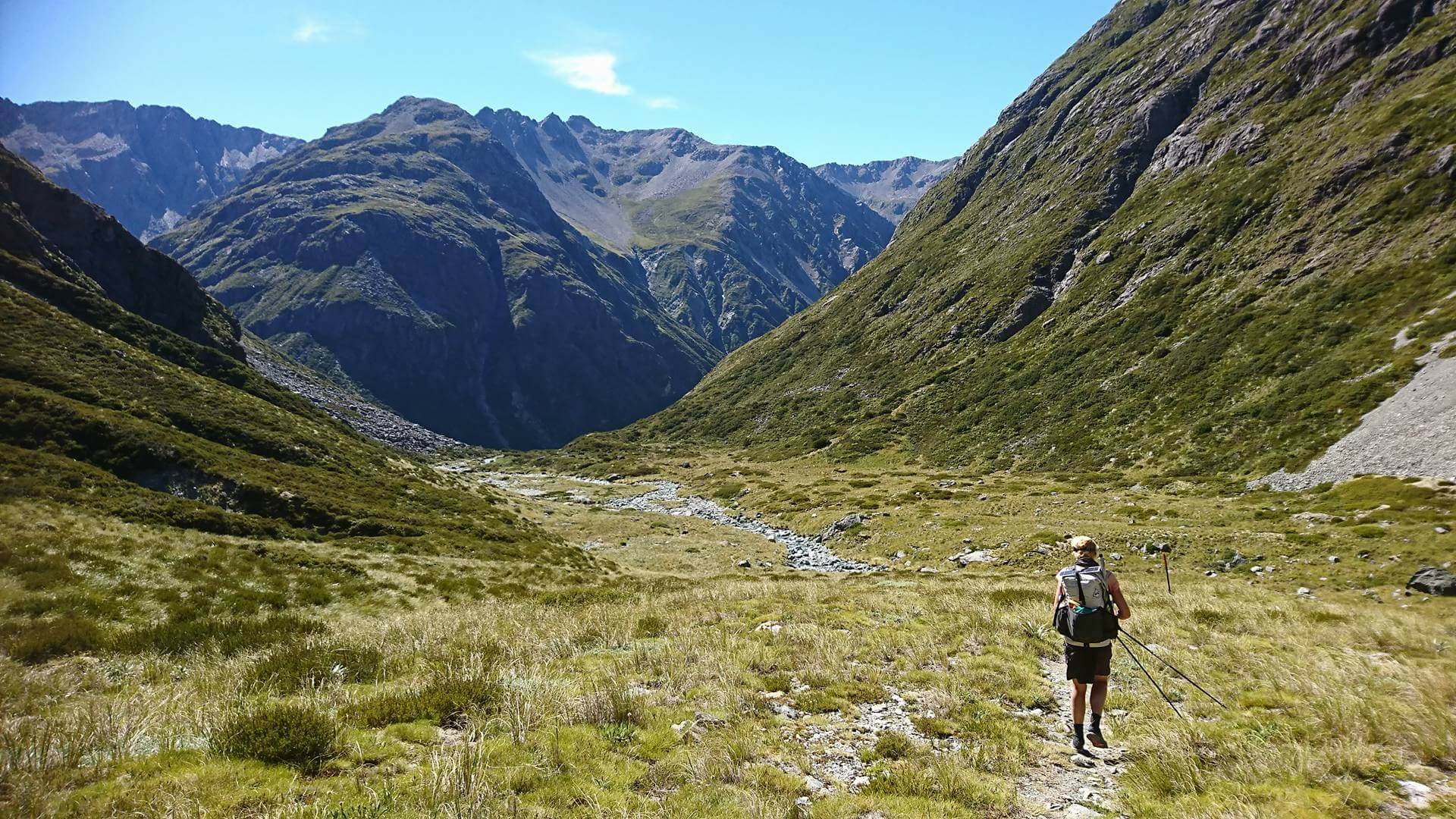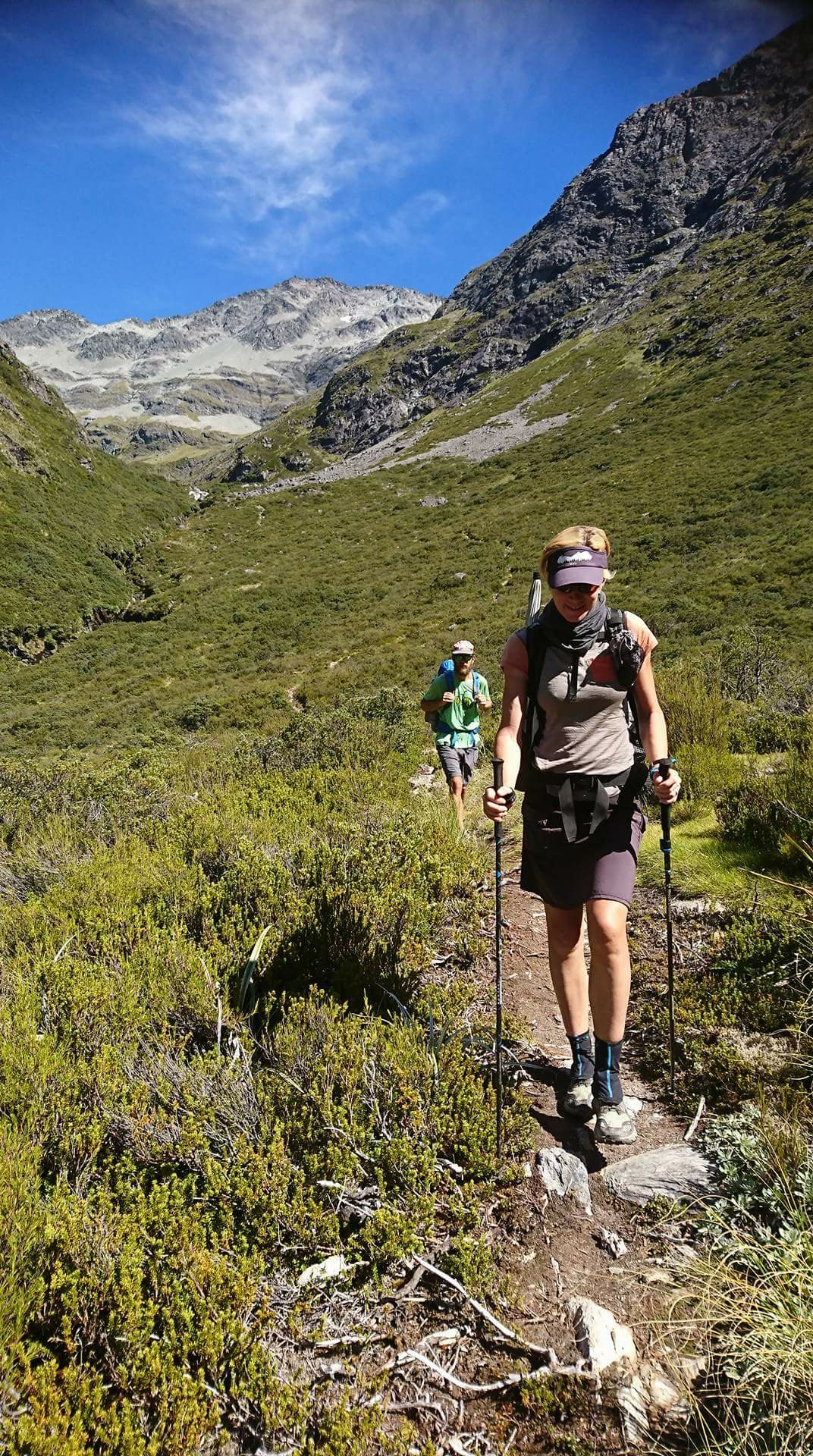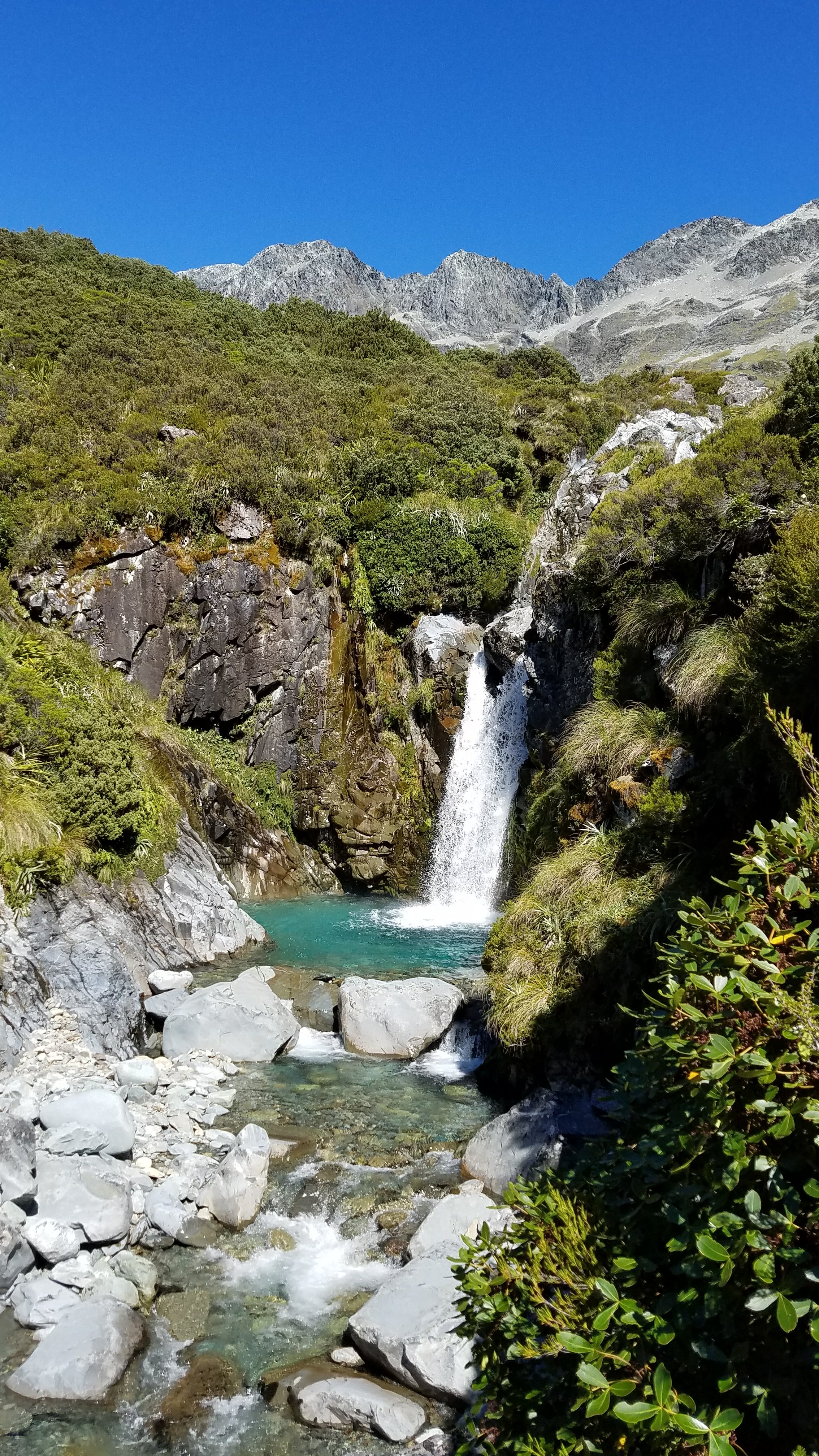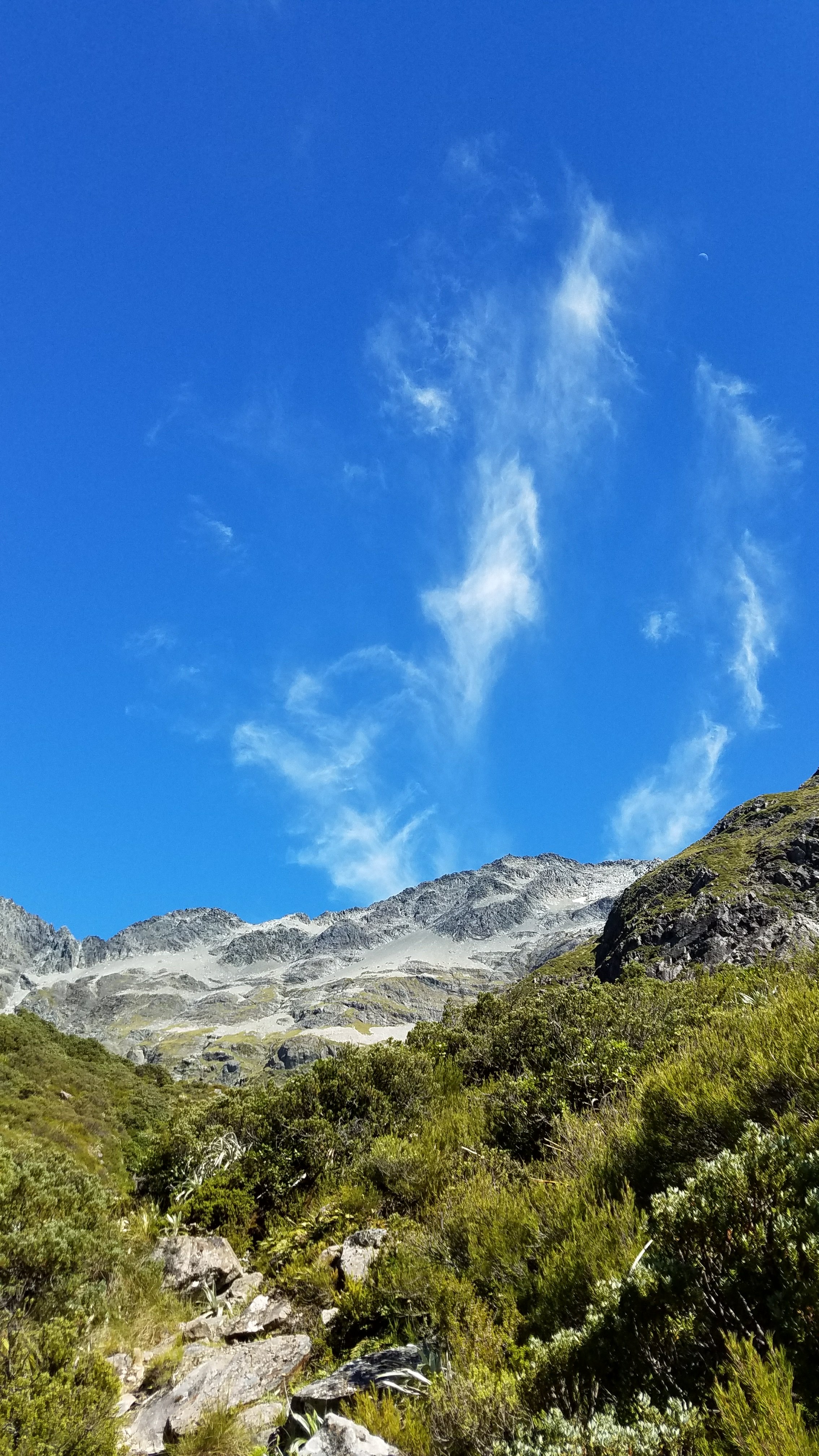 Much more downhill followed, but nothing too difficult. We did have to sidle across many scree fields once we began to follow the Waiau River. It's easy to let your guard down once over the pass, but we later met a walker that badly injured her knee on the scree fields. Scree can be tricky even when there is a formed and benched trail. New sections along the Collegiate West of the CDT/CT in Colorado provide the very best example of how a trail can be made of this chaotic rock. That trail is smooth enough to walk on while barely having to look at your feet for holes in the rock. It is a marvelous feat of trail engineering. Here, there is no formed trail. The rocks are all loose and at different angles. You jump from one to the next, hoping they are mostly stable. Every step carries a potential for tipping into a hole and breaking an ankle or leg. Strong, flexible ankles go a long ways.
Then there were the many crossings of the Waiau River and side streams. We stubbornly removed our shoes and crept across barefoot for the first 6 crossings or so. The water levels were low enough to allow this but going shoe-less is very inadvisable in stronger currents.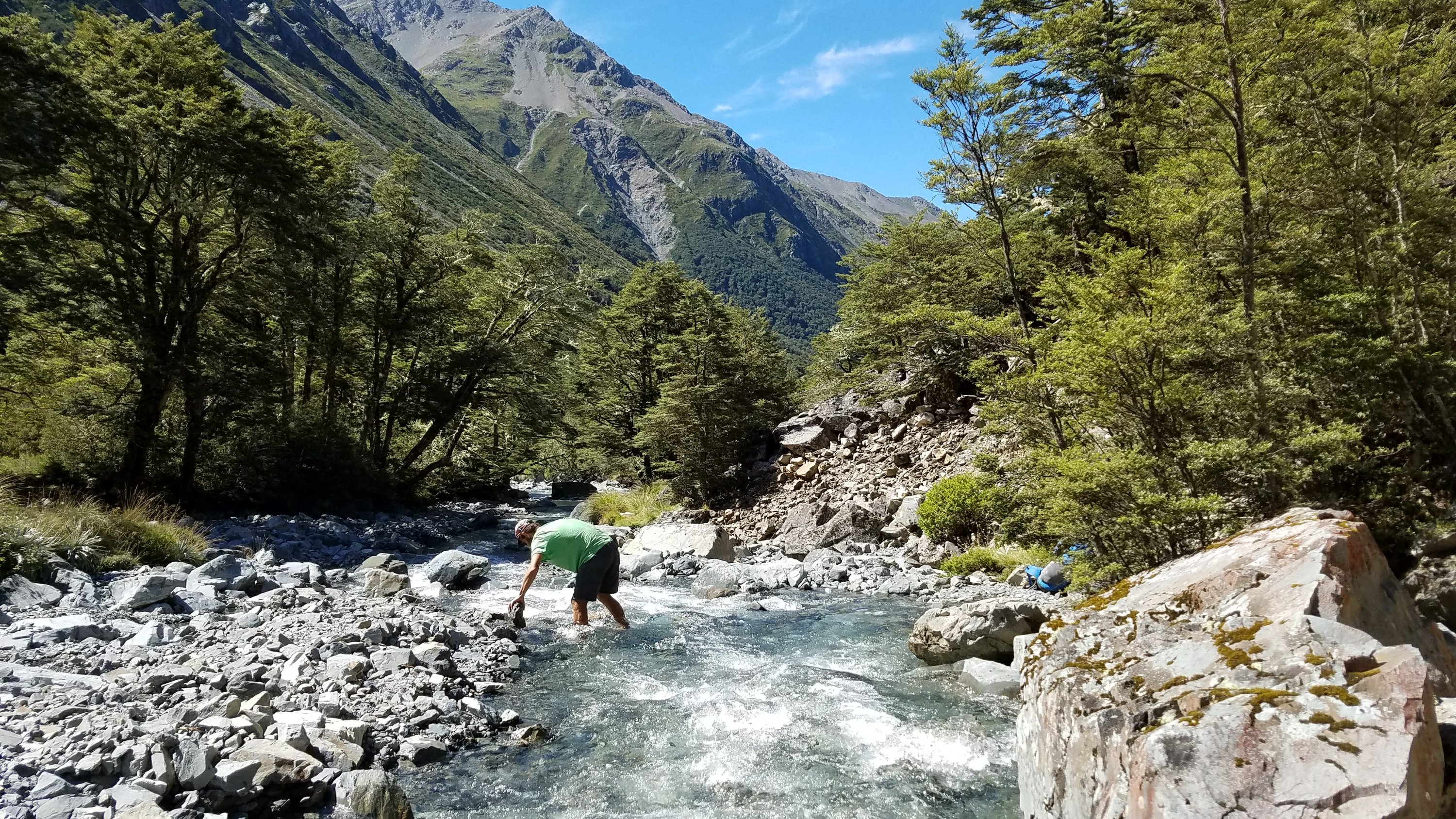 Tuomas even tried to build a rock bridge for the next hikers.
Eventually one of my shoes became inundated when I tried to jump across a stream. After that, I had fun trying to hop across on my one wet foot, providing good entertainment for the Fins. We all employed different strategies throughout the day, with Anna being the first to give in to the practicalities of wet feet. I followed shortly behind her but Tuomas remained steadfast by simply removing his shoes and walking barefoot for many kms. I couldn't believe how tough his feet were, while at the same time setting a very fast pace. In fact, they both set a pace that I could barely keep up with. I had to cram 10 oreos at one point, while still walking fast, just to keep from bonking.
The trail did mellow out into some of the nicest, cruisiest trail through broad valleys of grass for the rest of the day. Thank goodness, since we had the lion's share of the distance (26 kms) yet to do after 2 pm. High peaks and valleys escorted us along the way, a constant reminder of our status as such tiny things walking among giants.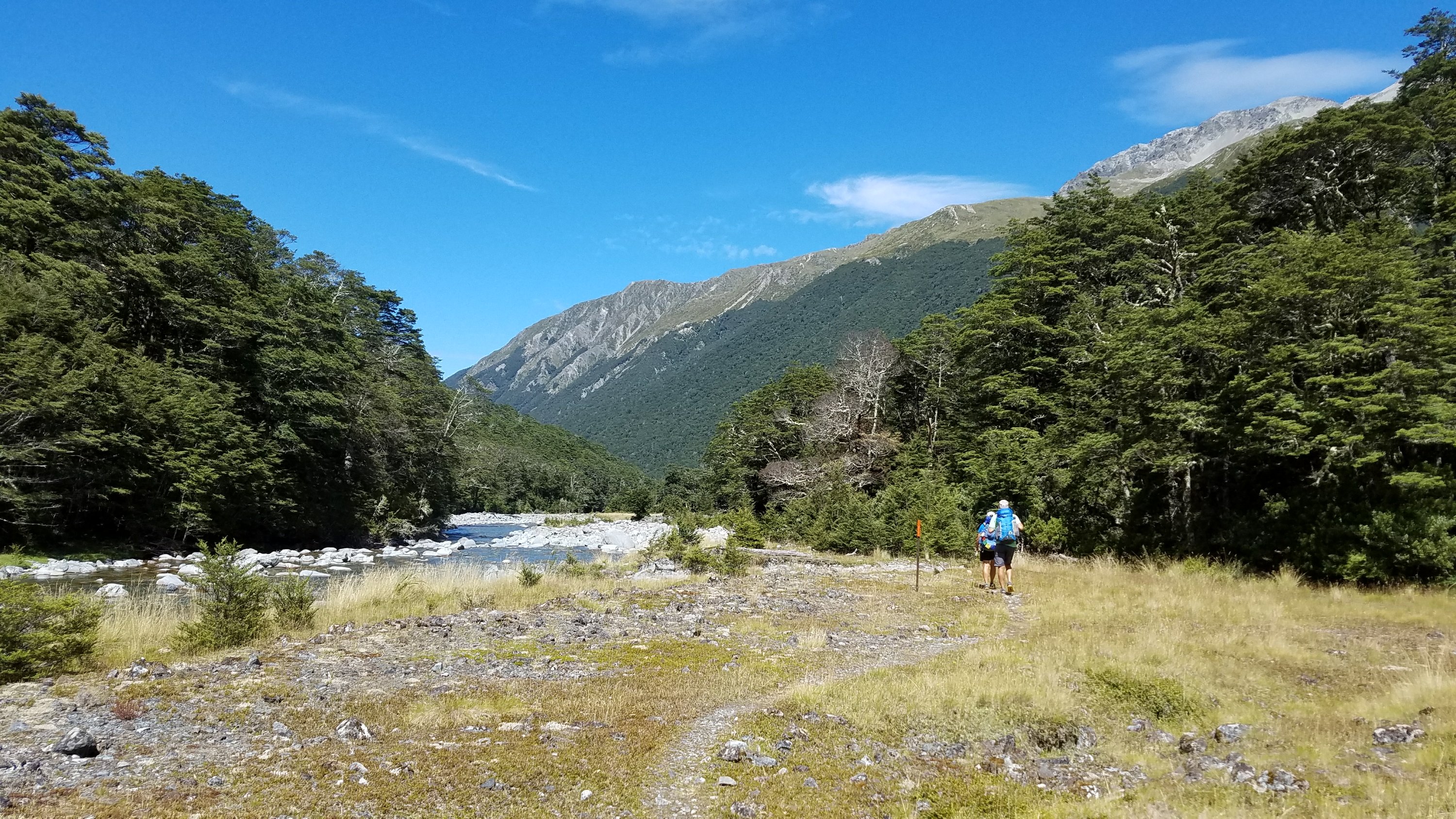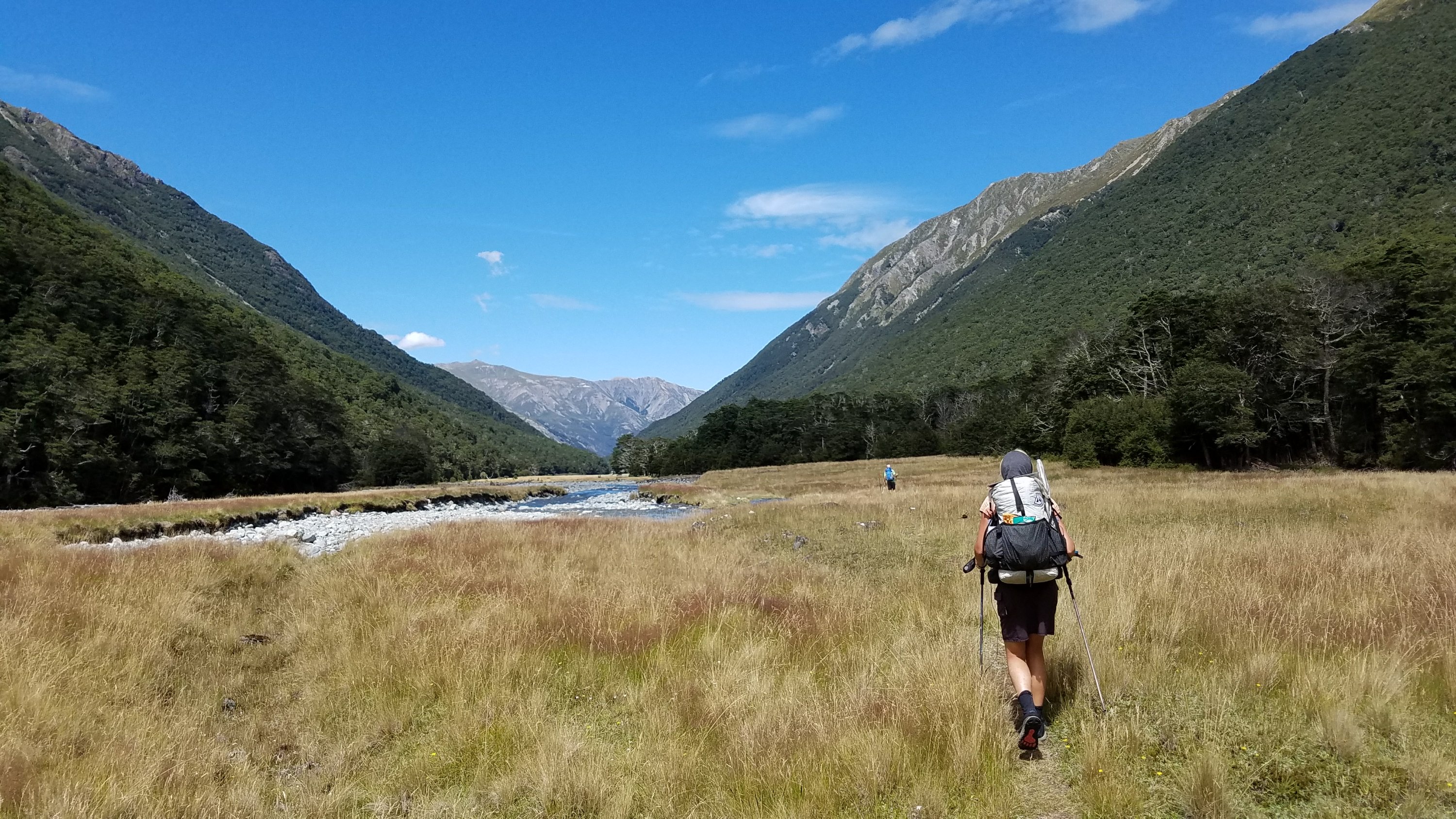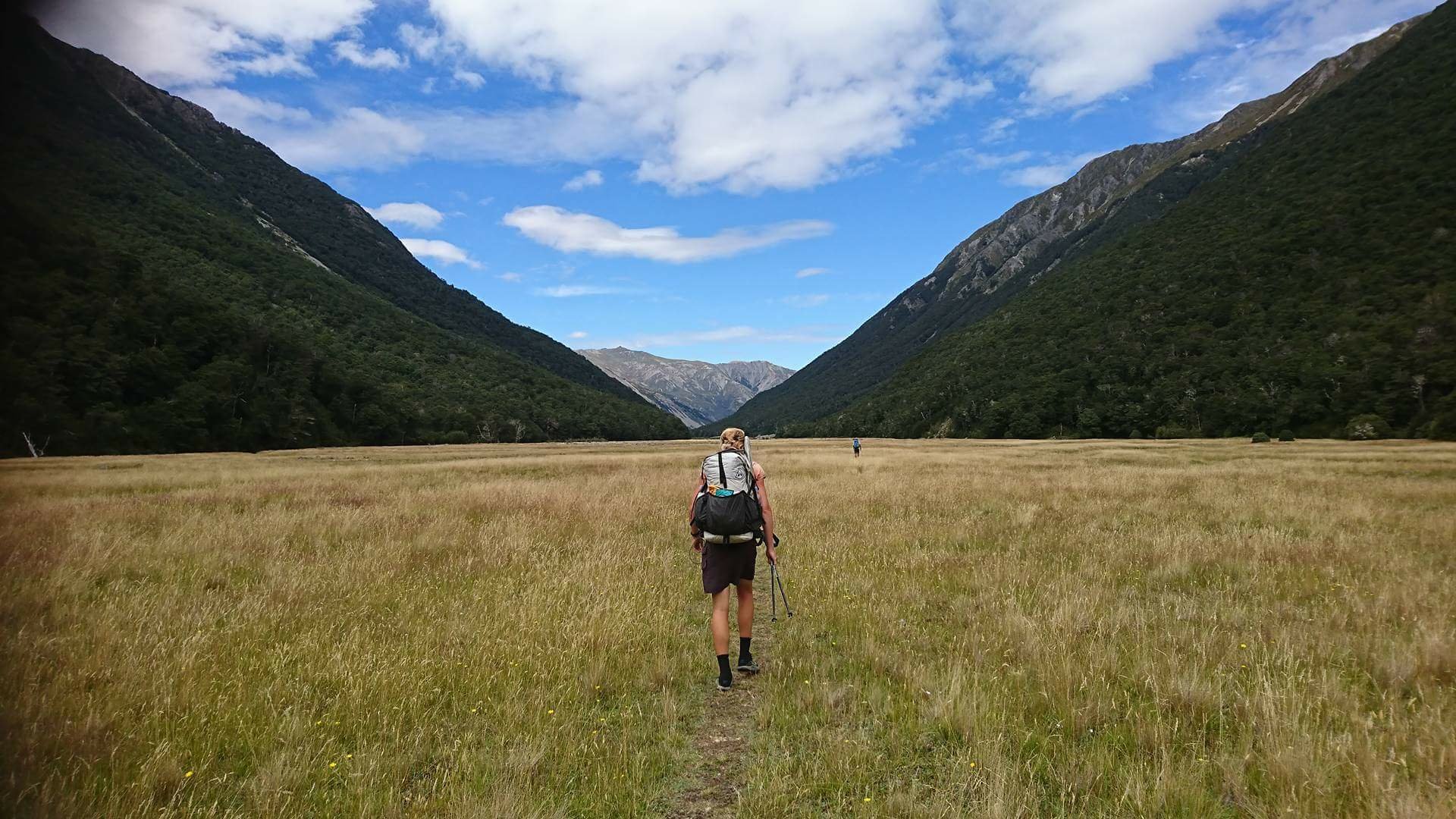 We had lunch at the brand new (2017) Waiau Hut, which sleeps 10 people. It had that new-hut smell of fresh wood. We were tempted just to lay up there but by then we could see the heavy clouds rolling in over the pass. The clouds began chasing us down the valley. The more we could do today in the good weather, the less we would have to walk in the rain tomorrow. It did shower ever so slightly at a few points, making our feet hustle even faster.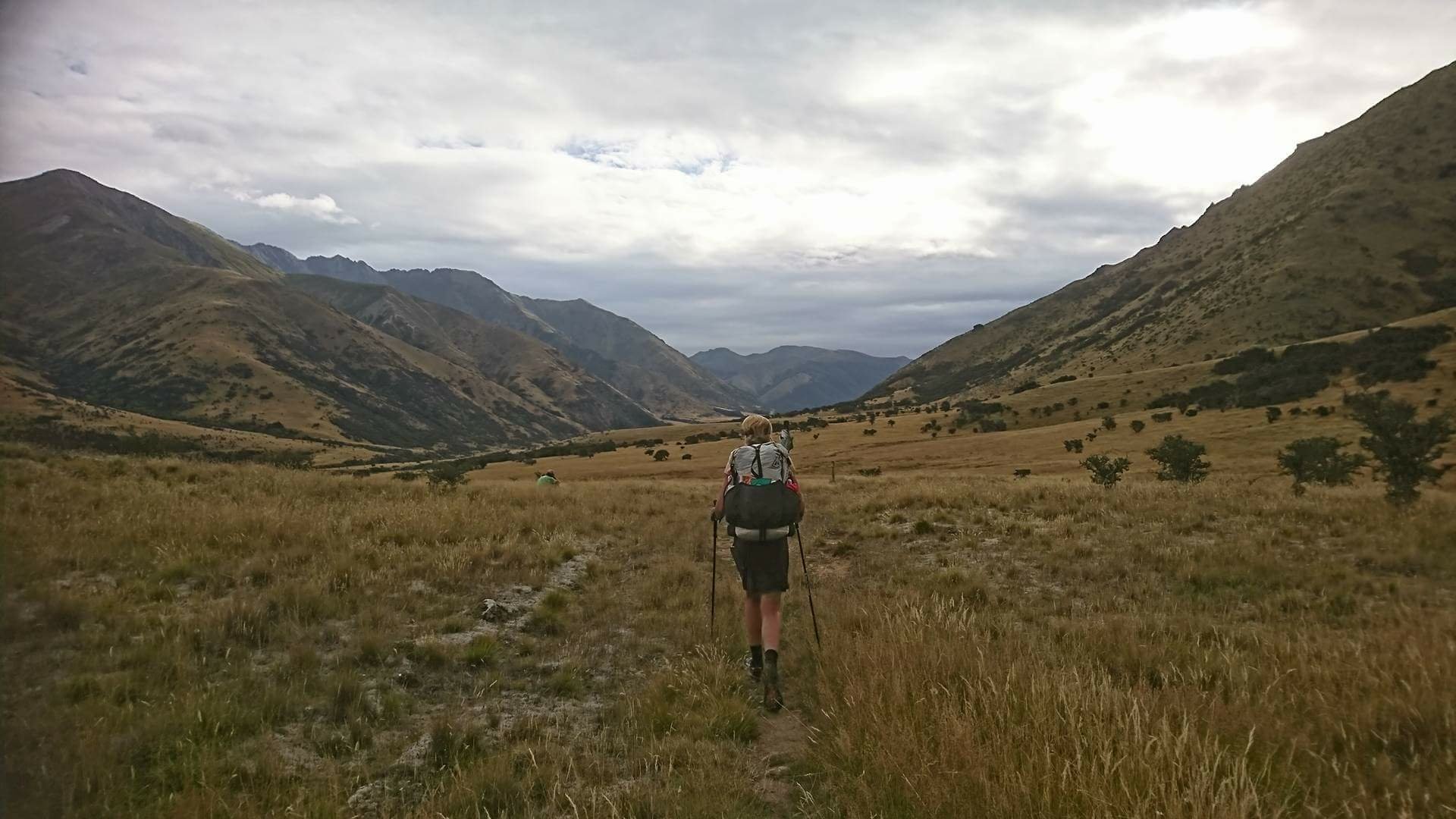 We crossed the Ada River around 5 pm, our final big crossing for the day. It was no more than shin-deep and we even took our shoes off again, since they had dried out quite a bit from earlier. We turned up a different valley to follow the St. James Walkway at the end of the day. The setting sun was shining through the clouds just enough to turn the whole valley a gorgeous golden color. The wild grasses brushing our legs added to the sense of peace. I was so glad to have experienced it this way, as the next day it was all misty and gloomy.I felt pretty strong for the final push and even managed to shuffle-run the final 50 meters to the hut.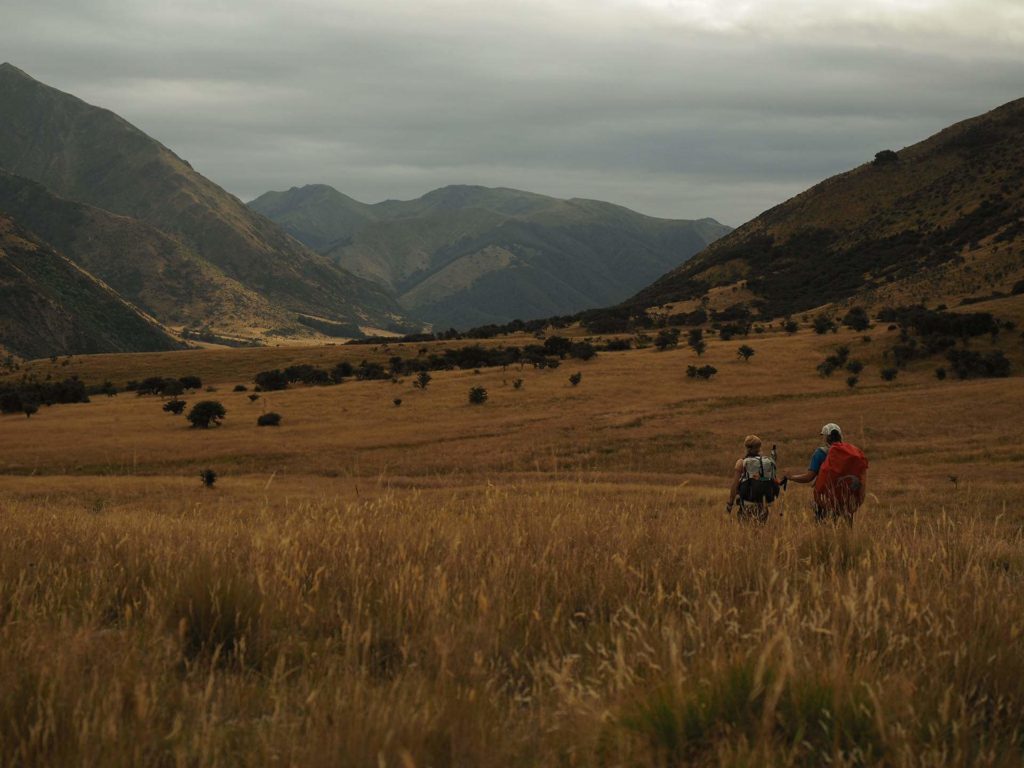 Dan and Tom were there to greet us, surprised to see hikers rolling in at 7:30 pm. You'll recall that I hiked with Kiwi Dan for the first day in the Richmonds. Well, finally I got to meet his better half, Tom, who I'd heard so much about. Getting to catch up to them was another plus to pushing the distance today. There was also English Sam, German Bertram, and an American staying at the hut, all TA walkers. There was one other Kiwi, Nicole from Christchurch, out for a weekend hike.
The hut was huge and beautiful and is rumored to be the most exposed hut in NZ, or at least that is what the graffiti on the plaque stated. It stands all alone out in the field in the valley. We had a great night TA talking, though I wish we had more time. I was the last one to go to bed, still just trying to stuff my face with food. Later, I slept so peacefully hearing the rain on the roof.