February 9th
Upper Travers Hut (km2009.5) – Blue Lake Hut (km2025)
Mileage: 9.6mi/15.5km plus 3km walking to and from Lake Constance.
I found the motivation to get an early start today…anxious to get away from a noisy hut. People were apparently up talking until 11:30 pm, at which point one TA hiker asked them to kindly shut up. Thru-hikers almost always go to bed early since they are always tired. I was thankfully asleep through all this since I had wisely donned earplugs and taken a benadryl. But the snoring roused me in the morning, by which time I had to get up to alleviate my bladder anyways. I was happy to see it was already 5 am…I had slept through the whole night. I crawled back into bed for another 15 minutes but knew it was time to get up.
I was surprised to see the late-arrivals/talkers also up making breakfast so early. I did my morning routine then was the first one off at 06:30 am. It was a 450 meter climb to Travers saddle, but I have little recollection of it, so it must not have been too bad. It was great to get up there for the sunrise. The colors were really nice and I took tons of photos.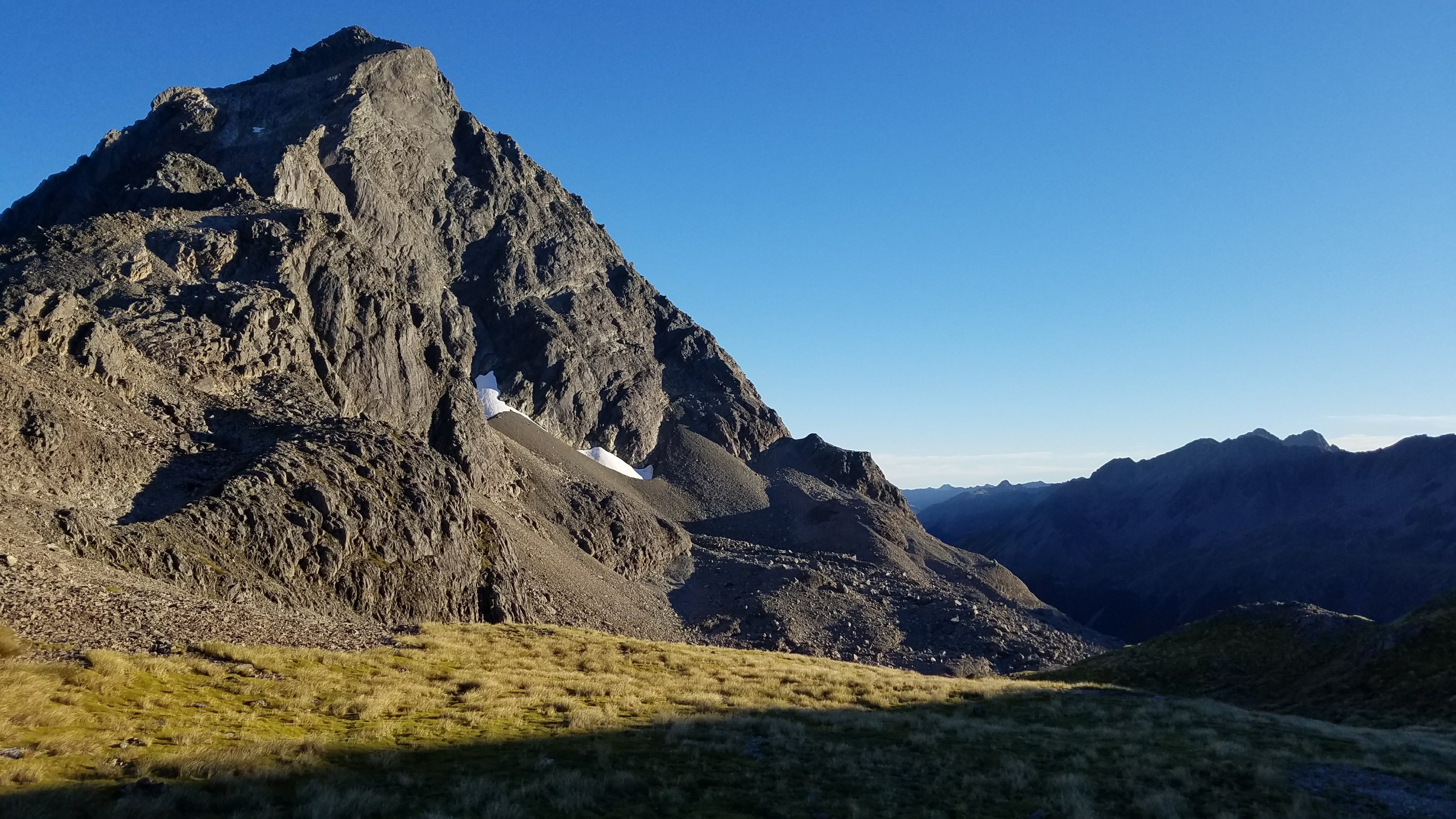 Mt Travers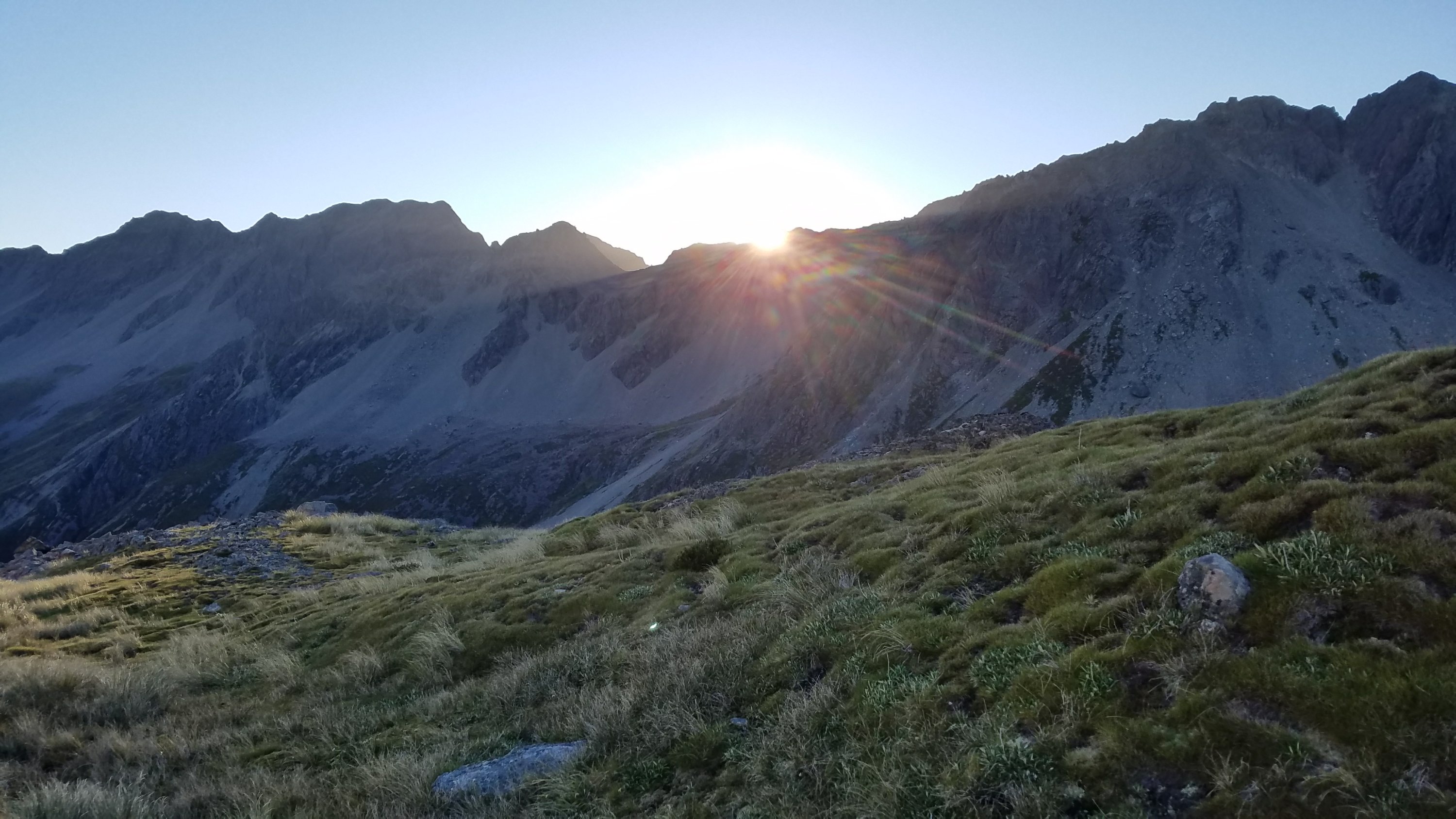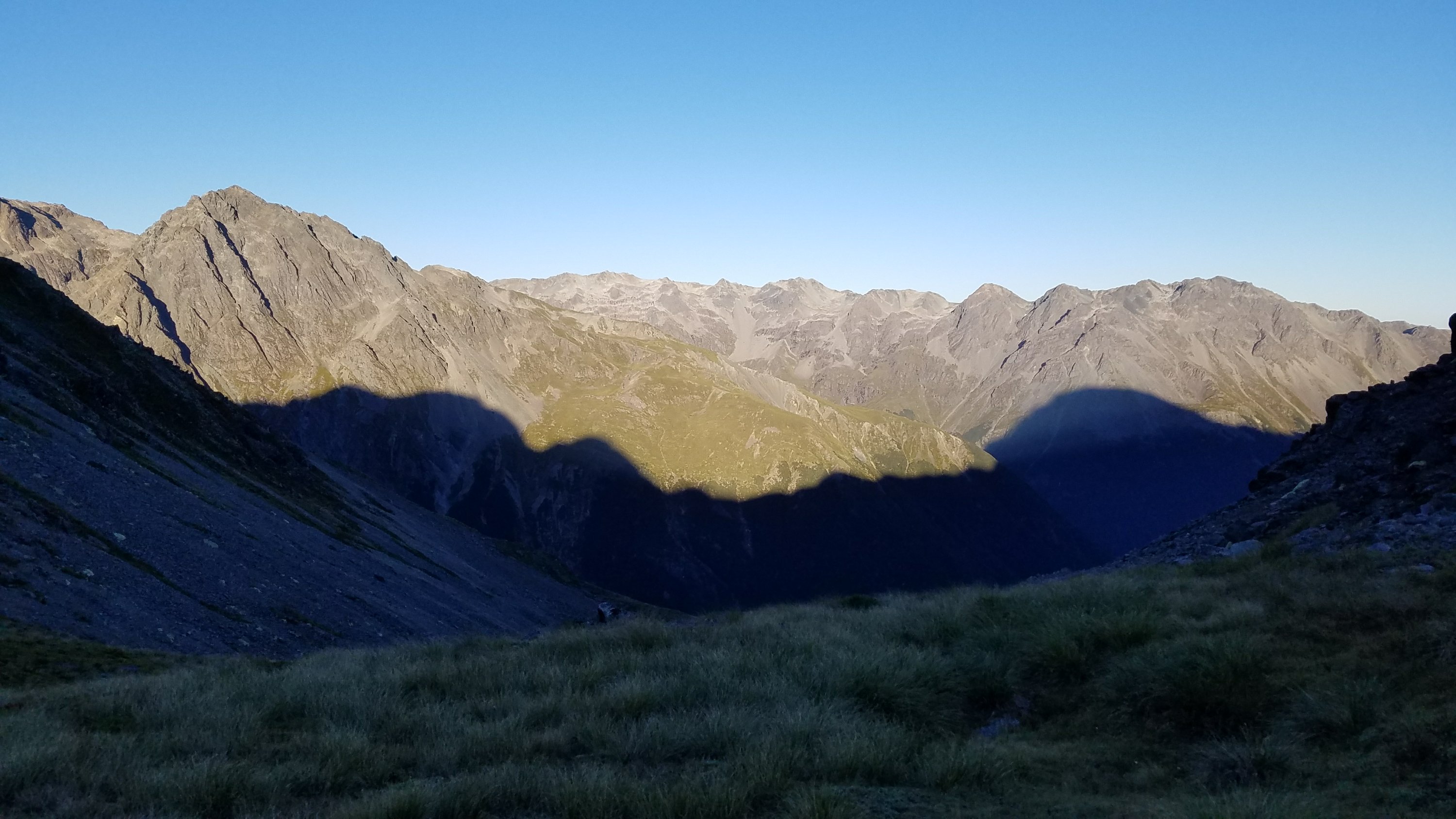 Looking down the other side, Mt Travers shadow visable on right.
One thing I have been noticing in this area is the lack of snow. I was in the area around the same time of year in 2003 and I recall there being a lot of snow pack left in the higher valleys. I don't know if it's just a low snowfall year or climate change, maybe both. It has also been really hot this year. Today started off cool but it warmed up quickly in the sun. It was clear skies all day again…another prefect weather day.
It was a fast and steep downhill to the Sabine River, then I was at another hut. One guy was just setting off at 9:45 am and I had already went up and down the pass…a stretch that was posted to take 6 hrs. The next bit of trail up to Blue Lake hut was a mostly gradual climb and not too hard. There were many waterfalls along the way and grand views up and down the valley. It's just heaven to be in these alpine areas when the weather is nice.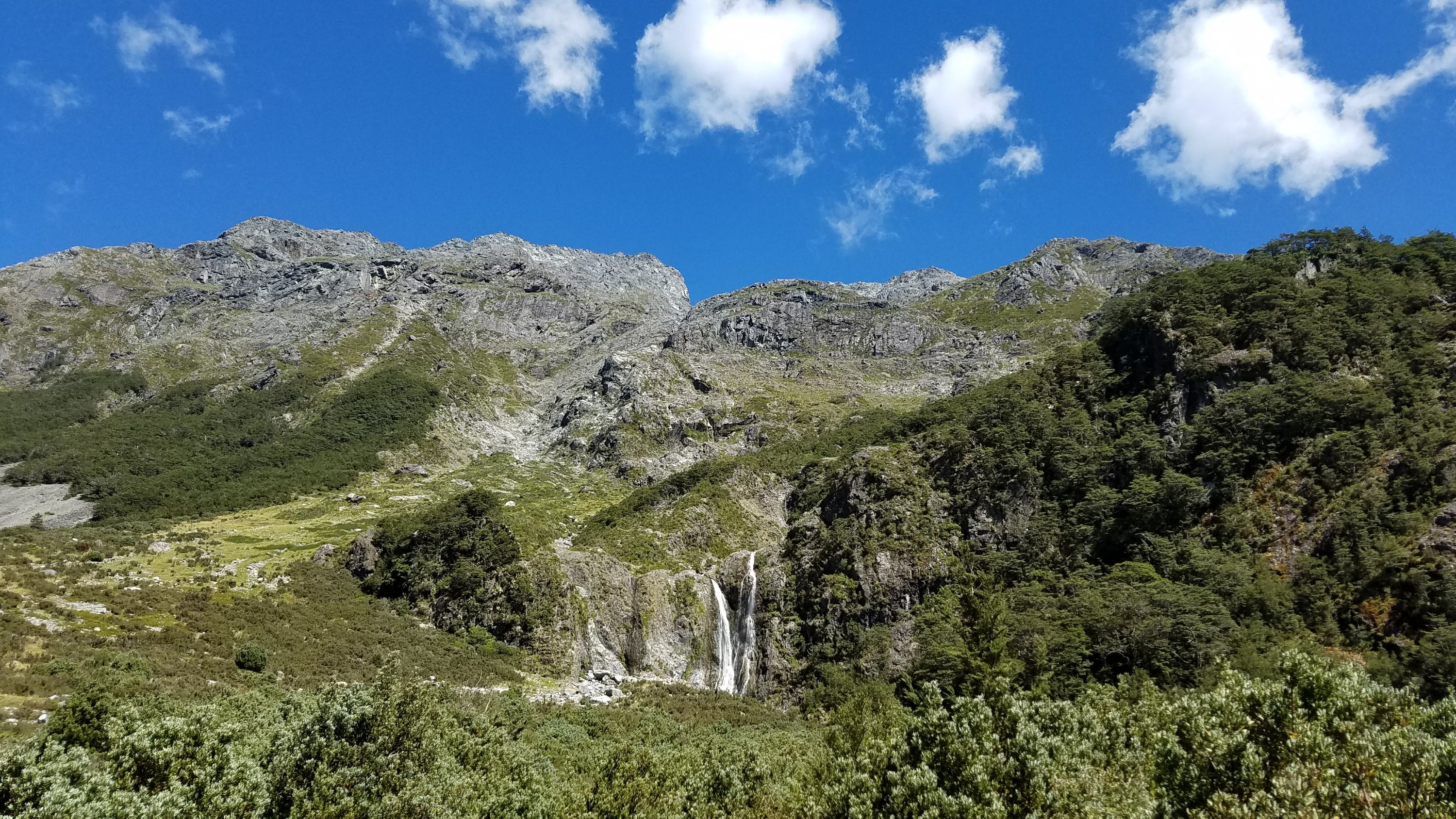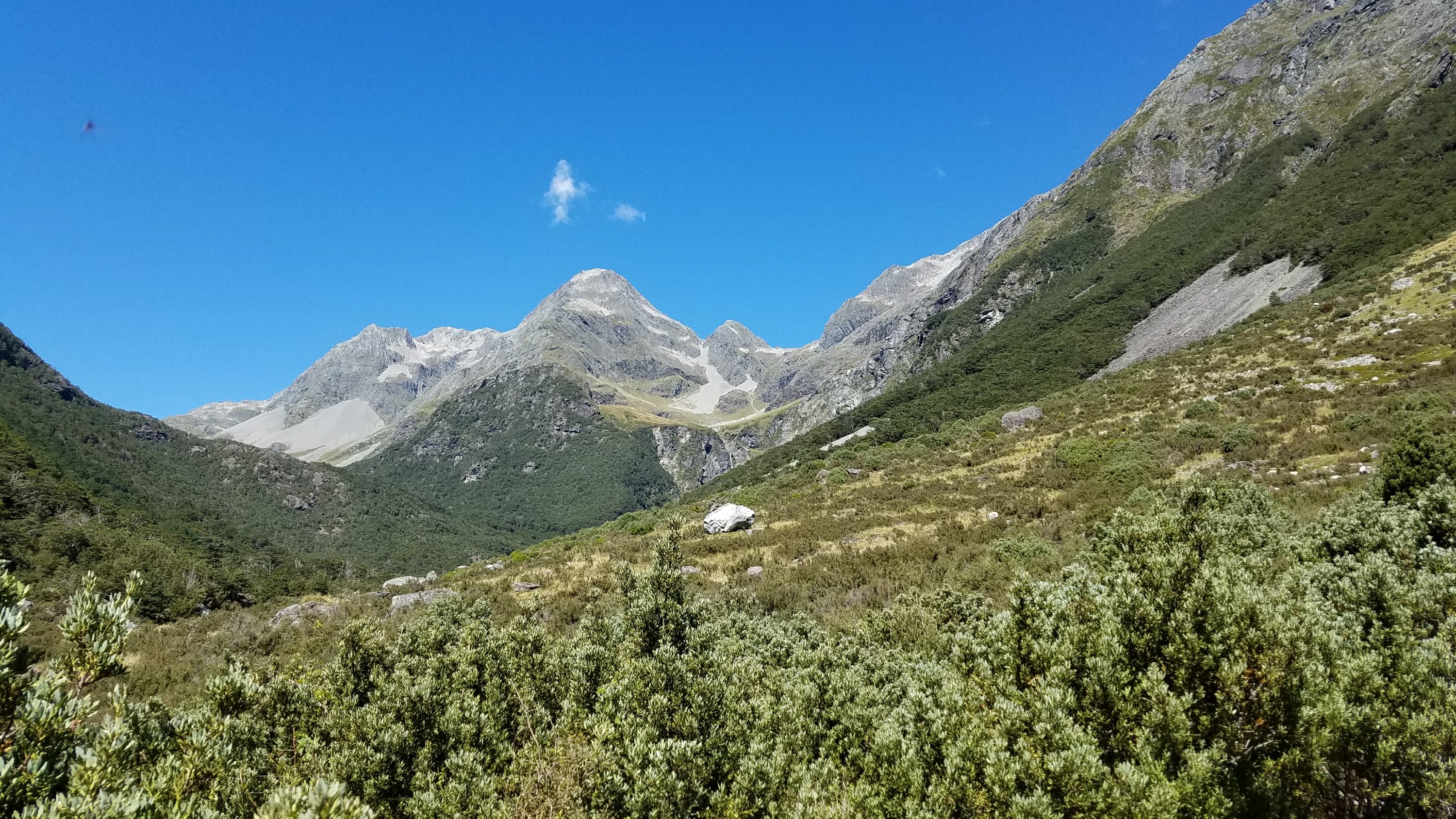 I got to Blue Lake hut at 12:30 pm. Here I had to make a tough decision whether to carry on over the second pass, Waiau, the second highest point on the trail at 1870 meters/6135′. The trail notes say this takes 6-7 hrs to go 7 kms, so to start with a full day. I knew it wouldn't take me that long and that I had plenty of time left in the day but on the other hand…
One, I had already done a hard pass today. Two, my left foot/ankle has been hurting because I've been overcompensating for the twinge in my right knee. And three, it was a gorgeous day with lots to do in the area. I've pushed hard to get to this area in good weather, it was time I enjoy it. So I took my pick of one of 16 empty bunks in the hut and set about 'taking it easy'.
First, I ate one of my extra pasta sides, just to reduce some weight. Then I visited the nearby Blue Lake. It is said to be the clearest freshwater source yet to be found in the world. It's clarity is close to that of distilled water. It is spring fed from water filtered through rocks from the lake above. I was tempted to go for a swim but people are discouraged from doing so to preserve the water quality. This makes sense, so I just took lots of pictures.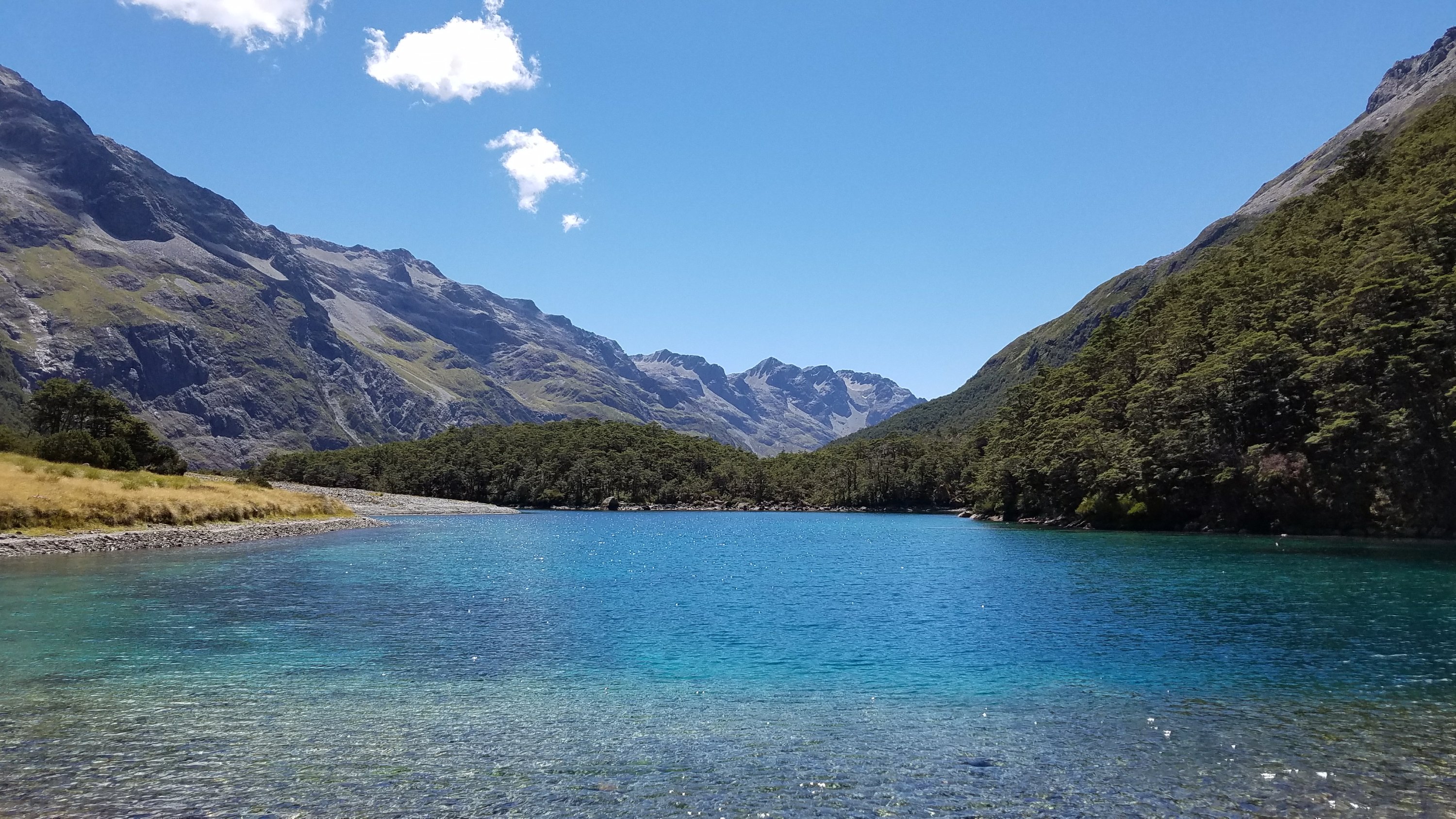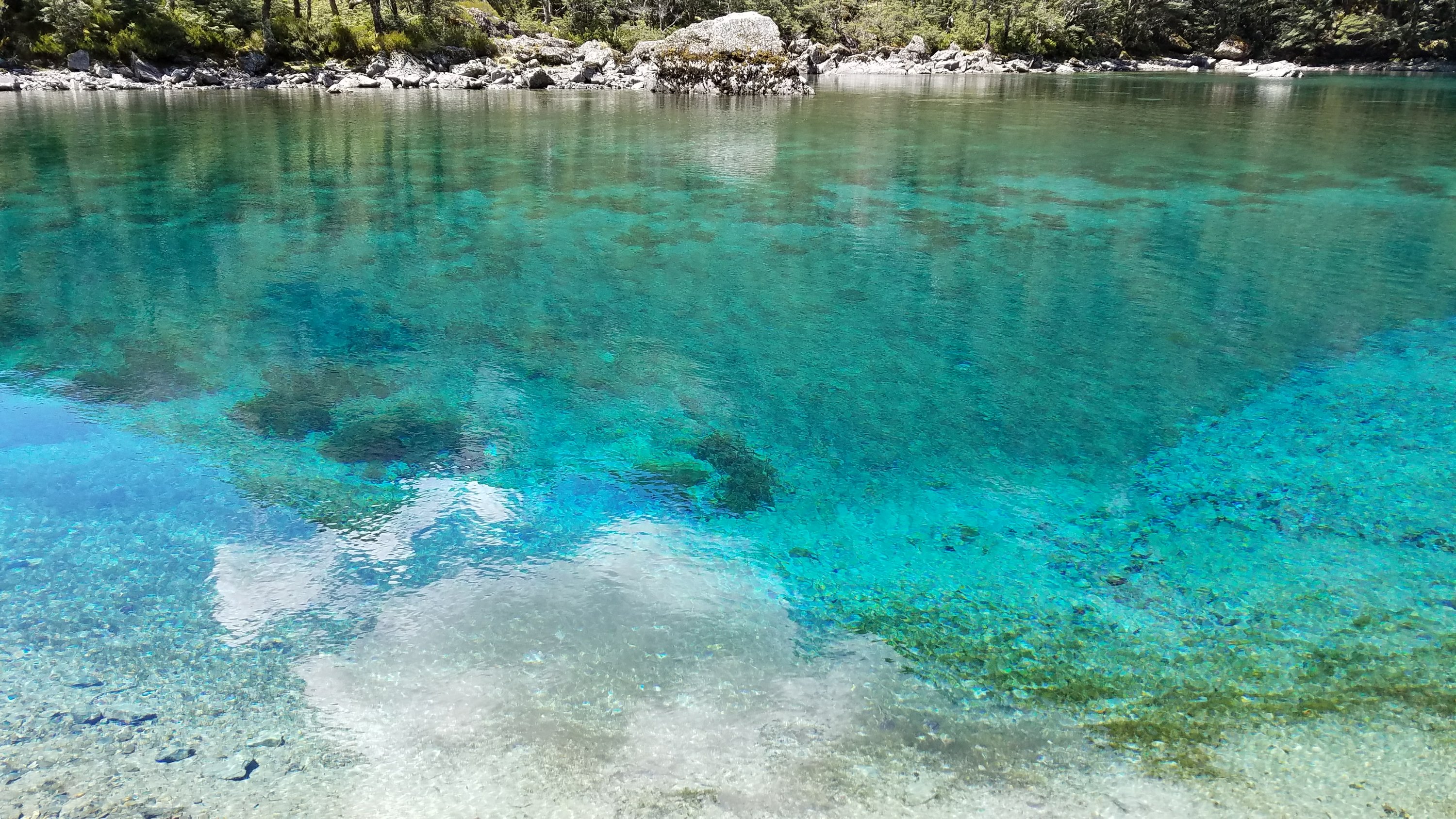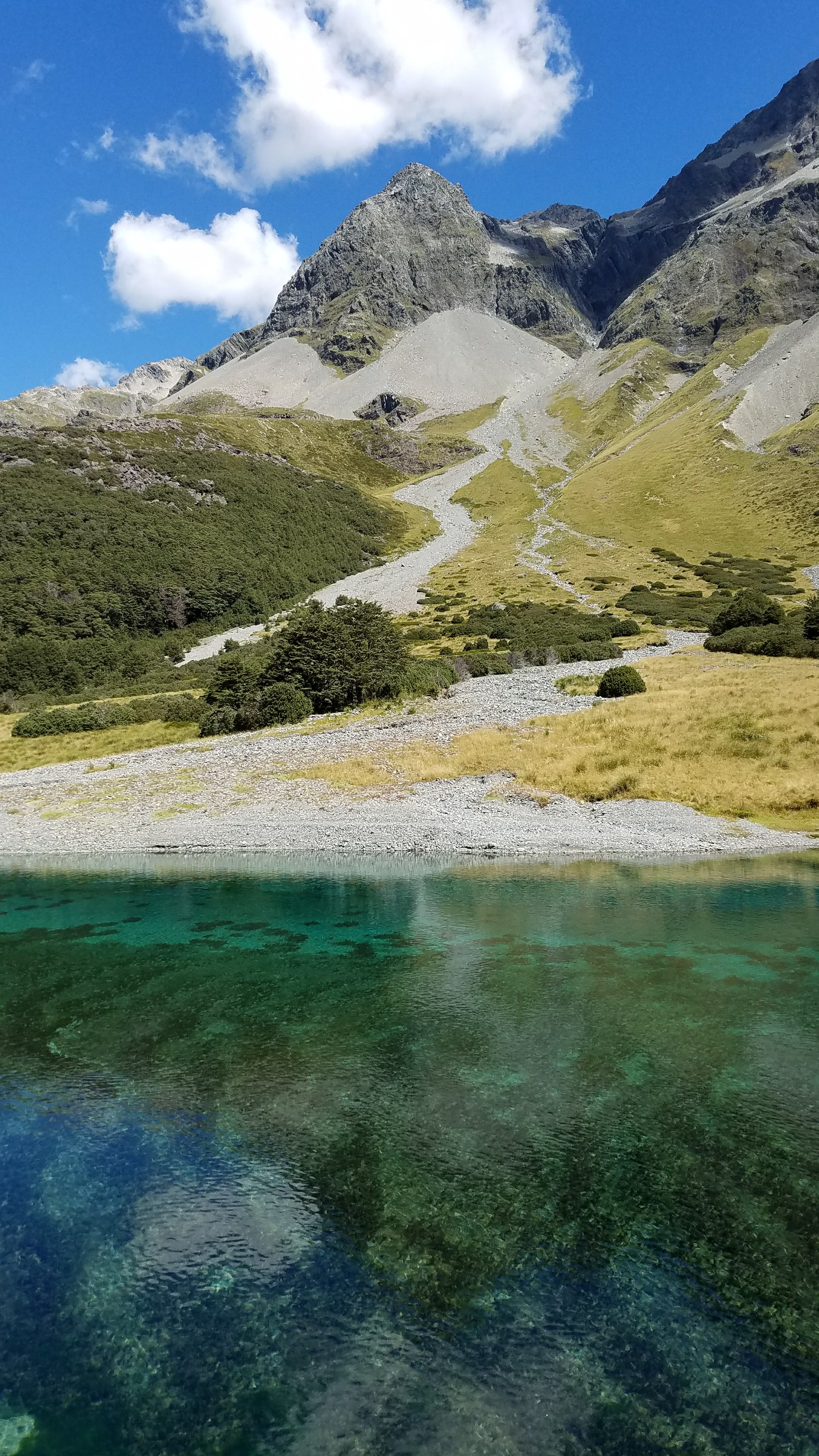 Too bad they can't keep invasives like Canada Geese from swimming in the lake…there was one flaunting his presence and I found their poop all along the shore. Damn Canadians..LOL!
I went back to the hut and met one of 2 hut wardens. He was just up for a day hike from West Sabine hut. I don't know if these guys are even paid but it seems like a sweet gig. The warden was decked out in very short shorts, high gaiters, but no shirt…it was a look! Then finally around 4 pm, a few other hikers started rolling in. I tried to convince a few to do the 1 hr climb up to view Lake Constance (the very large lake above Blue Lake) but no one was game. I had itchy feet so I set off on my own, as usual. I would be doing the same trail the next morning but I didn't mind the extra distance. It was great to see the contrast in the lakes and mountains at different times of the day.
It wasn't too bad a climb without a pack and shortly I was boulder hopping along the edge of the moraine (which forms the hill up to the lake) to get some better views of Blue Lake.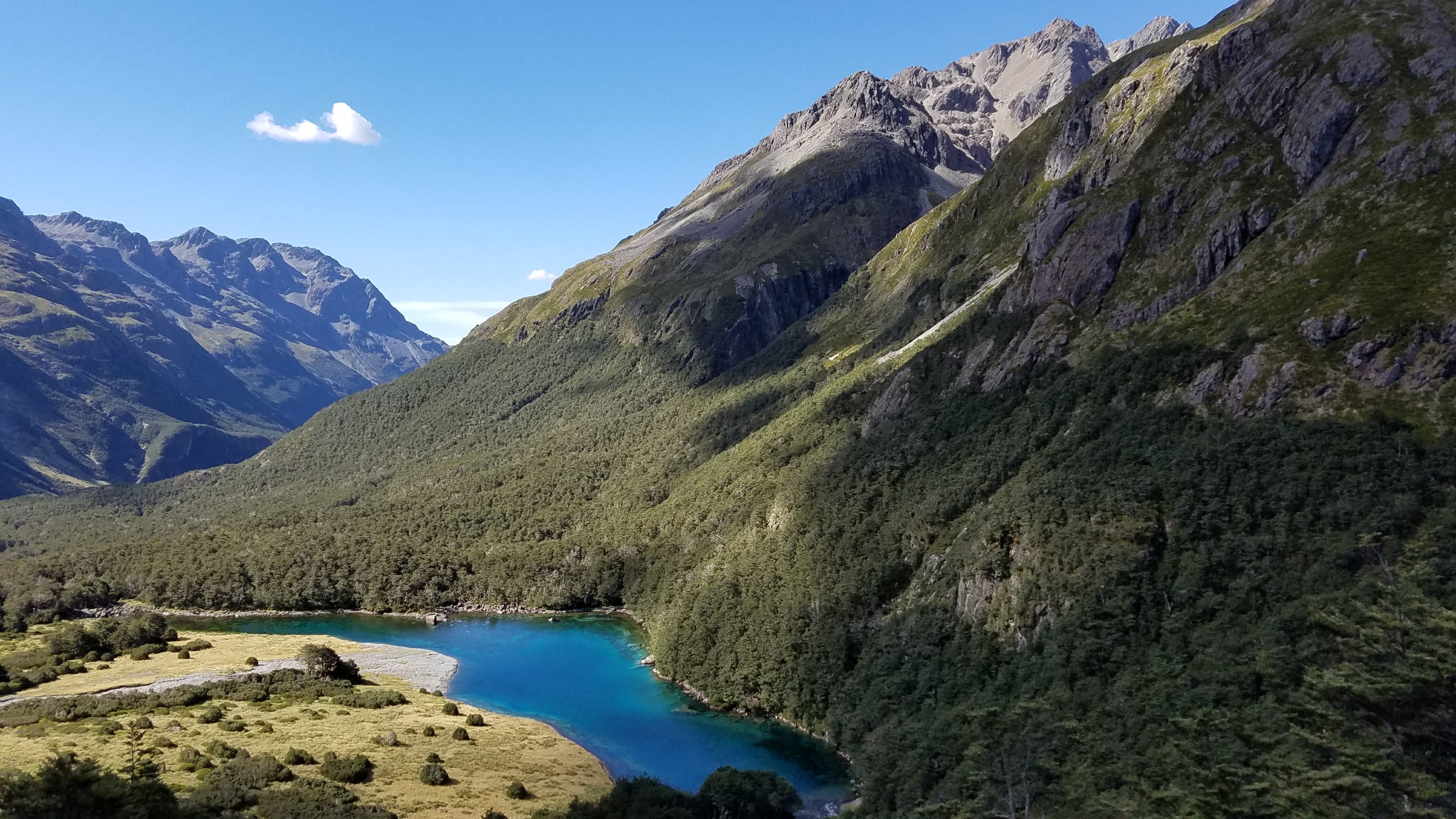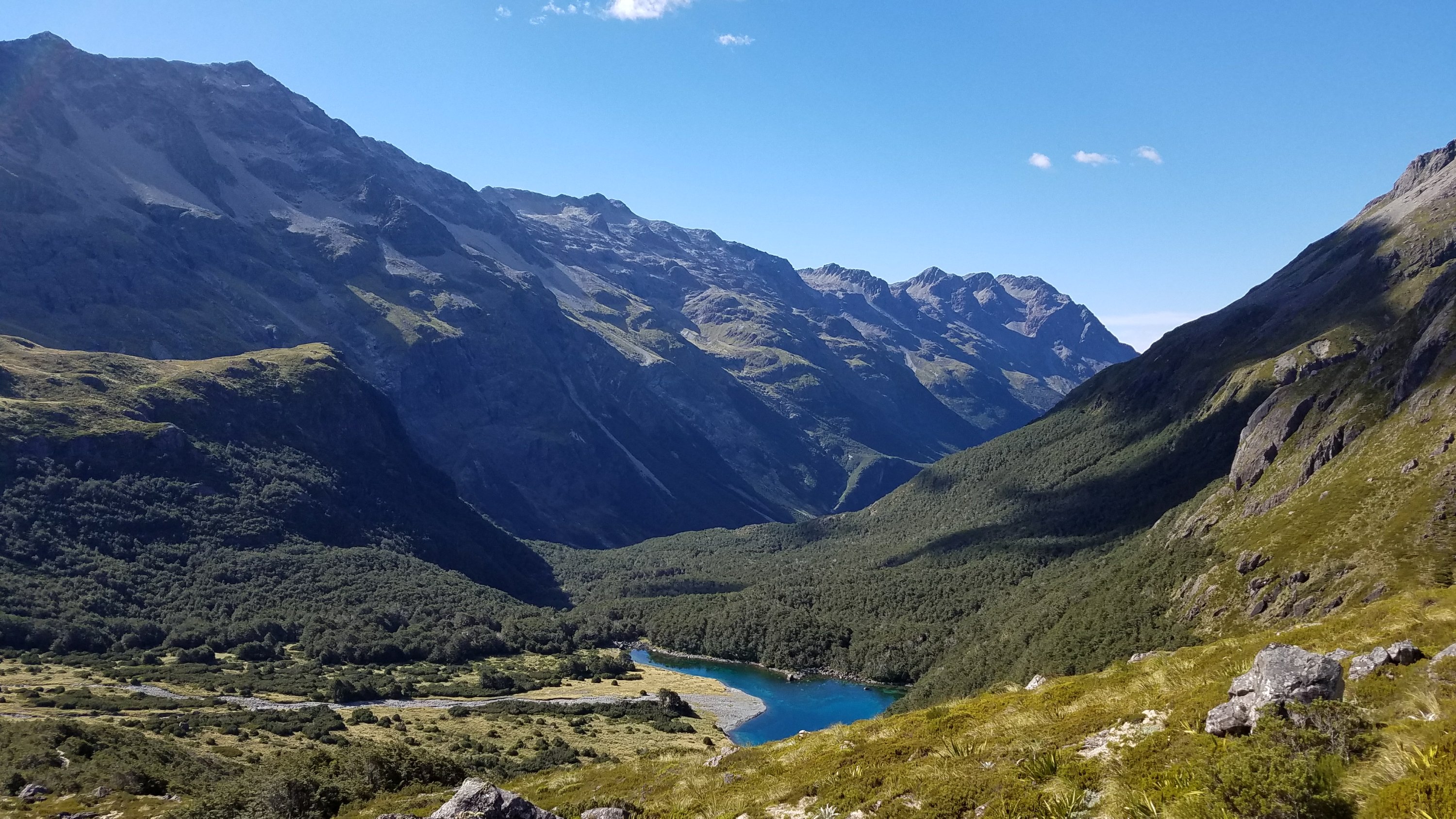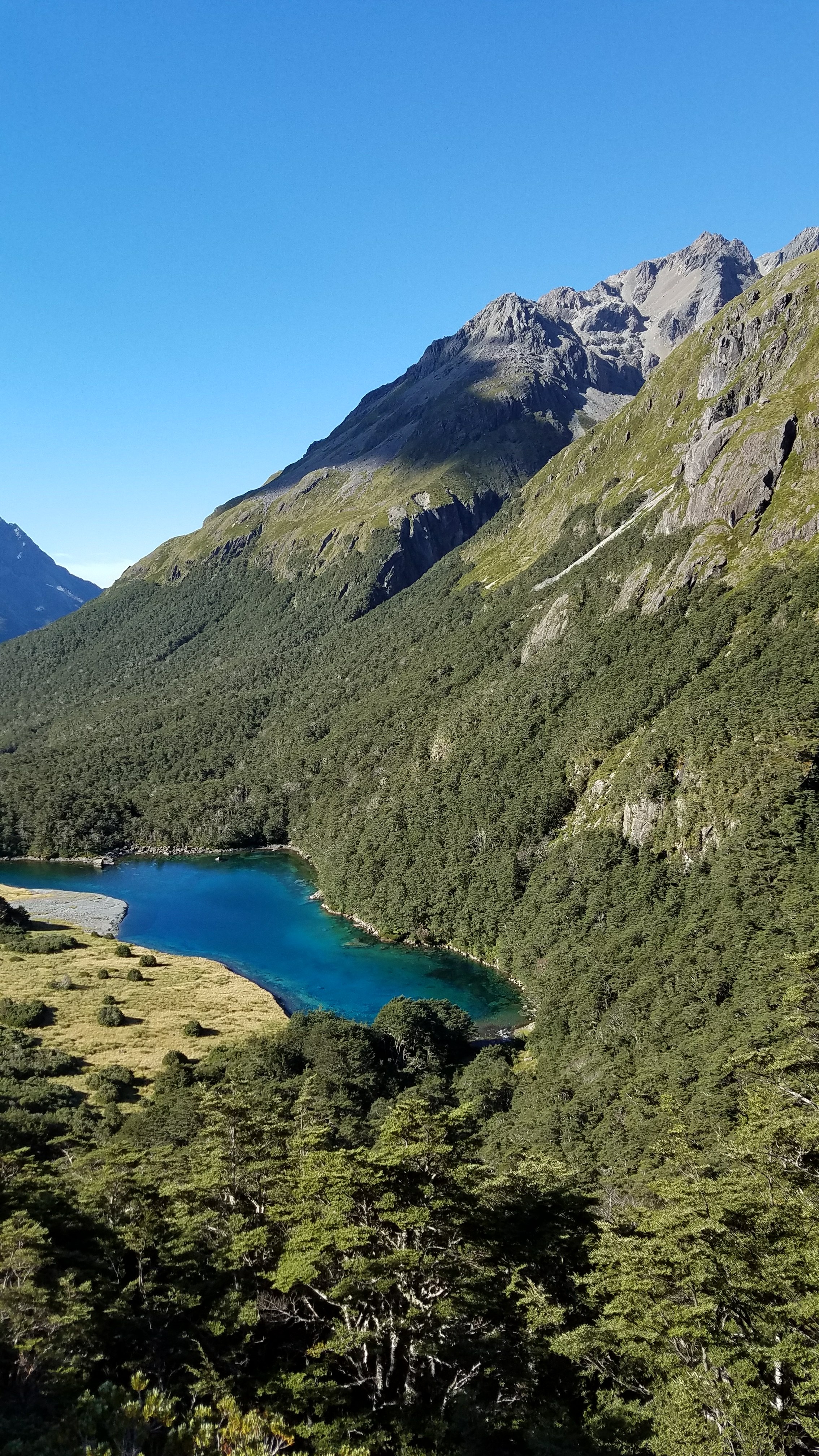 Then I found a spotty trail winding down to Lake Constance, where I had a little soak. It is a huge lake, nearly filling the whole valley floor. The water is not as clear as Blue Lake but still pretty nice. It was a great outing and I didn't feel any pain in my ankle or knee, so that was good. A cold soak of my joints in the water might have helped.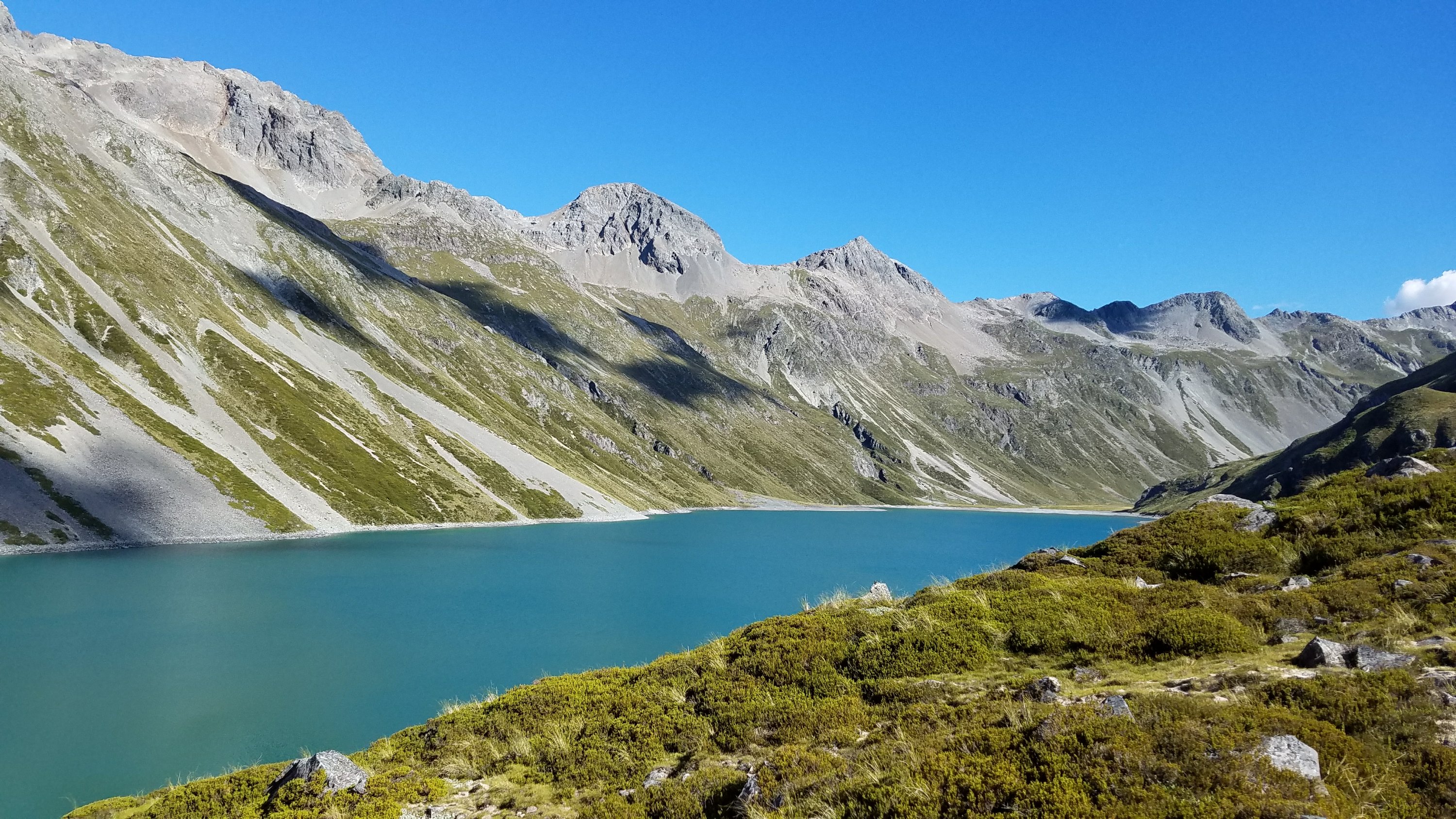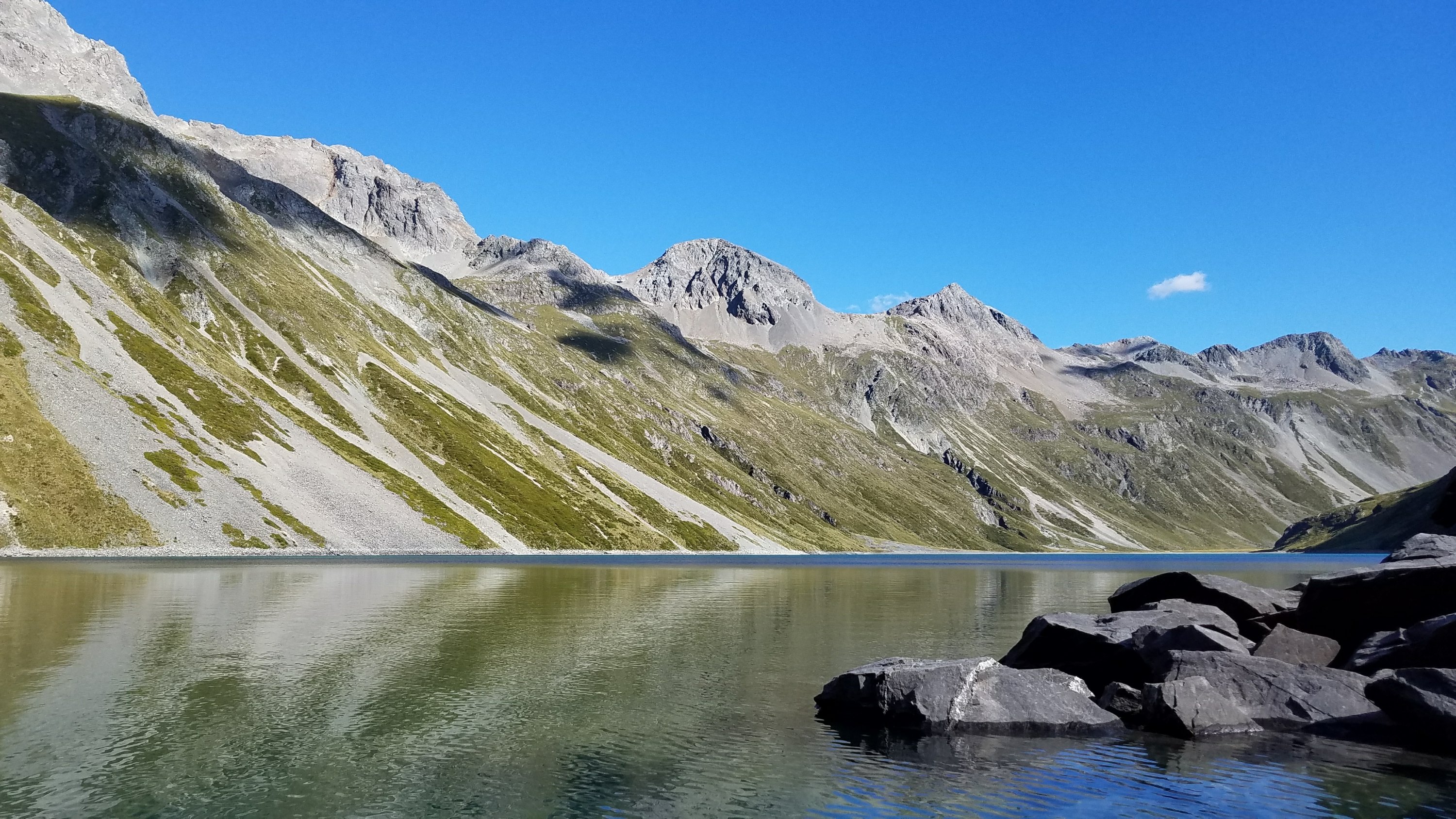 Back at the hut, many more people had rolled in and it was quite crowded. The other hut warden was there. I had passed him coming down from the pass while on my little day hike. I chatted with him about possible climate changes taking place. NZ has such unpredictable and changing wx all the time, it's hard to say. But we were both sure some of the glaciers have retreated.
I made dinner and was ready for an early bedtime with my earplugs and sleep-aids. But I couldn't help chatting with Tuomas and Anna, the Fins I've met in town several times now, and also Yali from Tarn hut in the Richmonds. It was great to see all of them again, especially since I had been just a day behind the Fins in the Richmonds and hoping to catch up to them. I got slightly ahead of them due to my monster day to get to town and then quick turn around, but they had caught up and now we were on the same page. They hiked the PCT a few years ago and are pretty fast and fit thru-hikers. I told them of my grand plan to start hiking by 6:30 am, get over the pass early in the good weather, and hike a monster day to get to Anne hut. My reasons for this will be revealed in the next post. They seemed like they might be game…I can have an evil and corrupting influence on poor unsuspecting hikers. So with the game plan laid out, I set my alarm for the very first time this journey, then crashed out.