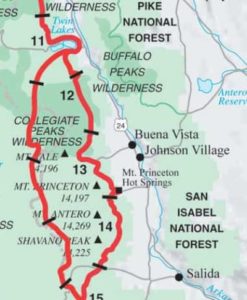 Day 1: August 18th, 2017, Monarch Pass to abandoned road camp, 11.5 miles, Segment CW5-4.
Less that a week after finishing the trail with PBR and Sofie, I was anxious to hike the Collegiate West section that we had missed in lieu of doing the East. Hiking these extra miles would also kind of make up for having missed CT segments 7 and 21 (both of which I've since completed as part of the CDT). My companions had flights home but I had another week to kill. Plus, the weather looked spectacular over the next 5 days, with little to no rain! I decided to go NOBO (northbound) on this section, so I started about 5 miles from the end of Segment CW5 at Monarch Pass/HWY 50.
My parents generously agreed to drive me up to Salida one more time (they had already made the RT twice to pickup/dropoff when we came through earlier). I was also able to collect Sofie's resupply box at the Monarch Pass gift shop…but only after she called the store and texted me a picture of her ID, stating that it was ok. I showed the lady the text/photo and she very reluctantly handed over the box. It was definitely no dice with Sarah's box. Security there is really tight! Sofie and Sarah had originally planned to hike the west, but of course, plans had changed. That's part of the reason why I don't send boxes ahead of a thru-hike, preferring to send them from the trail only 1-2 weeks out, if at all.
I began hiking around 1 pm, which is usually a really bad idea when traversing areas above timberline. Luckily the weather was great…not one threatening cloud! This was such a change from the hiking earlier in the summer. Late summer and early fall brings about some of the driest weather in Colorado. If doing the whole CT again, I would probably start late August.
I only planned to go about 10 miles this day but immediately recognized the differences in hiking solo. This section would reinstate a thru-hiking style that would predominate much of my future thru-hikes. For the next 5 days, I would be completely self-dependent and my decisions were my own. I could hike as little or as much as I wanted each day, camping wherever suited me. I missed my friends but also relished in my independence.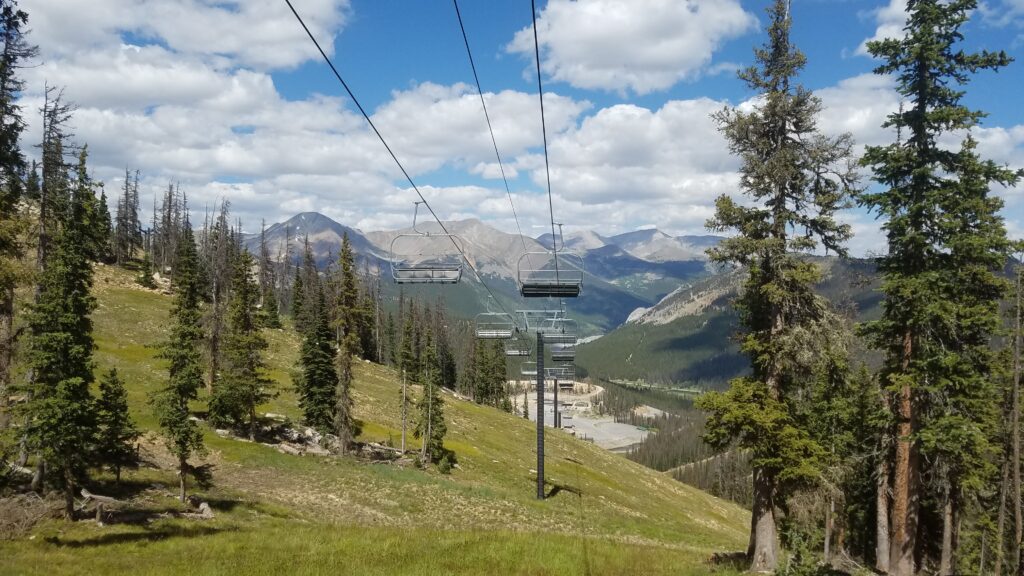 The trail went right through Monarch Ski Resort–my hometown ski area. This was the first time I'd ventured up there during the summer, so I couldn't resist taking a peak over several of the runs I grew up skiing. Not much had changed, though it was hard to keep my bearings straight, given how different things look without snow. I had no idea I was skiing right over the top of the CDT/CT all those years!
There were great SW views towards the Cochetopa hills, San Luis Peak and Uncompahgre Peak, the 6th highest in CO and very prominent. I could even make out some of the meadows we hiked through, along with Baldy Lake. It was so cool being able to see almost 100 miles of trail we had hiked. I gazed over these features for years when skiing, but never knew what I was looking at. I learned more about Colorado Geography while hiking the CT and CDT than I learned in 17 years of growing up there.
I continued on along spectacular ridgelines, coming to a archeological site where prehistoric humans had constructed walls to direct herds of elk for hunting. The site was neat to read about and imagine those times. I had it easy, with my pack full of cheetos, chocolate bars, and other junk food that I simply obtained from a grocery store. I couldn't imagine having to stalk and kill my own food. Next I came to the rocky backside of a mountain, where I noticed one of the rocks moving. Except it wasn't a rock, it was a ptarmigan. What perfect camouflage. Can you spot her?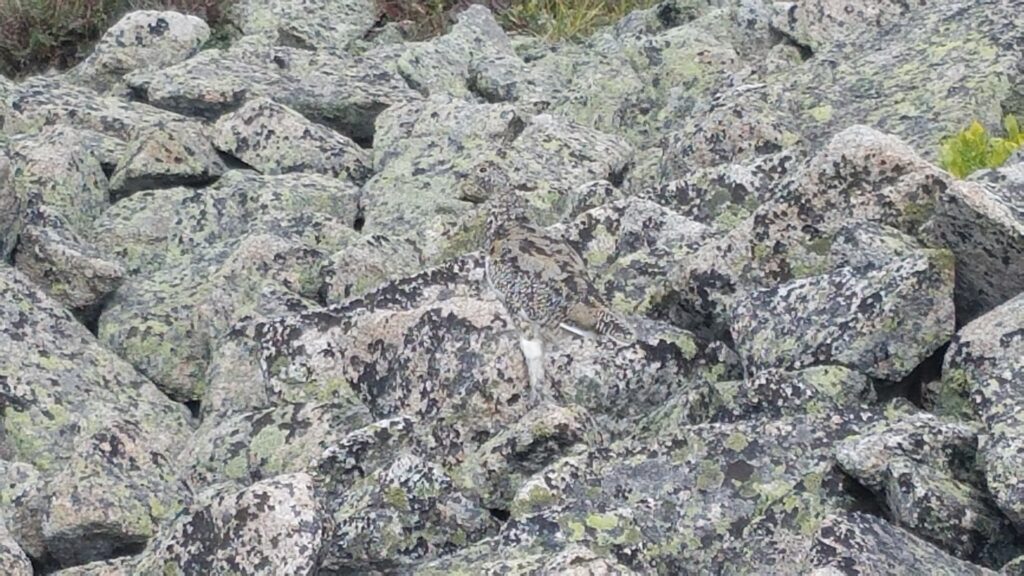 Perhaps I could survive as a hunter…I do have a strong urge to chase ptarmigan and other chicken-like birds, if only to cuddle them.

I proceeded around the back of Bald Mountain and down towards its picturesque turquoise lakes. I considered making camp at Boss Lake but since it was accessible by 4WD, I decided to try for a more secluded spot. I continued on a ways before finding a small stream and nearby abandoned road. This spot would have never worked as a group site but was perfect for my one-woman tent.
Day 2: August 19th, 2017, abandoned road camp to high camp (4.5 miles into CW3), 19.5 miles, Segment CW4-3.
The next morning was off to another fantastic start. I stopped for a bit to take take pictures around a pond on the Middle Fork South Arkansas River. This mountain thistle was flowering/gone to seed. It really stood out to me, backlit by the morning sun.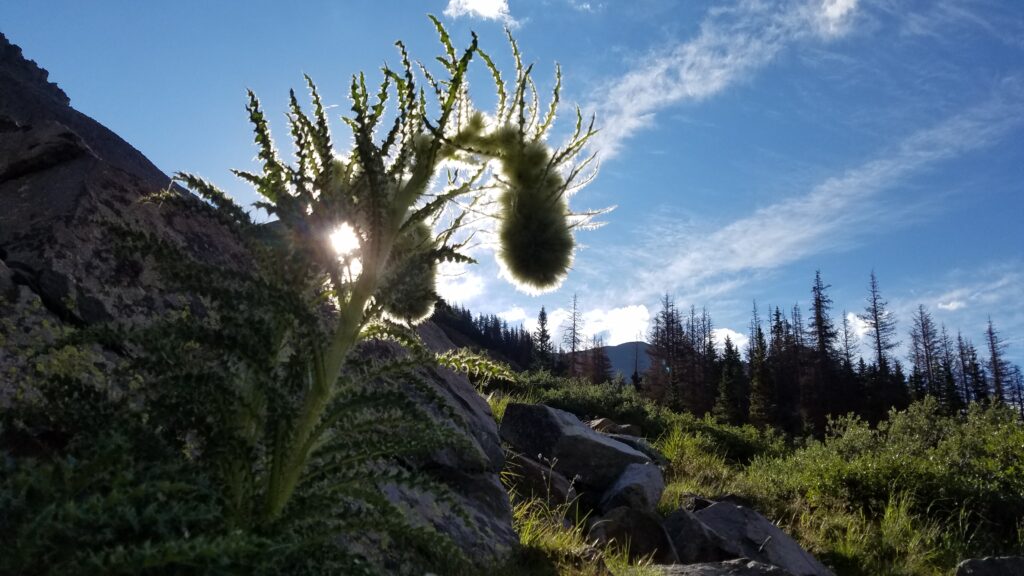 I continued over Chalk Creek Pass, looking north across the Hancock Lakes. They appeared as mirrors in the calm morning. Down the valley, I came to a jeep road and a few cabins. A house was in the process of being built, as I could hear power tools in the vicinity. I briefly got lost among a confusing network of roads, following a jeep trail the wrong way towards Hancock Pass. I corrected my path after some 4WD vehicles roared by, the occupants giving me a funny look.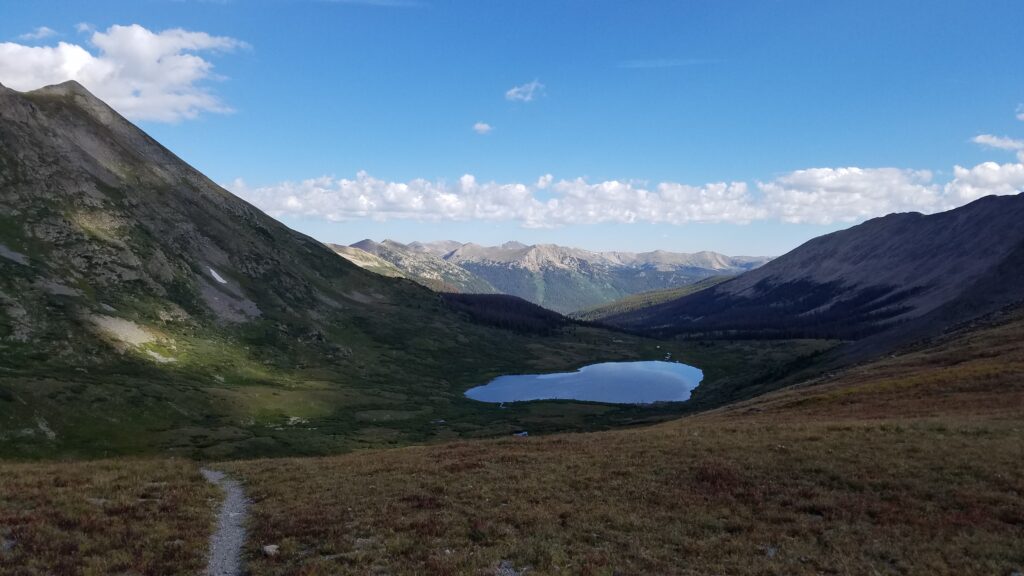 Past the "town" of Hancock, the trail follows an old railway, leading up to an abandoned tunnel. The Colorado Trail Guidebook had this to say: "The Alpine Tunnel is an 1,800-foot engineering marvel built in the 1880s for the narrow-gauge Denver, South Park and Pacific Railroad's route from Denver to Gunnison. At an elevation of more than 11,500 feet, it was the first tunnel constructed under the Continental Divide in Colorado. According to the U.S. Forest Service, it "remains the highest railroad tunnel and the longest narrow-gauge tunnel in North America." Completed in 1882, it was abandoned in 1910 after minor damage wasn't deemed worth repairing due to the lack of traffic. It is now sealed at both ends. Historical markers at the tunnel's east entrance and farther down the trail built on the old railroad grade recount the history of the tunnel and of the Denver, South Park and Pacific Railroad."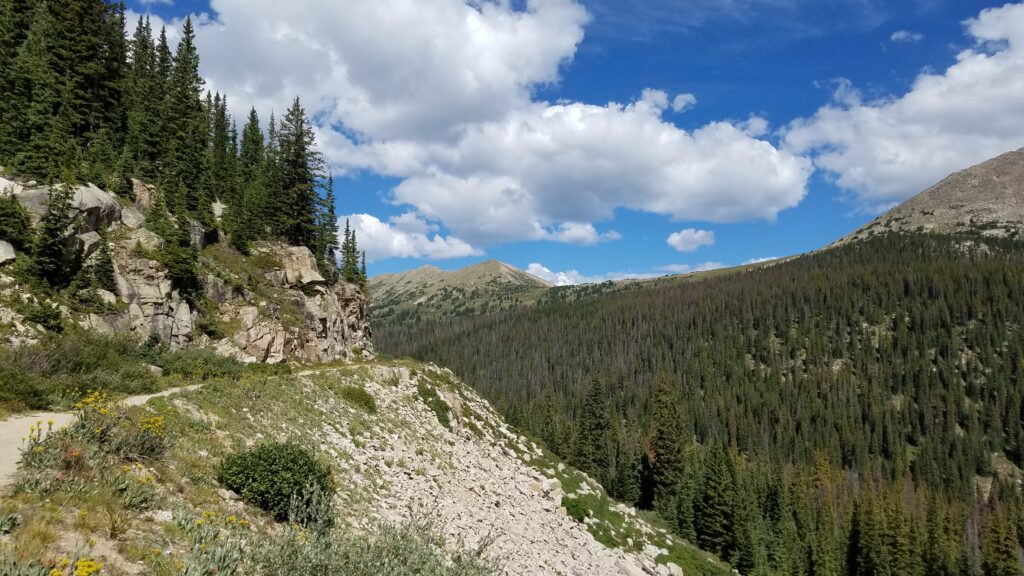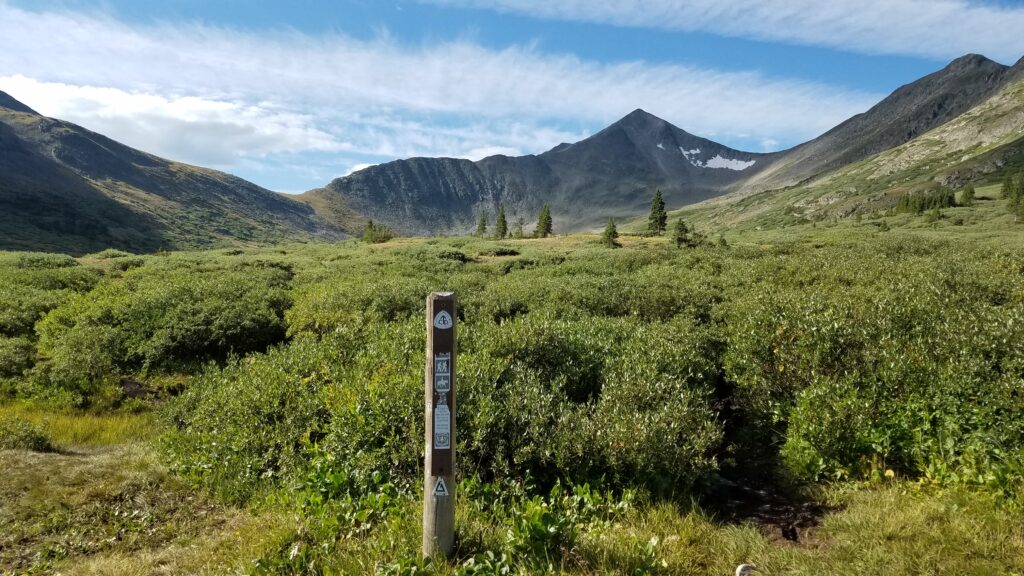 The easy gradient offered a nice break for 3 miles, where I just cruised. Chugga Chugga Choo Choo. Up over another pass, I meandered through some high alpine tundra for a few miles before descending again to Tincup Pass Road. Then is was back up 1800′ again, above timber-line. This section involved a ton of ups and downs but I hardly cared because the scenery was so beautiful. I was blessed with another day of great weather, so glad to be able to enjoy myself in these high areas rather than having to go fast and sweat the thunderstorms.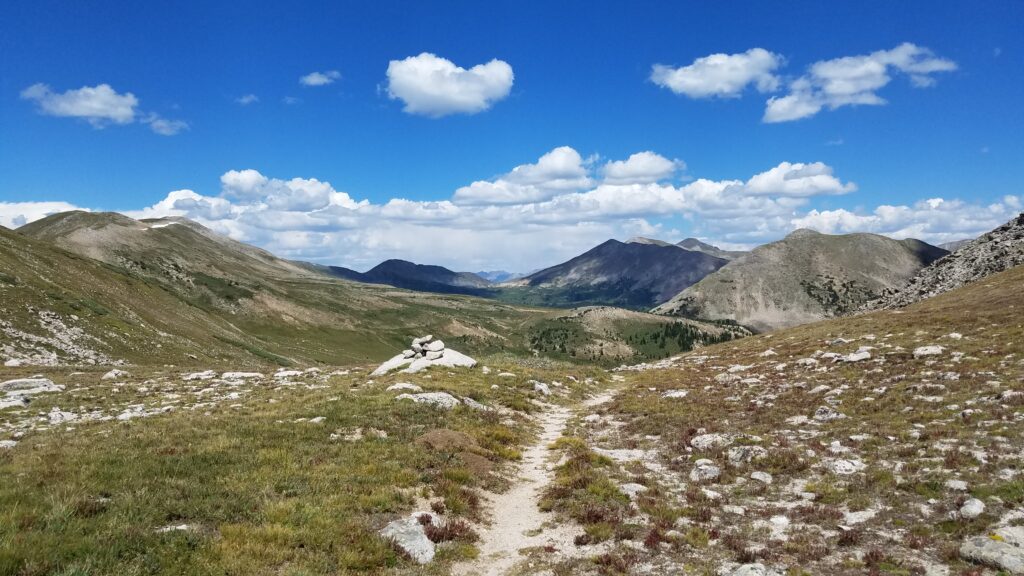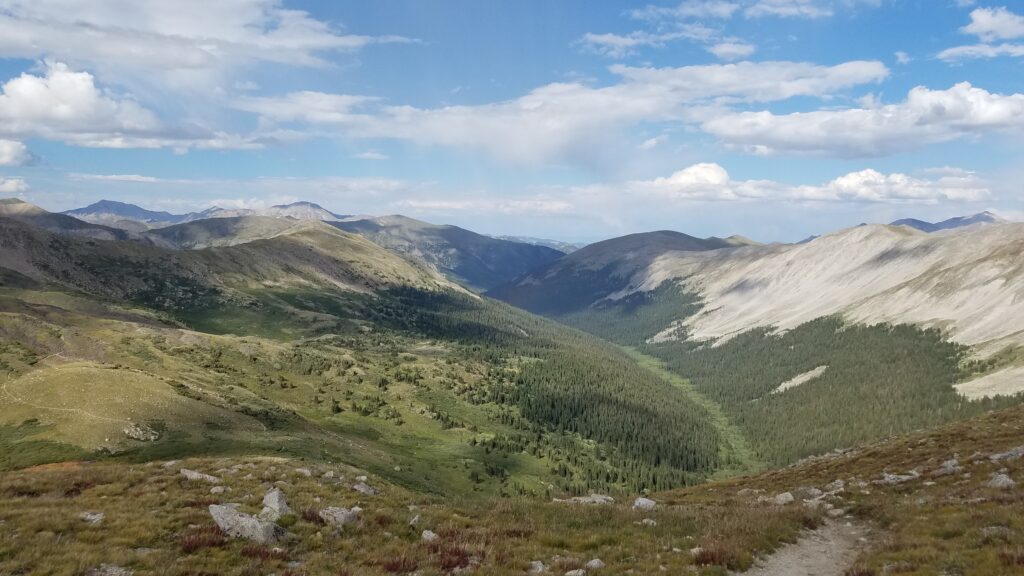 For miles I followed along some epic trail, sidling the ridges, dipping in and out of the surrounding contours. The trail went through several areas of dense scree, where the trail designers had crafted the rocks in a way that was almost perfectly flat and smooth. I was so impressed by their skill and hard work! I can see why so many people love the Collegiate West section. I fell in love with it, too.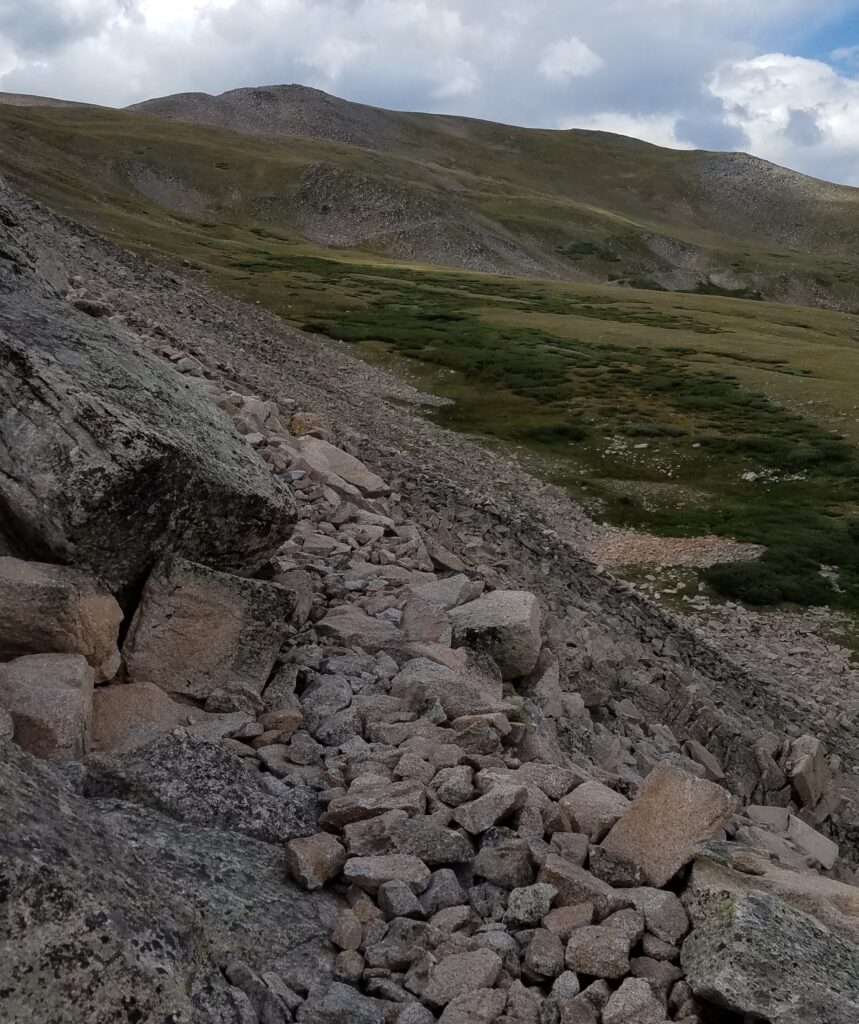 It was so nice, I decided to camp in the tundra (not that I had much choice, since that's all there was for miles). It was a cold night but worth it for the views, peace & quiet. I had seen only a handful of hikers in 2 days and near as I could tell, I was the only NOBO for several days. It was a nice change of pace to be alone but I was sad that PRB and Sofie were missing this. This segment is definitely a highlight of the Colorado Trail.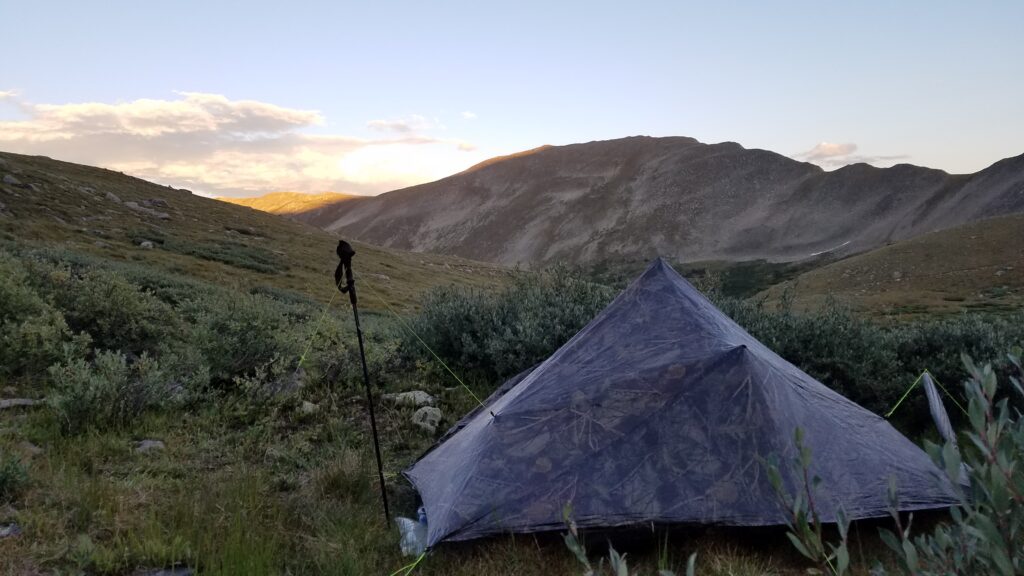 Day 3: August 20th, 2017, high camp to Texas Creek camp, 17 miles, Segment CW3-2.
The next morning was off to another fantastic start. I was just wowed by all the mountains and clouds. This was truly walking bliss, an addictive feeling and state of mind I was just becoming acquainted with.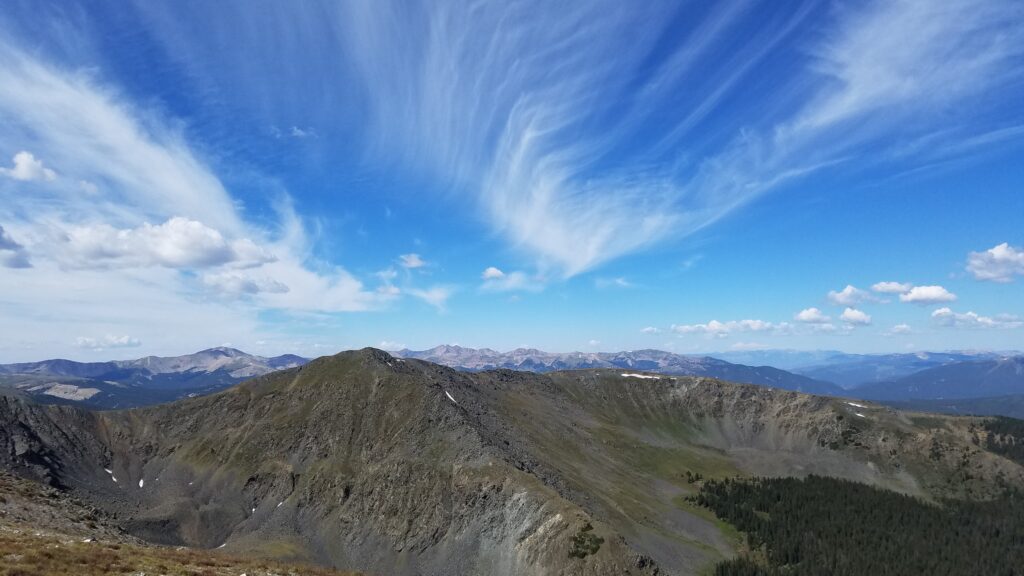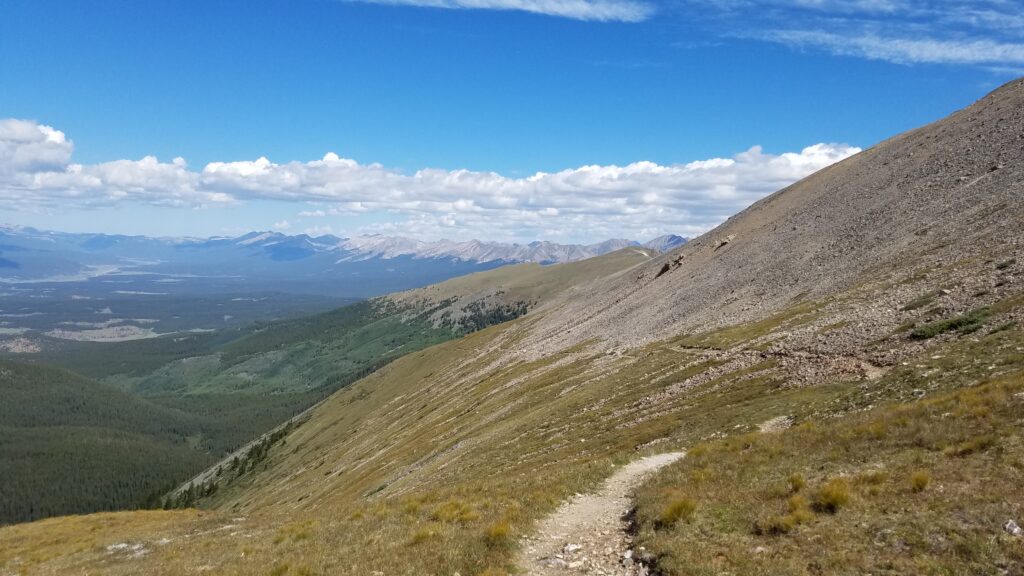 The Collegiate West/CDT has been greatly improved in recent years. It used to follow a lengthy portion of low-elevation trail shared by dirtbikes/atvs. An entirely new 23 mile single-track re-route opened in 2014, more closely following the Continental Divide and staying high in elevation. Much of the stretch is above timberline, topping out just below 13,000′. It was a multi-organization, multi-year project. I'm so grateful for all the hard work as the trail really is spectacular through here.
Approaching Cottonwood Pass, I created some of my own trail magic in the way of food and drink handouts. I began chatting up a couple of local day hikers, explaining to them that I was thru-hiking the trail. I made a sly but calculated comment that "since it was a weekend, I wondered if there would be anyone doing trail magic at the pass?" Hmm indeed. They had never heard of such a thing, so I took the opportunity to fill them in. Basically I was begging.
At the pass and parking lot, I sat down to eat my meager hiker lunch and just as I'd hoped, one of the day hikers returned with all the snacks they managed to rummage from their RV: a protein bar, some candy and chocolate, and a really tasty raspberry energy drink. He also took all my trash.  As skinny as I was at this point, it wasn't hard to play the starving-thru-hiker part. I really was hungry. Years later (August 2020), I had the opportunity to return to this exact same spot to provide trail magic for a new class of starving thru-hikers. We handed out beers, sodas, candy, chips, and fruit. It was the best feeling getting to pay it forward after the generosity of these day hikers and so many others over the years.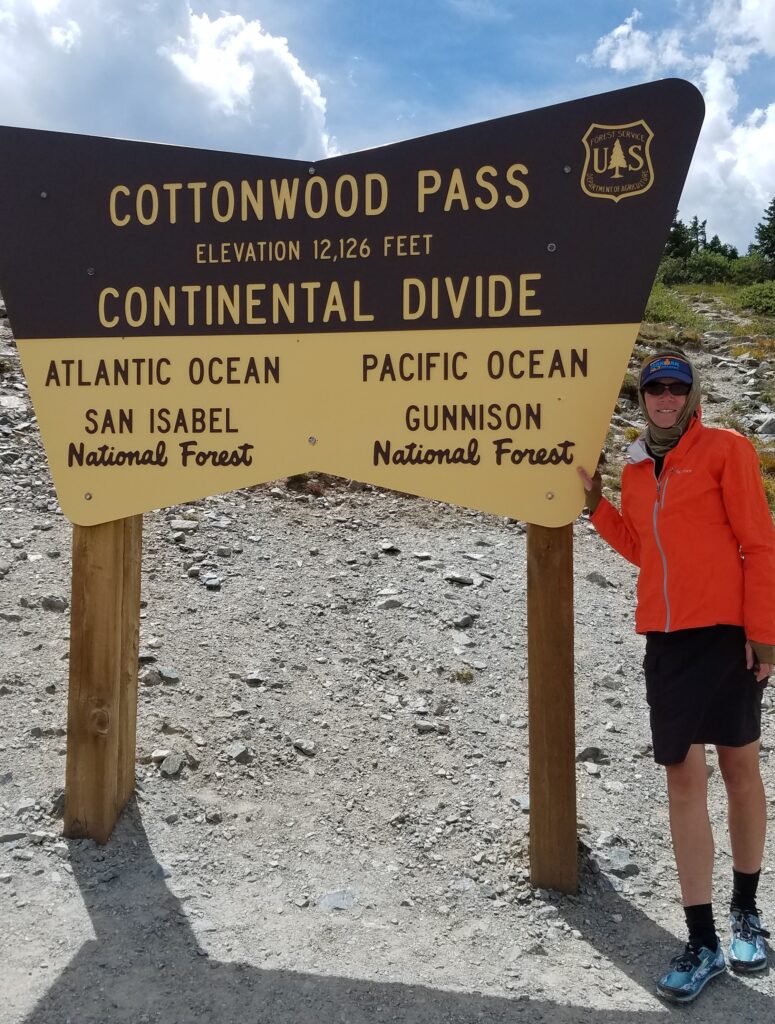 Buoyed by the extra calories, I continued along the trail, briefly climbing up some switchbacks to a pass then a long descent to Texas Creek Basin. I passed several ponds that looked perfect for moose habitat but still didn't see any. The trail took a sharp left at Texas Creek, heading west for many miles along beaver ponds. It had been a long and exciting day, so I decided to call it quits at a beautiful, open campsite next to the creek. I passed a few other campers earlier but had this site all to myself. My camo tent was perfectly suited under the pines. There were no bugs and the temperatures were comfortably warm, especially compared to my site above 12,000′ the night before. I had dropped all the way down to 10,000′ in this spot. I remember sleeping so soundly on this night, without a care in the world and perfectly at home in the wilderness.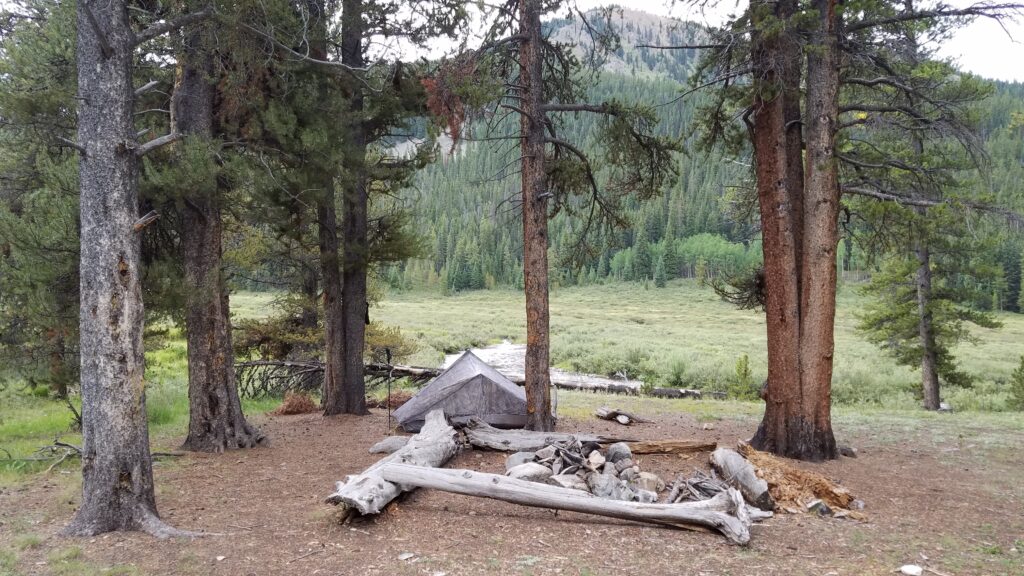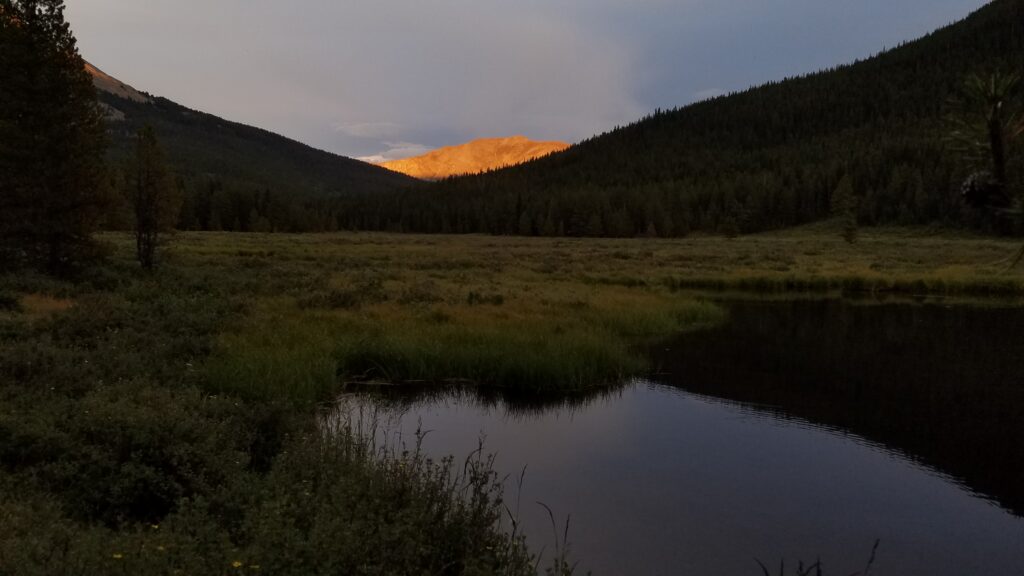 Day 4: August 21st, 2017, Texas Creek camp to Sheep Gulch, 21 miles, Segment CW2-1.
I set out early on my last full day of hiking, excited to see what the day would bring. Much of the morning was spent climbing through forests towards Lake Ann Pass. Unfortunately the trail still shares this section with dirtbikes but I didn't encounter any. I skirted past some mudpits and over a lot of loose rocks…tires really tear up the trail in places. I passed a few lady hikers, having a nice chat with them as I went by. It seemed like there was something I was supposed to remember on this day but it slipped my mind.
By 1130 am, I had conquered a myriad of switchbacks up to the pass. This pass is notorious for having a formidable snow cornice well into July. Even though it was late August, I still had to skirt the southern edge of the remaining cornice. This is a gateway where the trail crosses from the western slope of the Collegiates back into heart of the range and onward to the east side/Twin Lakes. I was looking east towards 14er Mt Huron and beyond to Hope Pass. A little sliver of gorgeous Lake Ann is just visible here.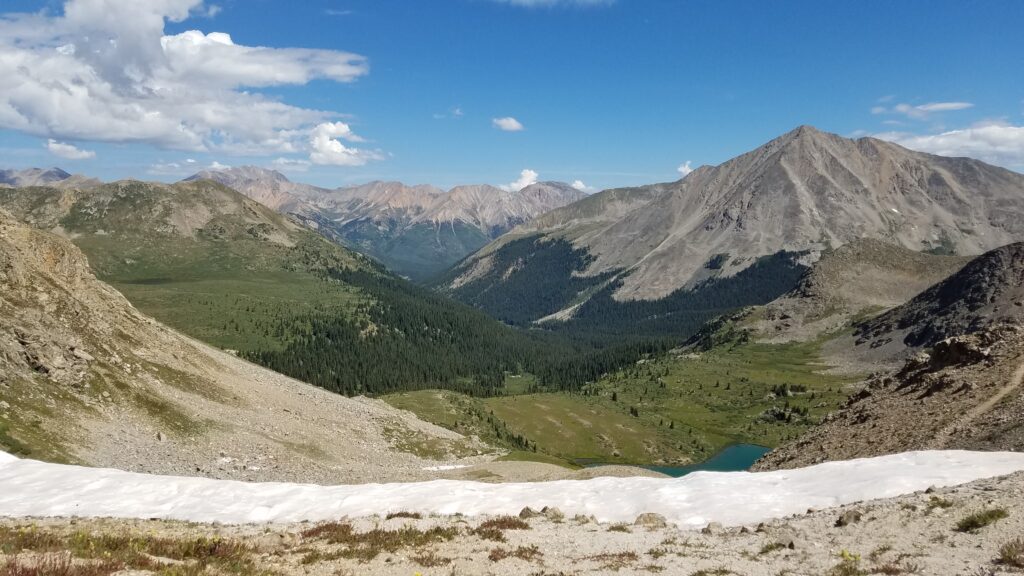 I took a short break to enjoy the views and was puzzled why the colors seemed slightly off. Also, it became very cold all of the sudden. I attributed this to the wind blowing over the nearby snowbank and that I was above 12,000'.  I glanced up to the sky to see if the sun was overcast by a thin layer of clouds but it wasn't. I remember thinking that the sun just didn't have the same intensity it normally does.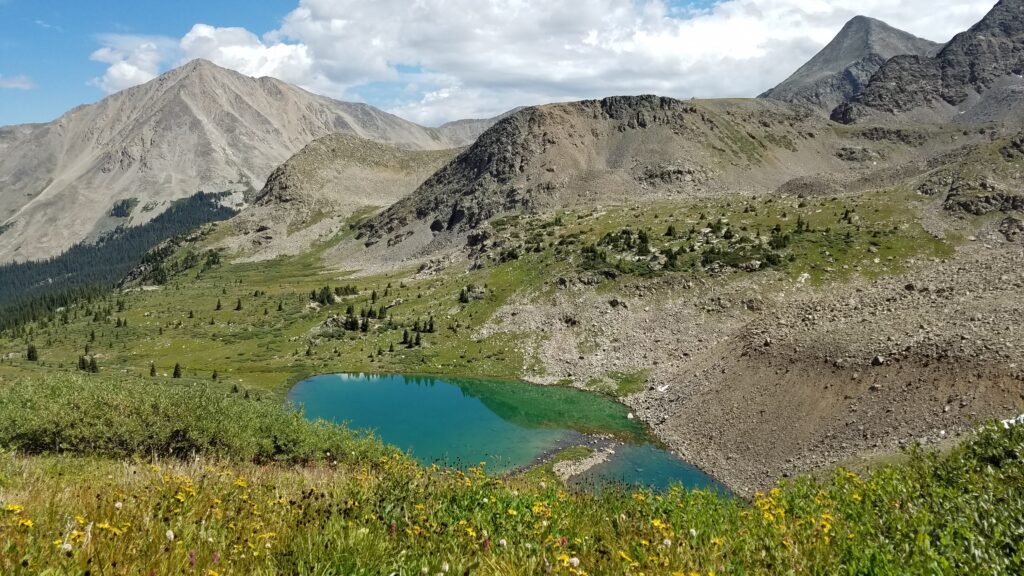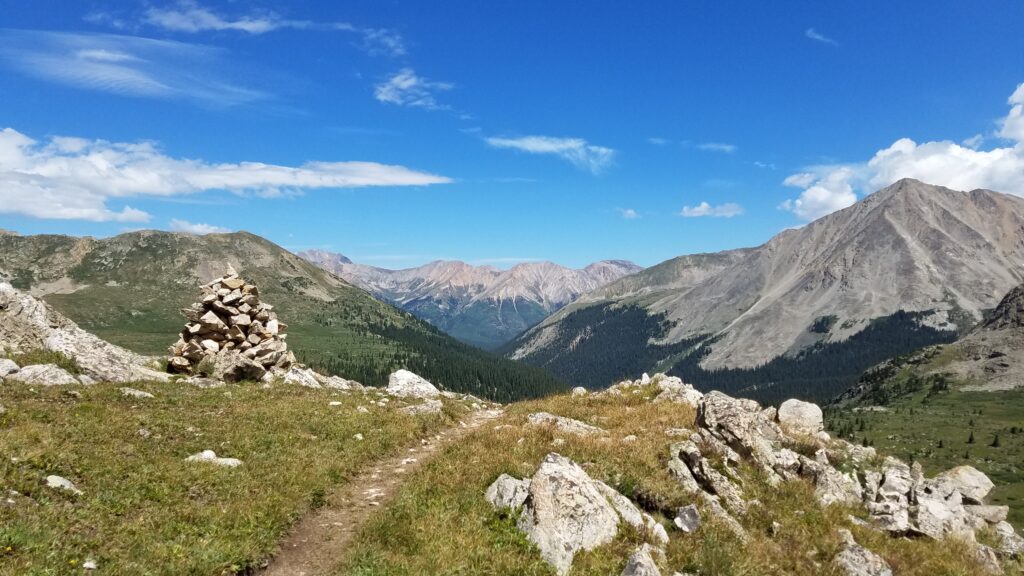 On the way down I was asked by a fellow hiker, "How'd ya like the eclipse?"  Then it dawned on me why I felt something was off while on the pass. What an amazing place to be for the eclipse, even if I didn't realize my luck at the time. I was too busy looking down on the grandeur below me. Some part of me definitely noticed it though.
I continued past stunning Lake Ann and along the basin, surrounded by giant peaks. The 3 Apostles, all 13,000′ peaks, occupied the space. It was starting to get stormy on this day and I was grateful for my timing, heading towards lower ground. Thank you Weather Gods for holding off a bit! This was the only day of the 5 that I got rained on, but only for about 5 minutes.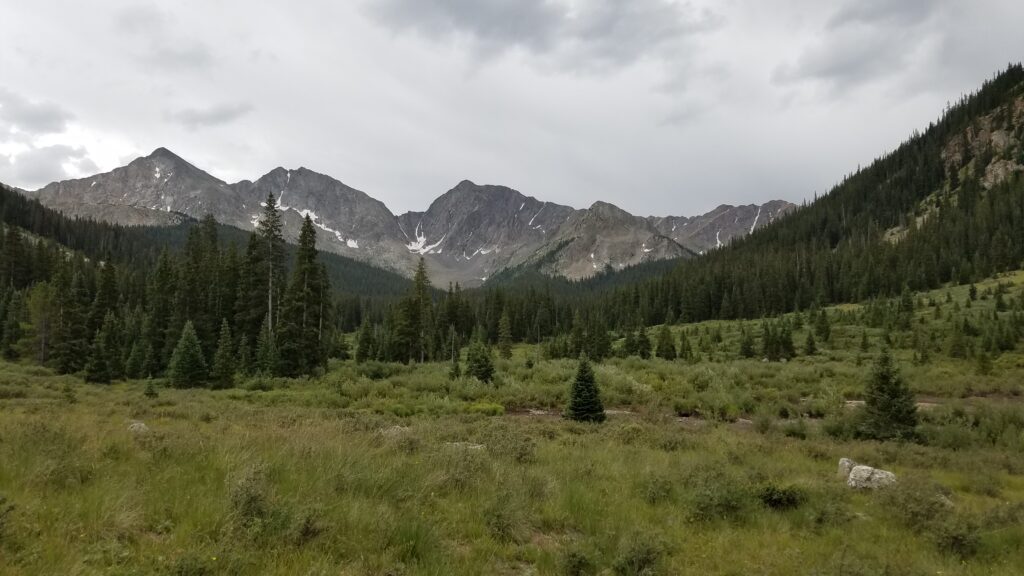 I saw some nice wildlife, too. First a grouse and her chicks and then a pair of butterflies that let me take a few close-ups.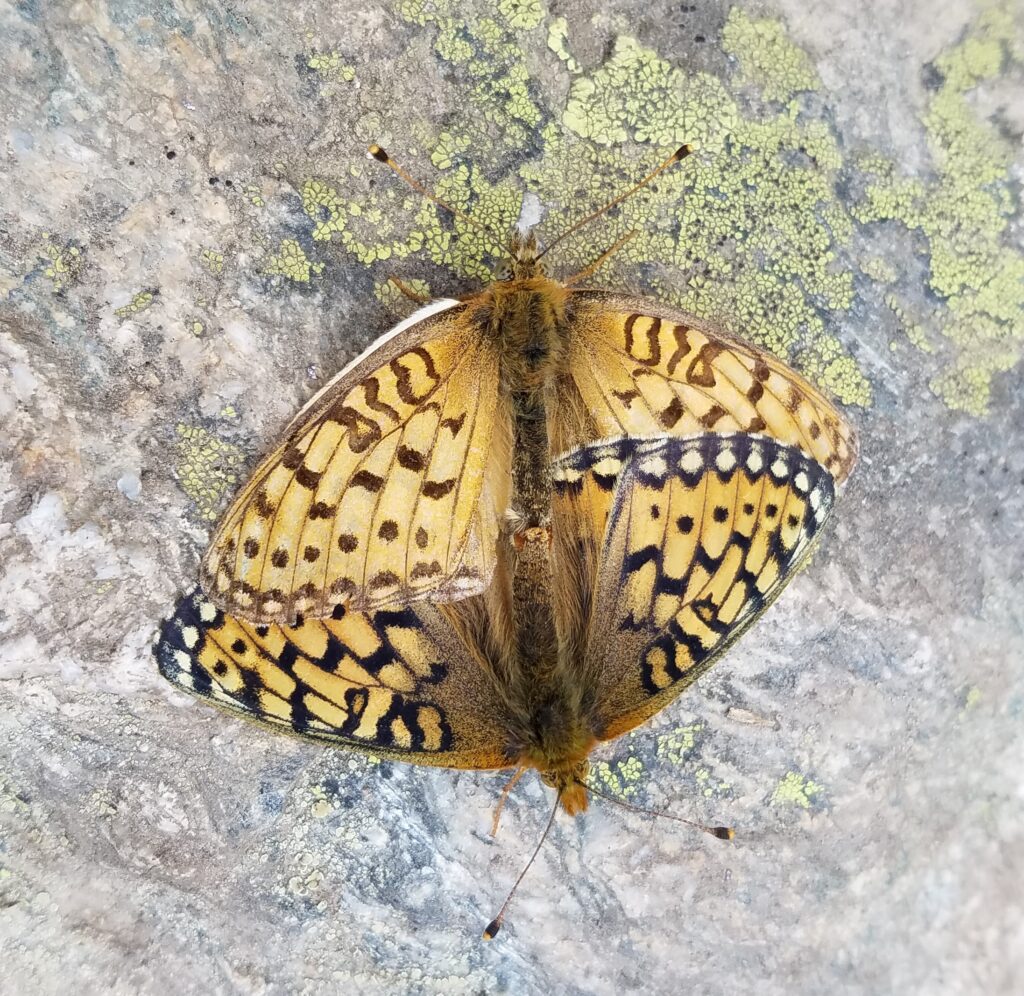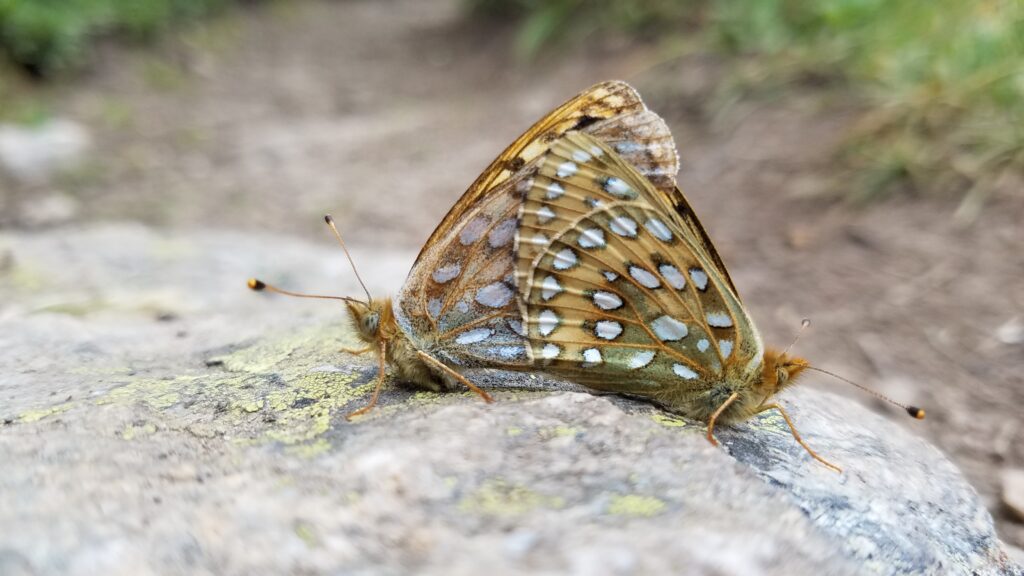 I began my very last ascent of the trip towards Hope Pass, to settle in with great views of the valley on my final evening. I carried 3 liters of water uphill for 1.5 miles, only to find there was a stream nearby. Oh well, better safe than sorry. Towards dusk, a lone male thru-hiker joined the campsite. He was the first NOBO I had seen in 4 days, as well as the first person I camped with this section. It was really nice to have some company. He was heading all the way towards Denver and I envied him that he still had a few weeks left on the trail.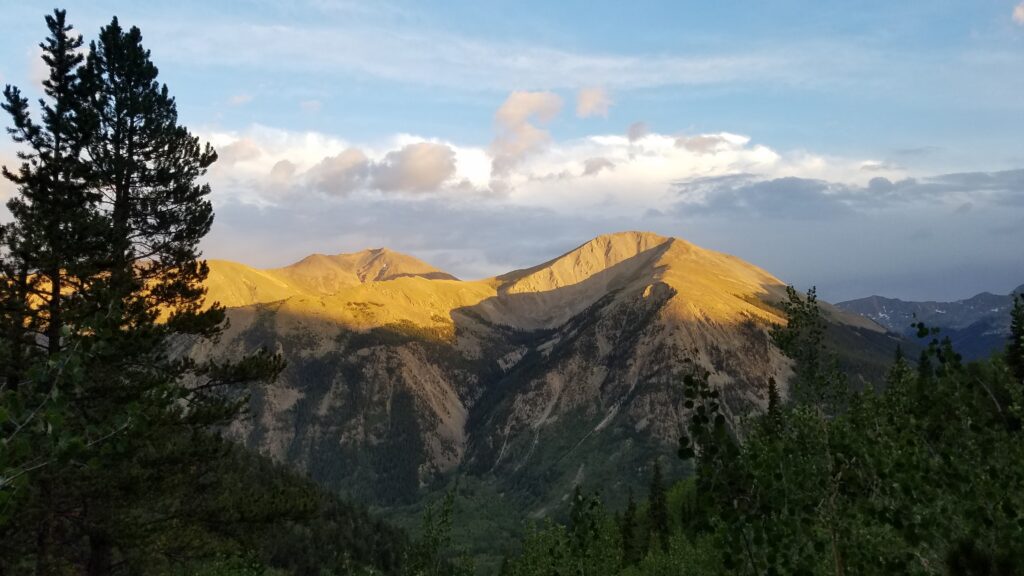 Day 5: August 22nd, 2017, Sheep Gulch to trailhead, 8.3 miles, Segment CW1.
I got a very early start and was on top Hope Pass by 0730 am, just in time to catch the sun coming up over the ridge. On the way, I was treated to the sights and sounds of bighorn sheep playing on the slopes. The valley is called Sheep Gulch, for good reason it seems. I was so stoked to finally see some big game along the trail, on my last day to boot.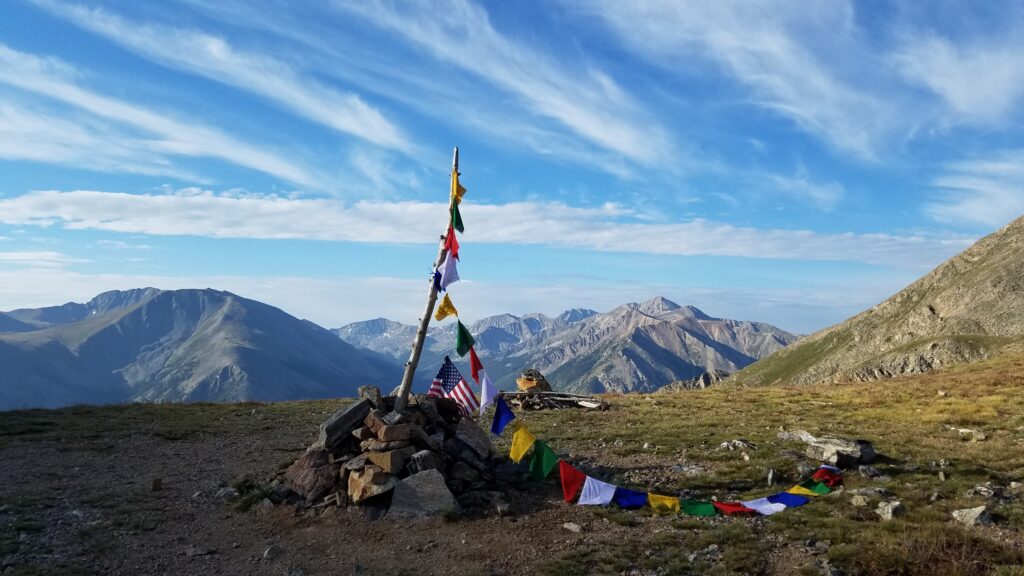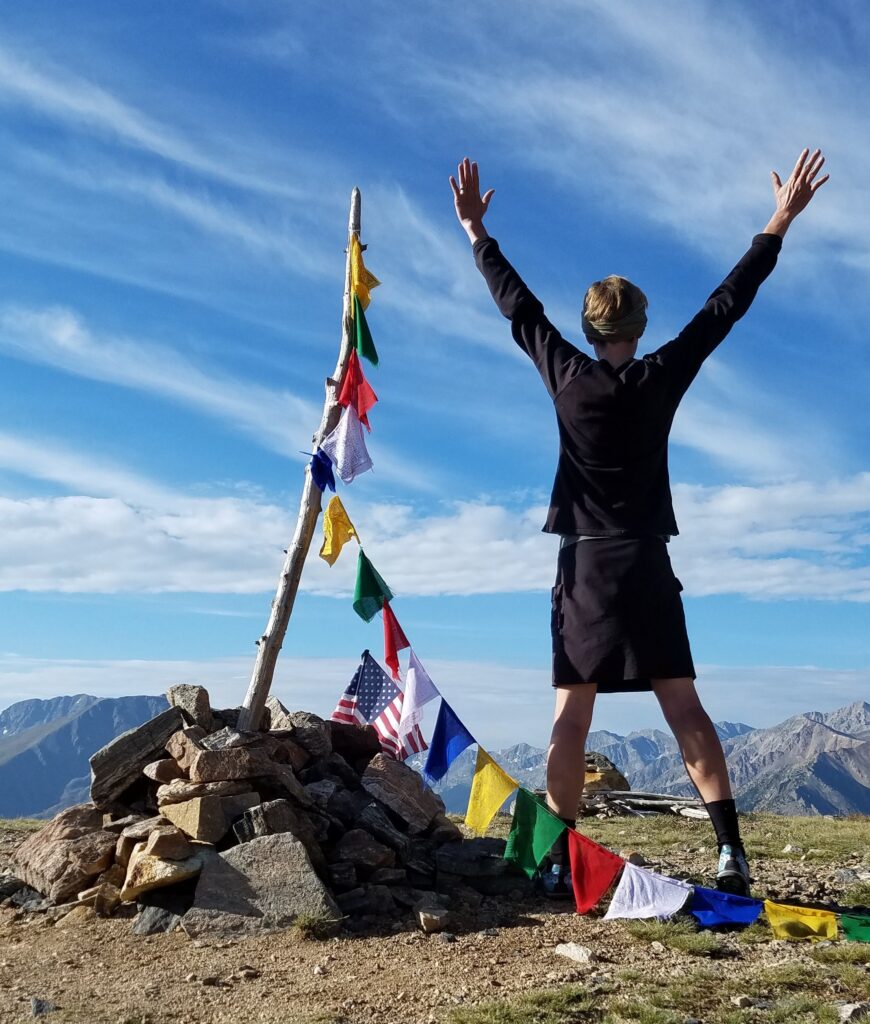 A final salute to the Colorado Rockies…at least for now. There will always be more to come. By the way, Hope Pass is the turn-around point for the Leadville 100, a torturous mountain ultramarathon held each year.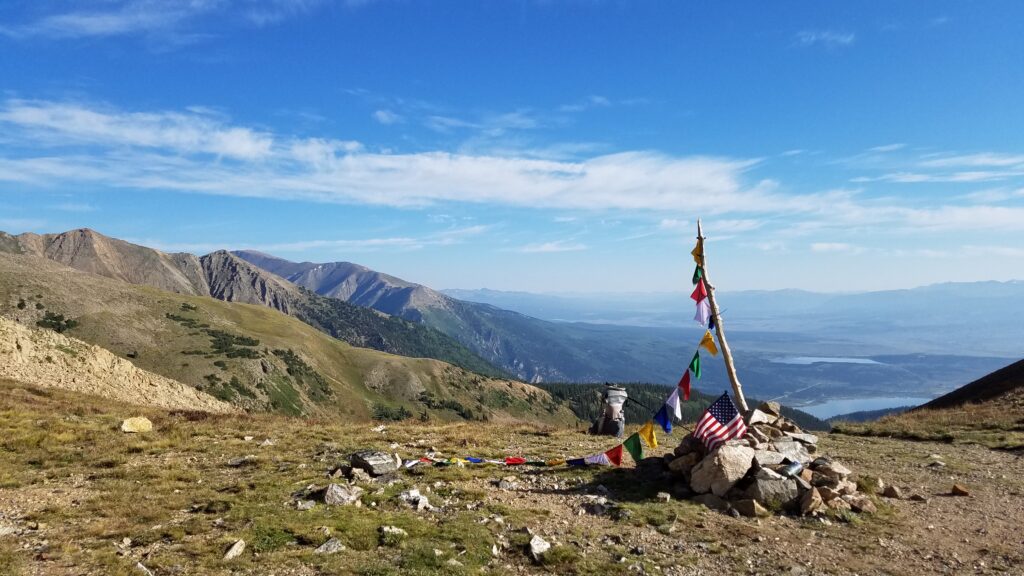 Note Mt. Elbert in the background, along with the Twin Lakes. This was a great place to end…much more scenic than the somewhat anticlimactic end in Durango. I was so glad I completed the trail this way. I HIGHLY recommend the Collegiate West section over the East, unless very bad weather is expected.
But my day wasn't quite done yet. On the way down to the trailhead, I met Valerie Welborn, an active member of the CT Women's FB page. We immediately sensed some common ties and talked a lot of trail. She made her own external frame pack out of DCF, which I was really impressed by.  Right after I said goodby to her, I met Apple Pie, a triple-crowner who has also hiked the TA and is sponsored by Gossamer Gear. It was so much fun to talk to her too. I love meeting such accomplished female hikers. Then I got a hitch from another lady day hiker, who drove me all the way to Buena Vista. It took me 4 more rides to get back to Canon City but I made it. All in all, it was a great way to end a great hike.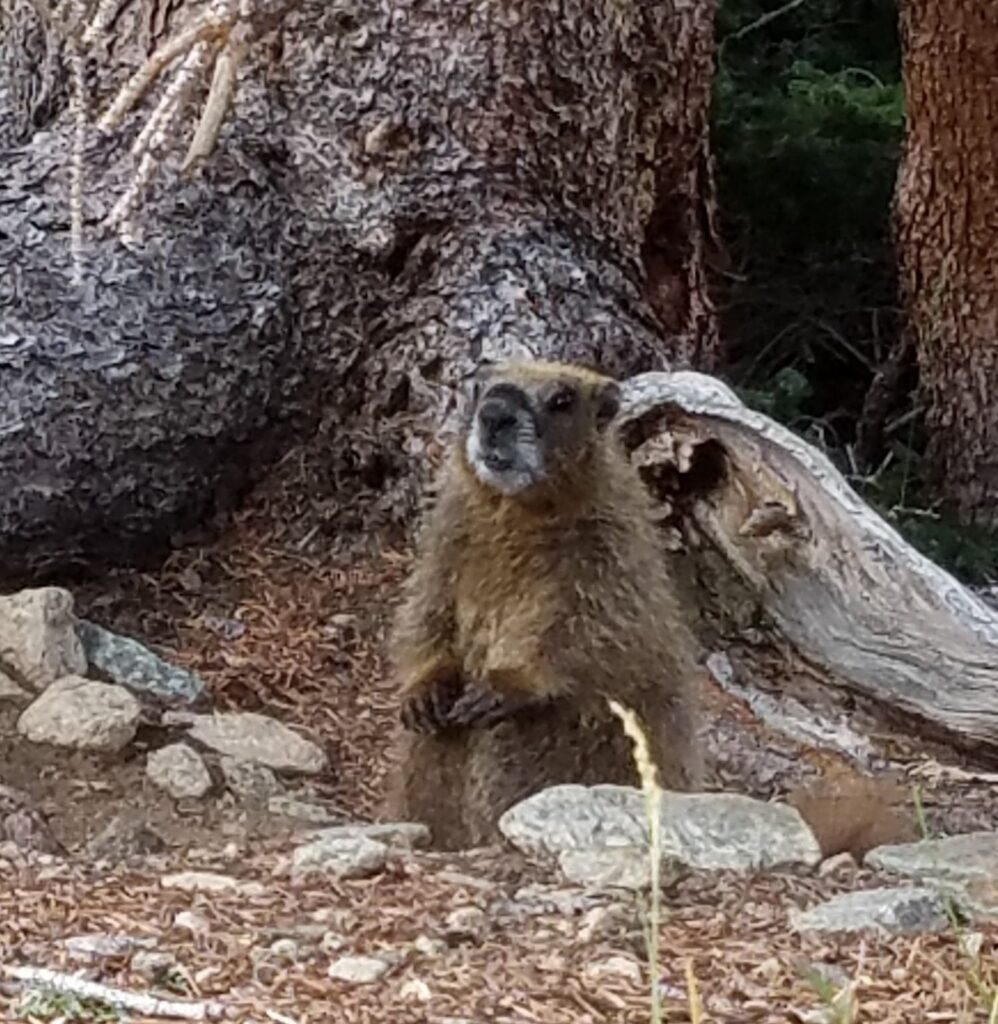 Thanks for following along in my adventures. This thru-hike was the first of many more to come but will always occupy a special place in my heart for being my first, and in my homestate.