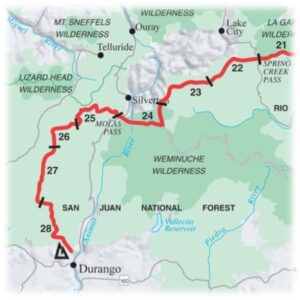 Day 28: August 9th, Molas Pass to Cascade Creek, 15 miles, Segment 25.
We enjoyed the town visit but were anxious to get back on the trail early the next day. Partly because the hostel and town weren't all that great but also because we only had 3-4 more days before we were finished! As a bonus, the weather forecast showed a little bit of a break from rain over the next few days. Let's hit it!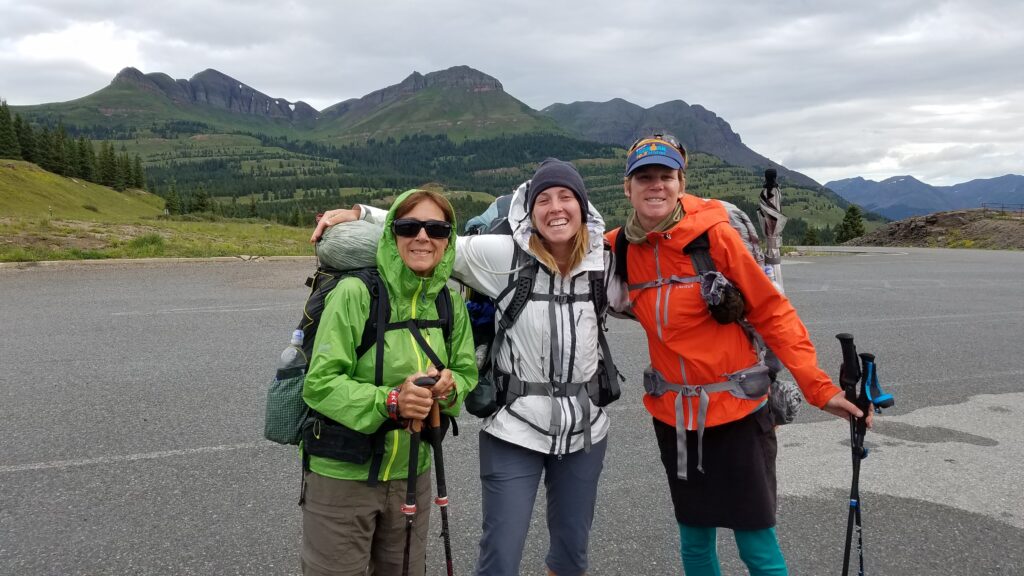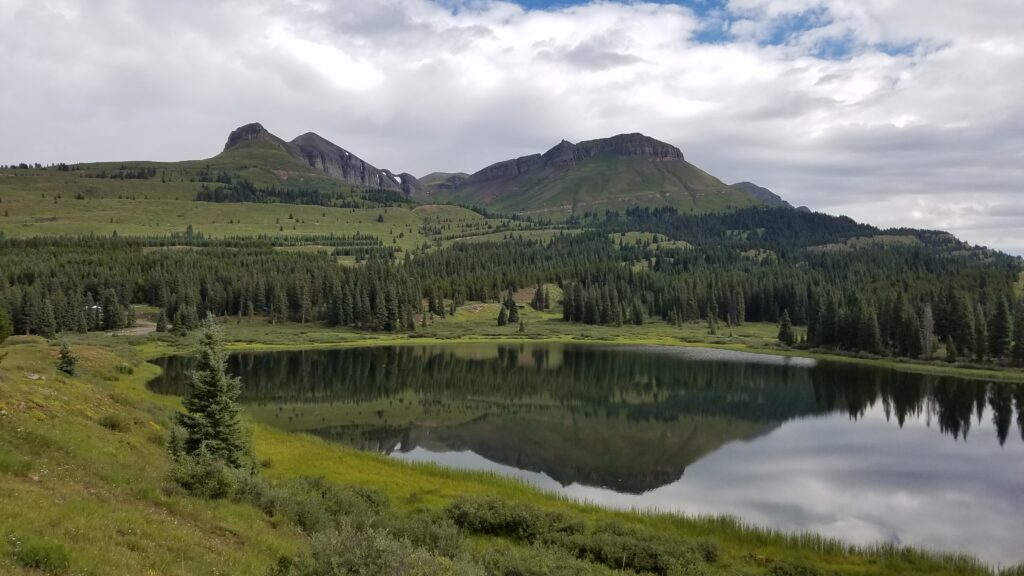 My companions were very ready for this trail to be done with, but I was grappling with mixed feelings. I was really enjoying myself and didn't want it to end. I came to terms with this by telling myself I could hike the Collegiate West; that I wasn't quite done once we hit Durango.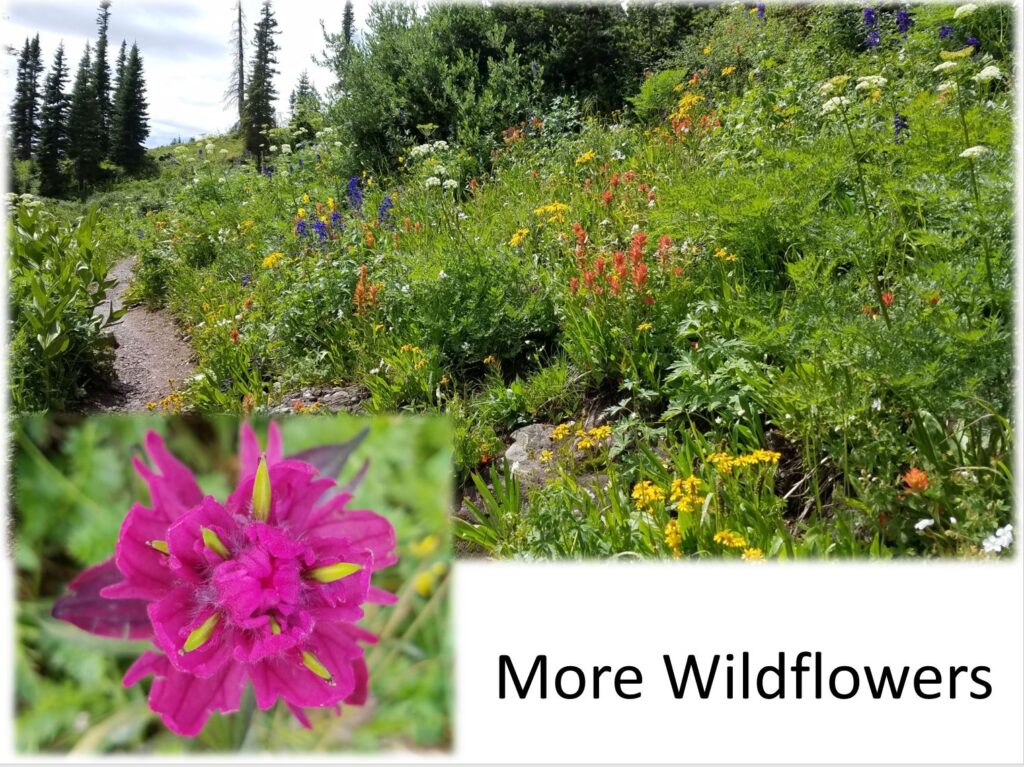 This last segment definitely had the heaviest density of wildflowers. They were head-high in some places, almost completely overgrowing the trail. There's an upside to all that rain we'd be enduring!  All day we enjoyed good weather and more spectacular scenery. We also spotted a herd of sheep, following each other in single lines along steep little trails on the mountainside. They formed an interesting pattern.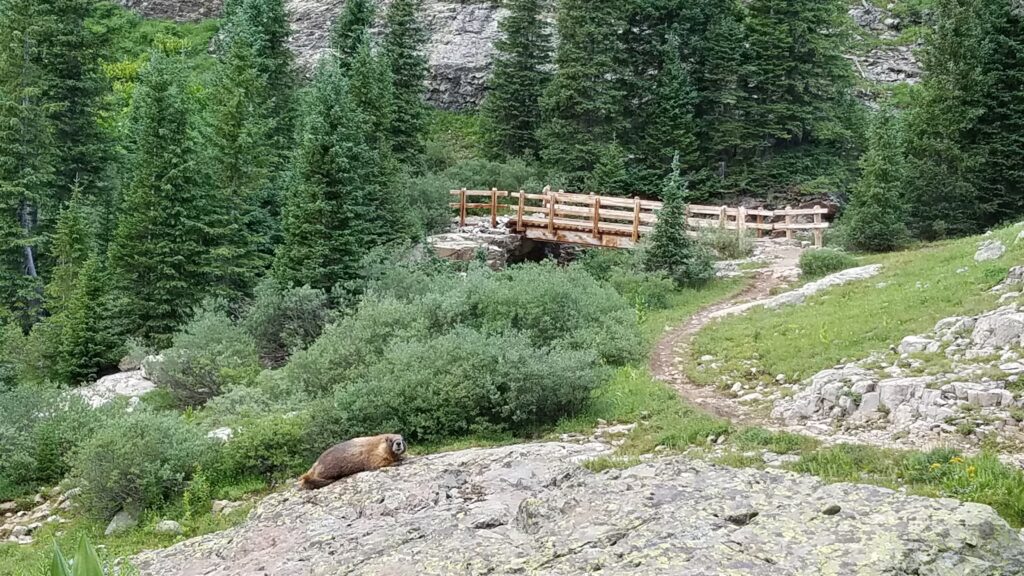 We camped next to a nice creek and bridge, where a friendly marmot posed for us. Marmots, like pikas, are a fixture of the high country. They have a very sharp, high-pitched bark, more like a whistle. For this reason, they are also called whistle pigs. They are very charismatic (for being large rodents) and a lot of fun to watch. They serve as an alarm clock and a warning that others are approaching…meaning you can never sneak up on hikers that are camping next to a marmot.
Day 29: August 10th, Cascade Creek to dry campsite, 19.5 miles, Segment 25-27.
On this day, we had more good weather and were able to hike a full day. Nothing too notable happened. I found a yarn hat in a meadow and we crossed an odd stream that seemed to contain some suspect minerals…all the rocks were stained white. I've seen streams like this in other places in Colorado and wonder if it's due to mining activities. One lake had some creatures that looked like a cross between a salamander and a fish…maybe mutants from contaminated water. But mostly it was easy miles through a variety of habitats and lots of wildflowers.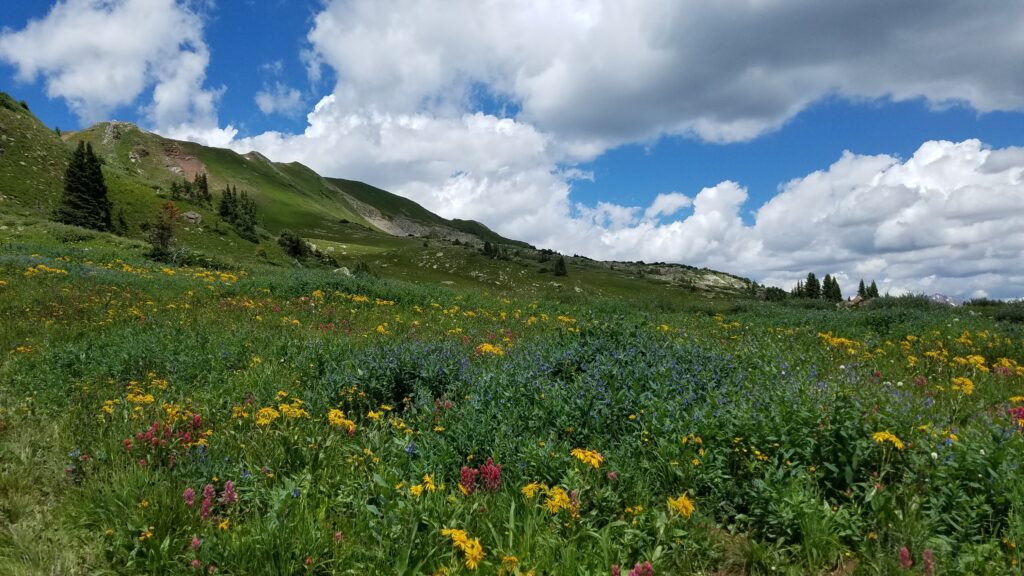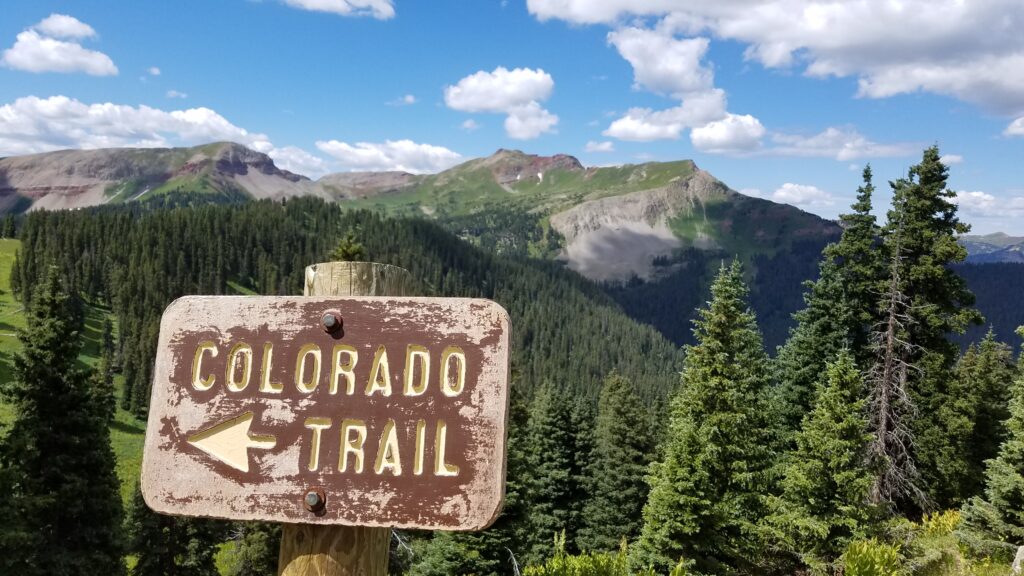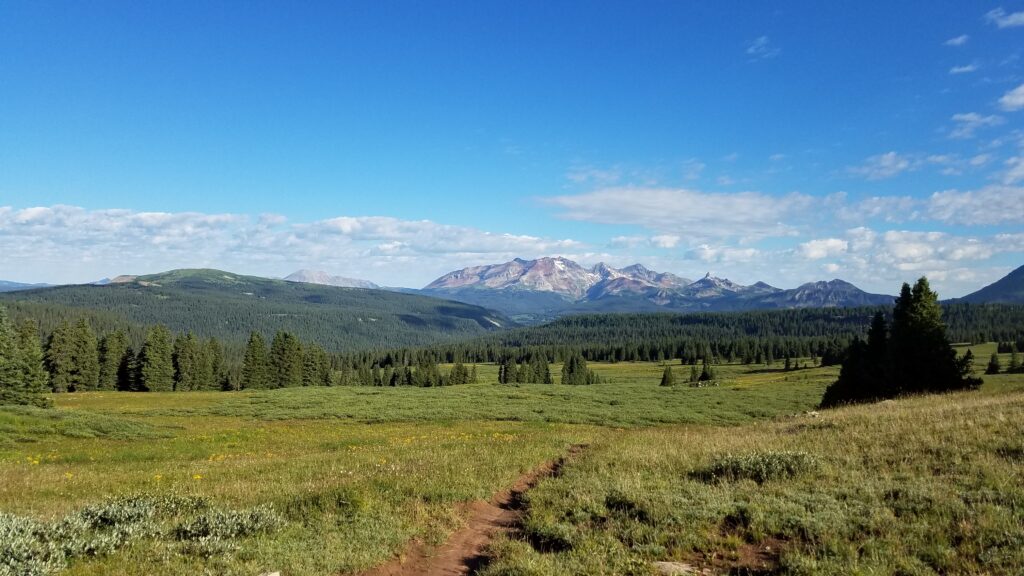 At the end of the day, we collected water at the last reliable source for the next 22 miles. We were experimenting with dry camping for the first time, hiking another 5 miles to set-up on a ridge. We were trying to position ourselves for an early start the next day on Indian Trail Ridge, a notoriously exposed section and the last high route before the descent into Durango. We had experienced perfect weather for the last 2 days and were hopeful for just one more day.
Day 30: August 11th, dry campsite to non-descript campsite, 24 miles, Segment 27-28.
We woke up at 0500 am to start hiking as soon as it was light enough. We were rewarded by one of the best sunrises.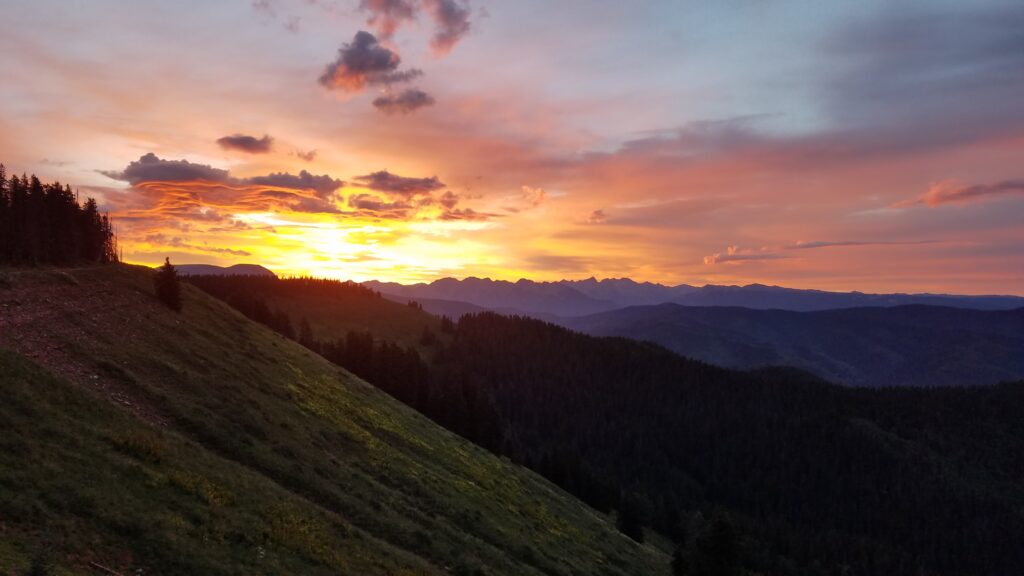 While off to a fantastic start, a nice weather day it was not to be.  The clouds rolled in surprisingly fast and we were once again hiking in early morning rain. At least there was no lightning. The guidebook tauntingly proclaimed: "From Indian Trail Ridge, a crest of cascading wildflowers and the views of Hermosa Valley and the La Plata Mountains are extraordinary. This segment features sweeping vistas, culminating in a dramatic, 5-mile walk atop an alpine ridge at more than 12,000 feet. "
Mostly all we got were views of clouds but it was kind of cool with the mist drifting in and out. PRB said she was glad for the cloudy conditions so she couldn't see the precipitous drops on either side of the trail. We had a few reprieves from the clouds throughout the morning but the rain started coming down pretty hard again mid-day.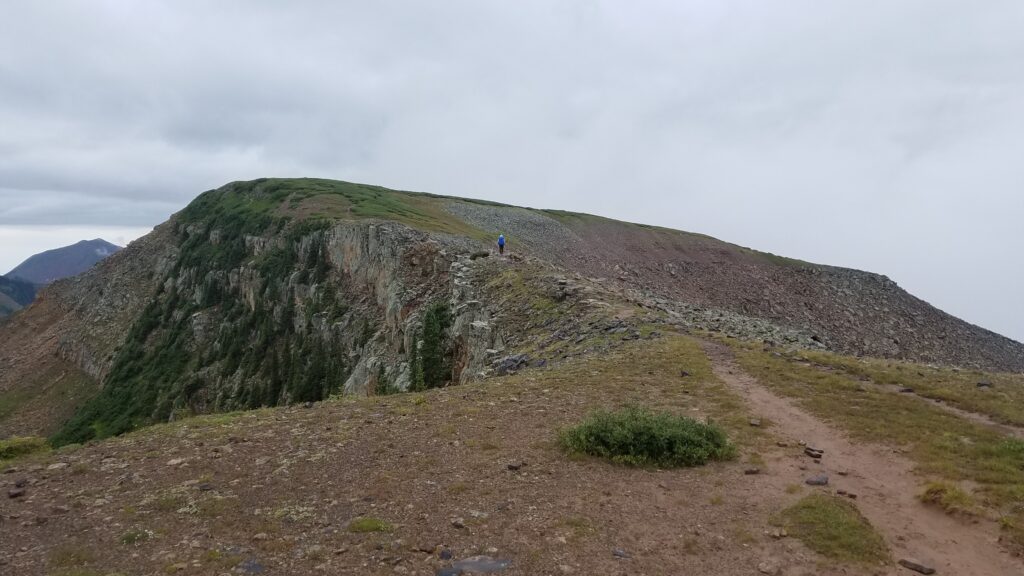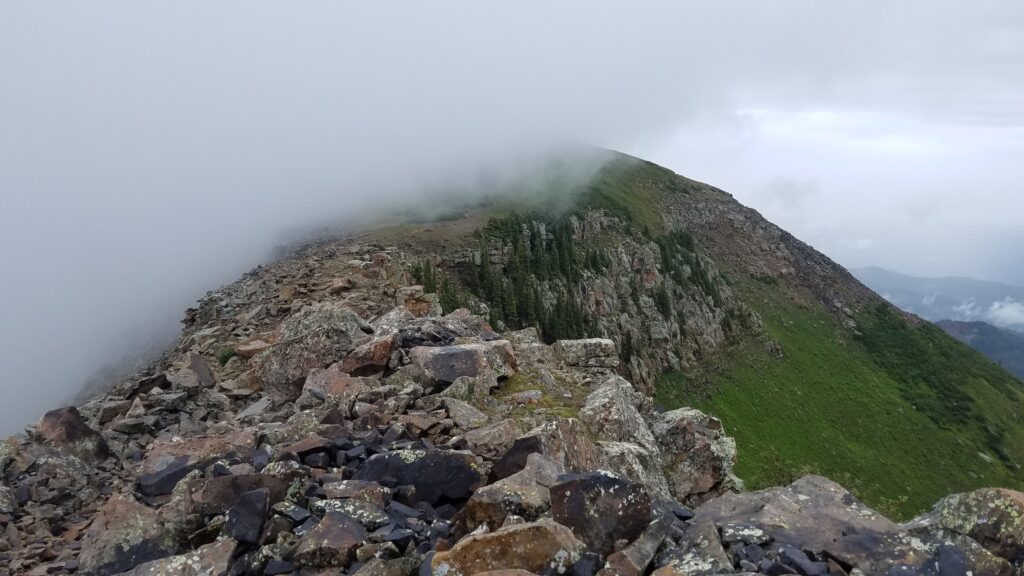 We went through several extremes, from sheer rock ridgelines that looked like we were in the Himalaya to fields of wildflowers, that beamed their happiness and serenity, despite the rain.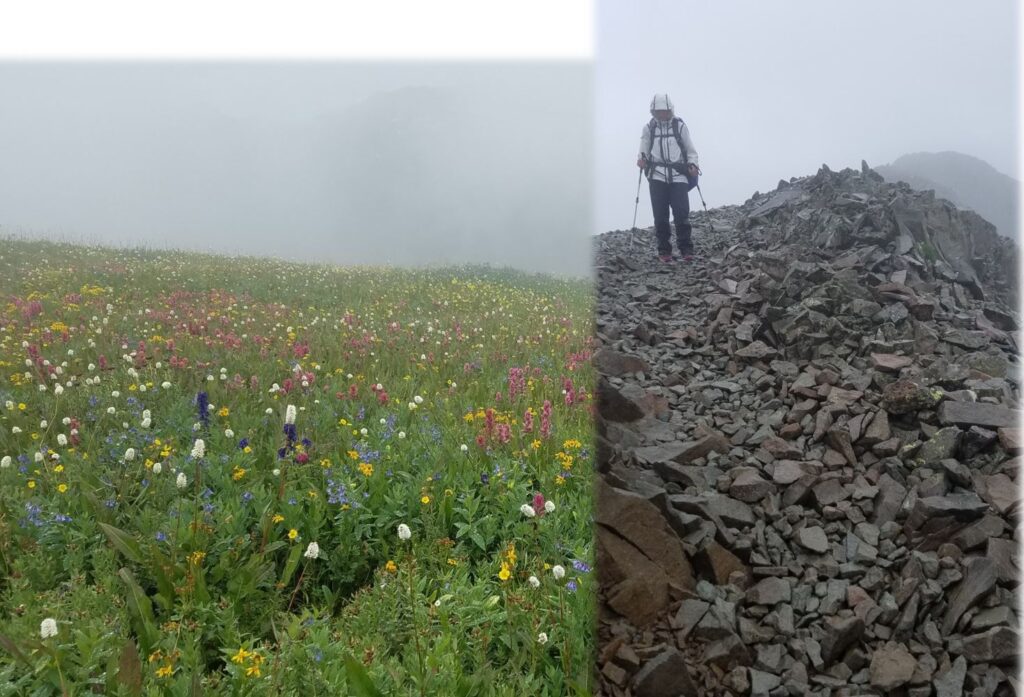 While PBR and I benefited from our umbrellas, poor Sofie got really chilled and began running along the trail just to warm up. I finally caught up to her near Taylor Lake, where we discussed strategy for the remainder of the trip. Originally we had thought about camping at the lake but we didn't want to spend a cold, wet night above tree line.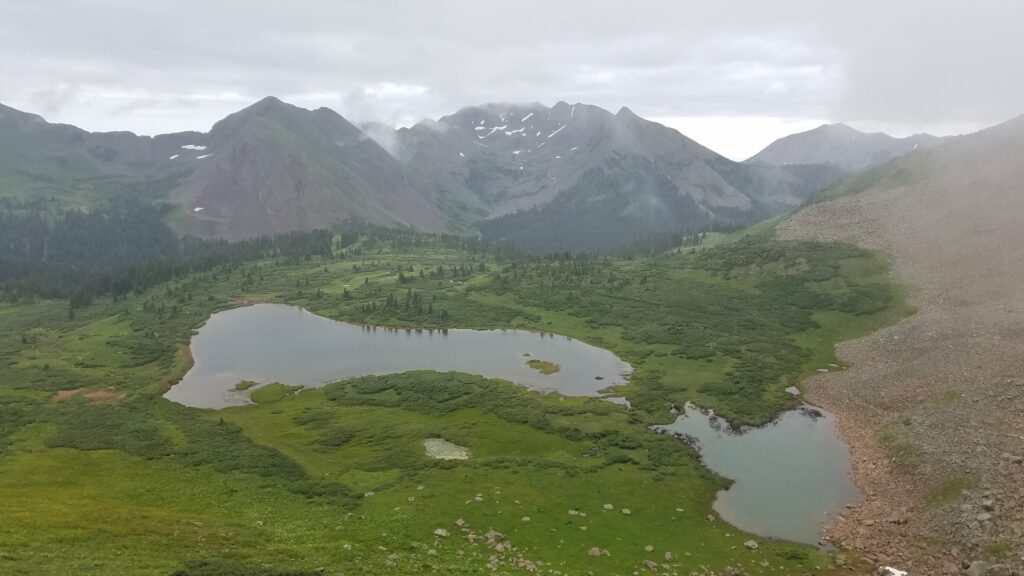 Given our progress, we could make it into Durango by mid-day the next. So we decided to push on and get as many miles covered as we could, even though campsites in the valley were reportedly not very plentiful. We hiked over our last pass, Kennebec at 11,700′, and down into the valley. A few miles in, PBR and Sofie decided to call it quits for the night on a less-than-ideal uneven surface. They opted to share Sofie's 2-person tent while I decided to move on for a flatter spot. I ended up doing my biggest day: 24 miles. It wasn't the ending I was hoping for, though…it was our last night on the trail and we were separated at camp for the first time, spread apart by a few miles. I realized this sad outcome too late. At least we still had town days together.
Day 31: August 12th, non-descript campsite to finish at Junction Creek Trailhead/ Durango , 15.5 miles, Segment 28.
I took it slow in the morning while Sofie and PBR quickly caught up. We hiked together the rest of the day, enjoying our last miles on the trail. The sun was out and everything was quiet. But shortly we realized that our timing had put us heading towards town on a Saturday…on a VERY popular mountain biking trail. Durango is a mecca for mountain bikers, all of which seemed to be on this one trail at the same time. We were being passed left and right. PBR nearly jumped out of her skin several times as riders came up from behind to surprise her. The heavy bike use also created quite a V-shaped trail, which wreaked havoc on my legs. For the first and only time in my now 10,000 mile thru-hiking career, I developed really bad shin splints.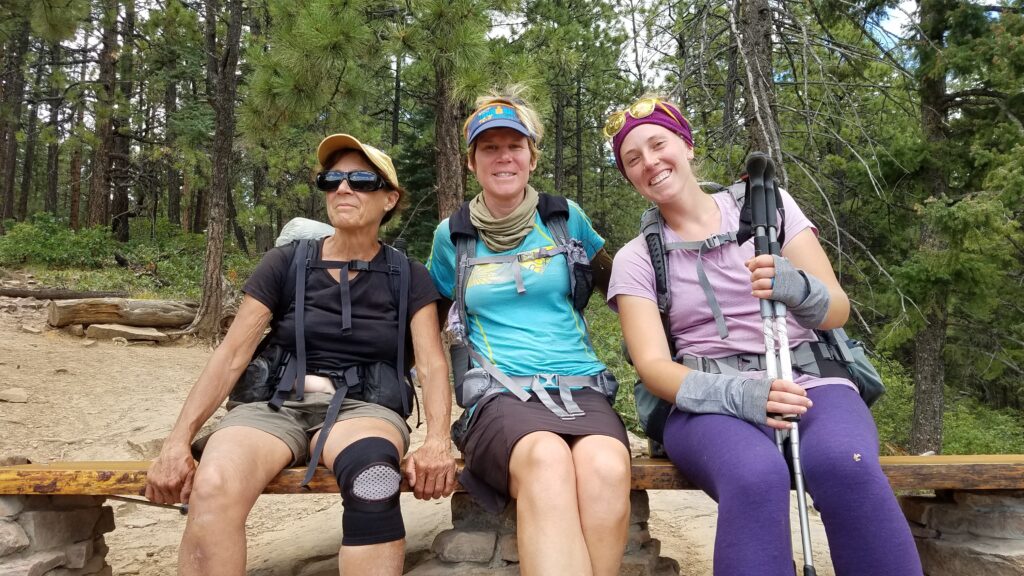 We took a break to rest at the Gudy Gaskill bench, overlook, and memorial. Gudy is known as the Mother of the Colorado Trail. She died in 2016. This trail is her labor of love and a testimonial to what a strong, passionate woman can accomplish. I can't think of a more wonderful legacy to leave behind. If I could only be so accomplished. At least I can point to the fact that our group represents 3 strong female thru-hikers from 3 different generations…that's kind of cool. Thanks Gudy…know that your spirit lives on in the hearts of everyone who walks this trail.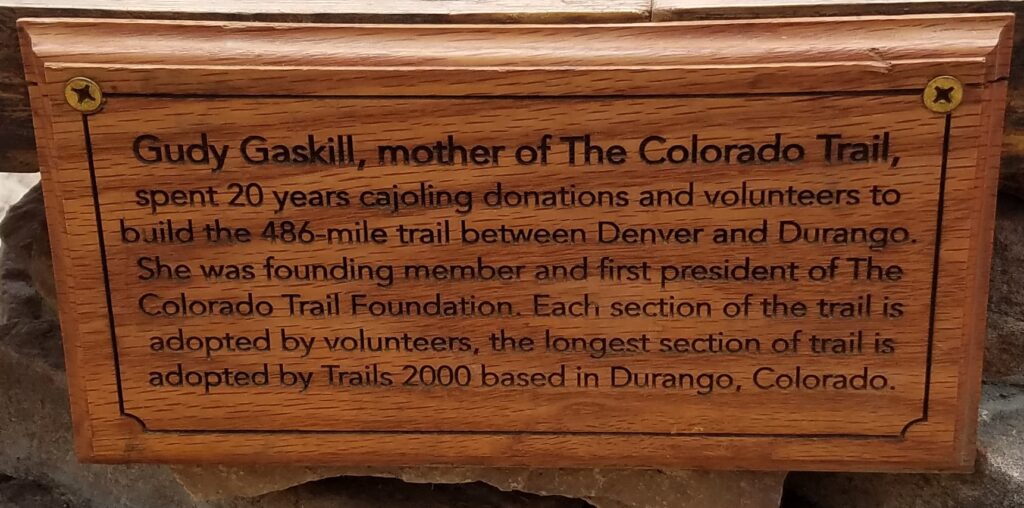 In the last few miles, we met a couple of day hikers, Dan and Jan, who offered us a ride into town. They were parked at a different lot and excited the trail before us, promising to meet us at the trailhead. Not only were they waiting for us, as promised, they had rallied others in the parking lot to cheer for us at the finish line! Dan and Jan also gave us fresh local fruit…Palisade peaches. This was some of the best (only) trail magic we had all trip, so it was a wonderful way to finish. And congrats to PBR and Sofie for completing the trail and being such great trail companions.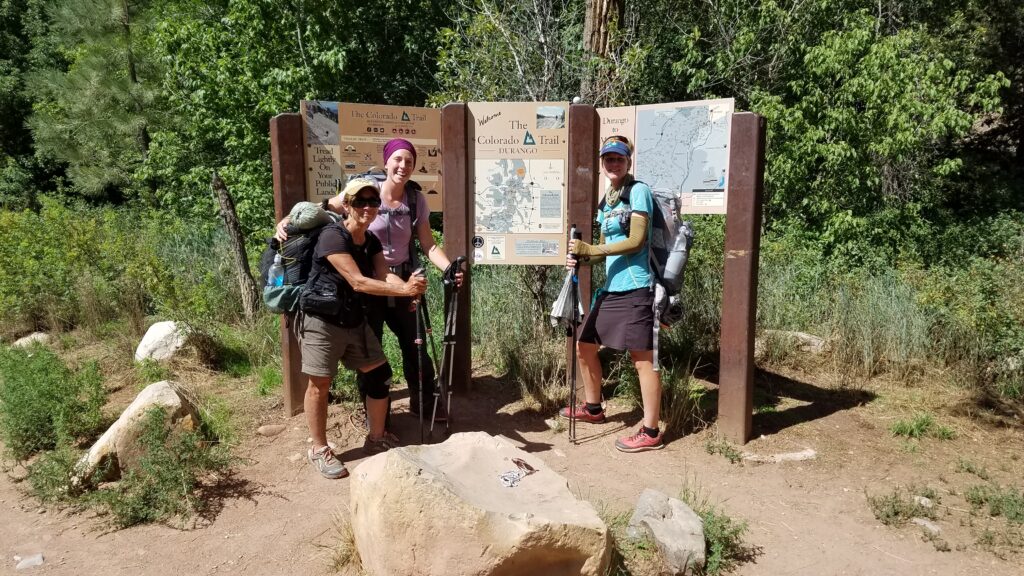 We headed into town and did all the normal town stuff…like eat. I had lost quite a bit of weight and needed to replenish. We first headed to Walmart to buy spare clothes and snacks. Sofie passed out on the bus ride back to town…very relaxed and content after our big finish. Then we went for Mexican food and Margaritas!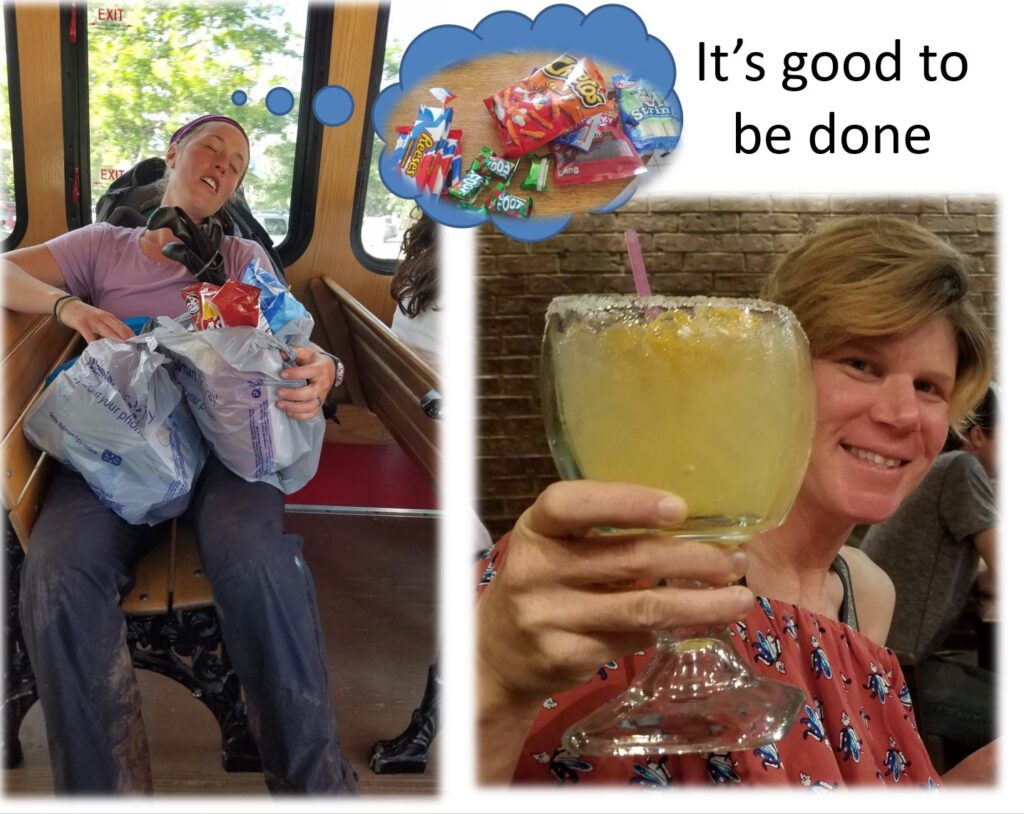 We were also very pleased to meet up with BAM once again. He had pushed past us while we were in Silverton but had time to hang with us for a few days in Durango before flying back to North Carolina. We all went to Carver Brewing Company to get our free CT Finisher beers.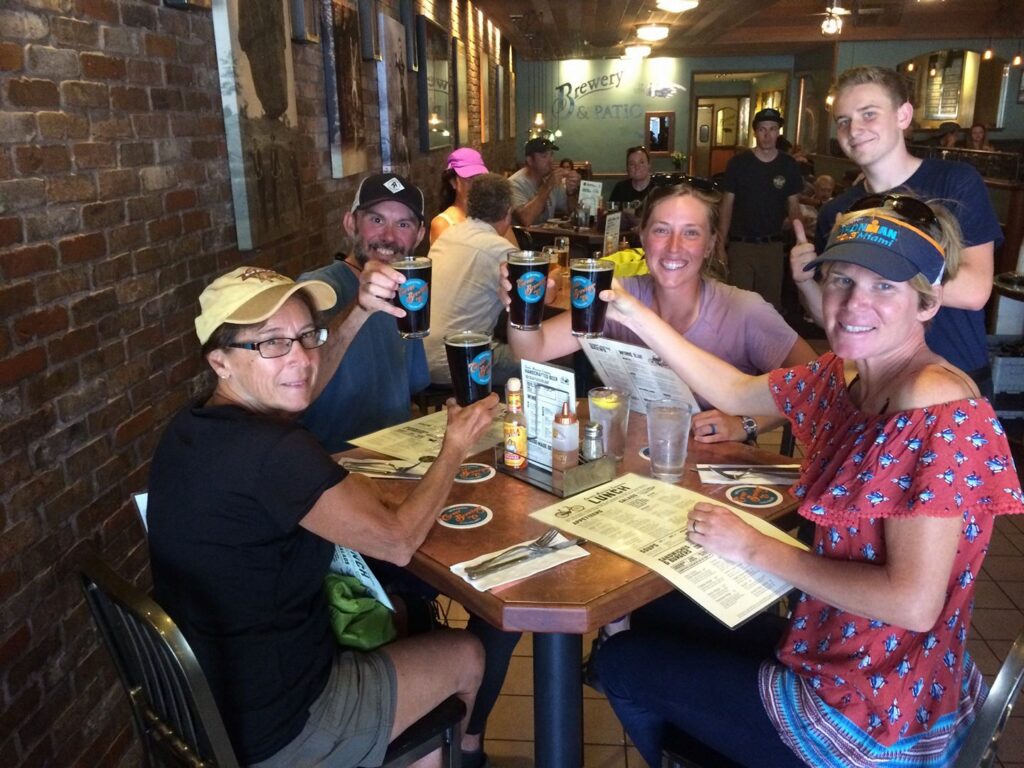 Later we ended up stuffing a hotel room at the Holiday Inn, which PBR treated us to with her loyalty points. The hotel had a great pool and HOT TUB, which we took full advantage of. We also ran into a couple we had met way back on top Kokomo Pass, Caveman and T-Rex. We were just walking down the street when a woman screamed "BAM!" from the window of a passing car. He's easily recognizable, for obvious reasons. It was nice catching up with these 2 fellow thru-hikers, who happen to live in Durango.
Altogether we spent 2 nights in Durango before renting a car to drive back to my parent's house. Along the way, we stopped at the Great Sand Dunes to play in the giant sandbox. Sofie and I also took a rafting trip down the Royal Gorge. I grew up in the area but had never rafted the gorge, so this was a special treat for finishing the trail. Here are just a few pictures from those last few days.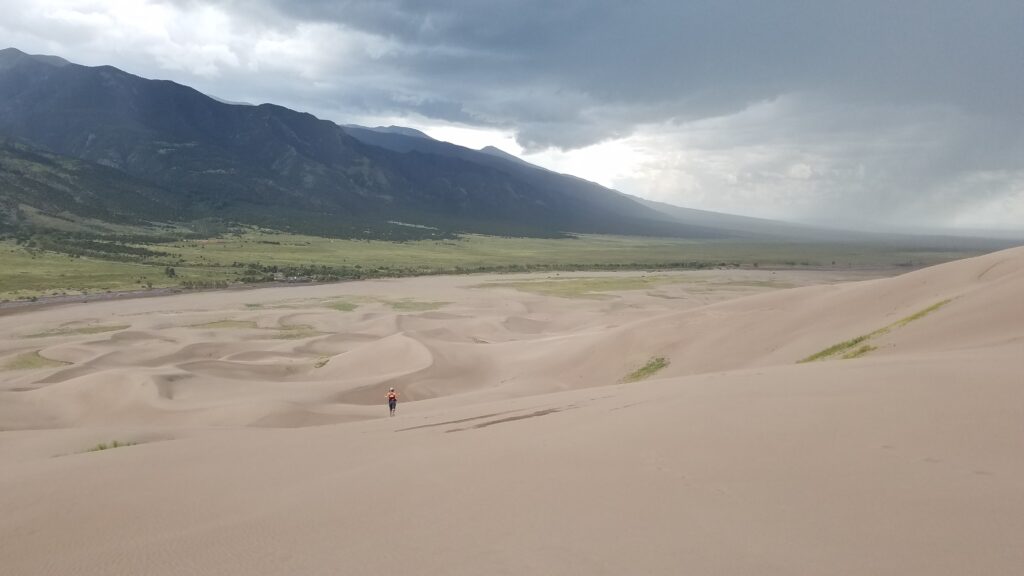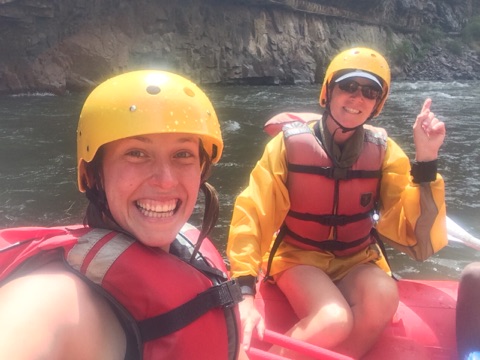 And finally, here's my Completion Certificate, courtesy of the Colorado Trail Foundation, signed by Exec Director Bill Manning (who I got to meet in person at the ALDA-West Ruck in Golden, March 7th, 2020).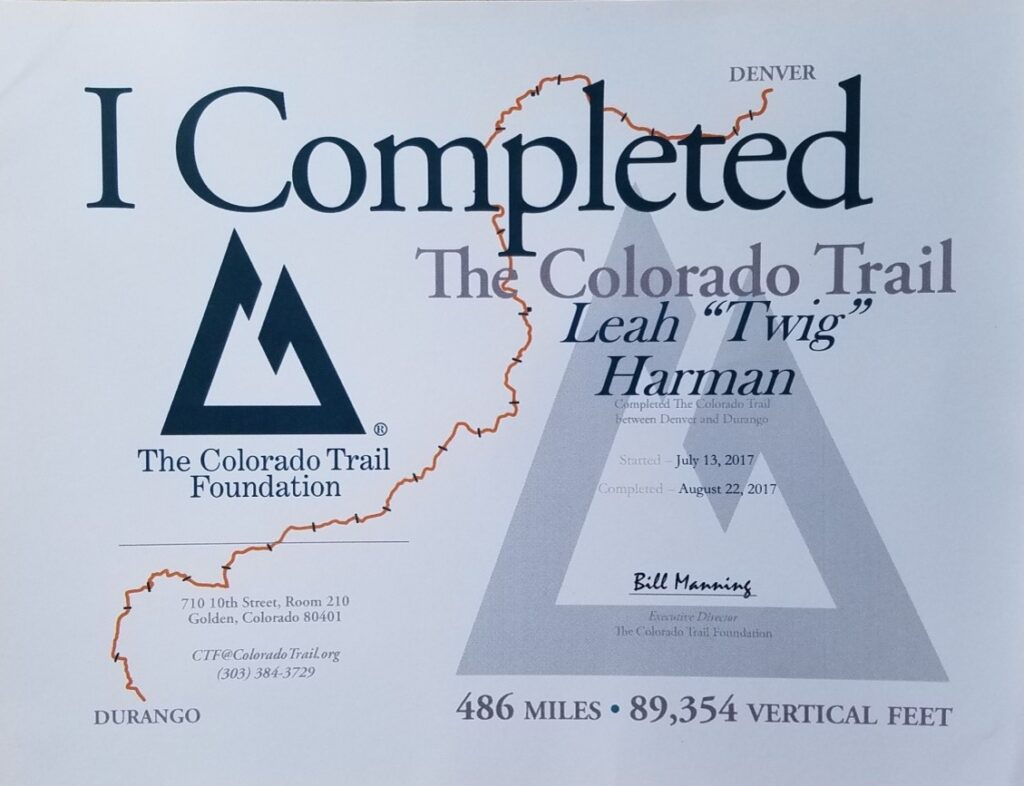 Well, that's it folks. But no, it's not! I took a few days off at my parents and was able to cajole them into driving me back to Monarch Pass to complete the Collegiate West section of the Colorado Trail. Stay tuned for this bonus edition!