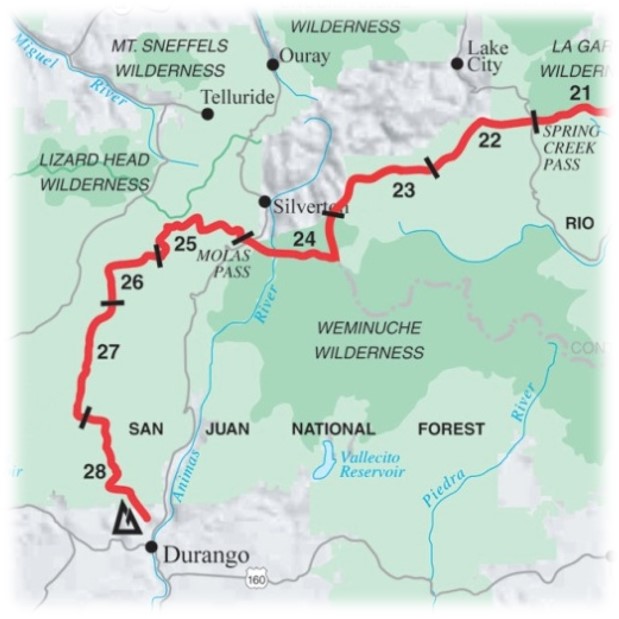 Day 24: August 5th, 2017, Lake City/Spring Creek Pass to Colorado Trail Friends Yurt, 9 miles, Segment 22.
Thus began our last week, a full-on assault of the San Juans…or was the assault on us? We were none too eager to get back on trail after drying off in Lake City, so we compromised by booking spots at a yurt. We read in our trail notes that it was along the route, only about 9 miles into Seg 22. During breakfast, Sofie sent an email inquiring if we could book the yurt same-day. To our amazement, the manager responded right away and said there was room for us. $20 a night per person, sold. We made reservations for 4—us plus John, a British thru-hiker that we had been hopscotching since the first week. We all liked John for his quiet and very British demeanor. But don't be fooled, he once was a brilliant fighter pilot and knows a little about everything in the world…quite the character! I also admired all his sophisticated, lightweight gear…some of which he made himself. John was 67 at the time and could pole vault streams using his trekking poles. Awesome.
BAM opted to take a zero in Lake City after his harrowing hike the day before. So we once again parted ways but were sure we would see him again. We got a ride to the pass with the mid-day shuttle, offered by the hostel. The trail set off across open mesa, giving us a taste of what we missed on Snow Mesa in Segment 21. We even ran into a sheep herder. He only spoke Spanish but being the remarkable scholar that she is, PBR broke out one of her multiple languages to talk to him. Ominous clouds rolled by and it looked like more rain, but fortunately it stayed dry. Occasionally the views opened to reveal the surrounding mountains. Still, we were glad to be headed for a roof over our heads.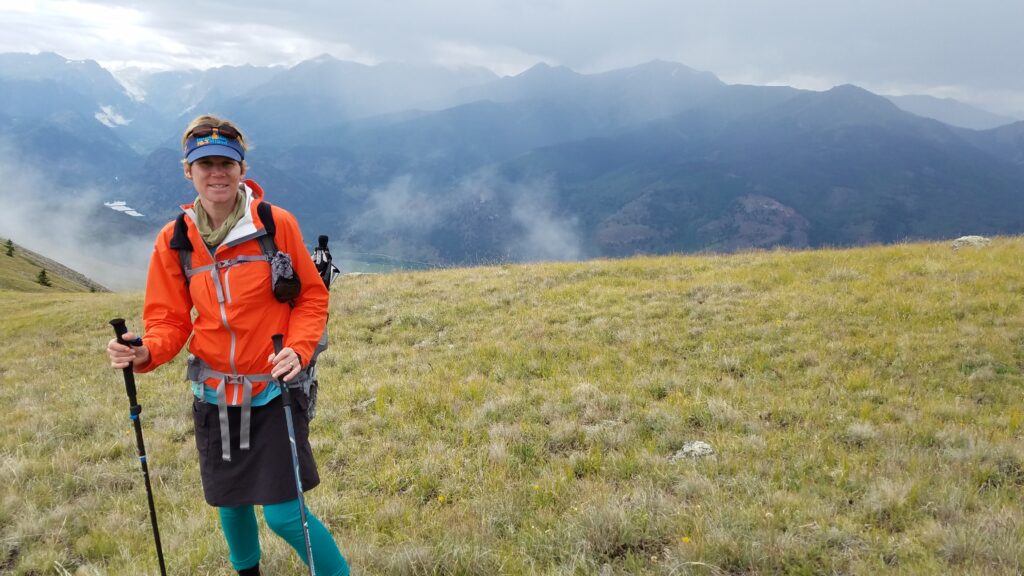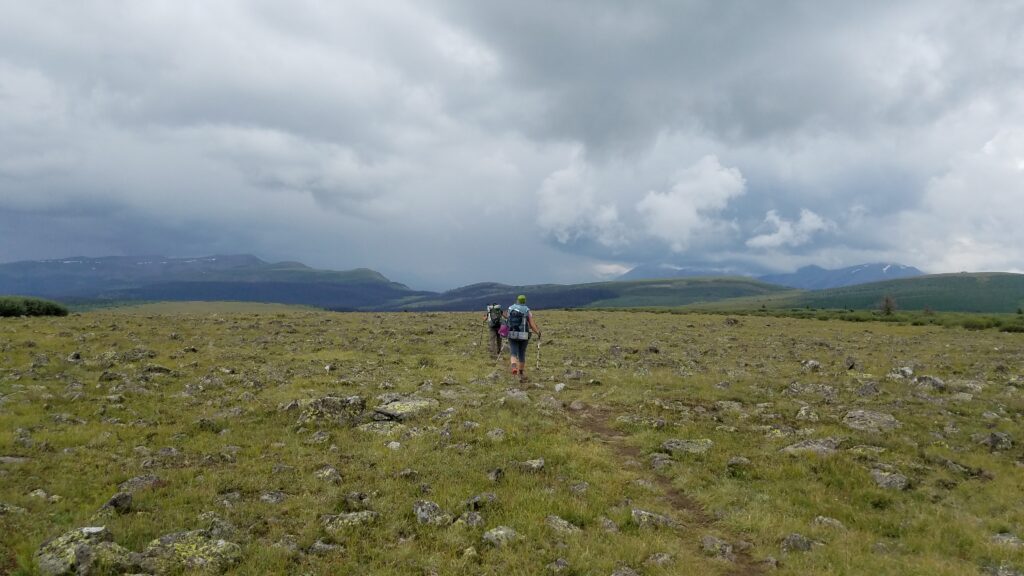 Arriving at the yurt, we met 4 bikepackers and their adorable dog, Dolly, that we would be sharing the yurt with. It was a little cramped but everyone exhibited great vibes and we had plenty of time to enjoy the evening views from the deck. Several other thru-hikers arrived to check things out, quickly ascertaining that there was no more room and moving on. We were very glad we made reservations earlier that morning.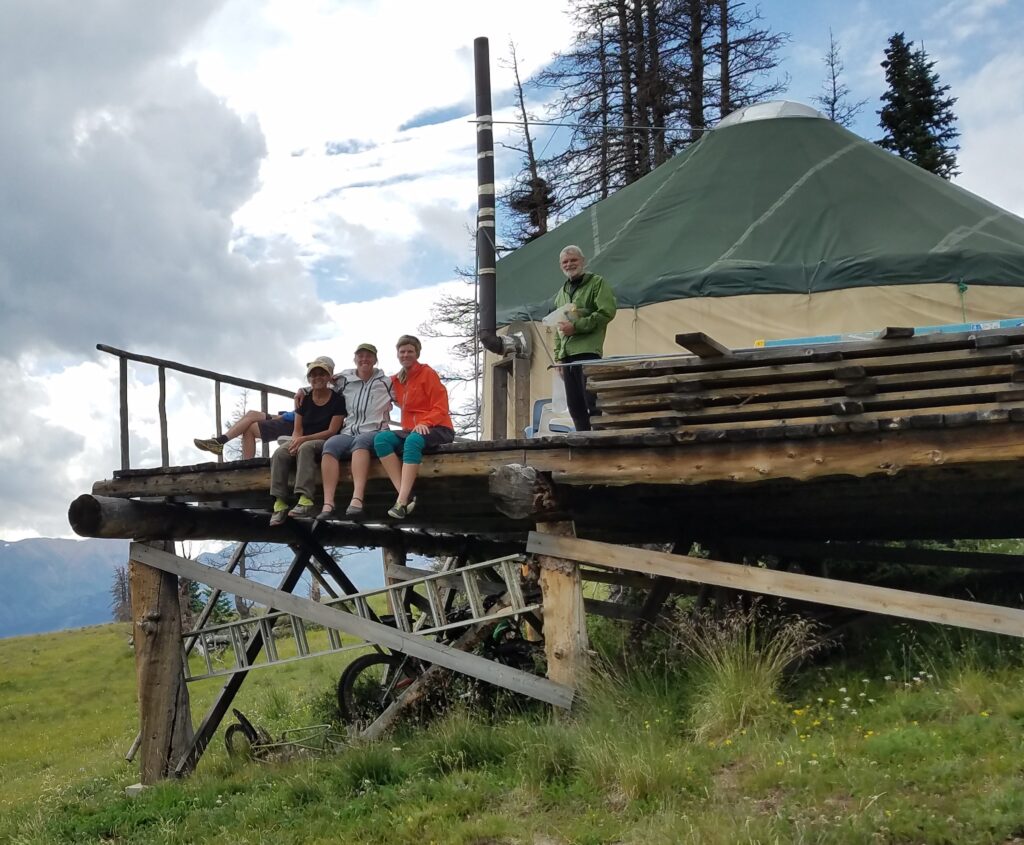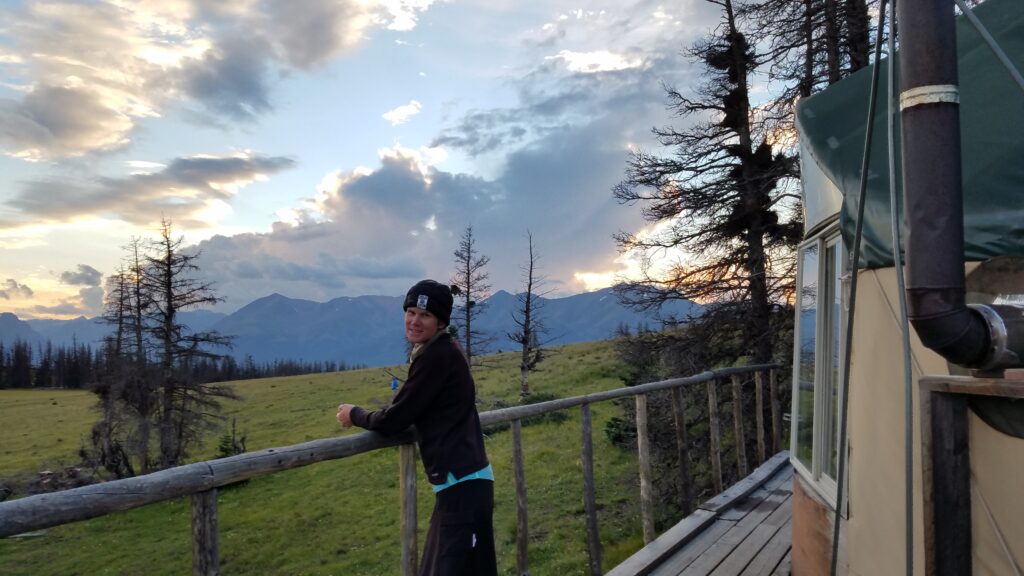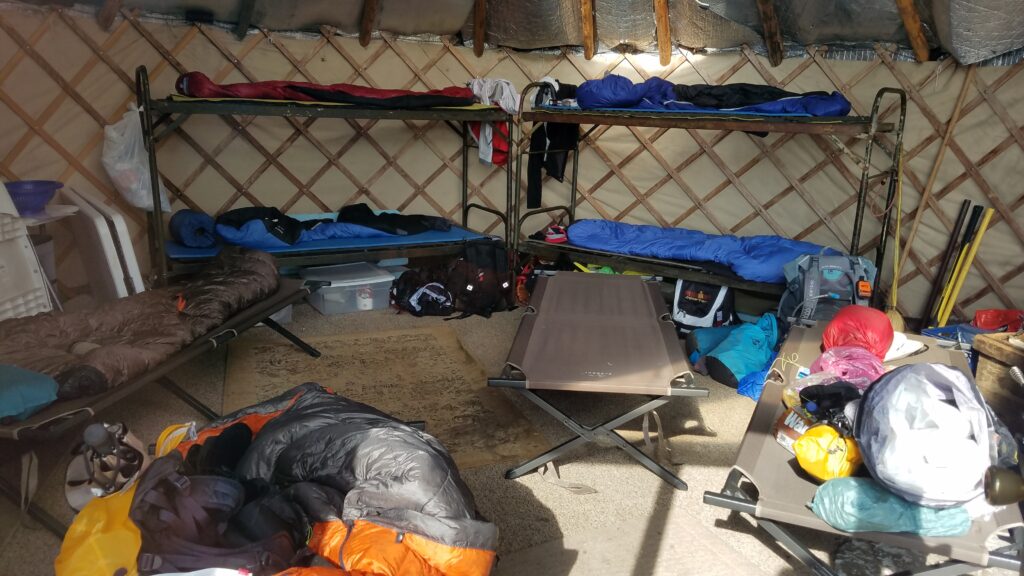 We slept on cots, which I learned are a lot like hammocks…very drafty underneath! Midway through the night, I had to inflate my sleeping pad for insulation. This being my first time in a yurt, I was unaware that it could get so cold inside. There was a fireplace but we didn't bother to start one since we were all hanging outside just before going to sleep.
Day 25: August 6th, Colorado Trail Friends Yurt to campsite just past Cataract Lake, 14.5 miles, Segment 22-23.
Because of the short, easy days prior, we decided to get a really early start (5 am!) to make as many miles as possible before the afternoon thunderstorms. Good plans that were once again thwarted. It was an eventful day, though. We watched the sunrise from an open plateau and I marveled at the many friendly pika. I also spotted a ptarmigan with chicks, which I couldn't help but harass for just a bit. I followed them along as they foraged, seemingly unconcerned about my presence. They blend into the tundra so well, maybe that's why they seem so fearless.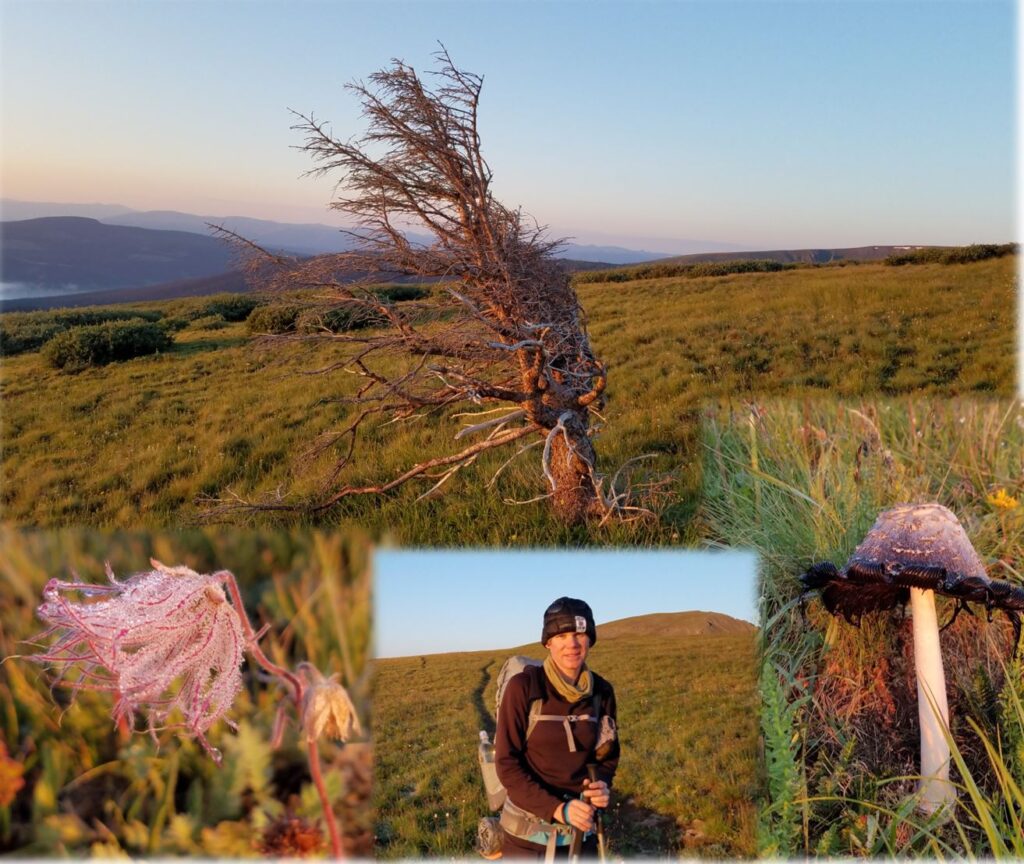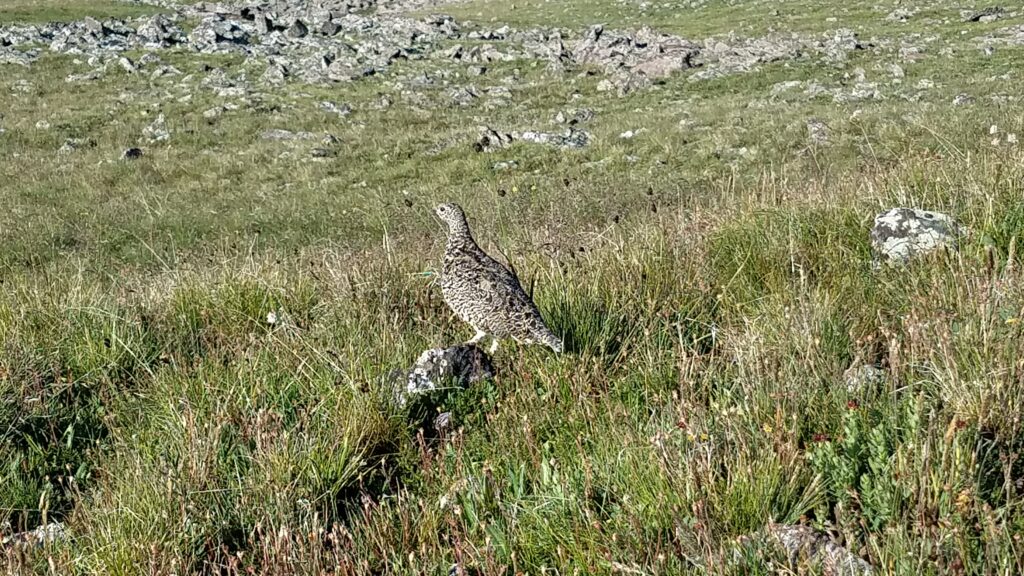 Next we came to the highpoint of the Colorado Trail (13,271″), which is marked with a nice sign. Unlike many other trails, the highpoint is not a defined mountaintop but rather more of a gradual and indistinct plateau. We knew that some 30 miles of trail was all between 12,000 and 13,000 feet, so we were in for a lot more of this exposed hiking. We hoped the clear skies would persist but as too often seems to be the case, the clouds came early.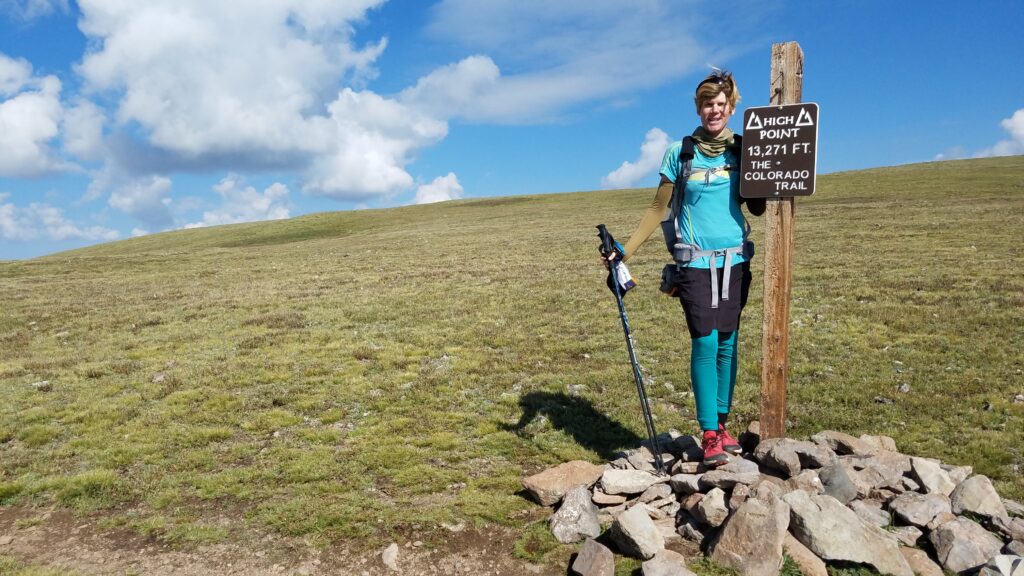 We hurried on, hoping to make it over a few unnamed passes and down to a lower gulch. In this section, the best we could hope for was a low camp spot among some willows. Trees don't really exist anywhere unless you drop down off the trail into one of the valleys. And even there, all you will find are dead trees. We passed some more hoo doos, which made me really happy.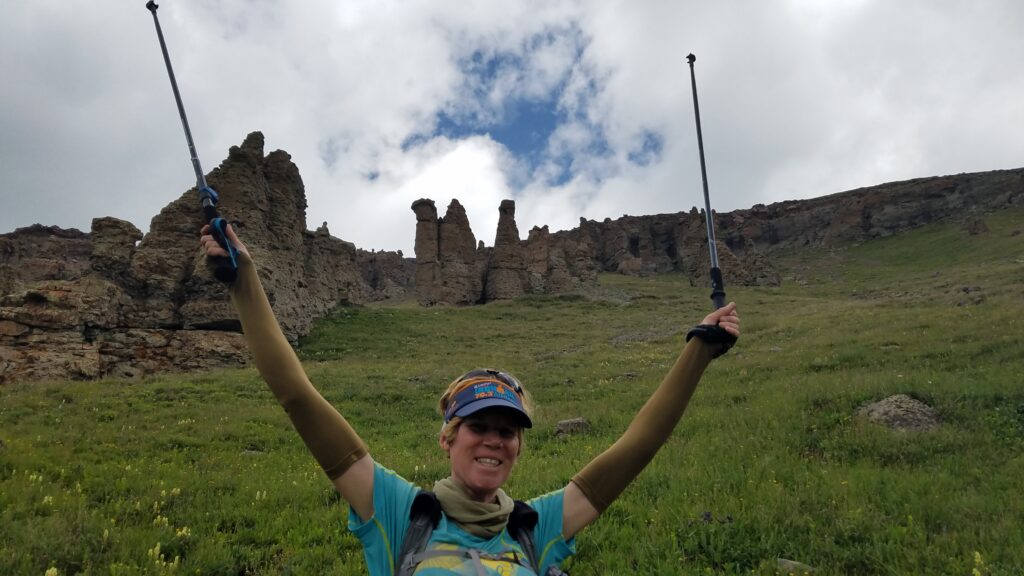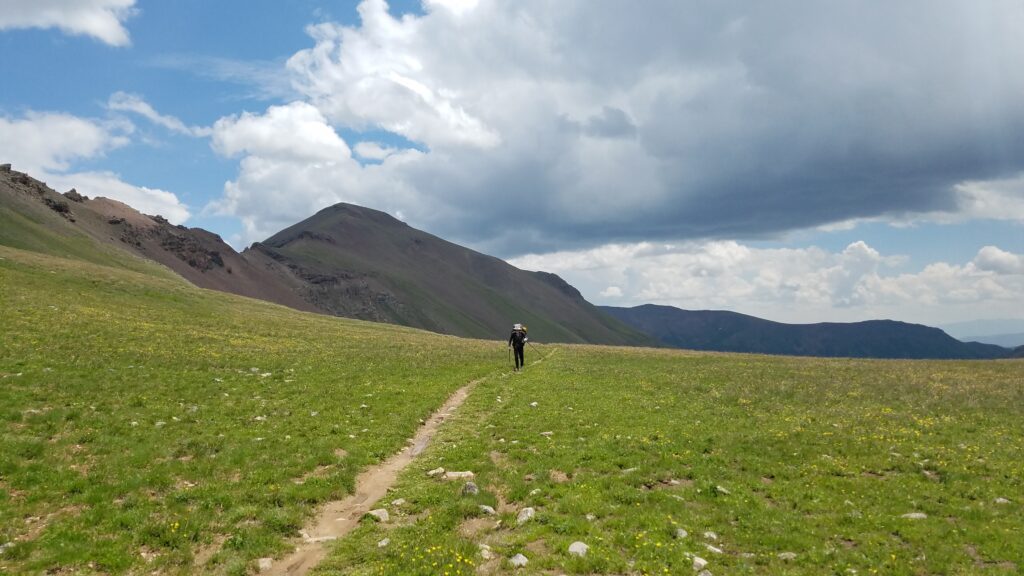 All the while, I was worrying about the incoming thunderstorms. Just past Cataract Lake, we decided to try to beat the rain and set up our tents. We were hoping the rain would stop after awhile and we could hike some more miles in the early evening. It was only 2 pm when we stopped. We did manage to stay dry but unfortunately the storms kept coming all afternoon. It's one thing to hike in the rain but another to hike in exposed areas when there is lightning…which there of course was. I was frustrated by another wasted half-day but what can you do. This year was an exceptionally wet and stormy one. At least we had our fill of sights early in the day.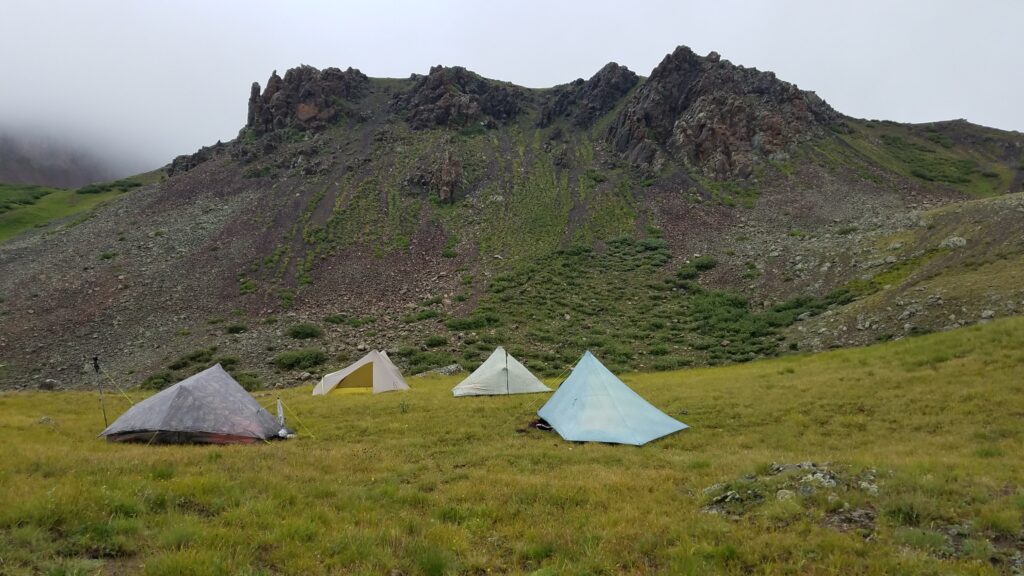 Day 26: August 7th, Cataract Lake to head of Elk Creek & silver mines, 17 miles, Segment 23-24.
A brilliant day greeted us, giving us hope for making it through the high country and down into tree-cover by the afternoon. The morning light was spectacular.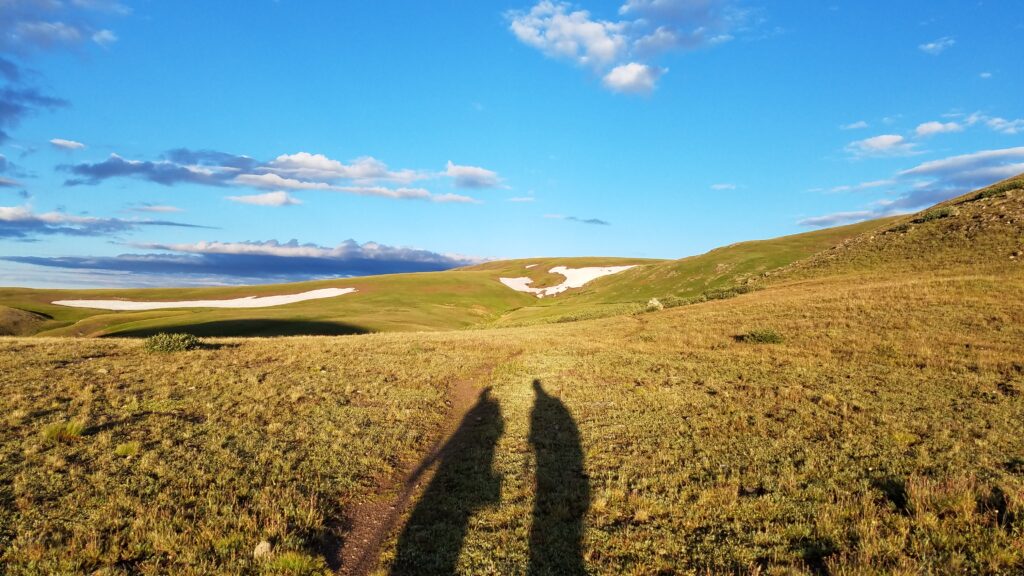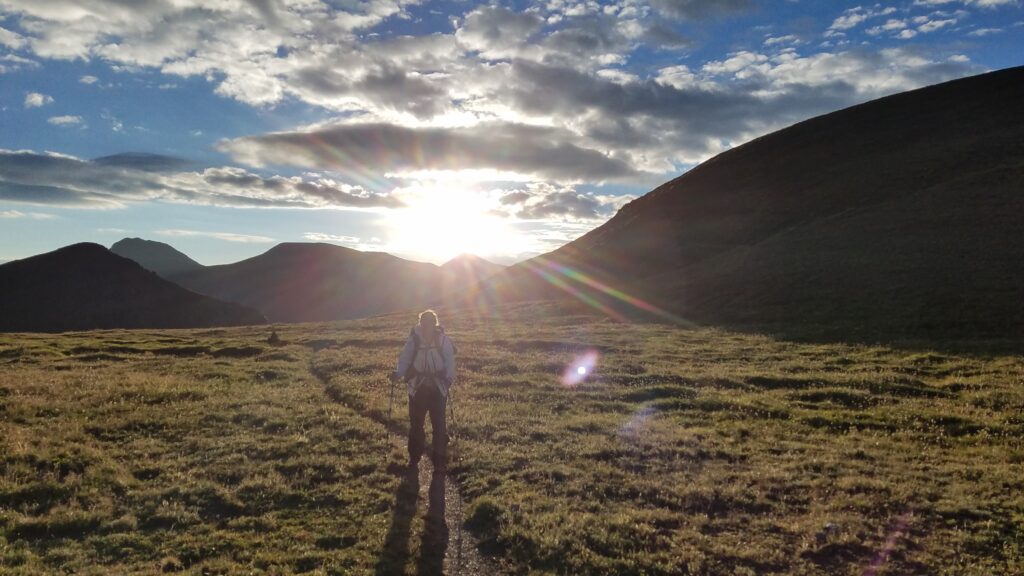 I couldn't stop taking pictures…most of my favorites come from this day. It was hands-down the most scenic stretch on the Colorado Trail, even though there are many spectacular stretches that compete for top honors. The trail wound through open tundra, up and down valleys all day. In good weather, it's an absolute joy. I was just as mesmerized when I hiked it again 2 years later. I could hike this segment over and over again and never grow tired of it. However, it's an extremely taxing stretch, physically and emotionally. The trail oscillates incessantly with 500 to 1000′ climbs.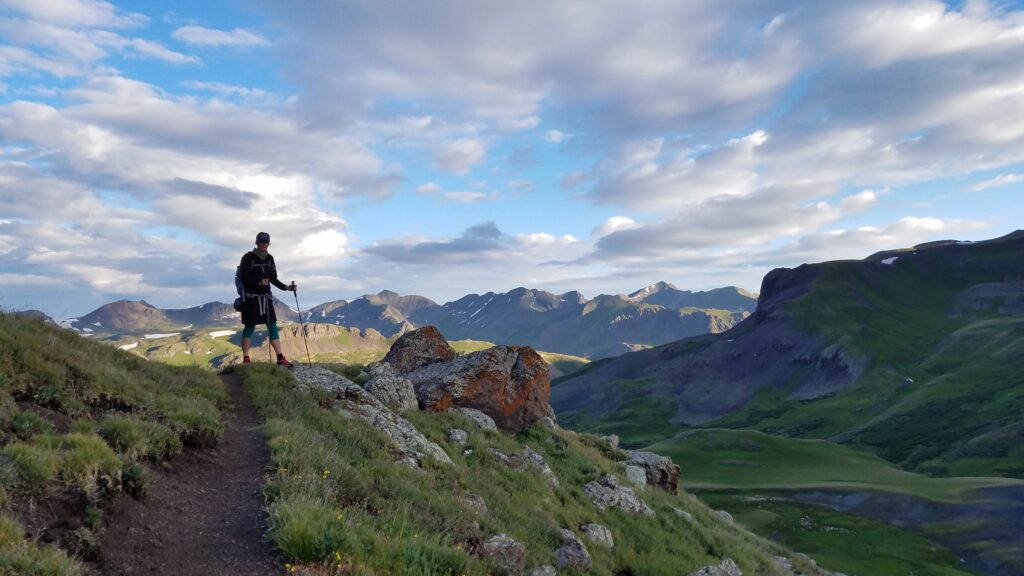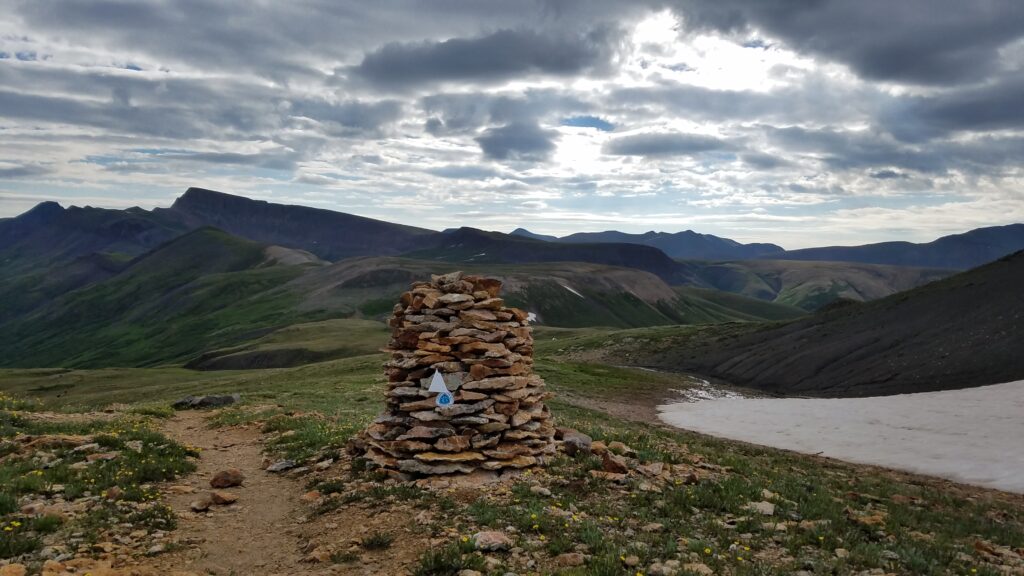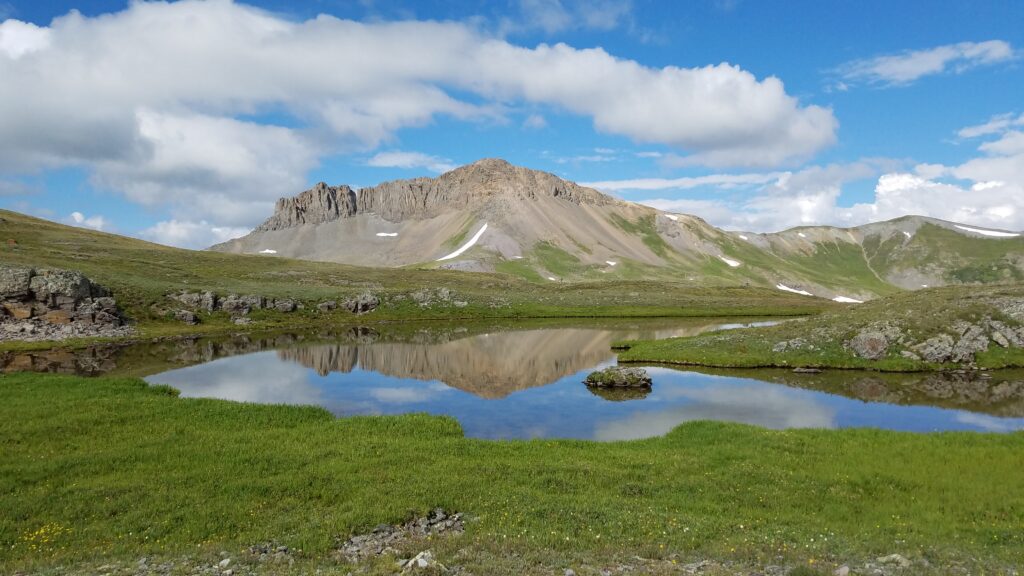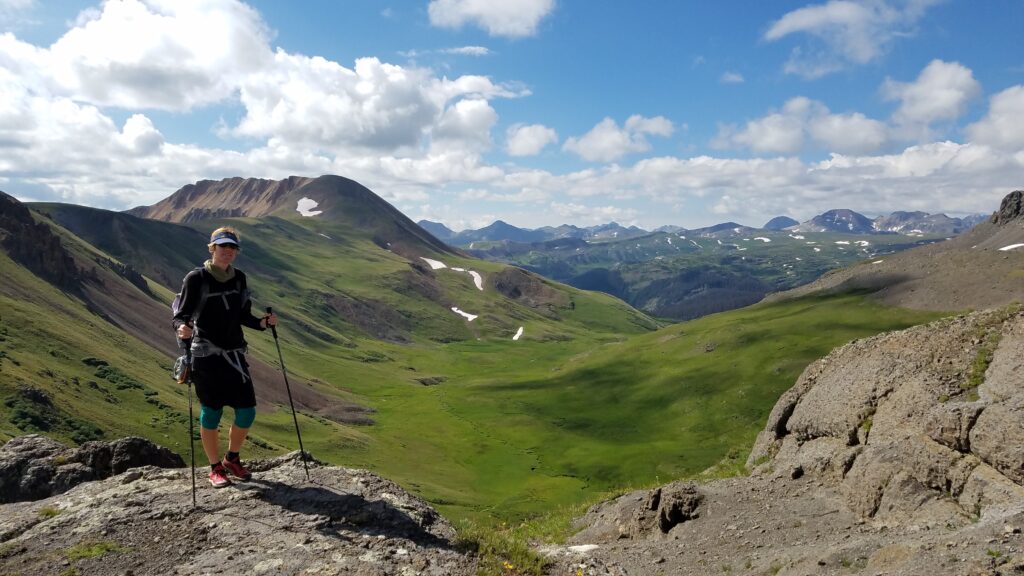 We met a bikepacker early in the day that was heading in the same direction as us. We would pass him on the uphills and he would pass us on the downhills. But eventually, we passed him and never saw him again…bikes have to depart at Stony Pass, so that's probably why. But still, that we could outpace a bike should tell you something about the tough terrain. We even had to cross a few lingering snow patches, just to make things more interesting. And just look how ominous the sky was at Stoney Pass by lunchtime!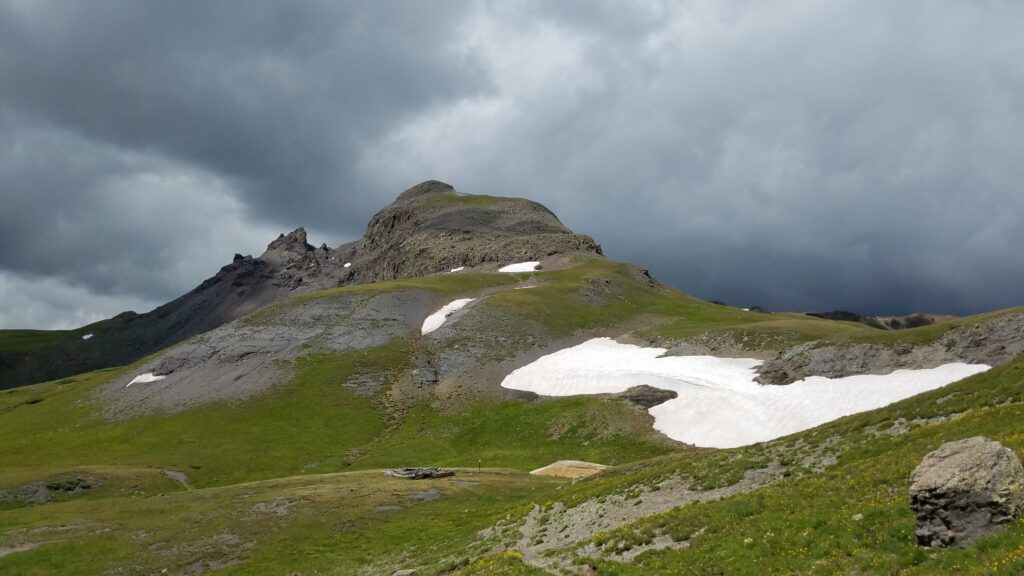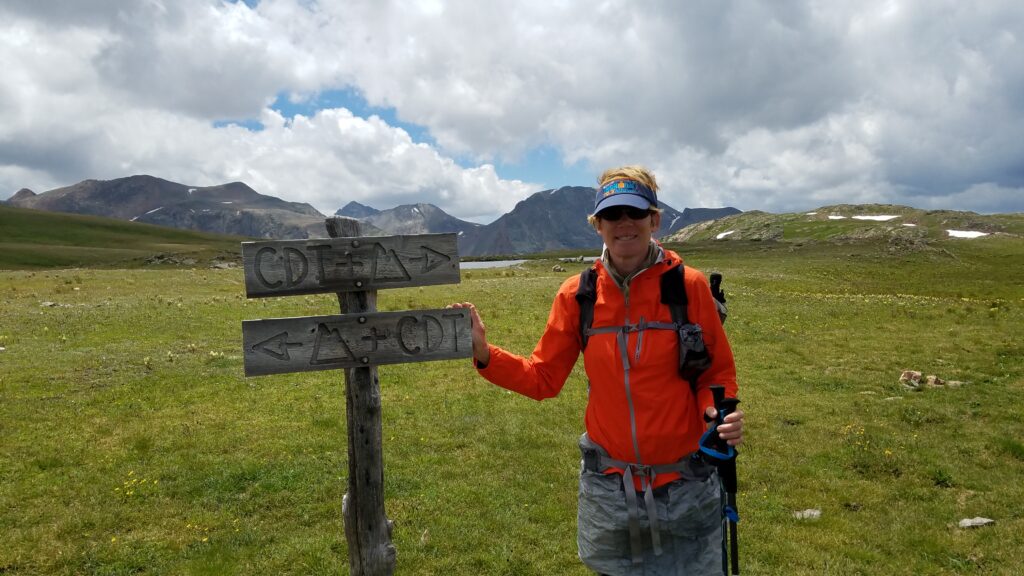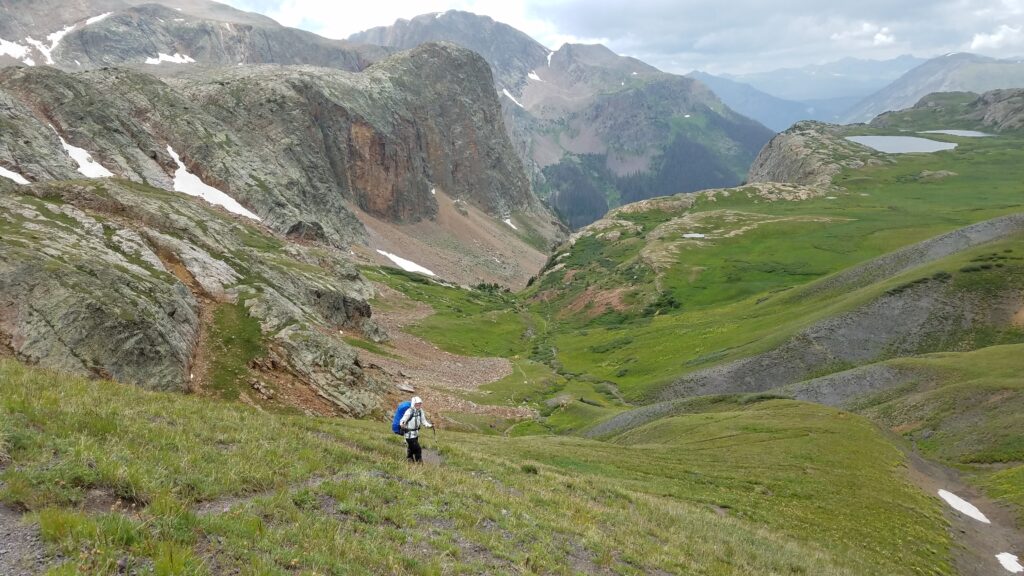 We pushed hard all day. I wanted to take a break at many points but was too stressed out about getting stuck in a bad thunderstorm in an exposed field…the whole trail this day. We just barely managed to sneak by before bad weather did hit. In fact, we ran down the last mile, a series of breathtaking switchbacks into Elk Creek basin. It was just starting to hail and thunder as we came down. We took refuge in an old mining cabin for the peak of the storm.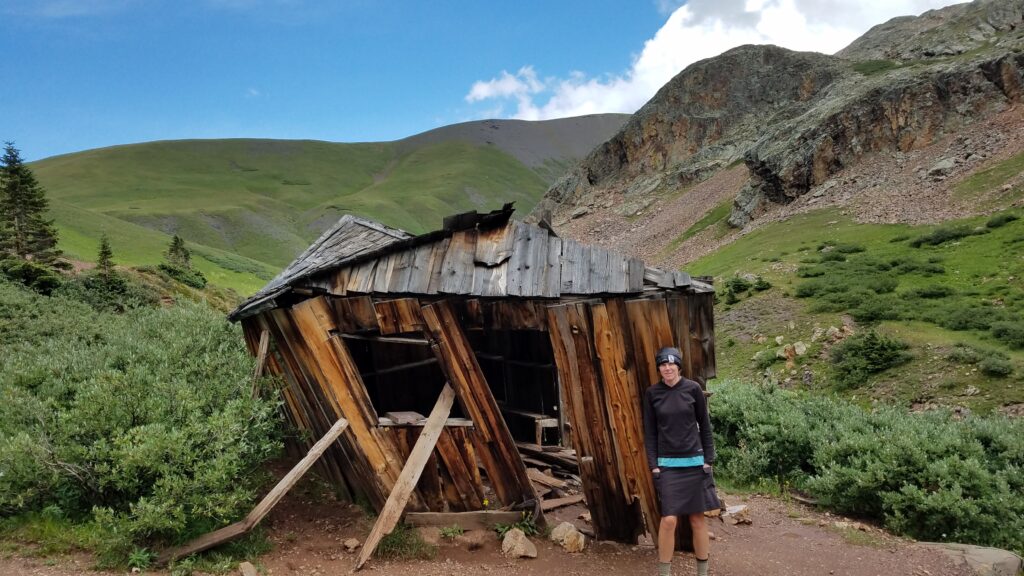 Having had enough excitement, we pitched our tents among some small trees and were ready to call it a day. After dinner, I noticed that the sun had returned and was inspired to do a little more exploring. This turned out to be the most memorable moment of the journey. I ventured across the creek and inside some old mines, marveling at the light.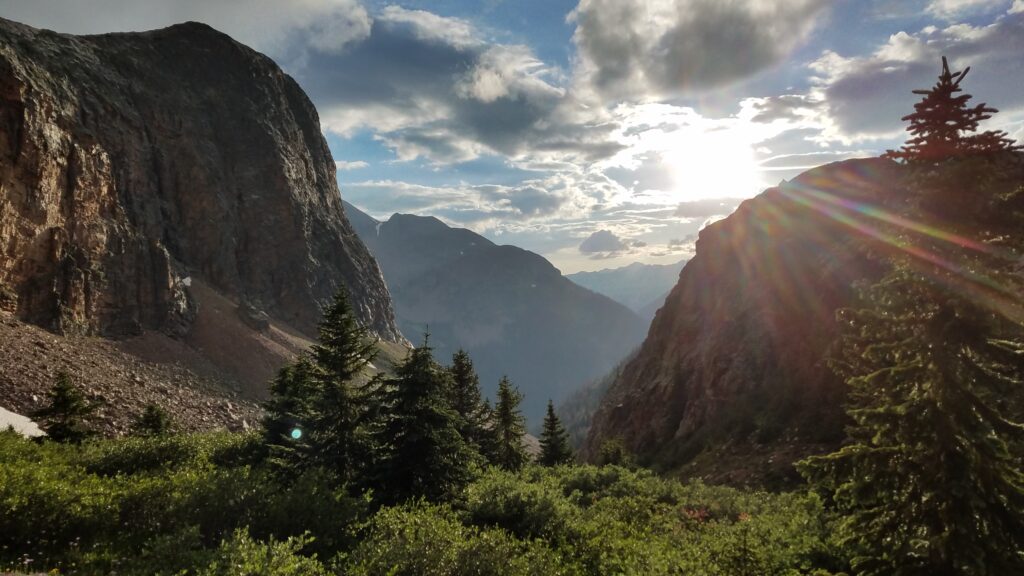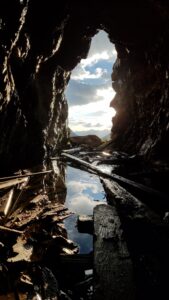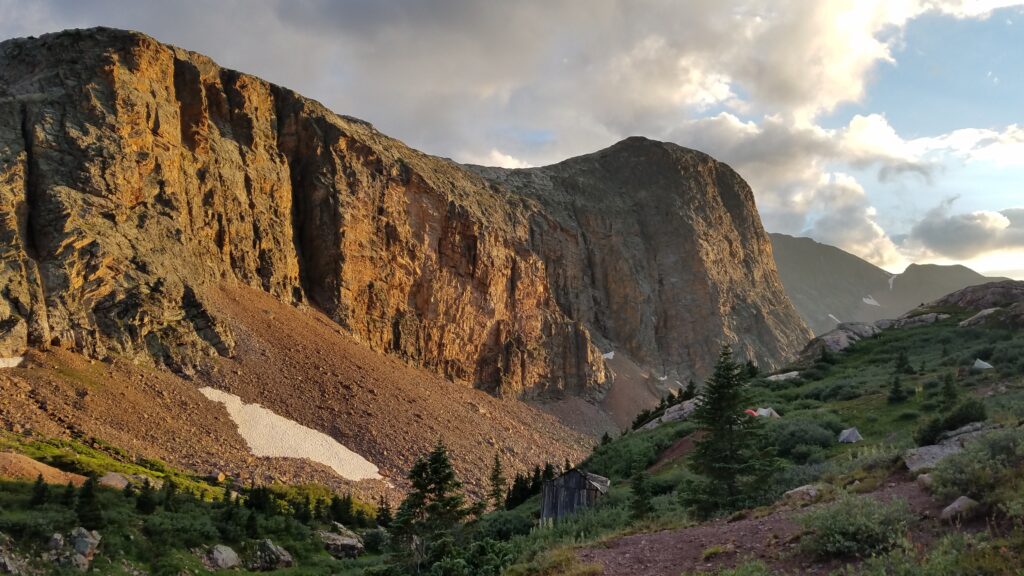 Next, I watched 3 tiny figures coming down the trail from above. At some point, I lost sight of these hikers but my eyes picked up 3 ravens instead. I watched the ravens do fantastic acrobatics in the air, then swoop down close towards me. They landed and began to tumble in the grass, playing with each other. To share in moments like this is something special and I have a hard time putting it to words. It was just magical, as if the hikers had transformed in ravens and now they were expressing all the joy of living that I was feeling at that moment too. To this day, I still have visions of 3 ravens. I see them often on mountaintops and every instance brings tears to my eyes. It may be just coincidence but will always signify a special meaning, insight into another world and time, a moment of pure happiness. This was the most stand-out day and moment on the Colorado Trail. Even after I went to sleep, I woke up again to see the moon shining over the canyon bluff. This day just never stopped filling me with awe.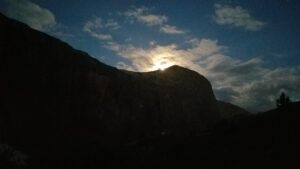 Day 27: August 8th, head of Elk Creek to Molas Campground, then hitch to Silverton. 13 miles, Segment 24.
We began a very steep descent past dramatic cliffs early the next morning. The trail was cut right into the bottoms of these cliffs…it felt like we might be smashed at any moment. I also found a nice bouquet of columbines…the wildflowers were so plentiful in this area.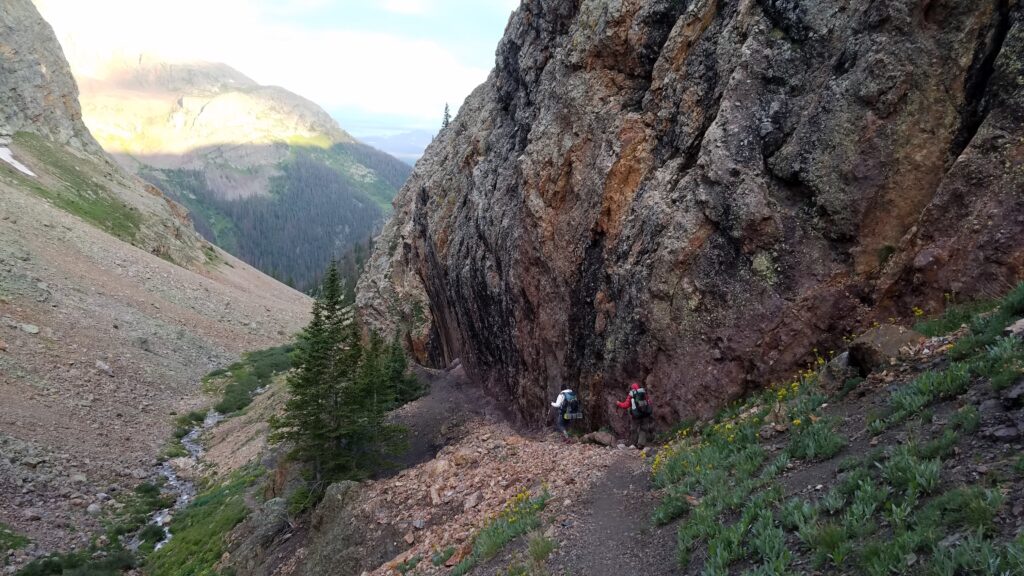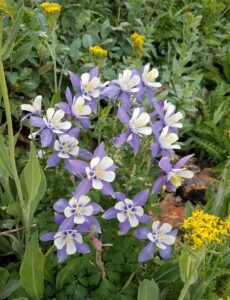 We were kind of in a funk descending into the valley…after all the highs of previous days. It also started raining early at 9 am. We realized how lucky we were to have relatively good weather the day before. In fact, we later learned from BAM that he struggled through more sleet on this day. Poor BAM.
It was a town day for us, with only 13 miles to Molas Campground and a short hitch into Silverton, our final town before Durango. We paralleled the railroad that leads from Durango to Silverton for awhile. There's actually a stop along the trail for hikers to board the historic steam-engine tourist train that runs daily between the 2 cities. It passed by while we were hiking out of the valley, doing its classic "whew whew" whistle and "chuga chuga" chugging.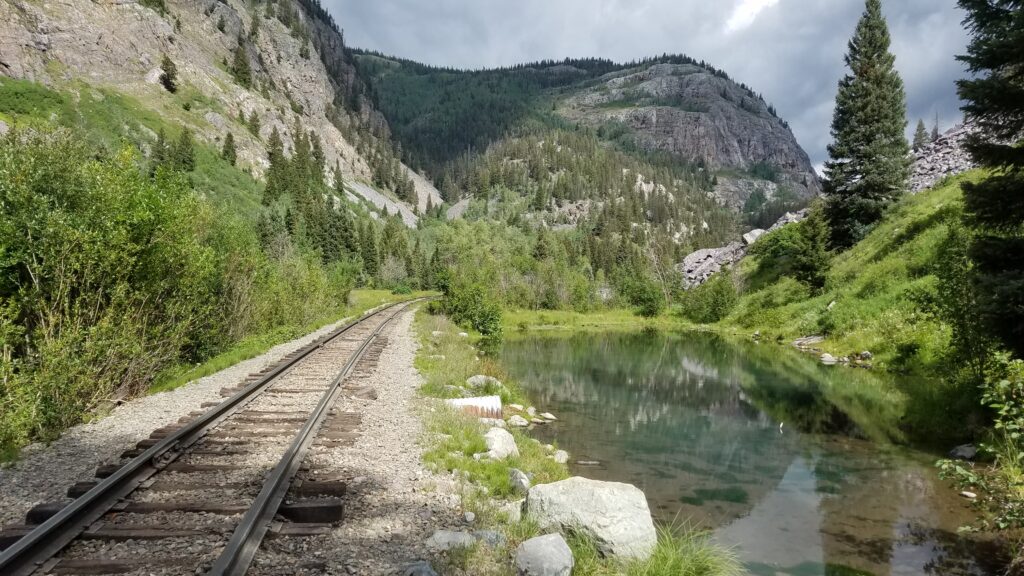 We picked up boxes at the campground (sadly they wouldn't release Sarah's to me without a signed note from her) and easily got a hitch into town. Our ride was a classic VW bus with a giant malamute-mix dog that we shared the back with. He smelled but then again, so did we.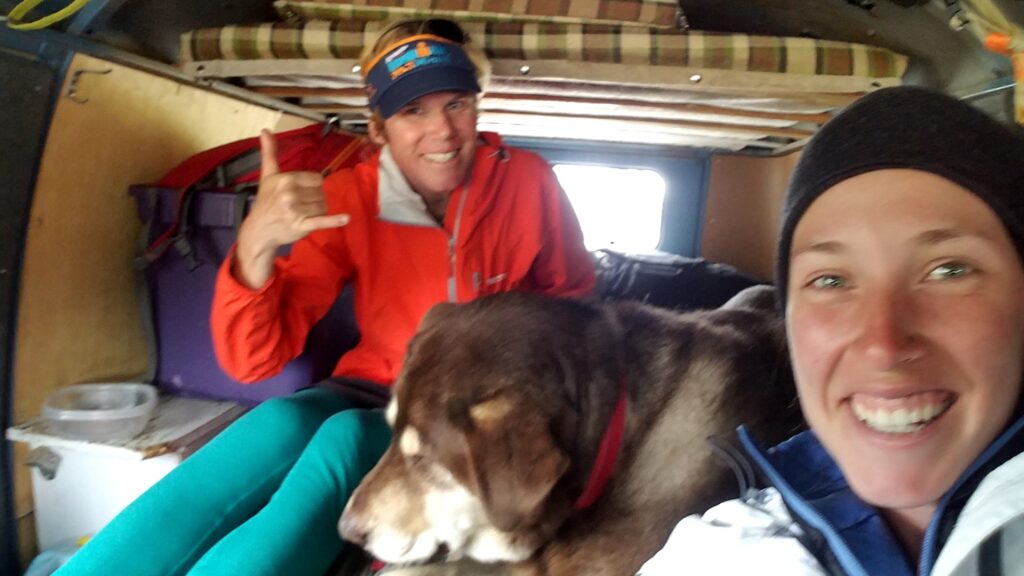 In town, we cleaned up at the hostel and went out for burgers and beers. Silverton is yet another classic mining town, situated amongst the very dramatic backdrop of the San Juans. Much of the town still has gravel roads…in fact, I think only the main street was paved. Here Sofie struts her best hiker trash, a leopard print mini-skirt that she found in the hiker box. Many hostels provide "loaner clothing" to wear while you're doing your laundry.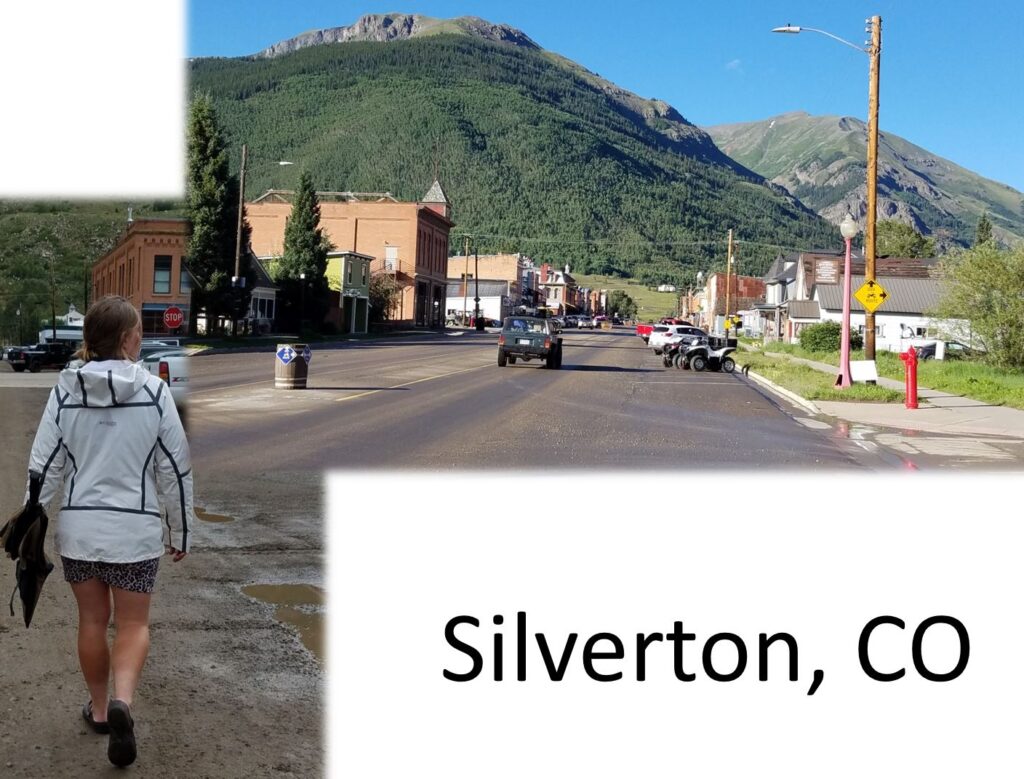 We found Silverton to be a strange place. It felt like we were on the set of an old western movie that was trying a little too hard to look old and rustic. The town seems to be making its living off renting 4WD sport buggies and ATVs…which were very annoying when they all roared into town at the end of the day. The hostel also seemed a little off. The owner and manager was nice enough to us but had a way of rubbing others the wrong way. I didn't return to Silverton when I hiked through on the CDT, namely because the CDT splits off the CT before Elk Creek canyon and doesn't go by Molas Pass. I didn't really miss it, all the same.
Stay tuned for Part 2 of Week 4, Finish of the Colorado Trail and a Bonus edition: The Collegiate West.