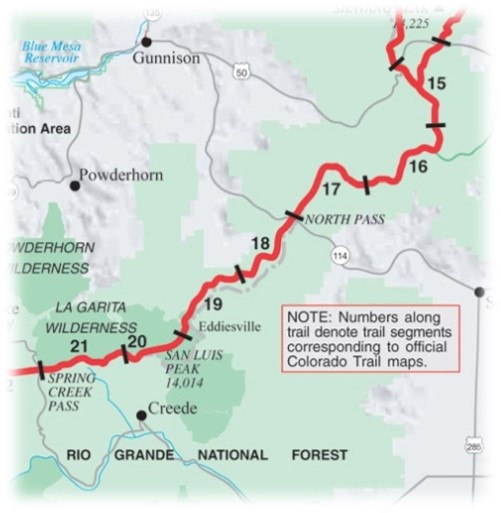 Day 19: July 31st, HWY 50 to Silver Creek, 18.3 miles, Segments 15-16.
It's Monday, so back to work! We had a great stay at my parent's but were eager to hit the trail again. We started off on a very positive note. On the drive up the Arkansas River canyon, we spotted a herd of bighorn sheep. These herds are closely monitored, as they are a species of concern. We were close enough to see that several sheep were sporting tracking collars…which didn't appear very ultralight or comfortable.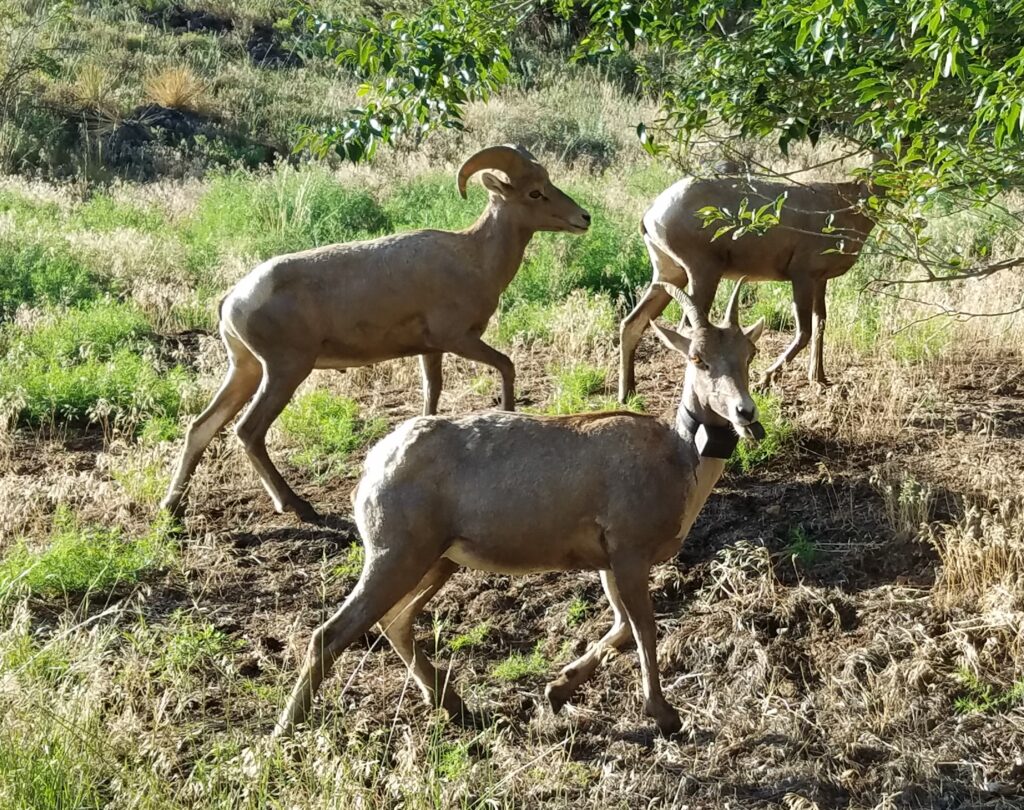 Another surprise came as were were driving to the trailhead. We spotted a BAM! We all screamed his name, nearly causing my dad to veer off the road. We had last seen BAM at Twin Lakes, parting ways as he decided to hike the Western Collegiate route and we went for the East. Now, after nearly a week, we were all setting off at the same time again. Our Tramily was once again graced by a member of the opposite gender.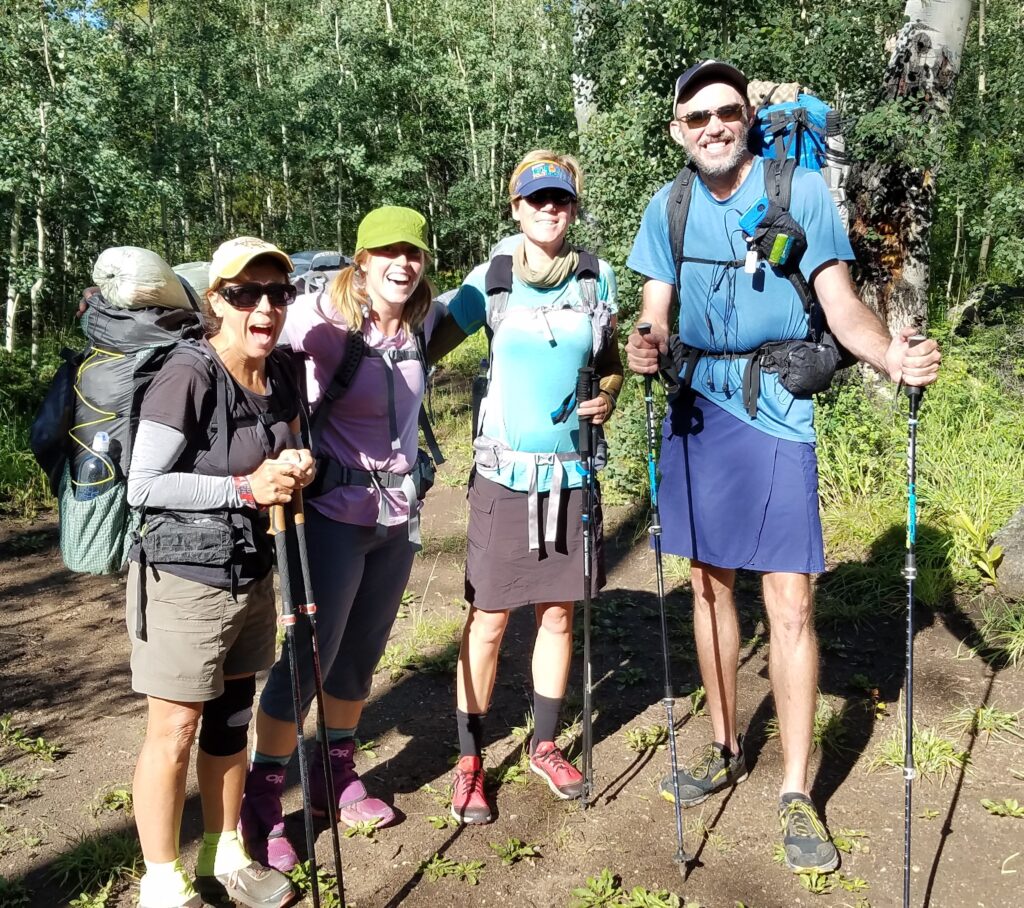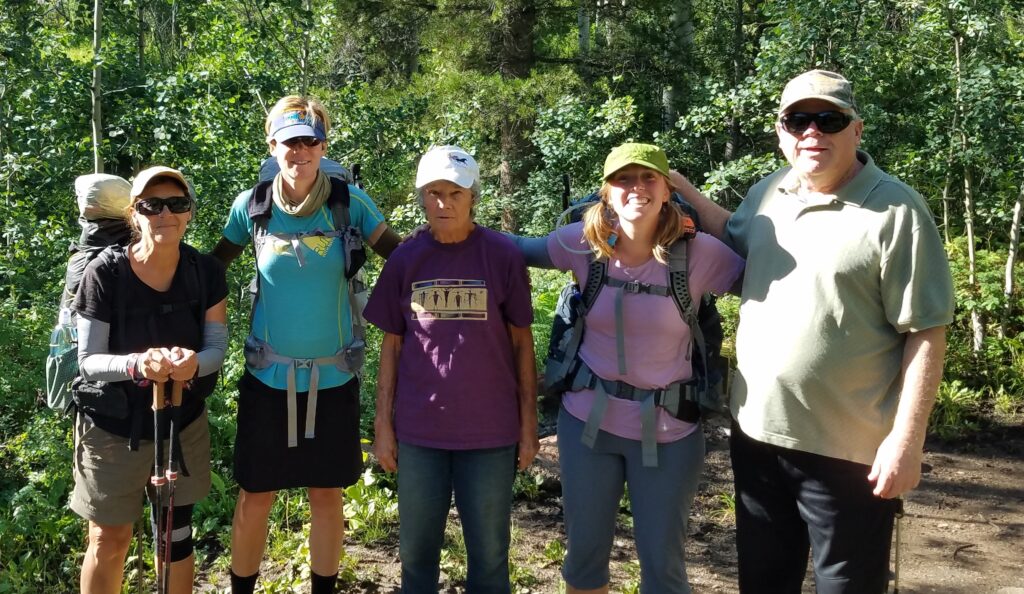 We parted ways with my parents/Trail Angels, grateful for a relaxing 2.5 days off from the trail. Soon we were ascending along the South Fooses Creek drainage. This was where we met 2 ladies and their dogs. I became Facebook friends with one of the ladies, Carol, and would run into her again while hiking the CDT 2 years later. The second unexpected meeting was in nearly the same place, just farther up on the Divide. Carol and her partner live in nearby Salida and do a lot of trail running in the area (so it wasn't so odd to run into her again, but still). Carol has also become a thru-hiker since, using my gear list for inspiration on how to outfit herself…which is very flattering. Way to go Carol!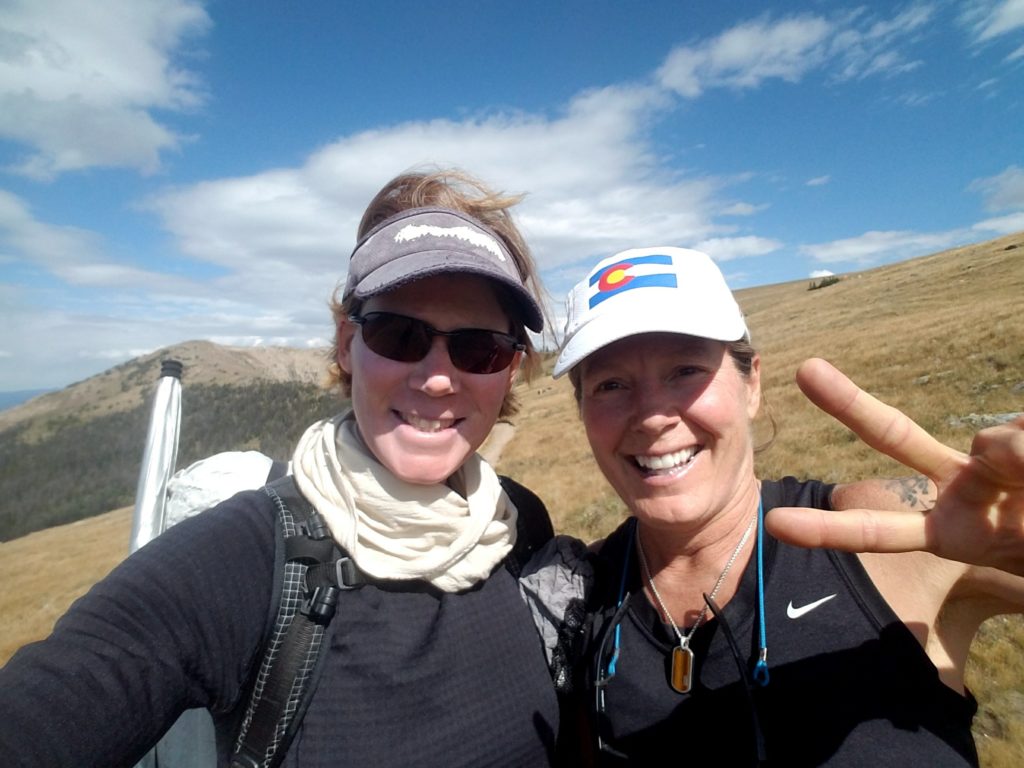 A look into the future and another run-in with Carol while hiking the CDT.
After about 6 miles, we reached the divide and a reunion with the Collegiate West/CDT. This is also part of the Monarch Crest Trail, which is very popular with mountain bikers.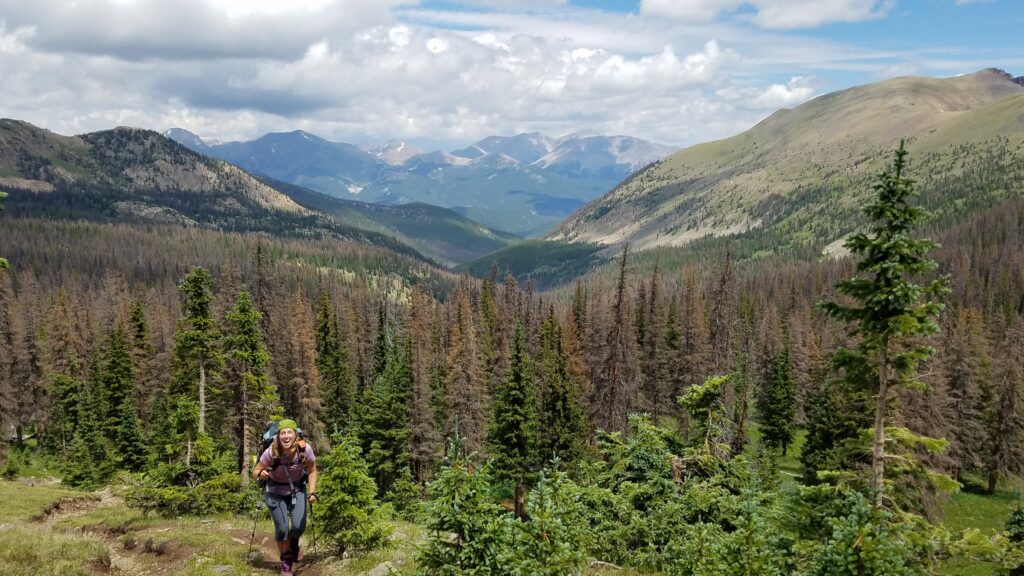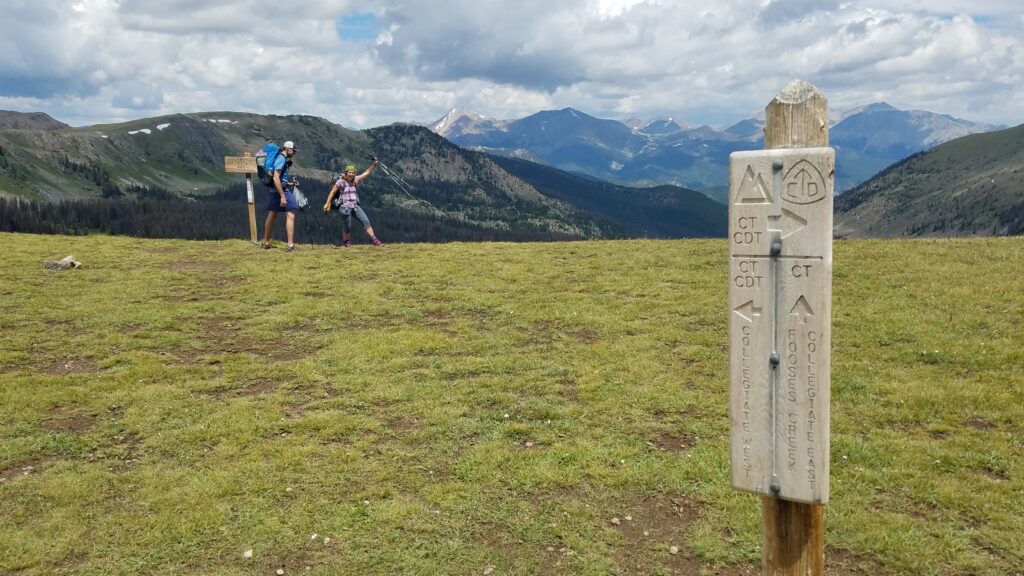 We continued on for several miles of nice, open hiking along the western sides of Mt. Ouray and Chipeta, two prominent 13ers. These peaks are named after a great chief of the Uncompahgre Ute tribe and his wife.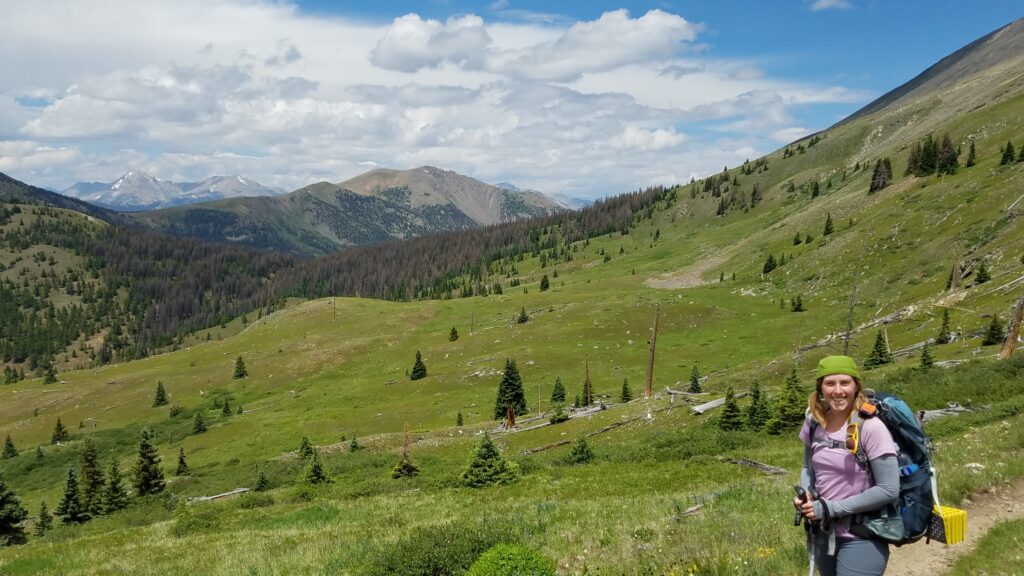 We then came to Marshall Pass and the end of Segment 15. We decided to camp early 4 miles after Marshall Pass, to take advantage of a creek a quarter mile off the side of the trail. The four of us had a nice evening watching rainbows dance across the mountains.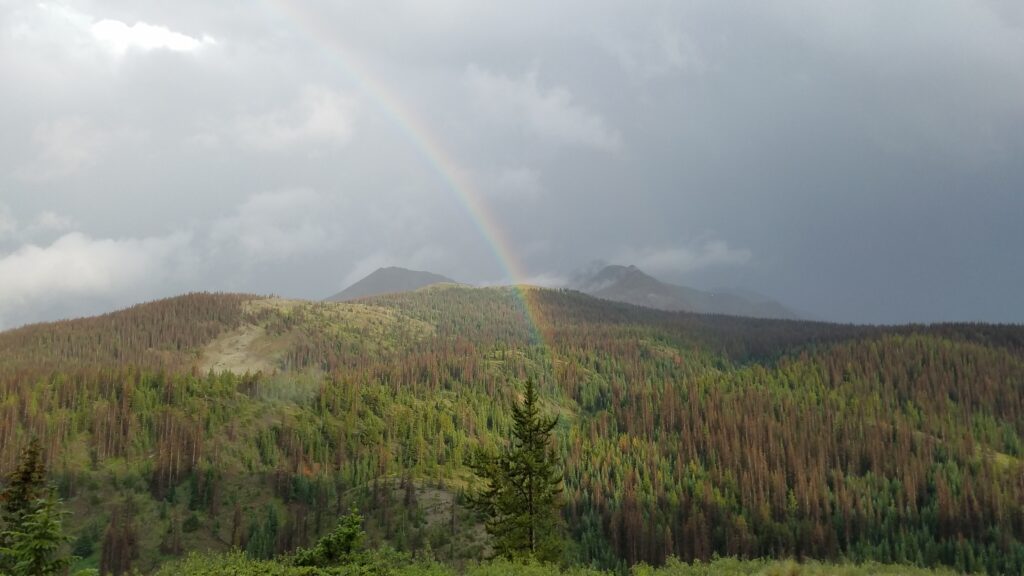 Day 20: August 1st, Silver Creek to Baldy Lake, 19 miles, Segments 16-17.
It was a great start to the month of August! We wrapped along the south side of Windy Peak in the morning, entering a stretch known as the Cochetopa Hills. This is a long haul through one of the most remote sections of the trail, notorious for limited water sources, no nearby towns, lots of rangeland and cows, and lower, less exposed ridgelines. This is the price of admission to the phenomenal San Juan mountains. At Sargent's Mesa, we got good views looking back on Ouray, Chipeta and Windy Peak. Goodbye, last of the Saguache Range!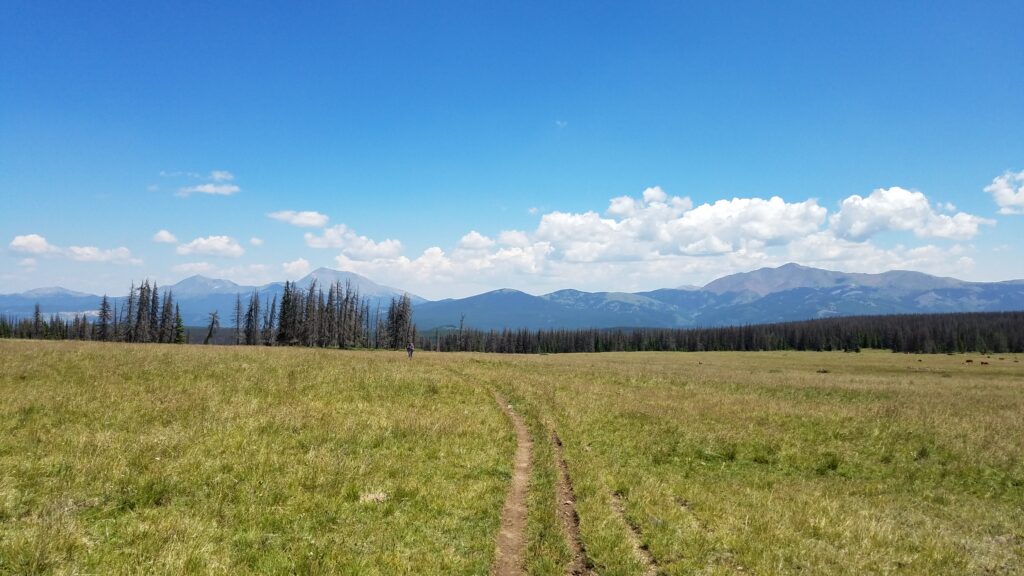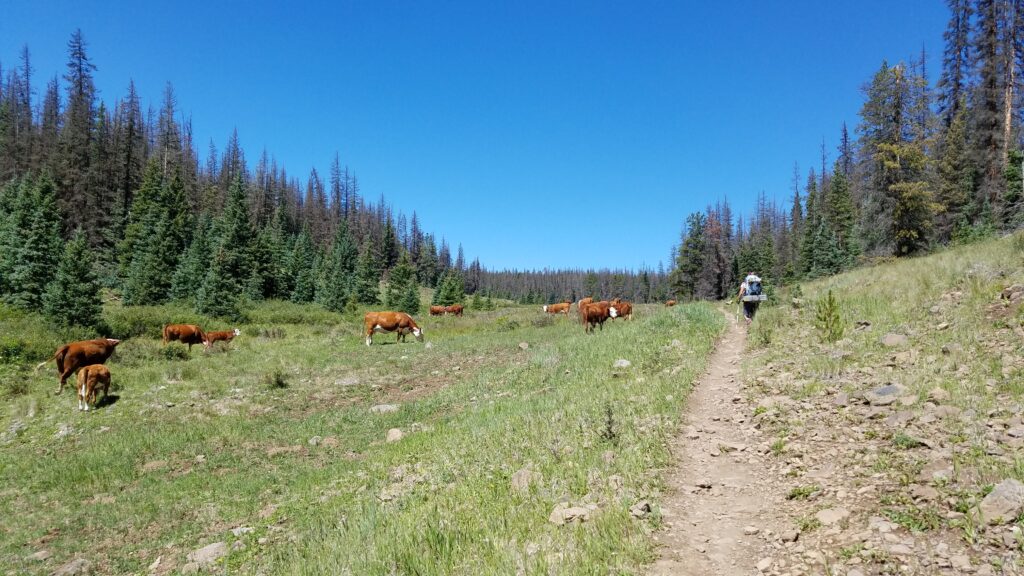 We hiked past a lot of cows in this stretch…always filter/treat the water from streams, especially in this area!
This mesa is a very prominent feature that can be see all the way from Monarch Ski Resort and parts of the Collegiates. It also brings to light just how far west the trail diverges as it traverses the Cochetopa. Despite having to pull a 19 mile day and not having much water along the way, we made it by 2 pm to a very serene setting at Baldy Lake. For once, it wasn't raining in the afternoon and was also pretty warm. I couldn't resist the urge to take a dip, especially since BAM had already built a warm and inviting fire. I think it was the first and only fire we had all trip! How nice to have friends to share it with.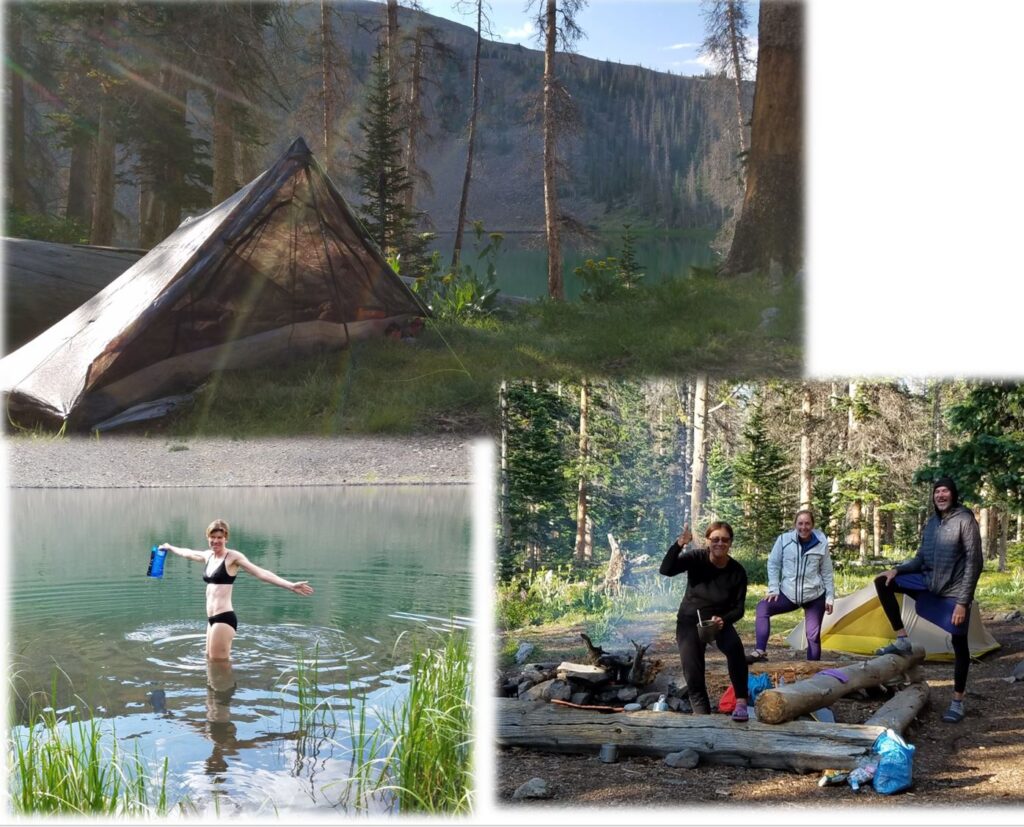 Day 21: August 2nd, Baldy Lake to non-descript campsite, 21 miles, Segments 17-18.
We continued through the hills and a long haul to the next water source, Lujan Creek at HWY 114. The trail went gently up and down through sparse forests most of the morning. Most notable were all the rocks in the trail…consistent with a trail that is also utilized by dirtbikes. We encountered a few dirtbikers the day before but fortunately didn't meet any on this day. There were a few good views of the Sangre De Cristo Range and Great Sand Dunes to the east. We took a long lunch break at the creek and then were pleased to find the trail very easy the rest of the afternoon. For awhile, it followed what appeared to be an old railway.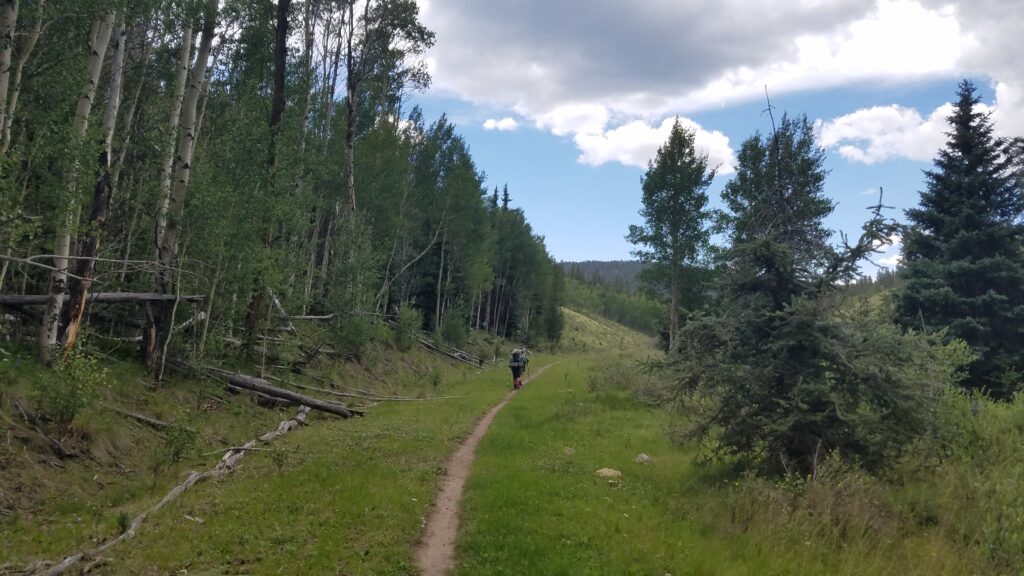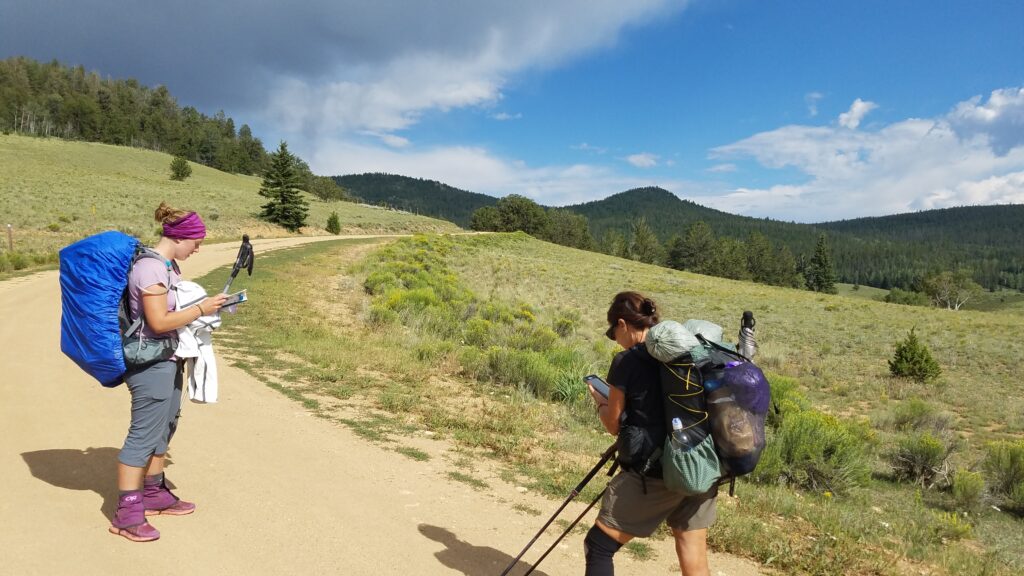 We hiked on for 8 miles after HWY 114 to a non-descript campsite. We crossed a few forest service roads along the way, having to consult the guidebooks and apps for which way to proceed. Altogether it was a pretty uneventful day except for loosing BAM again…he wanted to hike further. For us it, it was one of our longest days already and I could tell that PBR and Sofie were pretty tired by the end of the day.
Day 22: August 3rd, non-descript campsite to Cochetopa Creek campsite, 22.5 miles, Segments 18-20.
We got an early start with the sunrise cheerily rooting us on. It was not to last. We entered a relatively open part of the trail, with expansive views to the southwest and west. At first we noticed a far-off area which looked to have rain and thunderstorms. We didn't figure they were a threat because they looked so far away and because it was still so early in the day. But as we moved forward, it became apparent that we were walking right towards the disturbance. Promptly at 9 am, the sky grew very dark and we heard thunder. Minutes later it was raining and hailing, the sky flashing while we cowered in a forest. The lightning subsided after about 10 minutes but the rain continued for more than an hour. We walked along in sour, wet moods but at least I was spared the worst by my umbrella.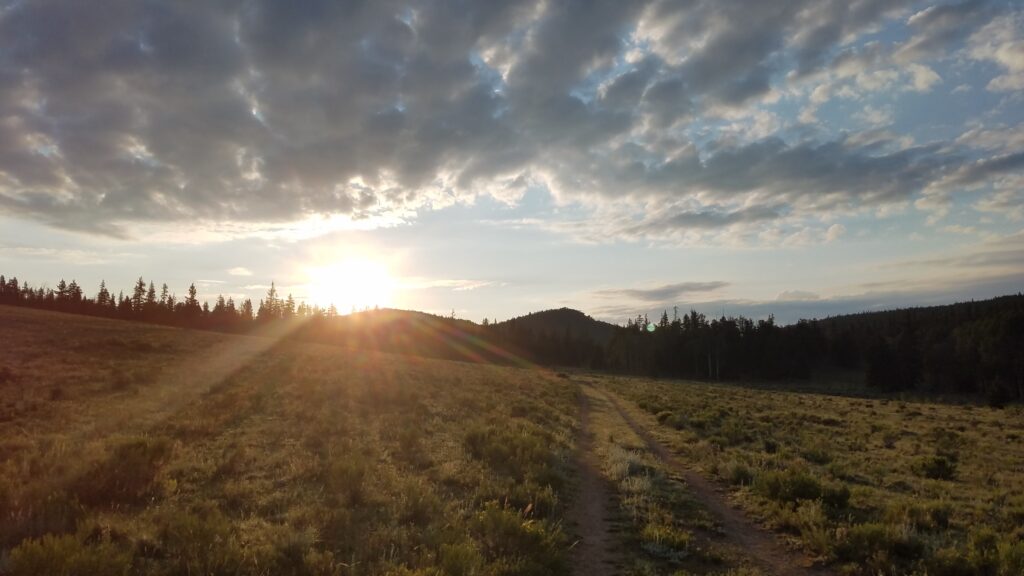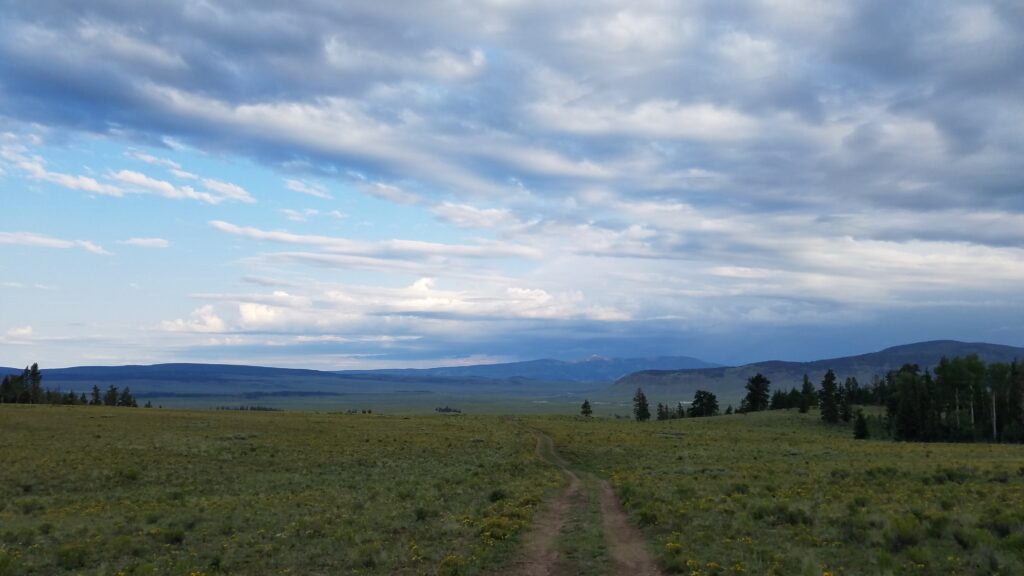 By mid-day, we came to Cochetopa Creek, which was running more like a river. This was the only major water crossing of the whole trip. There once was a bridge but it was washed away in previous years. We studied the creek for a bit, deciding to cross where there was a fork. I was still wearing my foul weather gear but the rain had subsided and the sun was beginning to peak through the clouds.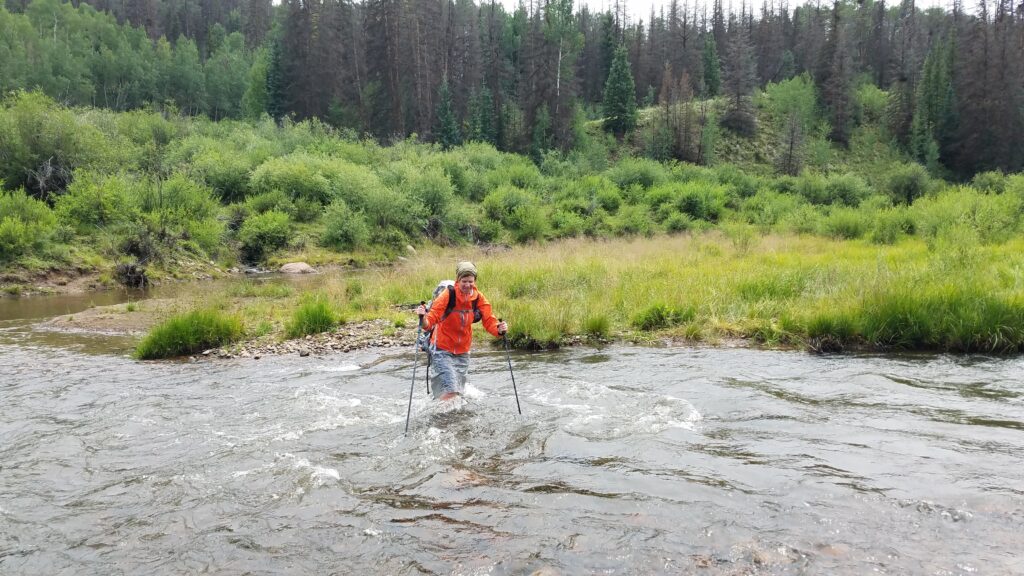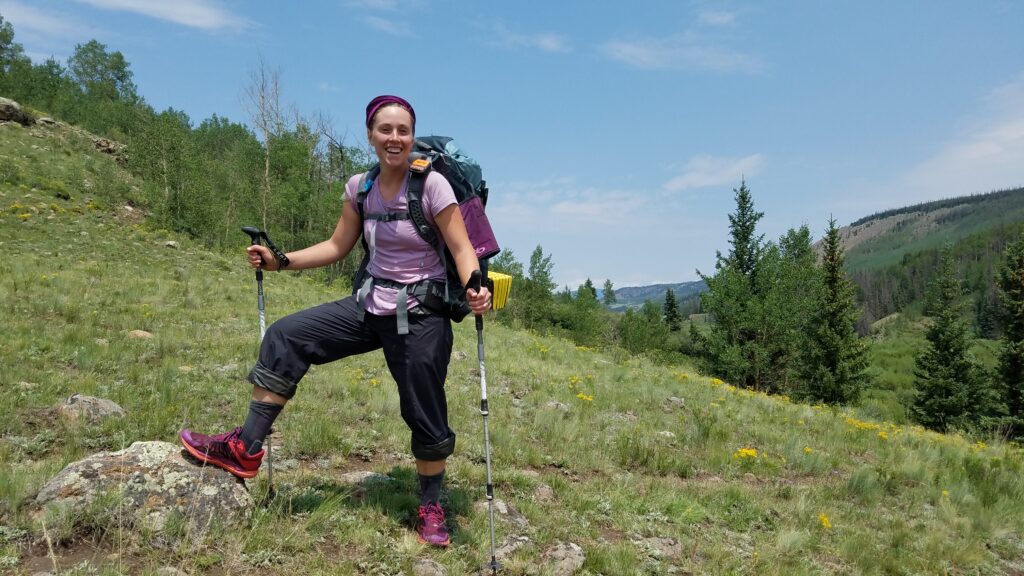 With the return of the sun, our outlook on the day improved greatly. Sofie showed off her wet shoes and clothes from the morning adventures…always a smile on her face. We hiked along the watershed the rest of the day, while the hills flanking us turned into steep mountains. We entered the La Garita Wilderness Area around the beginning of Segment 20. We were finally nearing the northern San Juans, with this valley being the gateway. But 22.5 miles into the day, we just couldn't go any further. This was our longest day yet, made even harder by the morning thunderstorm and creek crossing. We set-up camp in a meadow along the creek, looking forward to a return to the high mountains the next day.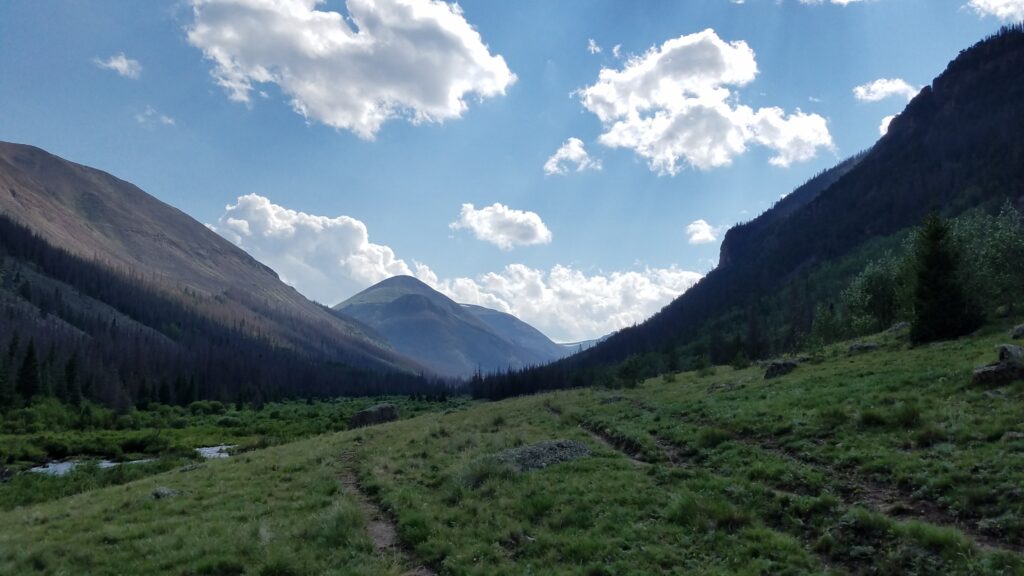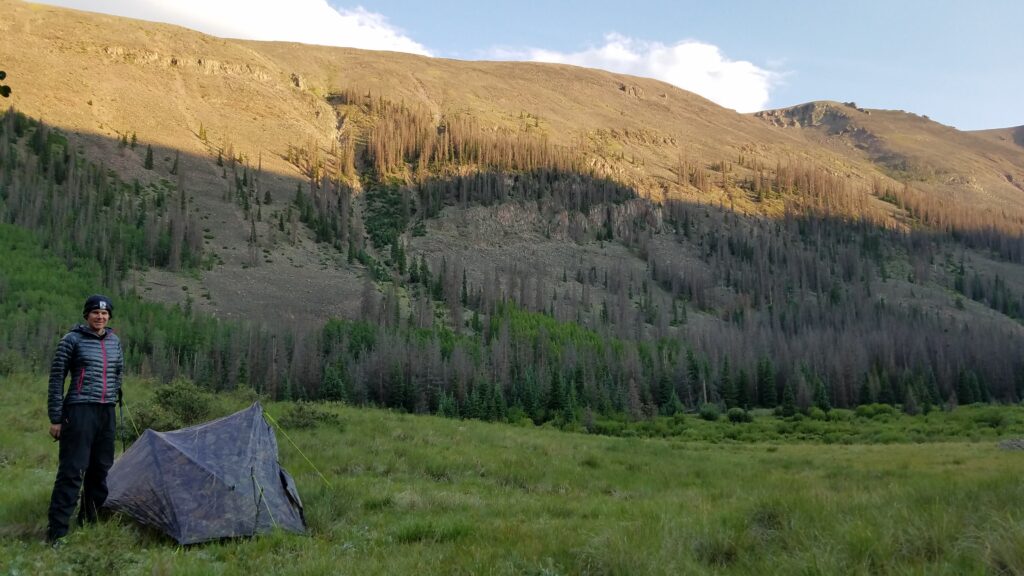 Day 23: August 4th, Cochetopa Creek campsite to San Luis Pass, + 5 on trail/road to Creede, then skip to Lake City, 15 miles, Segment 20.
It was a day full of misadventures on the CT, but all's well that ends well. We got a great early start to try to beat the thunderstorms and maybe even summit a 14er along the way. But it was not to be. In fact, all our plans fell through…sort of.
When starting this section, we planned to go into Creede for resupply. In fact, both Sofie and PBR had boxes waiting for them there. But somewhere along the way, we all agreed to change plans and hike on towards Lake City. Going into Creede involved quite a detour off the trail, lots of logistics, and the town's accommodations were all booked up for an obscure rock and mineral show. Go figure.
Since we changed our plans last minute, we  were having to stretch our food supplies for 15 more miles…hence the longer distances we had been shooting for the past 3 days. We were well on track to make it to Lake City the following day, with just enough food to get us there. We would maybe even have time to take a side detour to bag San Luis Peak.
Going up towards the first pass, we moved through some rougher and wet trail…this section doesn't get as much maintenance due to its remoteness and status as a wilderness area. Shortly we were above treeline and enjoying incredible views. At the pass, we were surprised and excited to see BAM coming down from San Luis Peak. From the CT, the peak is only 2.5 miles RT and 1,500′ additional elevation gain. However, as it was already 9 am, and with our supplies running low, we decided to forgo the side trip (I was finally able to bag this peak when I hiked the the CDT).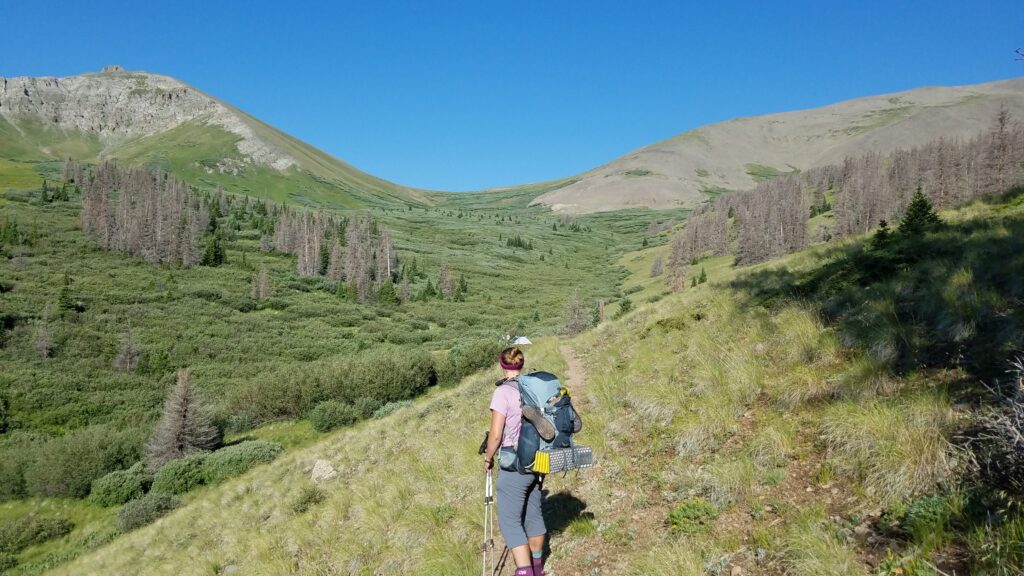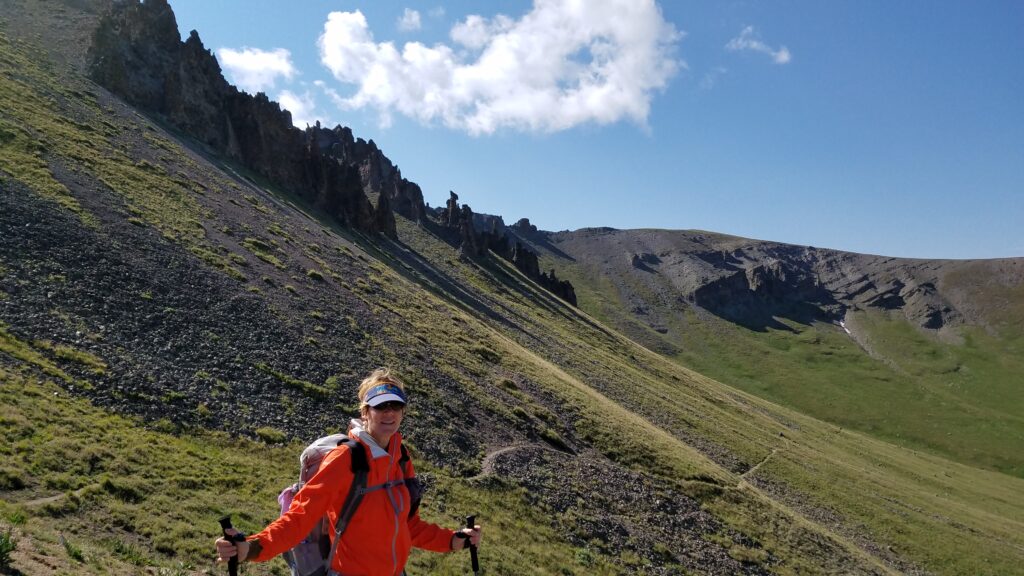 It was a glorious morning with not a cloud in the sky…well at least for a bit. Notice the one little cloud hovering above me and the Hoo Doos (rock spires). Much of the San Juan mountains are volcanic in nature and these formations are evidence of that. We walked on through open tundra for miles, which was just a taste of what was to come in the San Juans. Another prominent feature of this mountain range is the almost complete destruction of its coniferous forests by pine beetles. All the trees appear as grey ghosts of their formerly green selves. It also makes camping below treeline pretty dangerous, as any one of these dead trees could fall on you. So sad.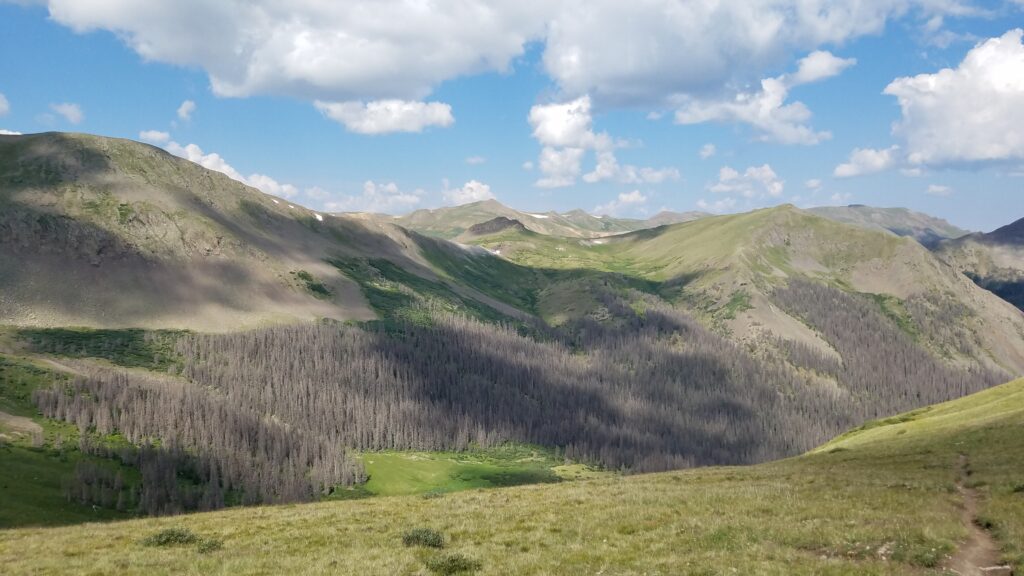 By the time we got to the Creede cut-off, it was only 1130 am but we had to once more change our plans.  Clouds had gathered very early again on this day, along with the threat of lighting and hail. There was another high and exposed ridgeline continuing from this pass and the weather looked like it was going to get much worse.  BAM, being the more determined and experienced thru-hiker, pushed on up the ridge while the 3 of us debated a bit longer. A nearby bolt of lightning ended the debate, sending us scurrying down the side-trail to Creede. Minutes later, the heavens opened up with hail and rain. We were committed to getting out of the high country at that point. We also felt very cheated. The rule of thumb is to avoid the high country after 12 pm but today the weather had moved in well before that. I have since come to understand that the weather in the San Juans doesn't play by the rules and doesn't care whatsoever.
After a really crappy 5 mile road walk in the rain, we finally got a ride into town. We dried off, ate a hot lunch, and got our boxes from a trail angel named Deb. The upside to going into Creede is that I got to collect Sarah's unclaimed box (recall that she was Sofie's partner that got off the trail in Breckenridge) for my own resupply, saving me some time and money. The downside is that we were now stuck in Creede, with no place to stay and the conditions in the mountains still being really crappy. So we decided to pay Deb to drive us to Lake City, where we could get a hotel room for the night. This meant that the logistics of returning to the trailhead to complete Segment 21 were going to be complicated and costly. We opted to instead resume the trail at Segment 22.  I vowed to return to complete this lost segment and so I did when I hiked the CDT.
On the drive over Slumgullion Pass, we were glad about our decision to retreat into Creede, since Snow Mesa (where the trail continues through) lived up to its name. It was completely white, covered in hail. It would've been miserable and maybe even dangerous to push on. In Lake City, we found BAM, cold and shaken by the 15 miles he had just hiked. From summiting a 14er to walking for miles in white-out conditions, completely exposed to lightning strikes, we were all very impressed by his resilience. I felt pretty guilty that we cheated to end up in the same place but I would have plenty of time in the years to come to strengthen my resolve and become a more hardened thru-hiker. BAM was one of my early inspirations.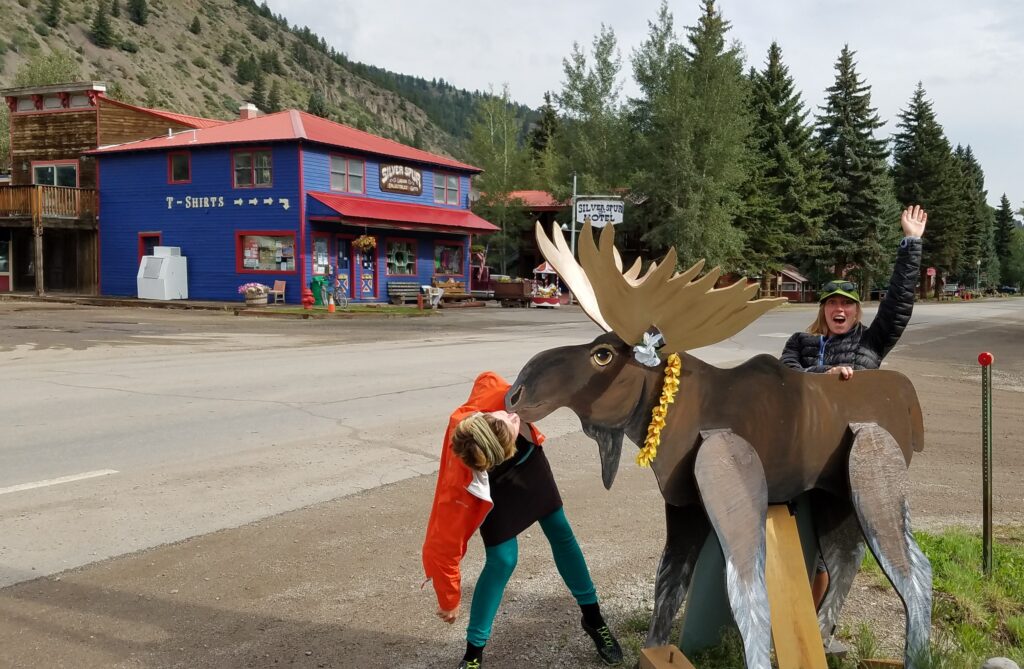 Lake City was a fun and much needed rest stop. We had pizza and got a good night's sleep in the hotel room. There's also a hiker hostel in town, as well as a grocery and several gas stations for resupply. Despite the cold and rainy conditions, I also enjoyed a treat at a local ice cream parlor. As I said, all's well that ends well.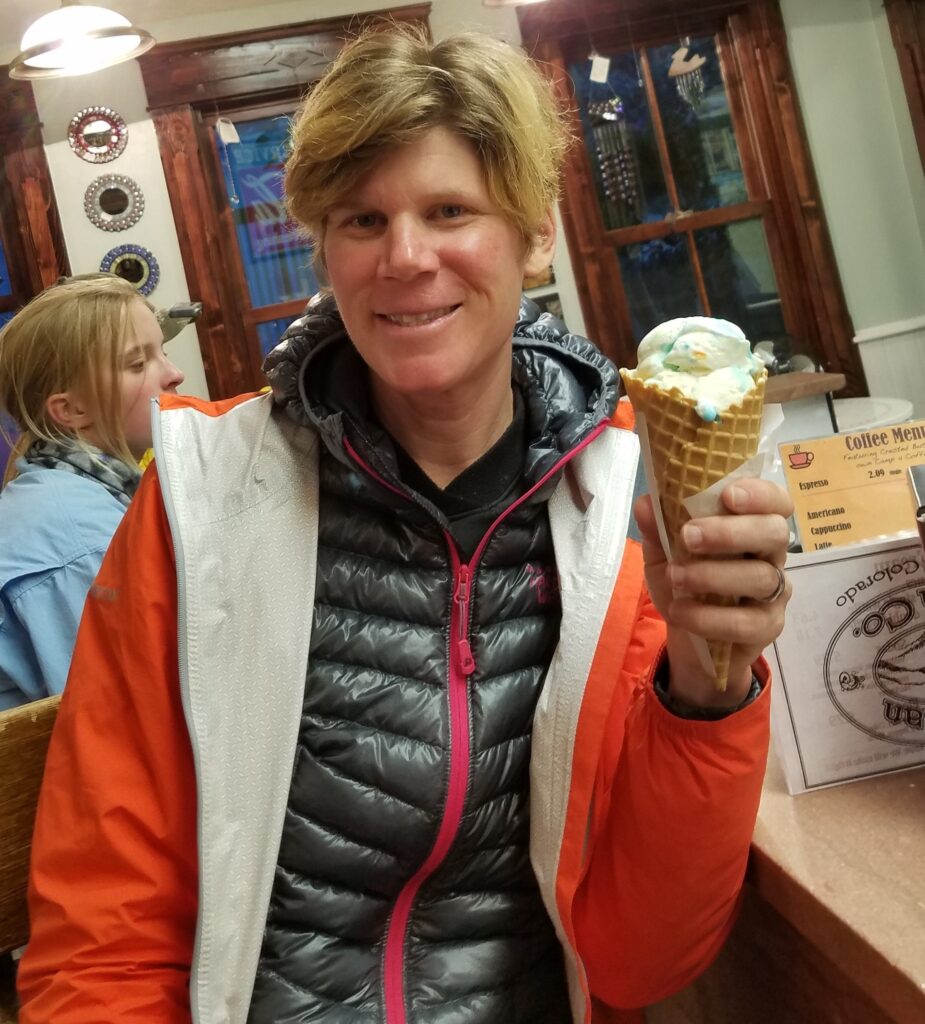 Stay tuned for the final chapter to Durango plus a bonus edition of my section hike of the Collegiate West.