October 21st, 2019
East Verde River mm 350.2 to Mazatzal Ridge mm 381.3
Distance in miles: 31.1
0615-1810
It's so cold when I wake. We're only at 3300′ in elevation but cold, moist air has settled into the valley overnight. There's even a tiny bit of condensation on my tent. We shortly warm up as we begin to climb. A distance of 31 miles for today adds up to over 10,000′ in elevation gain, according to my app. The same app on Stellar's phone says 8,000′, so who knows. One thing is for sure: we'll be going up a lot.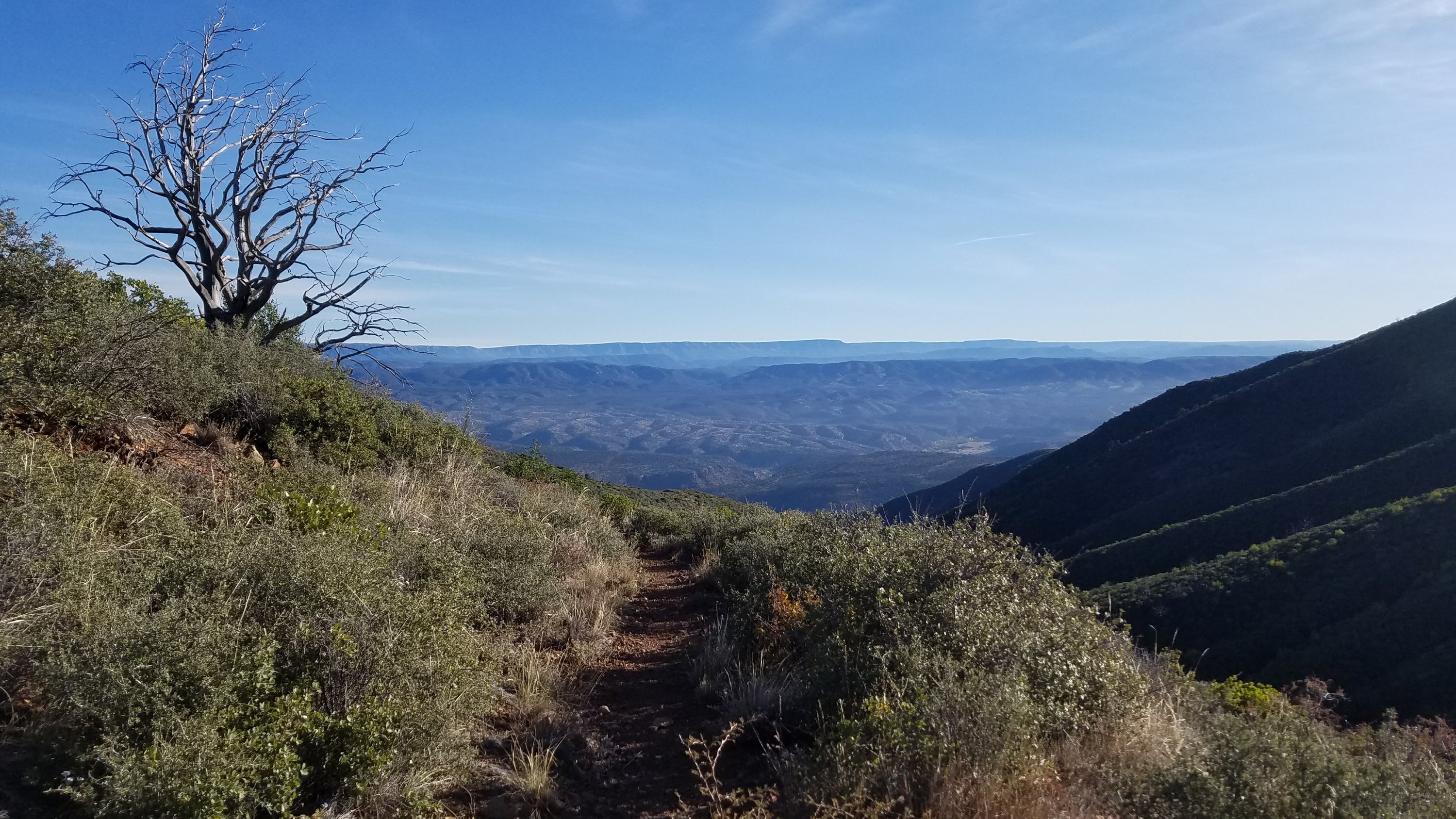 We're headed into the Mazatzal mountains, a range that is notoriously rugged and remote. The trail winds up to the ridges and does a rollar-coaster effect as it goes from peak to peak. I actually enjoy all the ups and downs, feeling like I'm back on the CDT. The views are great. I can see back to the Mogollon Rim and even the San Francisco Peaks… that is until they become obscured by wildfire smoke.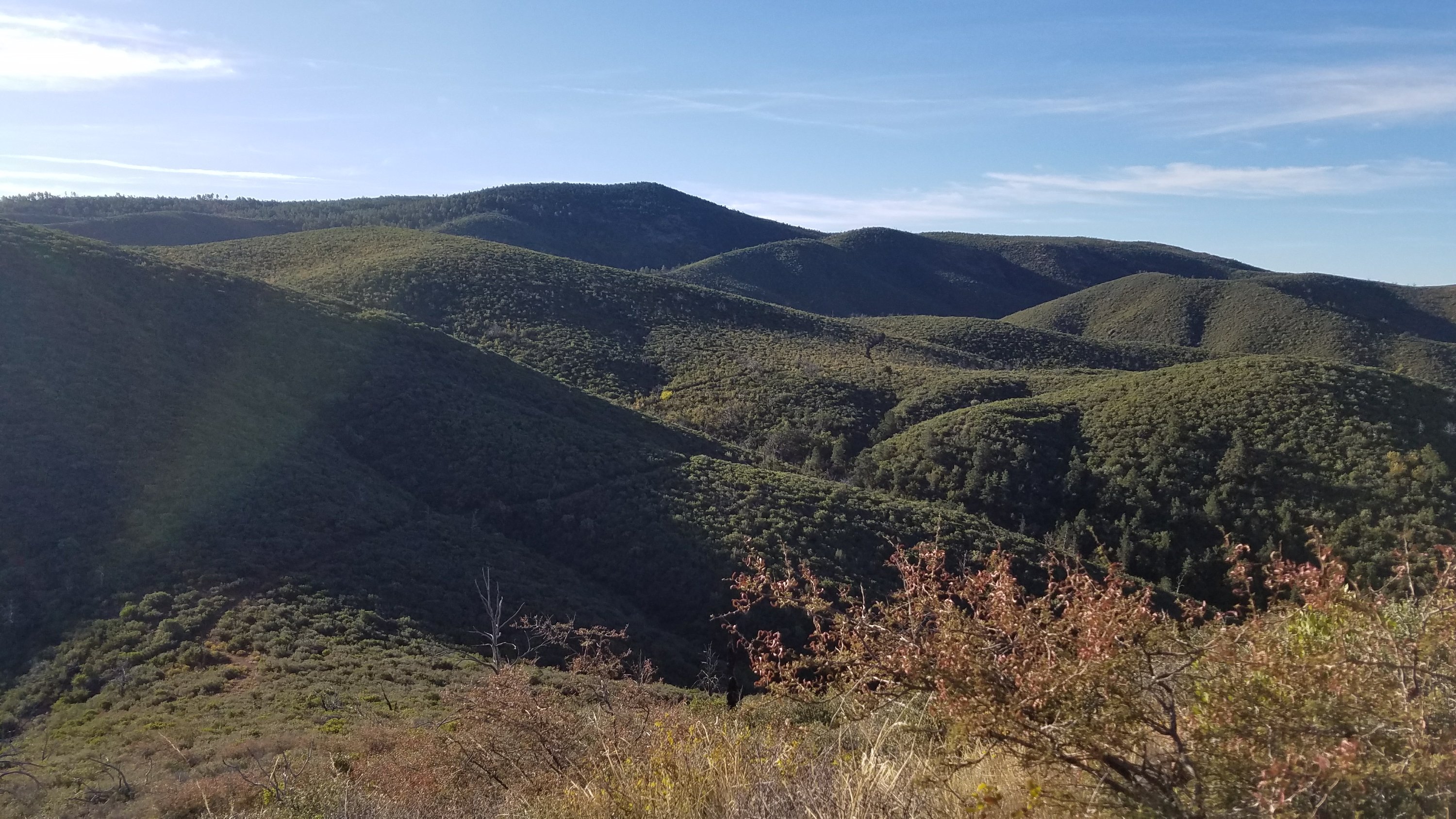 The are not many water sources in these dry mountains. We pass some puddles in creeks…they flow in the springtime but not after such a dry summer. I carry water to last me 22 miles until mid afternoon and then stop at the best source all day, a trough feed by a spring. I collect water to last me the rest of the day and night (about 3 liters). I don't have much food so I don't mind the weight.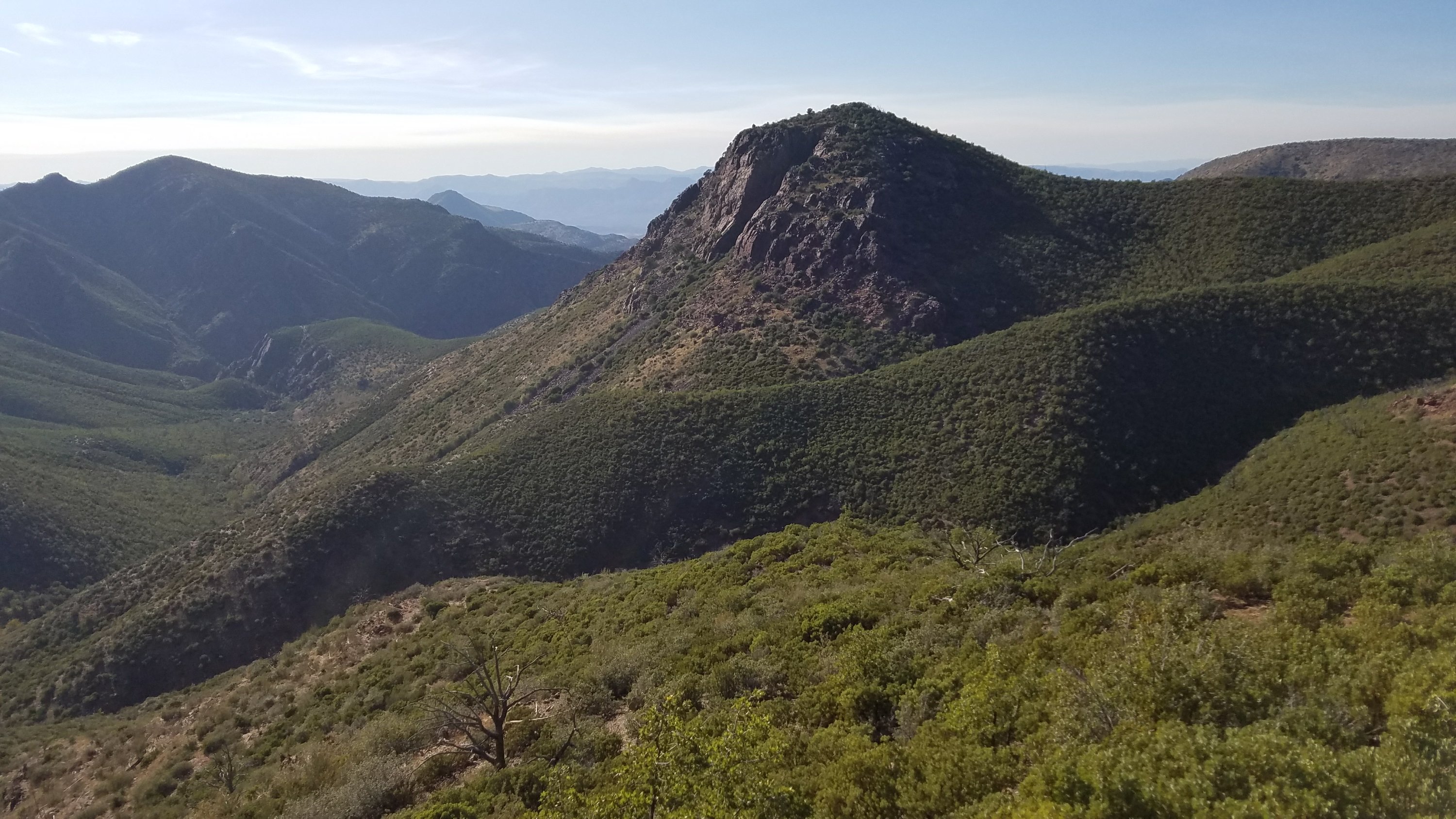 In another 6 miles, we come to an off-trail spring junction to Bear Springs. Three SOBOs are there, resting on their packs. They're part of a bubble that all started on Oct 1st. We have made up a week on them. As for bears, we see lots of poop all day but no live bears. We continue, having just one more climb, the highest point at 7200′. I'm pretty tired by this point and we're running out of daylight.
We come to a saddle where the notes say there's a campsite. It's just room enough for one tent and very exposed. So we move onto the next saddle, where we find some passable spots in the dark. Several GH owls are hooting, which I take as a good sign. The bright orange glow on the horizon fades and I see all the city lights come out. I think I can see all the way to Phoenix or at least Scottsdale. Planes fly all over, some at our level. It was a good, hard day and I look forward to getting off trail to visit Jon the next day.