October 20th, 2019
Pine Trailhead mm 327.5 to East Verde River mm 350.2
Distance in miles: 22.7
0900-1700
I woke to the sound of the rooster crowing. It was a good reminder that I had yet to mess with the chickens. Feeling inspired, I crept outside and into the coop. It was still early, so I easily picked one of the hens off the roost. She was very sweet and seemed to enjoy the warmth of my arms, falling asleep. She was a fantail, similar to my favorite chicken that I had growing up. They are tiny, about the size of a pigeon.
About this time, Calypso the cattle dog noticed my transgressions and was freaking out, pacing back and forth outside the coop. He was a working-class breed, highly focused on doing a job, and the chickens were his self-appointed charge. He wouldn't let me anywhere near them the day before, but I'd caught him off-guard. Next I picked up the rooster, and Calypso looked like he was about to lose it. I was afraid he was going to go Cujo on me once I left the protection of the coop. Eventually he calmed down and I let go of the rooster, coming out hands free. Calypso still had to do a full inspection to make sure I wasn't smuggling any chickens under my robe…such a funny animal interaction.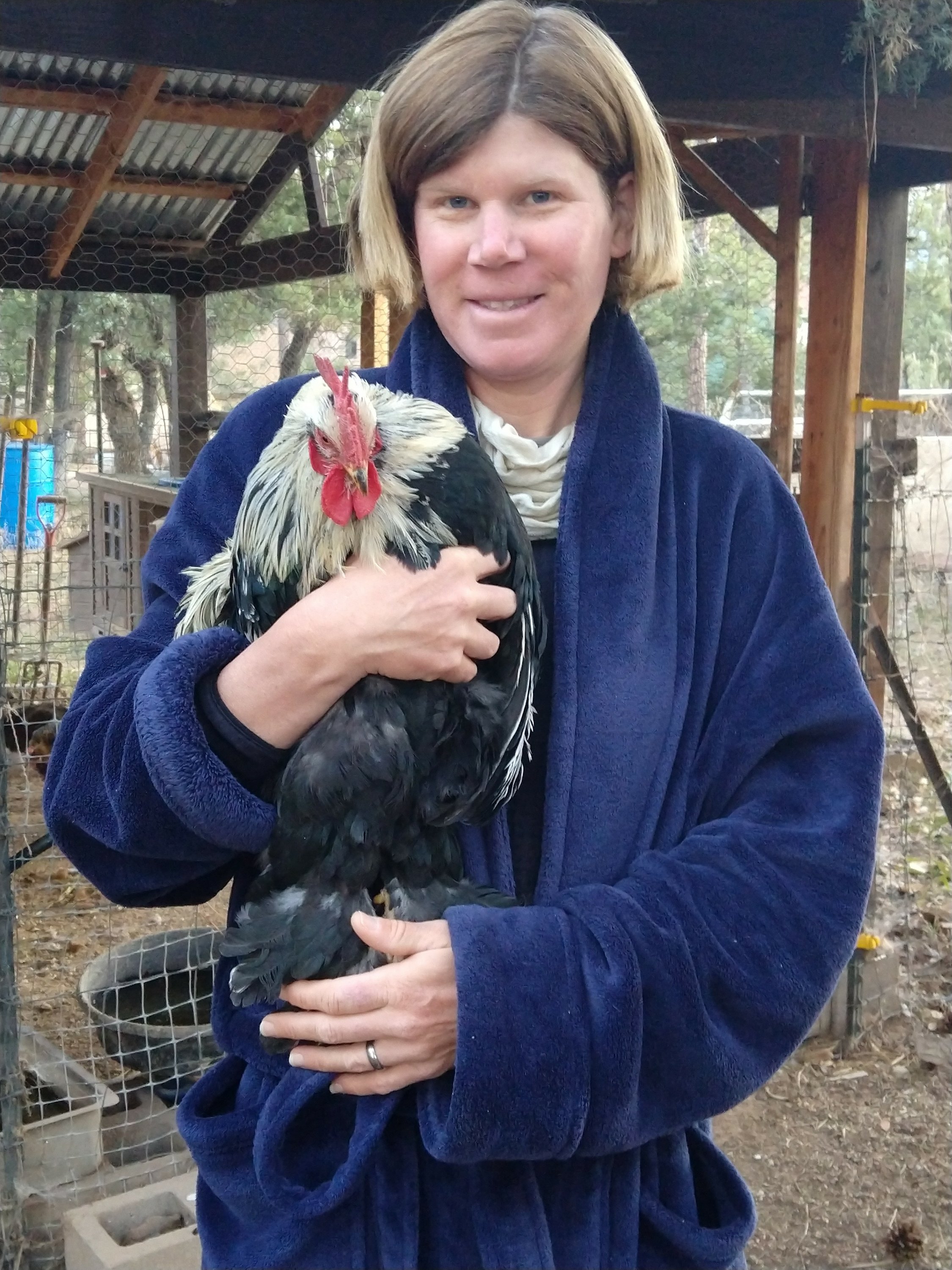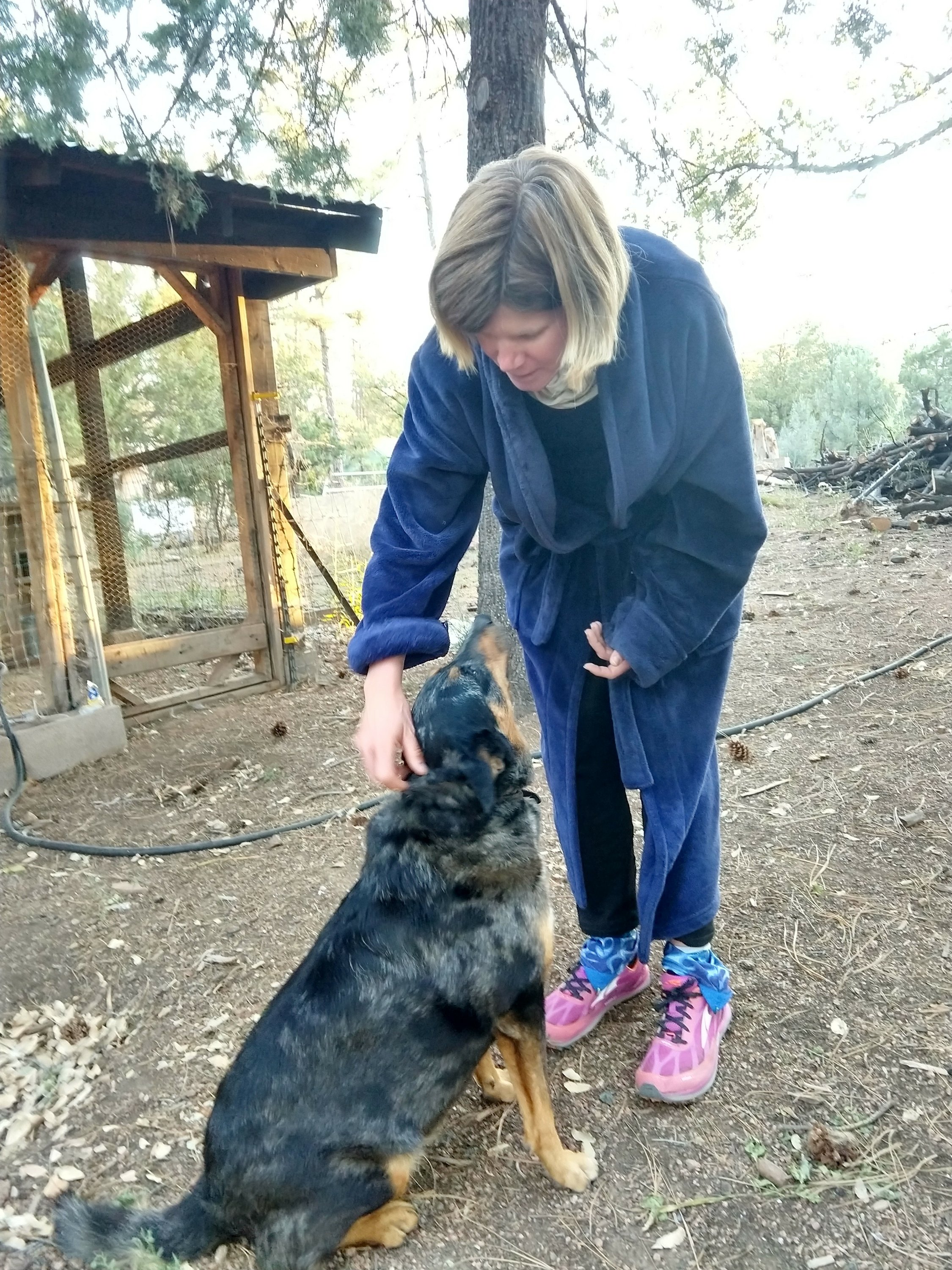 By this time, Ray was up and invited me in for coffee and biscuits and gravy with elk meat…no doubt from one of the unsuspecting town elk. What a delicious breakfast. Then I had to be on my way. I passed more town elk as I departed, so close that I could smell them. They smell like horse to me….or maybe biscuits and gravy.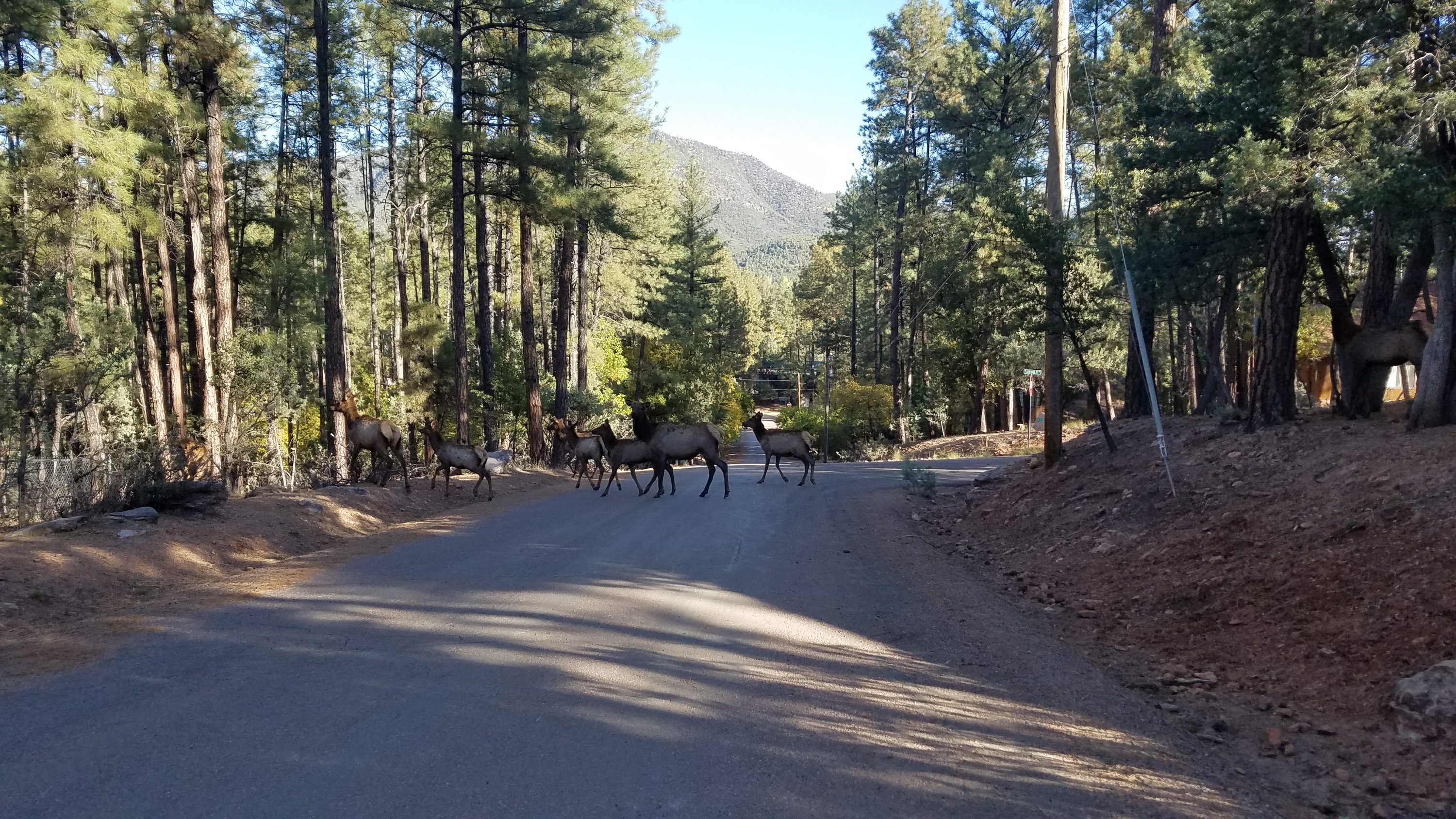 I walked through town and hit the trail at 9 am. I was in for an up and down day, climbing to the top of a ridge several times. I caught up to a woman going southbound, Atom. She was wearing a skirt but all covered up elsewhere. We could have been twins. I walked with her for a couple of hours, talking trail. It was nice to see a new face.
She confirmed what I suspected about the fire reroute a few days beforehand. There had been a sign posted on the old section of trail, which I bypassed when I walked the new trail. The sign had warned of the prescribed burn and instructed hikers to do a long road walk around the area. The 10 hikers ahead of me did this, while I mistakenly walked through the fire area. Oops. Supposedly there has also been a little lack of communication between the fire managers and the trail association. But all's well that ends well.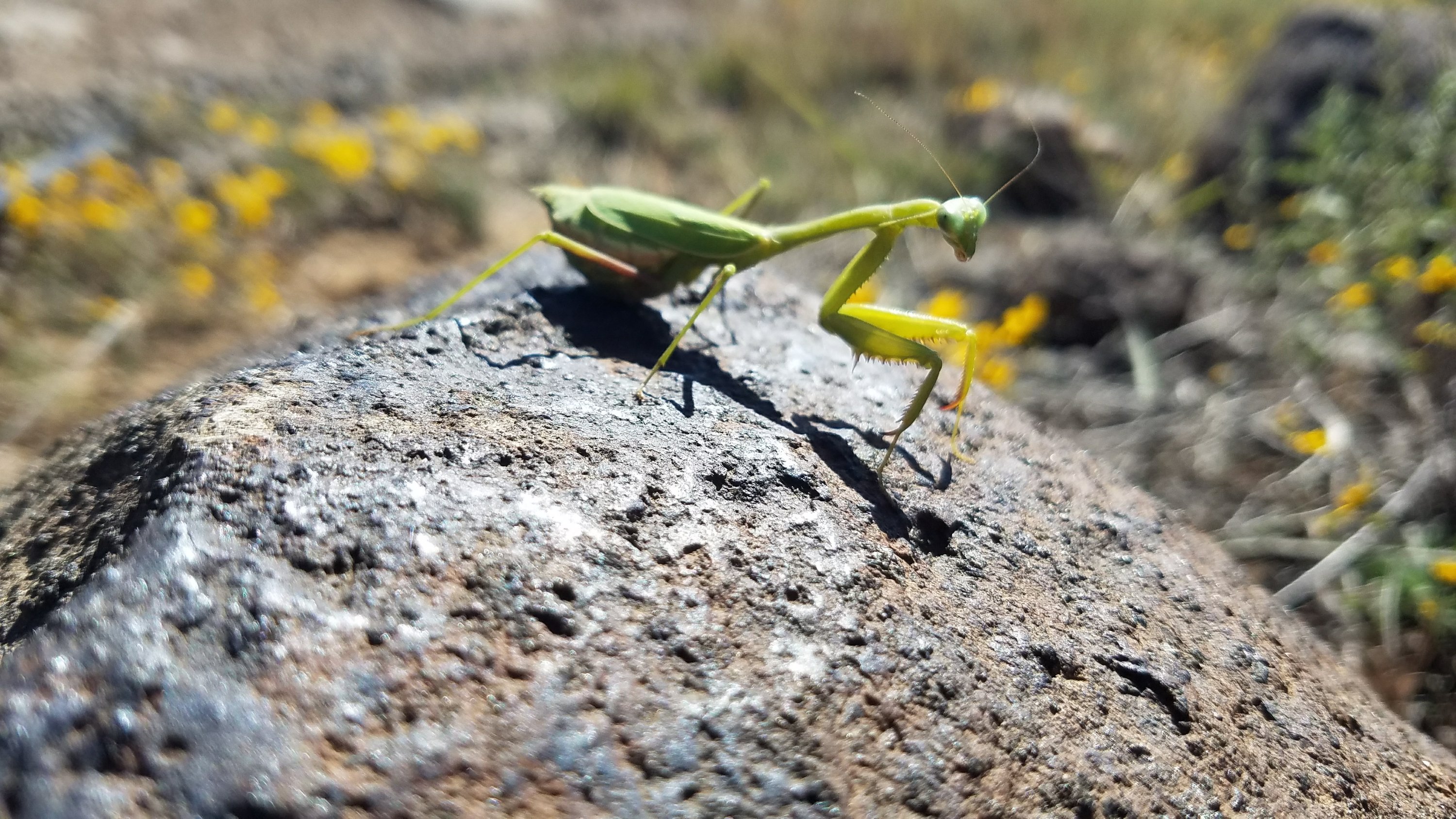 We descended into the Verde River valley in the late afternoon. The trail became very rocky in places, as I was warned it would. It was hard to find a good place to land my feet. The trail was also hard to follow in places…it was overgrown or faint as it passed through washes.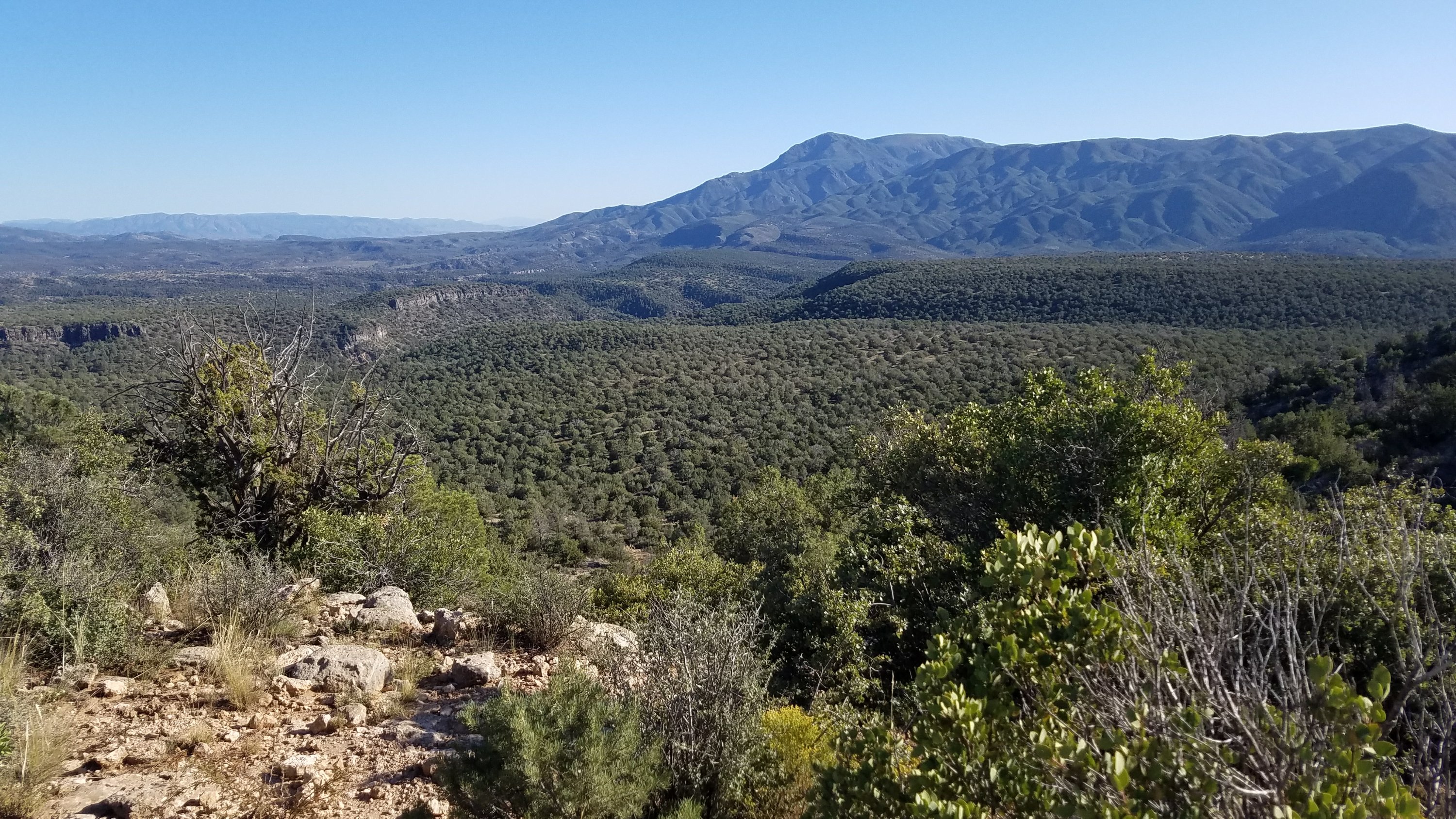 I came to the Verde river and decide to take my shoes off to cross, preserving my enduring dry shoes. There seemed to be a lot of water flowing but it was still only shin-high. I know this can be a tough crossing in the spring. I heard rustling in the bushes and saw about 8 javalinas. They are native wild pigs in the the desert southwest. People warn about how dangerous they can be but like any wild animal, I gave them space and they move off unperturbed.
I was hoping to be able to go a little further past the river but it took longer than expected to get there. It was all uphill for awhile, so I decided just to camp by the river. The LF Ranch was nearby and unfortunately I could hear a generator and dogs barking. I went to sleep with earplugs in, which was a shame in such an otherwise peaceful setting.