06:00-12:00, Thursday, 7-30-20
CO 14ers: 11, 12 & 13 of 53
Distance RT: 7.5 miles
Elevation gain/loss: 3,700′
Starting Elevation: 12,000′
Summits: Democrat 14,148′, Lincoln 14,286′ & Bross 14,172′
Rank: 28, 8 & 22 of 53
Location: Mosquito Range, West of Alma, CO
Route: Democrat >Cameron>Lincoln>Bross…the DeCaLiBron combo clockwise, Class 2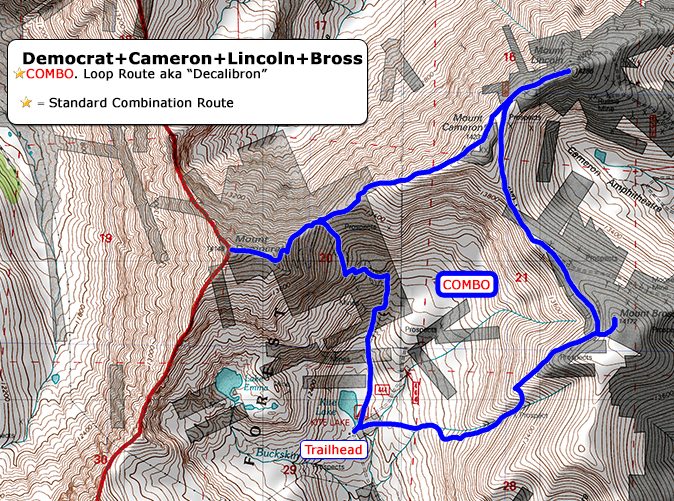 On this hike, I did 3 or 4 14ers in one day, depending on which definition you go by. I'm going with 3, since Mt. Cameron was barely a bump on my radar and counting it would mess up my numbers. 21 in 2020 just doesn't sound as good, so I'm willing to discount this one. Truly, 3 14ers in one day is plenty enough!
Bang for buck, the DeCaLiBron (like marathon, taking the first 2 letters of each peak to spell the word…get it?) is one of the most popular hikes in all of Colorado. By the numbers, these are some of the easiest 14ers to hike. The trailhead has good access and starts at a high elevation (meaning your car does much of the work getting there). The route requires little technical know-how and the total distance for the entire circumnavigation is only 7.5 miles.  I'd read some blurbs about it before, and so this year it was high on my list.
Despite some cold winds, these were definitely the easiest 14ers I've ever hiked. I felt on my game from the start, with good fitness after months of training in Colorado. I already had 5 14ers under my belt for the season. We set out in the company of many others. The parking lot was already full by 6 am…and it wasn't even a weekend. These were the most crowded 14ers I'd hiked this year. As we gained a ridge, a cold wind picked up and some began hunkering down, taking a break behind boulders. I charged on knowing the best way to stay warm is to keep moving. One kid asked me if it's often this windy and cold and I simply said yes. I didn't have a lot of empathy since the conditions weren't near as bad as those I'd experienced on the slopes of Shavano. Just imagine what it's like up here in winter!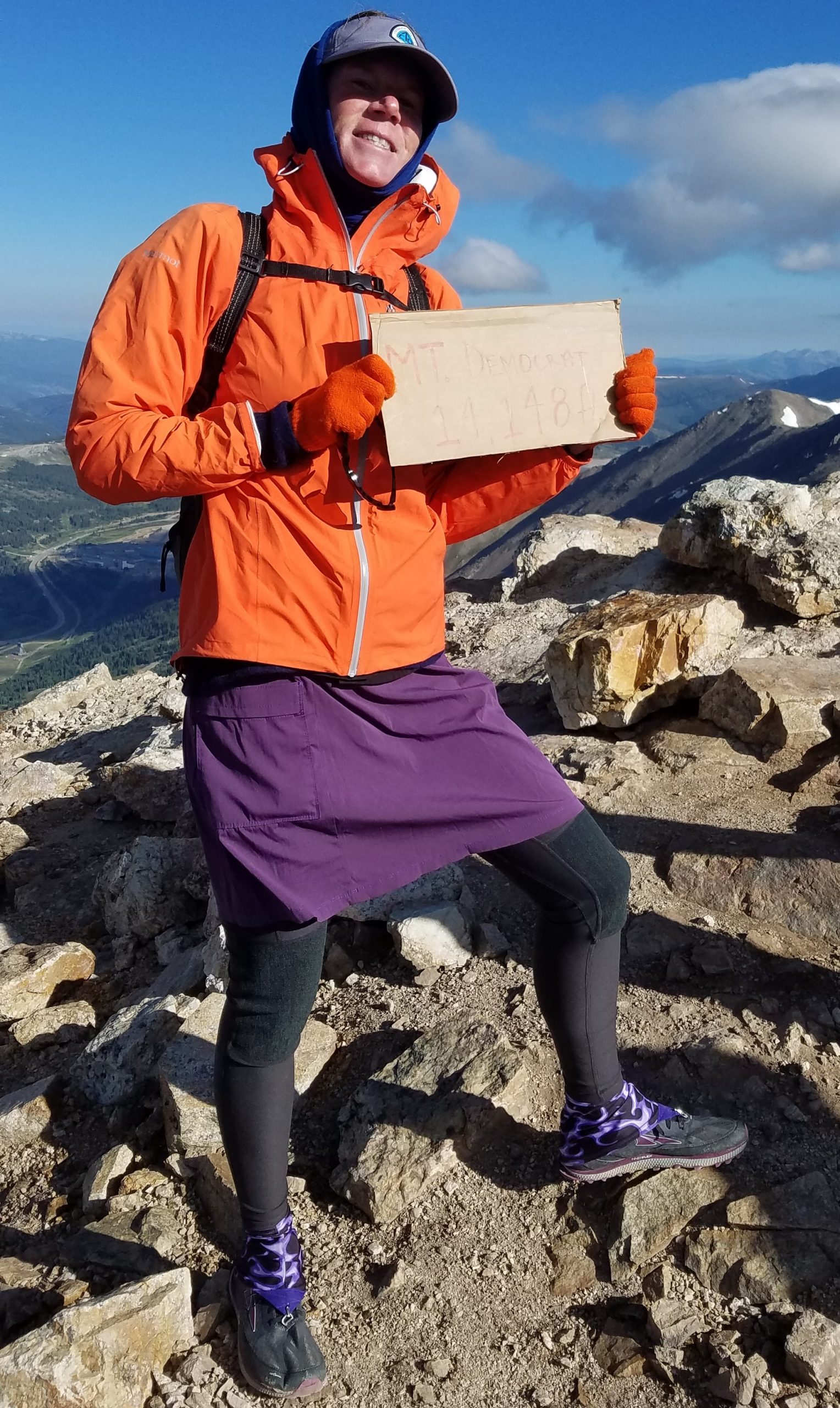 We shortly arrived at the first peak, Mt. Democrat. You can get a hint of the cold wind by how many layers I'm wearing. I took some pictures with the sign and did some peak finding with the smartphone app.
Next, we retraced our steps down to the saddle between Democrat and Cameron. The picture below shows us near the first summit, with the peaks of Cameron and Lincoln to the left and Bross to the right. So imagine hiking a big circle clockwise along these peaks and saddles…that's the DeCaLiBron in a picture. The most elevation gain and loss, besides the initial ascent and final descent, is between these first 2 peaks. Once we were done with this saddle, the rest of the day was an easy glide.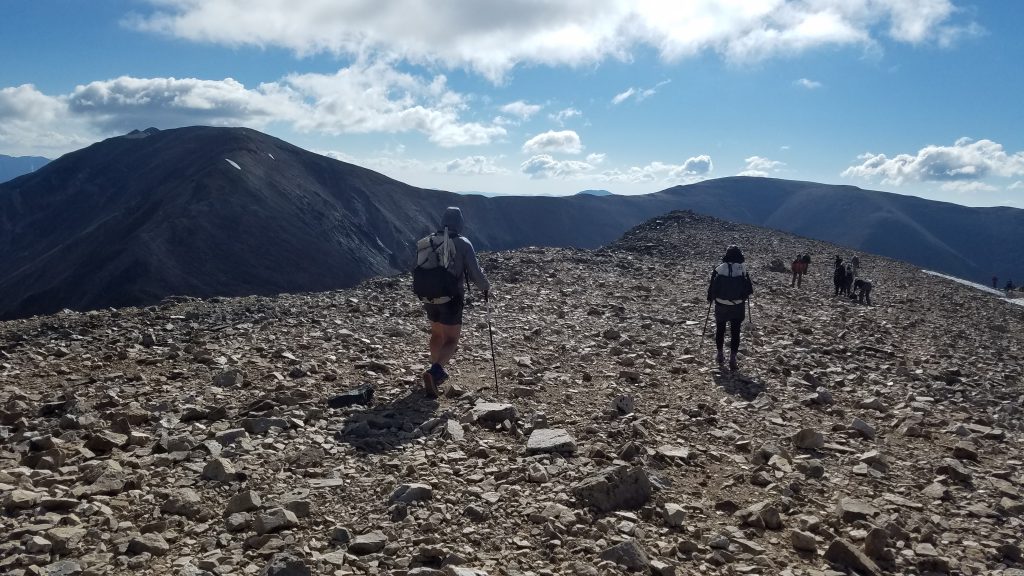 Cameron peak was pretty unremarkable…mainly a broad hump. I didn't even stop to take a summit photo. The picture below was taken from near the top of Cameron, showing the gentle fall and rise to its neighbor Mt Lincoln, a difference of only 138′ in elevation. This is the reason it's not considered a separate, stand-alone peak by the standard 14er definition. It's more of a false or secondary summit to Lincoln.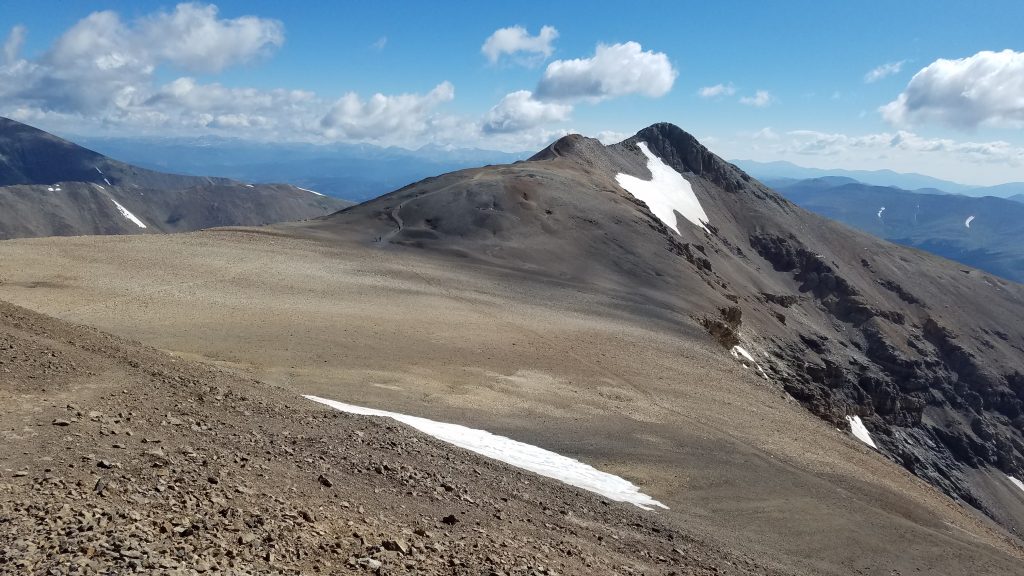 I was quickly at the summit of Lincoln, taking advantage of some other organized hiker's sign. I'm not sure why it was split into 2 but beggars can't be choosers.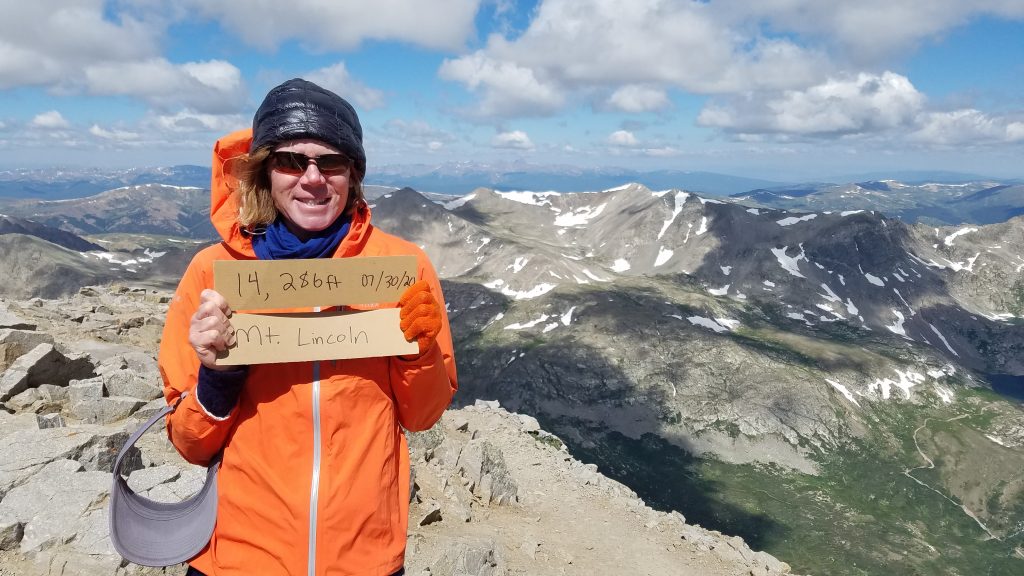 And here's a look from Lincoln towards the final summit, Mt. Bross, encased in shadow by a cloud.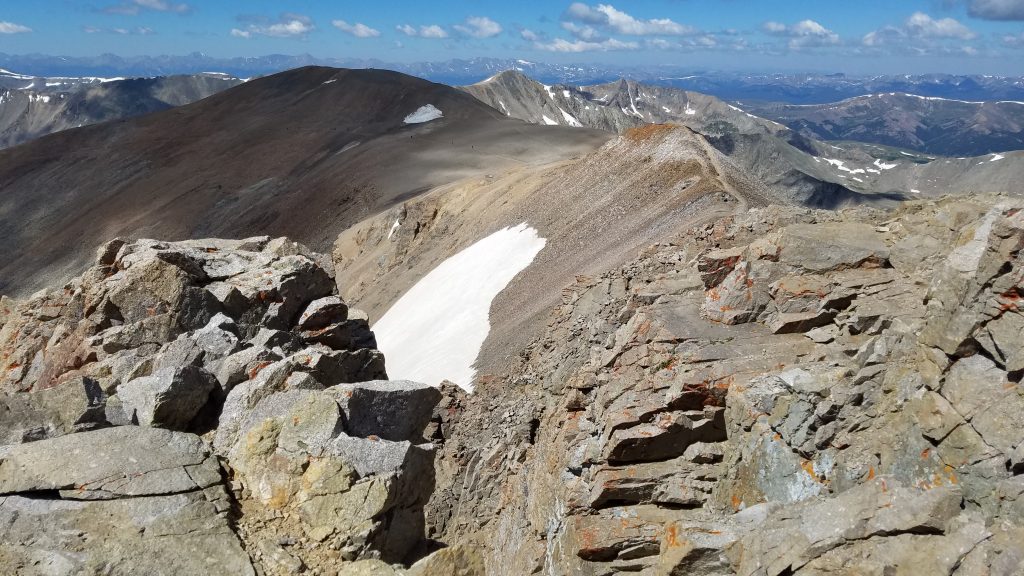 It was a pleasant and easy stroll to Bross, since it had finally warmed up a bit. I don't remember even breathing hard for most of this trip. If I sound like I'm bragging, you should have seen the trail running mom with her 5 and 8 y/o kids in tow, moving along like it was all a walk in the park.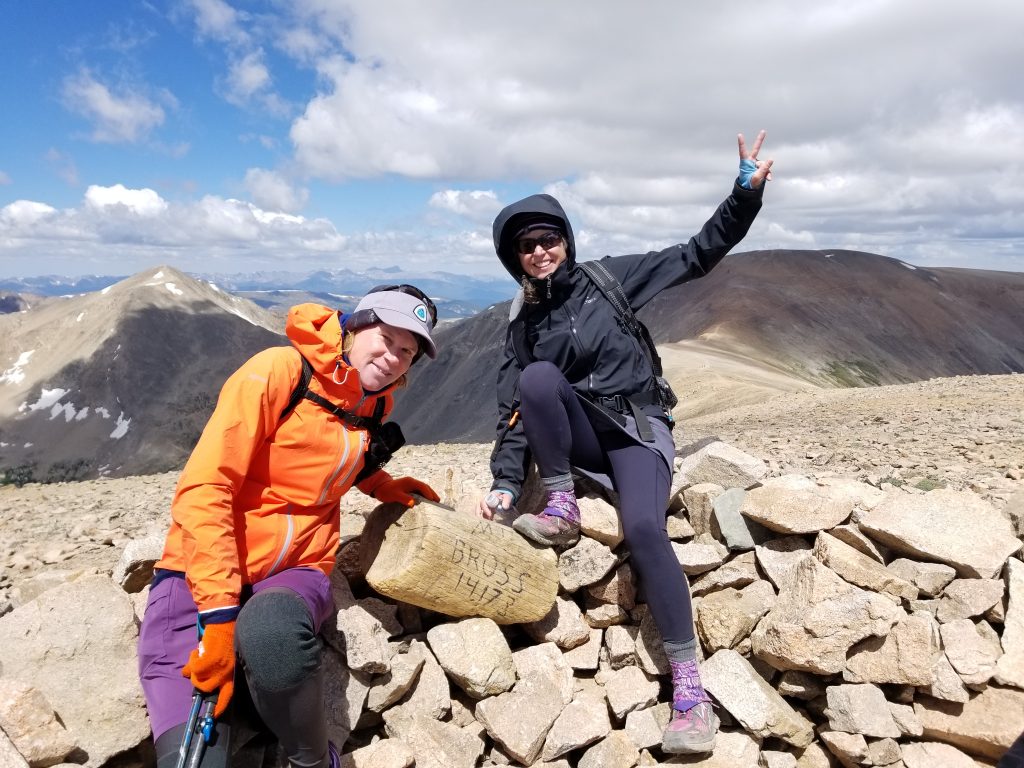 No sign but this log will do.
I'd forgot to mention that it's possible to drive to the top of Bross…at least this jeep troop found a way. I think they had special permission or something. The top of Bross is private property, so to summit is technically trespassing. On this day, there were hundreds trespassing, so none of us were too concerned.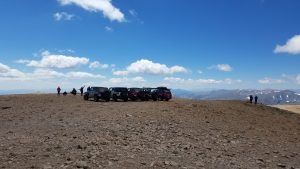 Why hike when you can drive?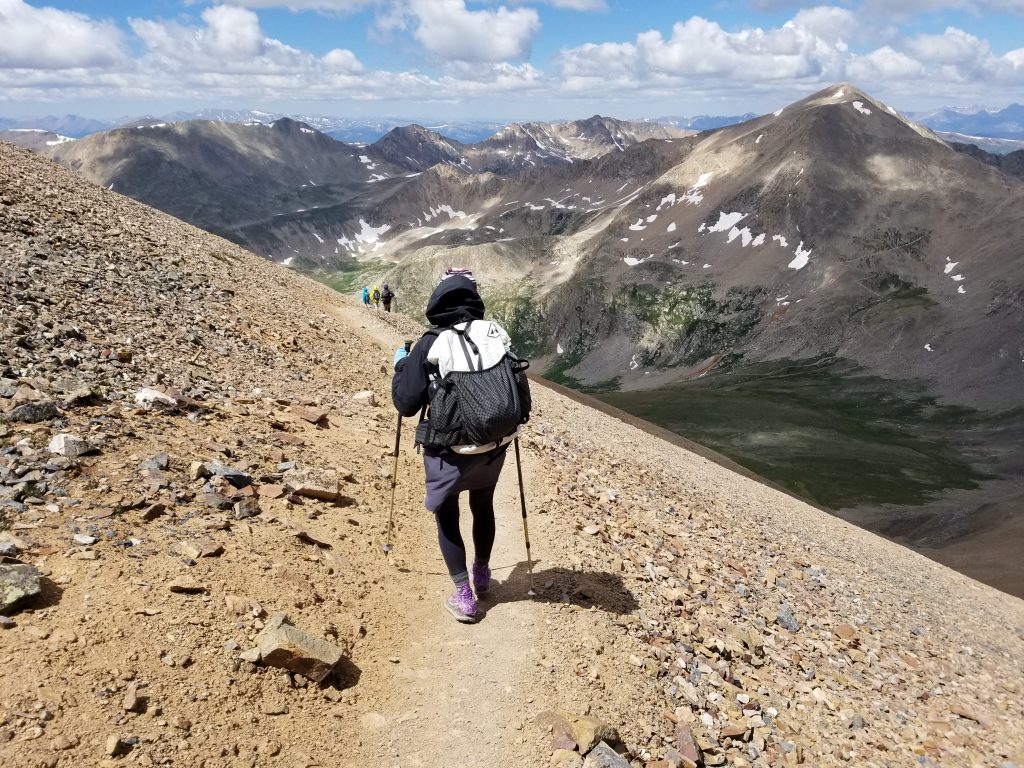 We began a pretty steep descent to the the valley below. I can see why the most popular route is clockwise. Otherwise, it's a steady huff and puff to get up to Bross first. There were even a couple spots where I had to watch my footing so I didn't slip…I hate substrate that has this little ball-bearing gravel. We made it to the car park by noon, joking about driving to the next 14er to hike that afternoon. It's common sense to start climbing 14ers early in the morning to avoid afternoon thunderstorms. But this day was still nice and besides, we'd only hiked 3 or 4 already, plenty of time for another. But no, the next few would have to wait until tomorrow…