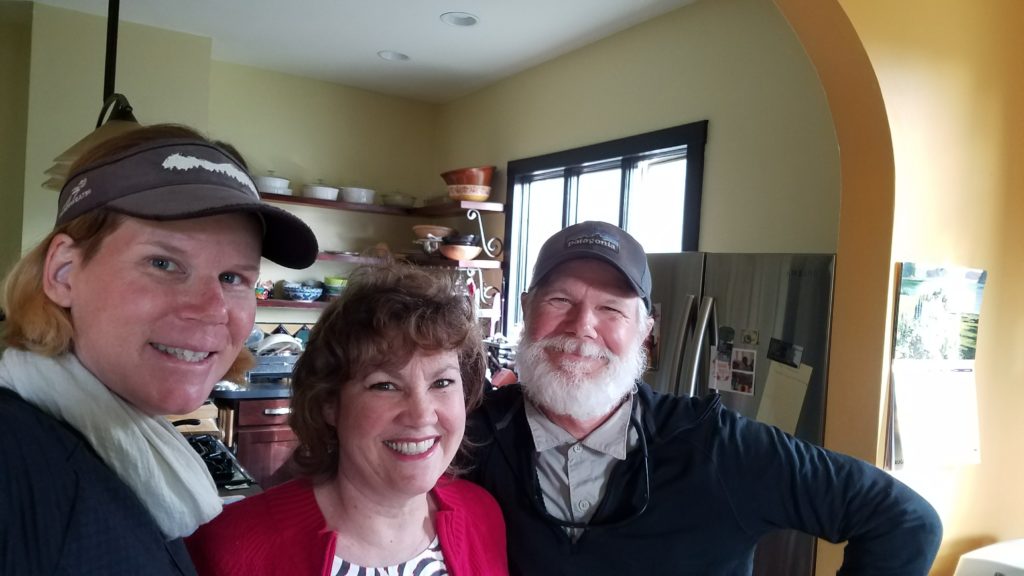 This is a special post to recognize the many trail angels and trail magic that made my hiking so memorable and cohesive. I'm truly blessed to have had so many positive interactions and made new friends. I'm amazed and humbled by the kind souls that exist out there. Someday I'll write a book honoring trail angels and this year gave me so much material to work with.
I've listed the trail angels and their magic by state. I don't expect people to read every bit of this post but at least scroll down to the bottom just to realize the sheer magnitude of this kindness. I'm so sorry if I omitted anyone or their contributions, and that I didn't get everyone's name…it was a long year.
Montanaho: provided some of the most memorable Trail Magic
-Karl & Leslie, East Glacier, who hosted Relentless for weeks and let us stay in their cozy RV plus use their bathroom, kitchen and hot tub! Plus made us an amazing dinner. Karl gave us a ride to the Canadian border, as well. Chuck and Vickie, their neighbors, gave me a ride from the Kalispell airport to the lodge. Everything around East Glacier was taken care of due to their kindness.
-A guy at the Two Medicine campground, Dillon, went out of his way to share beer with us
–Gary, Trail Angel Extraordinaire of Lincoln, picked us up and delivered us back to the pass, plus cached water at multiple points on the trail. He even took us to his house so that we could use his bathroom and fill our water bottles. He's a legend!
-Random couple that gave us Cherry Cokes at the fire tower
–Barbara and Tyler, of the most extraordinary Trail Angel Posse in Helena, per-arranged rides to and from town to the trail.
–Georgia hosted Relentless and I at her beautiful dollhouse in Helena….what a special place!
–Solo made her second appearance along the road to Anaconda (see NM for details about her first TM), providing us with sodas and snacks in the middle of a long, hot road walk.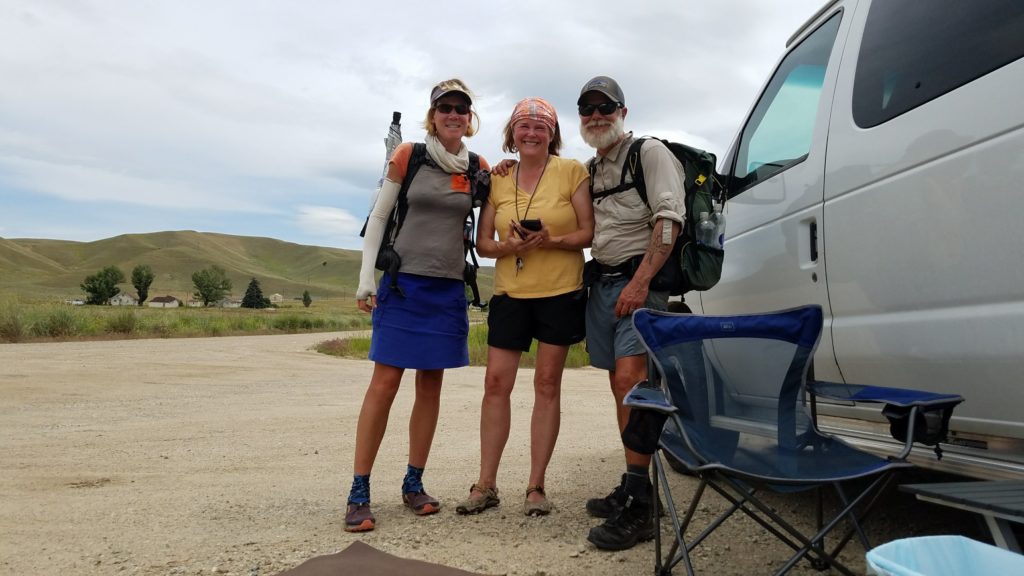 –Bud & Mikayla of APOC World in Anaconda gave us a discount on purchases, free coffee, and a ride to the pizza place.
-Local resident of Anaconda, John, treated us to ice cream and gave us a ride to the park. Local trail angels also organized the warming hut, aka hiker hangout, and free pool showers at the park. Plus, thanks to all the TA's offering rides to and from town, even though we didn't take any…we had like 4 offers!
–Theresa, ultra runner that gave us a ride into Darby, followed by 2 guys that gave us a ride back to the trail, including dude that was once friends with John Denver.
–Sam "the dude" in Leodore for all he does, especially offering hot coffee on a cold morning.
–Matt, who picked us up alongside the interstate to Lima…who picks up hitchers on an interstate? A very nice guy, that's who.
-Owners of the Lima Mt View Motel and RV park, for offering shuttle rides, hiker discounts, and holding packages.
-Dentist David, for giving us a ride to the PO in Island Park in the rain.
–All my Florida hiking buddies, Ryan "Risk-Taker", Wayne, Laurent, Thad, and Phil, for bestowing us your trail leftovers and treating us to dinner.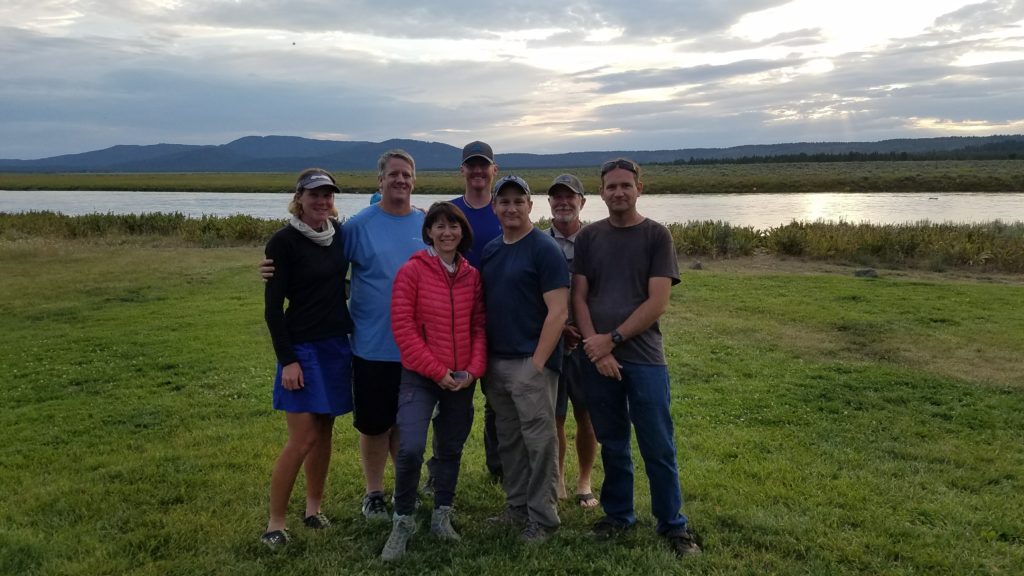 Wyoming: locals are incredibly friendly and the towns welcoming.
-Rides in and out of Dubois by locals towing stock-trailers, plus the St Thomas Episcopal Church that opened its doors to us travelers.
-All the Green River Lakes cabin ravers that shared some of their party favors with us, followed by the Wedding Party, courtesy of Trailbride & Copenhagen, plus Pulp Fiction, who did so much to plan and arrange things.
-St Andrew's-In-The-Pines Church, that welcomed us in to stay in their basement. We got to take showers and cook meals in the kitchen, as well. Not everyone played so nice this summer and the church had to close it's doors to hikers. I hope they'll allow hikers once again and I'm sorry there were a few bad apples.
-Florida man that gave us a ride all the way to Pinedale in the back of his truck, plus drinks and snacks
–Andrew, who went hours out of his way to give us a ride from Pinedale back to Green River Lakes Campground, some 40 miles away. This is longest hitch I've ever gotten from someone not already intending to go my direction.
-water cache and TM in the Great Basin, thanks unknown TA!
-all the truck drivers that gave me water and fruit along HWY 71 south of Rawlins, plus cooler alongside the road by unknown TA.
Colorado: The (biased) winner of the CDT
– My Aunt Peggy and Two Shoes, who both hosted us in/around Steamboat, letting us borrow a car and visiting the hot springs.
-My cousins, Alisa, Kessia, and Chris, who provided special Colorado support
-rides in and out of Steamboat by kind drivers…this was a stupendously easy hitch thanks to them.
-Steamboat Visitor Center, which gave us a special thru-hiker package complete with CDT socks, a pass for the hot springs, and free beer.
-Employees at the Shadowcliff Hostel in Grand Lake that shared event leftovers with us.
-Random guy that gave Relentless his trekking pole and his wife that gave me a PBJ sandwich on a ridge outside of Winter Park.
-Kids that shared a beer on top James Peak and others that shared food on top Grays Peak.
–Relentless, who brought me an apple pie slice with candle on my birthday (plus whole pie from Pie Town, NM).
–Stellar T, who brought us extra food and bonus beer when we came up short getting to Breckenridge. Perfect timing!
-Employee at Mahi Tacos in Copper Ski Resort that gave us the day's leftovers.
-Many kind drivers that gave us rides in and out of Leadville, as well as around Salida and Monarch Pass.
-My parents, Neil and Cicily, who hosted and fed us for days, plus provided a lot of other support for all my hikes.
–Dick and Sandy, who gave us and others a ride into Lake City, then another local guy that gave us a ride out of town.
-Hunters in the San Juans that gave me a full fuel canister and food.
-Ride into South Fork by peaceful Subaru driver, then ride back to Wolf Creek Pass by Vickie…who we first met when she gave us a ride around South Fork.
–Karla, for all she does making South Fork hospitable to thru-hikers, especially the loaner bikes! Also Lisa "Peru" for hosting me and ridesharing to Lordsburg at the beginning of my hike in April.
-A nice couple in a van that gave me some snacks at Cumbres Pass. They were curious about the trail.
New Mexico: if it weren't for all the family support I received in Colorado, NM would be the hands-down winner of the state with the most TRAIL MAGIC along the CDT!
–Mark, in the first vehicle to drive past me at Cumbres Pass, stopped to give me a ride to Chama and I found out he lives in Penrose, the town over from my parent's.
–Mary Struever is one of the first to ever hike the CDT and now organizes things in Chama, namely the free loaner bikes.
–Chadi, whom we met at the cafe and gave us a ride back to Cumbres Pass. Later, she hosted us at her house in Santa Fe. I hope she becomes a thru-hiker since she's already built up her Karma fund. Also thanks to her co-worker, Eden, who gave Relentless a ride to the airport.
-Artists Pat & Elizabeth that shared chocolates, crackers and water with me along the Chama River.
-The Trujillo Family CDT water cache…Check out their FB page, they are so great!
-Guys that gave me water along the road near Mt. Taylor, plus Los Alamos family that shared food and water at the end of a long day.
-The Mumms, who maintain several water caches around Grants and also hold packages/give rides. Carol and Hugo are very dedicated trail angels and we all love them.
–Michelle, who gives rides around Grants and does other trail magic.
–Doc "Mac the Knife", whose generosity knows no bounds. Mac hosted me for days during my transition from the CDT to AZT, arranged rides, and took us out to all his favorite restaurants. This was truly one of my best Trail Angel experiences, ever. I think Mac become a long-time friend of many hikers and I'm lucky to have met him. He changed my outlook on Grants into a very positive one.
–TLC Ranch, a family that supports hikers on the road walk north of Pie Town. We shared a nice dinner and night camping on their property. Larry also gave Relentless a ride to and from Pie Town to pick up his tarp at the PO.
-The Toaster House of Pie Town, courtesy of Nita. The legendary place is a must-stop… you have to see it for yourself.
–Cathy of the Pie-o-neer gave me a free slice of pie on our way to Lordsburg. She was a trip to meet in person and even gave me a tour of her house and the shop. Weeks later, I got a free slice of pie from the other cafe, since Cathy's wasn't open.
-The Davila Ranch CDT Rest Facility is a unique stop on the way to Pie Town. I stayed the night (tenting) and enjoyed a picnic (put on by fellow CDT hikers), laundry, shower, and breakfast the next morning. I got to meet Mr. Davila, who is very passionate about supporting CDT hikers, which is why he built this special place dedicated to them.
-Doc Campbells, next to the Gila River, and the family that run it are very supportive of hikers. Mike gave us a ride to and from the cliff dwellings.
-Hunt Ranch provided a cooler in the section just before Silver City
-During Trail Days in Silver City, traveling TA Solo (Nancy Grayson), hooked me up with a bed in a hotel room for the night. She also drove us around town. We reunited in MT later.
–Vanessa and Manda, mother/daughter duo of Silver City, went to amazing lengths to help hikers this season. They even printed TA business cards to hand out to hikers! They maintained water caches, held packages, staged Trail Magic, and gave rides back and forth to Lordsburg and all points of the trail along the way, even venturing up the Gila to provide support. I got a ride with them to and from Trail Days and it was so great to experience their exuberance for the trail.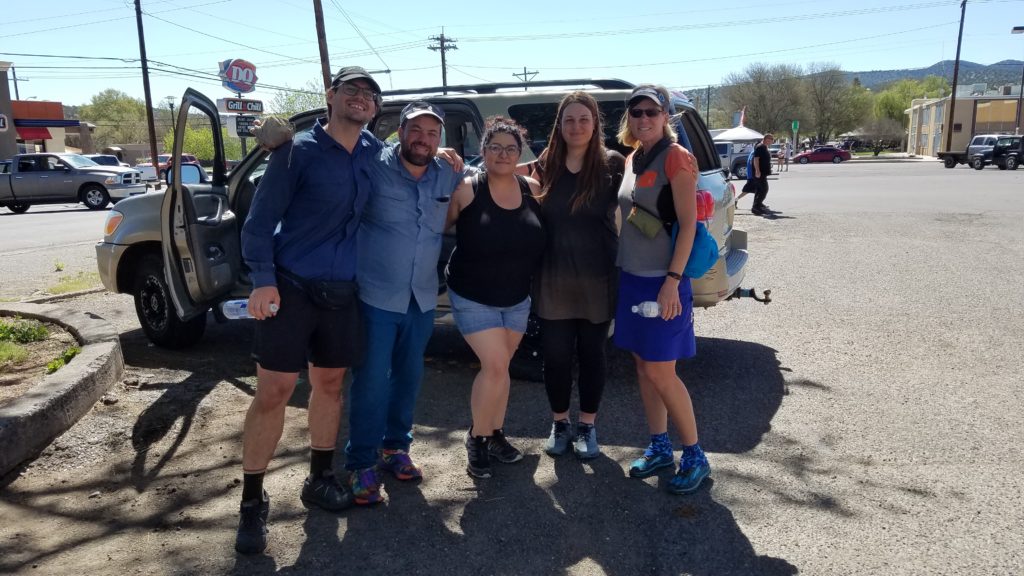 –Big Red Riding Hood had a trail magic set-up (out the back of his SUV) just before the highway into Silver City. Apple was another guy doing trail magic under his signature dome in the bootheel section. Despite this incredibly long list of Trail Angels and trail magic, these 2 guys and Solo were the only ones I met along the entire trail that did what I call "premeditated trail magic", as opposed to the spontaneous kind.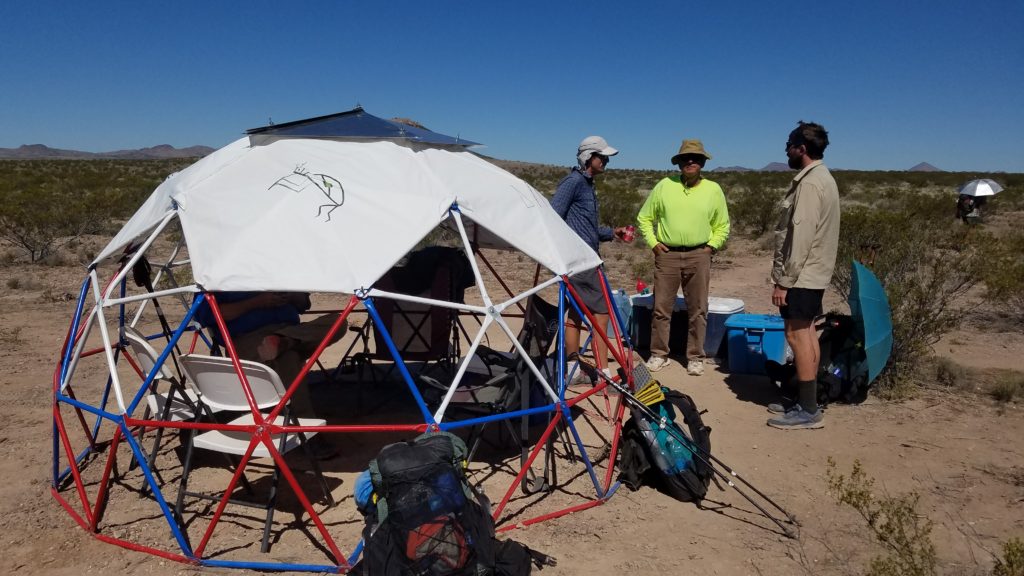 -Fellow CDT hikers Capt'n and Tracy shared their hotel rooms with me, while Capt'n also bought tons of beer and food for hikers in Silver City.
–Radar organized all the chaos of shuttling hikers to the Mexican border and maintaining water caches in the bootheel this spring. He and a few others work as volunteers for the CDTC.
Arizona: gets the award for best trail magic along the AZT…duh. Seriously, Arizona probably out-rivals all the other states in Trail Magic.

-First off, thanks to the numerous trail angels that cached water and other goodies along the entire AZT…I'm not sure what we would have done without these caches…maybe die or drink lots of disgusting cow pond water.
–Leggs, fellow 2019 CDT hiker, bought me a drink on the train to Flagstaff. We had started at the border on the same day but I never officially met him and didn't remember him from the crowd of 15. He recognized me as hikertrash when I boarded the train in Gallop NM.
–Austin, Zoey, and Joe gave me rides all the way from Flagstaff to Kanab. This is the first time I've hitched in the US where I wasn't coming directly off a trail. It went great!
–Lynn and Richard of Kanab, UT hosted me for 4 days. This was a highlight of the trip and I loved every minute I spent with this sweet family. They are incredibly generous and supportive of hikers, plus Lynn is an amazing gardener and cook. I hope to see them again if/when I hike the Hayduke route.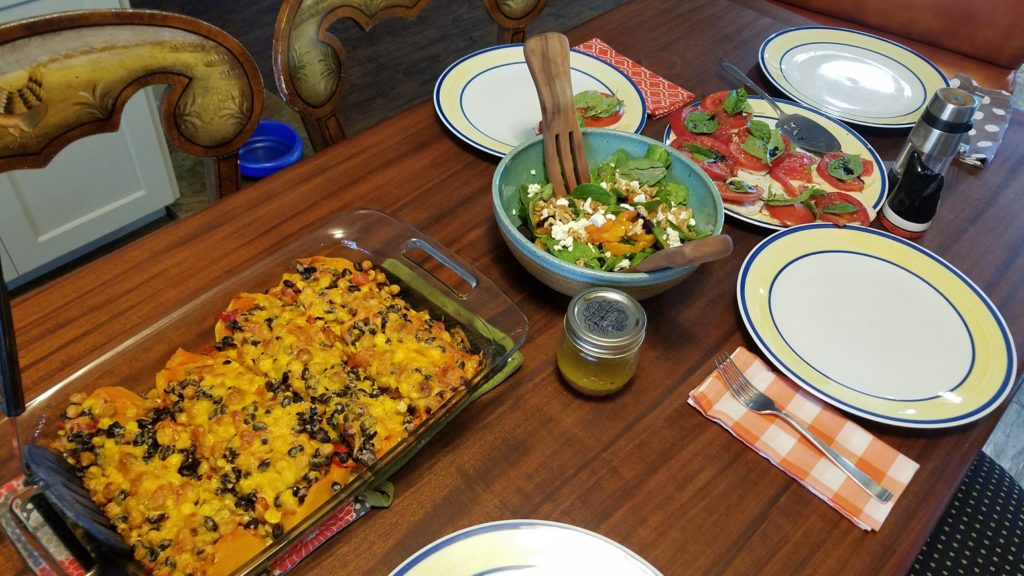 -Stellar and I hitched from Kanab to the start of the AZT. We got one ride from some guys on their way to work and another ride from an adventurous couple in a Sprinter Van.
-We found a couple bags of snacks on the side of trail before Jacobs Lake.
–Chris & Steve, who we met randomly on the North Rim of the Grand Canyon, invited us to stay at their campsite and gave us delicious fajitas and beer for dinner.
-We found 2 free beers in the food storage box at our campsite on the south rim…a great way to celebrate our Rim to Rim crossing of the canyon.
-We found more beer at the Cedar Ranch Trailhead water cache
–Sharon of Flagstaff hosted us and also gave us an incredible tour of the murals and historic buildings in Flagstaff. She is a very inspiring person and I feel lucky to have met her. She made our visit to Flagstaff a very unique and memorable experience.
-We met one of Sharon's friends, Mackenzie, randomly at a pub, where she spontaneously bought us beers. We got to meet her lovely family too.
-Some dayhikers gave us muffins at a trailhead
-We ran into Valerie at a road intersection, where she had set-up her campsite. As we were walking by, she called us over to share beers, water, and lots of treats that she had made herself. She is the coolest grandma I ever met.
–Matt, a fellow AZT hiker, "secretly" bought us lunch in Pine. We didn't even know he had until after he left and the waitress brought the receipt.
–Ray and Julie in Pine hosted us at their cool place, complete with a yurt, treehouse, fire pit, hot tub, chickens and a dog. Ray cooked us special biscuits and gravy for breakfast.
–Jon and Laurel are my personal friends and long-time Trail Angels. This time, Jon picked us up at Beeline hwy for a restful nero and zero at their beautiful ranch. I stayed with them after the PCT 2018, too. I have just loved my time spent at their place….it's what made me want to return to Arizona. I can't thank them enough for all their hospitality.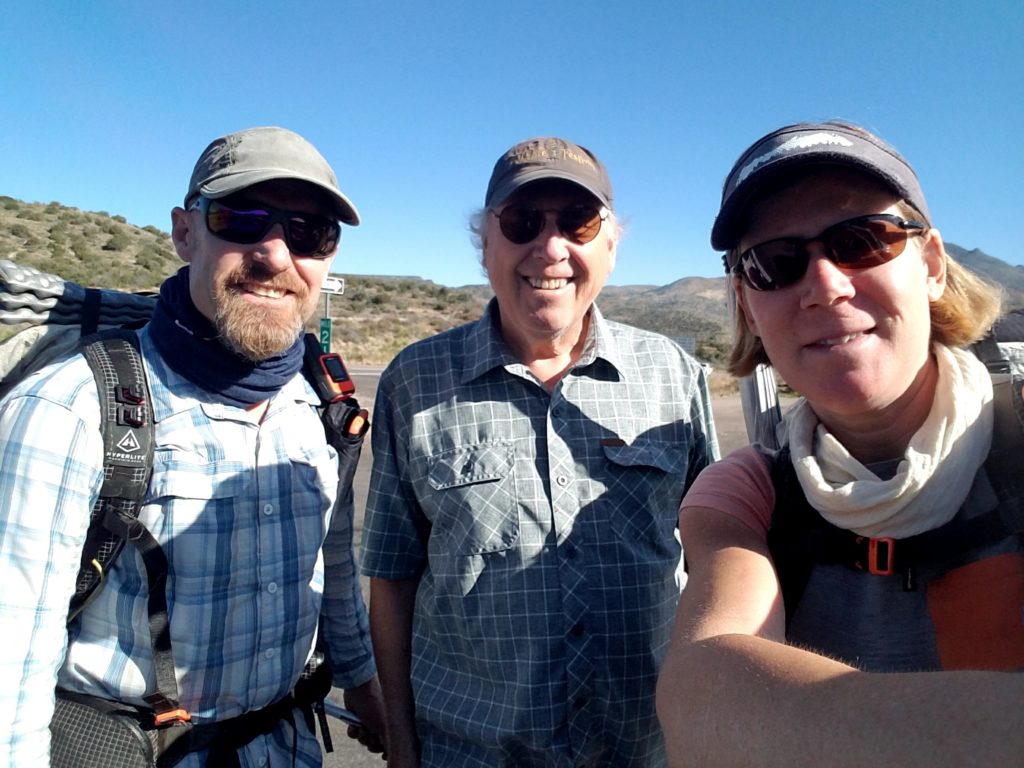 –MJ & Al hosted us at their house in Superior. We felt a very special connection to this sweet couple and are so inspired about how they have gone out of their way to support hikers. I want to hike the Grand Enchantment Trail (GET) just so that I can visit them again.
–Marney and Jim run the Chalet Village Motel in Oracle, giving hiker discounts, providing lots of free amenities, and replenishing several critical water caches. Marney generously provides rides to and from several point on the trail…such great supporters of hikers!
-The general store in Summerhaven treated us to free hot chocolate on a very cold day. It was just what we needed!
-Brothers Kevin and Tim gave us a ride to the Safeway in Vail. Mark, who Stellar randomly met in line at Starbucks, offered us a ride back to the trailhead later that day. Thanks guys!
–Pat, who offered us assistance through the FB page, delivered 2 gallons of water to a trailhead south of Vail, just for us! We benefited from numerous public water caches but it felt so special to find one specifically with our names on it…perfect timing too since I was pretty low on water.
–Relentless sent a care package to me in Patagonia, which served as my final resupply for 2019. It was great to have all my favorite junk food for my last days on the trail.
–Deborah and Brent, a Phoenix couple that we met at the Gathering Grounds in Patagonia, bought us dinner when we randomly ran into them again that night. We ran into them again the next morning while having breakfast. It was great to get to know them for a bit and we hope we convinced them to start thru-hiking.
-For the second year in a row, Jon picked us up at the border to finish our thru-hike. He also brought us beers, bought lunch in Sierra Vista, and hosted us for 4 days. Since the GET starts/ends in Phoenix, I think a future visit to my BEST PERSONAL TRAIL ANGEL is in store again.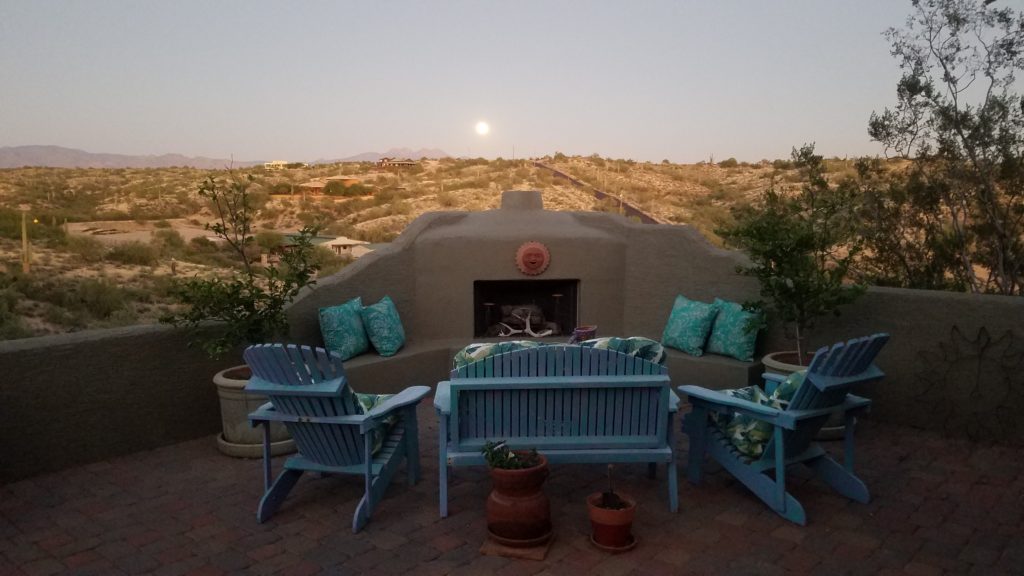 Thank you to all!