This is a summary post on my gear and stats from my 2019 thru-hikes, combining both the CDT and AZT, since I didn't change a thing about my gear in between. In fact, I've barely changed a thing from my previous 3 thru-hikes.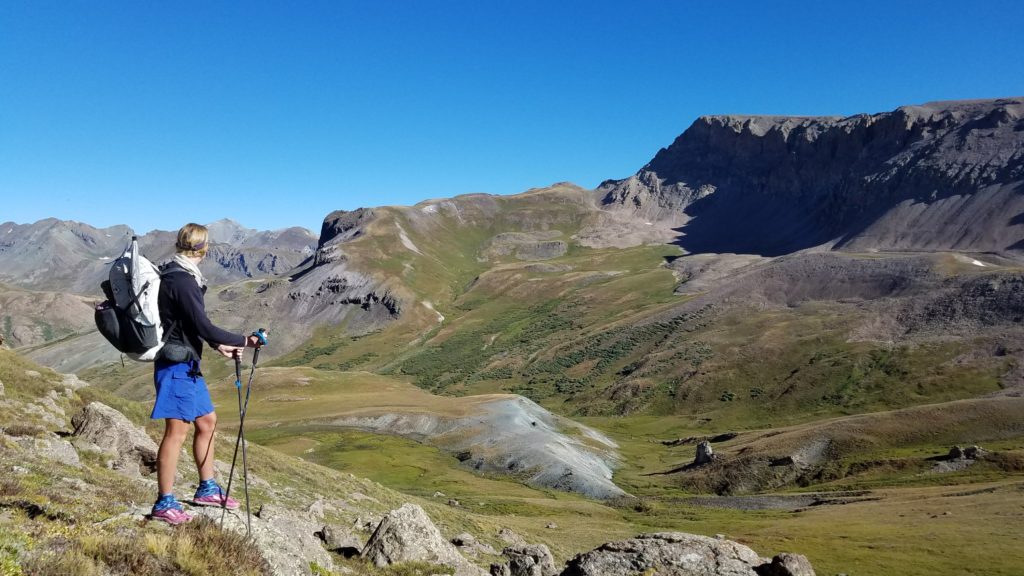 I carried a bit heavier gear in 2019, mainly because I expected some rain and colder conditions. I wasn't wrong about this. The CDT is high-elevation and therefore a colder and somewhat wetter thru-hike. The AZT was dry but also quite chilly at times, given that we were above 8000 feet during many parts of the trail and also approaching the end of October / beginning of November. I needed my 22 degree quilt and women's Thermarest Neoair Xlite mattress most every night.
As for layers, I wore a Patagonia R1 crew as well as a Gore Goretex rain jacket most every morning and night, sometimes all day. I also wore my down puffy in camp and on a few occasions, while I was hiking. I had to wear my sleep leggings to hike in some days, too. There were times I wished I had even more layers but the above-mentioned set got me through with minimal excess weight.
Starting (and ending) Baseweight: around 13 lbs.  I switched out / added / and got rid of some items after New Mexico, mostly to cope with the cold. But I pretty much stuck with all my same basic items.
Gear I lost on the trail: none
Shoe swaps: 5 pairs, Altra Superior. 1st pair 3.0 blue: Mexican border to Grants plus day and section hikes in Colorado; 2nd pair 4.0 purple: Canadian Border to Leadore ID (630 miles); 3rd pair 3.5 purple: Leadore to Breckenridge, CO (960 miles) ; 4th pair 3.5 pink: Breckenridge to Grants, NM (730 miles); 5th pair 3.5 pink: the AZT (800 miles)
Least used item: bear spray that I only carried while in Glacier National Park
Gear failures: none really
Gear that still looks / performs like new or well-enough: Katabatic Gear Alsek, titanium spoon (indestructible), Vargo Bot 700, Montbell Ex Light Down Anorak (puffy), Women's Neoair Xlite, BRS stove.
Gear (mostly) destroyed through 3500 miles or more of use: Trew Merino Pocket T, Smartwool PhD underwear, Purple Rain Adventure Skirt, Evernew hydration bladder, Sawyer Squeeze, 2 pairs of socks.
Gear on it's last legs (meaning I might squeeze at least one more thru-hike out of it): Backpack, tent, rain skirt, camp shoes, Zpacks food bag. I've already purchased a new tent and pack to replace the old but am still using them for section hikes.
Top awards for performance and durability:
Zpacks Solplex tent: far outlasting the warranted 1 thru-hike, this tent has now been with me on the Colorado Trail,  AT section hikes, Te Araroa, PCT, CDT, AZT, and Long Trail of Vermont…that's over 9000 miles folks! We've had well over 400 nights together in all kinds of crazy conditions. Sadly, this tent is really starting to show it's age/use. The floor is not very water-tight and I'm having to tape over lots of micro-holes in the canopy. Still, it holds up in a rainstorm. Zpacks no longer makes the Solplex, instead it has been replaced by the Plexamid. The Solplex will hopefully be able to finish the Triple Crown with me and then I'll probably retire it. SOLPLEX FOR LIFE…I wish.
Therm-a-Rest NeoAir XLite air mattress. I used my women's Xlite because of it's higher R-value (3.9). I've now had this mattress along for the CDT, AZT, Long Trail, and Colorado Trail, with not ONE hole or leak. For the AT, I plan to use a NeoAir UberLite (which I used on the CDT for part of New Mexico). I found that pad to be a little too cold for the CDT but I'm hoping it's perfect for the AT…saves me a few ounces.
Black Diamond Distance Carbon Z and FLZ Trekking poles. I have 3 sets of these poles: 120 cm Carbon Z, 110 cm Carbon Z, and 120 cm adjustable Carbon FLZ's. I've used all of them for my thru-hikes, settling on a set that is a mix of one 120 fixed length and one 120 adjustable length (for use as my tent pole). I couldn't say how many miles is on each pole at this point but I do know that I have never broken one. I have replaced the tips and straps numerous times but these poles seem indestructible. I like that the tips and straps are quite easy to procure and replace. I just purchased a new set of Black Diamond's carbon running poles, which are not fold-able or adjustable but come in at an amazing 3 oz per pole! I can't travel with them but will enjoy their ultralight weight for local hikes. I haven't found that I need to adjust the length of my poles for tent set-up much, so I'm hoping to move to using the 120 cm fixed length poles from now on, forgetting the FLZ poles. Regardless of the length, I think Black Diamond makes the best trekking poles.
Katabatic Gear Alsek quilt: It's a great, dependable 3-season quilt. There's not much more to say. I have since purchased a Katabatic Gear Palisade, which is a 30 degree quilt and slightly lighter, but I still prefer my Alsek. It just seems to hit the sweet spot for me. But I will likely use the Palisade on the AT, just to save a few ozs and avoid sweating to death.
Purple Rain Adventure Skirt: First I hiked the PCT in my blue skirt. By the end, I was impressed that it barely showed any wear. There was no fading, rips or stains. Most people still didn't recognize me as a thru-hiker because my gear and clothing looked too clean. So I decided I should wear it for all of 2019 too. Well, after another 3500 miles, my blue skirt is definitely looking quite used. The AZT was particularly hard on it. All the spiny and thorny desert plants took a toll, leaving multiple holes. There's a hole from a campfire, too. The friction against my pack and other wear points has nearly disintegrated the waist band. But it's still wearable. I have retired it to day and overnight hikes for now. I recently bought a 3rd skirt…it's purple.
Honorable Mention: HMG 2400 Southwest Pack. Arguably a backpack takes the most abuse of any gear because it's constantly exposed to the elements. On the AZT and CDT, this meant a TON of UV light. 12 hours every day for months. Plus all the dirt, rain, friction, and gravitational forces one can imagine. Not to mention assaults by rodents…which thankfully has never happened to my pack (just an assault by a raven). I've known other thru-hikers that had to replace their packs mid-hike…meaning they didn't even last 1 thru-hike! So it's no wonder that my pack's showing it's age after the TA, PCT, CDT, AZT, LT and several other section hikes. The DCF is starting to break down and even shrink, especially around the shoulder strap attachment points. The padding on the back, just above my hips, is worn away. And the shoulder straps barely have any effective padding left. But it still performs as a pack. I recently used it on the Long Trail, where I decided that it should probably be retired. I was hoping it could make the trip on the AT but it's not very watertight any more and the shoulder straps caused me a bit of pain on the first 2 days. Perhaps I'll take in on the Hayduke where I can totally destroy it, once and for all. I'd sacrifice it to the Grand Canyon…if that didn't involve littering. It's hard to say goodby to such a well-used and traveled backpack. It has quite literally become a part of me.