Well, it's finally time to get this journey started!
My stomach is in knots knowing all the steps involved in just getting to the trailhead. I have a 3hr connecting flight from Miami to Houston this afternoon, then a 15hr! flight to Auckland. Through the miracle of air travel, Friday Dec 1st will cease to exist for me, since I'm passing over the date-line. The flight arrives at 6 am Saturday, Dec 2nd. Talk about a red-eye! In my previous travels to NZ, I was flying from/to Hawaii and the 8hr flights weren't near as bad. This will be my longest commercial flight yet (not including a trip on the Copenhagen-New London Coast Guard Express: 24 hrs on a very slow, government-funded C130, with stops in Iceland and Newfoundland to refuel). I plan to pass the time reading, watching movies, and hopefully sleeping!
Once I arrive, NZ customs will have fun sorting through all my camping gear and food…they take biosecurity very seriously, as they should given their delicate ecosystems. Not to worry, I have diligently cleaned and inspected my gear beforehand, even scraping the dirt out of my trekking pole tips! I also value biosecurity.
I will be meeting with a Trail Angel Denis in Auckland, who graciously stores spare gear for TA hikers. He even offered to give me a ride from the airport. How wonderful is that! Honestly, this whole trip would be A LOT more complicated without him. Having spare gear in-country gives me peace-of-mind should anything become lost or stolen. The downside is that my luggage has morphed from one lightweight backpack into two sizable bags. On the upside, I should have less to carry back, having gone through my limited food/drink supplies and several pairs of trail runners.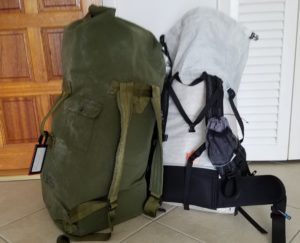 I am staying just one day/night in Auckland (enough time to buy some more food/fuel and I will pass through Auckland again in about 3 weeks), then it's a bus up to the Northland and near to the start of the trek. I hope to be hiking that same afternoon. What a relief it will be to finally be on the trail! At that point, life will be simplified to just walking, eating, and sleeping. I can't wait.