July 31st, 2019
Crooked Creek Campsite mm 1046.9 to Cabin mm 1077.7
Distance in miles: 30.8
0615-1940
I sleep the best night's sleep in a long while. I think I have to do over 30 miles to be tired enough these days. We've noticed a lot of bear evidence around and talked to numerous people that have recently seen them, so you would think that might make me restless. But no. The bears have to sleep too…don't they?
We continue to follow the watershed up to the headwaters, outside the National Park boundaries, then up and over a 10,000′ saddle. The alpine meadows allow views of the Tetons and back the way we've come. We pass 3 NOBOs before 0730 am and then another on the other side of the pass. Otherwise, it's pretty quiet.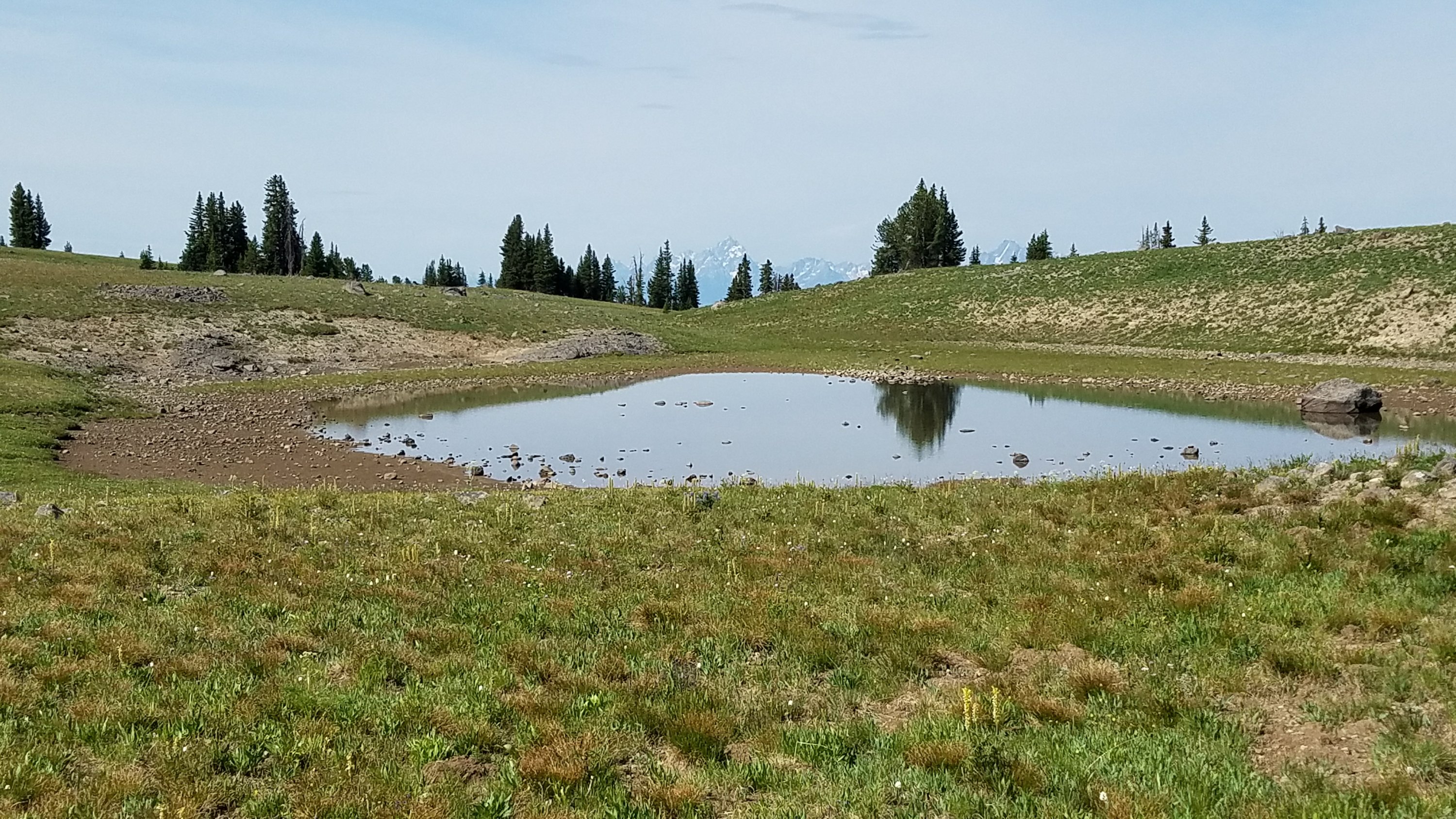 All day, I look long off into the meadows, trying to spy bears. But the biggest animal I see is a mule deer. I also see some smaller oddballs. There are a pair of sandhill cranes in the high meadows. I associate them with the flatlands of Florida, not alpine meadows. Their trumpeting echoes off the peaks and down the valley, making for a pleasant chorus. I also think I see a beaver, no maybe an otter, on second thought, maybe a woodchuck or marmot? I have no idea but it's brown and fuzzy, and then I nearly step on something that looks similar scurrying across the trail.
We have lunch where Two Ocean Creek splits in a spot where supposedly one side all goes to the Atlantic and the other side goes to the Pacific. I didn't even know that creeks split that often and this one just happens to do it in such a place? What are the chances? As for being a good lunch spot, it is not, as the bugs are really bad. I drink some of the magical water, shove food in my mouth and move on. My path continues along the divide for another 1000 miles, not to the oceans.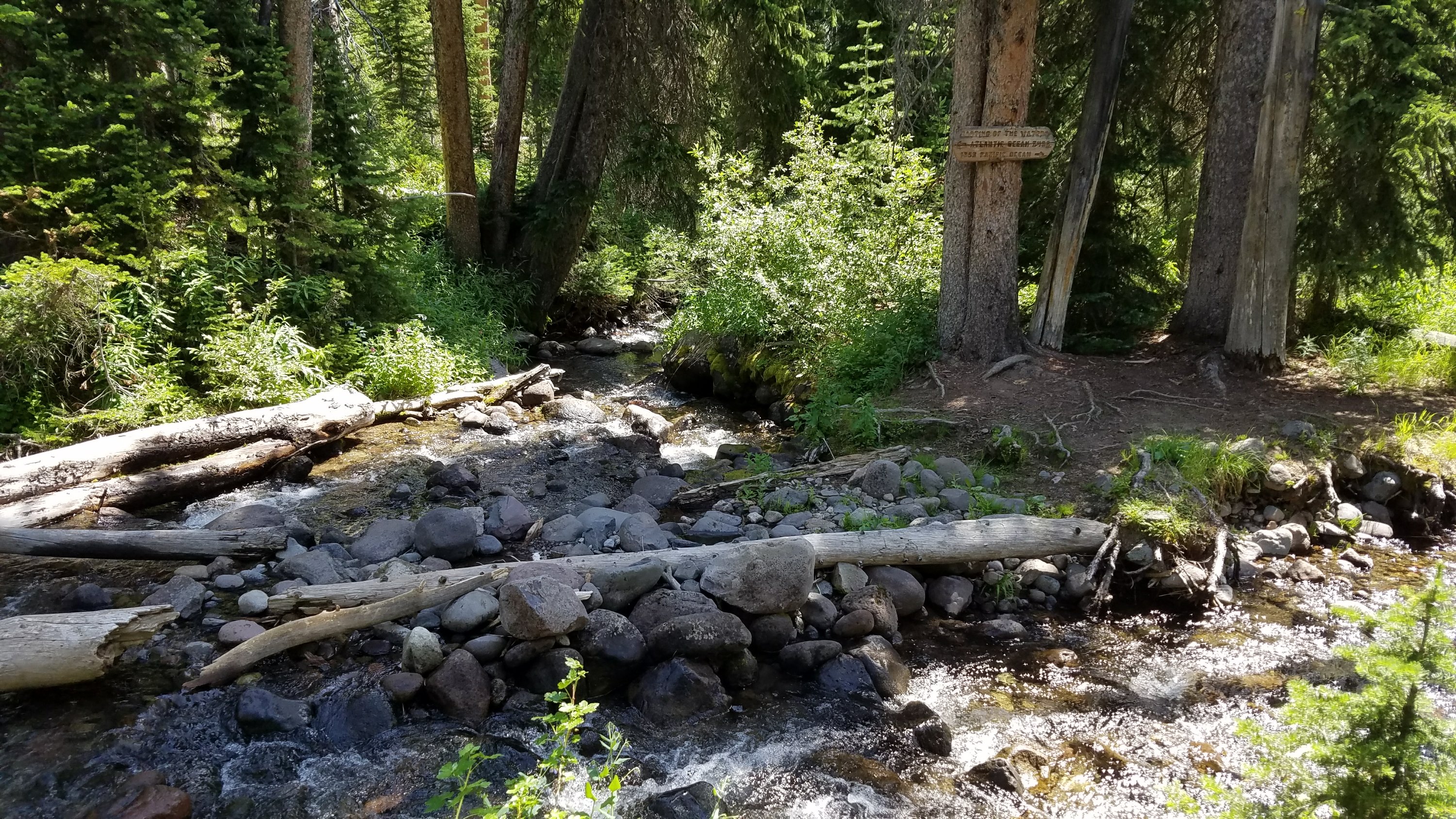 For the rest of the day, the trail is heavily used (and abused) by commercial equestrian groups. We see one off in the distance and navigate around the mud pits they produce at every watercourse. Perhaps as part of such a large enterprise, they might install some culverts or turnpikes to reduce the impact on the watersheds? The flies are also bad, not surprisingly given all the horse poop.
The day wears on, I listen to podcasts, and we take a soak to wash ourselves and clothes during a river crossing. Though it's a shock to the system, I always feel so revived after a cold soak. My wet clothes keep me cool for the last 5 miles and I arrive at camp feeling like I didn't just hike all day in the sun and horse muck.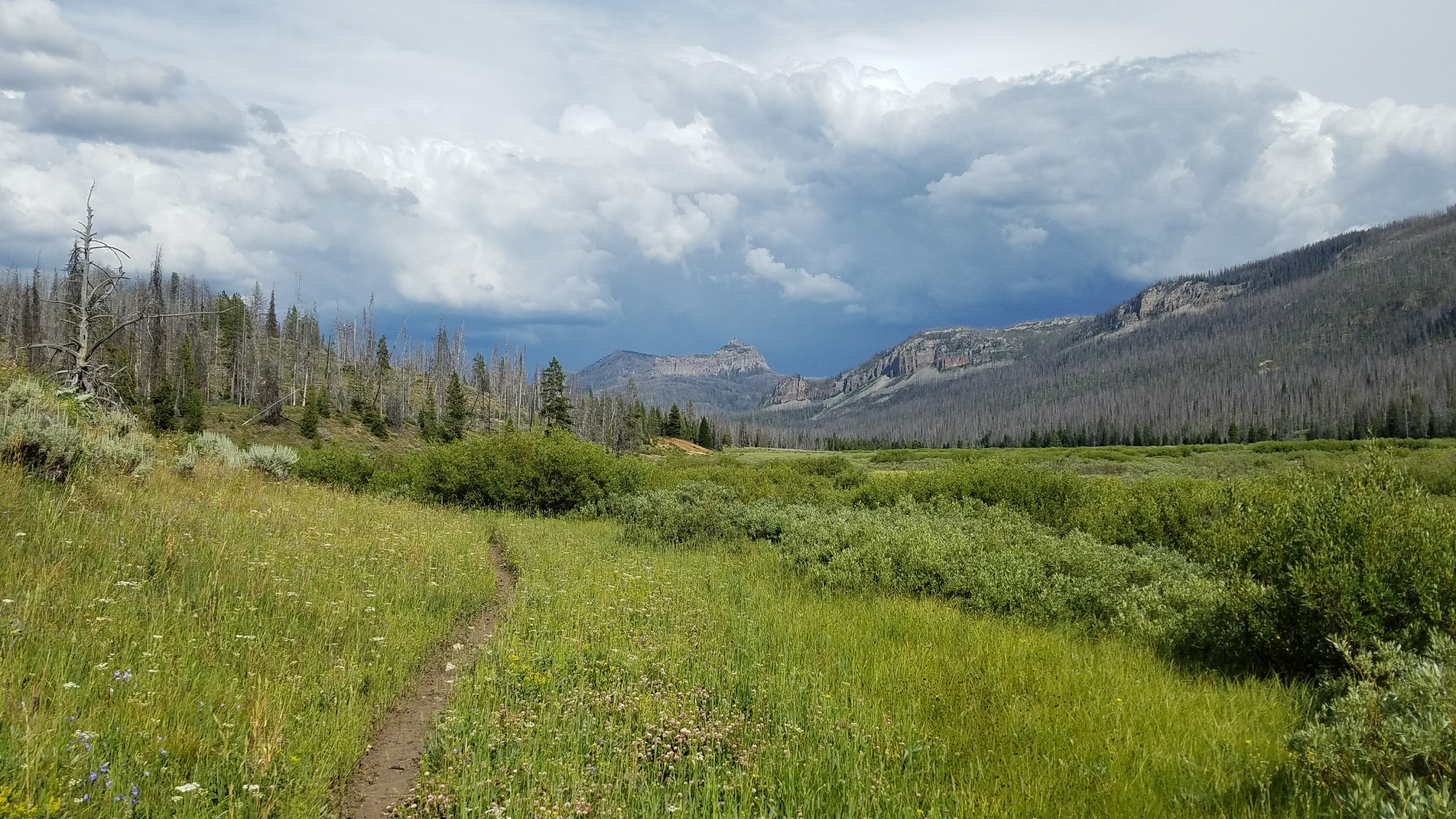 We camp at a cabin in the woods and enjoy it all to ourselves until about 8 pm, when 7 NOBOs come rolling in. Wow, so many people. But then, it's nothing compared to over 100 people a day that I was running into on the PCT. A few of them we recognize from meeting at Grants and they all seem nice, but it's just too late to socialize. We want to wake up earlier than usual to get a headstart into town so we quickly say goodnight.