July 30th, 2019
Moose Creek Meadow Campsite mm 1012.6 to Crooked Creek Campsite mm 1046.9
Distance in miles: 34.3
0615-1940
What starts as a pretty bad morning finishes strong and bright in the end. The mosquitoes are just so bad for the first 10 miles, I'm struggling to find any pleasure in the day. The trail winds above Shoshone Lake and there's not much to see but dense forest, with a few views of the lake.
I walk as fast as I can but the bugs chase me down, latch on, and bite through my R1 fleece and shirt, as well as through the buff that I have covering my face and head. They are so fast and can go through multiple layers of clothing, they are like super-mosquitoes. The night before, my knee was laying against the mesh of my tent and one managed to bite through that and my fleece pants. It was a big mistake to send my head net back home in Leadore. My face actually aches from all the bites. This is about as bad as I have ever experienced mosquito hell.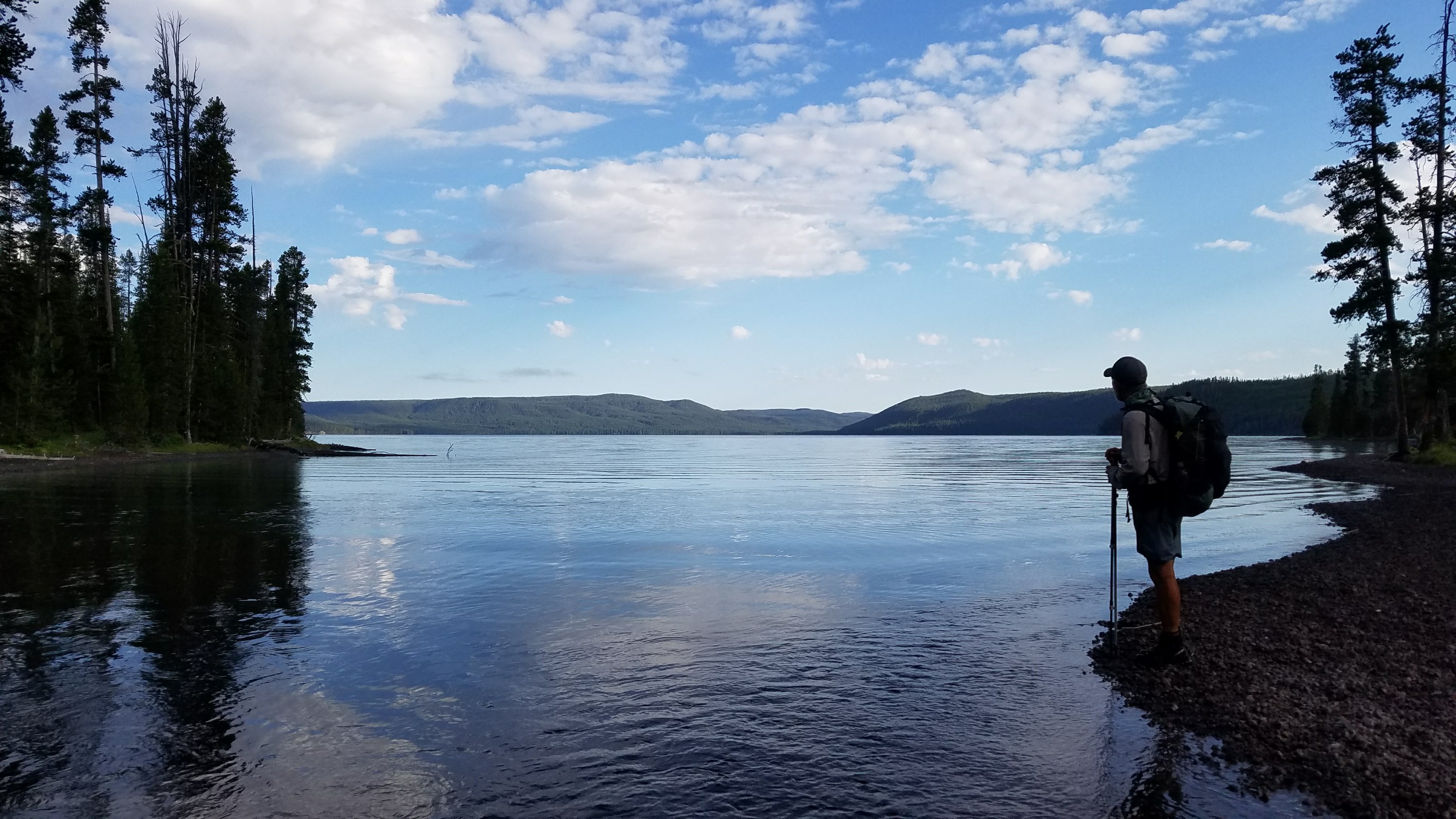 We get to a highway and I finally put some of Relentless's deet on my legs. I don't like to use it because it sometimes makes me feel ill. Instead of putting it around my face, I put on my rain jacket and just suffer through the heat for the next few miles. We get to the top of a hill before Heart Lake when they finally taper off. The area is more arid because of thermal activity and an old burn. A stiff breeze is blowing off the lake. I worried that the whole day would be hell but there's at last some relief.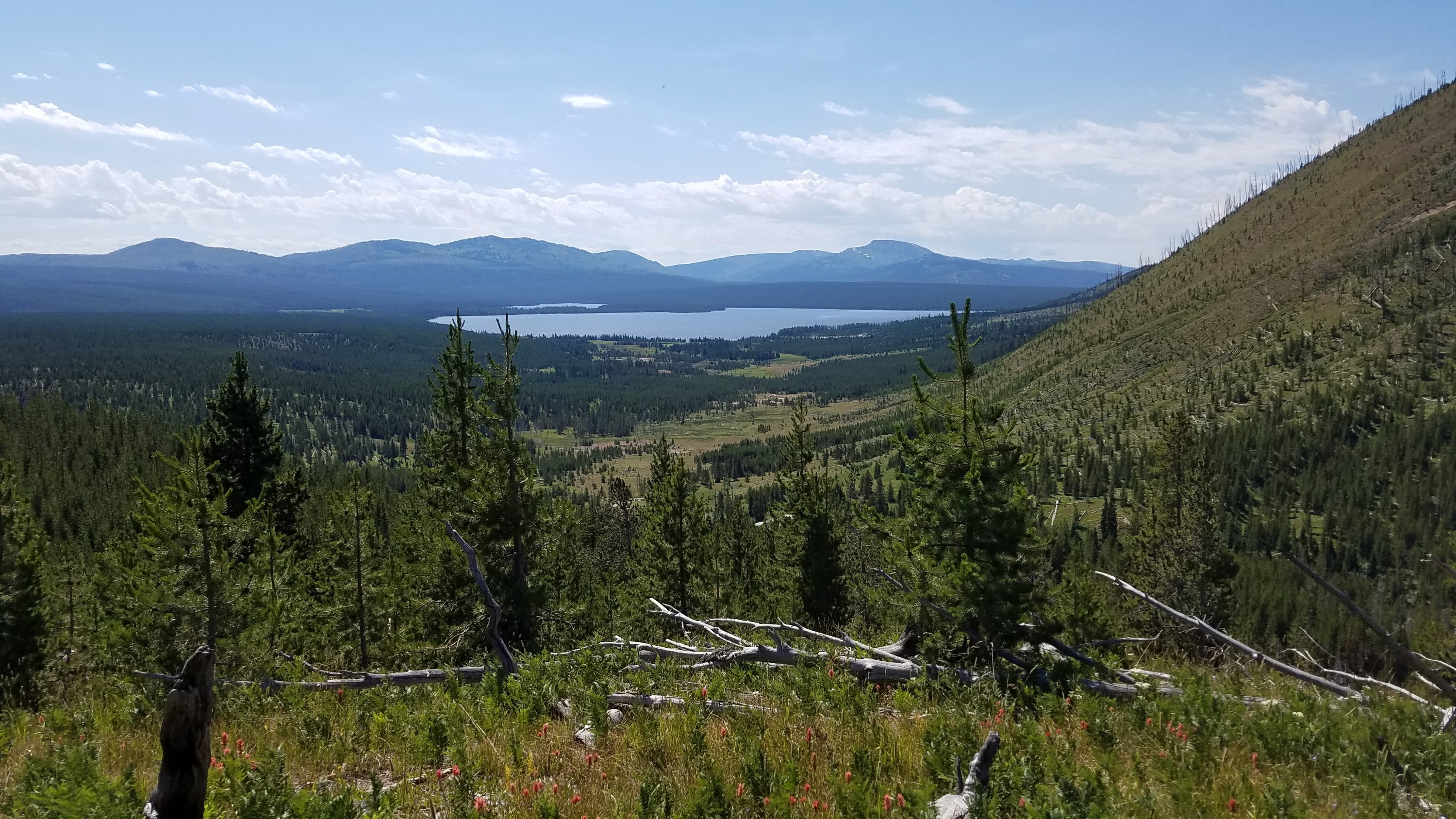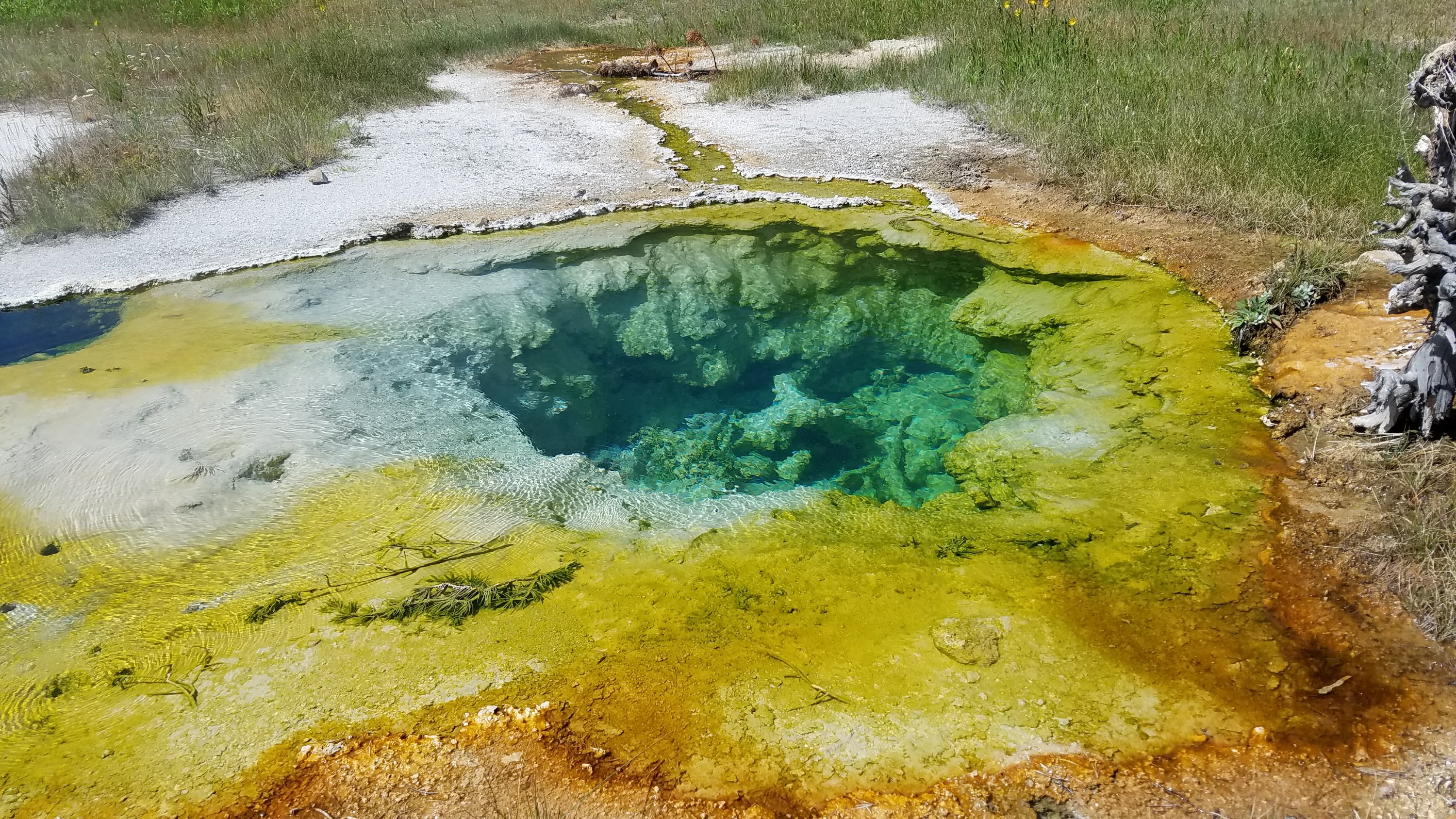 On the way to the lake, I read some comments about one of the streams being hot. We are surprised to find it quite hot and figure it's the perfect opportunity to go for a soak. I get in with all my clothes on and it's just like a hot tub. Imagine how much boiling water must be flowing in from all the springs to make the whole stream hot.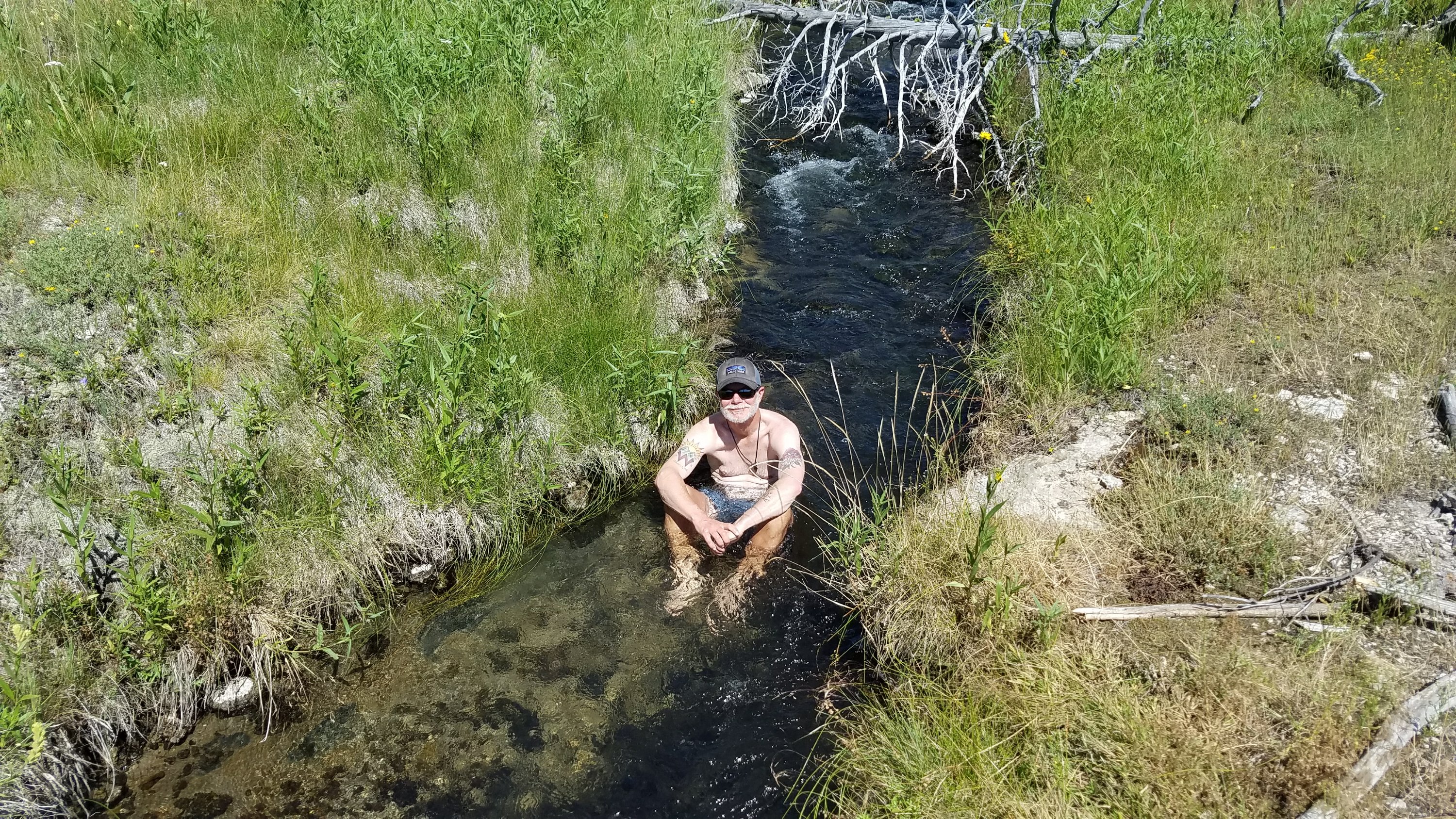 I feel so revived after the hot soak. My wet clothes cool me off in the breeze, to the point that I have to put my jacket back on. We have a great lunch by the lake, watching bald eagles soar above, completely free of bugs. It's enough to forget the misery of the morning and night before. I begin to think Yellowstone isn't so bad after all.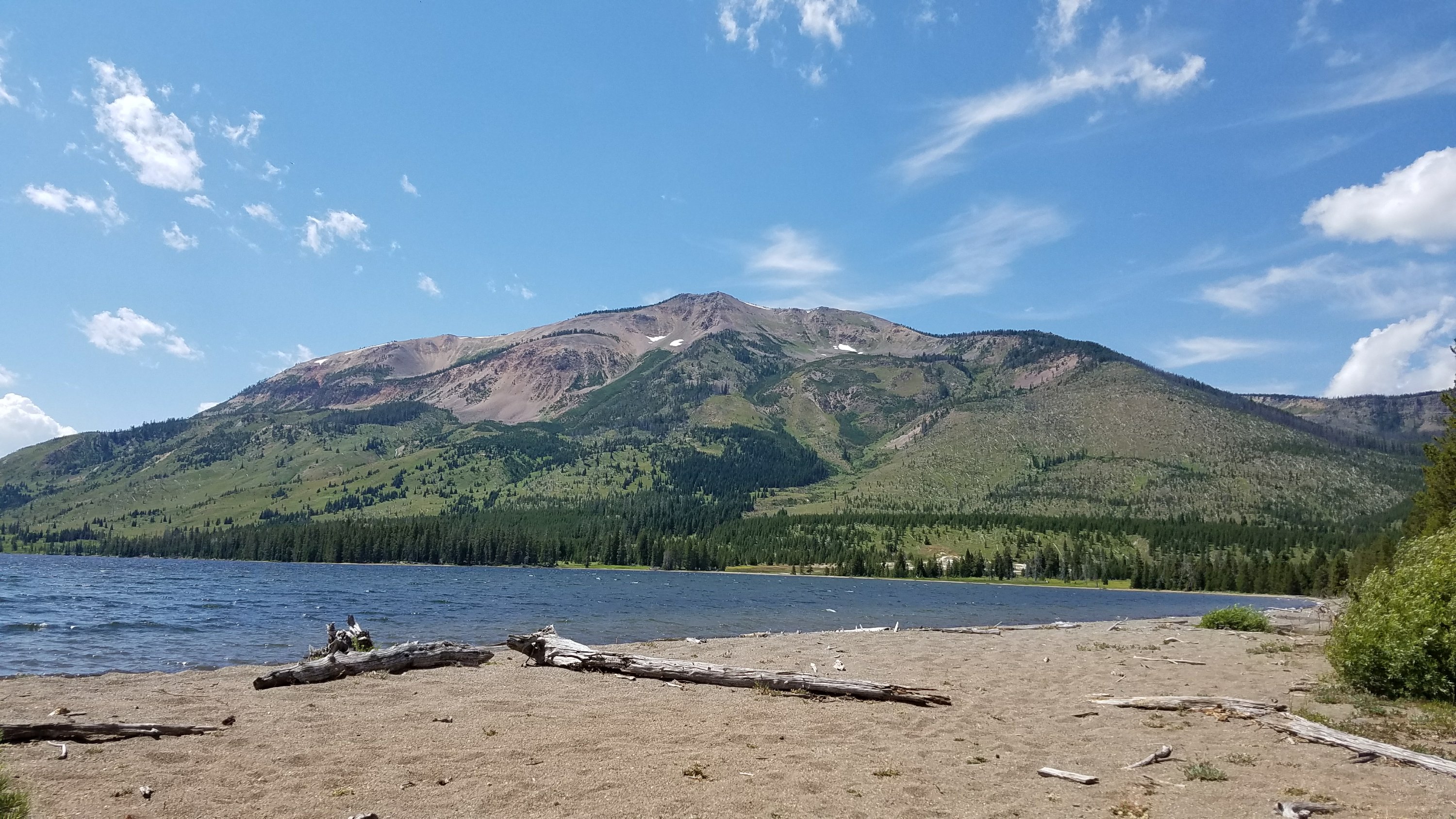 We pass 4 NOBOs by the lake, plus one previously, makes 5 by lunch. I think we have hit the NOBO bubble. Further on, there are 3 more NOBOs, one of which I recognize as Fruit Salad, a lady we met at Doc Campbell's, NM. She is doing awesome and looks so fit. We wish her the best and continue on. Then we run into Caroline, who we met around Pie Town. We chat with her for awhile and she tells us that Open, our good friend from the Gila and further on, should be coming along soon.
In spite of all these stops, we have big miles to do. When I got the camping permit the day before, we neglected to get assigned a 2nd night campsite. I had just figured that we would be out of the park by the second day. When I checked the mileage from the first camp, it was 38 miles to the boundary. That would make it my longest day ever, probably not feasible, but we figured we'd just see how far we got.
We met a ranger by Heart Lake who asked us where we were staying. I told him about the mistake and he was cool. He gave us a choice of sites that were still open and I over-zealously picked the farthest one. So we are trying to do 34 miles…still a huge day.
As we begin the climb to the headwaters of the Snake River, Open appears and runs up to give me the biggest hug. He gives Relentless an even bigger one, picking him up and swinging him around. Open is a really big guy and I am loathe that I didn't get a picture of this funny and heartwarming reunion. We sit down at a stream and have a nice chat about all the big events since New Mexico. It's been a long summer.
Eventually the clock's pull has us saying another goodby. We wish we could just camp right there together but park regs don't allow. It's all uphill the last 5 miles but there hasn't been a lot of elevation change today so our legs feel pretty fresh. Having done lower mileage for the past 4 days also helps. I can't believe I don't even feel tired when we get to camp. Montanaho made us strong. Now if we can just survive the mosquitoes…