July 29th, 2019
Summit Lake, CDT mm 988 to Moose Creek Meadow Campsite mm 1012.6
Distance in miles: 24.6
0500-1820
This post is a guide on how to stuff yourself silly at a buffet and be a tourist for several hours, bookended by a full day's hike.
We are up and on the trail as planned, set to hike 10 miles by 8 am. We use headlamps for about 30 minutes and I am a bit wary of large animals. But we stick close to each other and have faith that there is not much that would bother a gang of 3 hikers.
The sun eventually rises but it seems to get even cooler. I have to put on my gloves for a bit. We descend into the main-attraction valley, with steam rising and mixing with the morning rays. It's a pretty sight. When we get to where all the hot springs begin, we find the boardwalk all to ourselves….the advantages of a 5 am start. I get to take pictures of the attractions without having people in them. How often does that happen in Yellowstone?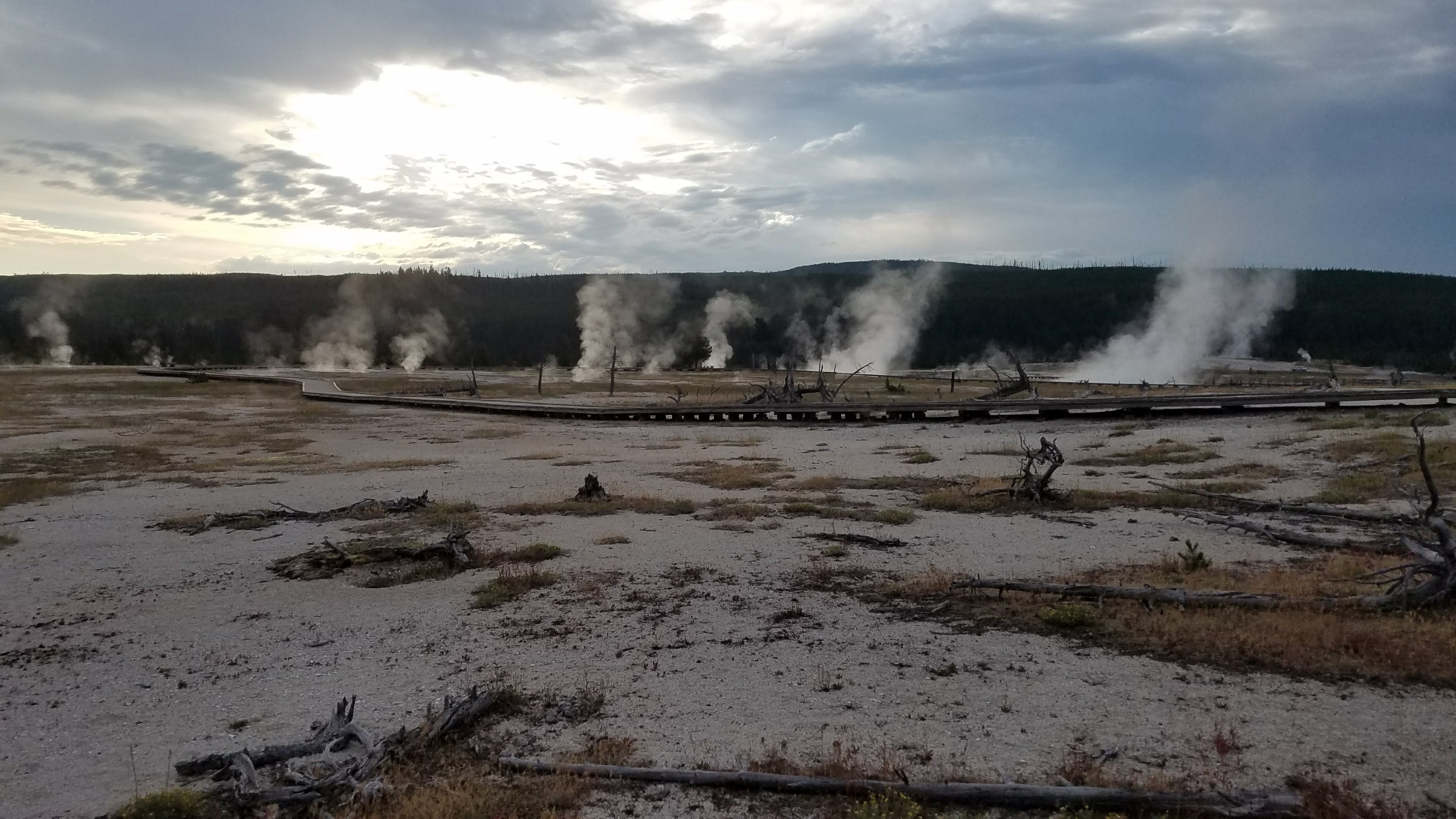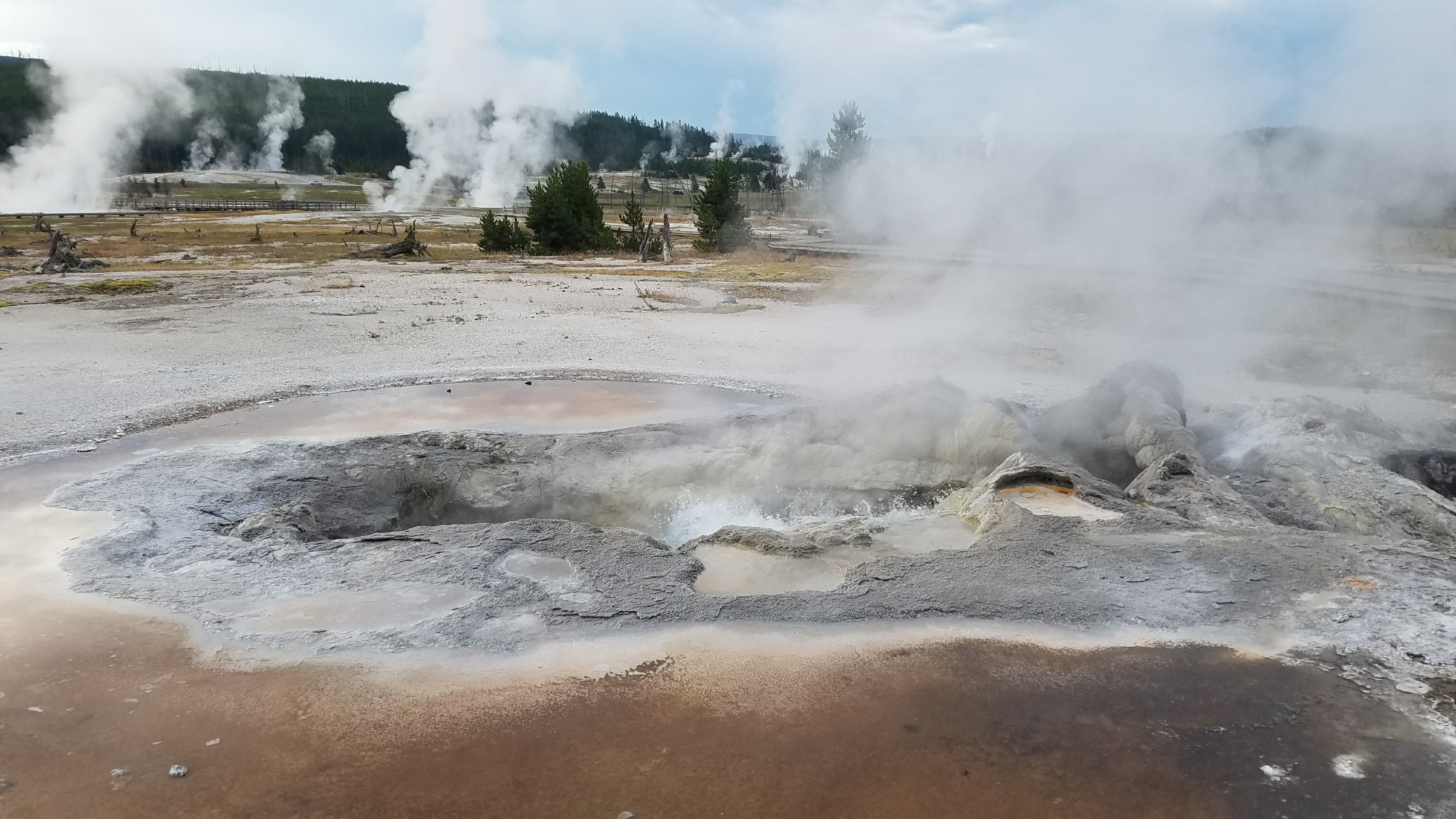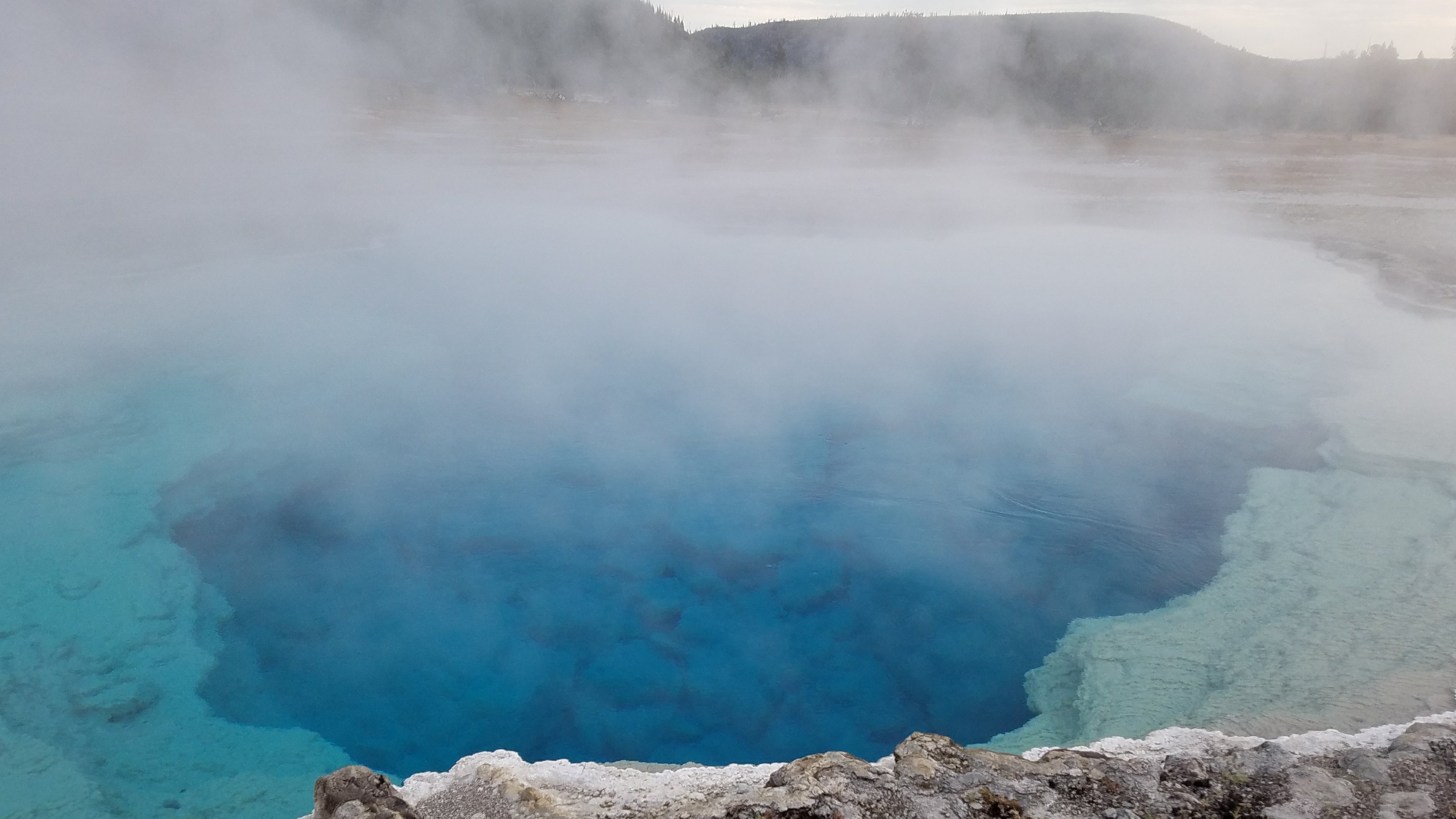 As our tourist mode commences, our 3 mph pace goes out the window. We walk slowly along the boardwalk and take lots of pictures. It's another 2 miles to the visitor's center and lodge. We enjoy the easy walk along the river and hundreds of hot springs. They look like mystic portals to another dimension. We pass several geysers, as well, but none are scheduled to erupt anytime soon.
We make it to the lodge by 8:30 am, still with plenty of time left for the breakfast buffet that ends at 10. I purposefully did not eat anything beforehand and am ravenous. I'm proud to say that I eat 2 bowls of fruit and yogurt plus two plates of eggs, bacon, biscuits, butter, sour cream, tortillas, and salsa. I'm happy with my effort but my stomach is so full it hurts.
It's raining when we finish stuffing ourselves. We go to the second floor of the lodge to hang out, charge stuff, repackage resupplies, sneak some showers, etc. The guys go to the PO and I actually take a short nap by putting my head down on an office desk. I have food coma.
Most importantly, the second floor has a deck on which you can watch Old Faithful geyser go off. We get a front-row seat for the noon showing. I sit next to a hilarious grandma who tells me this is her least favorite park and as for the geyser…she could take it or leave it. They live around the area and have seen it a bunch of times. She also tells me that you have to book a room at the lodge at least 1 year in advance. She gives me the mayonnaise packets that she doesn't use for her sandwich, then I really like her. Score.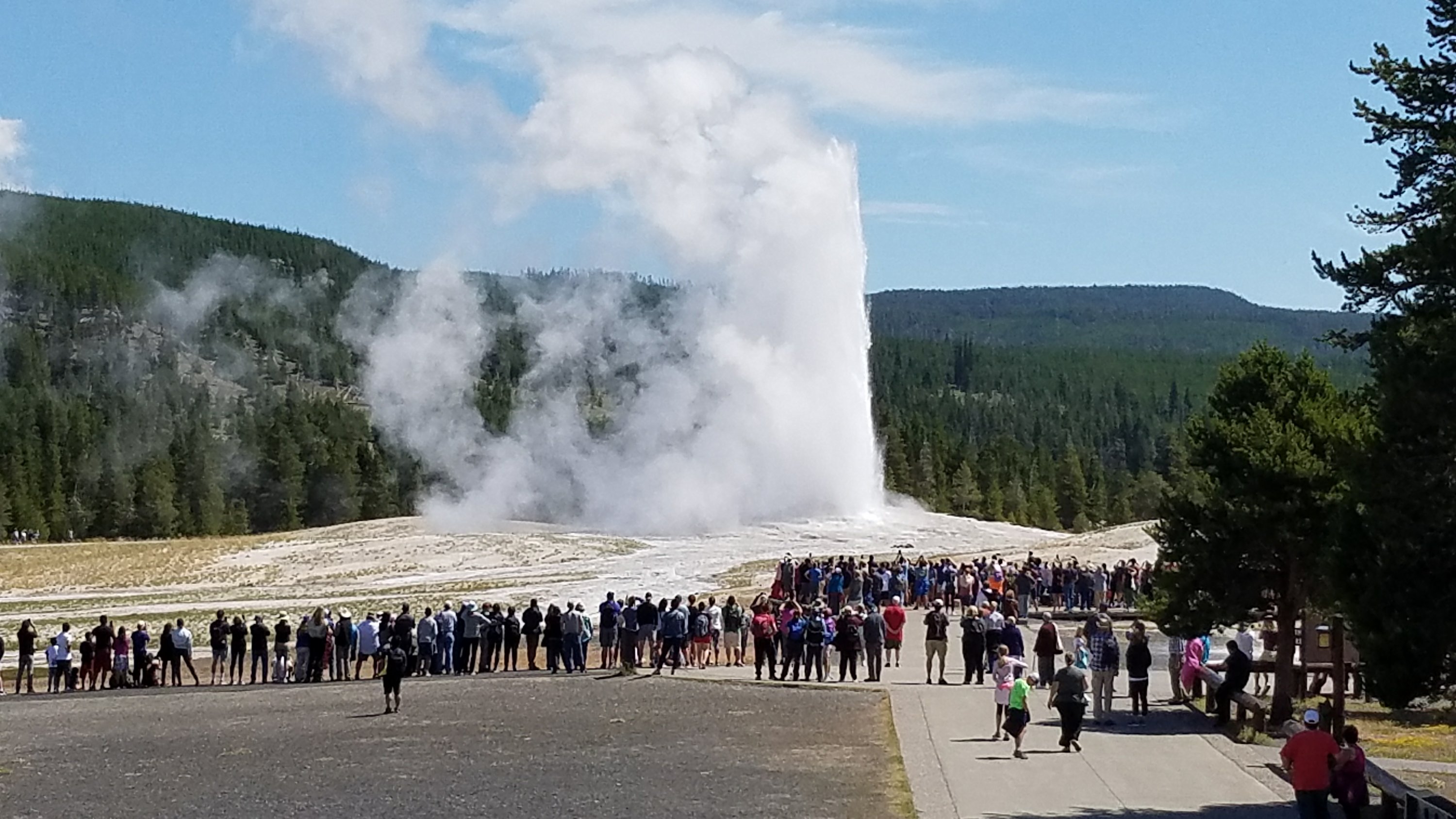 Watching all the people sit around and eat lunch has made me hungry again, even though my stomach still hurts. My poor body, it's so confused. We finally leave to get our backcountry permits for the next few campsites, then buy some more food at the general store. We decide on hiking 13 more miles. I was hoping to go to the visitor's center but the whole place is so crowded, I just want to start hiking again. I consume an ice cream cone for the road and shortly we're all alone in the woods again.
The trail is super cruiser and we make miles easily. We catch up to Samson, who we already said goodby to earlier, but get to do a few more miles together one last time. He is going on a detour to hike the Tetons, then rejoin the CDT. We are heading down the main route, straight towards the Winds. I admire him for sticking to his guns and doing the harder route, as he had always planned to do. But I wish he might have changed his mind to keep hiking with us. He was a great addition to our family for a short time and I will miss him.
We pass some weekend backpackers and one guy has the most ridiculous pack I have ever seen. He has barely managed to get it secured at the top and it sticks up nearly 4 feet over his head. I know, I said I would stop pack shaming but anyone would see this and wonder. Backpacking just should not be this burdensome.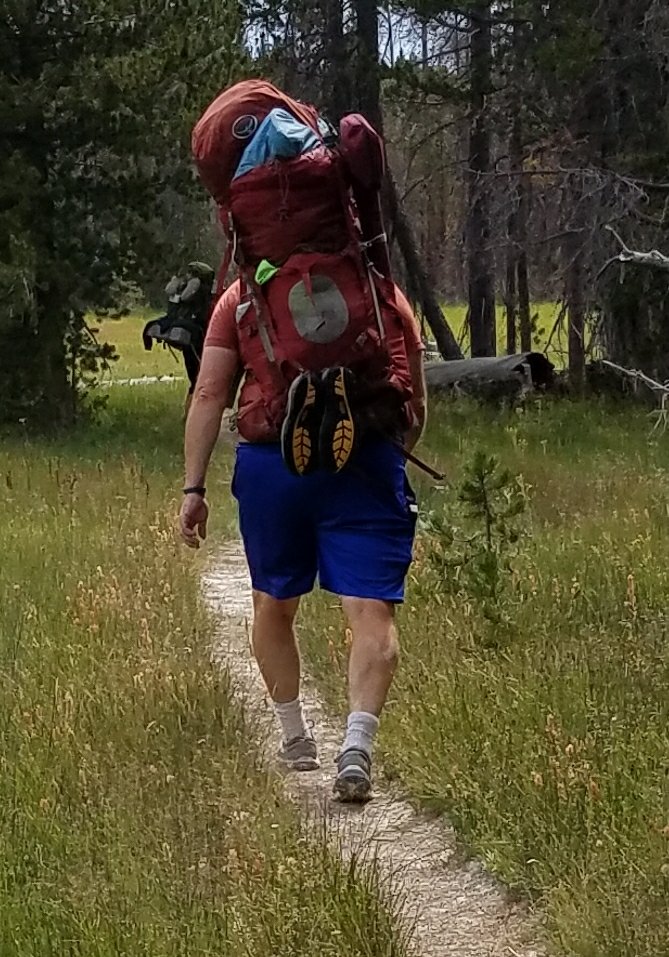 Samson also tells of his grizzly encounter, which occurred just after he left town on his own. He came around a corner to see a momma and a cub. Yikes! She didn't see him and he backed away out of sight, then made a bunch of noise. I still have yet to see a bear since my first day in Glacier.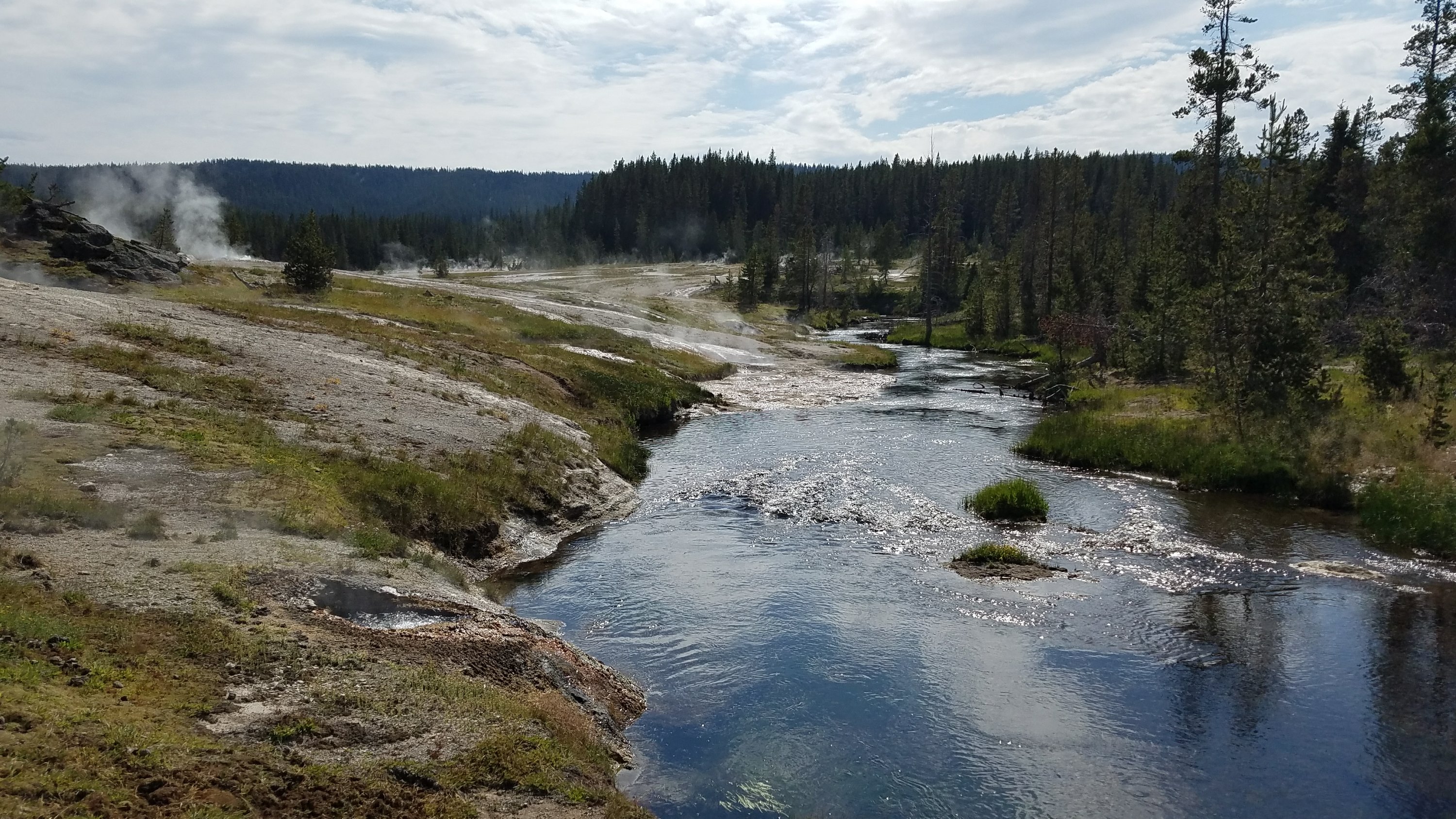 The scenery is nice but the mosquitoes are bad. We pass another hot springs area where the boiling water is flowing into a river. Relentless wants to find a place to soak in the hot river water (which is permitted in the park, just not soaking in the springs themselves because you could die) but I'm afraid to strip down. Rather than spray deet all over, I put on my rain jacket. I do have to spray my legs though.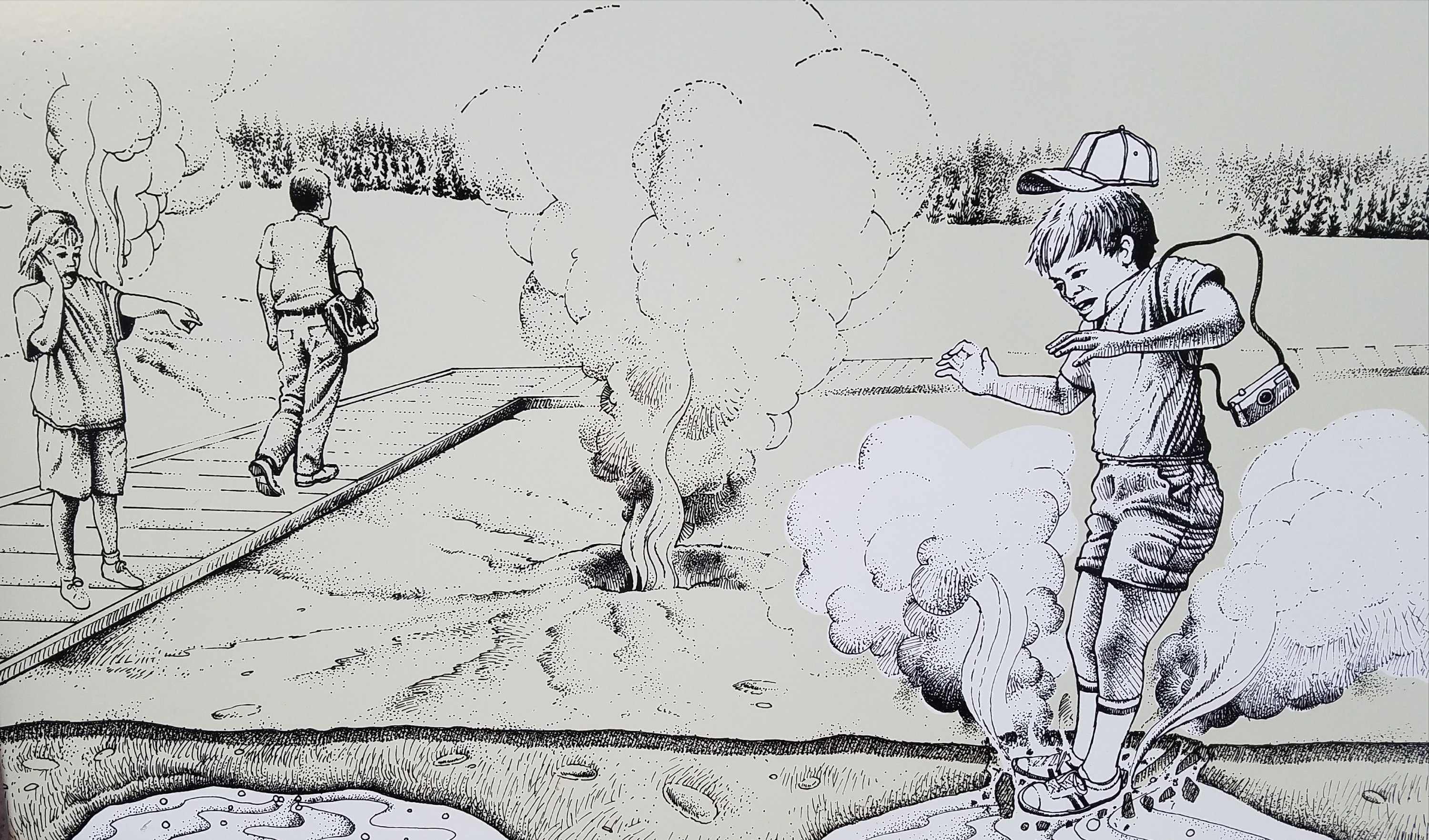 A cartoon depicting the dangers of letting your children stray into the thermal areas…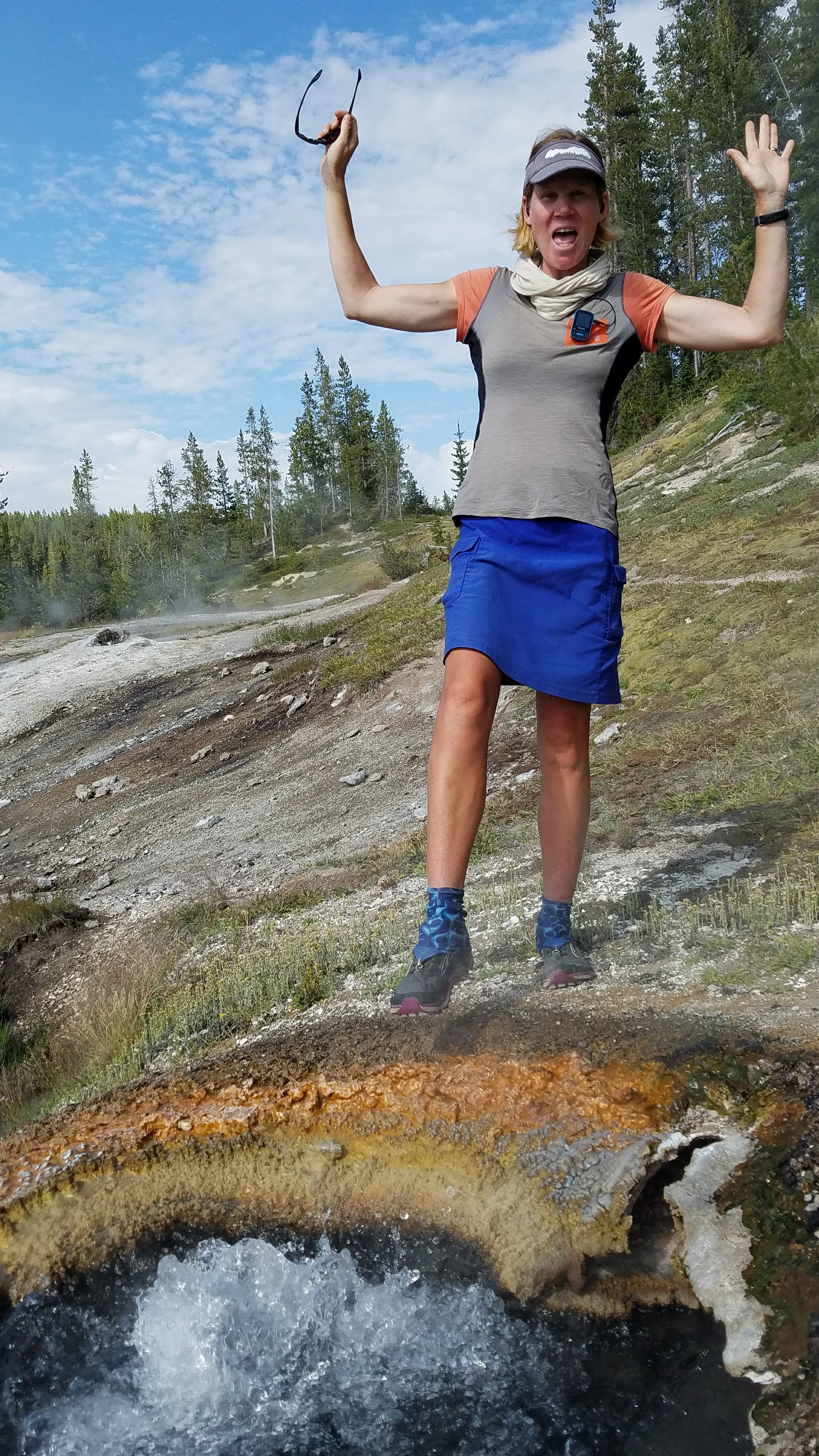 Then said child doing her best approximation of said hazardous thing…hey, this one was right next to the trail and I didn't step off any of the boardwalks! Also, I did not actually get that close nor disturb the crust around it…don't ban me from the park, please!

The trail is great until we get to Shoshone lake and have to walk about a quarter mile through an estuary. The trail designers, in all their wisdom, have built a few log bridges across streams. But it's like putting a bridge in the middle of the Everglades. The whole area is submerged and we have to do some bog snorkeling through knee-deep water and mud. So much for the relaxing stroll along the lake that I had envisioned prior. It does eventually become that, where at least I am able to wash the mud off along a sandy beach.
Then there is an unexpectedly steep climb up the banks of the lake that goes on far too long. The mossies take advantage of my slow pace and are slaughtering me. I'm in a mood after all this, let me tell you. We expect our campsite to be inundated too, and it is. I pitch my tent in record time, do a few laps to shake my pursuers, then dive into my tent, never to re-emerge all night. Yellowstone has some neat features but the mossies sure can ruin it all.