July 20th, 2019
Bannock Pass/HWY 29 mm 747 to Morrison Lake mm 772
Distance in miles: 25
1015-1930
Somehow I feel ok in the morning, despite not a lot of sleep and a questionable diet. I sit on the porch typing on my phone, pondering how it is that I have all my layers on in the middle of July. It has to at least be in the low 40s. Sam's thermometer reads high 30s but I think it's broken. It's cold, period.
After awhile, Sam brings out a thermos of coffee, which is so nice. Then the sun rises over the mountains and all is well. Relentless and I go for breakfast at the store. I get some hot things from the rack and consume them in seconds. The store is full of oddities like beer steins, used crockery, old irons, ammo, pelts, and key chains made of bobcat and coyote tails. Someone mentions something about blasting ground squirrels (the local hobby) and I make the snide comment that there might be fewer squirrels if they didn't turn coyotes and bobcats into key chains. The joke falls on deft ears.
It's time to get out of Dodge and we are back on the trail by 1015, once again thanks to Sam. We split the $20 shuttle ride between Animal and Towny. I am happy to again be away from all the reminders of "civilization." Relentless and I have a discussion about this. He sees it as though we are hiking from town to town. I feel like I am living in the great outdoors and towns are just a necessary evil for resupply and recharging. We spend far more time outdoors but we do break up the trail consisting of sections from one town to another. Hiker blogs can appear to be dominated by discussions of town, making it seem as though we thru-hikers only care about getting from one to the next. It's a complex interplay between wanting to exist in nature and also needing the luxuries of life that we have become accustomed and that only our built environment can provide. Maybe it's a glass half empty, half full thing.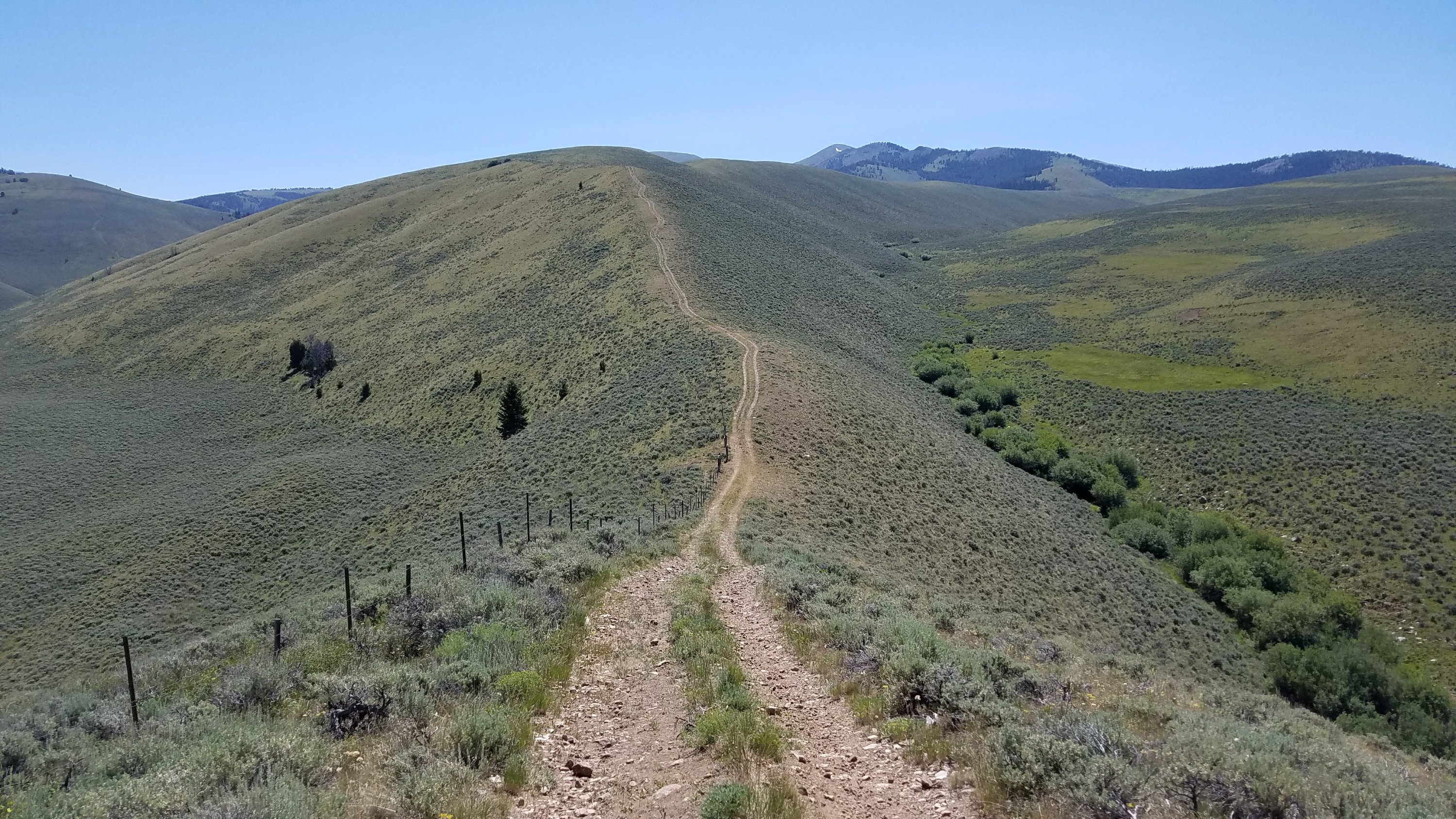 To start our hike for the day, we climb through endless hills of sagebrush along a jeep road. Then a single track trail takes us all the way to the top of Elk Mountain at over 10,000′, our highest point in Montana-Idaho yet. On the way up we meet 2 NOBOs and I ask the stupid question of if we're close to the top. The guy answers "Which top?"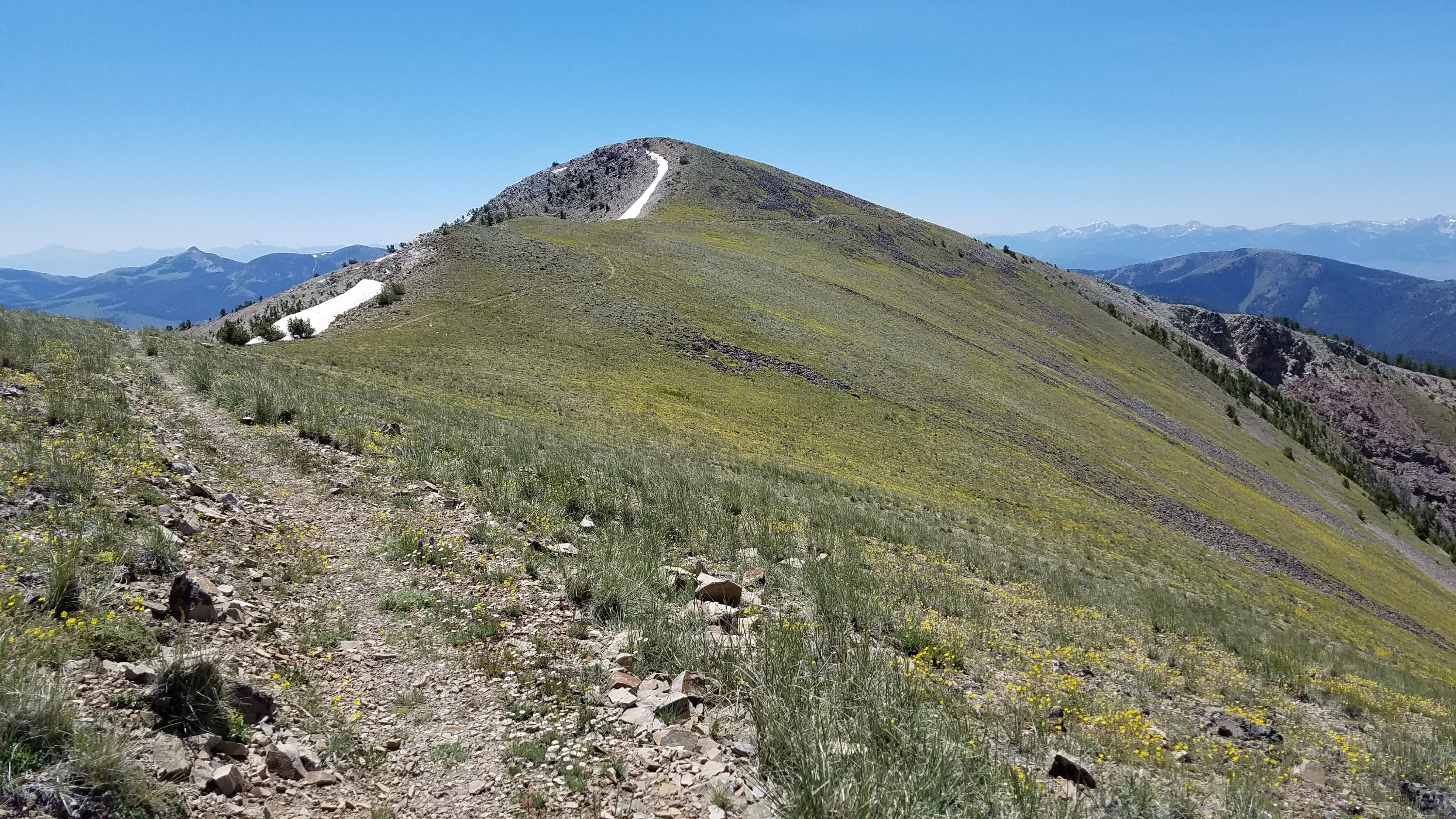 Much much later, when I have exhausted every possibility of bending the space-time continuum, titling the gravitational plane of the Earth and teleporting myself to the top of the many steep potatoes that we climb all day, I see why the NOBO answered my question as such. There are countless tops for pondering quantum physics as I painfully work my way up and down all afternoon. There must be a way to get to the top without physical exertion and suffering. Couldn't I just move the mountains?
Ok, so maybe the lack of oxygen and pelting sun has an effect on me. In the end, I decide that it's the mountains moving me and not the other way around. The vast open expanses are so breathtaking, I am motivated to keep crawling up the steep jeep trails all day. My A-list playlist helps too. Little can stop or even slow me when I have these magic tunes in my head. Relentless tries to keep up but succumbs to a slightly different mountain-moving pace. It's ok, he can still track me moving through the hills from miles away…that's how open it is. Thank heaven it's a glorious blue-bird day. I can't imagine hiking through this area in thunderstorms.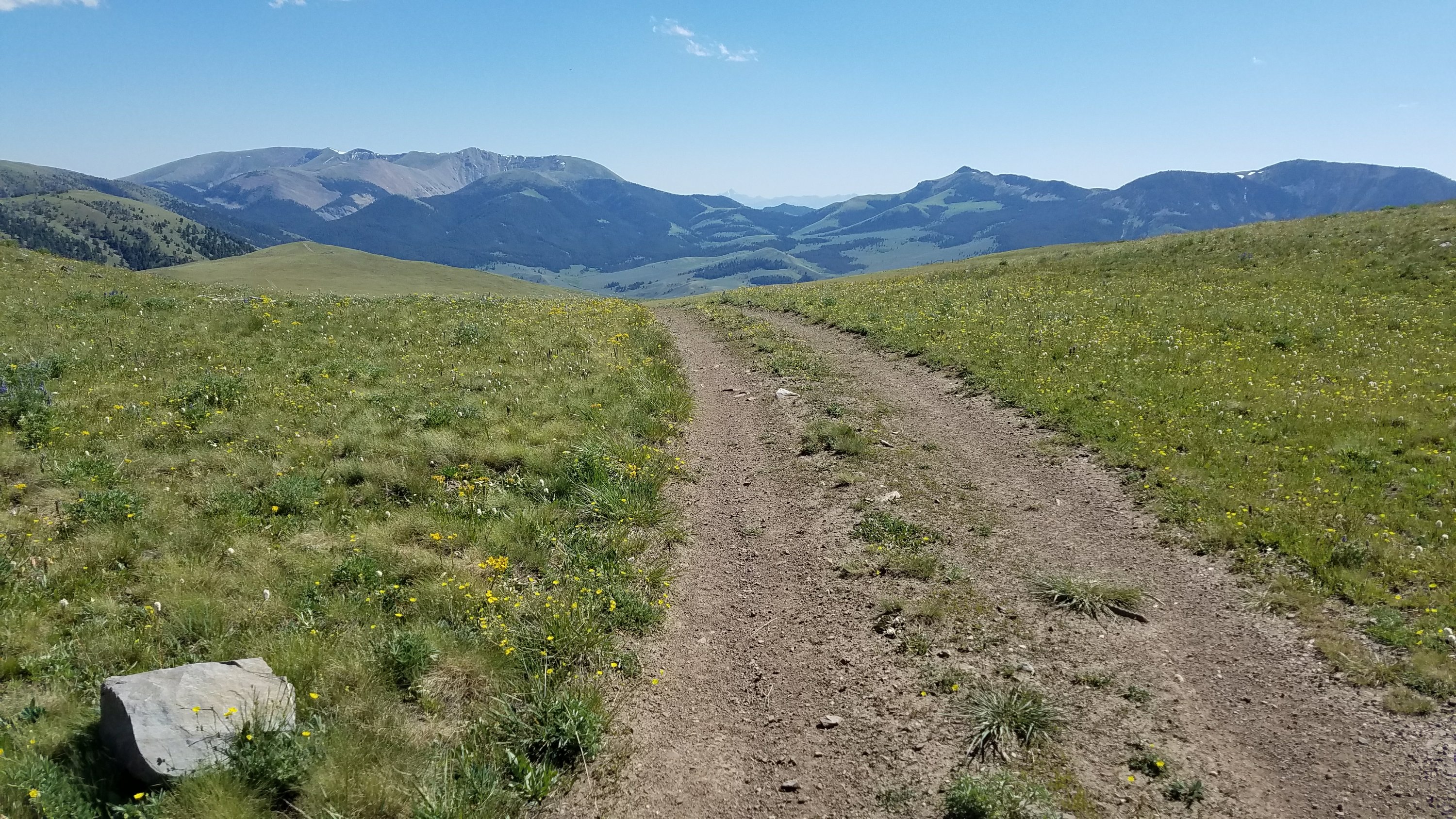 We blast the 25 miles all the way to Morrison Lake by 7 pm…on a day when we wanted to merely nero out of town. Having a lake finish is a well-earned treat. We'll have water and can maybe even go for a cold swim to wash off all the sweat. But I figure it will be packed with visitors, given there's a jeep road to it and it's a Saturday night.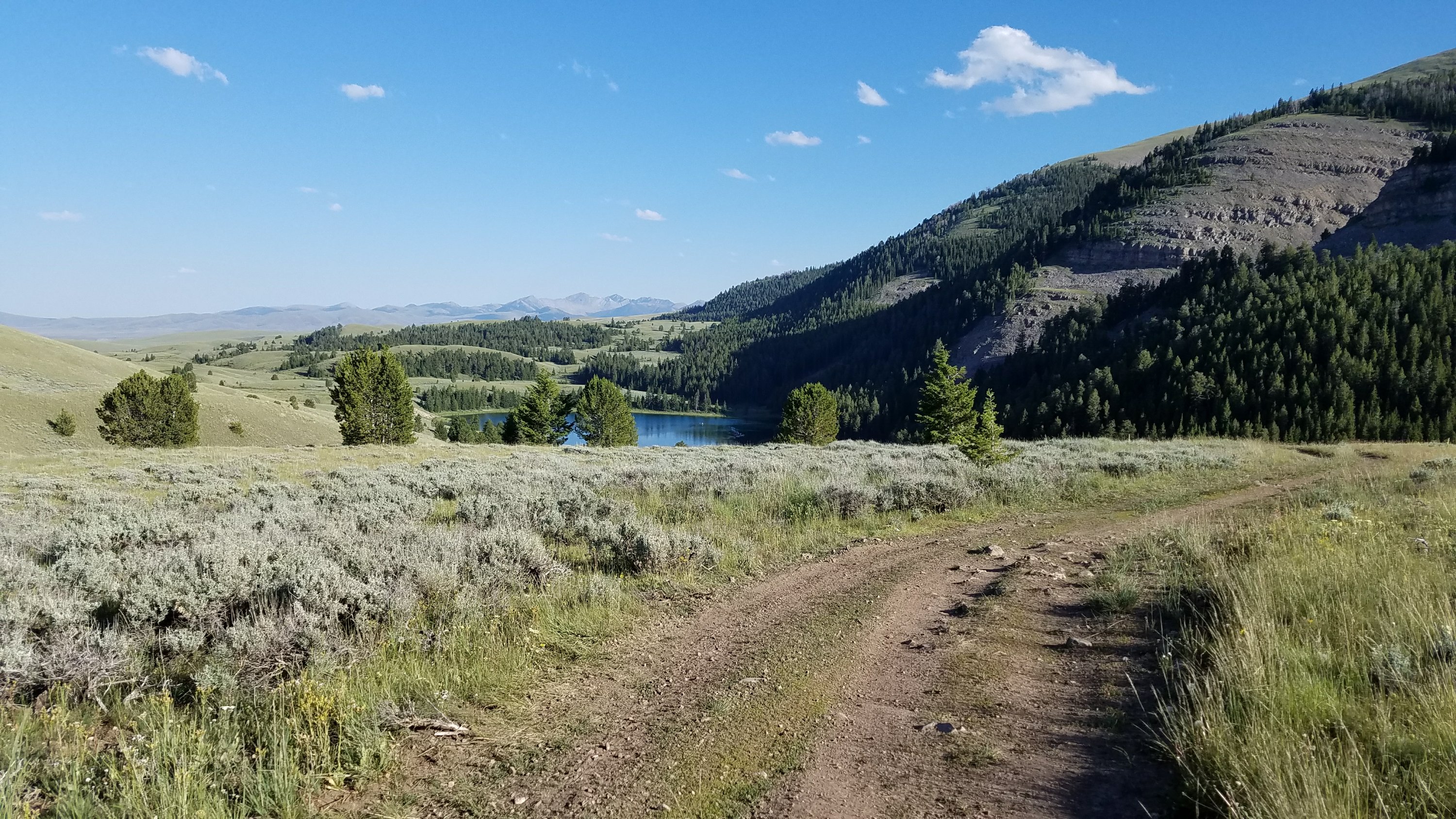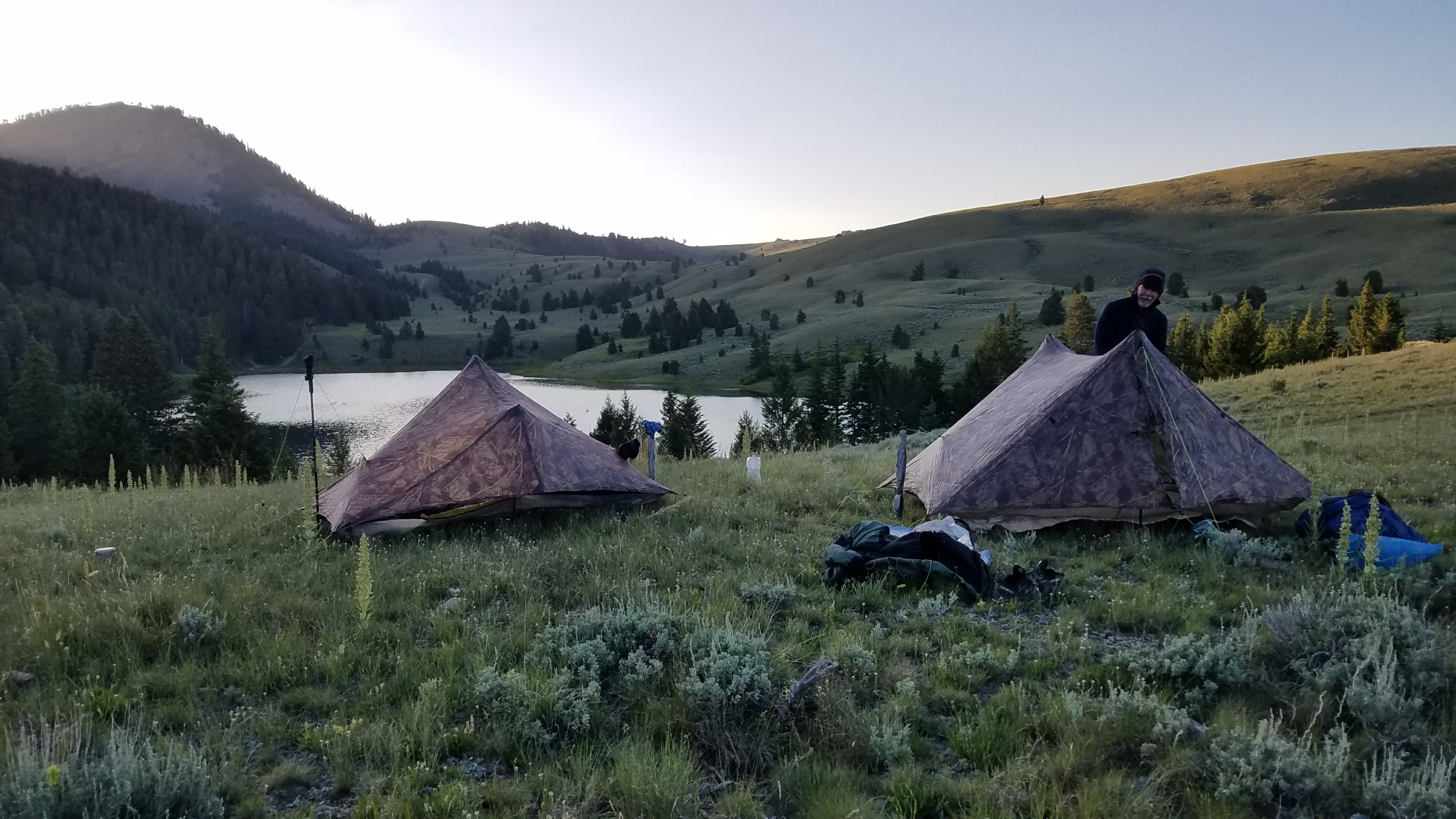 There are a few lake visitors but they all take off just as I arrive. The lake is ours and I go for a nice half-dip. We set up on a hill above, positioning our tents for a view of the lake all night. The light reflects deep purple as the sun sinks and it's a beautiful parting reflection on a beautiful day. I need to catch up on sleep missed the night before, so thank goodness it will be quiet tonight!