July 21st, 2019
Morrison Lake mm 772 to mm 805.7
Distance in miles: 29
0625-1900
I wake overnight to views of the moon reflecting on the lake and the sound of owls training each other the proper sequence of hooting. It's so peaceful. But then my mind wonders to what kind of owls they might be. They sound like great horned owls but could be anything all the way up here. Perhaps my new favorite, the Great Grey Owl.
We linger a bit longer than normal in the morning, reluctant to say goodby to the lake. Then we're winding in and out valleys, up and over saddles, through high alpine meadows with elk, straight up over giant green hills, sidling along steep mountain faces, poking through forests with huge trees, and bouncing along jeep tracks across the sagebrush plains. One thing about the CDT, it's very diverse throughout the day.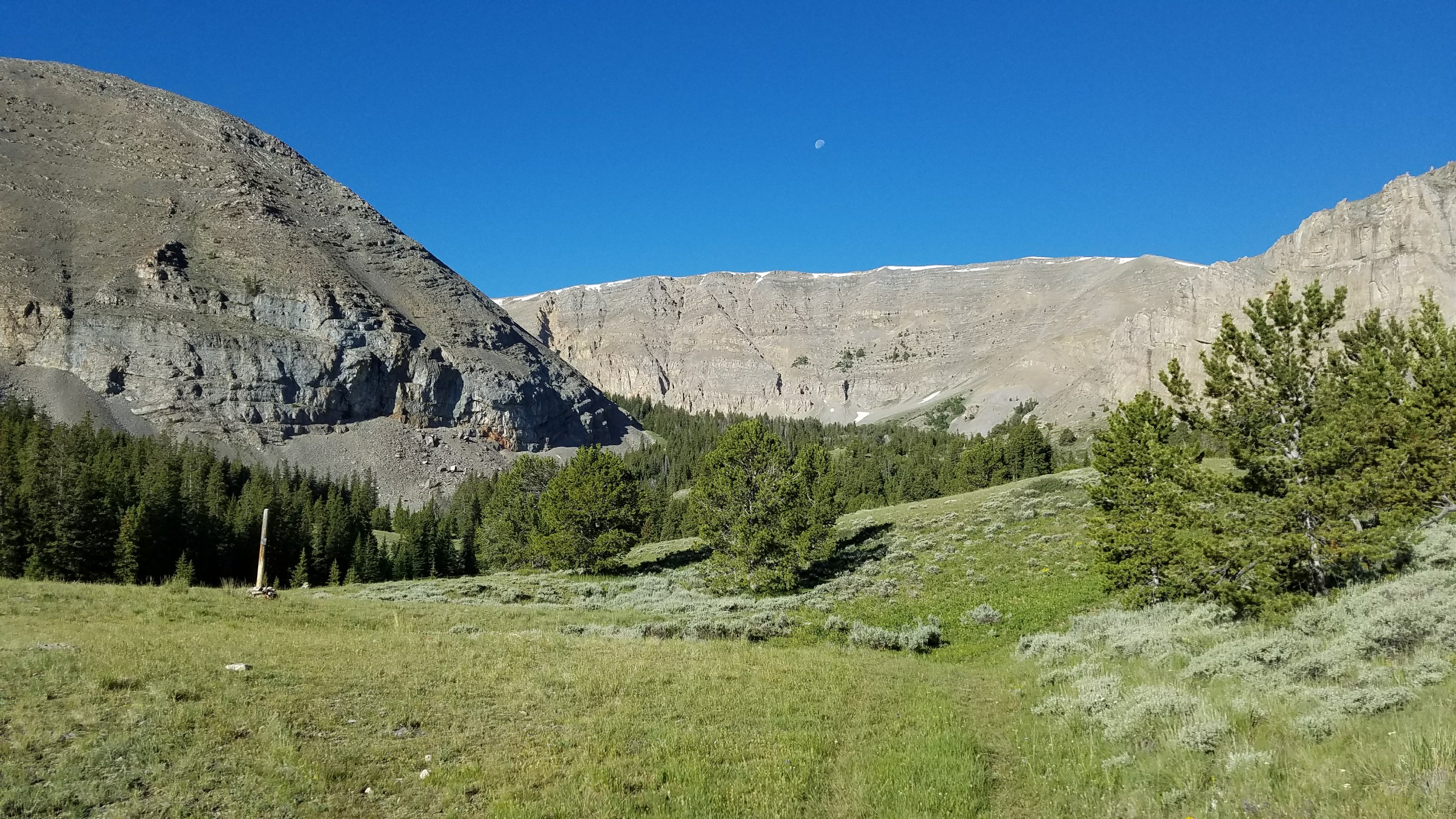 Today sees us route-finding a lot of the time. The trail peters out for miles above the timberline and we just walk across the tundra looking for cairns and markers. Around noon we spy Samson the Bear (a guy we first met in Leadore) going up a huge slope. We follow him but not all the way to the top of the ridge. Since there is no trail, I make up a lower route that connects where an actual trail comes down from the ridge. Bushwhacking is easy above timberline, just so long as you can interpret when topo lines represent cliffs or toppling slopes. Even still, there are some steep spots and I make goat sounds to feel more like the mountain goat I aspire to be.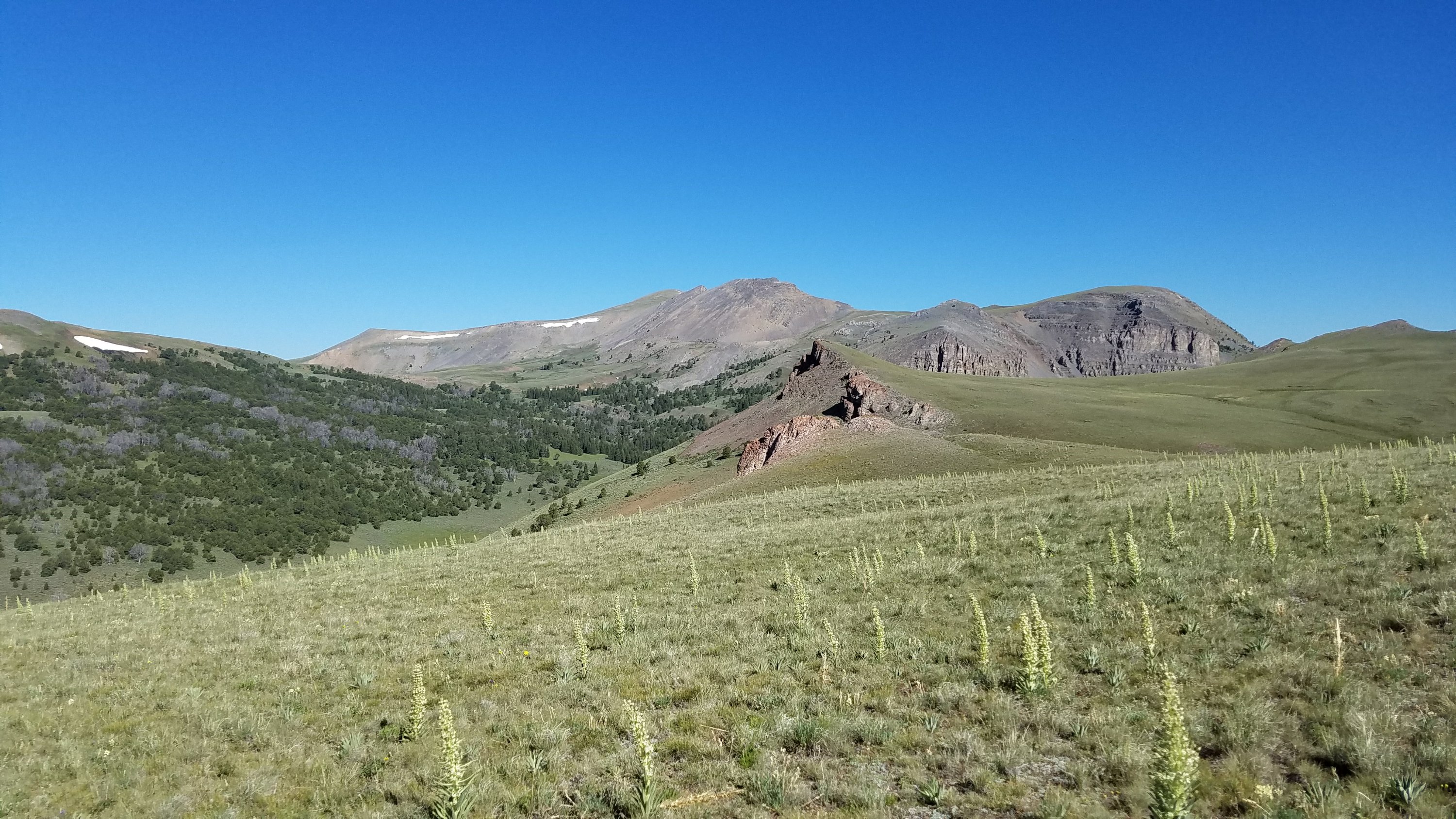 We get slightly ahead of Samson on our short-cut but break for lunch as he catches up. He tells us about another alternate that cuts about 5 miles off the distance for today. It's a series of jeep trails that dump out at Deadman Lake, our planned destination. After searching hard for scant trails and walking broken, uneven surfaces all morning, I am all for the alternate. Plus, we meet a NOBO couple who confirm how great it is.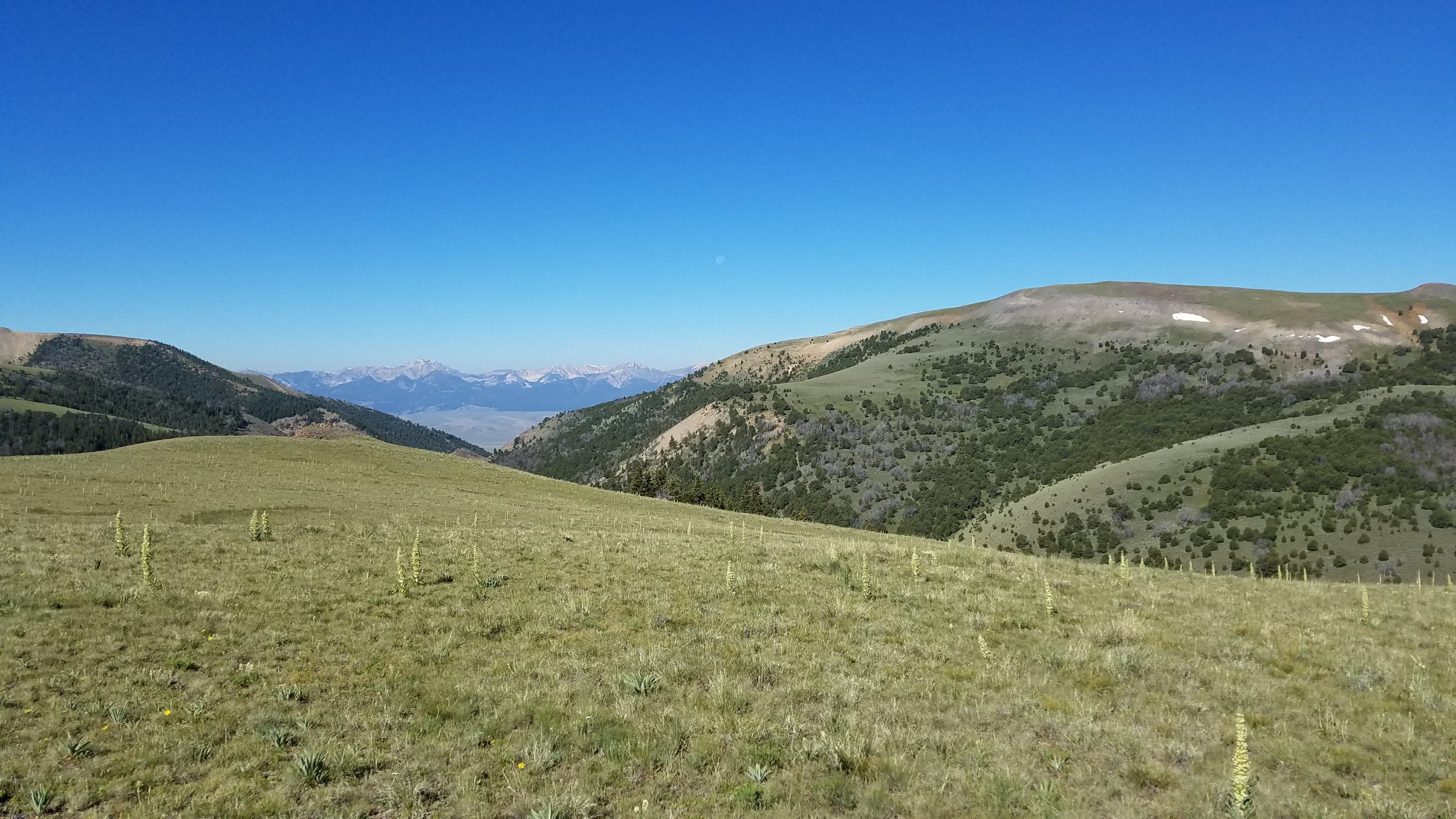 We walk with Samson for most of the rest of the day. He is used to hiking alone but is good company. We chill on the alternate…mostly, since it still goes over a huge hill on the way to the lake. Once there, we have a hard decision. We had planned to stay but it is only 4 pm, too early to stop. But there is no water for another 15 miles. I compromise by making dinner, while swatting at the hordes of flies. They make the decision to move on an easy one. It's like the mosquitoes went off shift and the flies came on in their place. There are also inch worms dropping like rain from the trees and we marvel again at just how many bugs Montana has. But not nearly enough dragonflies!
Upon departing the lake, I jump in with all my clothes and enjoy the cooling effect all the way up the next hill. It has been a hot day, cloudless and not much wind. We walk for another 4.5 miles, which evens out the miles we saved on the alternate. They were our "magic miles" saved, which pale in comparison to the thousands we still have to walk.
We meet another NOBO couple doing a section hike. They are heading for the lake we just passed on. Good luck with the flies, I think. We find a nice spot at a saddle, dry and a little less buggy. The mossies have come back on shift but I know how to deal with them. I have a secret weapon: a tent!