Tue Sept 29th, 2020, 0800-0915
Birch Glen Lodge to Appalachian Gap / Waitsfield, SOBO LT mile 106.9
2.5 miles, then about 5 miles of walking in town
1200 gain, 900 loss
I slept really well overnight. The wind blew strong all night but there was no rain. We don't get too early of a start since it's a short walk to the road. I hate to disturb my fellow lodge mates banging around before it's light. We hang out for a bit, then say our goodbyes to Broken Toe and company. I figure I'll see him again… he's like an ephemeral spring along the trail. We hope to also see a father/son pair, Doug and Steve, again since they too are headed southbound.
The morning is nice and dry. We even get a view north to Camel's Hump, which is tauntingly clear once more. I look back longingly at the summit, wishing I could have seen the views from the top. What finicky weather.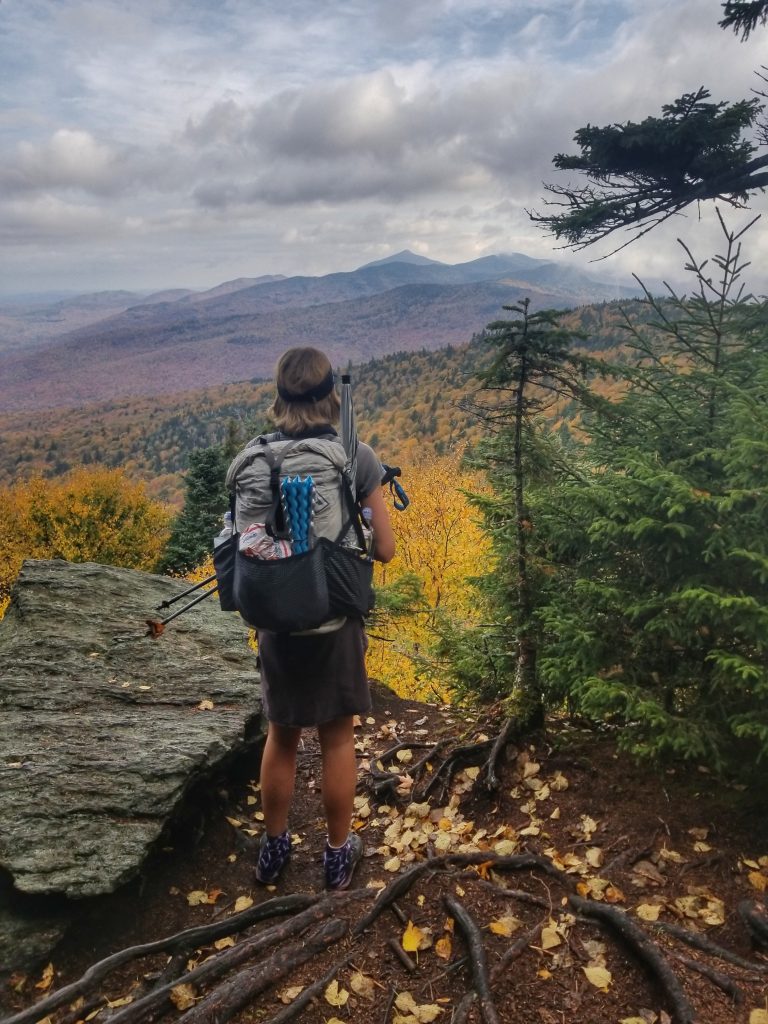 We reach the road and barely have time to get our bearings straight before a Subaru (Vermont state car) comes by. We lazily stick out our thumbs, just in case, and the car stops in the middle of the road.  A lady lowers the window, asking if we need a ride. I'm dumbfounded by such an easy hitch. We promise to wear our masks and hold our packs on our laps.  I also can't help but notice her Florida plates and kayak racks. Laura splits her time between Vermont and Sarasota, so we talk about that for the short ride to the nearest town, Waitsfield.
We're dropped off at our booked stay, the Waitsfield Inn, and are shortly sipping coffee. The proprietors, Jon and Vickie, already have our room ready and offer to take our laundry. We are showered and in fresh clothes by noon! This leaves me time to get a delicious sandwich at the family owned and one-off grocer and deli in town, Melhuron's Supermarket. I'm amazed by the selection and local offerings at this grocery. I could spend hours just roaming the isles and in fact do make repeated trips just to browse. Usually I hate grocery shopping but this has to be my favorite grocer ever. I get a hot panini cubano sandwich for only $6.50 and it's delicious. I'm glad I passed on the $13 tacos at Mad Taco, even though I've heard they're great too. We have plenty of time in town since we intend to wait out the forecasted rain.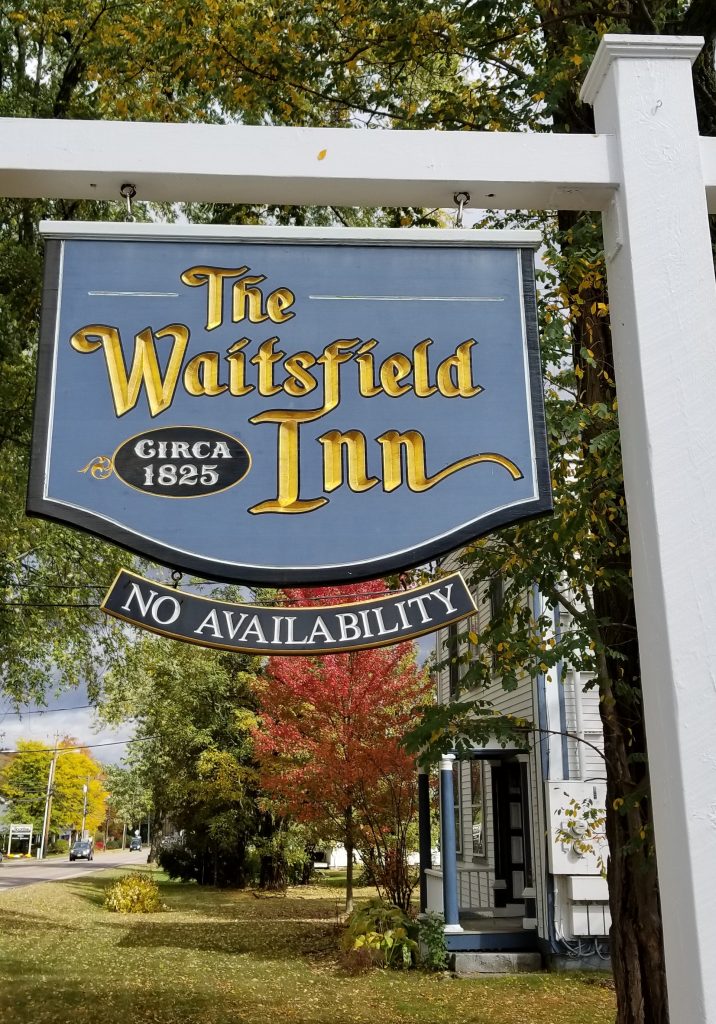 Eating our sandwiches outside the grocery,  I notice a Prius with a pretty Greenland kayak on top. I already spotted this car at a different location earlier…I can't help noticing sexy kayaks. I take the opportunity to talk to the owner and end up in a long discussion about Greenland paddles. Dorothy turns out to be one the most enthusiastic Greenland paddlers in the country. After this nice conversation, I go on a mission to find a fuel canister at a local gear shop, which turns into a sightseeing tour. The town is a cornucopia of quaint New England landscapes, exploding with fall colors. Leaves rain down on top me as I take in the beauty of such a quiet and peaceful corner of America. I drool like a tourist strolling along, from the war memorial to the church to the red barn to the covered wood bridge to the cemetery and all the cute little stores in-between. Here are some of the highlights: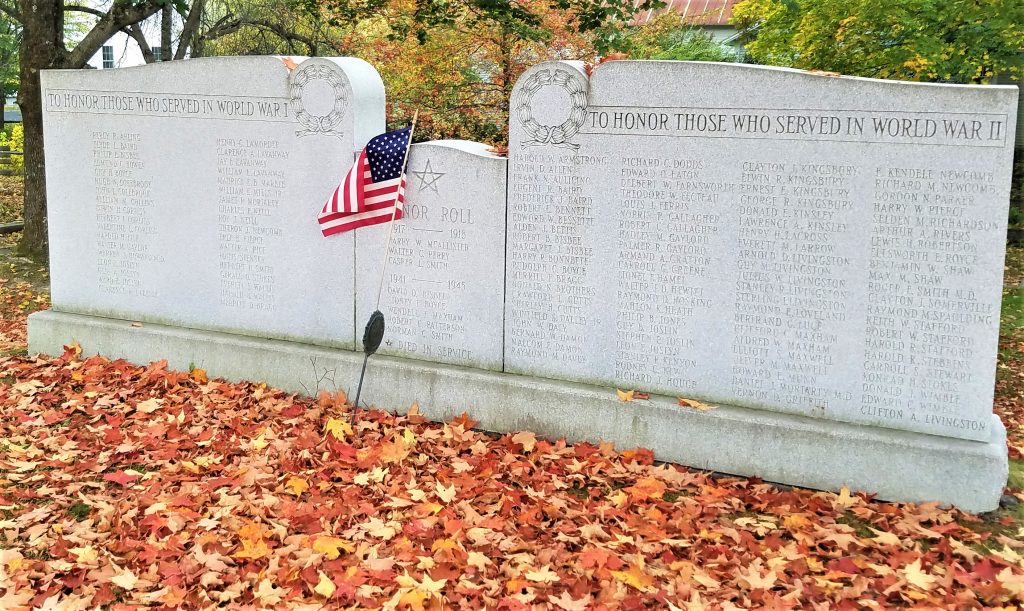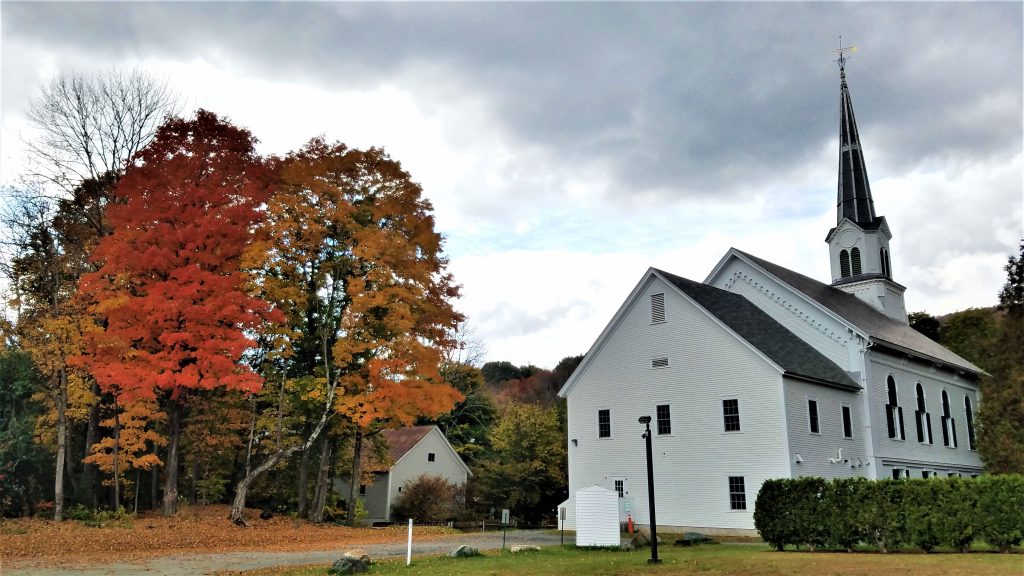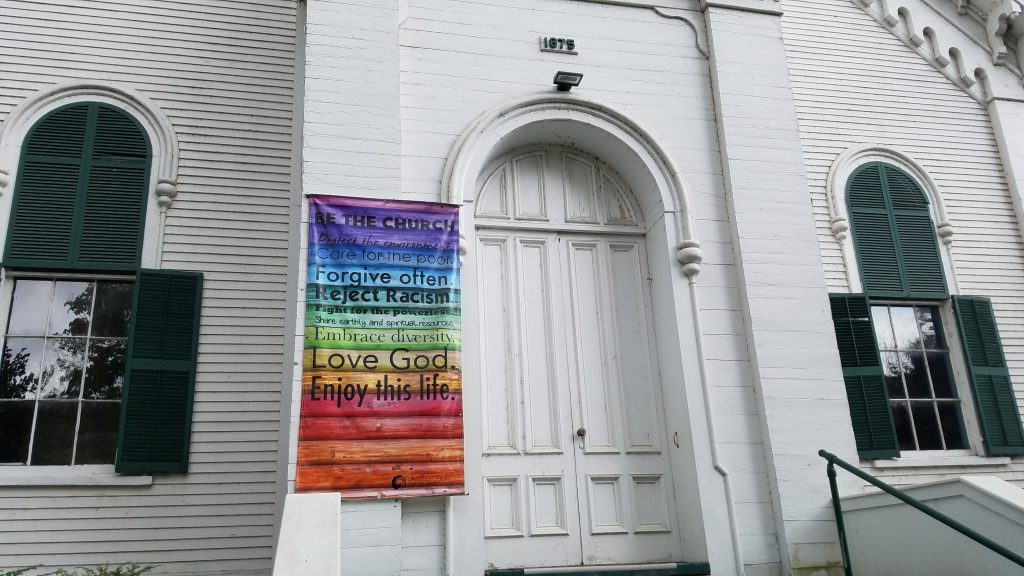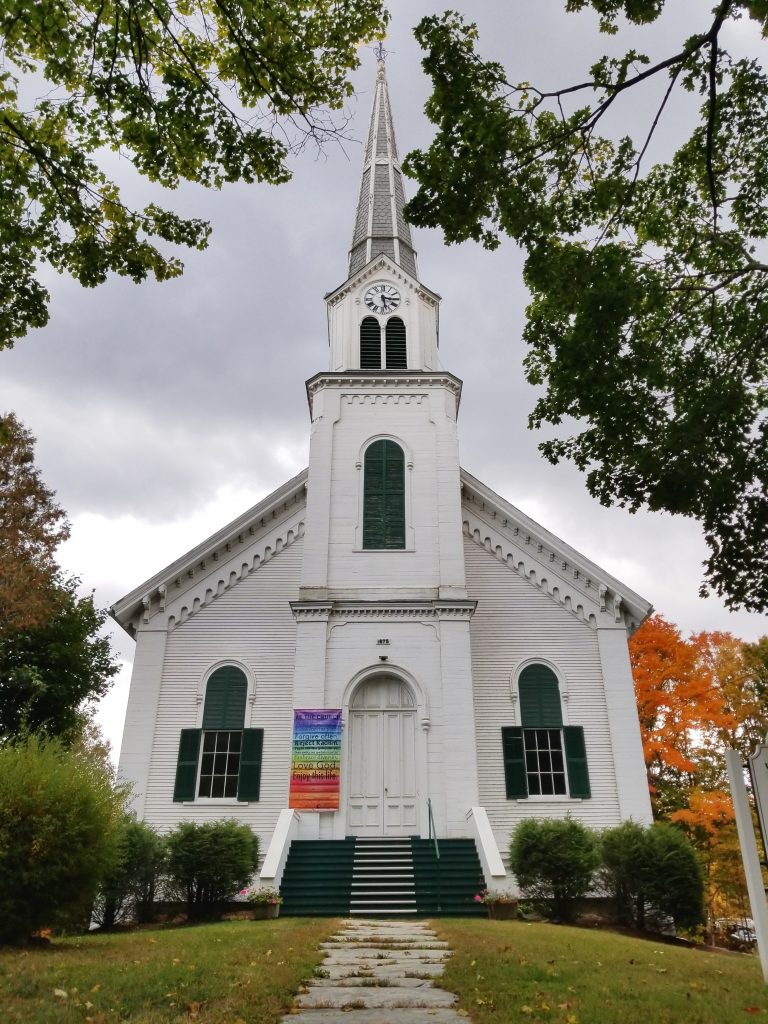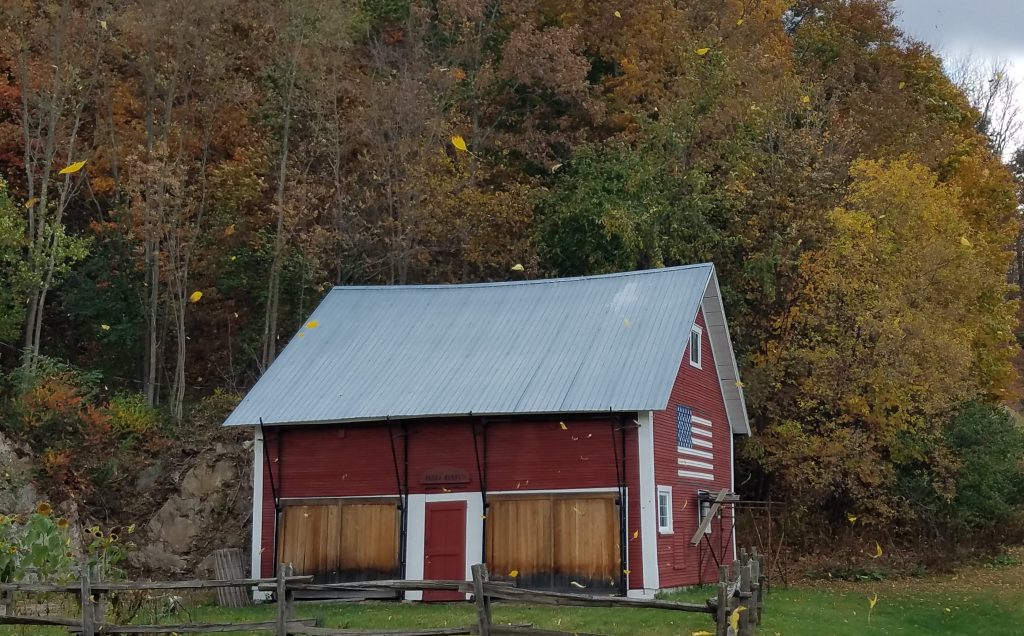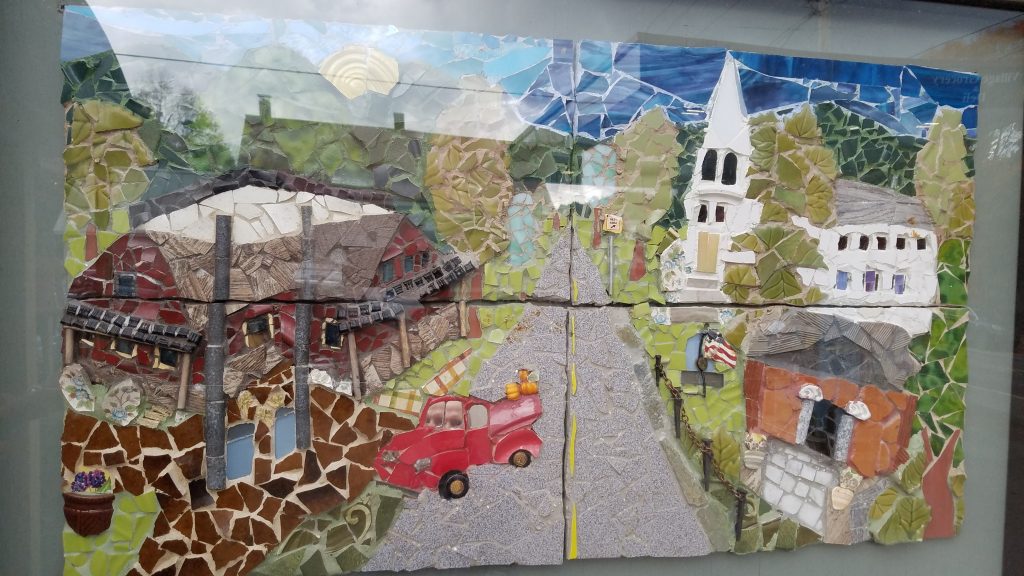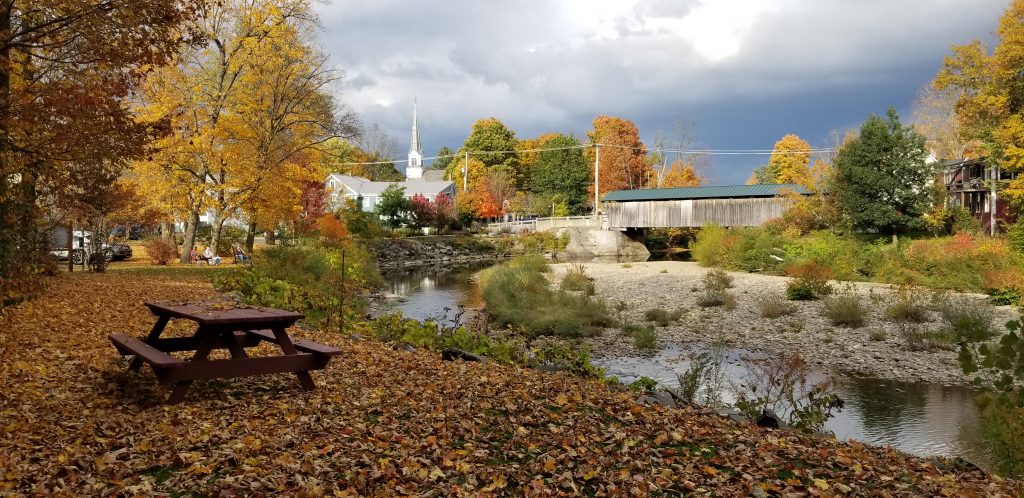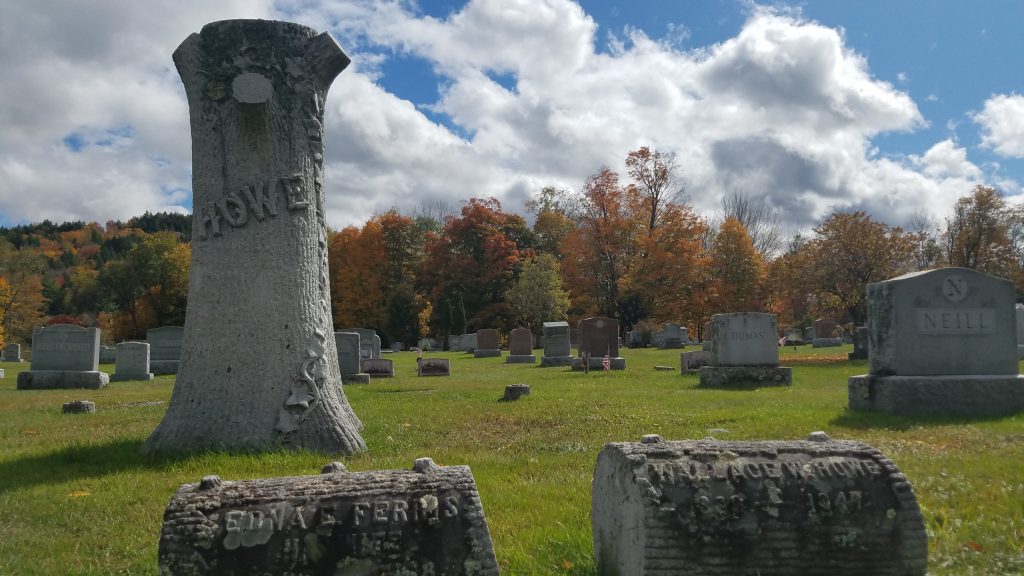 My short trip to the gear shop turns into an extended foray. Exploring the town probably results in at least 5 additional miles walked by the end of the day.  Since my hiking shoes are wet, I've done all this in my very minimalist camp shoes. By the time I make it back to the Inn, my feet are feeling it! But I've learned that they will work if ever I need to hike some miles on the trail in them.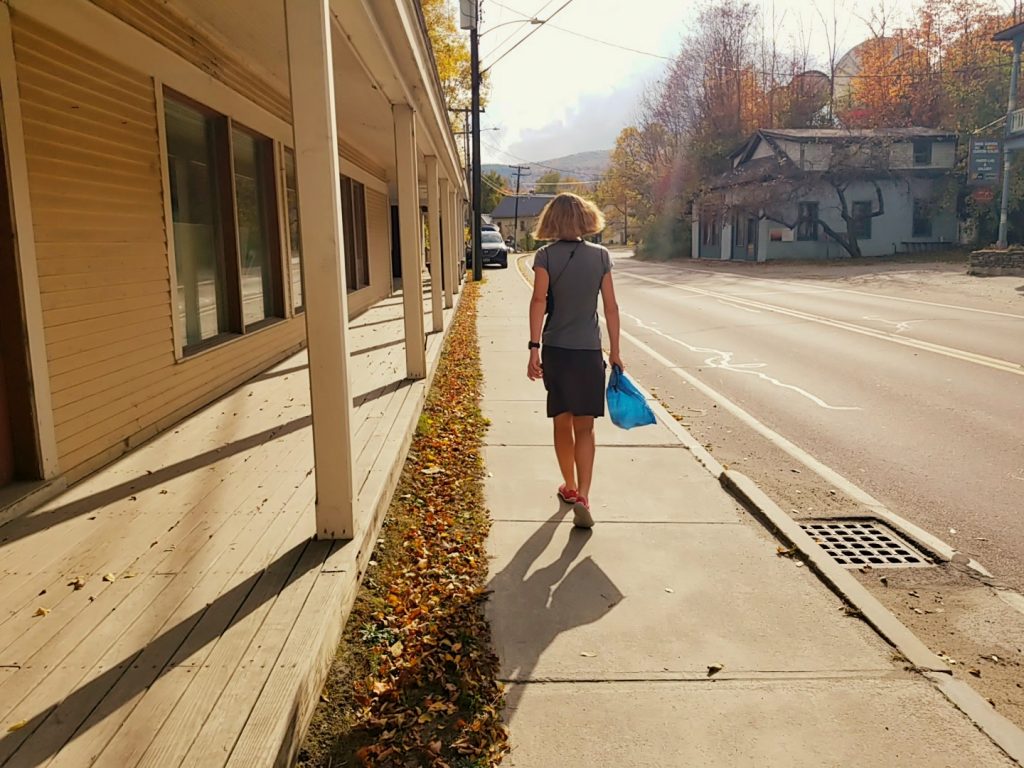 We take it easy for dinner, ordering some fancy take-away soup from the Stoke Ramen Bar (still passing on the tacos). It's good but overpriced. I would have been just as happy and probably more satiated from another sandwich from the deli. But it's good to support a wide variety of the small local businesses. Speaking of which is Lawson's Brewery, producer of Stellar's favorite beer: Sip of Sunshine. We have some with dinner while we watch TV in the lounge. The inn is almost empty. We see only 2 other people staying there. I feel so bad for the businesses in this small town, depending on tourists for the fall and winter ski season coming up. I hope things bounce back quickly.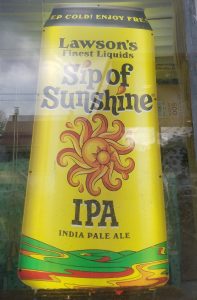 Waitsfield seems like a quintessential small town and is also a nearly perfect trail town. The locals are all so friendly and we enjoy our stay immensely. If only the Inn had a few loaner bikes to save our feet…I highly recommend biking to see all the sights, as the town is a bit spread out. But there are plenty of restaurants and my favorite grocery almost directly next to the Inn. There's even a cute little gazebo across from the Inn that has outlets…if say a hiker on a budget were seeking just a quick place to recharge before heading back to the trail. What a lovely place to visit and even perhaps stay for awhile.