Wed Sept 30th, 2020, 1500-1620
Appalachian Gap to Stark's Nest, SOBO LT mile 109.3
2.4 miles
1500 gain,  280 loss
A nero into town and a nero out basically add up to a zero. It's a real 'pissah' outside anyway (meaning lots of rain), so there's no rush to get back on trail. It rains hard all night and well into the morning. I crack the windows to let the cool air in, while the white noise and soft bed make for a perfect sleep. In the morning, I do the usual chores while also lounging in bed.  Breakfast is yogurt parfait, sausage, and waffles with real maple syrup, of course. It's all really good but kind of small portions. Good thing we don't have severe hiker hunger yet.
The only other thing I do in town all day is go back to my favorite grocery. I get another sandwich for dinner on the trail. By 2 pm we start walking out of town, easily getting a hitch within 5 minutes of trying. Vermont may be the easiest state to hitch in. Our ride is an insurance adjuster who drives around inspecting houses. He loves it this time of year but admits that winters are no picnic.
We start the trail in the afternoon, with only 2.4 miles to go to a ski patrol warming hut we plan to stay in. It's reported to be the best shelter on the whole trail, having great views and plenty of amenities. It's open for hikers to use, with respect. We arrive to find 3 other sobos, 2 of whom are from Miami. My fellow SOFLOs at the top of a mountain in Vermont, go figure. They're just taking a break before pressing on.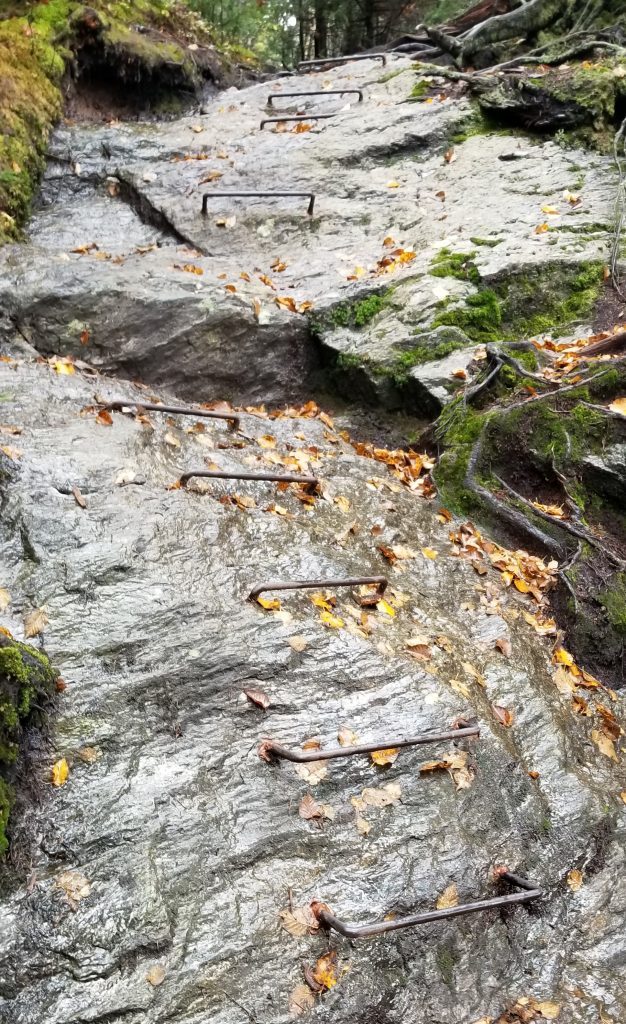 More slick rock trail, but at least with affixed ladder steps!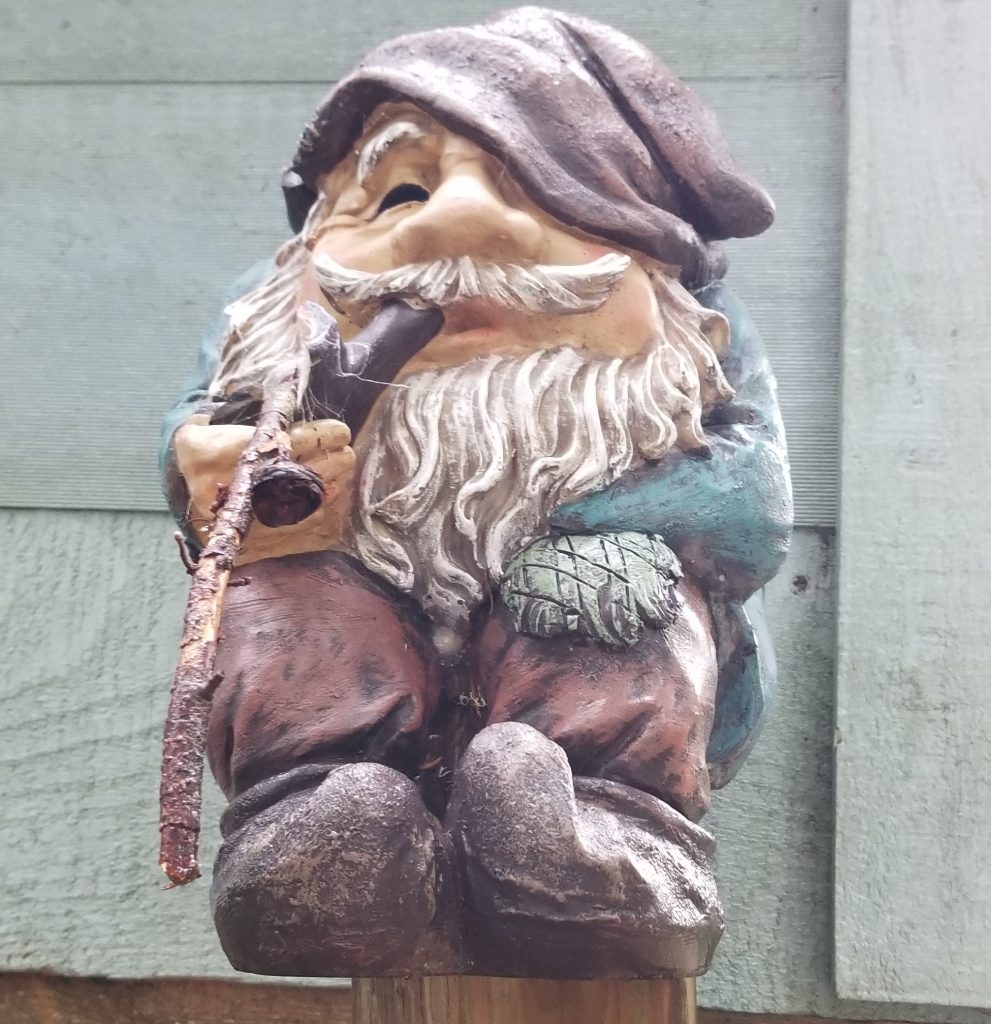 The Watch-keeper of Stark's Nest
After they depart, I go to town cleaning the hut. I sweep dust and debris while Stellar moves stuff around and gathers trash. It makes a big difference and is the least we can do in exchange for staying. We've arrived so early that there's time to kill before dark. We also do a little exploring, climbing onto the ski lift tower to take some awesome pictures. We identify peaks with Stellar's peak finer app. To the East, we can just barely see Mt. Washington in the distance. It's over 6,000′, the highest peak in New Hampshire, and New England, for that matter. To the North, we also see Jay Peak (finally!), Camel's Hump, and Mt Belvidere…all points we traveled over. To the west, are the impressive Adirondack's. It's a peak extravaganza and one of the best views we've had the whole trip, with all afternoon and evening to enjoy it. I'm so glad we nero-ed out of town to allow ourselves this treat. We've been denied views from so many mountain tops, this really makes up for it. I also enjoy sitting on the infamous Mad River 1-person ski lift…perfect for social distancing!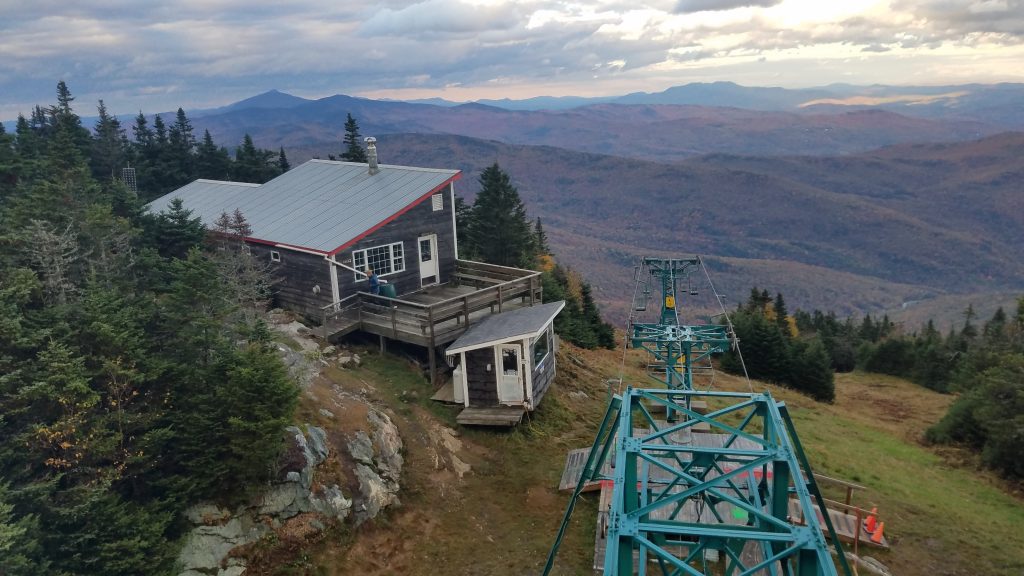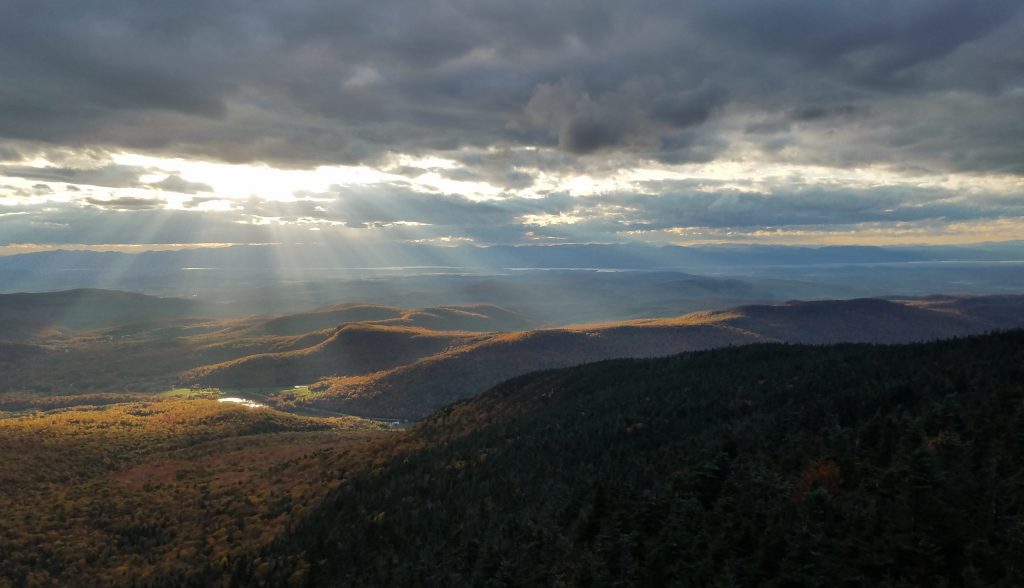 View of the Adirondacks and Lake Champlain.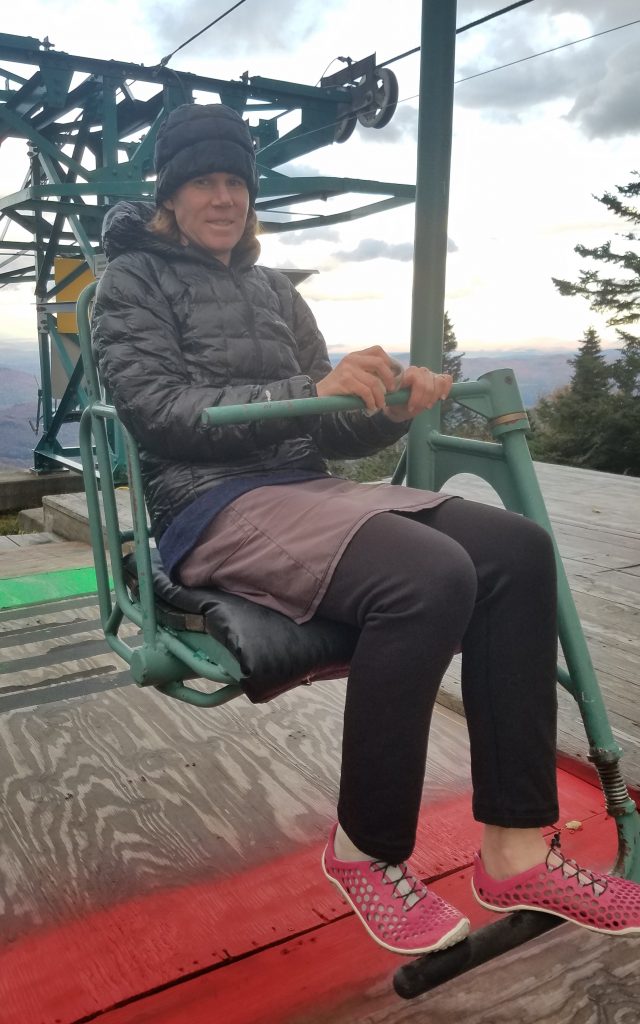 Two day hikers, Tom and Chai, along with their dog arrive just at dusk. They're locals so we chat with them about the surrounding area. Everyone seems to adore living here and I get such good vibes about the place. I feel like I already know half the town after all the people we've met. They take off, back towards their warm homes and we're left with a large, empty and rapidly cooling hut. This is the first night that it feels really chilly. I have some tea and settle into my 20 degree quilt…finally it's good to have the insulation. A nearly full moon lights up the hut most of the night. A few mice play games but mostly it's very peaceful and quiet.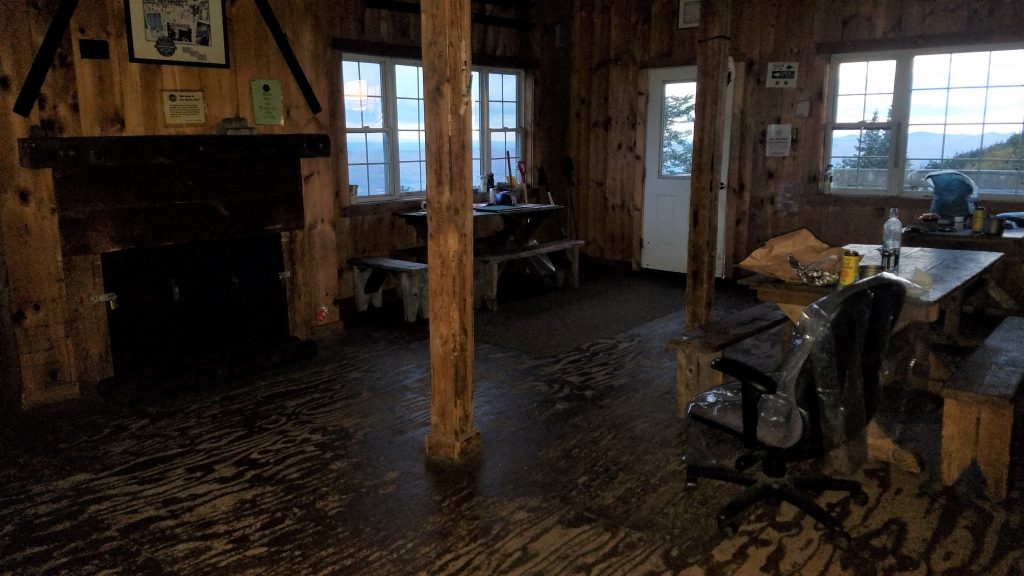 Inside the hut, all to ourselves this night.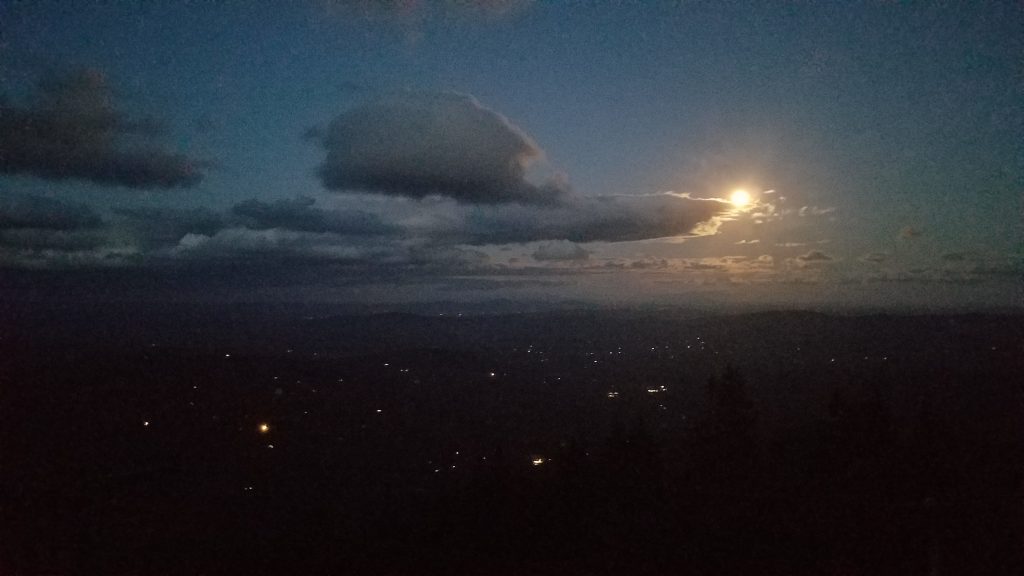 Night-time view down into the Mad River Valley.