Thu Oct 1st, 2020, 0620-1730
Stark's Nest to Boyce Shelter, SOBO LT mile 132.5
23.2 miles, 6500 gain, 7200 loss
It was hard to leave a warm hut when it was so cold outside in the morning. I always think I'll be faster packing up inside a hut, since I don't have to deal with my tent, but I'm usually much slower. This morning was no exception. It was nice watching the light slowly grow in the east. It would have been even more beautiful to watch a sunrise here, but we needed to press on. We caught the sunrise on the way up to Mt Ellen (4075′) instead. At this vantage point, I could again see all our previous mountains, as well as the Whites to the east and Adirondacks to the west. This trail segment followed a ridgeline for about 9 miles and was part of what's known as the Monroe Skyline, with consistently good views along the way. On this fine fall day, it didn't disappoint.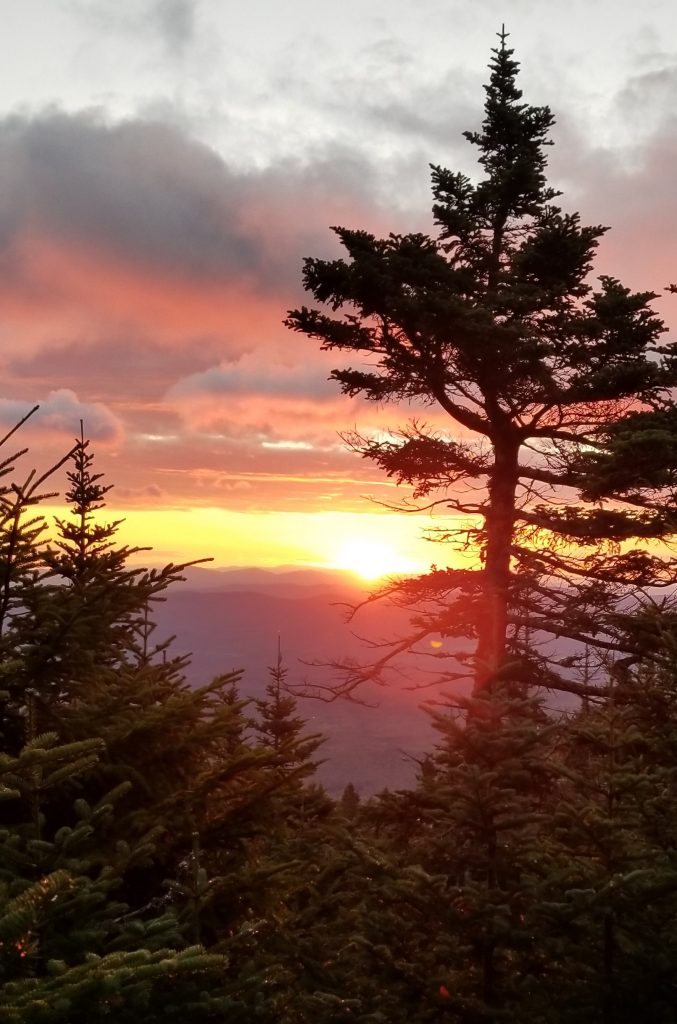 We stopped at another ski hut to find the Miami hikers just finishing their breakfast. It was nice to get to chat with them a little more. They told us that Adam, our friend from Taft Lodge a few nights before, had spent the night here but left early. I was happy to hear that he was just ahead and looked forward to catching up with him. We climbed Lincoln Peak and Mt Abraham next, the latter of which was just over 4,000′. The top was clear as we ascended but became obscured by a cloud just as we reached the summit. I didn't mind. A trail runner was there with her awesome dog Maple, so I enjoyed petting the dog while we chatted about the trail.  Vermont was full of rugged mountains, nice people and happy dogs. What's not to love?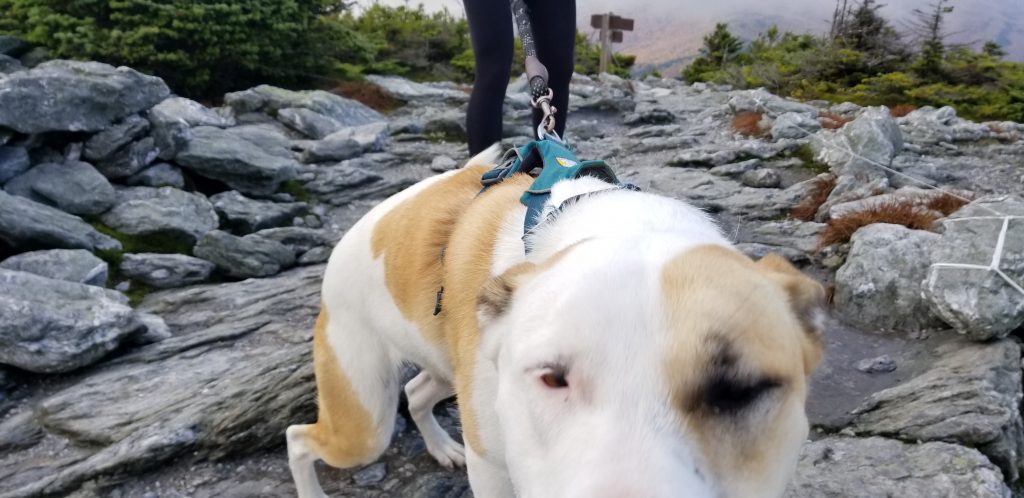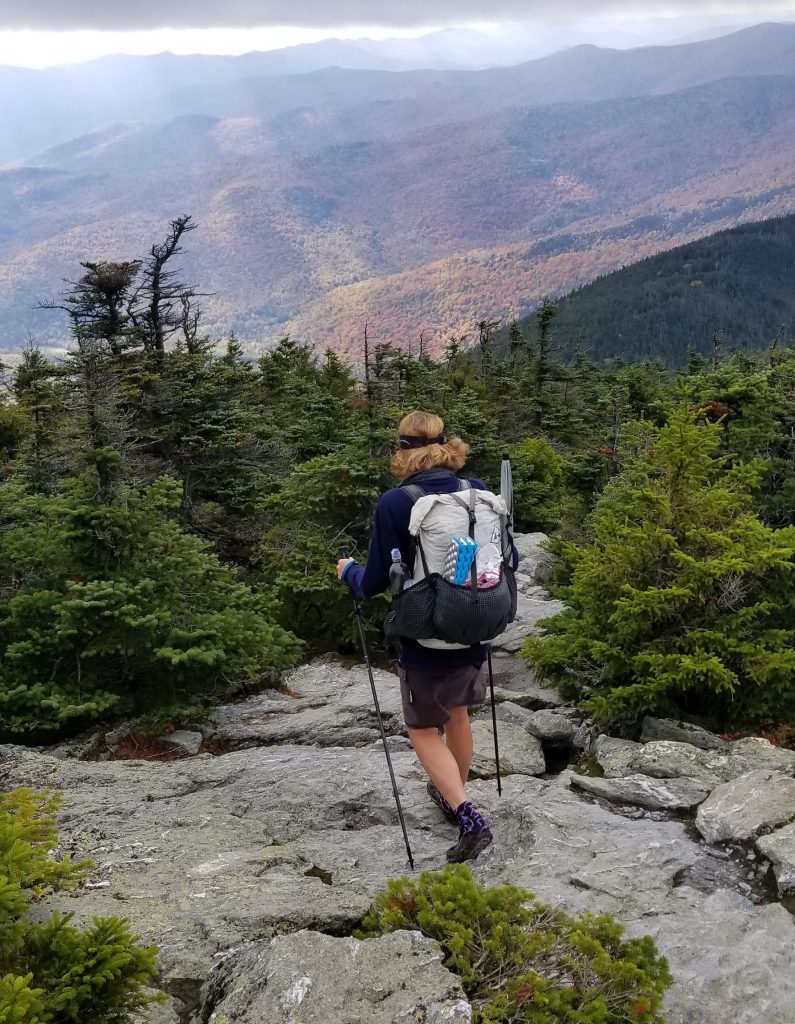 We descended a ways into Lincoln gap, entering the Breadloaf wilderness area (largest wilderness along the LT at 17 miles). Some blowdowns and overgrowth were indicative of the limited trail maintenance in this area…no mechanized tools are allowed so it's harder for volunteers to do the work. I enjoyed the solitude of this stretch. I only saw a handful of people the rest of the day.
I caught up to Adam around 2 pm, following him to the Skylight Lodge by 3pm. The place overlooked a beaver pond and was pretty nice. A guy was there making it his temporary home…he'd already spent 3 nights and seemed very content, if only a bit lonely. We had planned on staying, but since it was so early and the weather so nice, we decided to push on another 2 miles to the next shelter. It was supposed to rain the next day, so it was 2 miles I wouldn't have to hike in the wet.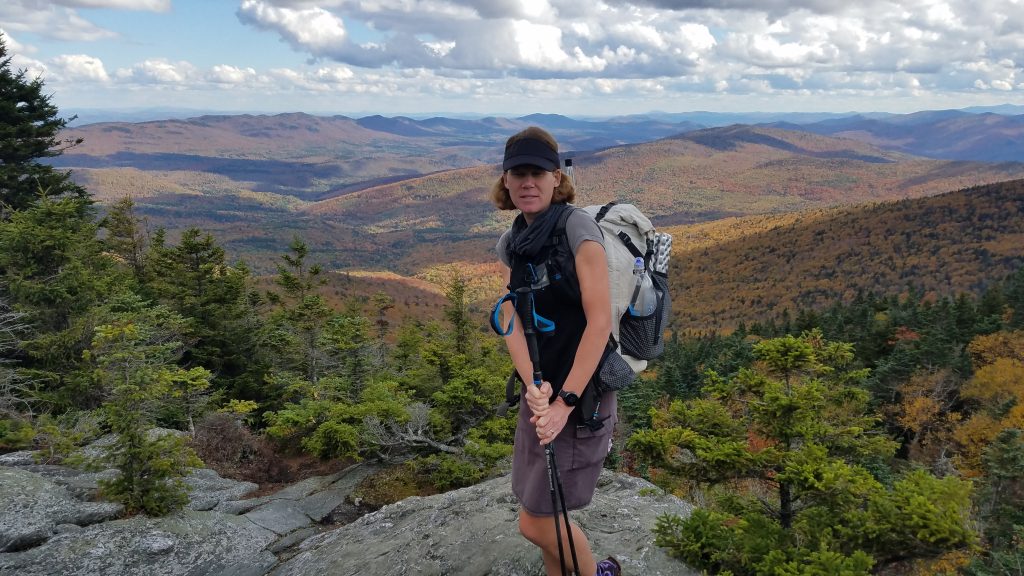 The hills turned yellow…I'd never seen such stunning fall colors.
The next shelter faced west towards the setting sun and had good tent sites, so I was glad we kept going. It was also another night we got to spend with Adam. We'd seen him nearly every day since our 3rd day and were glad to match paces. He was a smart cookie, with degrees in physics and machine learning. But out here, he was a down-to-earth and adventuresome backpacking enthusiast. The 3 of us cooked dinner in the shelter, trading stories. Topics ranged from the search for other planets and the Great Filter to the search for the best trowel. I eventually left the shelter to the boys and nestled into my cozy tent. It had been 4 nights since I last slept in it and I missed it.