January 22nd
Burttons Track and Whare/Tokomaru River (km1543)-Makahika Outdoor Pursuits Centre (km1569)
Mileage: 16mi/26km
We had an easy day planned to get to the Makahika Outdoor Pursuits Centre. This is another must-stop trail angel place along the route. We figured we'd use the shorter day to go into the nearby town of Levin for resupply.
It was rainy all day. I started out with my umbrella but put it away because the rain was too light to bother. We had a few climbs through forest, along with a short stint through gorse. The rain made the trails a bit slippery but the mud was manageable. My new shoes are no longer blue, though. Connor entertained me by belting out American Pie while we climbed. That's right, he's so fit that he can sing in a full voice going uphill. I've never even seen him breathing hard. He's got a really good voice too.
At the end of the Makahika track, we ran into German Harry, Dutch Mary, and American Dan. Harry and Mary are a couple. They were all part of a bigger group that did the Whanganui river together, then rode bikes to Palmy. We've known that they were just ahead of us for awhile. Sources like hut books and holiday park staff always tell you who or how many are just up ahead.
We walked the rest of the way to the Outdoors Centre together. Upon arrival, the manager John gave us the run-down on the place and each a beer. They cater to school and corporate groups but make the facilities available to TA hikers when it's feasible. We were able to sleep on mats inside the main lodge, plus take hot showers, do laundry, and use the kitchen. This is all by donation, with proceeds going towards troubled youth programs. Thank you John and Sally for all your support!
There were 4 TA walkers already there, taking a zero to wait for better weather before beginning the Tararua range. Two I had seen before. Aussie Tobias from Nikau Bay Camp and an Italian guy, I'm sorry I don't know exactly how to spell his name. He was the guy that I passed wearing budgie smugglers at the Tramp Inn, way back at the of Herekino forest. I'm glad I finally got to meet him as he was very sweet. There was also a German couple Steph and Heinen…might have butchered that name too. Later, German Karima arrived. So we had a total of 10 staying that night. I learned there were about 6 that had left the morning before, including Graham and Troy, whom I met on the river. And just like that, I was finally in a real TA bubble.
On a side note, one neat thing about this blog is that I make an effort to learn people's names. I used to be terrible at names, so this is a real benefit.
John offered to give us a ride into town for resupply the following morning. So we had a relaxed afternoon and night at the lodge, entertained by Connor, of course. There was a guitar, so he was singing and strumming. He's a pretty talented kid.
It looked like a sleep-over party once we laid all the mats out for bedtime. Only we gave the appearance of a bunch of castaways with our meager belongings. A few have the luxury of an inflatable pillow but most just use some version of a jacket or stuff sack. My pillow is still leaking air but it works enough.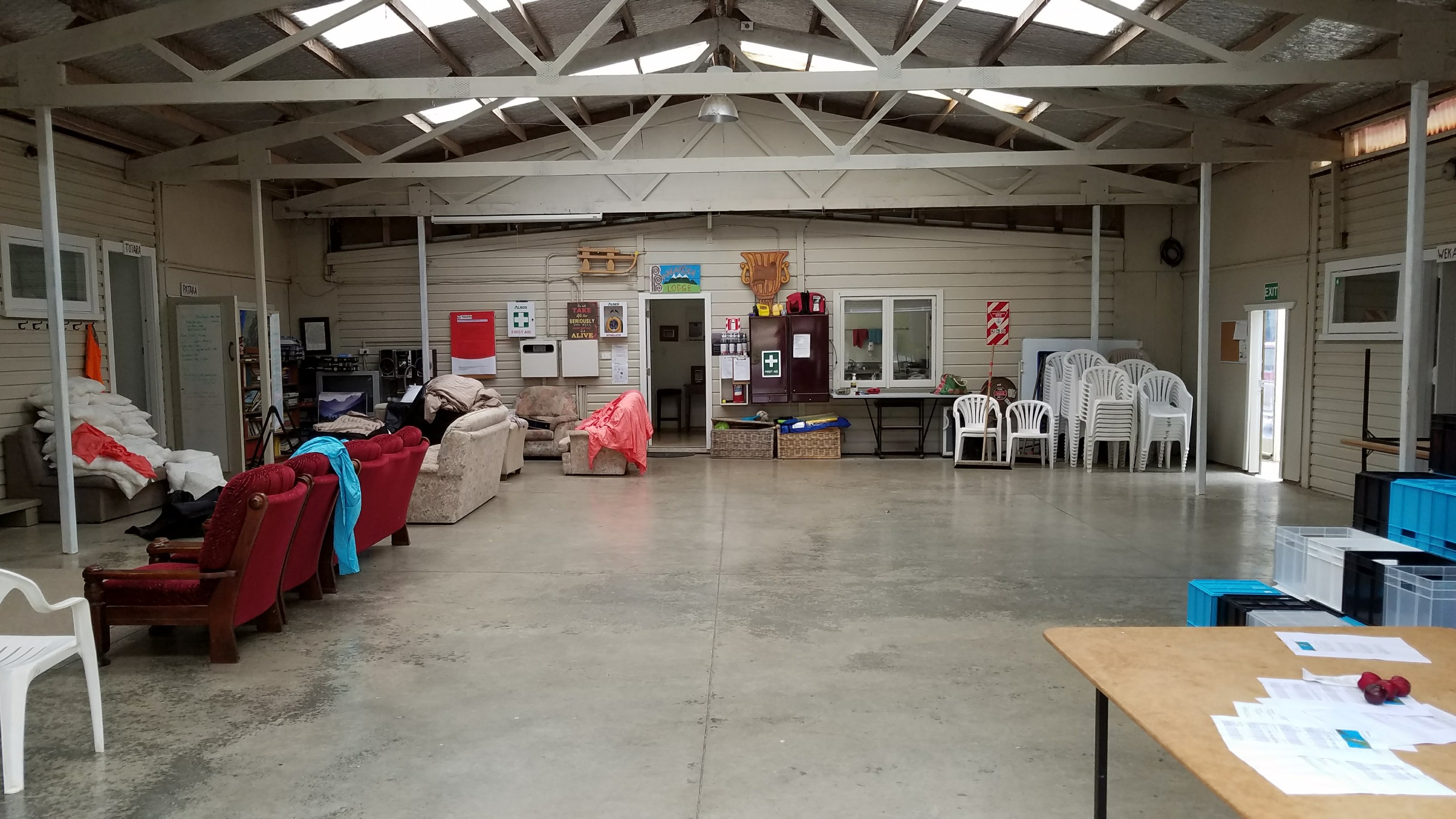 Sorry I didn't have any pictures for today…I took this of the lodge the next morning, after all the mats were put away. I really should have gotten a picture of the group!