January 23rd
Makahika Outdoor Pursuits Centre (km1569)- Te Matawai hut (km1587.5)
Mileage: 11.5mi/18.5km
I slept pretty well and everyone was very quiet. I woke up early and sat on a couch, trying to catch up on the blog. I was pretty far behind. After breakfast, John came by to give us a lift into Levin. I again bought way too much food, but I was unsure how long the Tararuas were going to take me.
It is only 45 kms through the range, along the TA route, but it is very high, exposed, and slow going. I've been warned to expect to make about 1 km per hour in some places. This is probably the most difficult section I've come to yet. The weather is often cloudy, rainy, and gusty, but the forecast called for improving conditions, whatever that means. These mountains make their own weather, as they are the only thing standing in the way of the maritime forces on this thin stretch of land. Wet air rolls off the ocean, rises, and forms perpetual clouds over the mountain tops. According to a sign I read, there are only an average of 80 clear days a year. The Tararuas are kind of a continuation of the Southern Alps on the South Island, but they are lacking snow this time of year and do not have glaciers.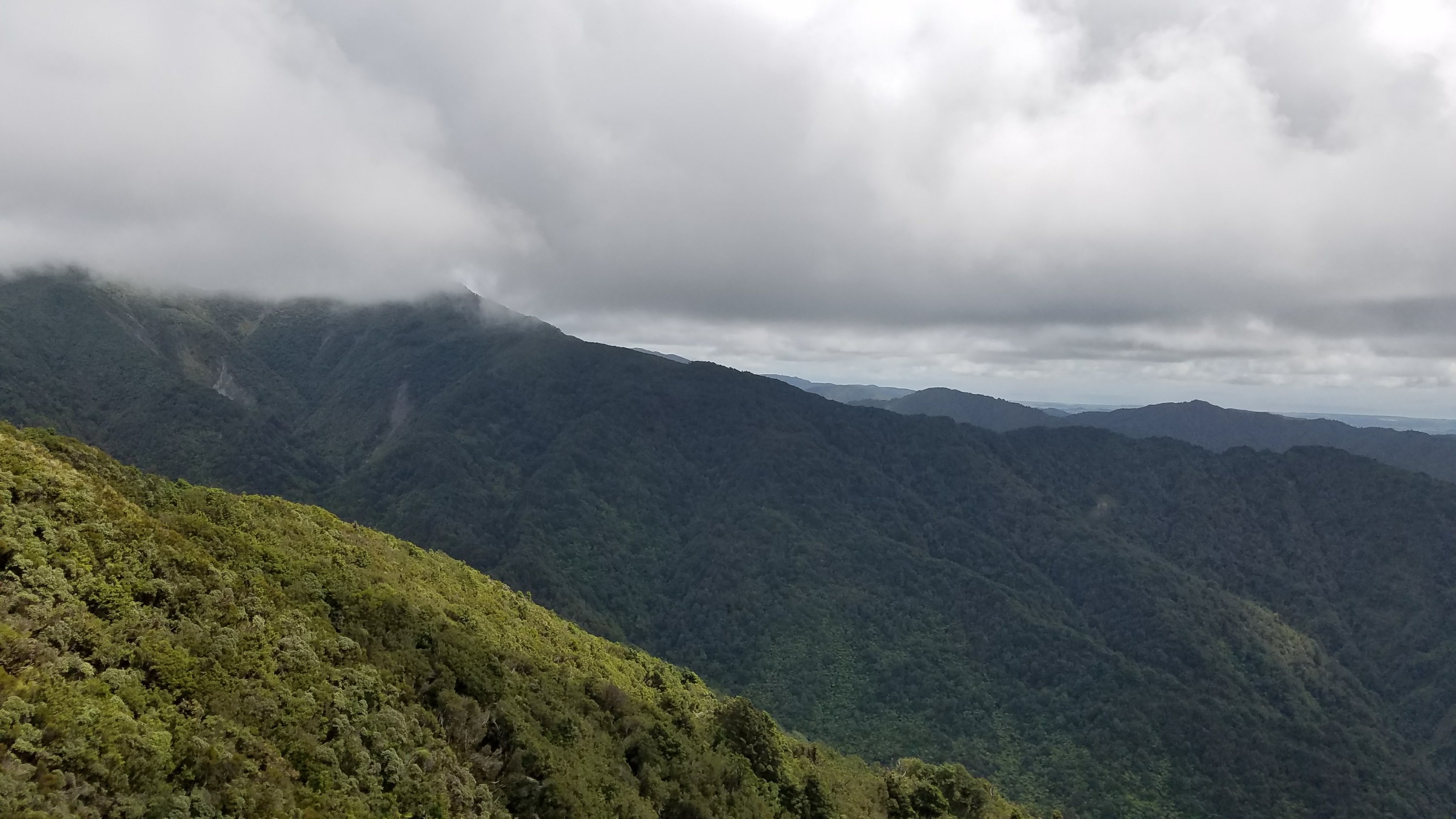 Typical cloud-topped peaks.
We left the Outdoor Centre around 10:30 am, did a brief road walk, then began climbing. It wasn't too bad at first but got pretty muddy and steep. It was hot and I was sweating a ton. I quickly realized that my 1 bottle of water was not going to last long. A quick check of the topo confirmed there were no more streams since the one we passed at the bottom of the climb. Oops. The route follows ridgelines for the first few days, so the only water sources are at the huts.
When everyone stopped for a lunch break, I decided to push on. The hut was only about 6 more kms but it was a long ways given the challenging trail conditions and my lack of water. The constant mud was the worst…all that water infused with soil but not a drop to drink. I could have probably collected water from one of the bigger puddles, but I wasn't that desperate. The trail went up and down many steep knobs…just a taste of what would come the next day. There were a few open tussock areas, with great views. But the tussock was hard to walk through, as it obscured the trail and I couldn't see where I was stepping…usually into a mud puddle. So much for new shoes. I even almost stepped on a bird that was under the grass, in the middle of the trail.
I arrived at the hut at 5 pm, the first of the group of 11 (one additional guy, German Nils, arrived in the morning) that set out from the center. Inside I found Ozzy Damian, Americans McKenzie and Liz, Kiwi Rob and two other non-TA walkers, I can't remember their names. The 4 TA walkers were taking a zero day at the hut, hoping for clearer weather. Others that were behind me quickly rolled in and it got crowded. It was a good thing it was a 16 bunk hut! We were going to need all of that space, and maybe more.
It was nice catching up with Damian and meeting the new people. Everyone was very nice. But I found the big group a little overwhelming. My prior TA experiences have been with much smaller groups of 5 or less and mostly by myself or with just one other. I've always been shy around big groups anyways. Being that everybody already knew each other, having traveled extensively together since before the Whanganui River, I definitely felt like an odd-man-out.
It was also very loud inside the hut, with music playing on someone's phone and the roar of all the voices. I was trying to talk to someone and we could only communicate by shouting. I needed to catch up on my blog anyways, so I retreated to my bunk for awhile.
Everyone but the Italian guy made it into the hut eventually. I made dinner off in a corner and talked to some of the new people. McKenzie, Liz, and Dan all live in Hawaii, so we talked about that. And I found out that McKenzie is nearly my age, though she doesn't look it. Out of 16 people in the hut, I was the senior of the group. But that's ok, I know that I can still crush it when it comes to hiking, and that's pretty good considering that many are nearly half my age.
At sunset, everyone went outside to catch glimpses of the main range, which had finally emerged from the clouds. The ridgelines looked pretty daunting…very steep and exposed. We knew that we would be going up and down them all the next day.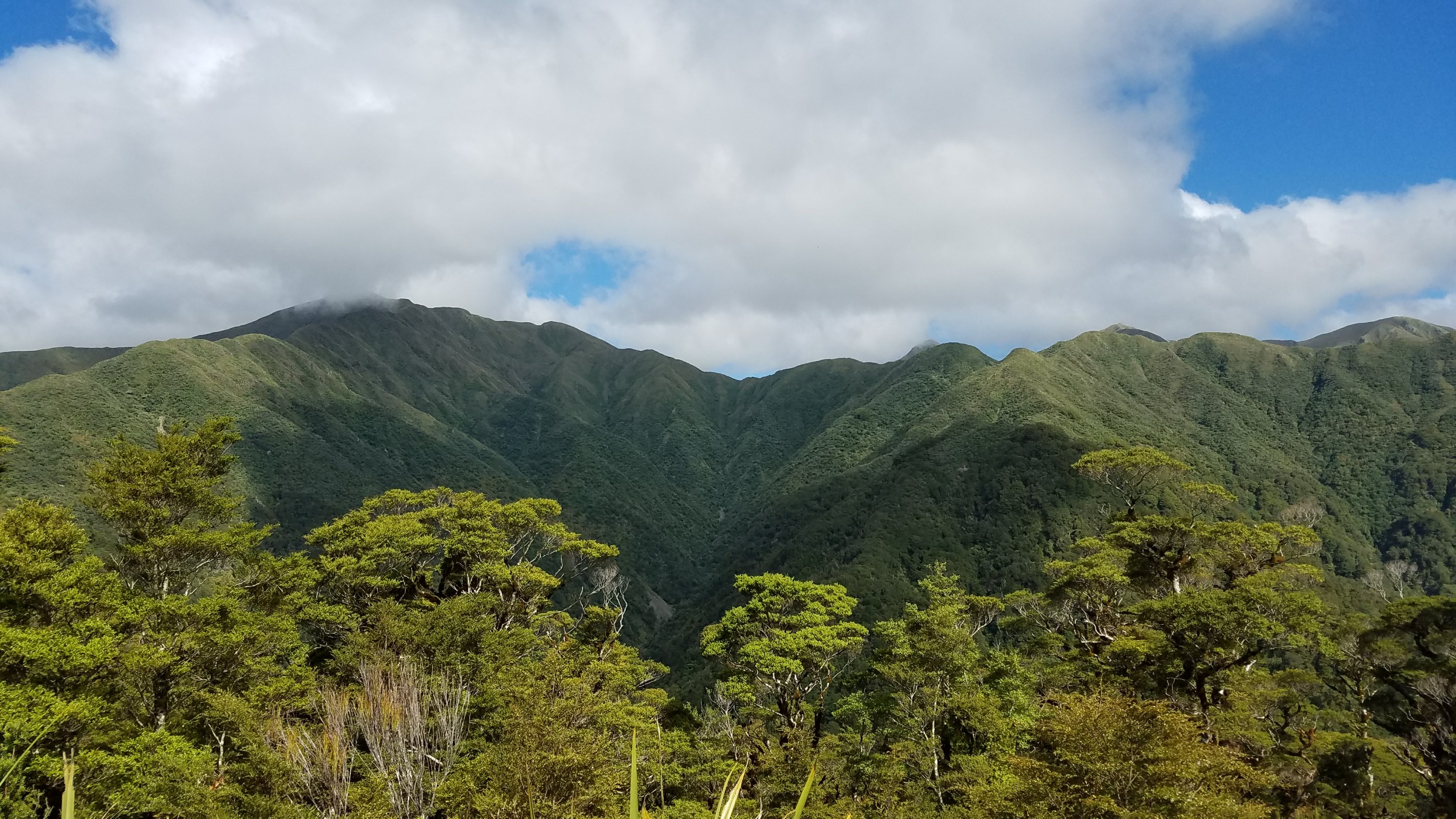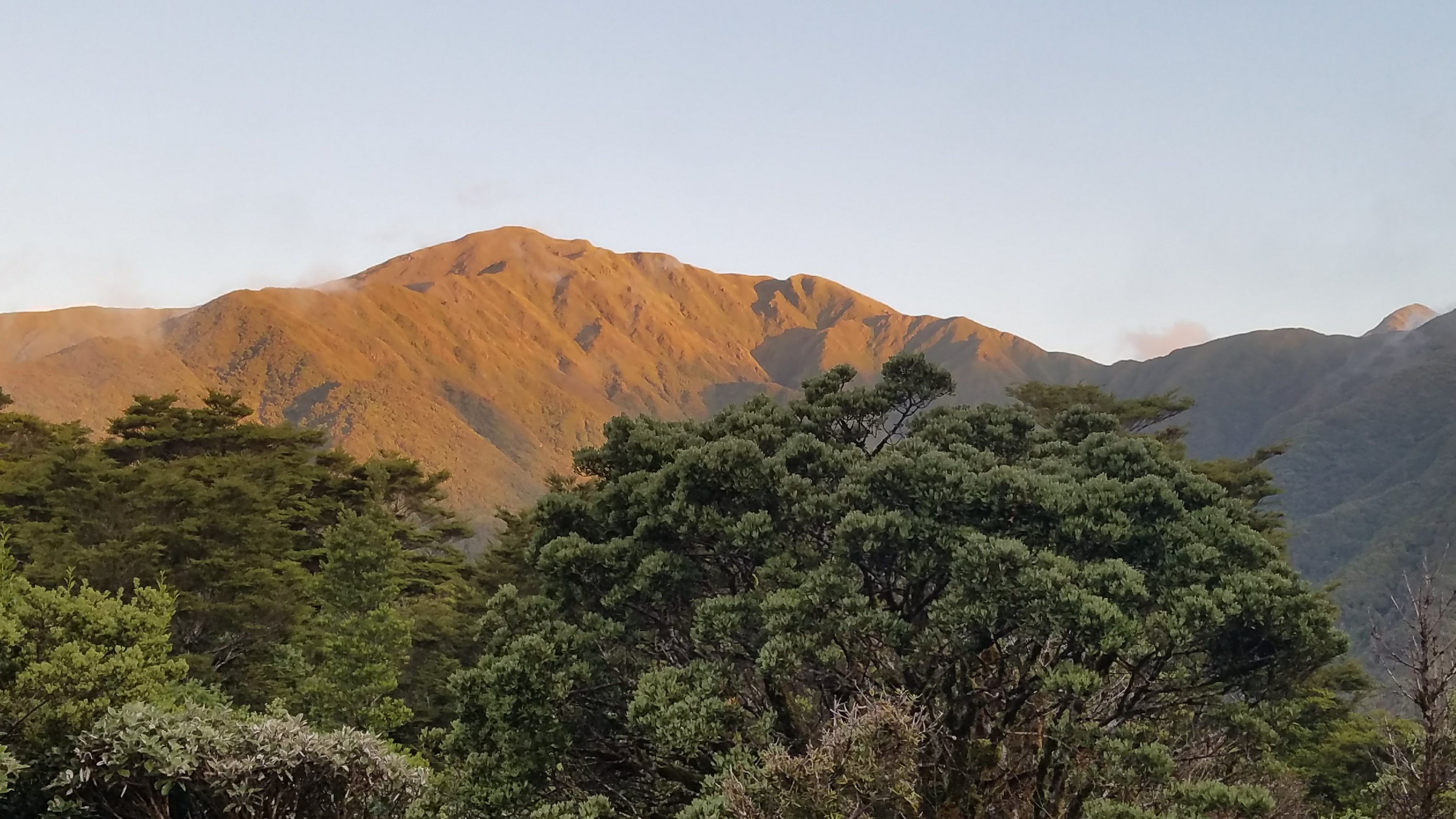 Harry is into drone photography and brought out his drone for a flight. It was really cool getting to see his operation. Some of the people had climbed on top the hut so we were having fun peering down on them. The drone folds away very compact and doesn't weigh more than a few lbs. I can see how it would be fun to take backpacking.
Everyone went to bed early, knowing we all had a huge day ahead of us. With so many people, I was shocked at how quiet it was. The main noises I heard were all the mice scurrying around. I didn't even sleep with earplugs and got a good night's rest.