January 24th
Te Matawai hut (km1587.5)-Waitewaewae Hut (km1608)
Mileage: 13.4mi/21.5km
I woke and packed up early, hoping to do a big day, by Tararua standards. I was the 3rd to leave the hut at 7 am. Most make a day out of getting to the second hut, which is only 12 km away. Nichols hut has just 8 bunks, so for this reason, I wanted to try to push to the 3rd hut along the route at 21.5 kms away. Even at elevation in the Rockies, I've easily done such a distance by lunch before. However, this would turn out to be one of the hardest days of hiking I've ever done.
The morning was completely clouded over and the vegetation soaked. It looked like it had rained but was probably just lots of condensation from all the clouds. It should tell you something that all the trees are covered in thick moss, giving the forests an enchanted look. It is almost always wet up here, kind of like the Monteverdi cloud forest in Costa Rica. We were all just hoping it would burn off eventually, as it had done the day before.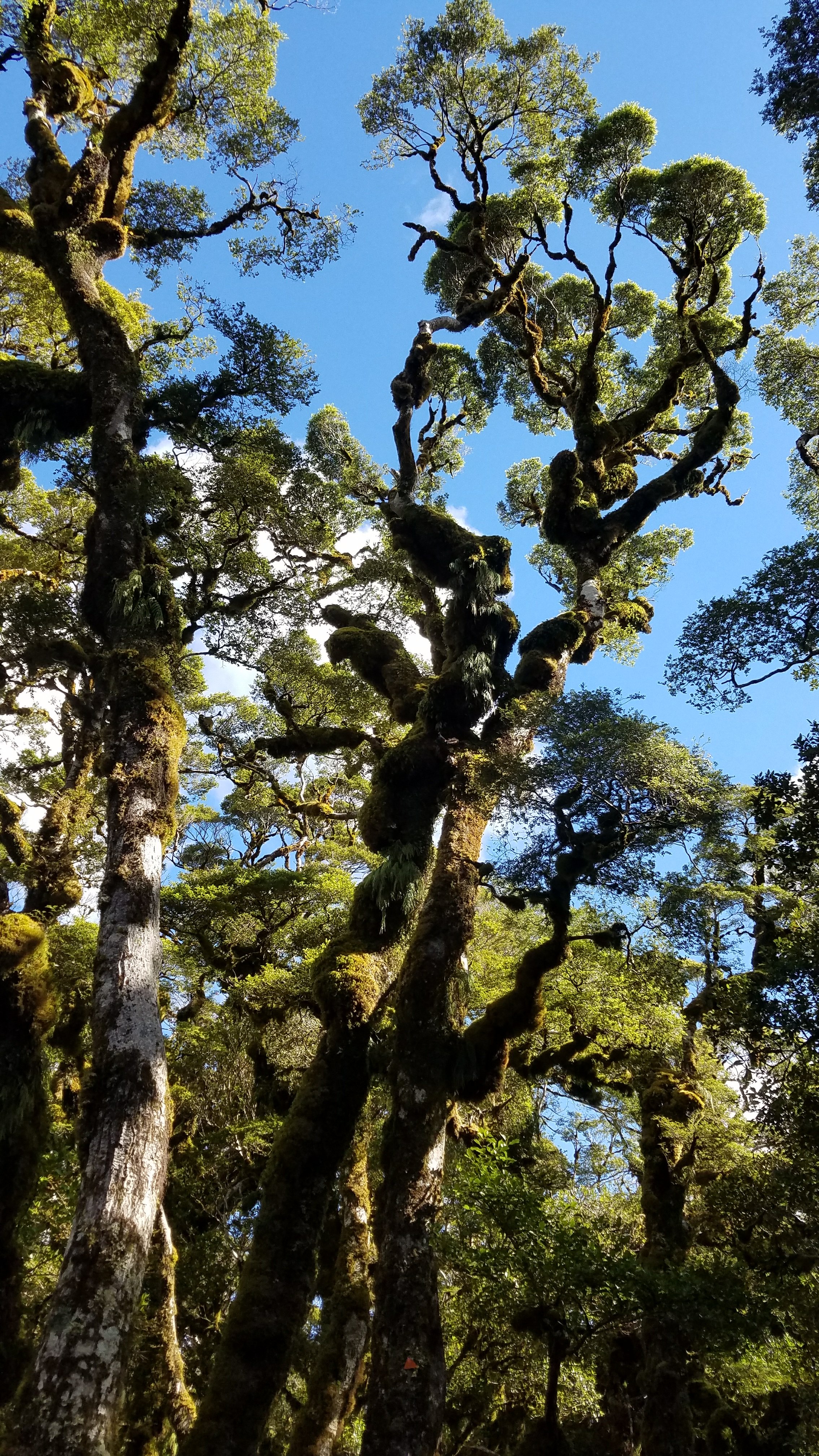 This picture was from the day before, hence the blue sky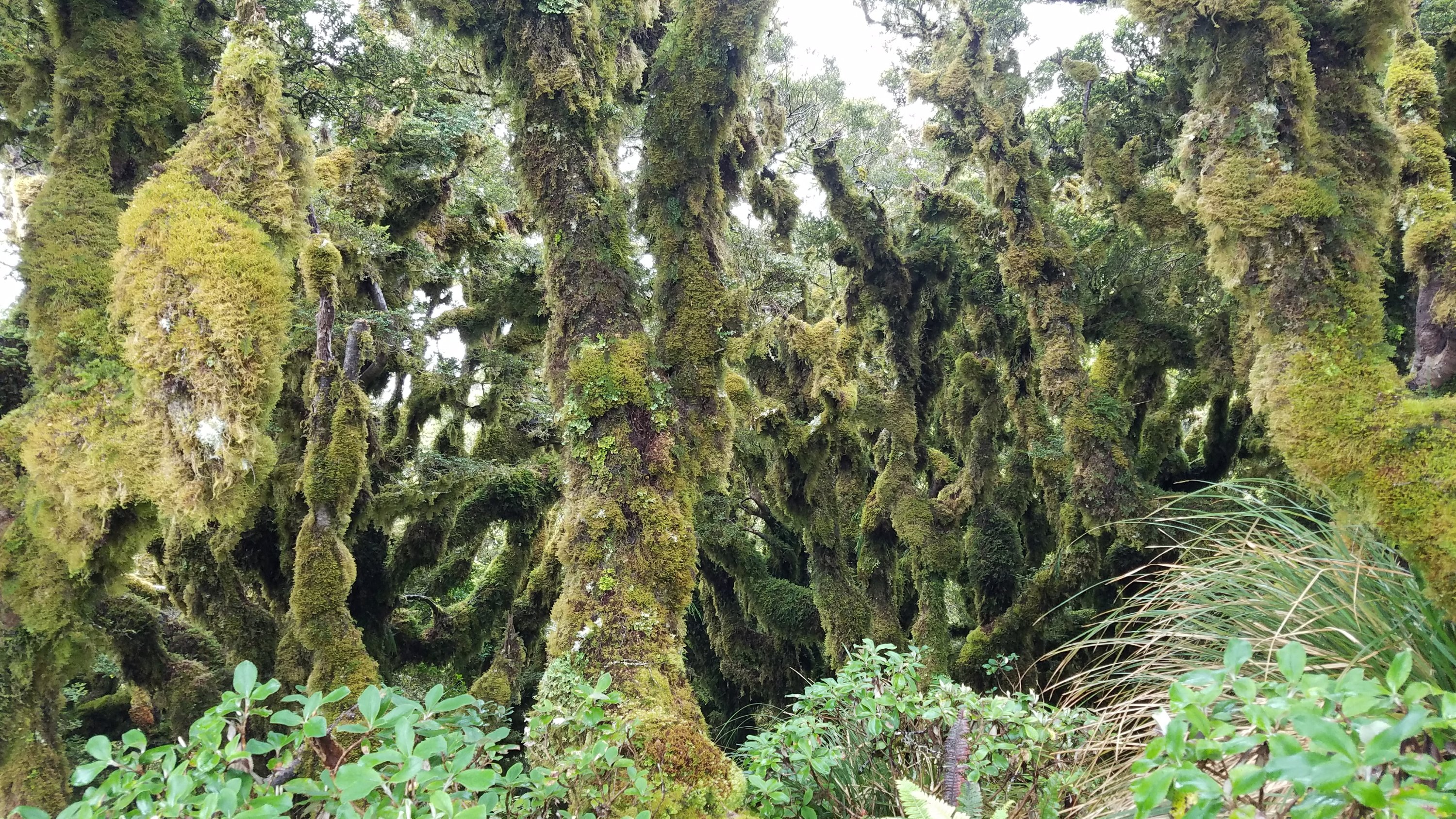 I got to the main ridge heading south in about an hour. There were still no views but occasional glimpses of blue sky and nearby ridgelines. I kind of liked the shifting and elusive scenery. If nothing else, it made the climbing easier as I couldn't see beyond what was immediately in front of me. It was also hard to see just how far one could fall taking a wrong step off the razorback ridges. Some of the ascents and descents required me to be on all fours, it was that steep. Again, it reminded me of the hairy ridgeline hikes I did in Hawaii…this time with a full backpack.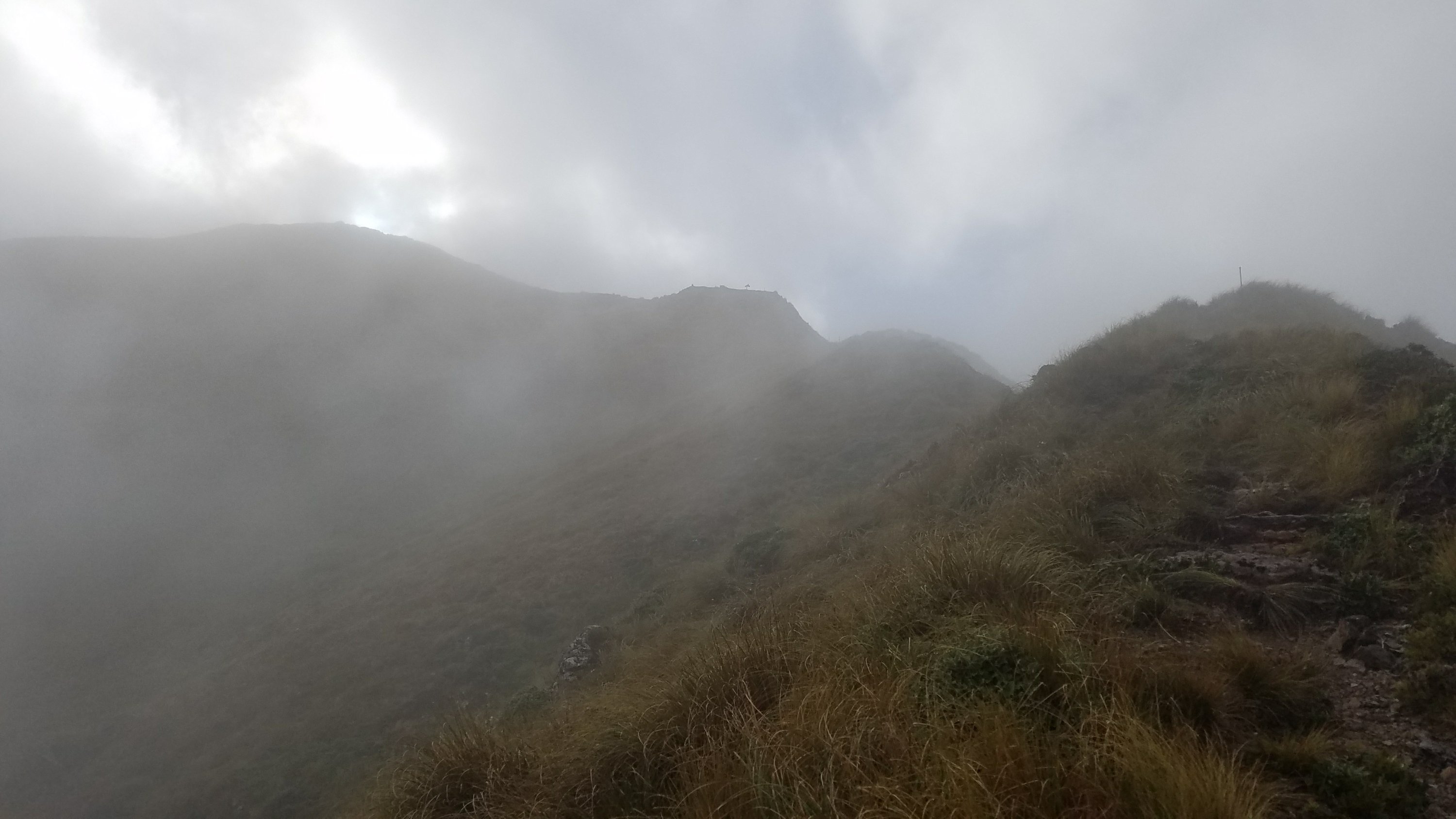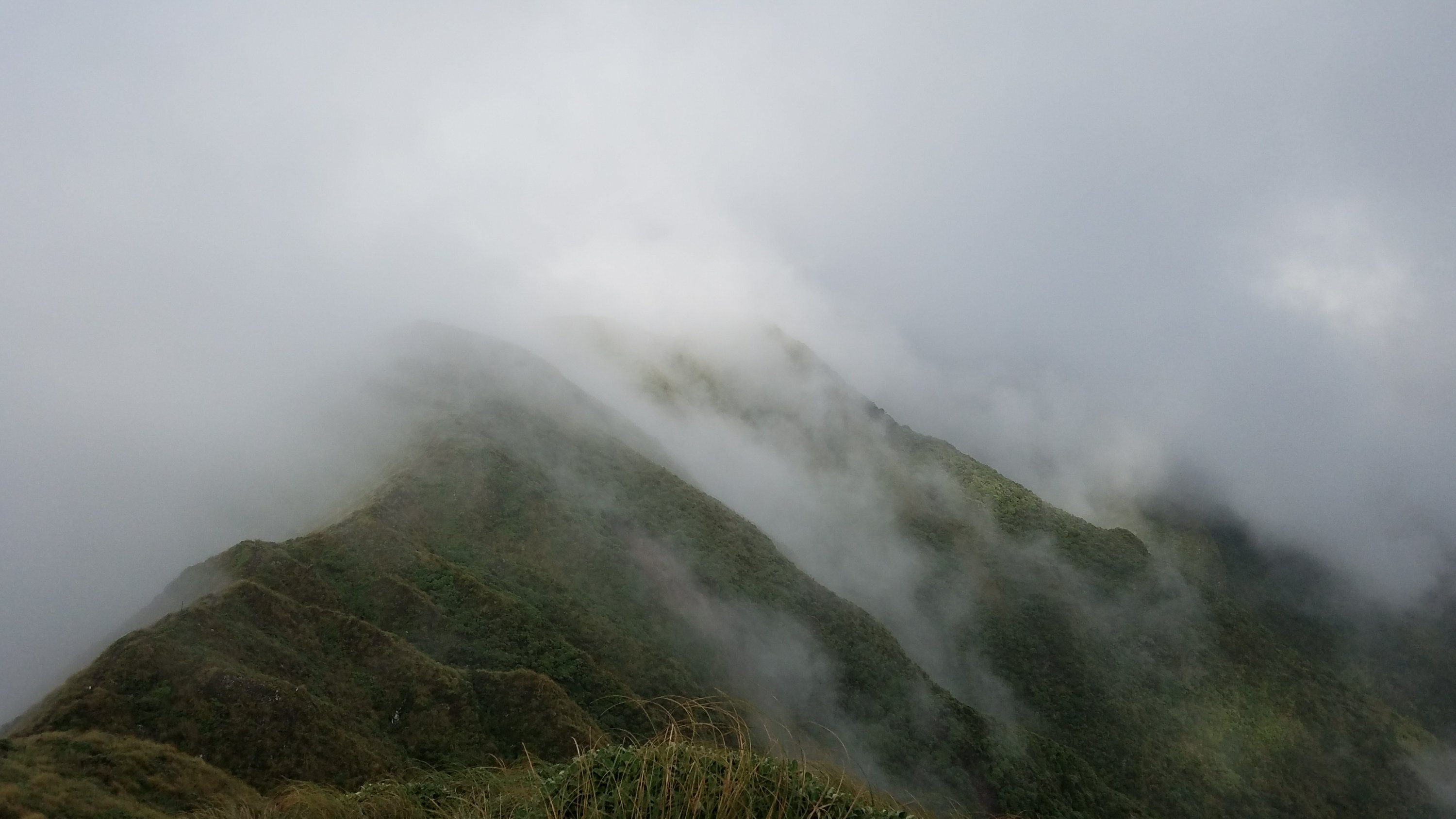 I considered putting away my trekking poles and just using my hands to cling to the tussock and rocks. It was hard to maneuver them through the high grass. Each placement required me to lift my hand high over my head and stab down in front of me, feeling for a decent purchase. Not very efficient. The ground was so soft and muddy in most places that the tips would also sink in half a foot. Then I would have to spend energy wrestling the pole out of its hole. This happened on about every 5th plant. My foot placements were just as difficult. The trail was so muddy but I couldn't see the deep mud pits because of all the grass overhanging it. Each step was a guess. Many times one foot would step on the ends of the tussock and then the next foot would trip on the trapped strands. Just as likely, a foot would land on the edge of a clump of tussock at an awkward angle, then slide off into the mud. When trying to take a step uphill, the planted foot could barely be trusted not to slide out and dump me face first into the hill. All these elements combined to make it feel like I was not only going uphill but against a current and a headwind, too. I pretty much stumbled, slid, crawled, and wrestled my way through much of the day. As Buck30 (another blogger that did the TA early on) put it, "The trail is kind of like that last bit when you are summiting a mountain. You walk a razor ridge and do all kinds of crappy trail to get to the top. That's what the Te Araroa is like all the time!" Mind you, I'm not trying to complain, just describe a little bit of what I went through. It was fun, in a masochistic kind of way.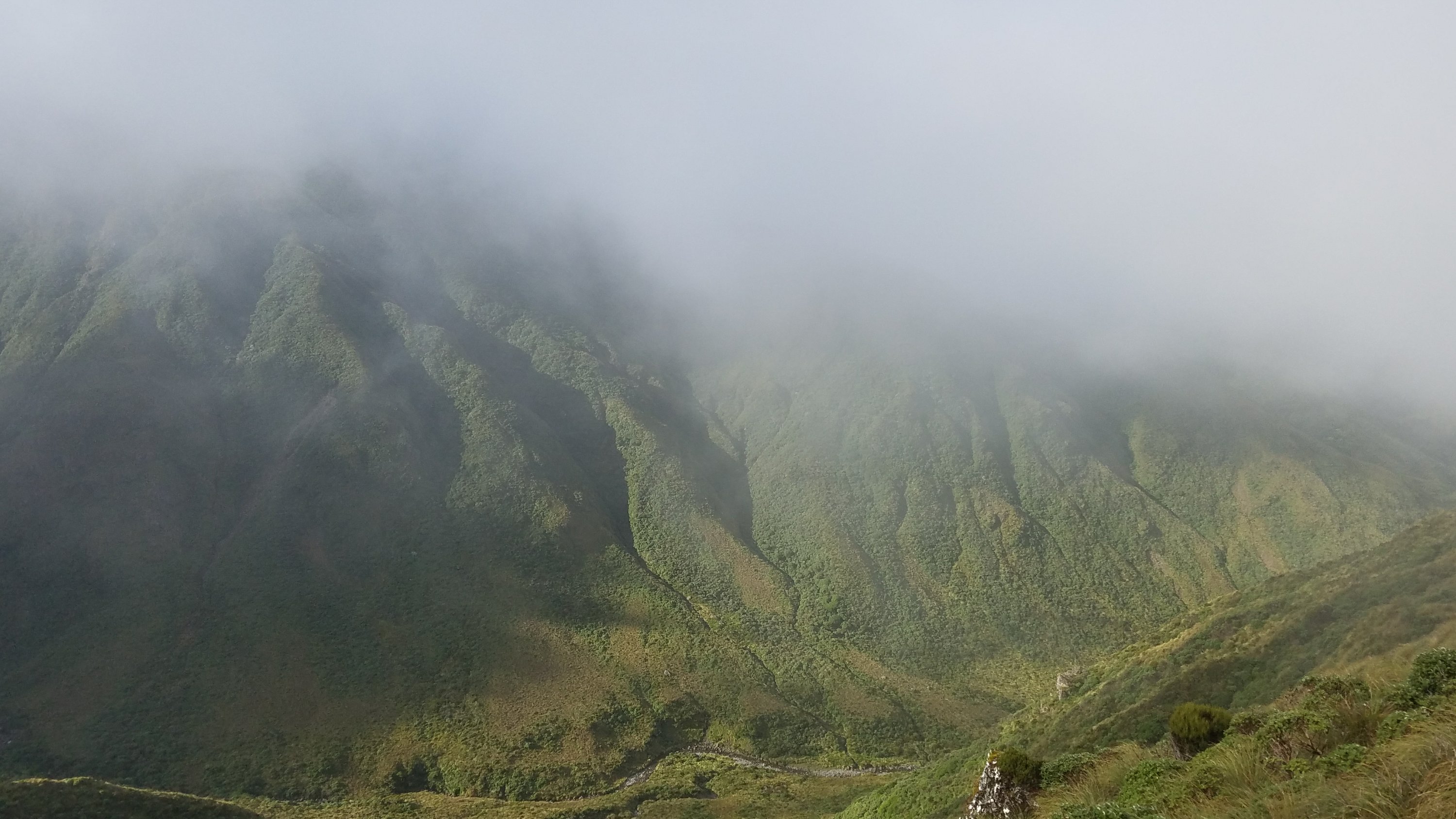 I was the first to reach the tiny 2 bunk Dracophyllom hut around 1030 am. It took me 3.5 hrs to go 4.5 miles, but that was at least faster than the estimated DOC time of 4-5 hrs. I found Graham and Troy there. They had gone the 7.2 kms from hut to hut the day before, then tented there. Today they just hoped to get to the next hut, 4.9 kms away. If I was finding the trail extremely acrobatic, you might imagine how Graham, in his 60's, might be feeling. But he's a hardened Kiwi and just takes it slow. As I took a much needed break at the hut, Connor and Rob arrived, followed by Damian and McKenzie who were the first to leave in the morning. Rob is also a hardened Kiwi, in his late 20's, and does adventure races in this stuff. And well, you already know Connor. I left the hut before them but they quickly caught up and passed me. It looks like Connor has finally found someone more apt to go his pace. I was able to hang with them for a bit, as the trail had dropped back down into the forest and was slightly easier. The many tree-falls over the trail required more acrobatics, though.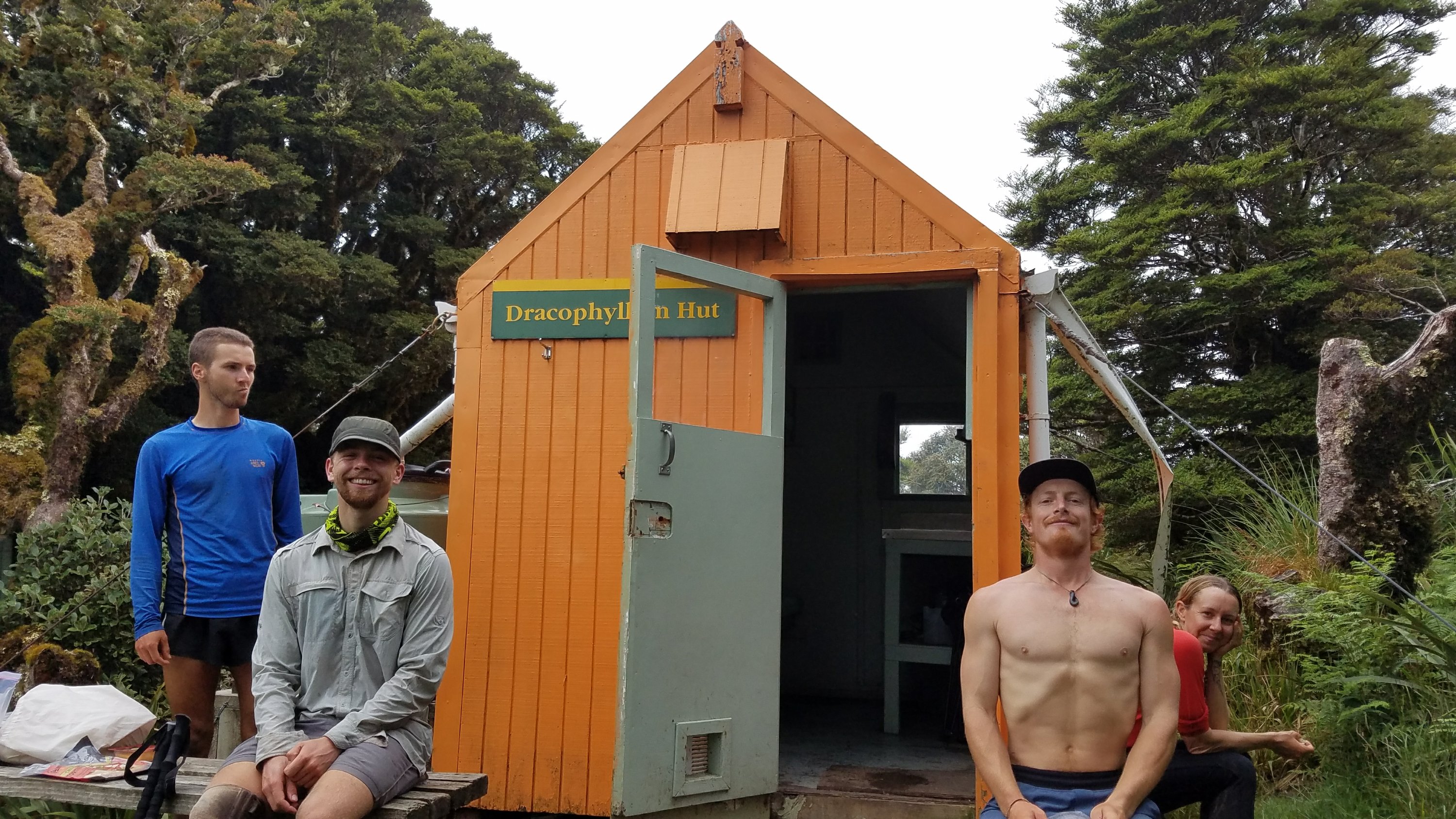 I arrived at Nichols hut around 1 pm and was happy with my effort. At this rate, I would be able to make it to the 3rd hut. I still had more climbing and a HUGE descent to do but needed a long lunch break. Rob and Connor were there chilling, looking like it had been an easy day.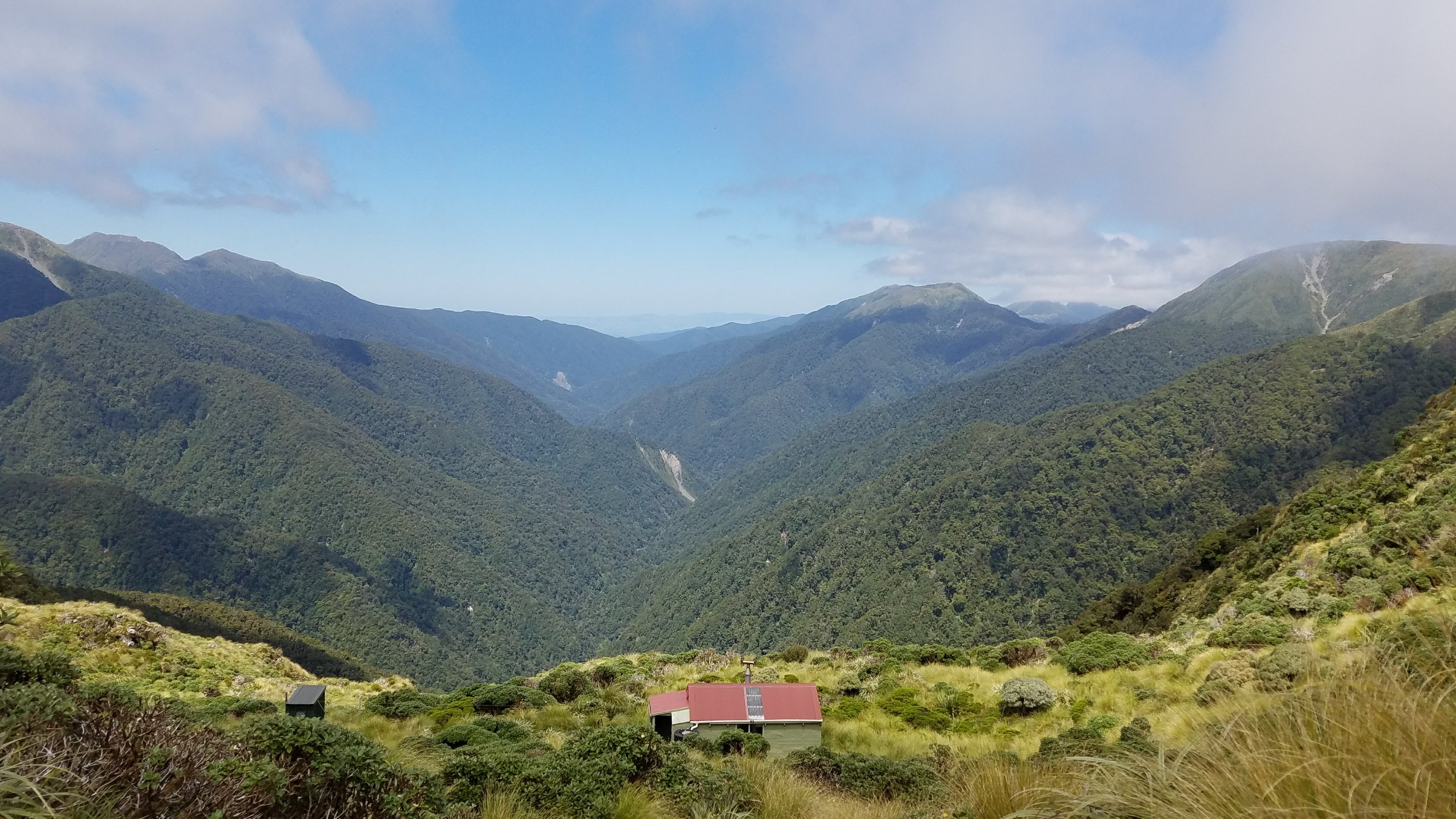 Rob and some of the others in his group were going to take a different route the rest of the way. The TA route drops down to follow a river course but they wanted to continue on the ridgelines for another day or two. Rob invited me to join them and though it sounded fun, I didn't have maps of that area downloaded on my phone. Because I've been navigating on my own for so many years, I find it hard to have to rely on someone else to lead the way. I'm sure that Rob knows these mountains pretty well and would be great to follow but I've gotten into trouble before making such assumptions. Besides, I've stuck to the TA this far, with great outcomes, why change it up now? Conner had decided to go with Rob so I bid farewell and headed out for the last push.
We had a good spell of clearing views at the hut but the whole ridgeline up to Mt. Crawford, highpoint of the section, was immersed in cloud still. This was the part I was really hoping would be clear but it was not to be. Oh well, there will be plenty more epic vistas on the South Island. In addition to the cloud, the wind had picked up a bit, giving the experience just a bit more of an edge. It felt fun rather than dangerous, as it was still warm.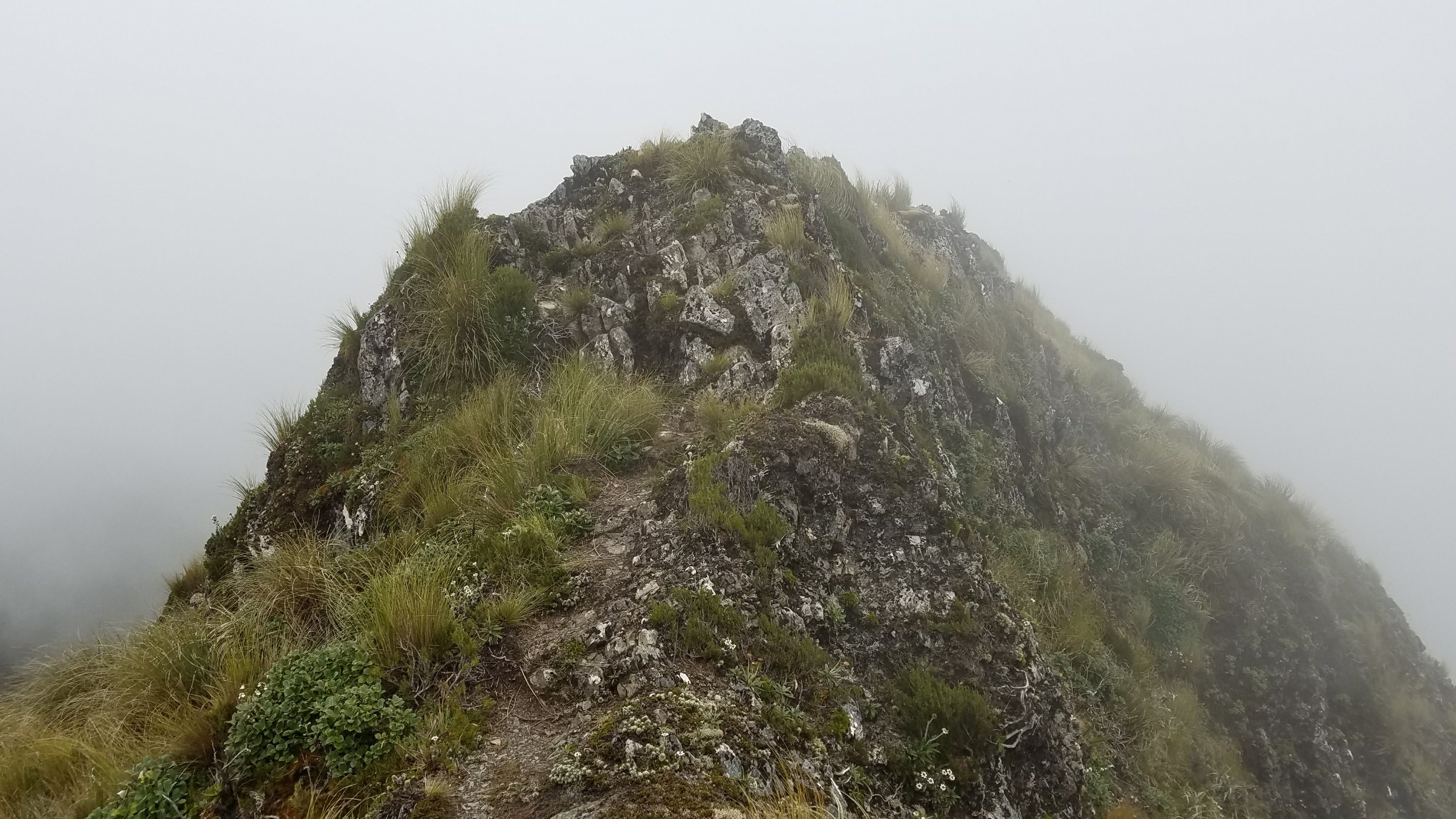 I reached the summit but barely could tell. There were a few more knobs to climb but the downhill became a constant factor for the next 2 hours. I did 3000′ of descent in under 2 miles! You might imagine that my knees and quads were feeling it. I also descended out of the cloudline just before reaching the treeline…just in time to loose the views to the trees, go figure.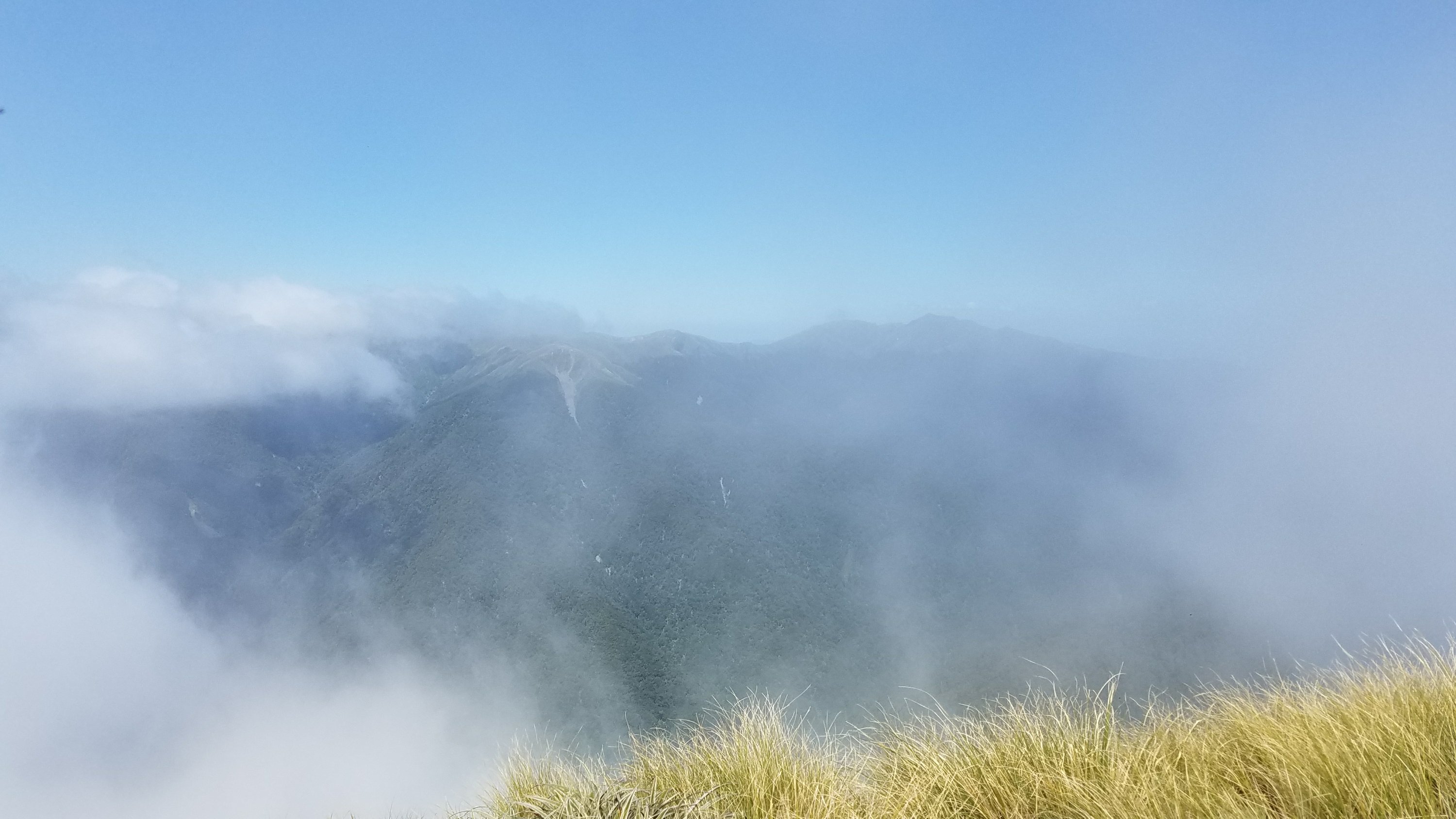 One moment it looked like this.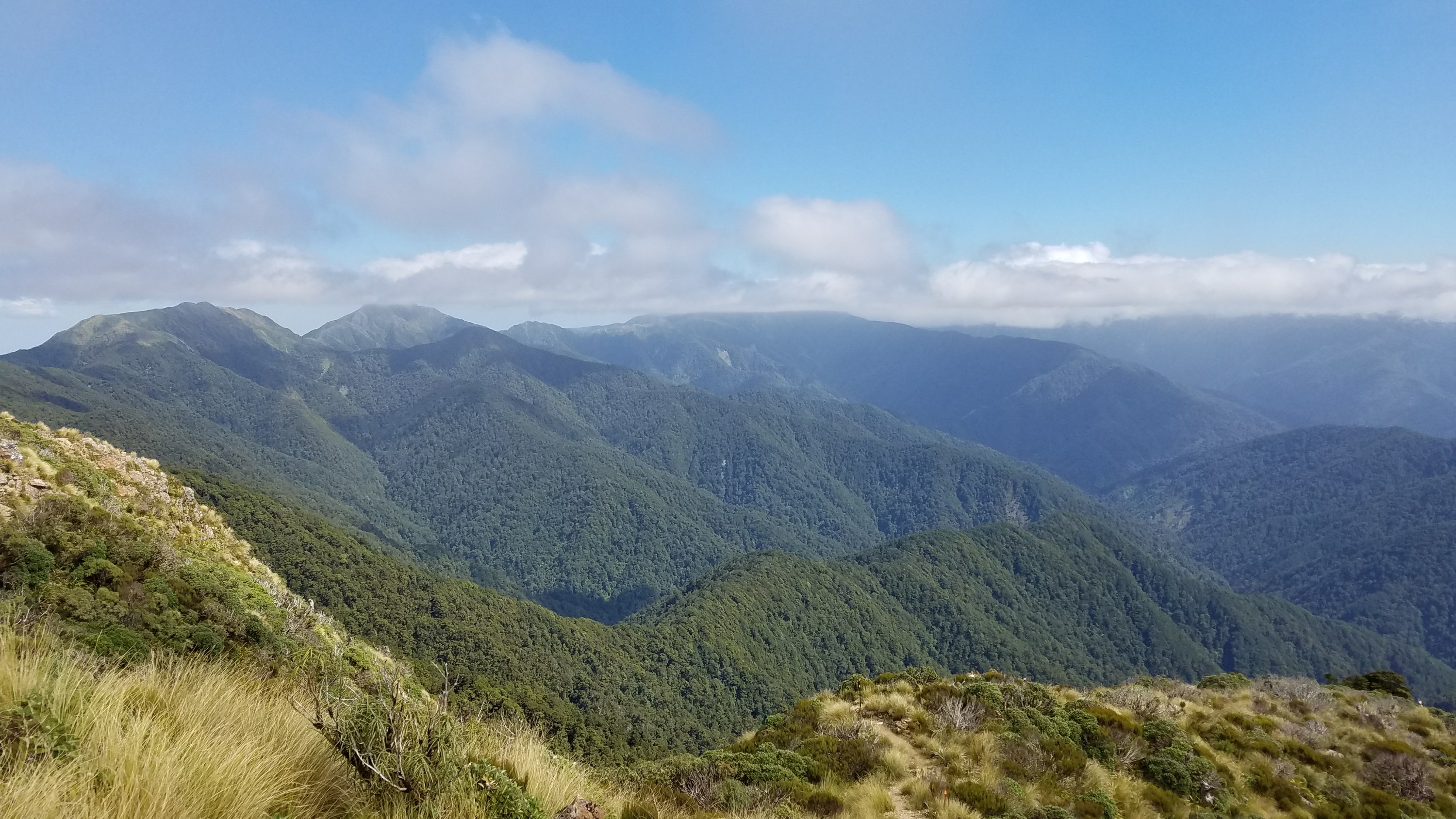 The next minute it was clear!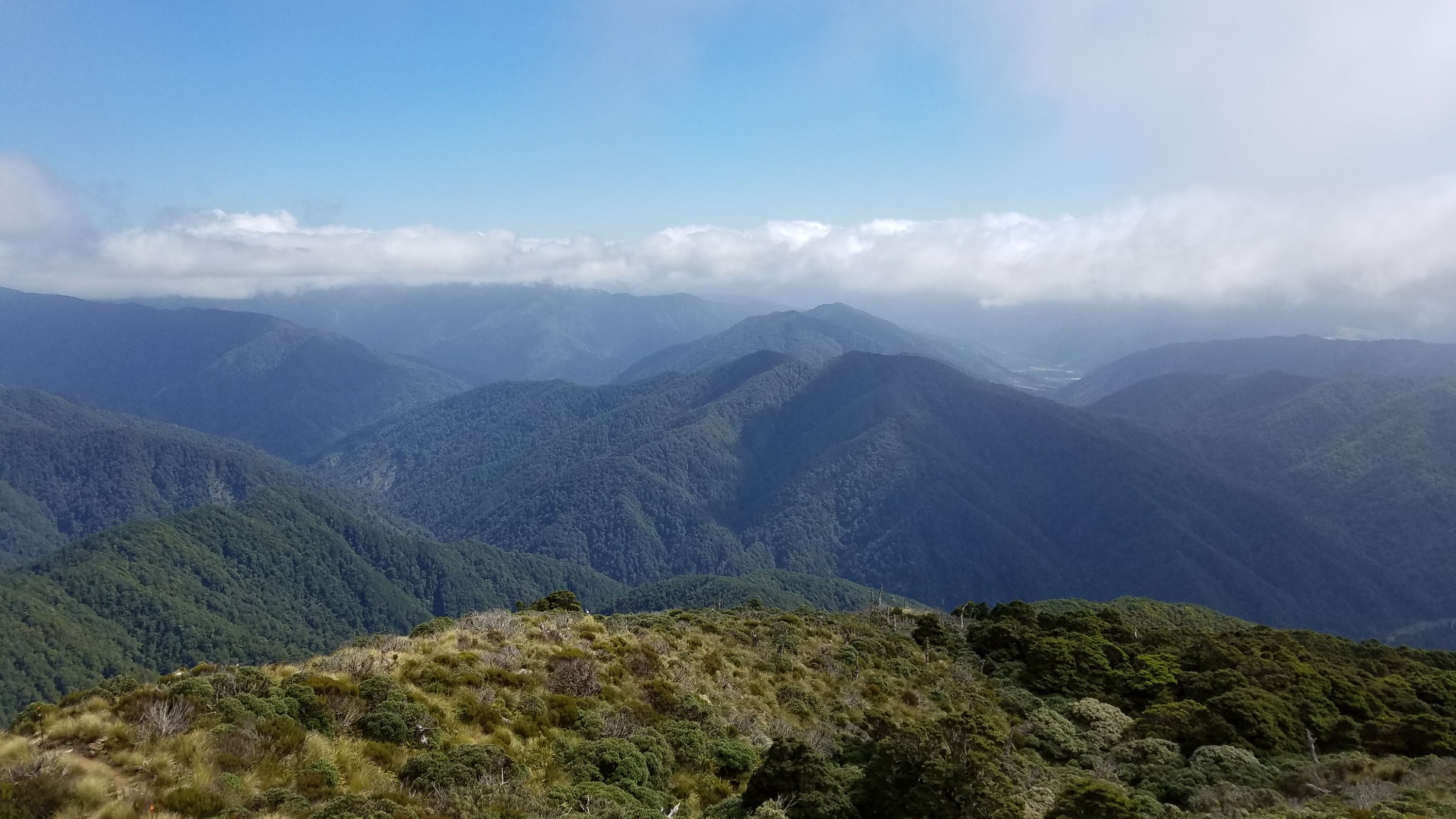 I arrived at the hut at 5:30 pm, with plenty of time to take a swim in the crystal clear river. It felt so good to cool off my sore muscles and bones. According to the guthooks app, I did 4688ft/1429m of ascent and 6566ft/2001m of descent for the day, all on difficult trail. (I don't actually have the app but pulled those figures from Wired's blog.) Those are pretty big numbers for one day!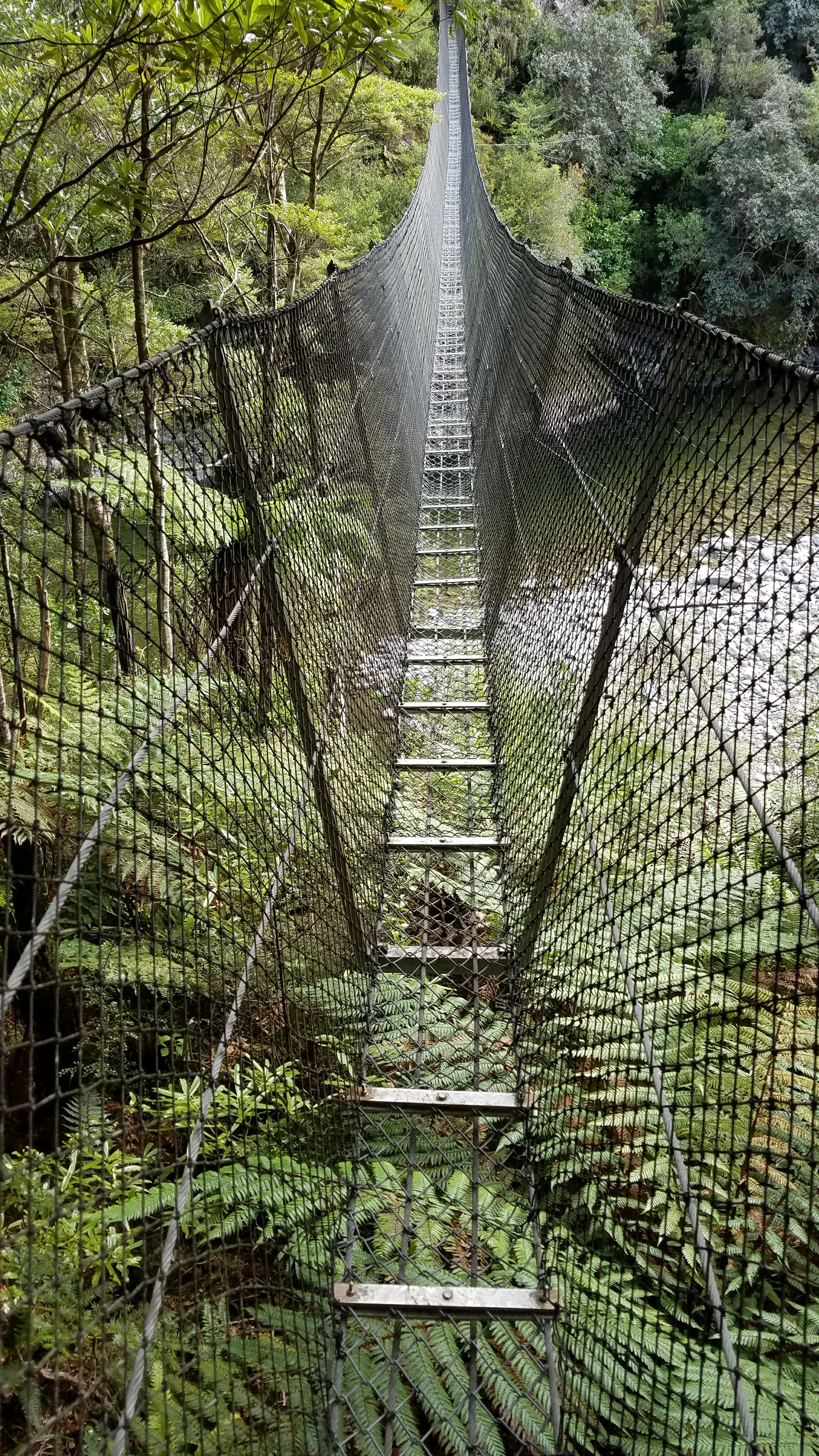 One swingbridge on the way to the hut…it was very wobbly, high and fun!
At the hut, I met 2 TA couples, Germans Nadine and Michael and Dutch Sebastian and Elien. They were both very sweet and immediately turned me onto the free food that had been left by someone at the hut. I scored a free dinner of rice and butter chicken sauce. Not that I needed it since I still had 3 dinners left for the trip but it's always nice to eat food that you didn't have to carry. Also, it needed to be used since left food just attracts pests. The five of us did a good job getting rid of it. I went to bed pretty early, naturally being quite tired from the day. I hope tomorrow is a bit easier!