December 20th
forest camp (km498)- Puhoi (km531)
Mileage: 20.5mi/33km
Today was kind of a tough day. It started out with morning rain, the kind that ensures that you have to pack a wet tent, even though it was dry the rest of the night. I could tell it was going to rain more. The wind had blown a lot of clouds up into the mountains, which were now getting trapped and letting loose their moisture. Looking out towards the coast, it almost looked clear. I was on the trail by 06:30 am and once again doing a roller-coaster trail. These forest tracks mostly follow the ridgelines, which rise and fall a lot, given their volcanic origins. And if you see a peak in the distance, you can be sure the trail is going up it. The light rain had made the roots pretty slippery but the ground was mostly dry still. There were oh so many roots, though. I came to a few places where DOC had built some turnpikes and boardwalks, making the trail into easy-street. But after 20 meters or so, they would abruptly end. Kind of odd.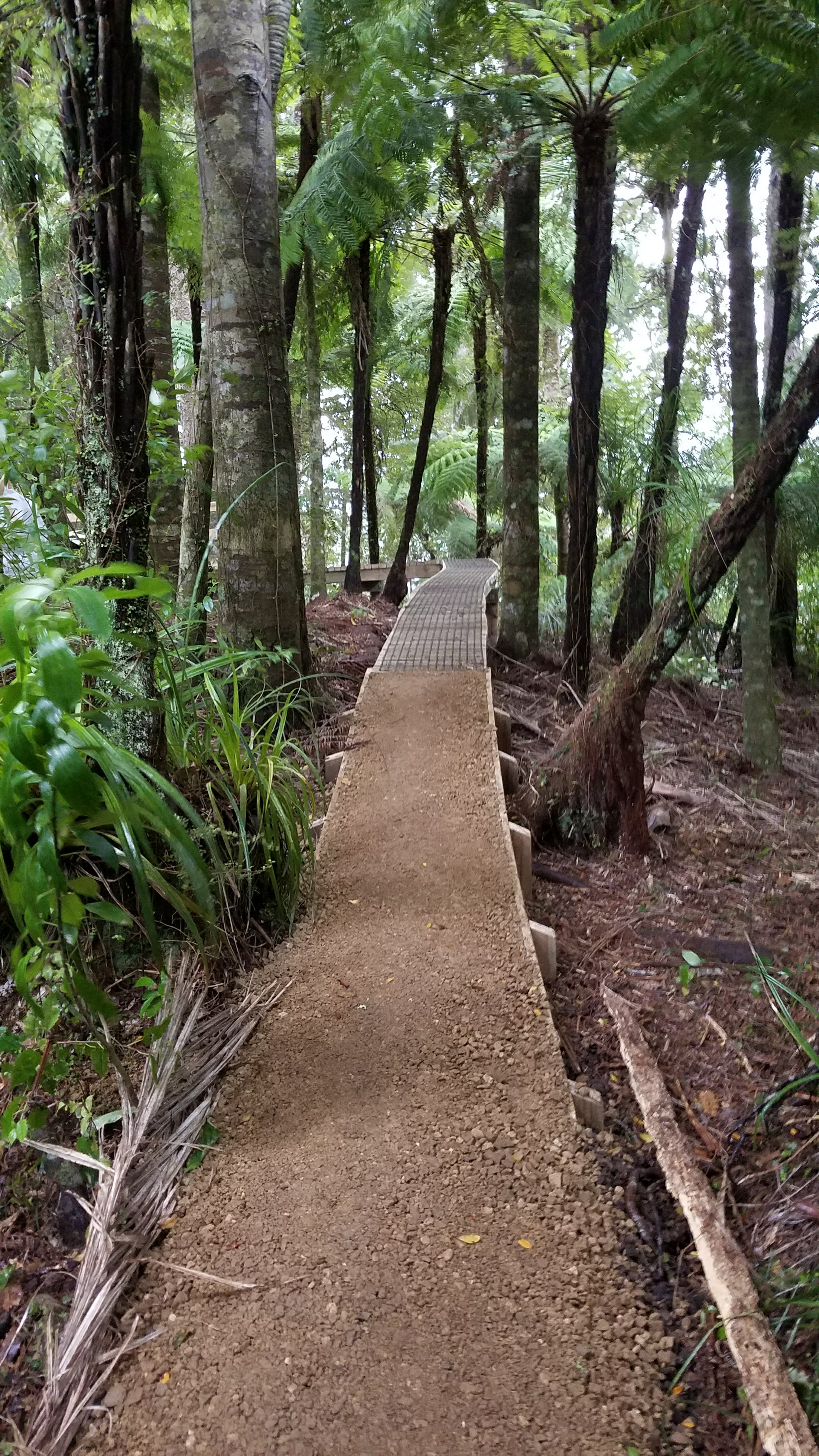 Trail improvements thanks probably to volunteers.
I started off in my rain coat (first time using it), took it off when I quickly got too hot, then had to put it back on immediately because the rain started coming in heavy. Rain jackets are a pain compared to my umbrella but I thought it was too windy and too much underbrush for the brella. Finally, I did just go back to my umbrella, but having to hold it rather than have it clipped to my pack. It was awkward juggling two poles and it, while trying not to slide down really steep and slippery sections. I started getting a little frustrated with the trail conditions combined with the rain. But I only had a few kms to go and knew the last km was a well maintained trail. There were even interpretive signs for the vegetation, but I wasn't much in the mood for reading them. I read a few, at least. Dome cafe was at the end of the track, right along SH1. I stopped to dry out, get some coffee, a meat pie, and grab some electricity. A sign read "sorry, no wifi. Talk to yourselves." There was another sign implying that the owner/manager, Bill, might be a bit of a curmudgeon.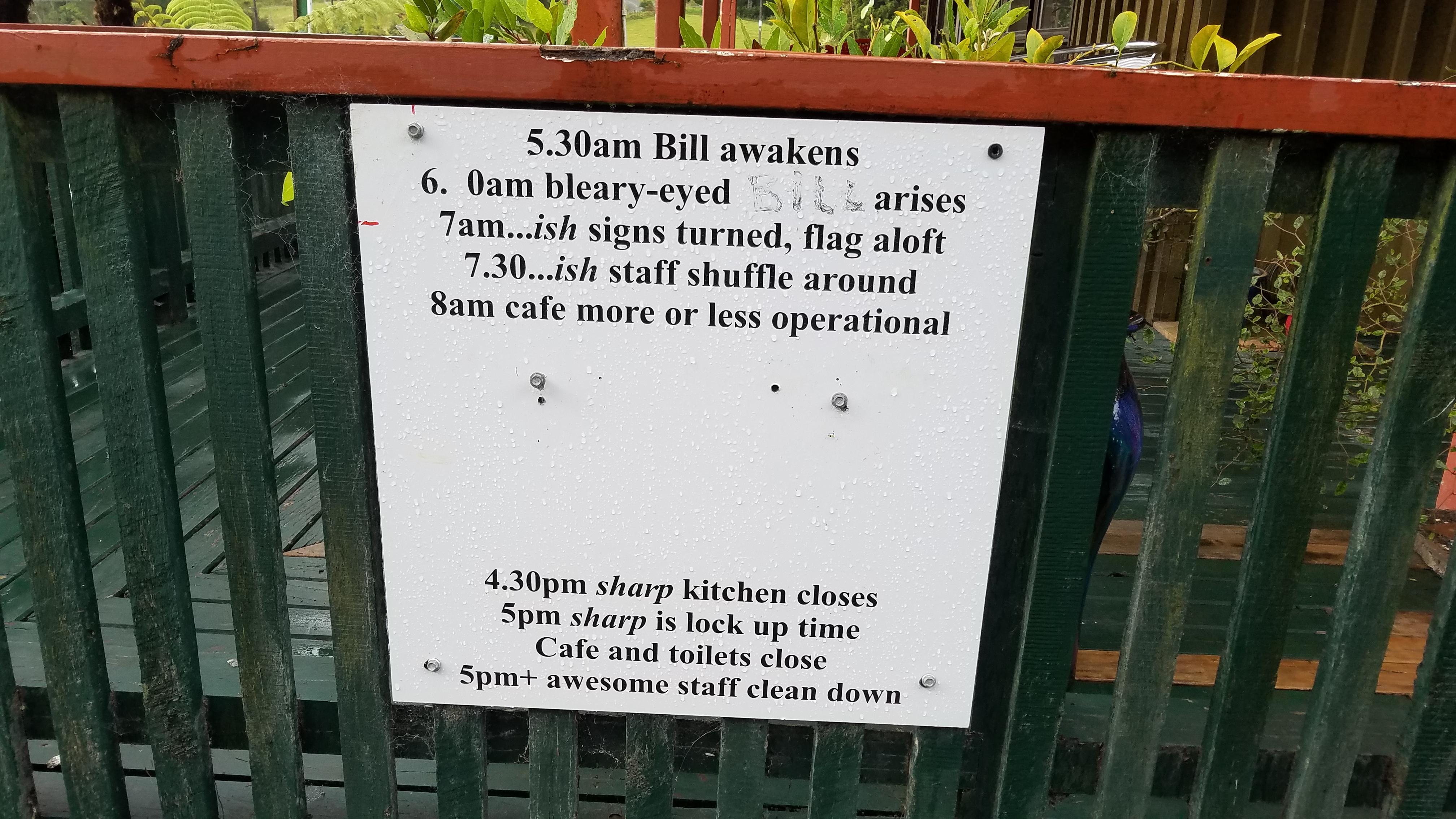 Then I met him and he didn't disappoint. First I had to show him the bottoms of my shoes to prove they weren't caked with mud (stepping in the rain puddles had washed it all off). Later, he came over to the table where I was seated and accusingly asked me if it had a "reserved" sign on it when I sat down. It didn't, I said no, and he wondered off mumbling something. It was perplexing since the place had just opened when I arrived at 8 am and I was the only one there. Then, the resident cat came over to visit and keep me company. Bill was at a nearby table looking disapprovingly as I petted her. I smiled and asked for her name. "It's Tulia" he replied and when I followed up by saying she was sweet, all he said was "she has her moments." So did Bill.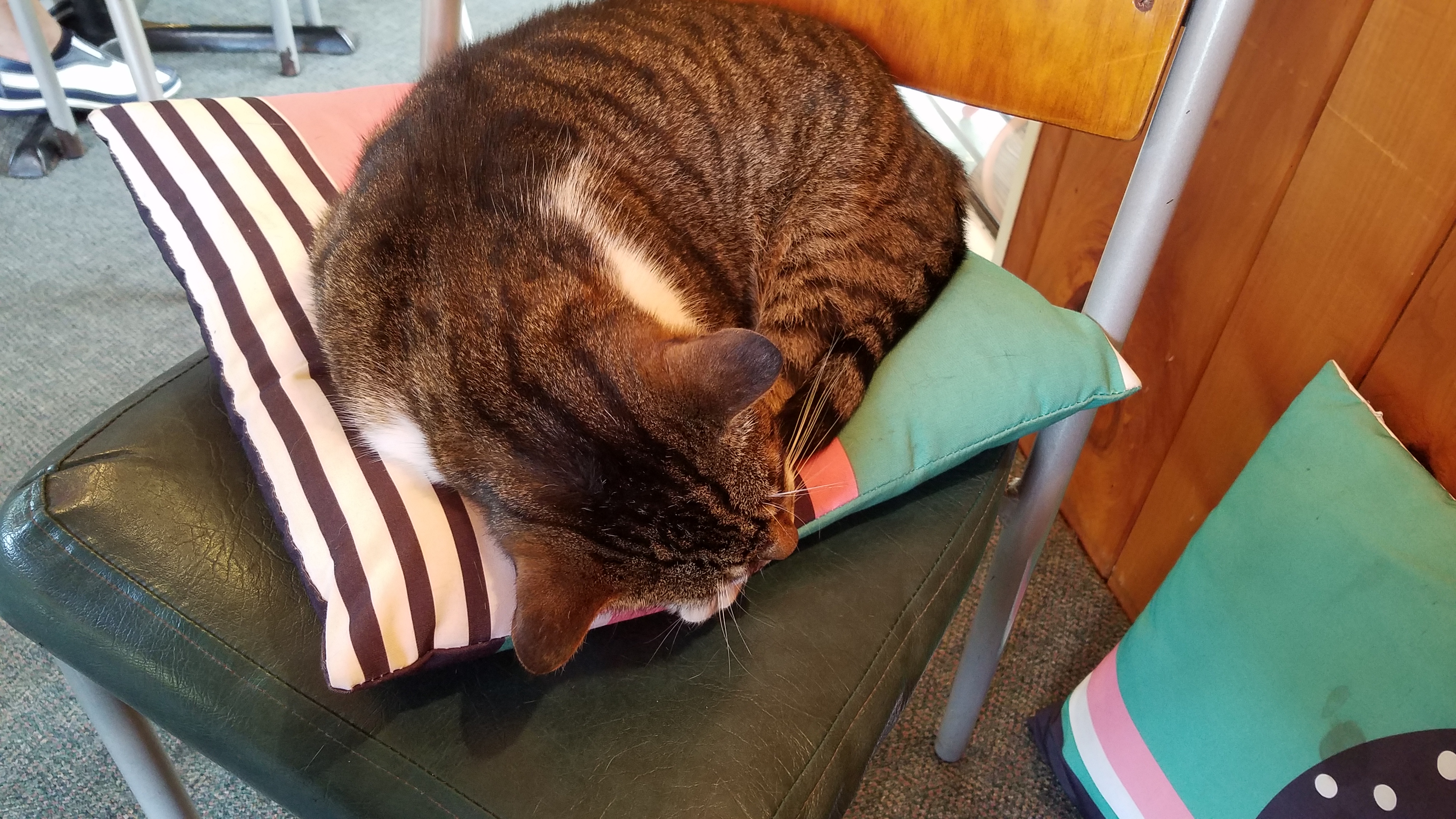 Bill is like the first grumpy kiwi I have met but it made him kind of endearing. I know it was bothering him that I stayed so long, so I stayed even longer, typing on my phone and sucking up juice while slowly sipping my coffee. I just kept smiling back at him. Had there been people waiting for tables, of course I would have hurried, but there were not many others that came in and plenty of space. The rest of the staff were very nice and even the begging rooster outside was so tame and sweet, I could just walk right up and pet him. And you all know I love roosters!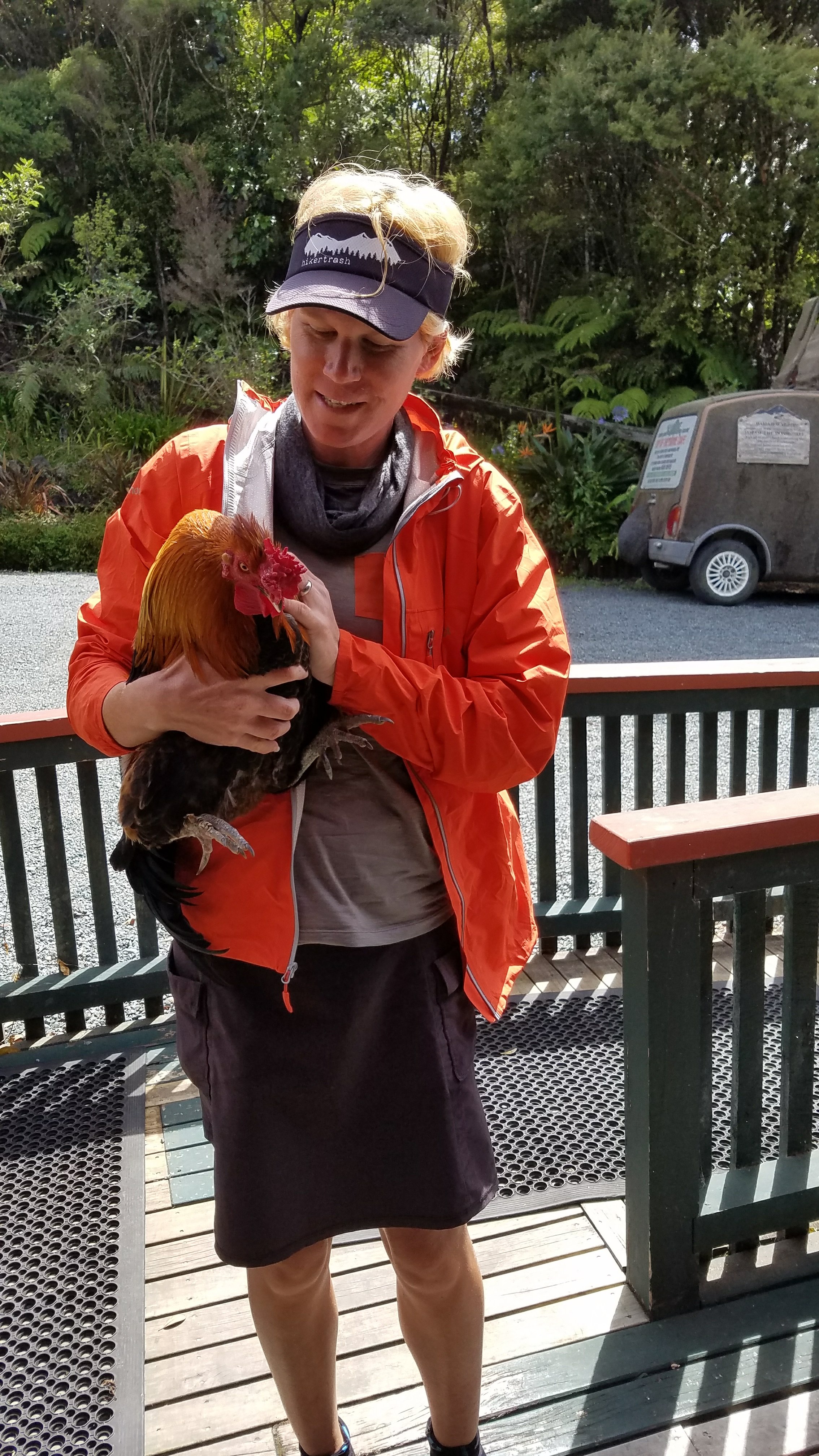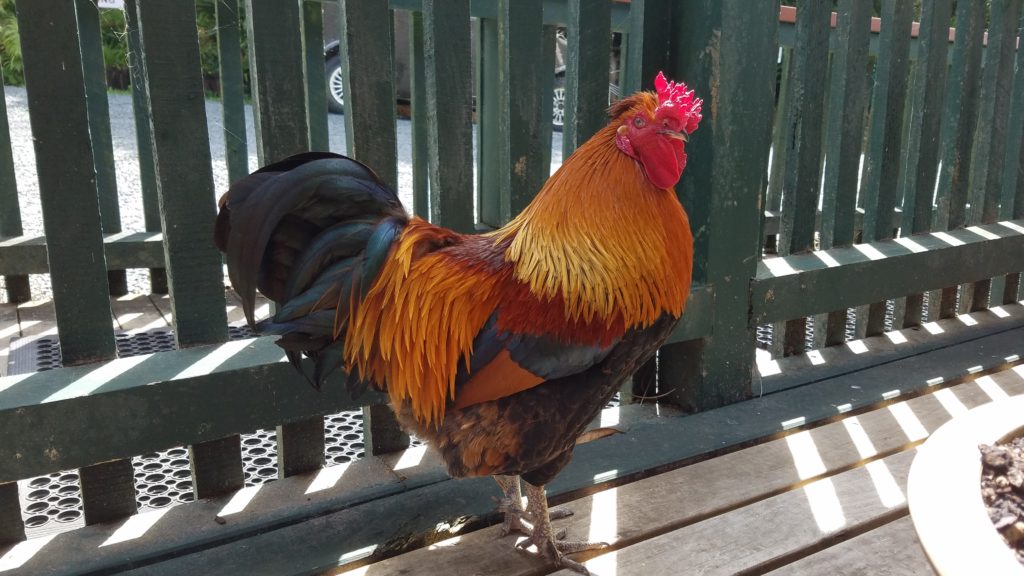 Hector is one fine and proud looking rooster (when I wasn't molesting him)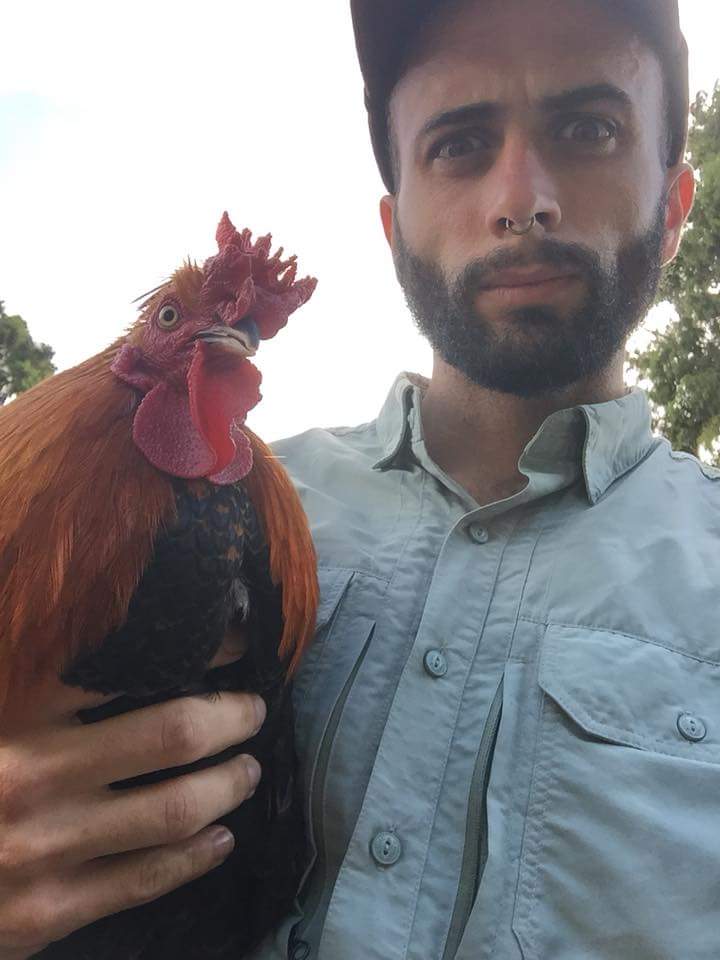 Jorge, another TA walker from Miami, has been following in my footsteps and reading my blog. He made sure to send me this awesome photo with Hector when he passed by. I love it!
Finally, I decided to give old Bill some peace and be on my way. The sun had even come out. While packing up, 2 women asked me what I was doing. I explained and the one lady was so impressed that she stood up and gave me hug! Maybe Bill has special powers in sucking all the grumpiness out of others, making this the wonderful, happy place that it is. He's like an X-men character. So let's all thank Bill for his sacrifice.
BTW, I passed the 500km mark just before the cafe, so I am already about 1/6 done!
There's not too much more to say about the actual hiking today. It was a mix of gravel road, forestry road, farmland, and some bush tracks. It was far away from the coast, so not that exciting. But tomorrow and the next will mostly be all on the coast.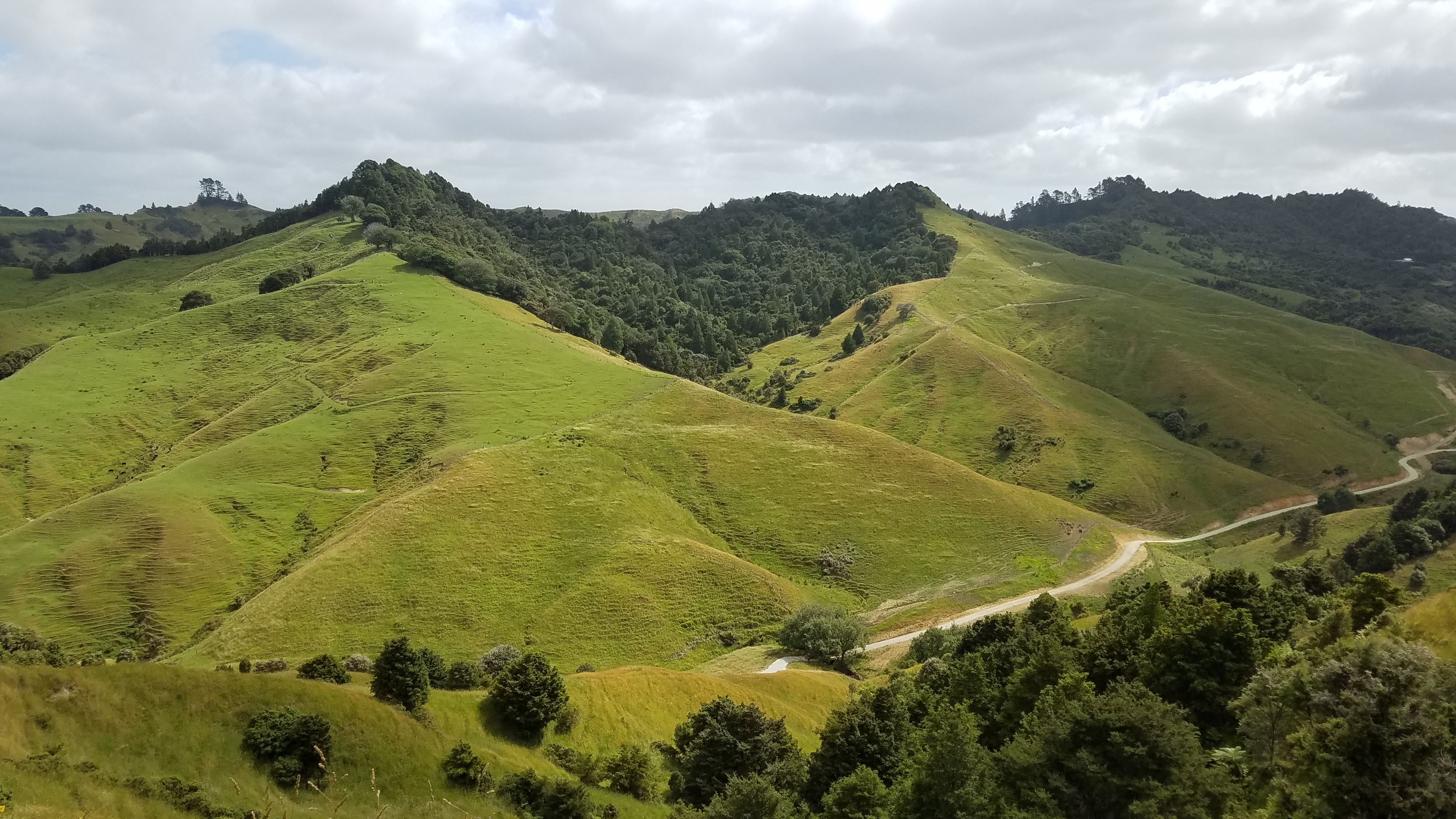 I arrived in Puhoi around 6 pm, phoned the local homestay to ask if I could camp, then got takeaway of fish and chips. This is another mainstay of New Zealand. It's just french fries and a piece of fried fish but usually very cheap and high in calories. It most often comes wrapped in newspaper, which helps soak up all the oil. It's nice because then you have something to read while you eat. Mine was the Farm News, so I got to learn about milk prices, sheep sales, and the cost of various NZ vegetables.
One annoying thing is that you always have to buy ketchup, or tomato paste as it's called here, separately. Don't make the mistake thinking tomato paste is the same as ketchup either; it is a runny, awful substitute. Last time I was in NZ, the only place I could even find real ketchup was at McDonald's. Even there, they don't just give it away, you have have to ask for it. Then they might begrudgingly give you two packets, if you're lucky and only if you've already made a purchase. Thankfully Heinz has made inroads here in the past few years. Yeah Pittsburgh! But I had to pay a dollar for a single-serve packet. Why is ketchup so dear, NZ???
I arrived at the homestay with my takeaway and measly amount of ketchup, ready to settle in for the night. I was given the option of tenting or staying in a caravan for $5 more. Caravan it was. Pip was so nice, she let me take a shower in her house. Once again I am living luxuriously and benefiting from kiwi graciousness. I slept so well in the caravan, and could even see the stars out through the large windows. Sweet. Why am I not just traveling around in a caravan? Ha ha.