December 19th
Miller's Ark Retreat (km472.5) – forest camp (km497.5)
Mileage: 15.5mi/25km plus 2k extra walking the beach.
Today was about slowing down and taking things in. I was in no hurry to leave the Miller's, not after the nice dinner last night. We had arrived at their place close to 7pm, unannounced, but they set about right away in sharing their home. They even cooked us dinner. Their daughter makes gourmet meat pies for sale overseas, so they baked us one large, butter chicken, and one small one, rosemary and steak. Jo also made a salad. After dinner we had herbal tea and conversation into the night. It was of great international flavor, given the inputs from Denmark and France. Ironically, the Miller's oldest daughter is leaving this week on a trip to Antarctica, so I showed them some pics from my trip there.
This was all so unexpected and such a treat. We each paid $10 to cover the cost of the food but it was well worth it and so much better than my planned tuna and pasta. I sure am eating well on this thru-hike. I haven't lost much weight yet, which is a good thing. This was also my first meat pie in NZ. They are very popular here and usually a cheap option that you can get at any convenience store. They are basically what we would call a pot pie. BTW, Trader Joe's sells two varieties, steak and ale and a chicken basmati and both are 2 of my favorite things from there. The pie last night reminded me very much of the chicken basmati. So good!
In the morning, I packed up early, ate, and was about to set off, as is my custom. But then Paul came out to invite us in for breakfast. Well, what proper hobbit wouldn't accept second breakfast? He checked out my gear and was most impressed with my umbrella set-up. I have pole clips from an old tent that I found discarded in the woods. I cut off the clips thinking I might find a use for them someday and sure enough, they fit perfectly around the umbrella pole. I drilled some holes in them so that I could zip-tie them to the shoulder strap of my pack. I also employ a bungee cord with a clip for tensioning and adjusting the height. It works pretty well in holding the umbrella so that I don't have to. I think I may be onto something I could market… not that there is a big market for backpacking umbrellas.
Breakfast was toast and stewed plums with yogurt. Noting fancy but very good. Vivian had decided to stay for another day and Edward was moving on, so I waited for him before departing. I felt like I was stealing her hiking partner, since they had been traveling so long together. But I guess it was just time to do different things. It was probably close to 10 am by the time we left. I didn't have much of a plan for where I would end up that night, just that it would probably be in the forest. So much for my running streak of staying with amazing people and having a shower every night. I managed 6 days in a row.
Edward and I had a very pleasant stroll down the beach, lost in conversation, so much so that we missed the point where the trail departed the beach. We walked an extra kilometer or two but it was no bother. I had my lunch on the beach while Edward went for a swim. When he came back, he had decided to stay on the beach for a few more hours. I said ok no worries, I'm just going to move on and maybe see you down the trail. So once again, I was by myself. A funny Kiwi guy had observed our parting and later rolled up to me in his truck (a ute as they call it here), asking if I had just broken up with my boyfriend. I laughed and said no, we had just met yesterday. He put his finger to his mouth and replied "Ohh, sounds tender, just a one night stand!" I said it was more like a threesome. Thankfully another car rolled up from behind and ended the conversation at that. Kiwi's also have quite the sense of humor.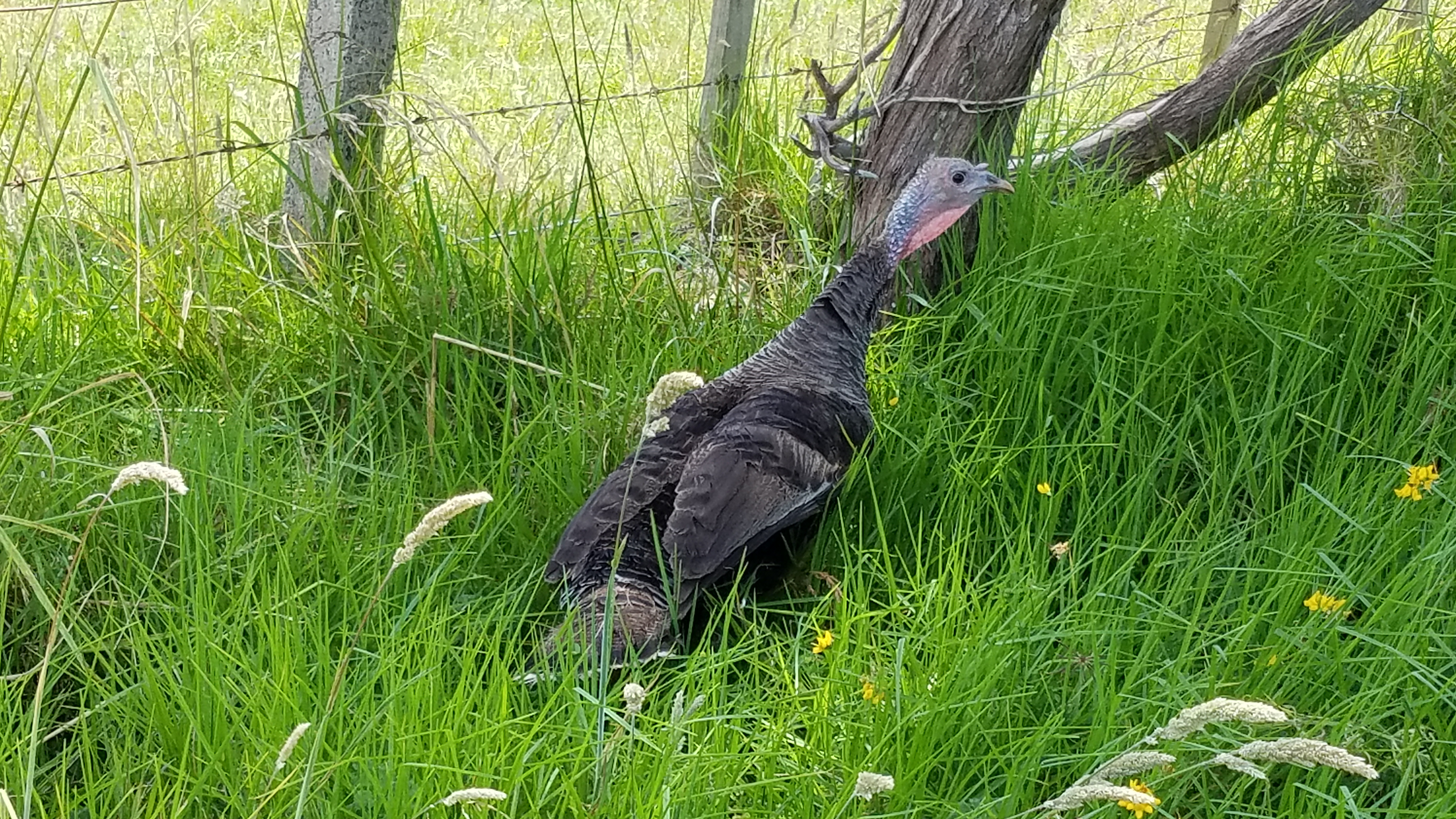 wild turkey…watch out, it's almost Christmas!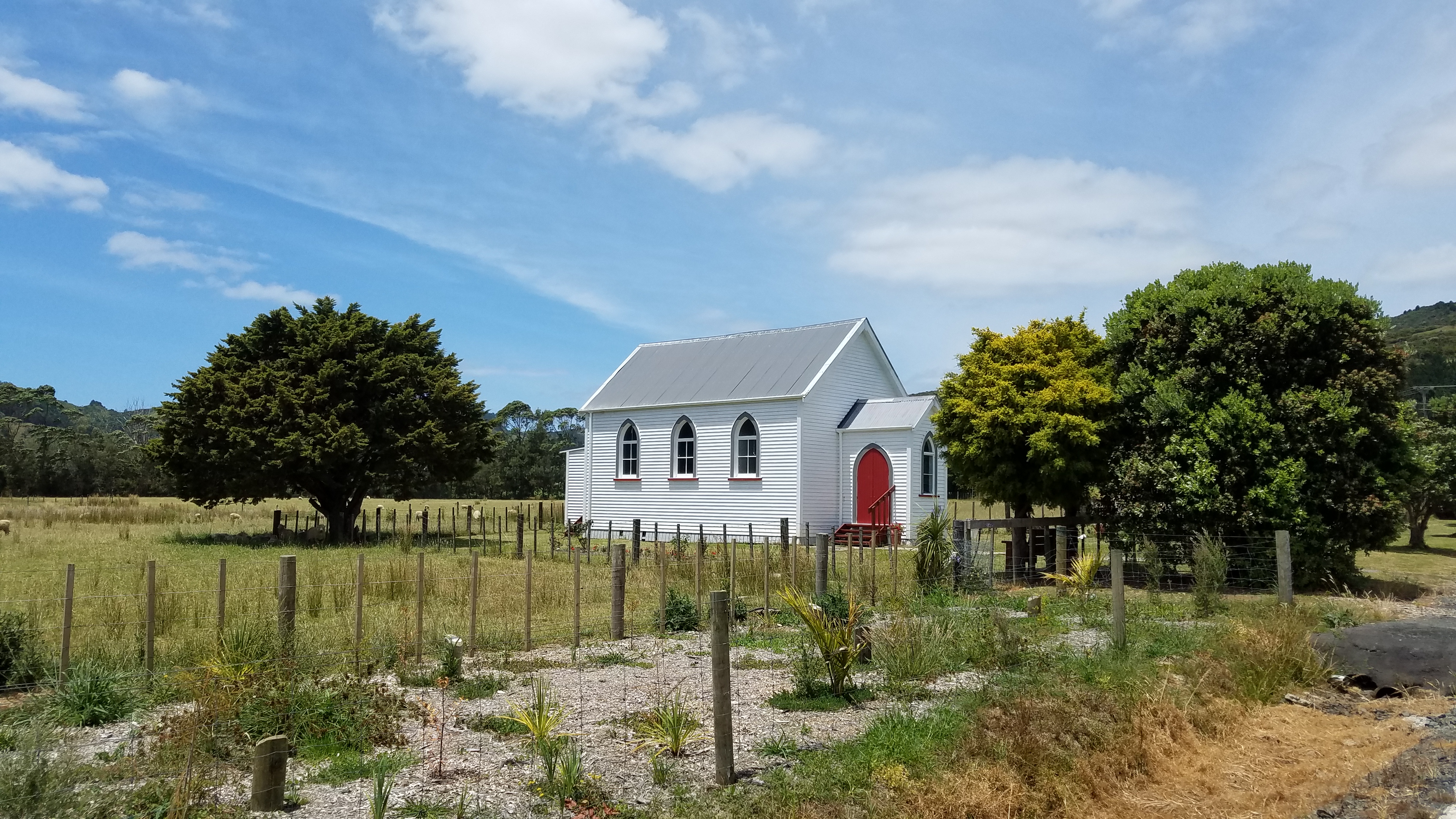 Old church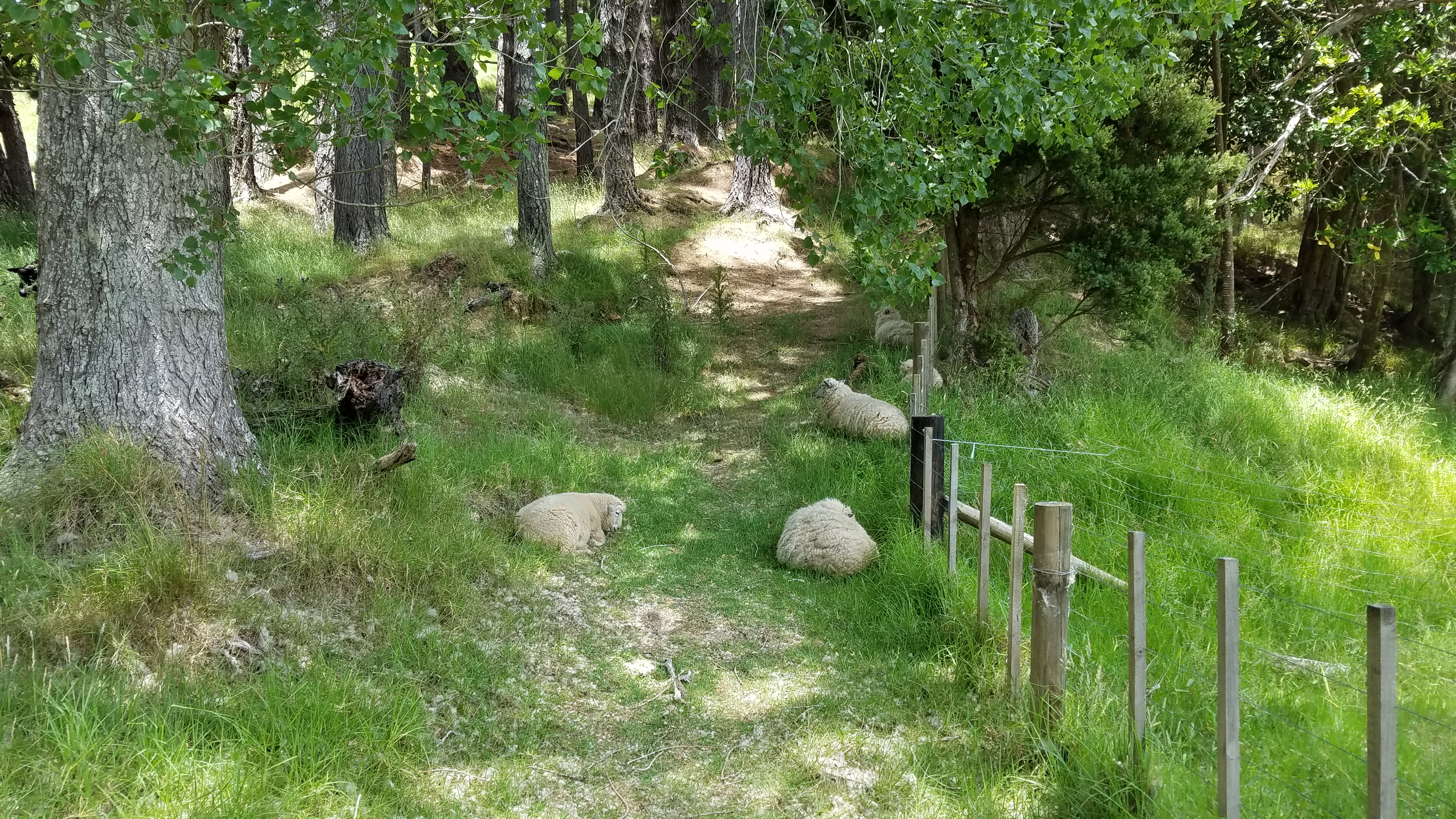 I had to bother these sheep that were napping on the trail.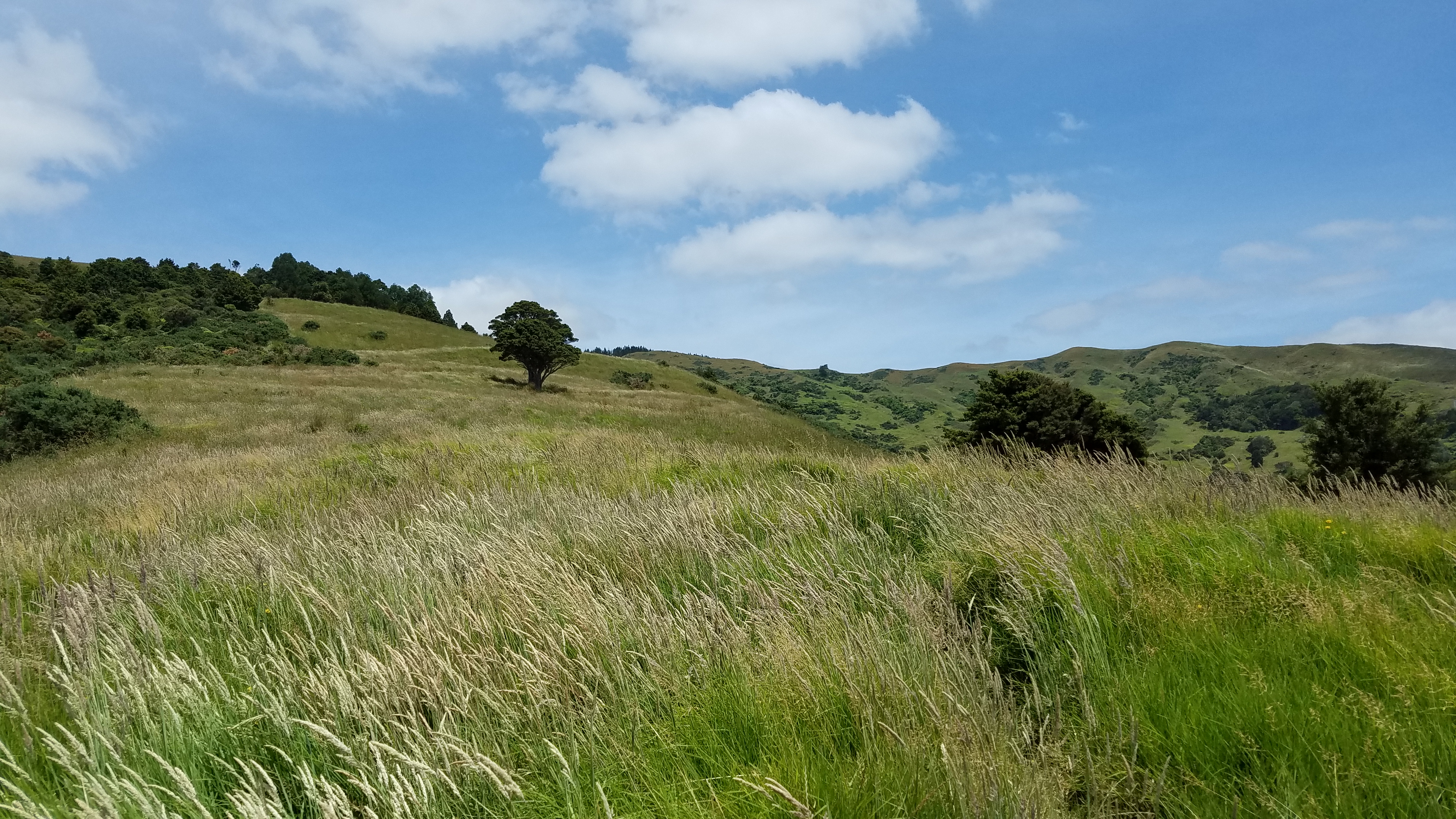 It was all uphill from the beach, first through farmland and then bush. The bush track through these hills has been described as very muddy and difficult in past years (I believe the term used was 'ridiculous') but it was pretty easy today. It was a lot of roots and ups and downs, but what's new?
I caught up to TA kiwi walker Megan at a weather station at the top. I walked with her for the rest of the afternoon. She's been an outdoors guide in the south island and on the Whanganui river for many years and so had lots of good advice. I kind of scoffed at the notion of needing a guide for any of the Great Walks (generally easy tread and well marked) but she simply replied that they cater to everyone. And she's right of course, the outdoors should be for everyone. Megan is from Auckland and looking forward to arriving just in time for the holidays. I must admit, I am a little envious of her. It's certainly easier to do a thru-hike near your home turf, as I found out in Colorado this summer. I have no idea where I'll end up for the holidays but it's a good bet some kiwi family will feel sorry for me and take me in. I don't expect it, it's just that they are so nice, it's a good likelihood.
I was short on water by the end of the day but luckily came to a stream. I sat down to cook dinner but did not set-up camp. I wanted to keep going 5 kilometres to break the 500 mark. But when I started moving again, I quickly realized that wasn't going to happen today. I had a muscle right above my left knee (my quad but lower and to the side?) that was really sore. I walked a few kilometers until I found a flat spot on the side of an old logging road. It wasn't great but as it was already 8 pm, it would have to do. The ground was so hard that I promptly snapped one of my carbon stakes in half. Oops, good thing I have spares waiting in Auckland. My first outright gear failure, which is pretty good considering. BTW, I am officially on the Auckland section of maps now. The Northland is done!