May 2nd, 2019
Doc Campbells mm 40 of Gila River Alt. – mm 49.4
Distance in miles: 9.4
1400-1900
I slept well overnight but it was cold and damp in the morning. Not surprisingly I had condensation in my tent and nothing dried. It then got so cold that I had a thin layer of frost inside the tent. My water bottles did not freeze, however. So I reasoned that my water filter was still ok. I had not thought to protect it.
I did not have much of an agenda for miles on this day and there were plenty of distractions in the area: hotsprings, a store with wifi, and cliff dwellings. I first went for a soak in the hotsprings. Then I packed my stuff, discovering that my socks were frozen solid. By this time the sun was just hitting and so I strapped them to my pack and shoved my feet in my cold shoes. My underwear were wet too from the hotsprings…this is just to describe some of the discomforts of thru-hiking. I have no extra clothes, no towel, etc.
At the store, we met another hiker, Fruit Salad, who looked like a badass woman hiker…I was intimidated by her. I sucked up some wifi and rummaged through the hiker box. There was a lot of extra stuff in mystery bags but I managed to find some good things. I bought only a few bags of chips, some cheese and a coke from the store but they have a good selection for resupply. New owners have taken charge this year but it's still a family-run business.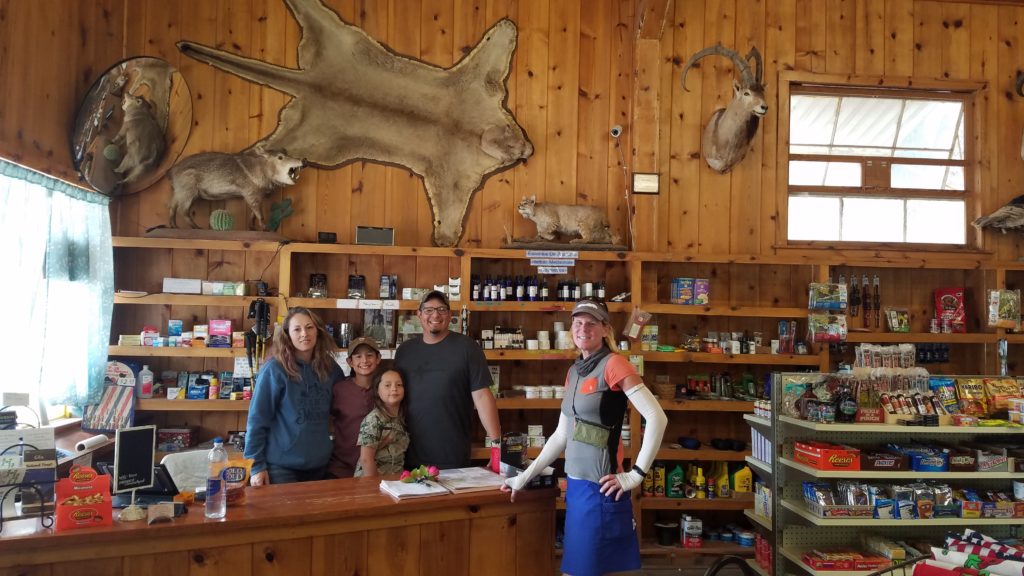 Mike, the father, drove us over to the cliff dwellings and pointed out some petroglyphs along the way. All the while, he explained the family heritage. Doc Campbell settled in the valley originally and opened the store. He had 4 kids, one of which is Allen, the hotsprings manager. Mike's wife is Allen's niece. They have really done a lot to spruce up the store with a modern look but it still maintains its old general store character, complete with animal skins and heads. Notice the big mountain lion pelt above us? They are all avid hunters, so most everything dates back to when so and so in the family shot it.  I love the history of this place!
Mike was so generous to offer us a ride to and from the dwellings, about 4 miles up the road. There we met the ranger Stephanie and had a nice conversation. It's a NPS monument, so there is a $10 fee, but it was well worth it. There's a really nice loop trail leading to the dwellings, bringing visitors along a gurgling stream and then up through the caves. They were a lot like the Solado cliff dwellings that I saw in Arizona. I'm glad I took the time to see them and be a tourist.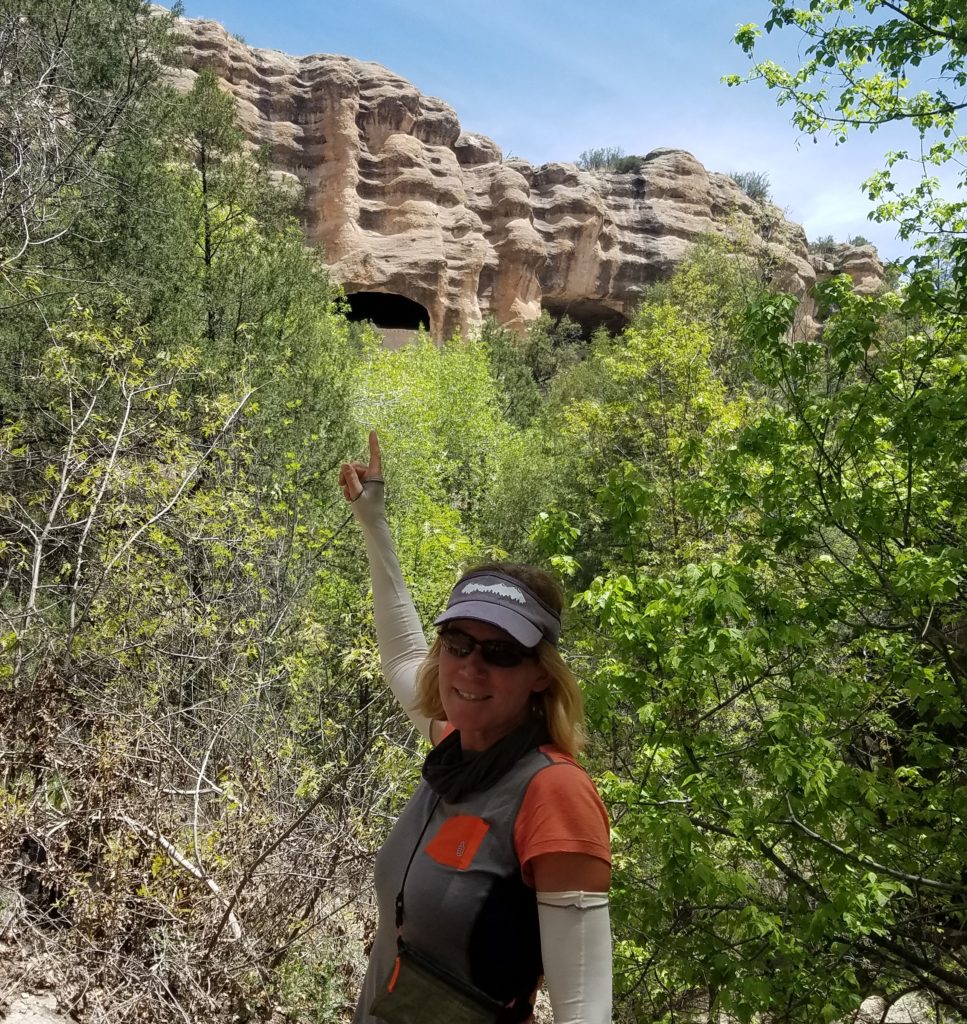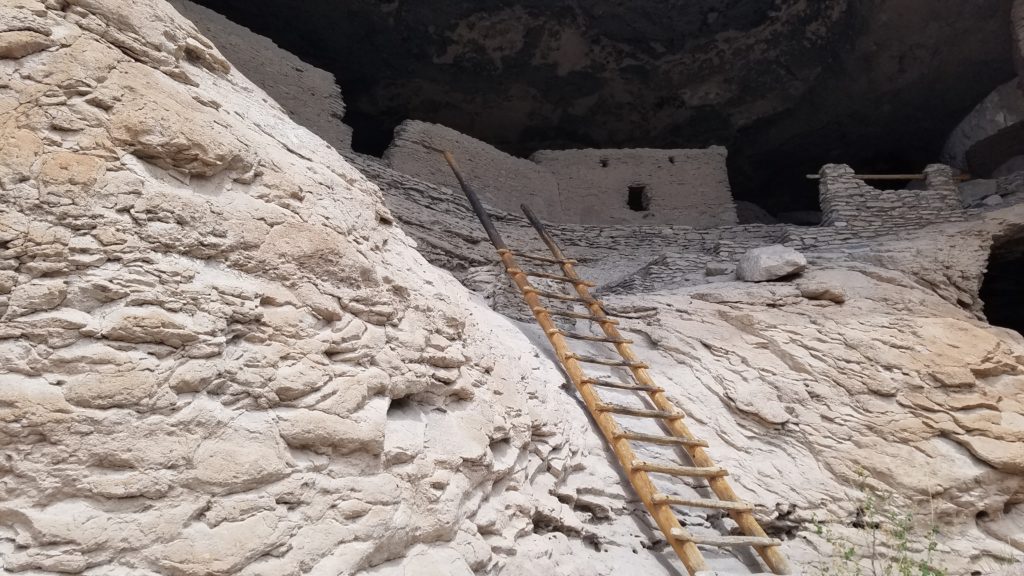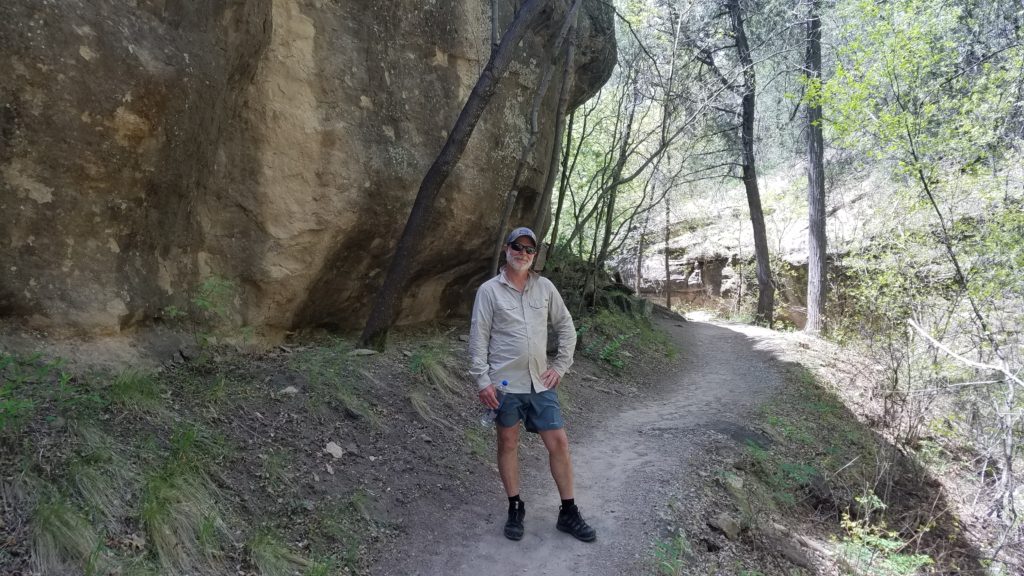 We finally hit the trail around 2 pm, which was a few miles of road walking back towards the cliff dwellings. Since I had already wasted most of the day, I stopped to pet a  beautiful roan horse along the way.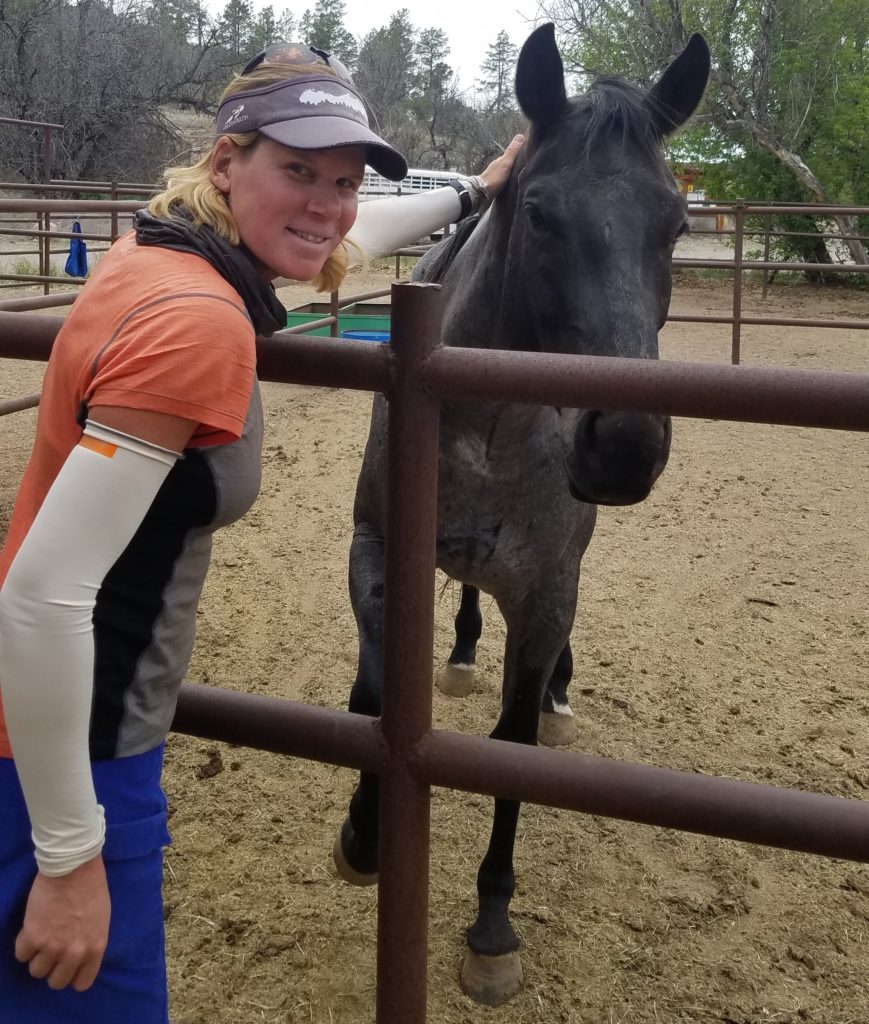 At last, it was back to the grind of crossing the river and finding the trail. At this juncture, the river was much smaller and the trail well marked. It leads out from the visitor's center, so there were also a lot of people, both dayhikers and backpackers. I was surprised to start seeing many tents along the way. The lower stretch of the Gila had been so desolate.
Despite the late start, we still got some miles in. But this river pickin' is slow going. We were aiming for a hotsprings but stopped short, figuring it might be crowded with people. The site we found was perfect, under the trees but still close enough to hear the river. It was a great day being a tourist and then sleeping by the river again.