May 1st, 2019
Gila River alternate mm 11.5 – Doc Campbells mm 40 of Gila River Alt.
Distance in miles: 28.5
0630-1930
There were 2 musicians in the otherwise silent night. One was a whip-poor-will and the other an owl. Both had a very limited repertoire and were set on repeat all night long. At least they moved around so as to fade in and out. I have gotten used to tuning out whip-poor-wills but I laid awake for sometime wondering what kind of owl it was, counting the beats to its single hoot. It did not sound quite like a horned owl but that is the closest I know of. It sure liked to hoot…every 2 seconds most of the night. Later I learned that the whip-poor-will is called the Mexican Whip-poor-will and has a very limited range here in the southwest. A new bird for my list!
It got pretty cold overnight and I was wondering if I have enough clothes. The weather has been perfect so far but what if a front comes and it rains and snows, as it is ought to still do this time of year in NM? My Uberlite Therm-a-rest is also not as warm as what I'm used to. I'm saving a whole 3.5 ounces but is it worth it? I'm switching back to my Xlite after NM. I'll probably also add some layers.
What's a good way to warm up first thing? CLIMB! It was a crazy steep climb, too. I started out wearing most of my layers and was down to my shirt and skirt in 10 minutes. There was a lot of overgrowth which grabbed and scratched as I scrambled up. I was having to use my weight to push through at times. Uphill and against the current.
My pack's also too heavy from all the extra food I am lugging around. It's only about 2 days to resupply on this section but the small outpost doesn't have a huge selection and I'm guessing prices are high. So I carried extra food to last me on the next section: 130 miles to Pie Town through some rough terrain. There's a bailout at 86 miles if I'm running low, but it's a long hitch to the town of Reserve.
The trail went up high to a saddle in the ridge, where I briefly had cell phone reception…probably the last in forever. I soaked up some sun, which had finally risen over the mountains. From there, I began a 7 mile descent all the way from 8000′ to 5200′. It was time to meet the infamous Gila river.
The trail first followed a dry creek bed down to a cow corral. There was a tank with water and a RV parked nearby. Then the creek started to have some water. Walking along the creek and through the forest was lovely. I saw many robins and bluebirds. The trail then left the creek for a ridge, picking up a jeep trail that was full of lava boulders. The habitat became much more arid and I could see the canyon wall of the Gila River.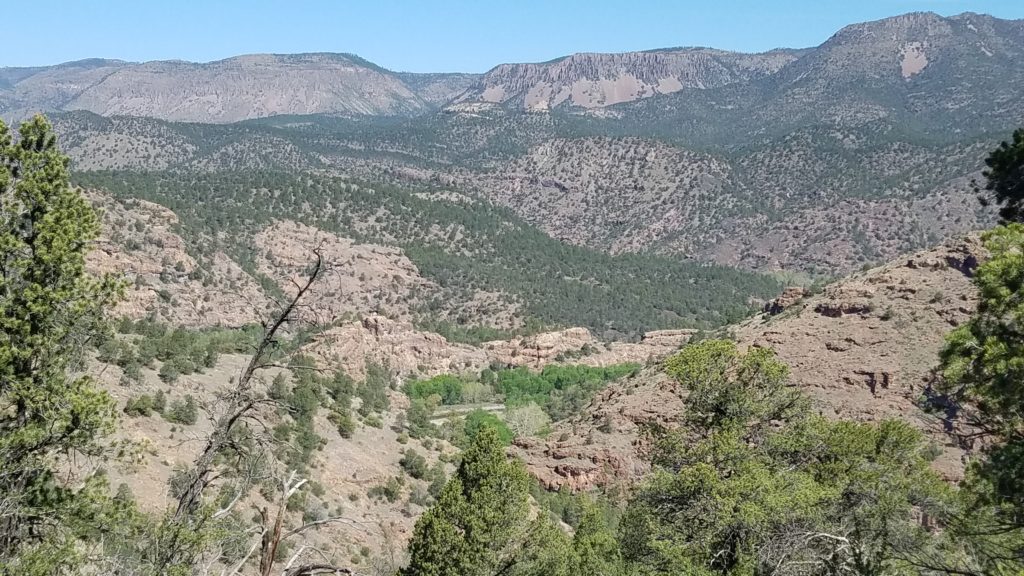 Down down down went the trail. I caught up to Gordon, a British hiker with a pack like mine. He was taking his time picking through the rocks. I was going my usual pace of fast, hoping for a 1030 start on the river. I got to the bottom on schedule and took a quick water break. I also prepared my pack for an accidental dunking, bagging everything inside. I had 16 more miles to go to get to my planned destination. But that involved crossing the river back and forth over 20 or 30 times, scrambling up steep banks, and picking my way along overgrown river bed cluttered with poison ivy.
But I had been looking forward to this challenge and plunged into the first crossing with exuberance. This was a style of hiking that I had become well accustomed to in New Zealand. Plus, this river took me back to my childhood, remembering all the times scrambling along the Arkansas, looking for a good fishing hole. Also the western rivers that I had rafted with my family. The smells and the sounds were all the same. I was in walking and wading bliss.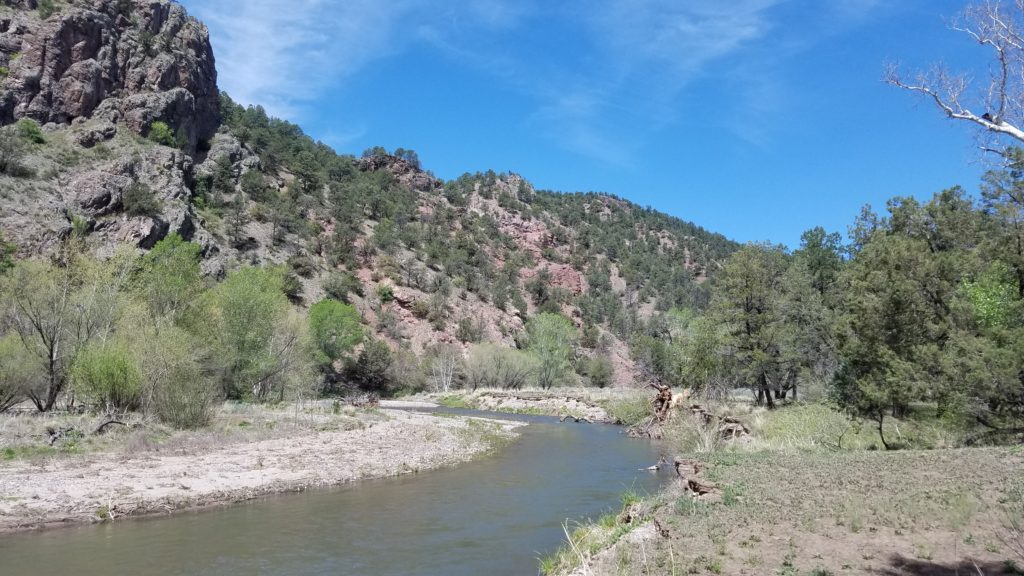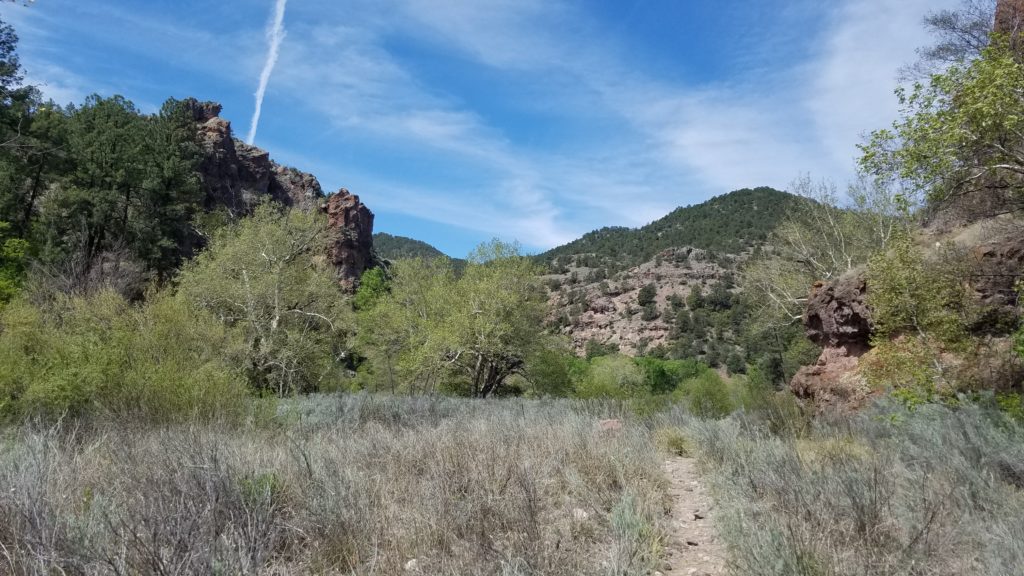 Should I have waited for some of the others to catch up? Is it foolhardy to be crossing rivers alone? Probably so, but the first couple hours also gave me a lot of confidence that I could handle the Gila. It is running higher than usual this year and some have had to turn back. But most have been getting through in the past few weeks. I figured that I have enough experience and the right equipment to be one of the ones to make it.
I wear polarized sunglasses so I can see the water depth, which is pretty key. I also know how to read rivers. I chose wisely and most crossings were no more than thigh high. The river isn't near as swift as some I have crossed. The consequences of taking a dip were also not so bad. Fast moving currents are often followed by slow pools, as opposed to the rapids and rocks in NZ rivers.
Finding trail along the river bed was another thing. There are cow trails going every which way but there is also a pretty established trail following the route upriver. If you are on it, it can be pretty smooth walking for up to a half a mile or so sometimes. Fail to find it, and there will be a lot of bushwhacking. I managed to do quite well in finding the trail, maintaining a pretty fast pace, considering.
I was in such a zone, feeling so confident in my skills and having such fun in navigating, that I was almost surprised when I came upon another hiker. I was even more surprised to see that it was Relentless. I thought he was already to Doc Campbells, almost a day ahead of me. He was laying down in the shade and looking out of sorts. I sat down and he told me a horrible story of being sick for the past day and almost thinking he needed to be rescued. He was all alone and faced with this difficult terrain to make it out. But he had rallied and made it all the way down to the river from the cow camp. He was feeling a bit better.
I was a little concerned about catching whatever stomach illness he had but also sympathetic to his plight. I gave him a pepto-bismol pill that I had been carrying around forever in my tiny fist aid kit. I figured it would be nice to have someone to do the rest of the Gila with but wondered if he would have to go really slow. It didn't matter, the right thing to do was to stick together.
I needn't have worried. Back at it again, he was moving as fast if not faster than me. He also had a knack for finding the cairns marking many of the river crossings. It became a game of who could spot the cairn across the river quickest, yelling out "caiiirn" with a funny accent. There were also some crossings that were a bit trickier, coming up over my waist and threatening to wash out my footing. Having another to send first to "test out the waters" or just to observe that each made it through was mutually beneficial. I could see how much of this could be pretty challenging for the less experienced or vertically challenged.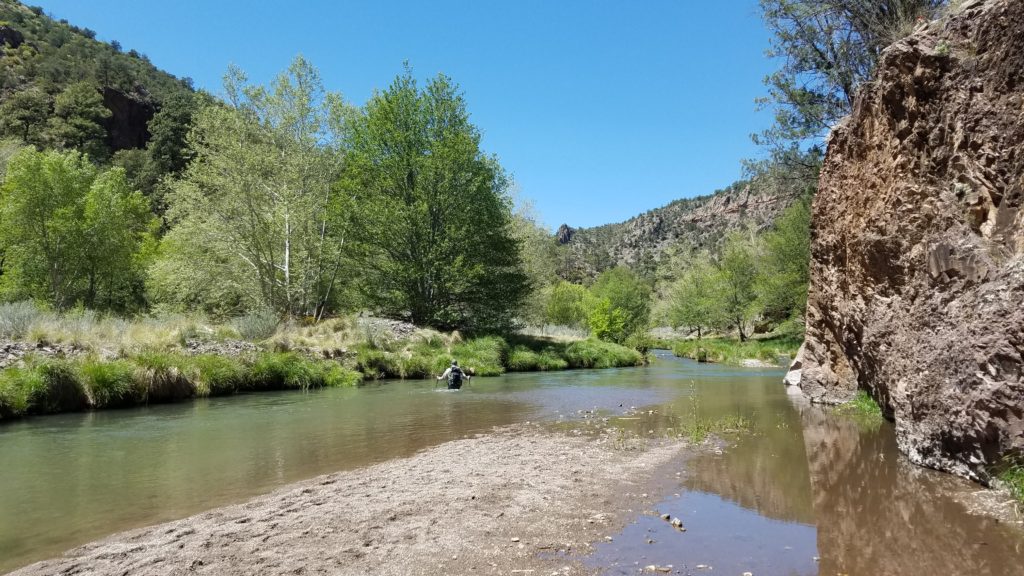 I must admit, it was really was great to share the rest of the day with someone else. Looking back, I had the perfect experience of going it alone for a spell, just to know I could, and then enjoying the comfort of having another along. Relentless had been through a tough spell and I hope that I helped get him through it a bit. He showed amazing strength to get through an illness and face the Gila.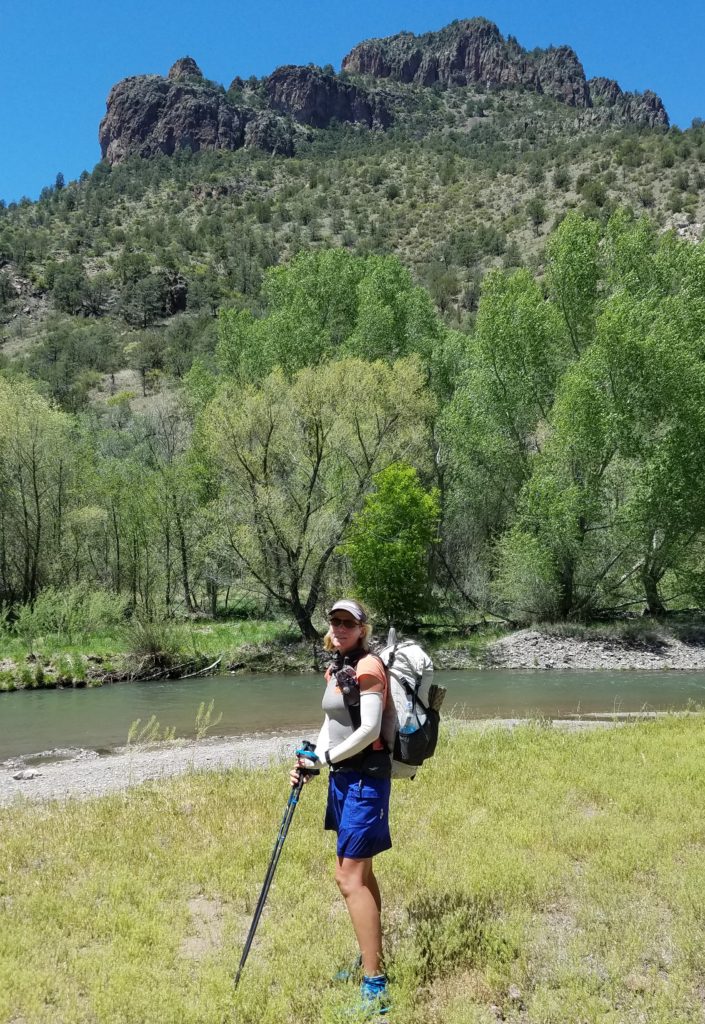 The HWY 15 bridge was a very welcomed sight at the end of the day. We plodded up the road about a mile and were lured in by a sign proclaiming hot springs and camping. The site was right on the river, with primitive campsites and little constructed pools of steaming water. Allen, the manager, greeted us and explained the layout. For $8, there were pools, camping, water, pit toilets, and even an RV for charging electronics. Many hotsprings charge upwards of $20 or more just for day use, so this was a deal.
I had such a good night relaxing in the pool and eating my dinner around a campfire. It was the perfect ending to a tough but beautiful day. Not every day of thru-hiking can be this eventful and amazing but such moments sure make everything worth it.