April 30th, 2019
Silver city to mm 161.6 to mm 173.1 on CDT main route, then to Gila River alternate mm 11.5
Distance in miles: 23.5
0730-1830
It sprinkled overnight…just enough to hear it on my tent but not actually make anything wet. I packed up early so I could go to the laundry room to charge my phone while I worked on my blog. I figured a few things out but am still having problems with the app. I was ready to get out of town so I wouldn't have to deal with these things for awhile. Bearman texted to say that he was on his way in and that I should take a zero but I couldn't stomach the idea of another day away from the trail.
I hit the road by 0730, picking my way through the outskirts of town. I pondered the many different houses and mobile homes while a few dogs half-heartedly barked at me. Most dogs don't see me as much of a threat. I walked the main CDT route, even though there is a more direct alternate which shaves about 5 miles. I figured I owed some penance from yesterday.
The road turned into dirt and wound up into the hills. A few cars passed but were nice enough to slow down and not pelt me with dust. By 0930 I was on a trail that brought a lot of joy. There was even a section that remimded me of the high open meadows in Colorado. Then I was on a fun, windy mountain bike path that had been well manicured. I even met some bikers. They asked if there were more hikers behind me. Not that I know of! I didn't even see any fresh footprints on the trail.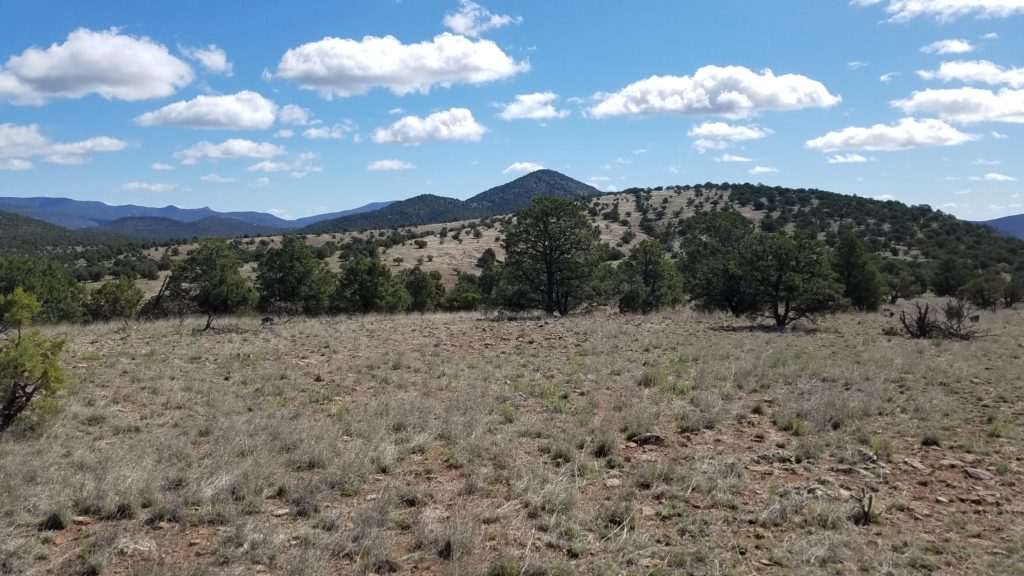 The trail ended on a road, at which point began the Gila alternate. It's a route that is more popular than the official CDT because there's more water and it's very scenic through the canyon. It basically follows the Gila River bed for many miles. And after New Zealand, I love me some river crossings!
From here on, there were no more CDT markers…not that there had been many prior. I was solely depending on my GPS. There were several jeep roads, then a tricky trail up a ravine. Another track sidled a rim of mountains and felt like an ancient highway among redrock hoodoos. It was the coolest trail. I saw a lizard that looked like a mini Gila monster, but it wasn't. I also ran into the first hiker I'd seen all day, a solo woman named Day. It was nice to see I wasn't the only crazy lady out her alone.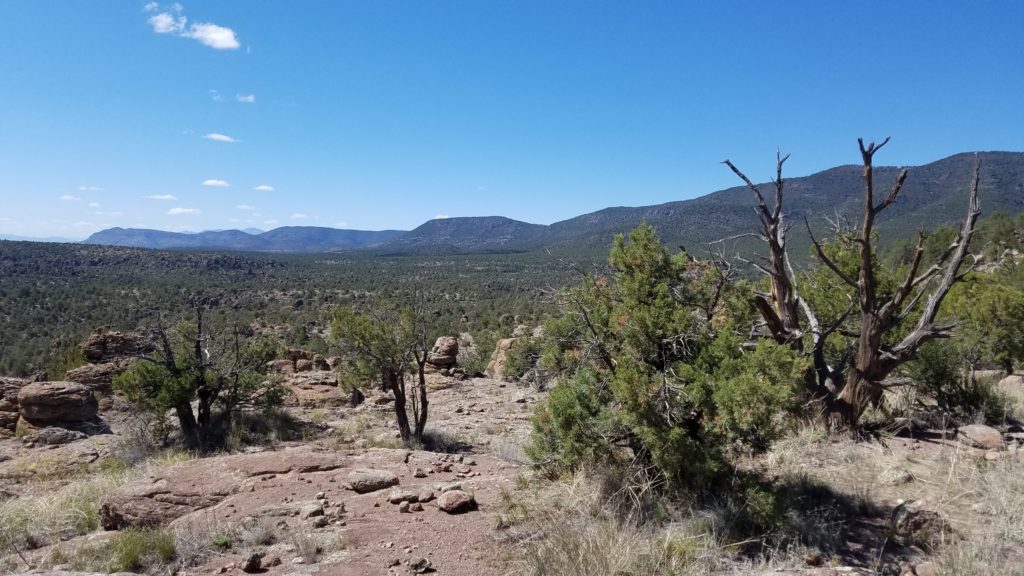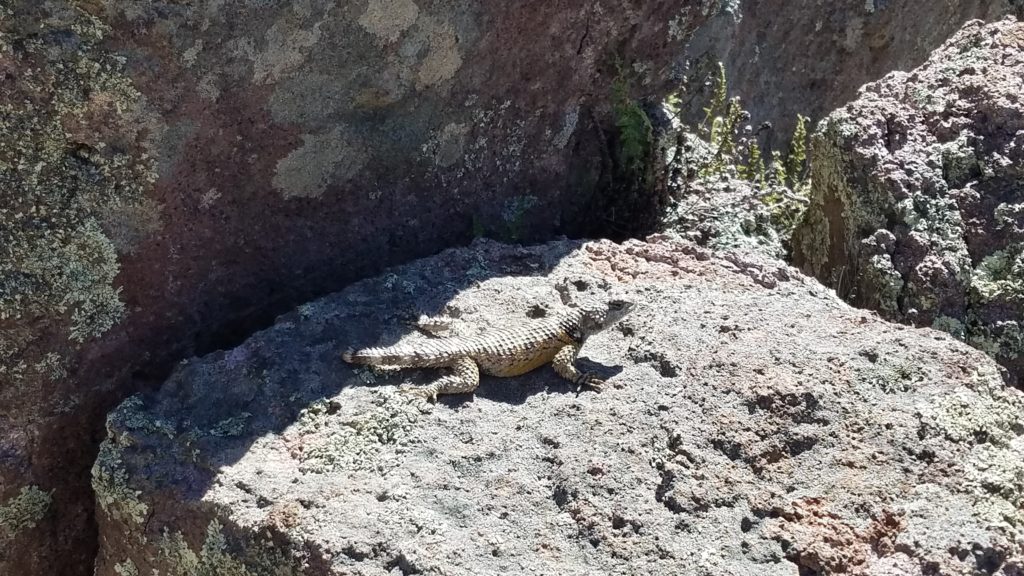 I came to a trail registry that someone had put a lot of time into. I was surprised to see that Salty, PDiddy and Relentless had all been through on this day, probably in the early morning. I still might catch them if they hang out at all at Doc Campbell's, a resort that's another 30 miles ahead.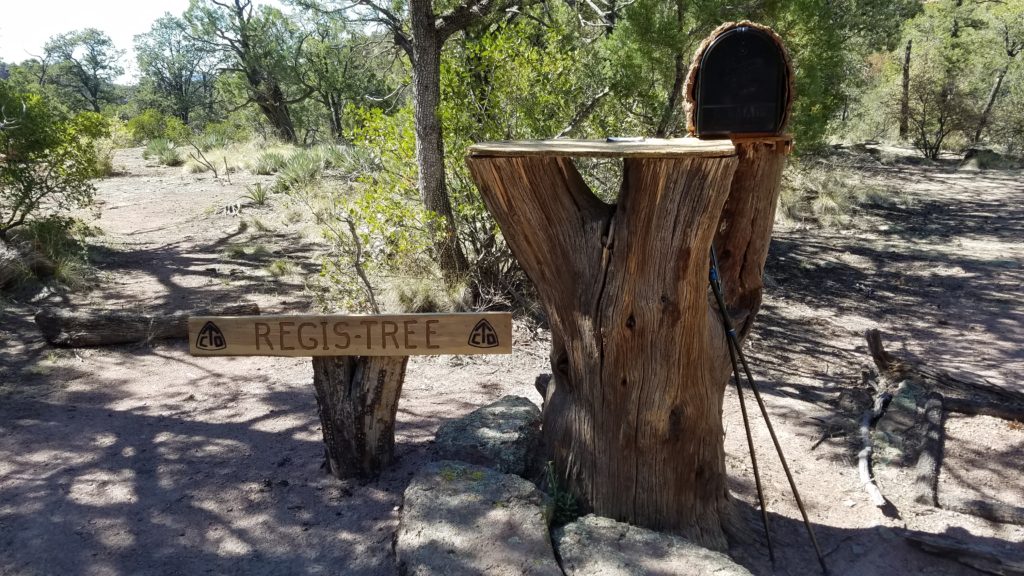 I continued on to a stream, which the trail followed for a few miles. I stopped to make dinner, figuring I'd hike another mile if I felt good. Day passed by, saying she would hike until 6 pm. The trail does a 1500′ climb up to a ridge, so I didn't want to go too much further, but I did hike up until I found Day setting up. I find a nice spot nearby in the pines and settled in. I was surprised when Wrong Way came by. I hadn't seen him since Engineers Windmill. He had been in town yesterday, hanging out at a hotel. Then a pair of hikers passed by who I didn't recognize. And I thought I was all alone out here! The registry shows that at least 10 have been passing through every day. It may be good to have some others around for all the river crossings tomorrow.