April 29th, 2019
Side Canyon tank mm 144 – mm150.6
Distance in miles: 6.6
0630-0930
It was dead quiet overnight…not even a cricket. I went to bed before it was even dark but then woke in the middle of the night, legs and hips hurting. Guess I've been pushing too hard. I had to take another pain killer. But then in the morning, nothing was sore. Getting old I guess.
I hiked down the canyon, enjoying the rock formations. I was hoping to see some deer, bear, etc but all I found was more cows. There was another tank that I thought of hiking to last night and I am glad I didn't. My campsite was so nice and cozy. Plus all the cows were here, making lots of noise.
I made it to HWY 180 and started walking east towards town. It is a long road walk and the amount of traffic made me uneasy. There were lots of big trucks going fast. If a ride were to make itself available, I figured I would take it. I walked hundreds of miles on roads in New Zealand, for the sake of walking the length of the country, and I am glad I did. But I'm not sure about walking all these roads in the US. So I took a ride from the first guy, Josh, that slowed down. At least I put in a good mile and a half on the road.
I got dropped off at the RV park and was shortly taking a shower and washing my clothes. I decided that a week in the desert was enough stink. The park has pretty good rates and everything is conveniently located. The clerk at the office swore I looked identical to the only other tenter, a cute blond girl on a fat-tire bike trip around the southwest. I look nothing like her but it's flattering.
I spent much of the rest of the day trying to get blog posts to upload. I had to copy and paste everything from the app to the webpage, which is so tedious. I tried deleting and downloading the app again, then deleting and reactivating jetpack. I even restarted my phone several times. None of my troubleshooting worked. Oh well.
I made it to the PO 5 minutes before it closed to mail all the stuff I collected at Trail Days…stickers, patches, pins, etc. None of it is worth the $8 to ship but ahh the memories. I got a CDT bandana… it's a keeper since I never got one from the PCT. I promptly lost the PCT pin I got in Wrightwood so I also don't want to loose the CDT pin that Capt'n got me.
I had hypothesized about checking out the shops in town, waiting to mail stuff in case I found some trinket I couldn't resist. But who am I kidding, I'm too much of a minimalist to shop for souvenirs. Besides a horny toad or two in my pocket, I want for nothing. JK about the horny toads…and I'll take a new Nashvillepack Cutaway pack if anyone is offering….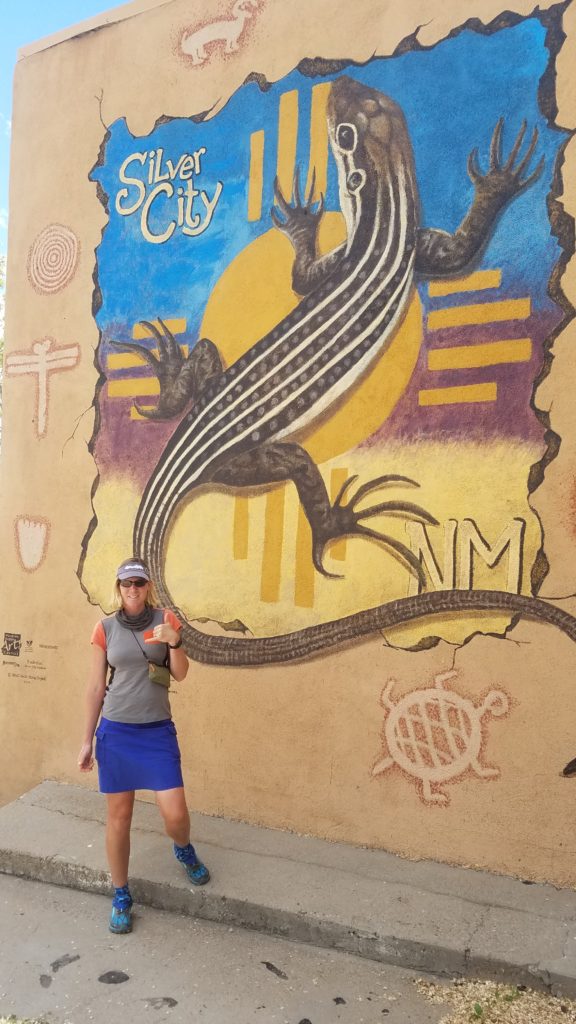 I finally hit the town for a reminiscent drink at the brewery and a hot meal at the Mexican restaurant. My mouth is on fire after a lot of salsa and green chile, which doesn't bode well for tomorrow morning. I am still all by myself and somewhat lamenting being out of the bubble all of the sudden. I text Stellar and we banter on about gear and trail food while I stuff my face, just like old times. Trails, though they may be new, are still full of ghosts from the past.
Speaking of ghosts from the past, I recommend following Cosmo/ Roseanne's blog on her hike of the PCT this year. We did the TA the same year and although I never met her, I have enjoyed her blog and her pictures are very illustrative: roamingwildrosie
I ran out of steam on my dinner and was already ready for bed. It's a good thing to have to walk back to the RV park, since my stomach is so full. I never found any other hikers in town and am ready to set out for a 180 mile stretch in the Gila, alone. There will be many river crossings. But I'm sure I'll run into someone along the way.