After having several months to reminisce and go through my daily blogs, I have only warm and fuzzy memories of this hike. Was it my absolute favorite? Well…it seems like every trail becomes my new favorite but it certainly ranks high. Like most long distance trails I've done, there were some really incredible days, many that were uneventful and quiet yet still enjoyable, and only a few that weren't so great. I'm pretty happy walking just about anywhere, so you may want to take my overall impressions with a grain of salt. Certainly some hikers do not enjoy the PNT, mostly I think because of the road walking, bushwhacks, and rough trails. Yet these can also be some of the reasons it's so endearing and unique.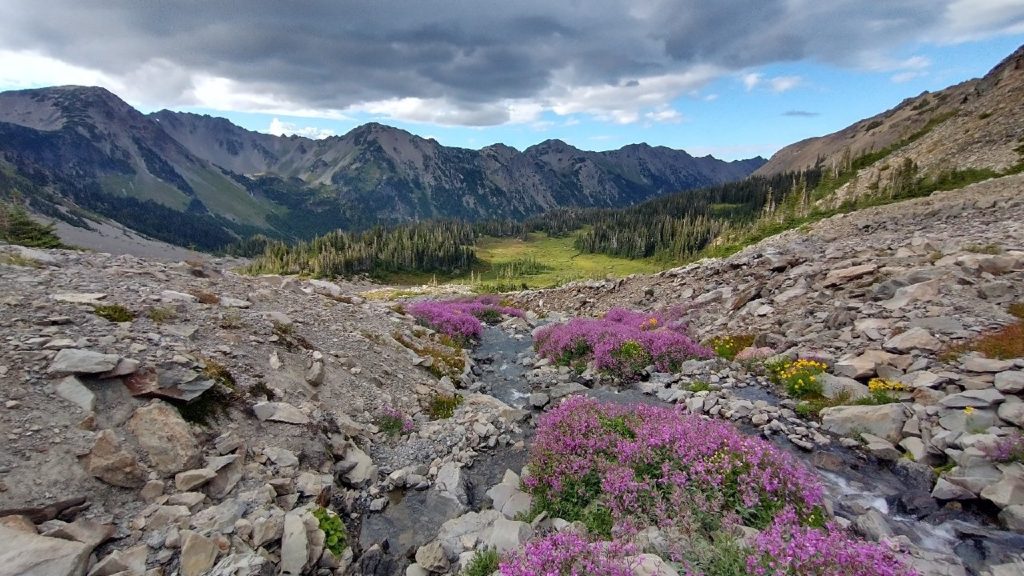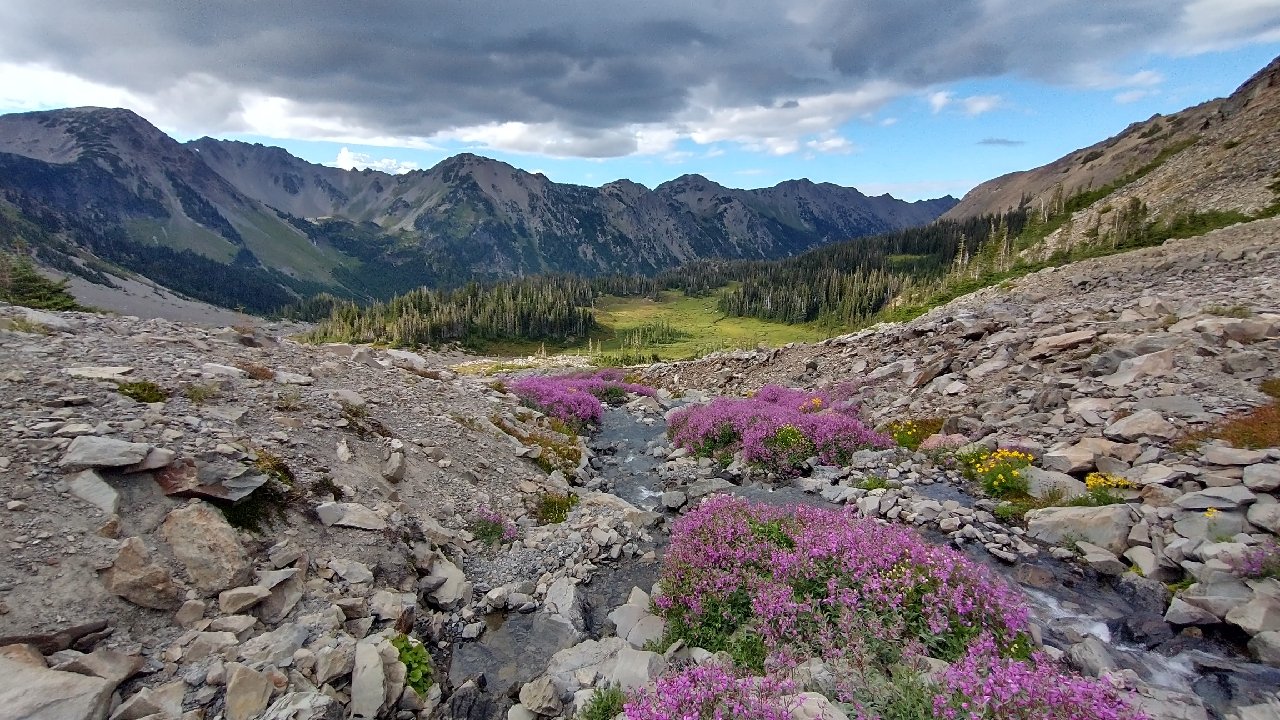 I'd say the only 2 factors that I truly disliked were: mosquitos and blowdowns. Given all the other things that can come into play on the PNT (snow, fires, rain, lightning, bears, overgrown tail, dangerous road walks, etc), I consider myself very lucky. I didn't have to dodge any fires or breathe any smoke, I walked through a very minimal amount of snow (especially given the record snow year), and there were only 4 days where it even rained. Much of my good fortune had to do with my choice to flip-flop, which I'd attribute as being the biggest key to my success. Regardless of snow, I think this strategy is so perfect for the PNT that I'll publish a separate post listing the pros and cons, plus detailing some of the logistics.
A PNT experience is also highly dependent on route and road walking decisions. Like its big brother the CDT, the PNT is very much a choose-your-own-adventure hike. There are tons of official and unofficial alternates, and what works for one person may not be equally employed or enjoyed by the next. Nearly every day consisted of asking myself: do I want to go with the most challenging and remote option, the easiest, the shortest, the most scenic? Often these were at odds with each other. Fortunately, I only regretted one alternate (technically the red line) that I found to be unnecessarily difficult and not a fun challenge or time savings, despite the shorter distance. As for the road walks, I found either value in walking most of these sections, or at the very least, simplicity. These decisions played such an important role in my experience that I'm also posting a separate summary of which selection of routes I took and why. Look for those posts to follow.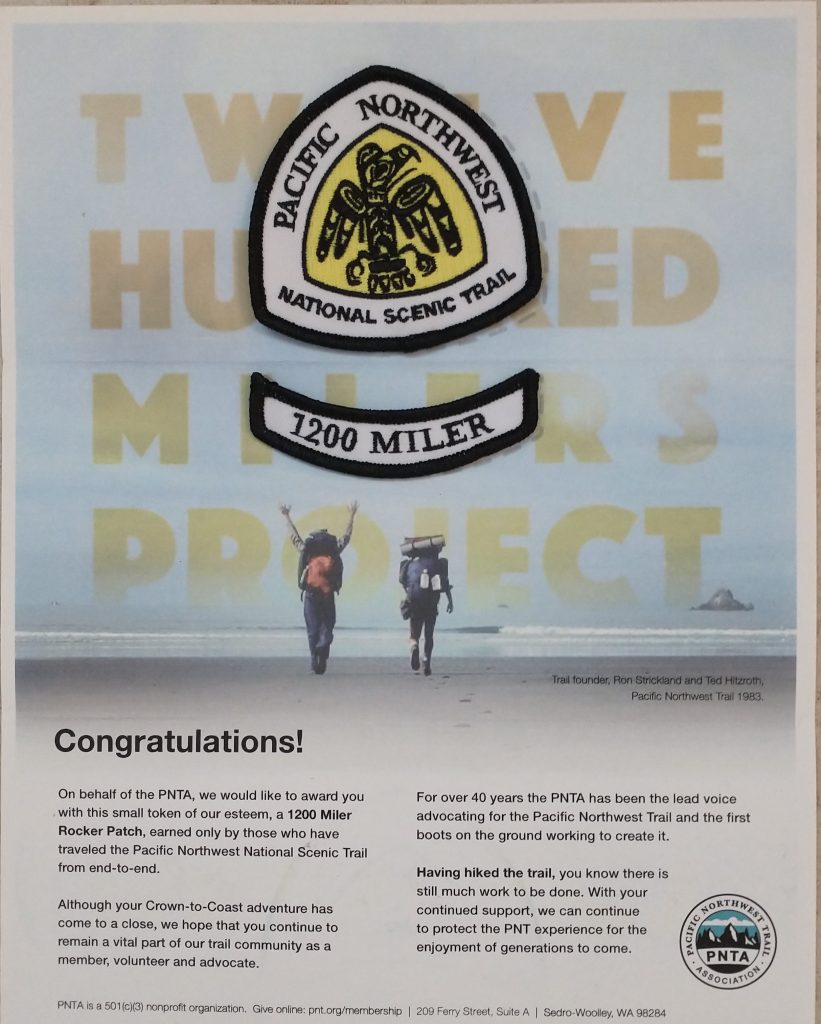 Total Distance: 1,259 actual miles hiked, based on daily totals that incorporated alternate distances and sometimes extra distances due to navigational errors or side-trips
Dates: July 1st, 2022 to August 29th, 2022
Duration: 60 days
Average Daily Distance: 21 miles (23 miles w/o zeros)
Longest day: 32 miles
Shortest day: 10 miles
Days hiking 15 miles or less: 9
Days hiking 15-20 miles: 8
Days hiking 20-25 miles: 18
Days hiking 25-30 miles: 14
Days hiking more than 30 miles: 6
Zeros: 5 (Bonners Ferry, East Glacier, travel day to Oroville for Flip-Flop, Sedro-Woolley, the Walker's house)
Days Spent in hiking in MT / OR / WA: 12 / 5 / 39
Visits to the Canadian border / times I could see the border: 3 / 3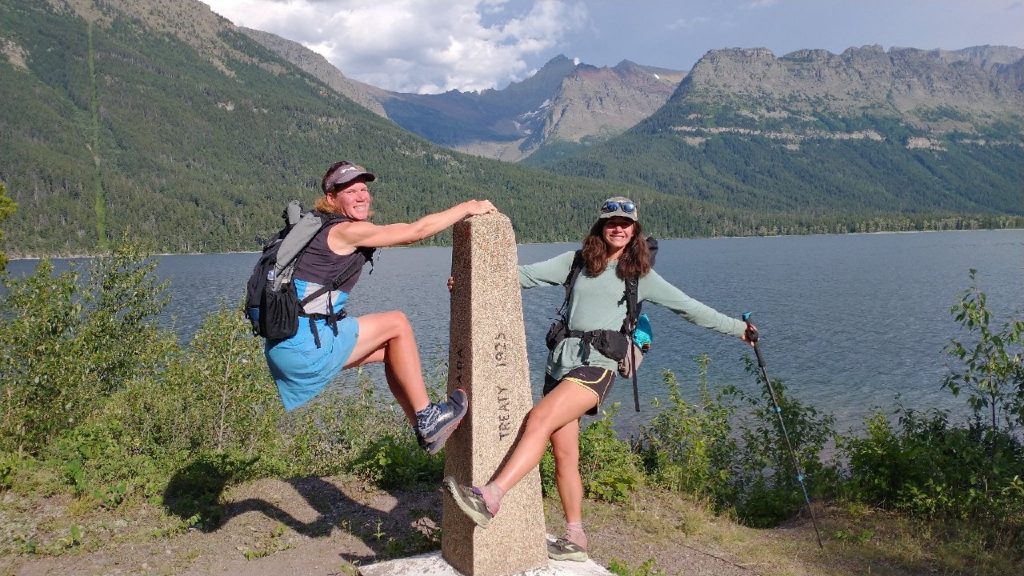 National Parks hiked through: 3, Glacier NP, North Cascades NP, Olympic NP.
Longest consecutive distance / days hiked alone: 190 miles / 9
Biggest elevation gain / loss in one day: Gain 7,900′ on Day 34, heading into the Pasayten / Loss 8,400′ on Day 38 coming down the Jakita Ridge out of the Pasayten. There were at least 4 days of over 7k' gain and/or 8k' loss. 6k' a day was fairly common.
Favorite Days: It's a tie between Day 15-Lions Head ridge route, Day 28-Boulder Pass & Waterton, and Day 59-Life's a Beach
Least-Favorite Day: Day 14-Ida-Fly…the day the mossies nearly carried me away around Upper Priest Lake.
Favorite Sections: Selkirks, GNP, Pasayten, Puget Sound Trail Angels, ONP mountains and beaches.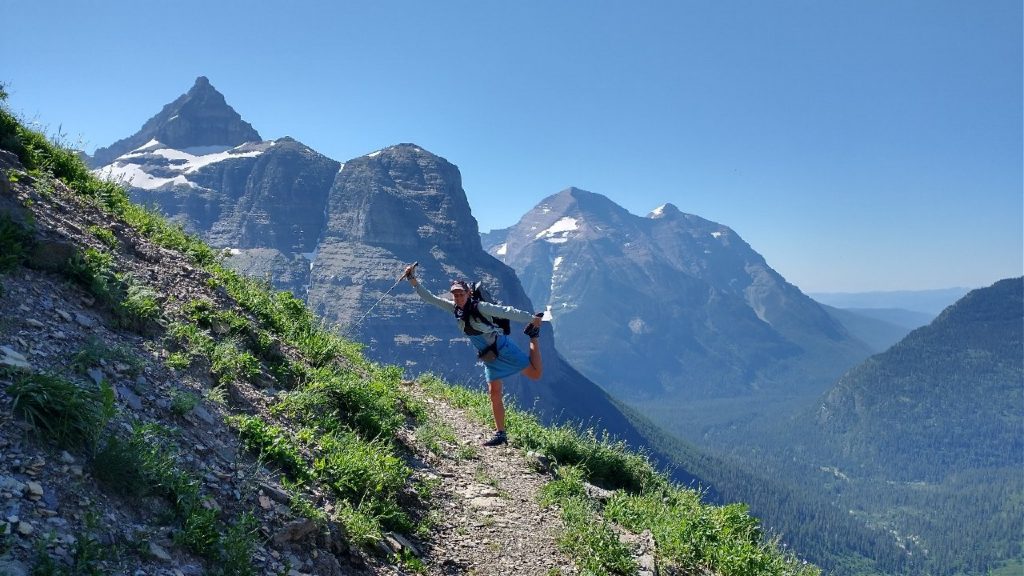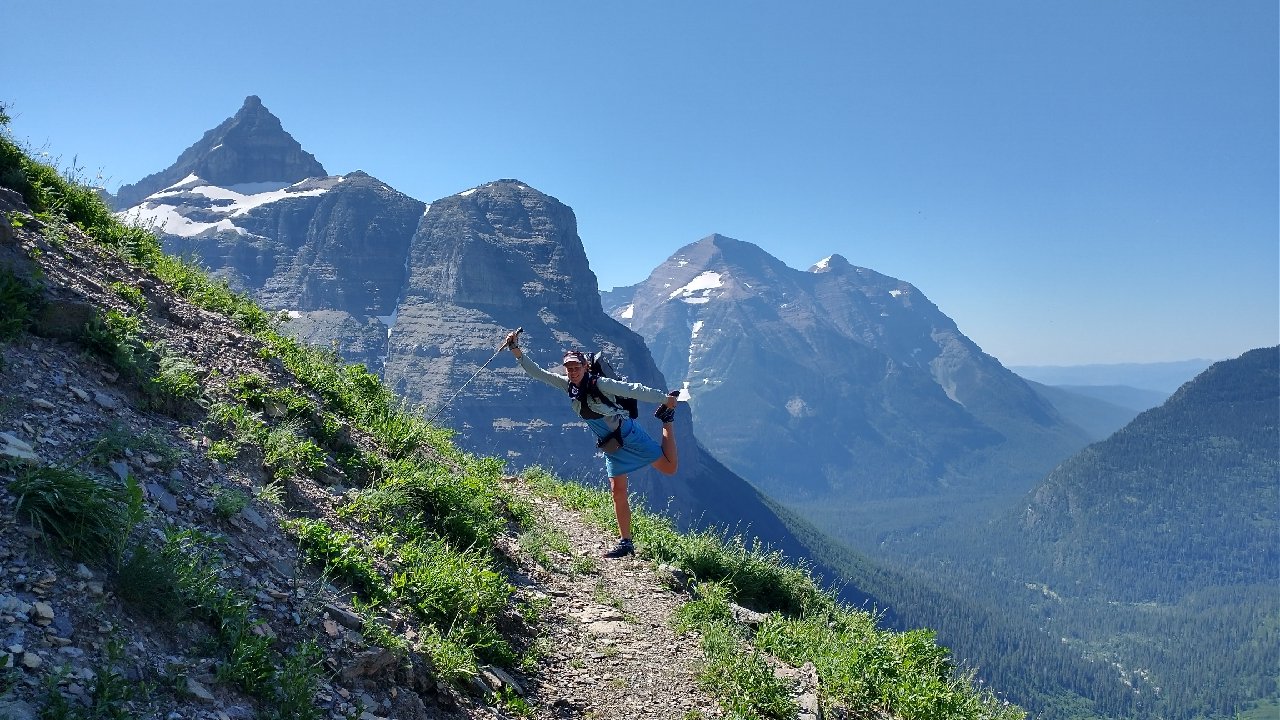 Longest time-span I could see the same mountain: 20 days, Mt Baker…summited Sept 2nd for my PNT finale.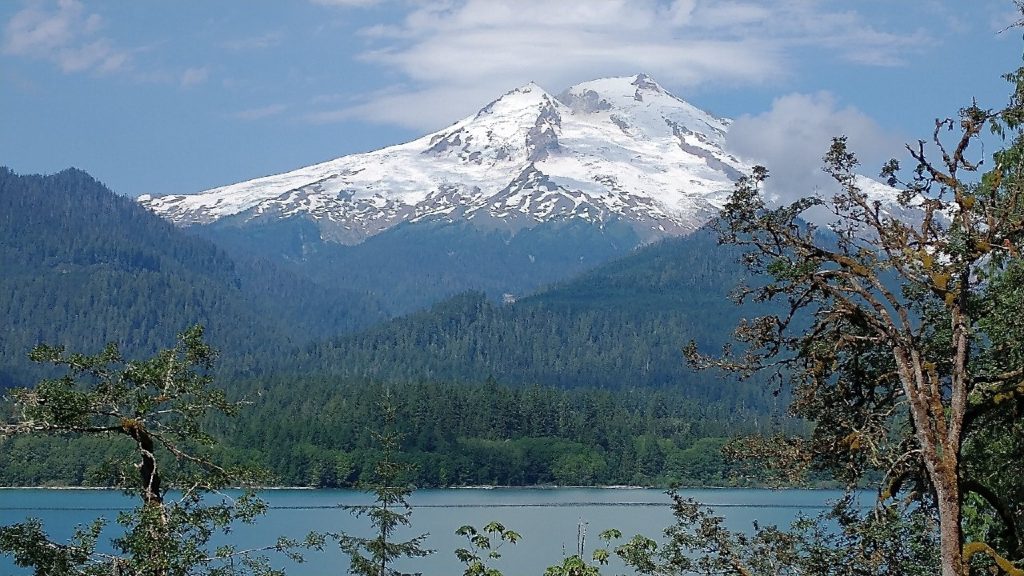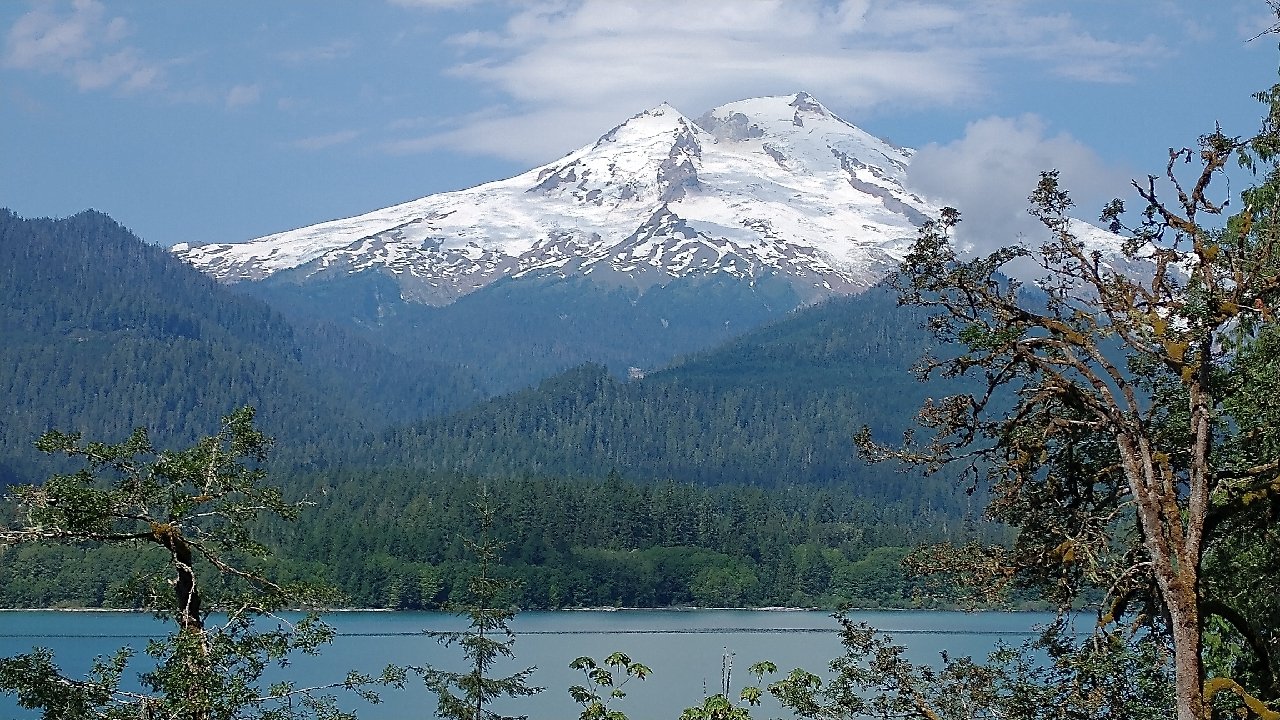 Nights tenting on trail: 35 (25 stealth sites, 13 near various sized roads (most inactive), 2 campgrounds, 10 permitted NP sites, 1 night on a cot in WAM lookout, 18 next to a water source)
Nights camping alone or with only 1 other: 15 / 10
Nights camping with a group of hikers: 12 (largest Group of PNT hikers: 4)
Nights Spent in a Trail Angel's house or barn (bed, couch or floor) / tenting in the yard: 8 / 3
Nights in town at a hostel or cabin/motel/tenting at a RV park: 4 / 5 / 2
Reunions with hiker alumni: Sashay & Skunkbear PCT '18, Two Spoons CDT '19, Bacchus AT '21,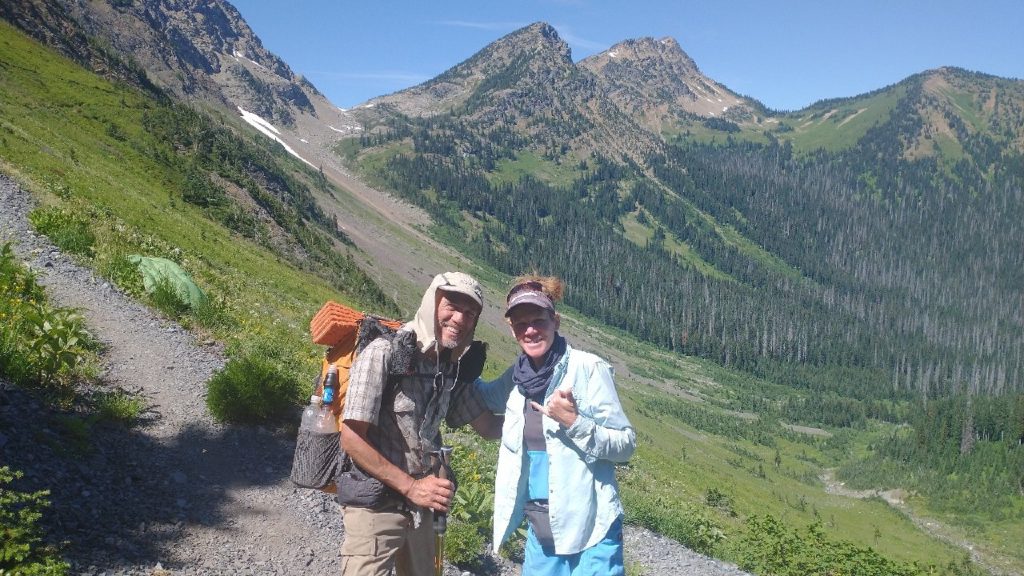 Towns/resupply points visited, in order: Kalispell/Whitefish (staging…4 nights/flew in/got boxes/took train out), Spokane to outside Oroville (1st time: train/private ride), Republic (visited 4 different times!/stayed 2 nights), Northport (1 night in shared cabin, resupply gas station…bad), Metaline Falls (in & out, resupply from small grocery), Bonner's Ferry (2 nights tenting in RV Park (nice!)/zero/resupply @ Safeway), Fiest Creek (stopped briefly to raid hiker box), Yaak (stopped for dinner), Eureka (1 night to watch the rodeo, resupply at organic grocery), Caribou Trail Wagon Camp (1 night gifted by Trail Angels–loved it here!), Polebridge (1 night in hostel/pick up box/get permits), East Glacier (1 night in hostel/caught the train), Spokane to Oroville (2nd time: train/bus to city outskirts/5 hitches), Oroville (2 nights Camaray Hotel/picked up box), Ross Lake Resort (picked up box), Glacier (ate dinner/camped nearby at TA's place), Concrete (picked up box) then took bus to Sedro-Woolley (zero/1 night motel/1 night on Dan's living-room floor), string of Trail Angel locations in Puget Sound ending with Port Townsend, Port Angeles (1 night hotel/resupply/ONP permits), Forks (1 night/resupply), La Push (stopped mid-day to get snacks and drinks)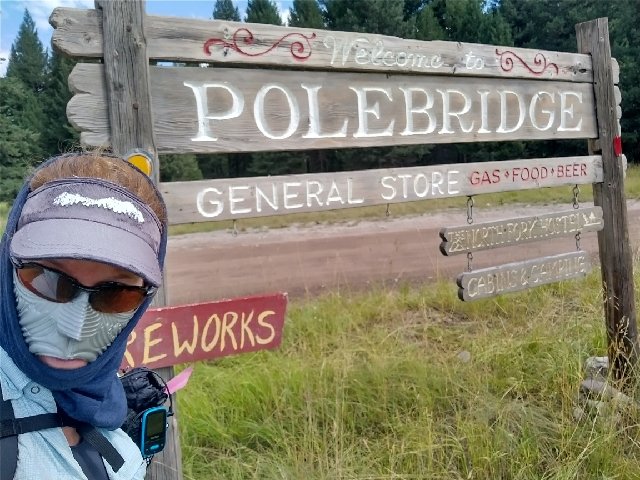 Resupply Boxes mailed: 4 (East Glacier…original staging for start of hike, Polebridge, Oroville, Ross Lake)
Longest food carry: 5 days, Loomis to Ross Lake (shortened a day by slackpacking a 24 mile road walk)
Best Food along the PNT: Sitka Coffee burrito bowl in Republic, pan-Asian nachos at the Two Tones Cafe in Bonners Ferry, 14″ personal pizza in Glacier, Momma Mary Walker's Paradise, Dungensss crab and salmon from the Way Cool Barn fridge, passionfruit danish from Diedrich Espresso in Anacortes, broken-freezer (wink wink) offerings from the Happy House.
Longest I went without a hot shower: 9 days…Loomis to Sedro-Woolley (but I had a soak in the hot springs, plus countless dips in rivers and lakes)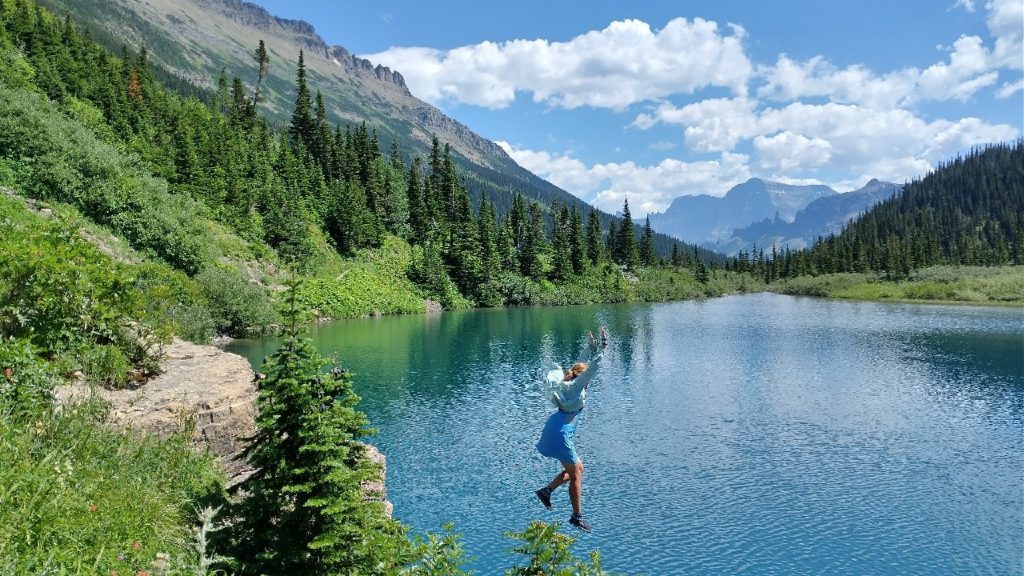 Precipitation on the trail: 4 days/nights, but only 3 with heavy, steady or persistent rain during the day.
Campfires enjoyed: 7 (all but 1 were at a Trail Angel's place or campground)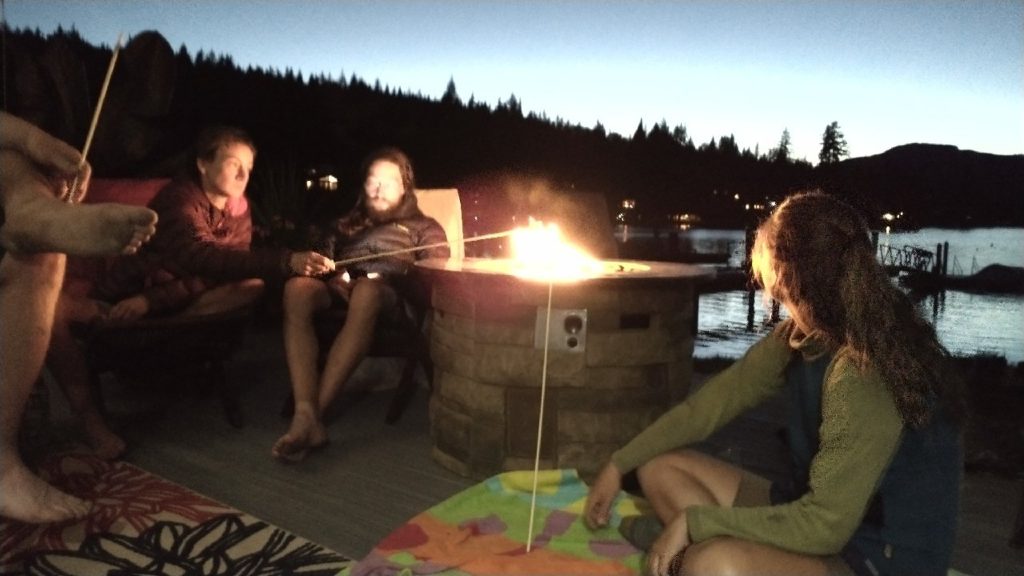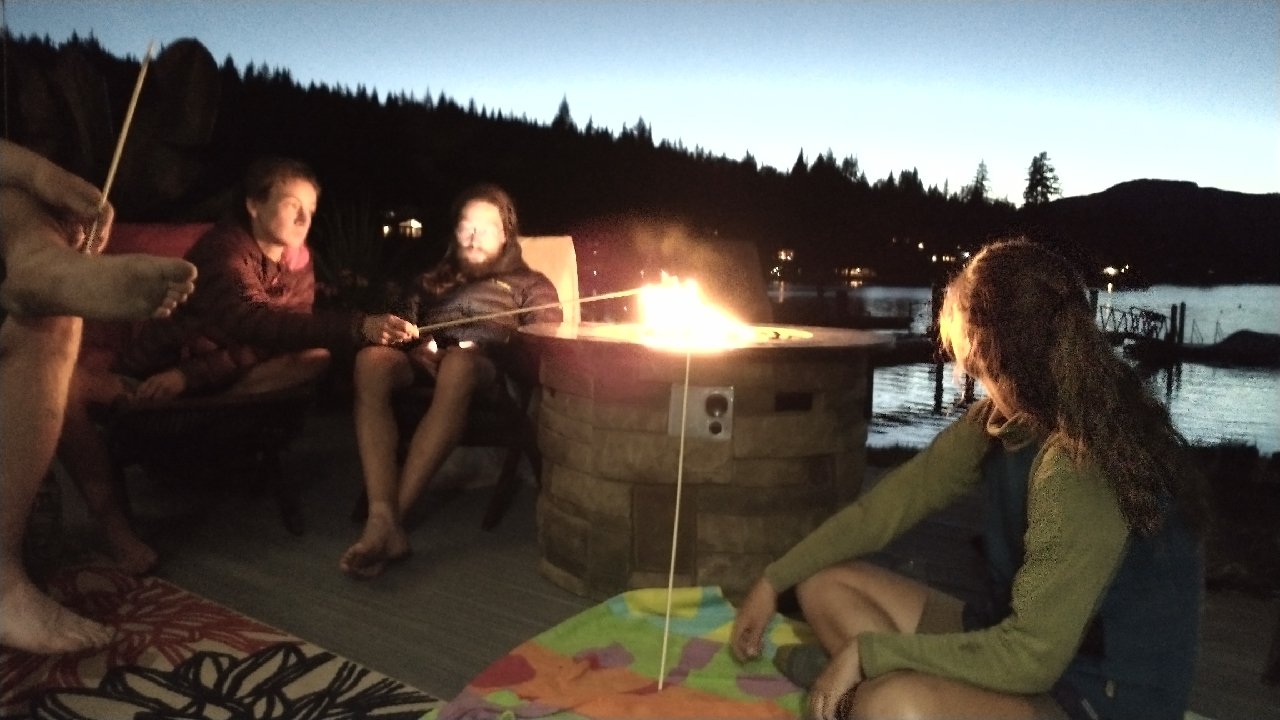 Injuries: impaled twig in my knee, which I gave birth to 16 days later. Otherwise just many cuts, scrapes, and bruises from bushwhacking and climbing over blow downs.
Days or nights when the mosquitos were really bad: 11
Animals sighted/signs/noises: 10 black bears, 1 bighorn sheep, 1 moose and calf, the howls of wolves (Republic and GNP), mule deer, whitetail deer, snowshoe hares, marmots, sea otters, whale skeletons, turkeys, grouse, bald eagles, barred owls, hawks, 1 Northern Pacific rattlesnake, toads, frogs, garter snakes, a few mosquitos (read: bijillions!), cows, horses, dogs.
I was also blown-away by all the blooming bear grass in Idaho and Montana. The smell of it was mesmerizing and there were days when my skin was yellow from all the pollen…thank god I'm not allergic to it! Huckleberries, blueberries, and blackberries were also plentiful in different stages.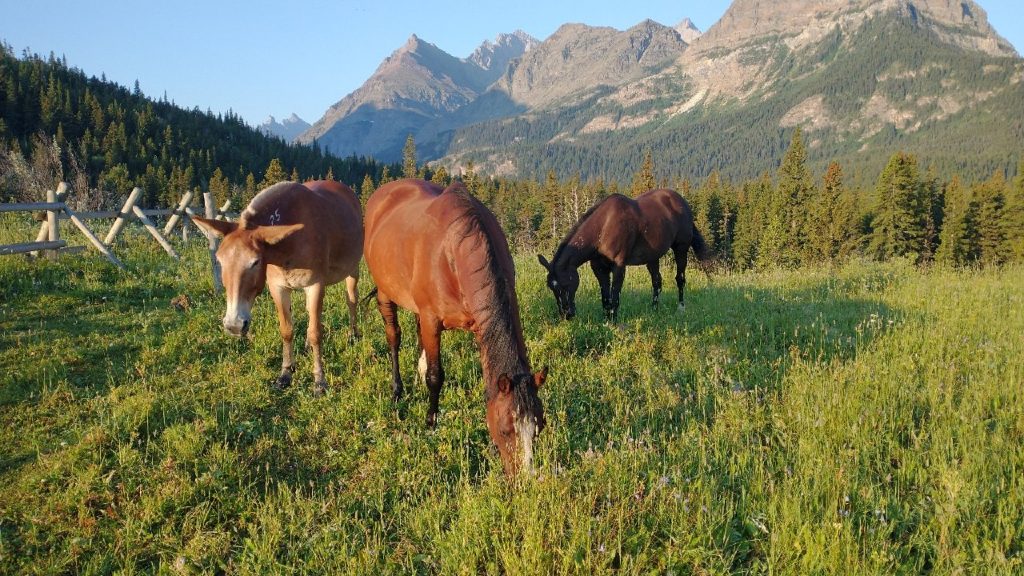 Times I Wished I Carried a Gun: 0
Times I was glad I had bear spray: a few (carried from Republic to East Glacier)
Slack Packing: 52 total miles (7 alternate bonus road miles to Kintla Lake, 24 road miles between Loomis and Oroville, 10 road miles from HWY 20 back to Marc's Way Cool Barn, 11 road miles back to Skip's house).
PNT road sections not hiked: 11 total miles (didn't bother to pick up where I left off: 2.5 miles of paved highway from the Whistler Canyon Trailhead to Oroville, 2.5 miles of dirt road on the way towards Glacier. Intentionally skipped due to traffic/dangerous conditions: 6 miles of HWY 20 from Four Corners junction to Discovery Bay, south of Port Townsend).
Hitches & pre-arranged rides from Trail Angels (including before and after the trail, plus flip-flop logistics): 26 distinct hitches, either from people that responded to thumbs out, pulled over to offer a ride, or that we chatted-up near a trailhead. 18 different Trail Angels gave me 27 total rides to and fro. My longest ride was from Spokane to Oroville, which was also my longest stretch of hitching the second time around…180 miles, 5 hitches. Other long jaunts included getting from Many Glacier to East Glacier (60 miles, 3 hitches) and Ozette to Port Angeles (85 miles, 2 hitches and a bus). Despite pretty quiet roads and long stretches, I found hitching to be very easy.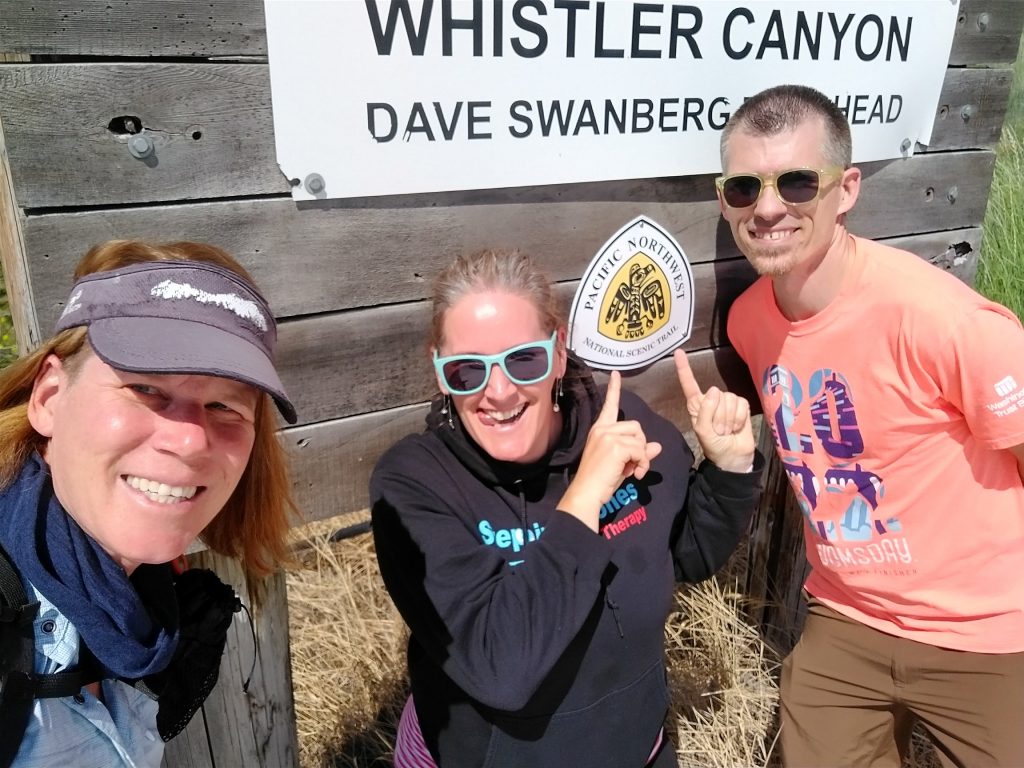 Buses / Trains: 5 / 3 (mostly before and after the hike, or in the interim of flip-flopping)
Gear: My gear was similar to what I carried on the AT, except that I brought my newer Zpacks Plexamid tent, in anticipation of lots of rain. It definitely kept me dry the first week but more importantly, it kept the mosquitos out! I don't know what I would have done without it…gone insane probably! I also enjoyed my lightweight and hipbelt-less Waymark backpack, as well as my Waymark fanny pack. However, the shoulder straps were starting to feel really compressed near the end and the outside mesh pocket material has degraded pretty quickly. I'm not sure how much longer I'll be able to use this pack and unfortunately there's nothing Waymark can do to fix it. Somewhat disappointing. I definitely got a lot more miles out of my HMG Hyperlite pack.
Shoes: 2 pairs of Altra Superiors (5's, 3.5's)
Least used items: my PLB (Personal Locator Beacon)…carried the whole way, never used…but that's a good thing. Ironically, I also didn't use my rain jacket much…mainly just for extra warmth. I only used my rain skirt once. The umbrella was great for a few days of rain and some hot sunny road walks, so I was glad I had it.
Gear lost/failures: bug spray, polycro ground sheet, usb dongle I use for storage, sit pad / Leki trekking pole (broken in GNP…my mistake for trying to gear test during the hike), T-A-R Uberlite (second one that's delaminated so I will never use one of these again…replaced with a women's Neoair XLite).
Stay tuned for a few more posts recognizing Trail Magic and Trail Angels, PNT Route Options, and the PNT Flip-Flopper's Guide.