August 15th, 2018
Maidu Lake mm 1866 to Crater Lake Rim trail
Distance: 26 PCT miles, 4 miles on Crater Lake Rim trail, 1 mile from lake; total 31 miles
0620-1830
I wanted to get all the way to the Crater Lake Rim Trail on this day so I got a pretty early start. It was a bit dark on the lake trail but light enough by the time I got back on the PCT. The trail climbed gradually and shortly I was at the high point of OR and WA at 7560′. There was nothing too special about this point and it certainly didn't feel very high, being in the trees and pretty flat. It's hard to believe that all the spectacular places back in the northern Cascades were lower in elevation. I was actually higher when I climbed Old Snowy mountain in Goat Rocks Wilderness and am glad I substituted that for my high point, as it was an outstanding vista.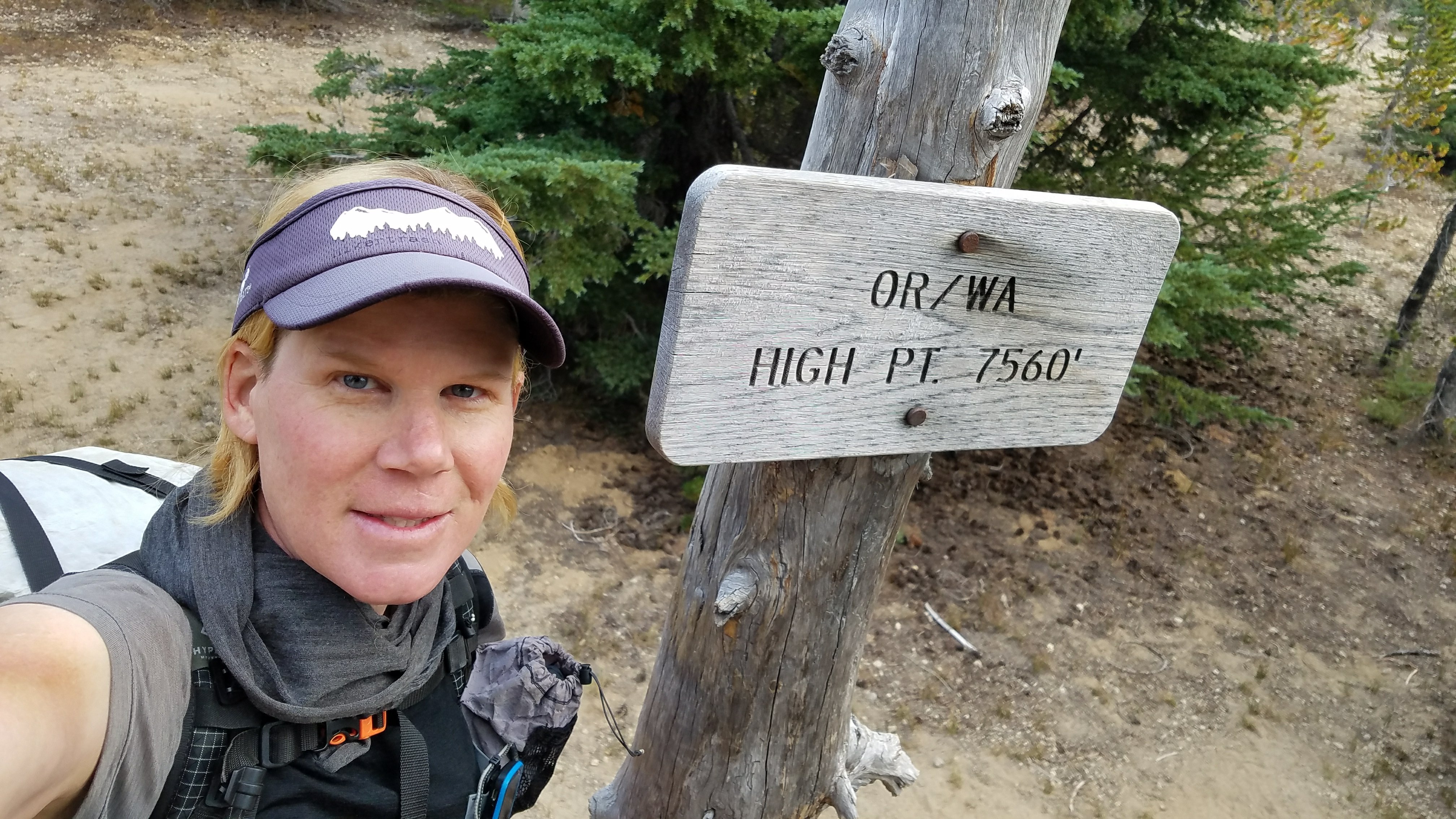 I also passed the 3000 km point. This is basically the length of the Te Araroa, so it was disheartening that after more than 40 days on the trail, I am only at the same point as my first day on the TA. So much trail left to walk, yet I am almost done with Oregon. I saw a sign later on that said 150 miles to California.
I walked past Mt Thielsen, admiring its rugged profile. There was a trail going up but I'd have to save it for another time. I also passed a stream, which was the first on-trail stream that I can remember since the 3 sisters wilderness. Water has been scarce in this section, coming mostly from lakes. There were about 12 NOBOs there getting water for the long 16 mile stretch to the next source.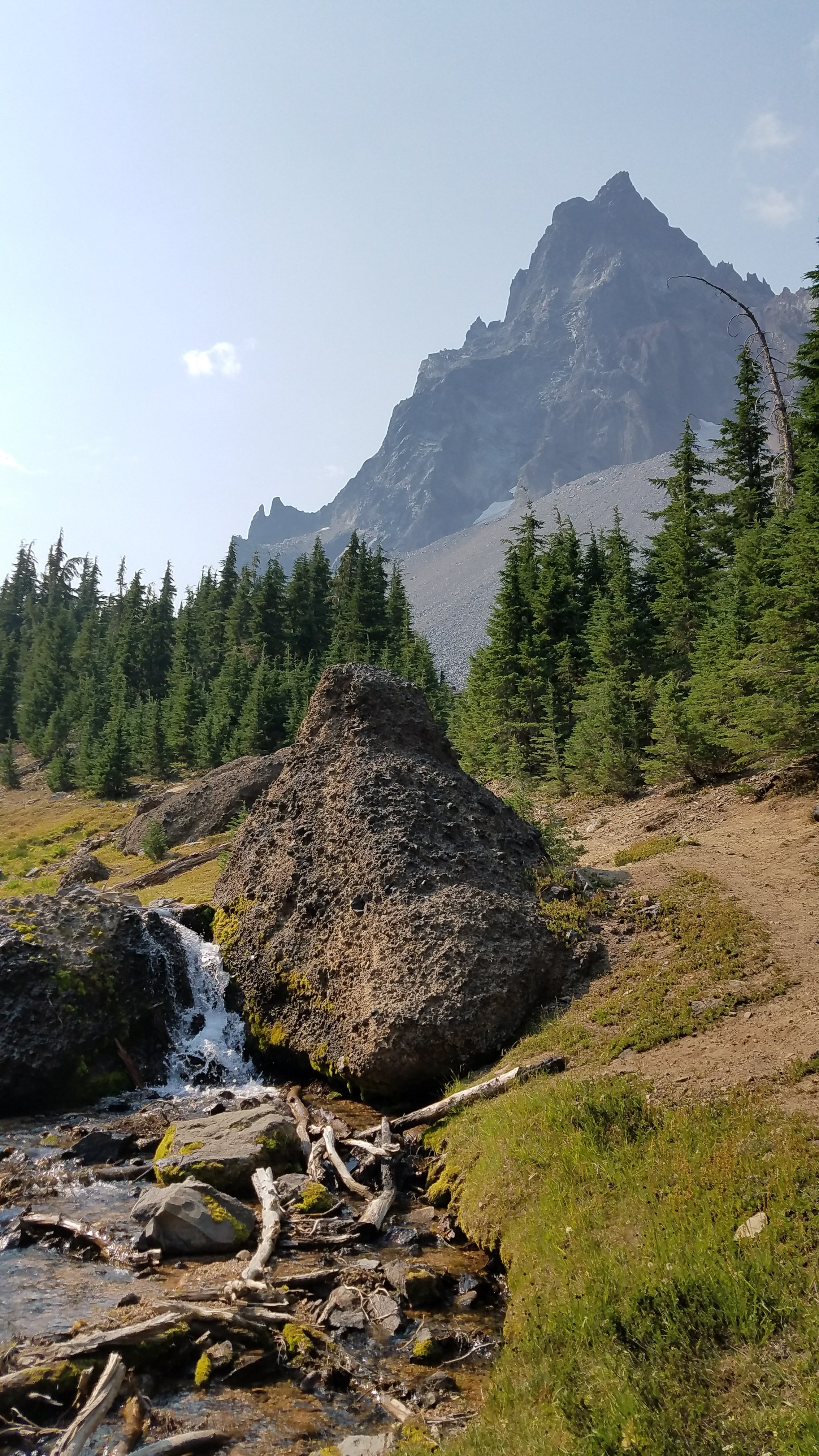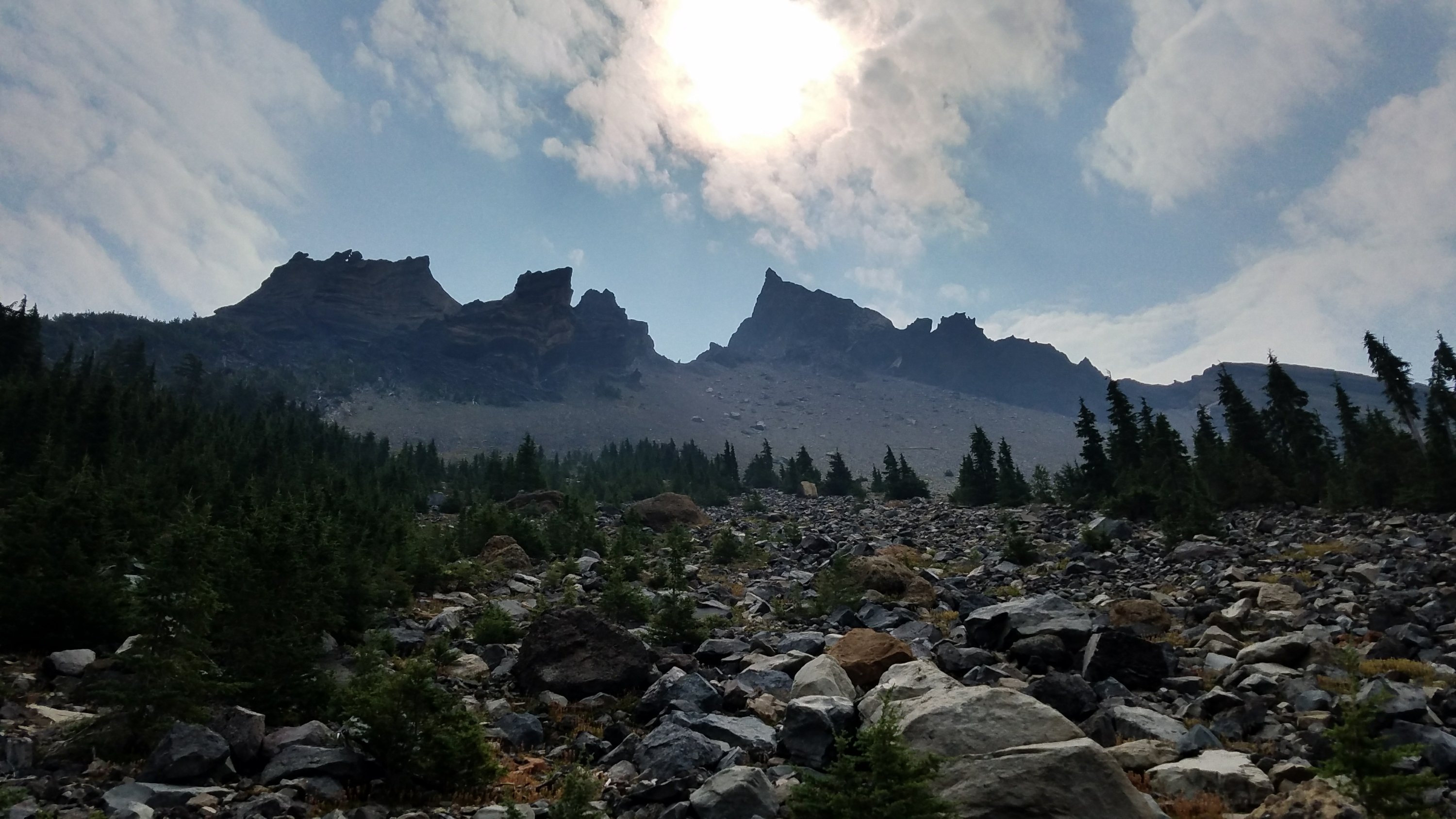 For me, a 26 mile water-less stretch was coming up but I had intel that there were 2 water caches along the way. I came to the first but as the day was not too hot and I was well hydrated from the morning, I didn't need much more than to top off one bottle.
Then, a mile later, I came upon some trail magic. Magic Man (aptly named) hooked me up with a Mt Dew and a twinky-like pastry. He said that he's from CA but follows the 'herd' north to do TM all summer. I love how passionate people are about this stuff. Trail Angels have as many reasons why they do what they do as hikers have reasons for walking the trail. Thanks Magic Man!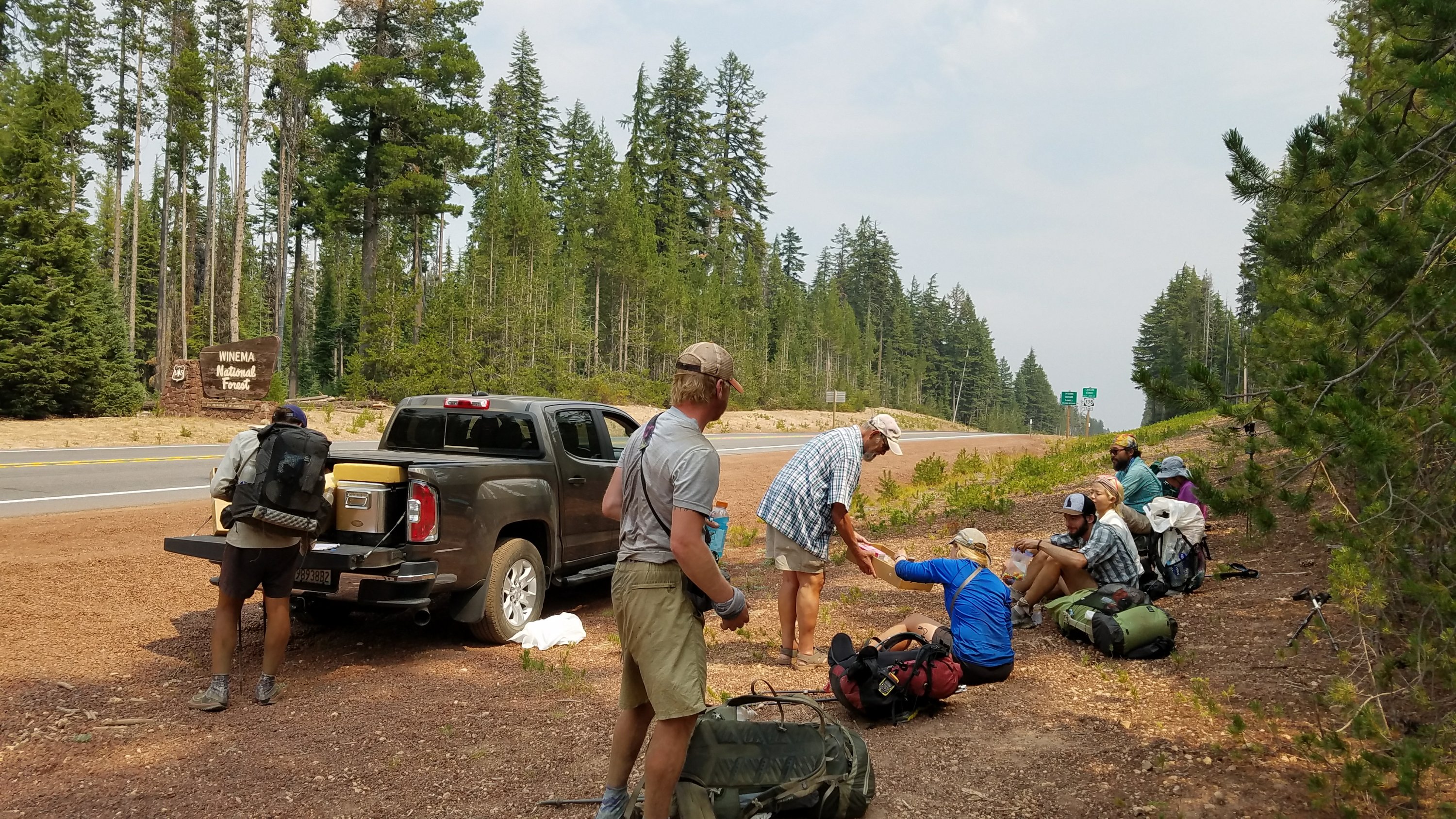 I also met a woman wearing a Purple Rain Adventure skirt, just like mine, but black in color (like the one I wore on the TA). She immediately asked how I'd gotten one in blue, as that's her favorite color. In fact, that was her trail name: Blue! And, ironically enough, she's also Kiwi. She looked impressed when I correctly guessed her accent. But how could I not spot a Kiwi after just spending 4 months in NZ? We chatted for awhile and I really wished we were going the same way. Maybe someday we can go for a hike together in New Zealand.
The trail continued over very flat terrain and 9 miles passed quickly. The day had been slightly overcast with high clouds but now there was also thick smoke. I had been hearing from everyone that the wildfire smoke starts at this point and only gets worse into CA. For the first time, I could also smell it. Oh well. At least the trail is still open, for now.
I came to the junction with the rim trail and also another water cache. I filled up and began the 12 mile trail. They ought to just make it the official PCT route, as everyone takes it for the views of Crater Lake. It is also 4 miles shorter than the official route, but a lot more elevation change.
I made it to a campsite, nothing too special, and went to bed early. I would try to get up to the crater before sunrise the next day.