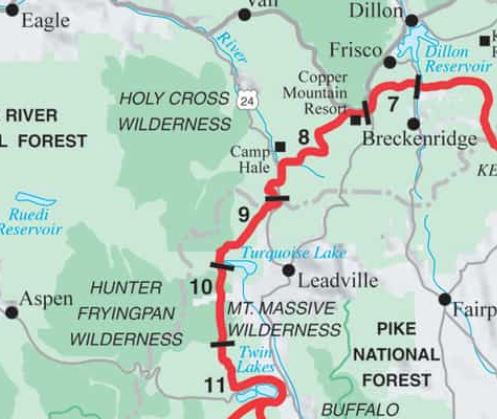 Day 8: July 20th, Copper Mountain village to campsite south of Camp Hale, 20.1 miles, Segment 8.
Sofie's friend picked us (Yoyo, PBR, Sofie and me) up at the hostel for a very early start. One of her car windows was blown out so the 30 minute ride was freezing! We arrived at the trailhead very anxious to start hiking, just to warm up. Still, we very much appreciated the ride!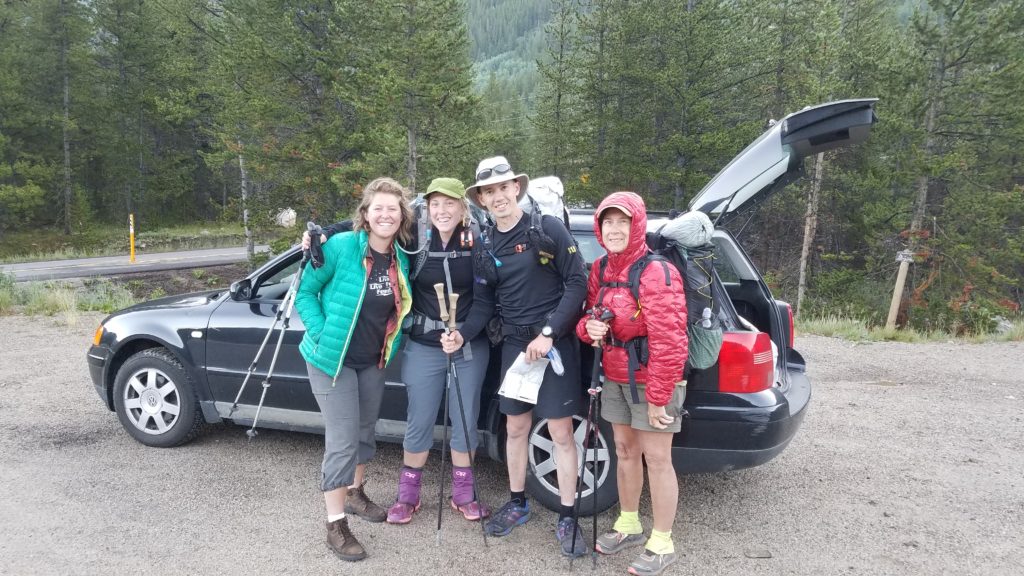 Our wish to warm was granted, as it was a steady climb up a valley to Searle Pass. We walked right through the ski resort and I fantasized about the hot coffee that must exist down in the village. A man-made snow course was still present. This is one of 2 ski resorts that the CT goes through…the other being Monarch Ski Resort where I learned to ski in middle school.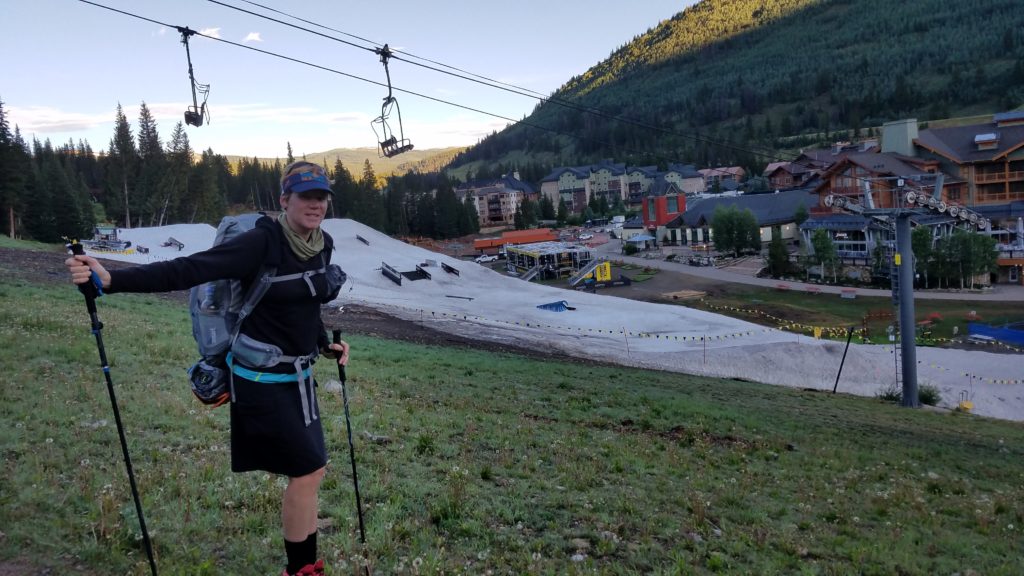 Sofie and Yoyo got ahead of me and I hiked fast to catch up with them. I arrived at the top of the pass alone, wondering where they went. They had actually taken a wrong turn in the ski area and had unknowingly ended up behind me. As I waited at the pass, Bam appeared. We hadn't seen him in a few days so it was good to reunite. He relayed that he had passed everyone else, so I finally knew where Yoyo and Sofie were. It's sometimes hard keeping track of your tramily.
Yoyo appeared shortly after Bam and I decided to continue on with them. The weather was perfect for traveling through this 3 mile alpine section but the clouds were already starting to form. Growing up in Colorado, I learned the lesson of getting an early start and taking advantage of good weather in the morning when traversing alpine sections. Otherwise, the lightning might get you. If not that, the rain and hail will.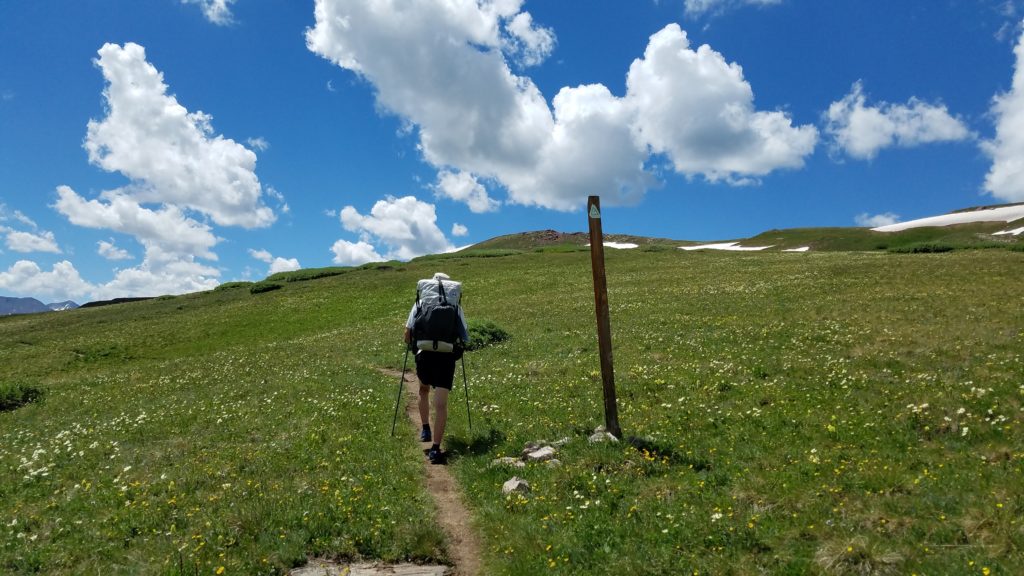 Along this stunningly beautiful section, the remaining snow pack was melting into sparkling fresh streams and the wildflowers were exploding. We went over a ridge above 12,000′, our highest point yet. By the time we reached Kokomo Pass, a few dark clouds were already on the horizon. It's amazing how quickly it can go from serene to hostile in such high, exposed areas.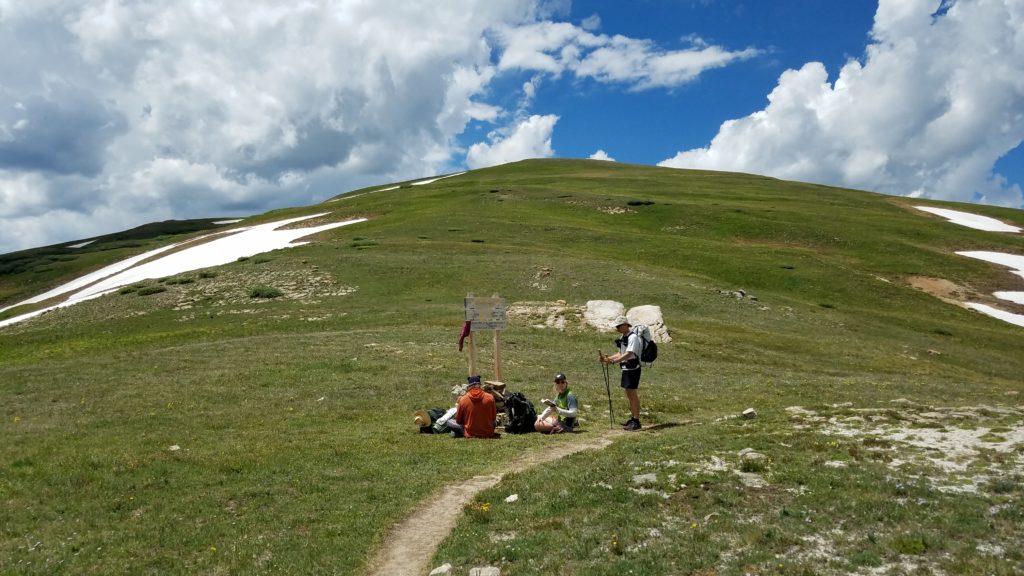 Luckily there was still time to linger at the pass, where we met T-Rex And Caveman, a couple from Durango who try to hike the CT every summer.  As we headed down, we entered an area that was even more rife with wildflowers…just stunning. I found that paintbrush comes in just about every color and each flower is intricate and unique, like a snowflake. Unfortunately, pictures never do justice to how truly spectacular the fields of wildflowers are…you just have to be there.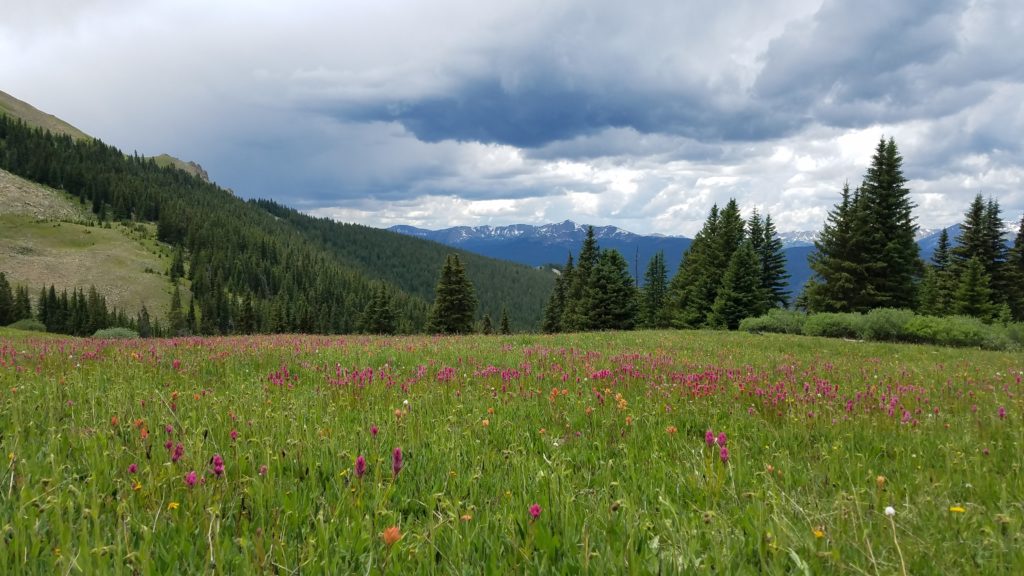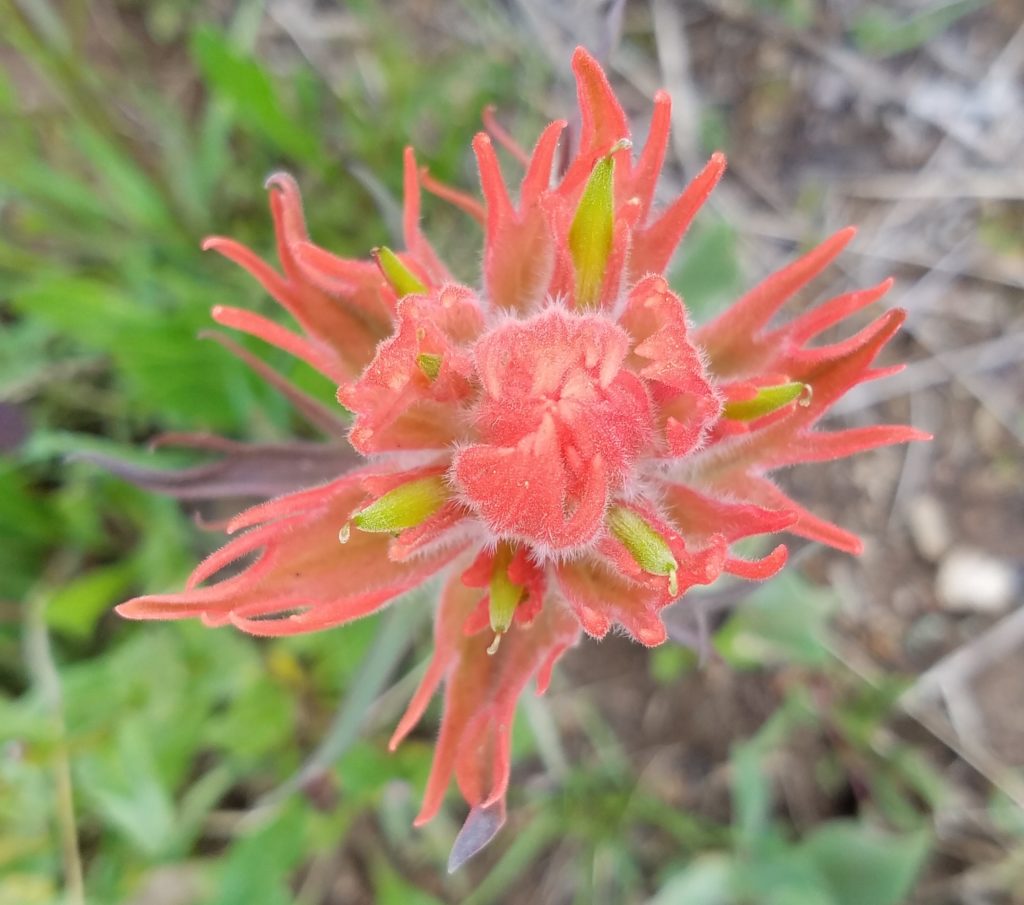 Down we went, passing into the area known as Camp Hale. It's an abandoned training ground for the WWII Army 10th Mountain Division. Soldiers were trained in mountain climbing, Alpine and Nordic skiing, cold-weather survival as well as various weapons and ordnance. When it was in full operation, approximately 15,000 soldiers were housed here. From 1959 to 1965, Tibetan guerrillas were secretly trained by the CIA. The site was chosen because of the similarities of the terrain with the Himalayan Plateau. All that remains today are bunker housing facilities…and possibly some un-exploded ordinance. For this reason, there were signs all over warning to STAY ON THE TRAIL and NO CAMPING for a 3 mile stretch.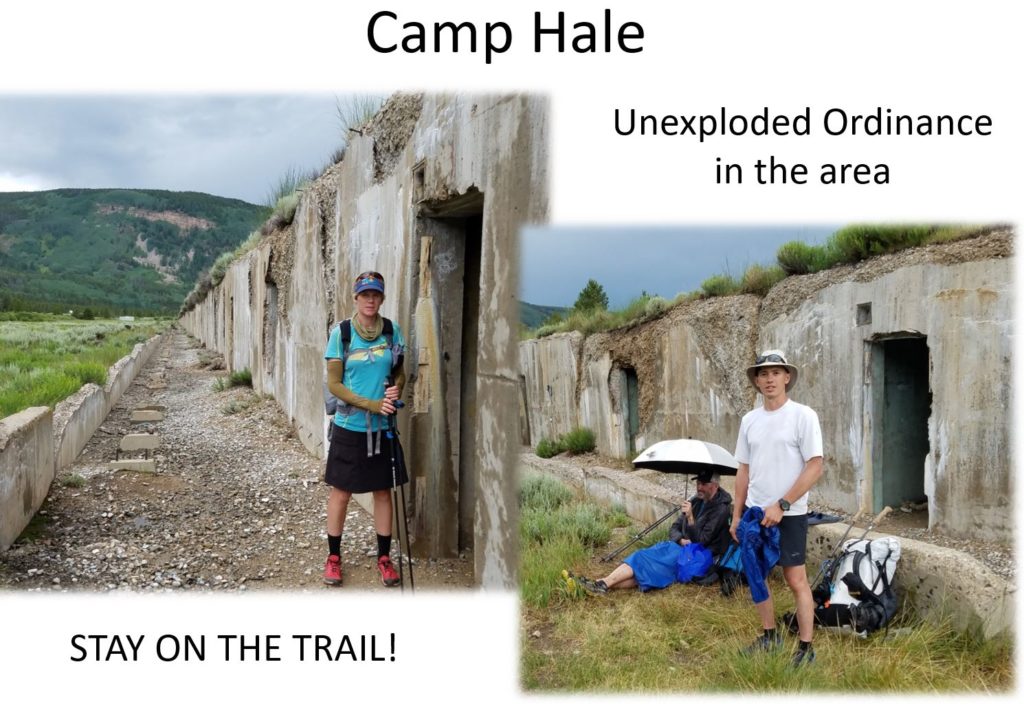 By this point, it was already a very long day and we needed to get to a better campsite. Bam decided to try his luck cowboy camping in one of the bunkers but they gave me the creeps! Yoyo and I moved on another few miles to a campsite in the woods. Our guidebooks said there was water nearby but upon arriving, there wasn't. Fortunately, there had been some sort of race recently and containers of water were still stationed on a nearby road. We pilfered some water for the night and Sofie and PBR arrived 1 hr later, looking none too please about having hiked so far. I hadn't planned such a long day but the campsites we passed before Camp Hale weren't great, then there was no more camping for 3 miles. I wondered if Sofie was starting to regret the decision to hike with us!
Day 9: July 21st, Campsite south of Camp Hale to Galena Lake, 16.2 miles, Segments 8-9.
We arrived at Tennessee Pass and US Hwy 24 early in the morning, hoping for the chance of some trail magic. As was the case for most of the CT, there was none. This is a point where hikers can hitch into Leadville but our intentions were to continue on to Twin Lakes for our next resupply. The trail became very rocky after this. We passed through parts of Holy Cross Wilderness. The pattern for the day was to climb to a ridge then down to a creek, repeat. The trail was mostly in the woods but there were a few glimpses of the higher peaks to our right.
Around 3 pm, the afternoon thunderstorms started up and we had some close lightning strikes. PBR said she actually felt the heat from one! It rained for a little while but nothing too bad. We passed a grandma and grandson duo packing with lamas…the latter looked rather ticked-off at being wet but then again, lamas always look a bit grumpy to me.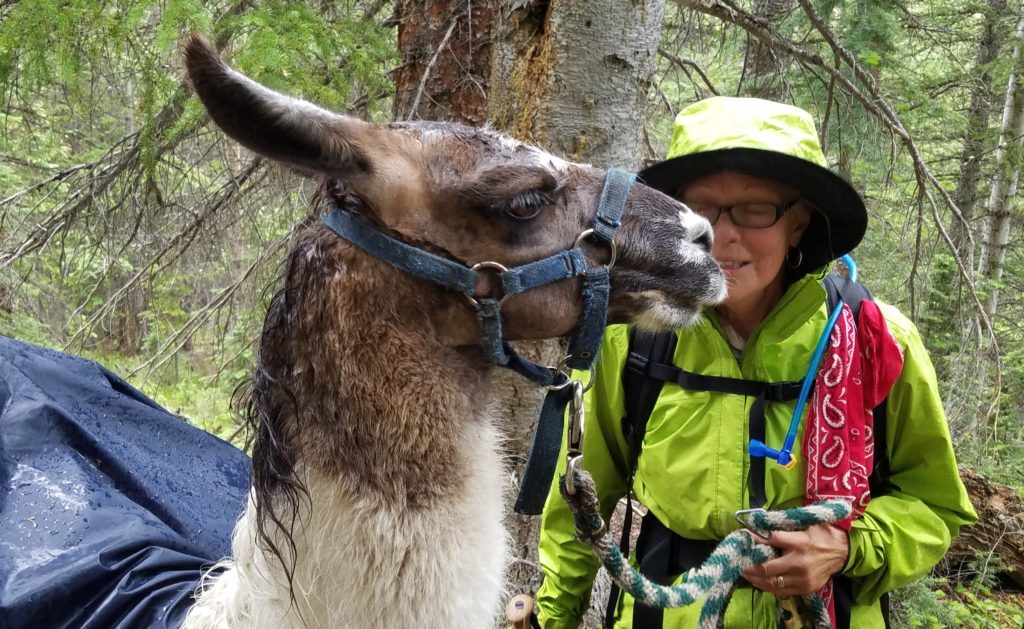 We stopped early to camp near a lake. Everyone was a bit somber because of the storms and bedtime came quickly.
Day 10: July 22nd, Galena Lake to Mt Elbert TH, 15.7 miles, Segments 9-10.
It was another mixed-bag day. There was some more small climbing and descending, a few patches of snow, and of course, some rain to finish the day. We hiked through a part of the Mount Massive Wilderness area, passing the 3.5 mile side-trail that goes to the top of the second highest peak in Colorado (3rd highest in the continental US). We had decided to save our energy for the next biggest 14'er.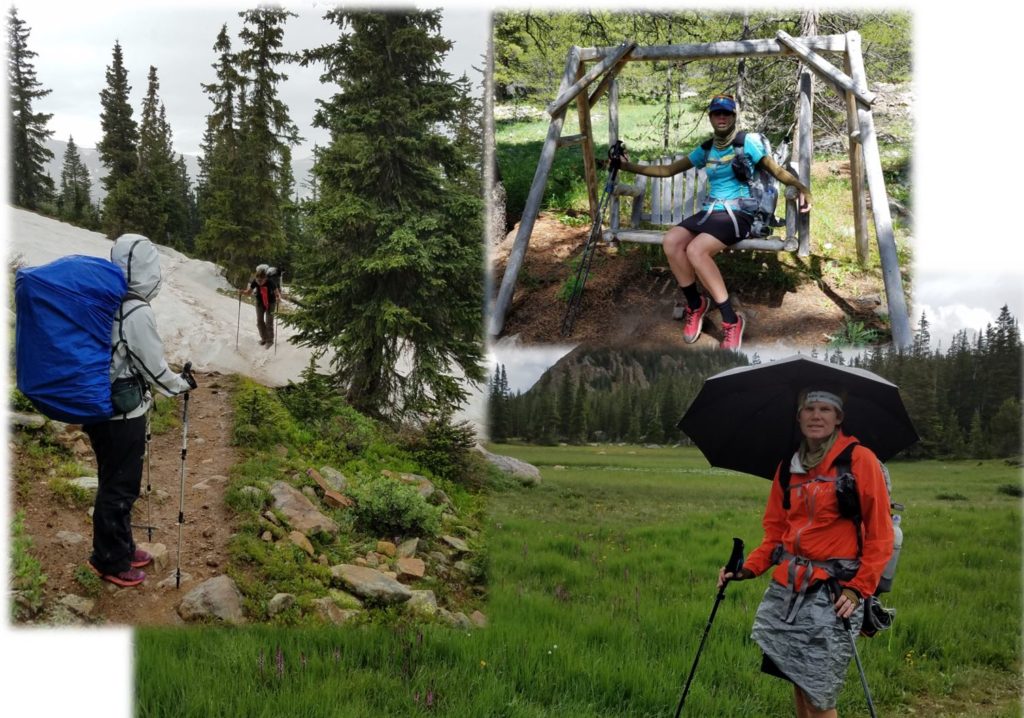 We aimed to camp at the end of Segment 10 near a creek and trailhead at the base of Mt Elbert. We planned to deviate from the CT to bag Mt Elbert the next morning and needed an early start because of the thunderstorms. We got into camp and had our tents set up just in time for it to start raining again. All in all a pretty uneventful day.
Day 11: July 23rd, Mt Elbert TH to Twin Lakes, via Mt Elbert, 10.5 miles, Segments 10-11.
I heard noises and saw headlamp beams bouncing around beginning at 3 am. We camped close to the trailhead parking lot and there were quite a few early birds climbing for the sunrise. Today was the big day where some of us planned to summit Mt Elbert, the highest peak in CO (and only about 60′ lower than Mt Whitney… I have since summited Whitney, Elbert, and Massive). PBR and Yoyo decided to push on to Twin Lakes via the official CT, leaving the big climb to Bam, Sofie and me. I'd only ever hiked one 14'er before and that was Pikes Peak…not so exciting since it also has a road leading to the top (which I used to get back down).
Our plan was to take a NE route up to the top of Mt Elbert and then a SE route down, rejoining the CT and finishing at Twin Lakes. The elevation gain was about 4500′. Since we weren't following the same trail down, we had to carry our packs with us…ugh! We got a lot of comments from day hikers about our packs, mostly asking if we were going to camp at the top. Being a good-weather Sunday in July, there were probably thousands of people hiking up. Upon reaching timber line, I could see the trail for miles by the line of people. They looked more like a line of ants. I was surprised by just how much remained above timber line. The big bald mountain top looked miles away…and I guess it was.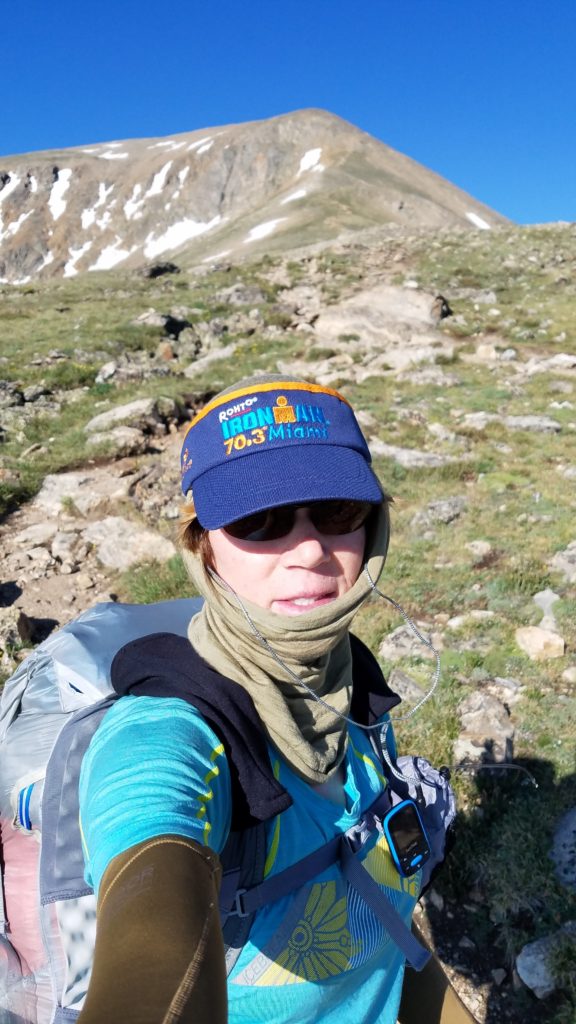 I put on some music and jammed my way to the top. I passed quite a few day hikers and even a tiny chihuahua-like dog. Some people looked very casual and under-prepared while others looked like mountaineers. This particular 14er requires no technical ability and is probably in the top 5 most-hiked. I found it pretty easy after the fitness I had developed over the past few weeks. A few others looked like they had come straight from sea-level and were really struggling.
Once at the top, I decided to put all my gear to good use. I made some hot tea and hung out in my quilt. Bam and Sofie arrived and we took lots of fun pictures. The weather was perfect…no wind and comfortable temps.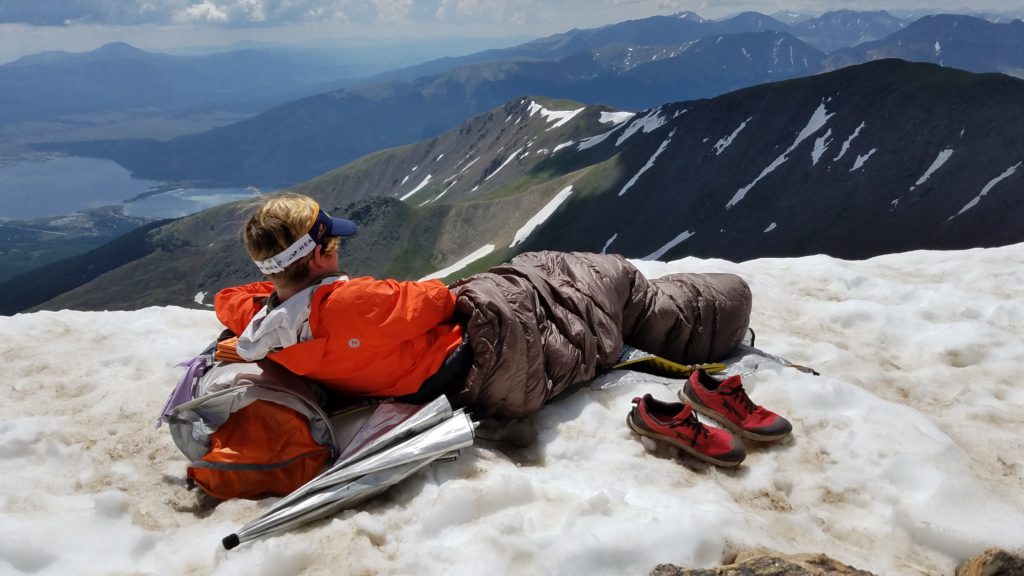 Admiring the Twin Lakes, to the left.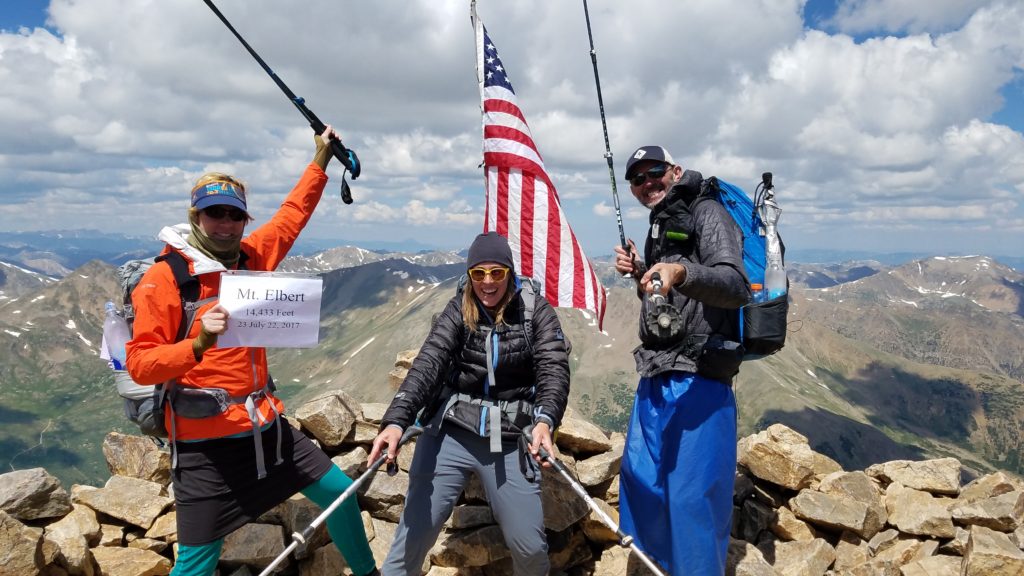 As the clouds were beginning to gather, we finally headed down. It was easy going but the Twin Lakes looked so far off. We were on a high and enjoying each other's company, so the distance went by quickly.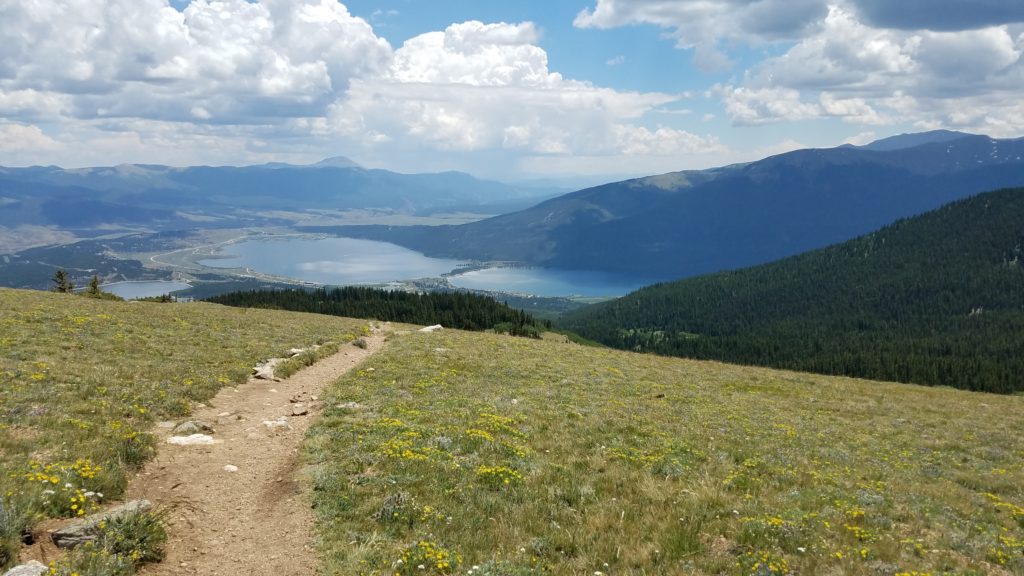 A good view of the Twin Lakes and Pikes Peak in the background.
Just after noon, we were in town and enjoying the amenities. I was able to pick up Sarah's resupply package that she had sent before ending her hike, so I didn't have to buy anything (with her permission and blessing, of course). We found out there was a hostel in town so we quickly made the decision to stay the night, affording us a whole afternoon to tour the town.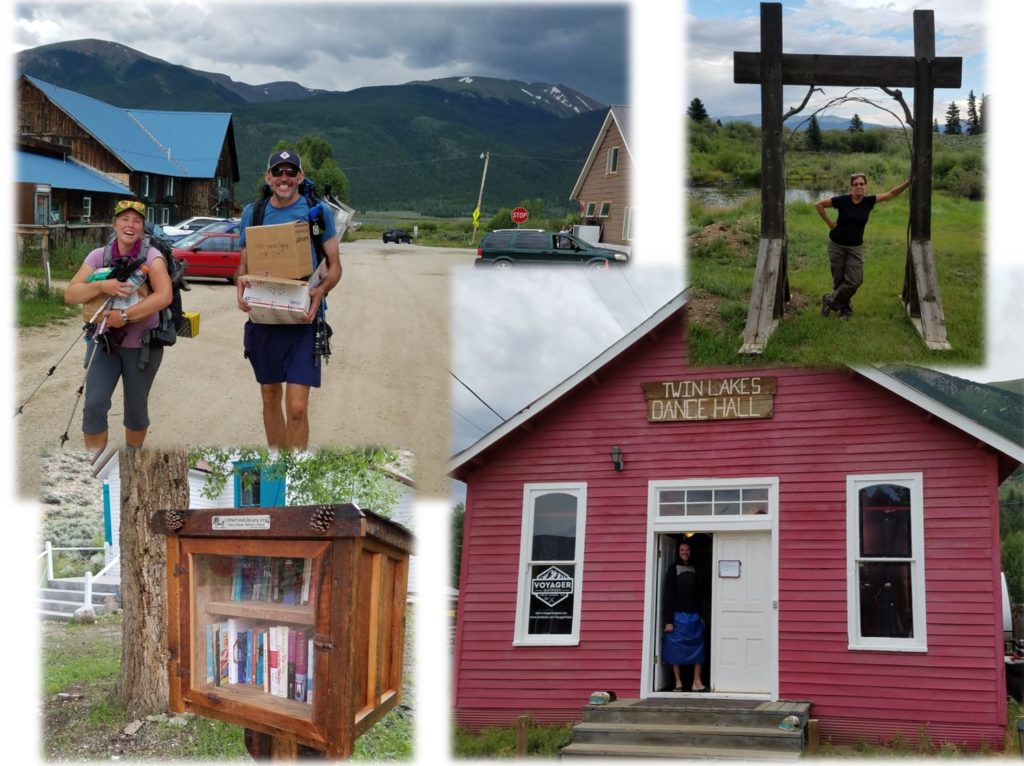 There wasn't much to see but the town has very old-timey historic and endearing qualities. It's a chapter right out of the 1800 mining days.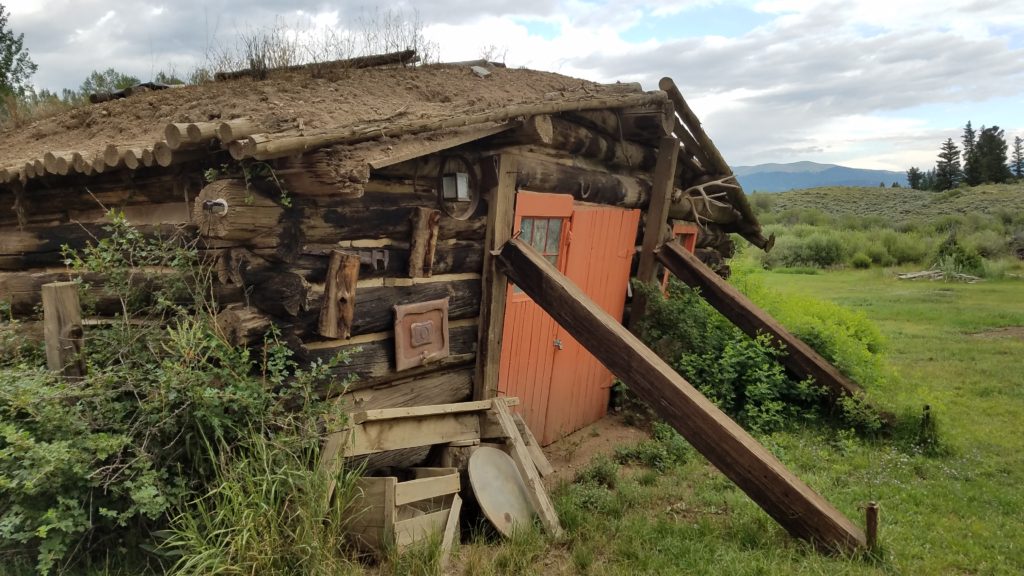 We did laundry at the one Bed&Breakfast and had dinner at the only lodge/restaurant in town. The hostel was very unique. $25 got us each a bunk in the one and only room and a seat at the centerpiece table for pancake and rhubarb/strawberry compote breakfast the next morning. The owner Matt and his mom made breakfast. There was no running water in the place, so we used solar showers and a pump toilet, similar to what you find in a boat or RV. Only a few years later, the hostel was long-gone, apparently due to these somewhat lax plumbing accommodations and lack of the proper permits. Small-town politics can be very interesting.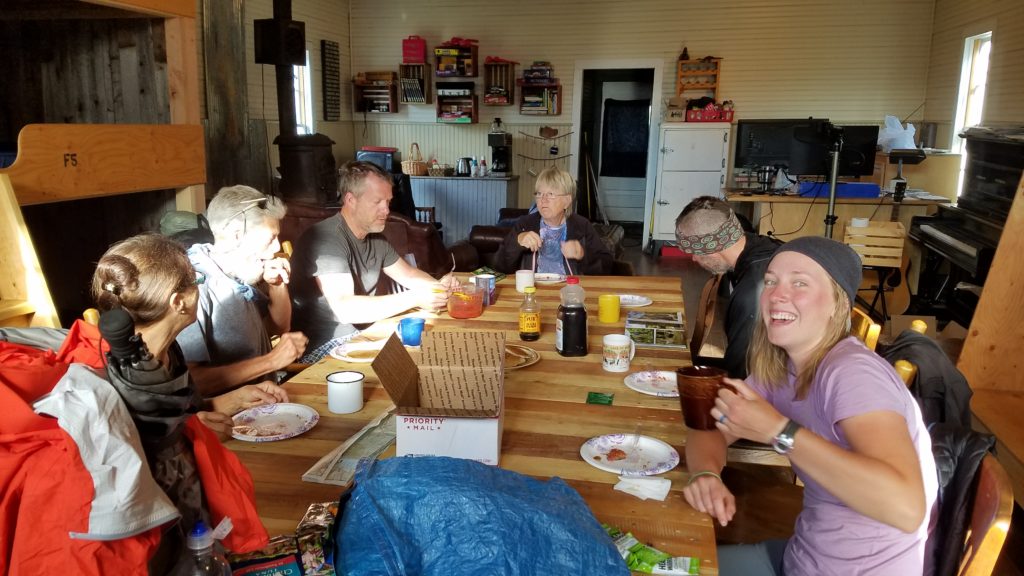 We contemplated taking a zero in this cute and humble place but decided we better keep moving. Sadly, we lost 2 of our tramily. Bam decided to take a zero and then hike the Western Collegiate route and Yoyo got off the trail to go home to his family. He was suffering from a strong case of homesickness. We met a new friend too…Jolly Rancher, who was staying at the hostel. I learned that he lives near Westcliffe, which is near where my parents live and I grew up. We became Facebook friends and I have followed his trekking and bikepacking adventures for years. Recently I got to visit him at his cool Earthship home.
Stay tuned for Part 2 of Week 2, where we travel along the Eastern Collegiate route into Mt. Princeton, Salida and a visit with my parents.