October 12th, 2019
Mm 126.7 to Cedar Ranch Trailhead mm 163
Distance in miles: 36.3
0605-1820
It's cold overnight but not much below freezing. Certainly not into the low 20s as forecasted. Unless I'm just tougher than I realize. My water bottles don't freeze, anyway. I hear Stellar rustling at 4 am and wonder what he's up to. He's getting up? His phone has somehow reset to DST so he thinks it's 5 am. It takes quite a bit of convincing that he's an hour off…brain cells don't work as fast this early. We're also both very confident in our belief that "I'm always right" but in this case, I am right. LOL.
I'm awake after this so I make coffee and blog. We get a good start and theorize that we can make it 36 miles to a cache where there might also be beers. We'll have to walk fast and all day but it's pretty flat and mostly dirt road walking.
At an early water cache, we meet a section hiker. Later in the day, there are 4 dayhikers all wearing green "AZT in a Day" t-shirts. Today is a promotional event where people are trying to hike all parts of the trail in the same day. We joke that we're sorry for whoever got stuck with the road walk that is to come…well, that would be us, I guess. We'll take the hit on that one. The dayhikers at least tell us about a newly completed trail south of Flagstaff that will get us off a 20 mile dirt roadwalk. That's music to our ears. We have to be on the lookout for the new trail when we come to wildhorse tank, whatever that is.
The ponderosa forest turns into juniper scrub and then open prairie as we drop in elevation throughout the day. It's the perfect day to be walking out in the open since it's still cool. We have good views of the San Francisco Peaks that we're headed for. From far away, I can see that they are volcanic. Cinder cones dot the landscape and later we see lava stones.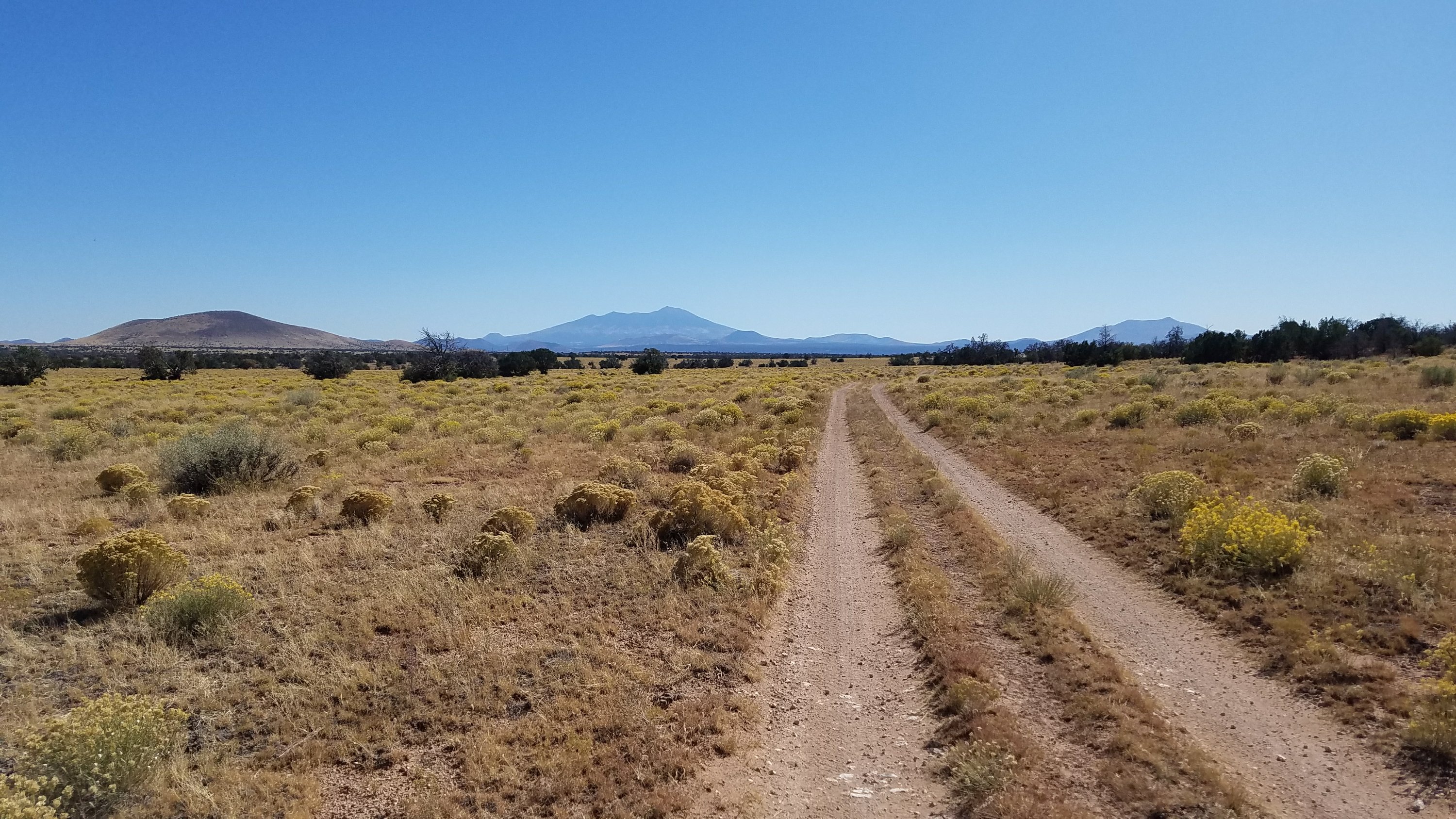 We collect water from a tank 32 miles into the day but there's nowhere to camp around the immediate area. We'll have to go the distance, now along a well-defined dirt road with a little bit of vehicle traffic. The moon comes up and we glide along in the evening glow. To amuse ourselves, we invent various trekking pole defense methods, possibly to defend ourselves from the large bulls that we have encountered along the road today. My favorite is a spinning samurai maneuver but I hold little hope that it would actually protect me from a charging bull.
We come to the trailhead and cache with just enough light to find some campsites. The junipers don't provide much shelter and the ground is mostly dirt and rock. But it will have to do.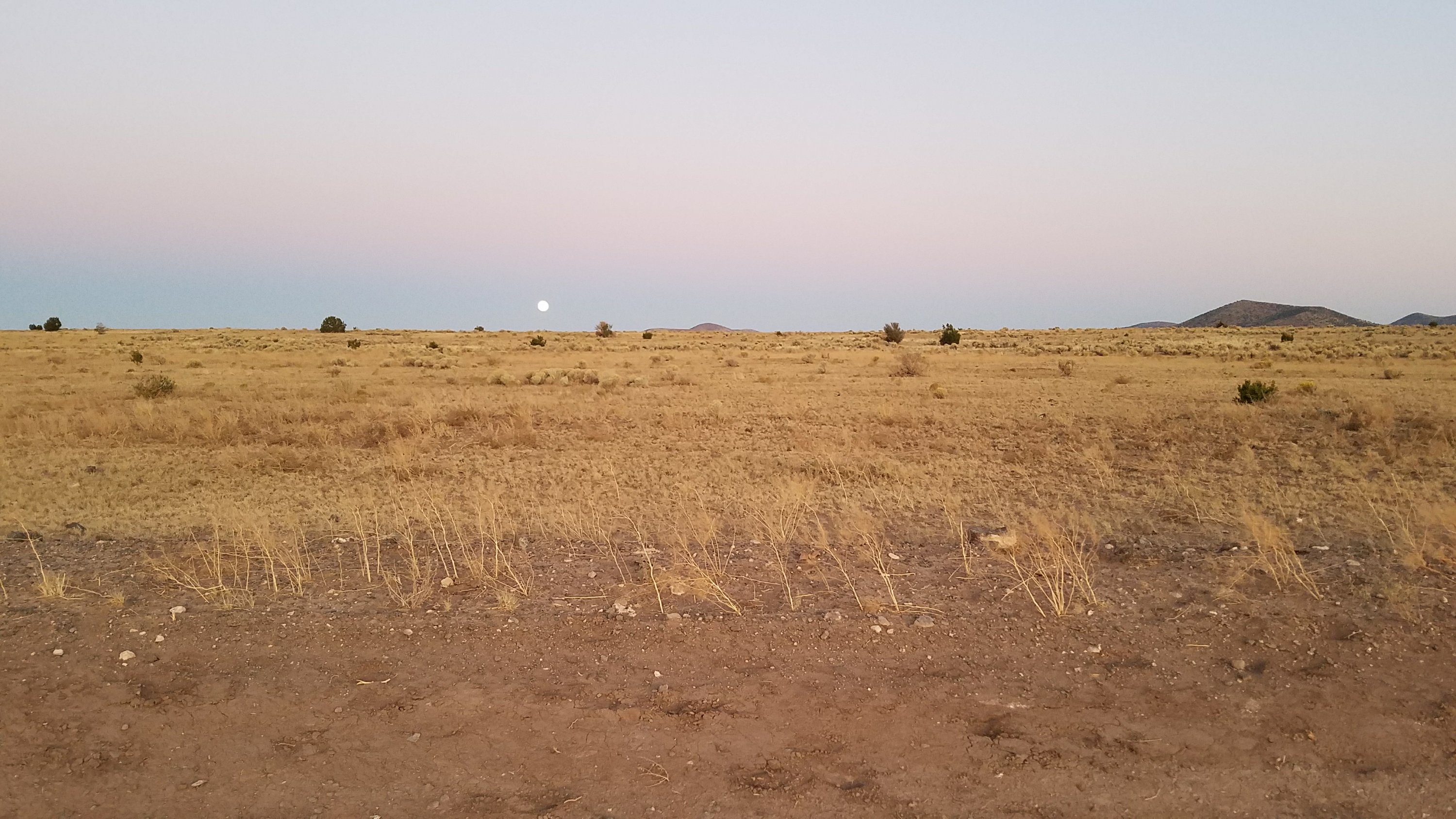 At least we have water…and candy and beer! There are 8 bud-lights and we have one a piece. It's a long way to walk for cheap beer, plus we have to carry out the cans, but the novelty of it's fun. And we sure do appreciate the unknown trail angel(s) that have left all this stuff!