Saturday 7-11-20 to Monday 7-13-20
Distance RT: 14 miles
Elevation gain/loss: 5,500′
Starting Elevation: 9,280′
Summits: 13,423′ & 13,524′
Rank: 252 & 186 of 584
Location: Sangre de Cristos, Southern Colorado
Route: Gibson Creek Trailhead (road 172) to Rainbow Trail to Swift Creek Trailhead, return on Lake of the Clouds Trail to Rainbow Trail/carpark.
Companions: JR, Maggie & Niki
I really needed to spend a weekend in the outdoors and it was JR to the rescue again. He invited me along for a mellow trip with his friends Maggie and Niki from Ft. Collins. The plan was to hike up to the Lake of the Clouds valley in the Sangres and spend 2 nights enjoying the area. I did some research to discover that I could climb 2 13ers from the basin: Spread Eagle Peak at 13,423′ and Peak of the Clouds at 13,524′. According to 14ers.com (which also lists 13ers), there are 584 13ers in all of Colorado. Up until now, I hadn't been keeping track of the ones I've climbed. For instance, I know I've been over 13,000′ multiple times on the CDT and CT but I'd have to do some research to name all those points. Some, like the Colorado Trail high-point, weren't even really peaks at all.
Anyway, my goal in researching these 13ers wasn't so much to bag more peaks but to simply have a focus for exploring the area while I was there. Lake of the Clouds is a popular destination in the Sangres and actually contains 3 decent-sized lakes. It's also a notoriously wet valley but it looked like we would have perfect weather for this trip. Since I don't fish, hiking up some peaks seemed like a nice way to spend the middle day. We all met at JR's on Saturday and drove through Westcliffe on the way to the trailhead.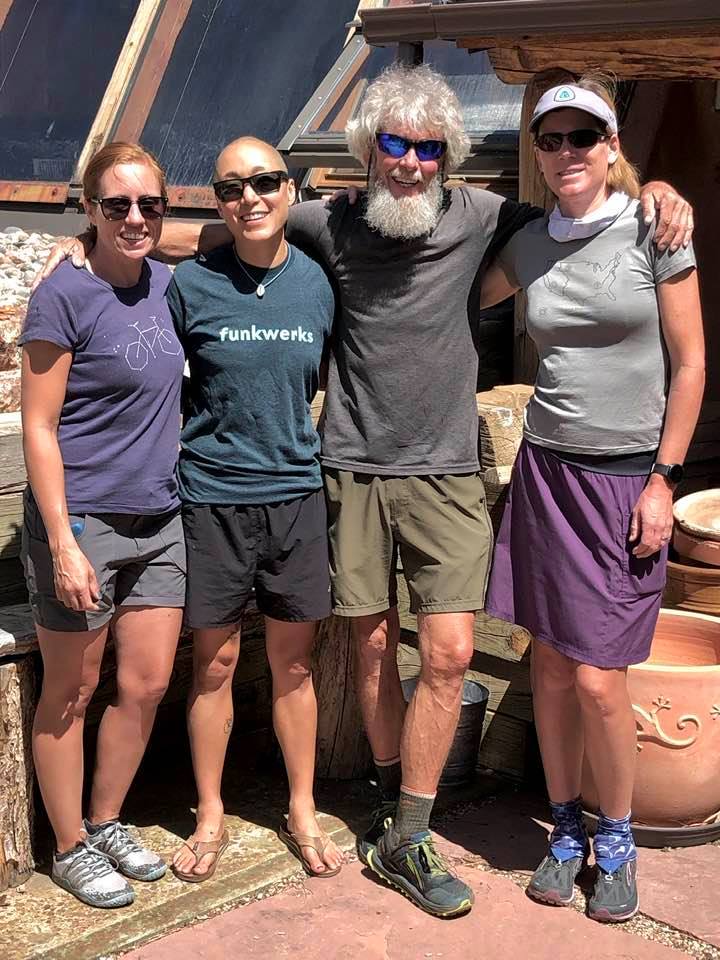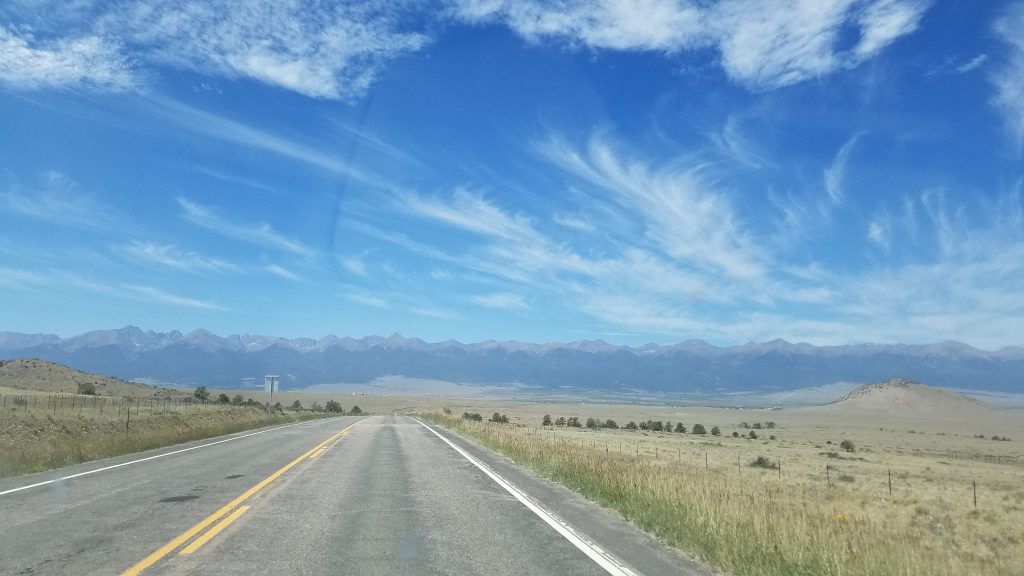 My favorite vista in all of Colorado. The only thing that makes this view better is some snow on the high peaks, but the clouds were sure beautiful on this summer day.
We got to the trailhead around noon, which was fine since we only had to hike about 4 miles to get to the lakes. A bumper sticker on a parked car read: "I'd rather be here now." Amen. We started up the trail, taking our time while I got to know Maggie and Niki a little better. They are some pretty cool gals. I was finding the trail quite easy since I had my tiny frameless pack and hardly any food. Here's a rear shot from JR of us crossing Swift Creek, which contrasts some different backpacking styles. This is why most people think I'm just a day hiker when they see me.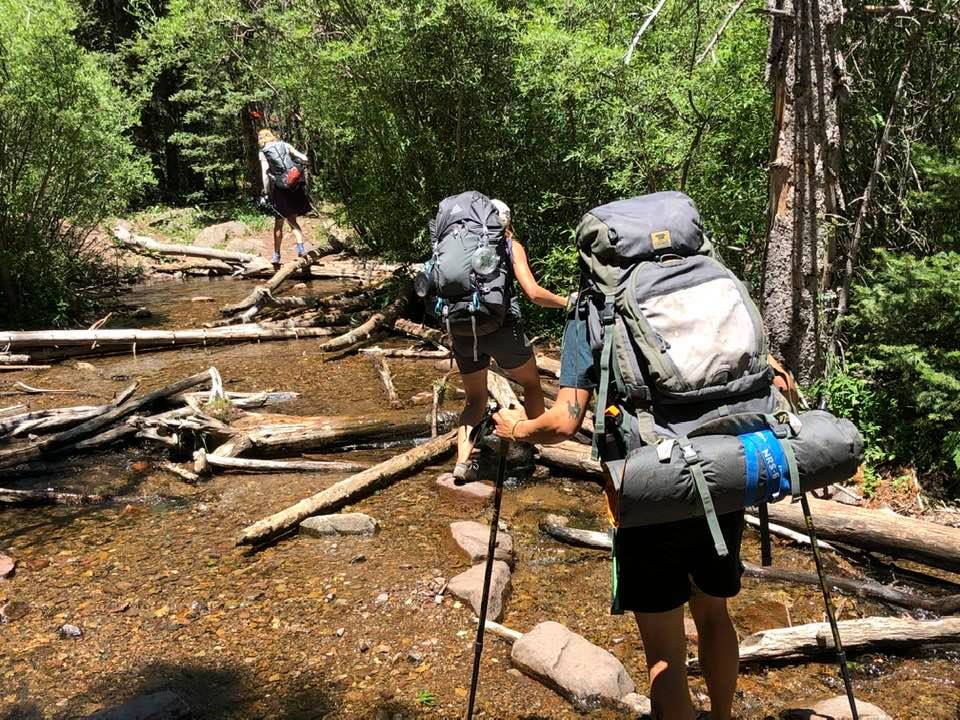 We hiked to the highest lake of the 3 to set up camp. There were plenty of good campsites around but we had to be mindful of all the beetle-killed dead trees. This is an ever-present concern in high elevations…so sad. After getting set up, we had plenty of time to explore the area. JR and I walked around the lake, meeting several fishermen. One took our picture.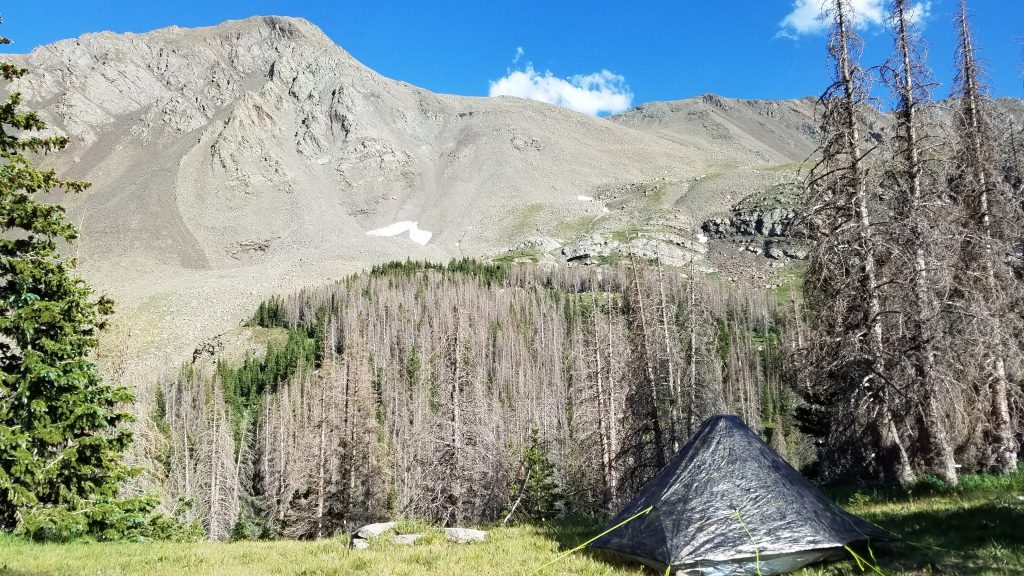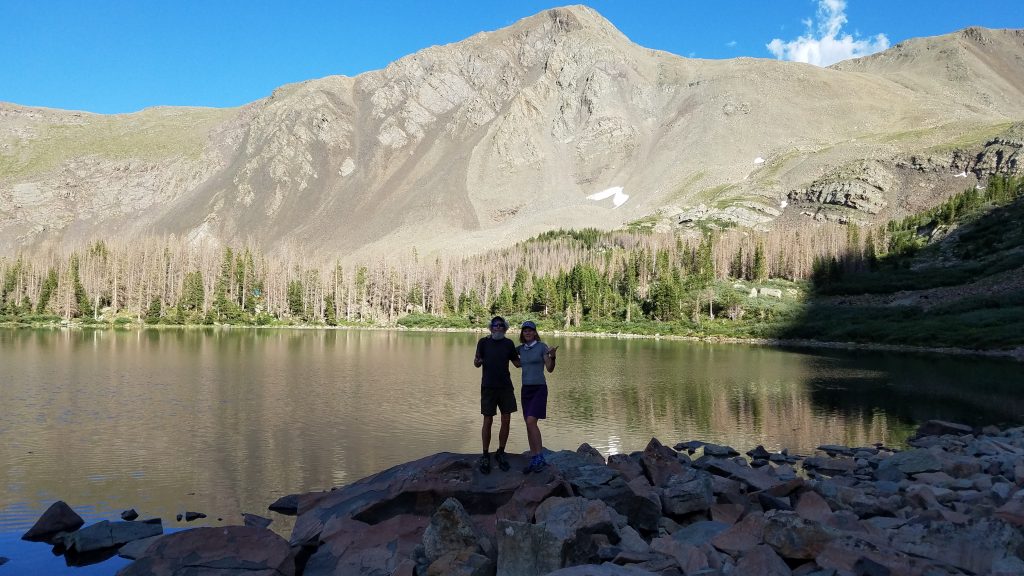 Spread Eagle is the peak visible in the background of both photos. I was looking at it all afternoon, considering different routes. I'd read a trip report that outlined the best route but it was hard to envision from down below in the basin. I'd have plenty of time to consider it the next day. On this night, it was just nice hanging out with new friends. This shows how great a guy JR is…he hauled up 3 beers for us ladies, even though he doesn't drink himself. JR is an extraordinary thru-hiker and even more extraordinary Trail Angel.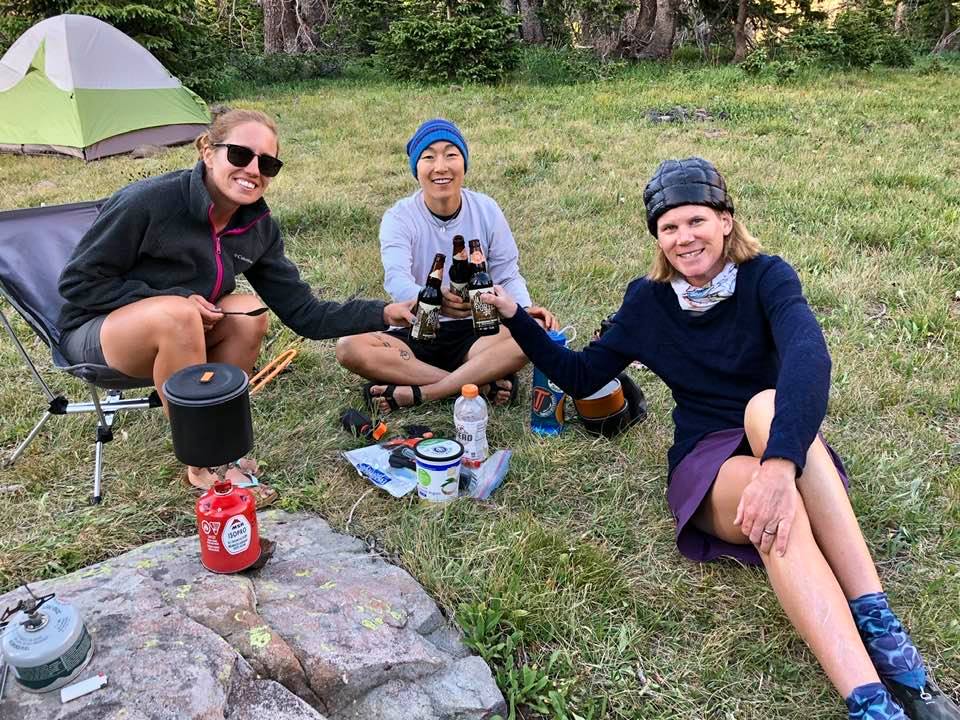 I was up early the next morning, excited to do some free-hiking and exploring. Free-hiking is the term for route-finding when established trails don't exist. Although, I pretty much followed faint trails all day, so it wasn't too difficult. I had hoped that my companions would be up for some peak-bagging but after a chill  breakfast, they all opted to relax by the lakes. That's cool, I'm used to doing this kind of stuff by myself anyway. I started towards the upper moraines and benches, following the most logical pathways from one level to the next. An easy gully led to a saddle in the long ridge connecting the 2 peaks. Here's a photo showing my general route drawn in. I turned left to go up Spread Eagle Peak first, then followed the ridge over to Peak of the Clouds (not visible in the far right of the picture).

All in all, the route was pretty easy. There was a little class 2 rock-scrambling towards the top of the first peak. A faint trail leads over the southern flank for the final bit, as staying on the northwestern flank would require some more technical climbing. It's pretty obvious where the easiest path is. I posed for a selfie at the top cairn. There was even a peak register…it's actually a pretty popular climb. Great views of the Sangre de Cristo range can be found along the entire route. This picture is looking towards the south, with the Crestones peaking out at center stage, always drawing the eye.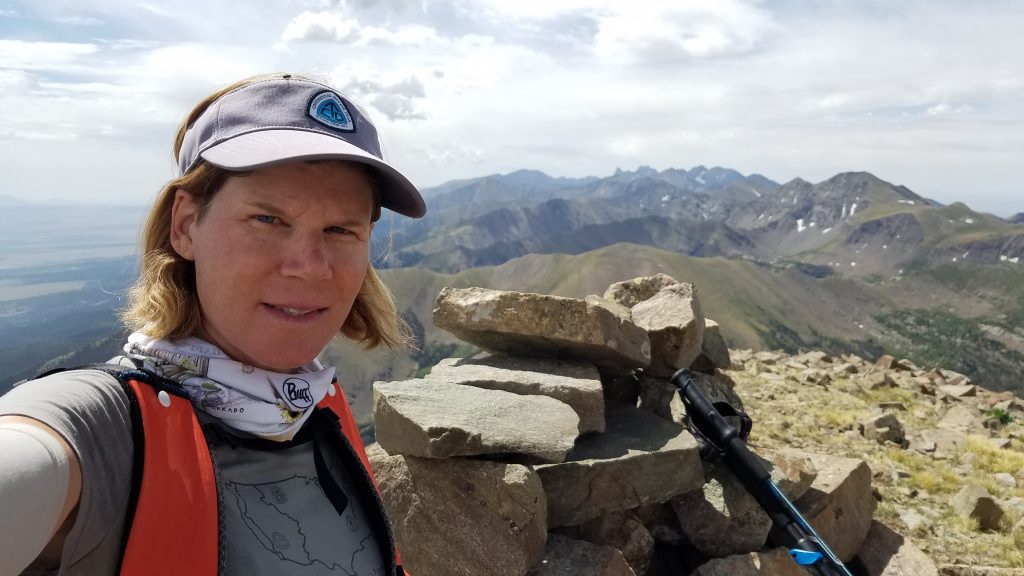 I retraced my steps back to the saddle, enjoying every bit of the long, broad ridge that connects the 2 peaks. It was very easy walking, allowing for full immersion in the sights. Another notable thing were all the flying insects. The air was almost dead-calm and the tundra was absolutely alive with the buzzing of moths, butterflies, and other winged-things. A few birds were taking advantage of the smorgasbord. It was striking that such fragile-seeming creatures could be thriving in this high environment. Then again, they probably had an easier time getting up here than me. Here's a look to the southwest along the ridge towards Peak of the Clouds and another prominent pyramid-shaped 13er, Rito Alto Peak, 13,794′ to the left. Rito Alto can be accessed from this ridge or from Hermit Pass, which comprises one of the few jeep roads going up into the Sangres.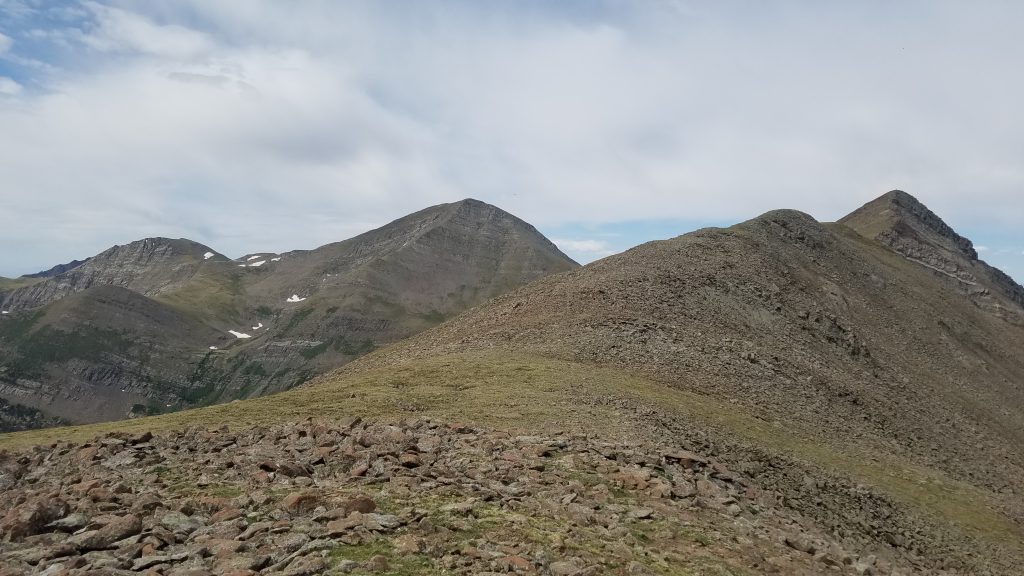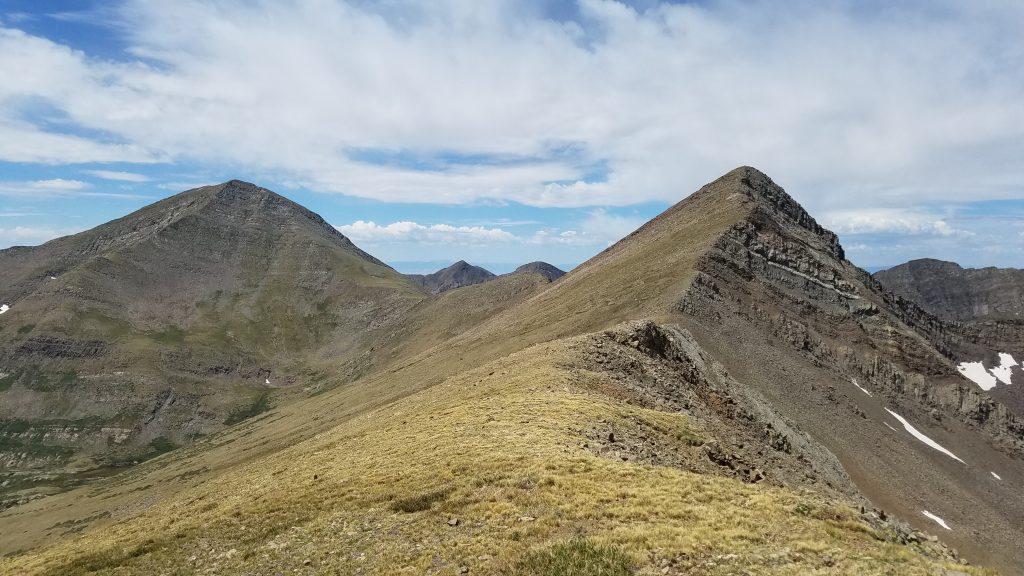 Walking bliss in the mellow tundra. I just love this stuff.
All the while, I had nice views of the 3 lakes in the Lake of the Clouds basin. Here's a look down from whence I came.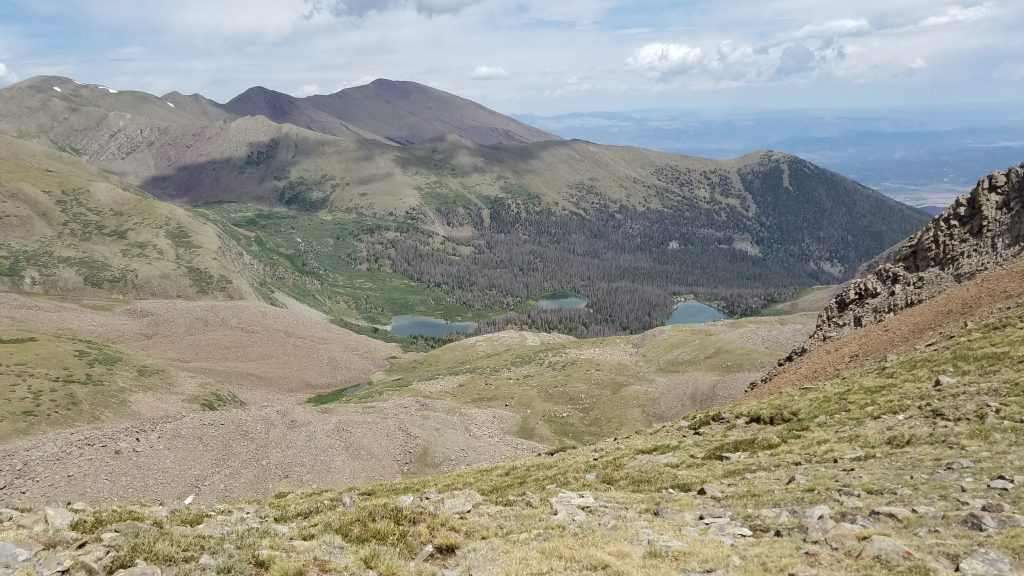 And here's another look to the south and the lakes in the adjacent basin, accessed by North Taylor Trail. Somewhere in there is the first 13er I ever climbed, Comanche Peak, at 13,277′ as part of the Comanche Venable loop hike. I've done that loop several times and just love it. It's a great introductory hike to the Sangres. It includes the infamous Phantom Terrace (a ledge hike that is breath-taking but really not all that dangerous).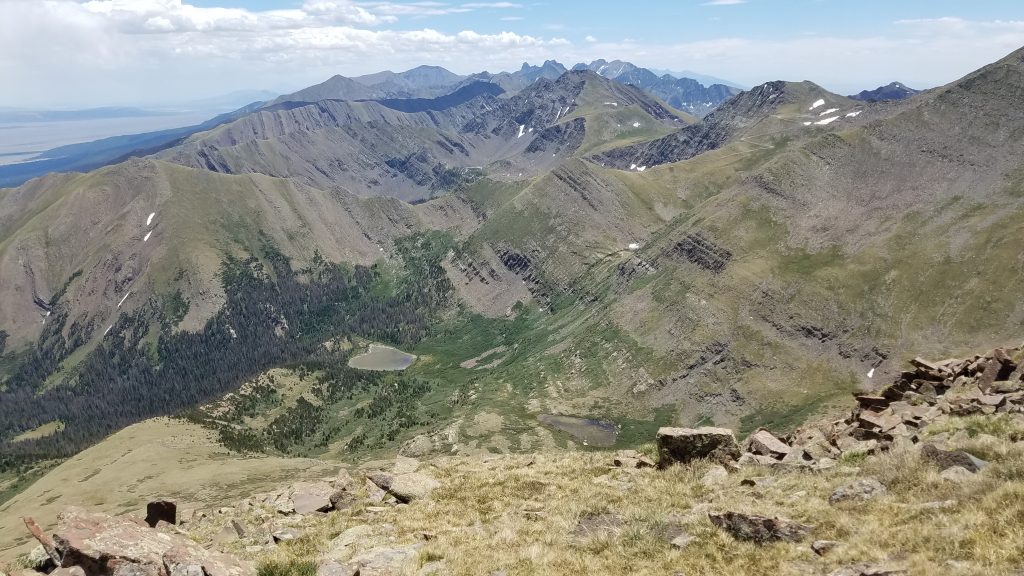 And here's a look back towards Spread Eagle Peak. The grid lay-out of tiny Westcliffe can just barely be seen in the center of the picture. The Wet Mountains look like mere hills in the background. I always think of Wescliffe as laying right at the feet of the Sangres but really it sits in the center of the valley, almost closer to the Wet Mountains.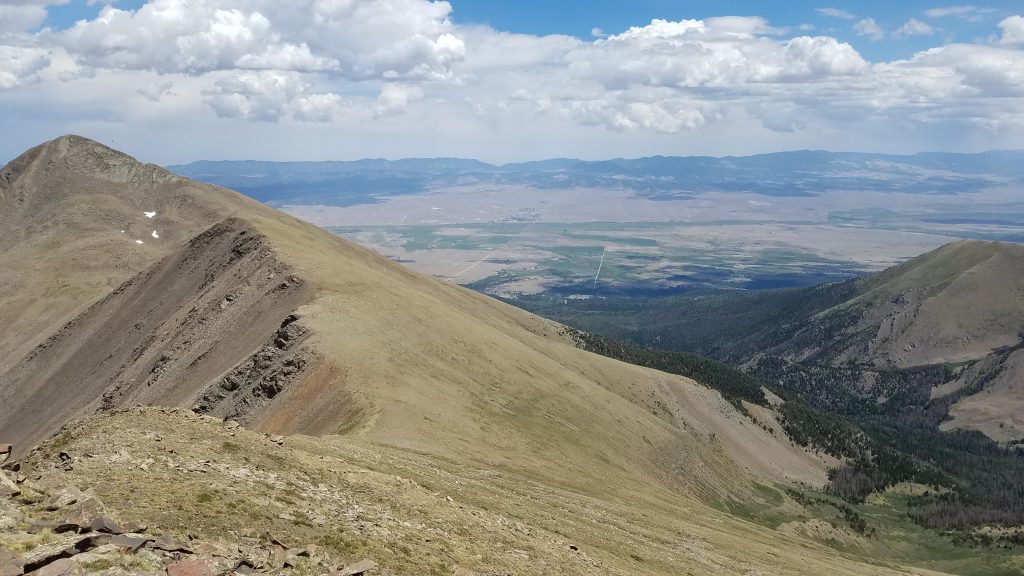 A straightforward climb brought me to the top of Peak of the Clouds. There I had lunch and watched a very daring pika examine my pack and shoes. Then I conferenced with the spirits in the sky, once again having my recurring vision of 3 ravens dancing around on the wind. I said my peace to my Dad, who had just passed days before. I'd like to think he was up there somewhere, watching over my explorations. It was one of the most peaceful and glorious days I've ever experienced at high elevation. This day wasn't about peak-bagging, it was just about being connected with the universe. A wide-open sky at the top of the world is the best way to feel that. The butterflies, marmots, pika, and ravens all agree.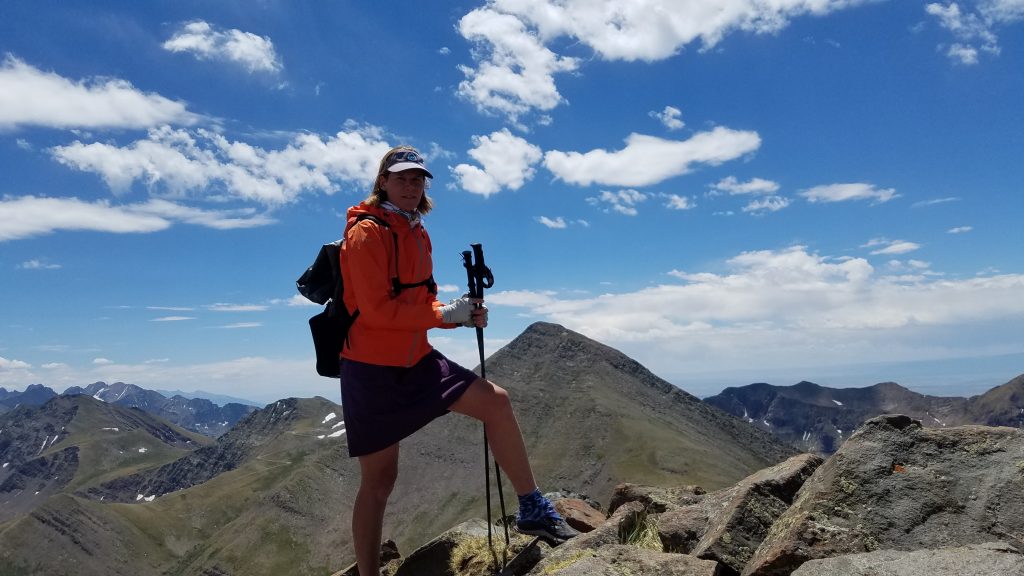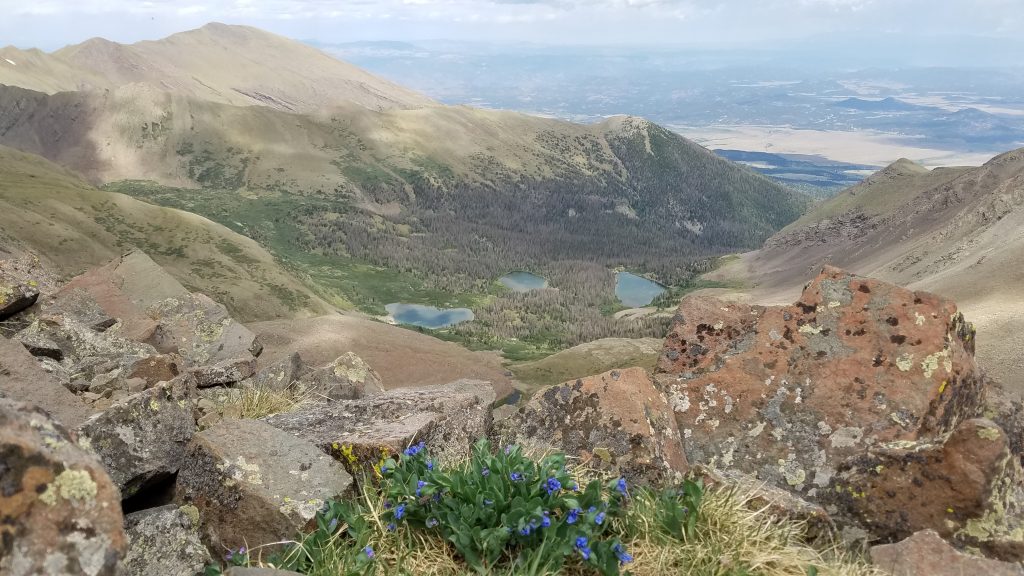 At last, I felt it was time to rejoin my group. I'd read in trip reports that one could continue down the ridge north towards Silver Peak, a 3rd 13er, but that it involves some class 3 scrambling. A quick peek over the side convinced me it was more than I was willing to bite off on this tranquil day, especially on my own. I retraced my steps down the ridge I'd come up, opting to add a little bit of excitement by following a different gully down to the moraines area. It was pretty steep, loose, and a bit slippery but I got down it just fine. Letting gravity do the work is always easier, as long as you don't get carried away by it!
I picked my way around a lot of rock in the basin and was shortly back at camp. I re-pitched my tent (which I had stashed inside JR's to minimize UV exposure) and did some camp chores. JR got a nice photo of me reminiscing on my beautiful day as I filtered water at the nearby stream. That night we had a very small fire and just enjoyed the blissfulness of the place. All the other weekenders had gone home and it felt like we were the only ones getting to share such a special place.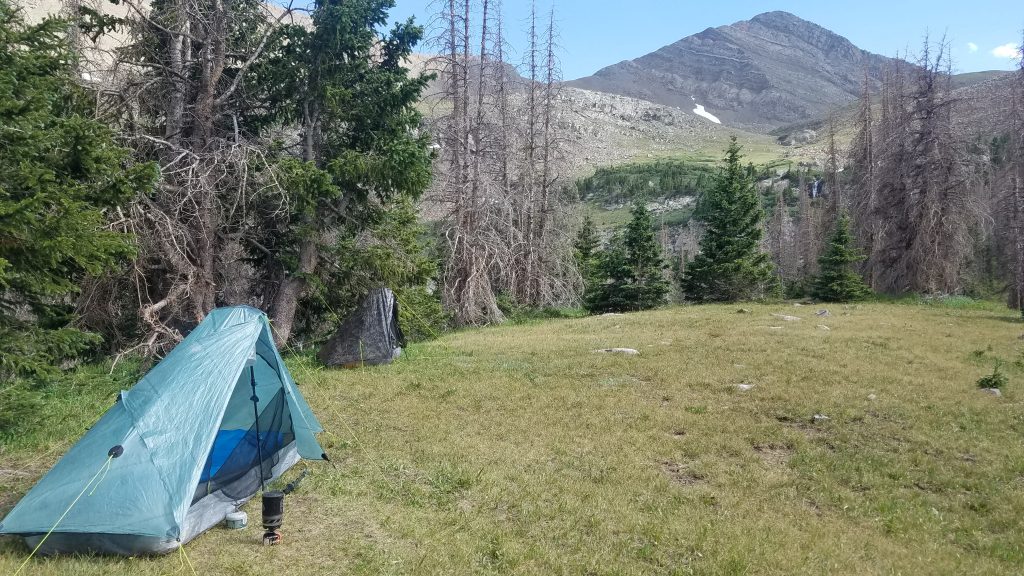 Tandem Plexamids…JR travels pretty light too.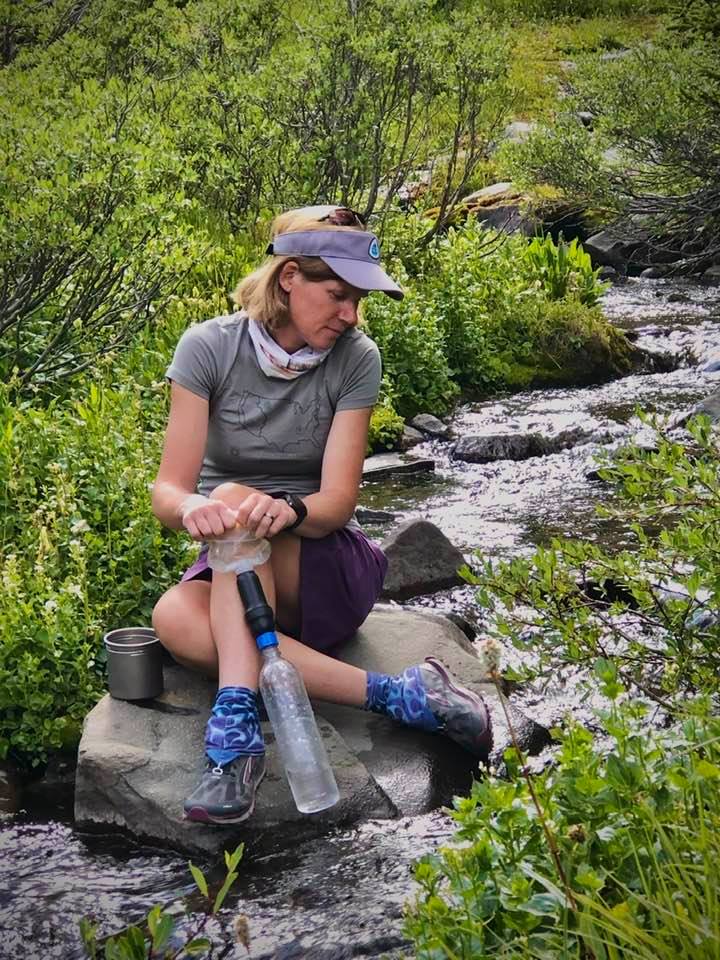 Then next morning, we packed and headed home. We took a different trail down, which added a few miles but was nice just to see some different scenery. Back in town, we stopped to have lunch at Tony's Mountain Pizza, which so perfectly hit the spot. Afterwards, Maggie and Niki unfortunately found a flat tire on their car (reminiscent of the day JR and I climbed Humboldt), but multiple people stepped up to help and they had it fixed in no time. The proverbial bump in the road but what a great trip, otherwise! And special thanks to my friends just for being there to share it.