September 24th, 2019
Harris Bear Spring mm 25.2 to HWY 84 mm 8.9 of Ghost Ranch alt.
Distance in miles: 16.3
0610-1030
It rains a little more overnight but we wake to clear skies. Everything is wet though, and it's so cold…the kind of cold that is amplified by the dampness. I need a layer for my hands but my crappy rain mitts are still soaked from the night before. I put them on anyways and suffer numb hands. I get such an early start that my steamy breath is obscuring my headlamp beam. I'm not enjoying this hiking in the dark cold morning but I want to get to Ghost Ranch in time for lunch…it's all-you-can-eat, a hiker's dream.
The route continues to be a bit confusing and is unmarked, since it's an alternate. There are a few cairns and blue blazes but mostly I depend on my GPS. I follow some faint footprints too. Down I go, as the forest changes from ponderosa and aspens to piñon and juniper. There's some sagebrush, which always smells so fresh after the rain. It feels like the desert SW here. It's also starting to warm up finally.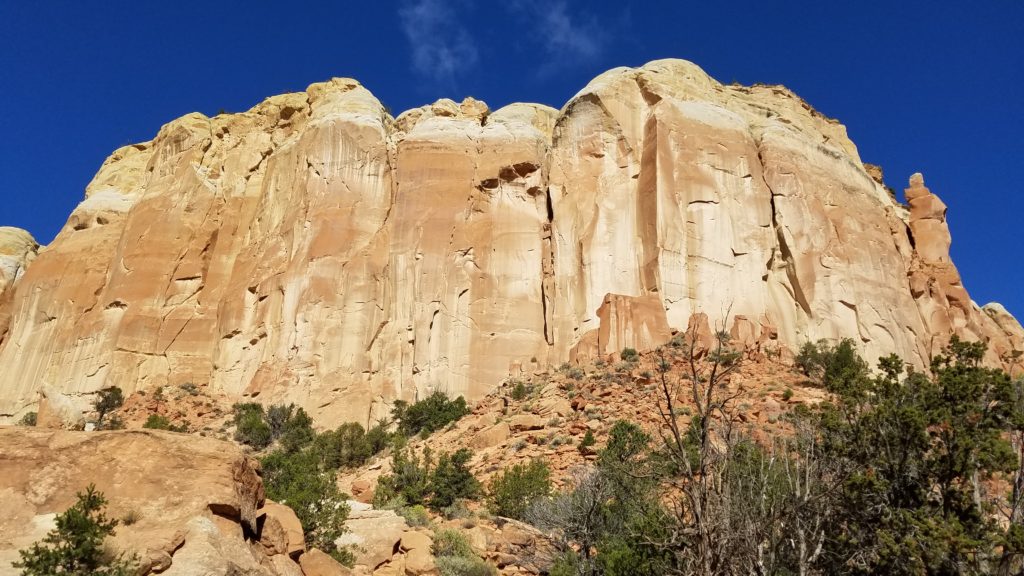 Red sandstone canyons appear and I hike a faint trail down through one of them. I see some bear tracks but am more concerned about rattlesnakes. It's so beautiful all around. A desert spring filters down from a ledge and the water is crystal clear.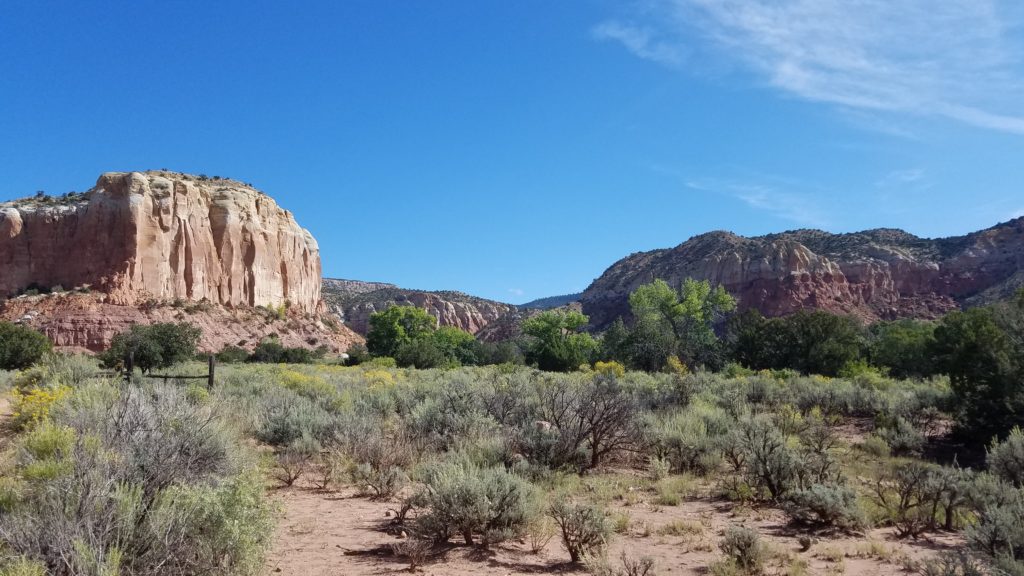 The trail winds down the box canyon to Ghost Ranch Education Center and Retreat. It's a sprawling complex of adobe buildings and is popular with artists…they make pilgrimages to honor Georgia O'Keefe. She studied and worked around this area. One of the cabins is titled as her studio. There are artists lined up along the road, painting the morning light. They all think I'm coming back from a day hike and are shocked to learn that I hiked here from Chama, from Colorado, and from Canada.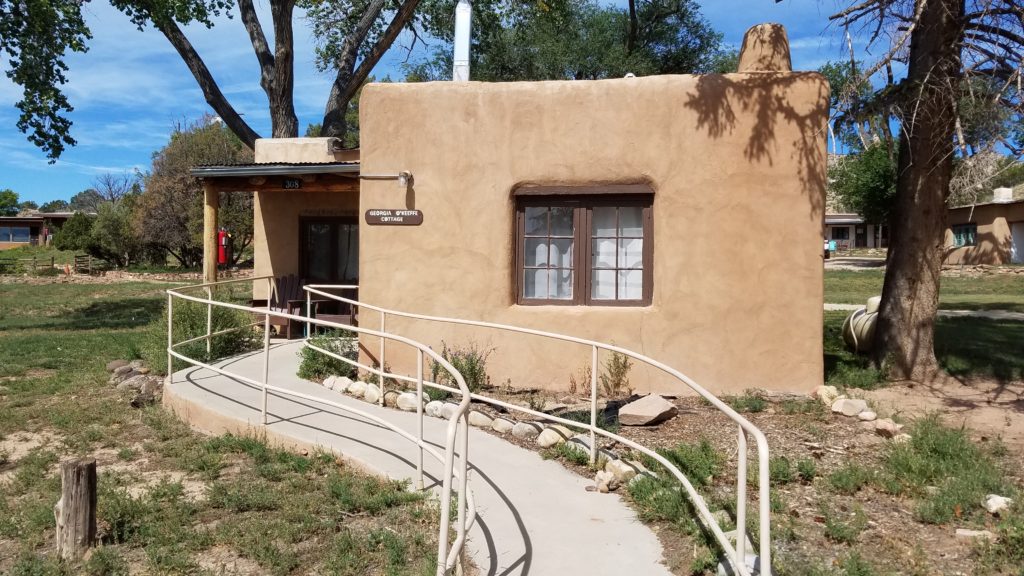 I never know quite how far to take it…if I lead with Canada, then I just sound like I'm making a joke. It's too ridiculous for most people to believe and I come off sounding like a jerk. I really sound like a jerk if I mention that I did it last summer too. It is rather ridiculous when I think about it myself.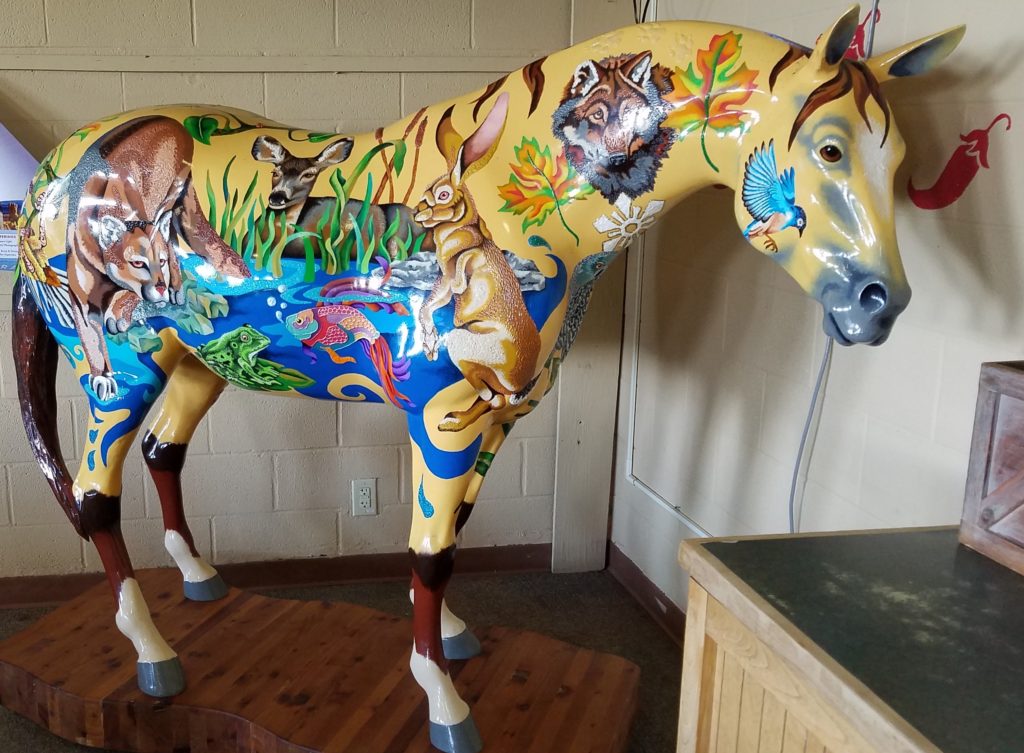 I get to the ranch with plenty of time to dry my stuff and get cleaned up a little. DNA and Etch a Sketch arrive and then Relentless. I wanted to walk with him on this last day but I was just too cold in the morning and needed to move fast. It's not the same as finishing at a border with a monument but at least it's a beautiful spot. Congrats Relentless, you did it! And most amazingly, you put up with me for thousands of miles!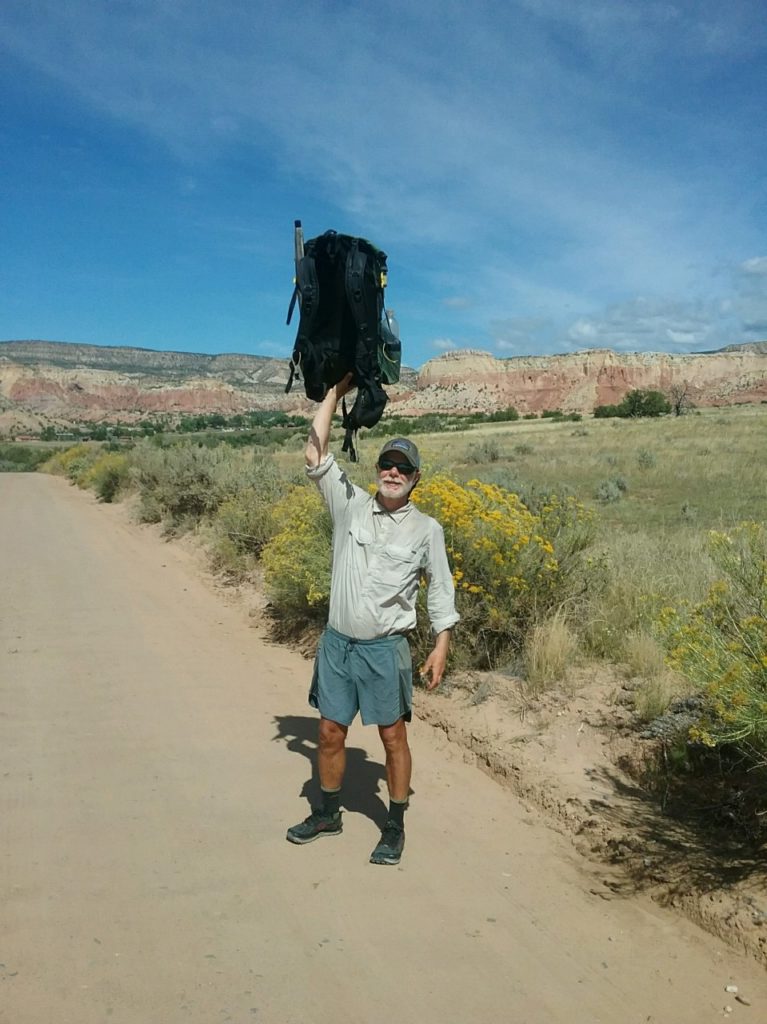 We celebrate by having a huge lunch…it's AYCE Taco Tuesday! I make a stupidly large plate and proceed to eat so much that I'm in severe pain. Leaving the dining room, Relentless and I can barely walk, but we have to go about 1.5 miles down to the HWY to either hitch or catch the free bus. I struggle to hold things down, unwilling to loose the calories that I worked so hard to put in. Binge eating is no fun. Relentless looses his battle and pukes on the road. Instead of feeling sympathetic for him, I start laughing, which makes my stomach hurt even worse. What a way to finish a thru-hike…eat so many tacos that you puke. That's some Class A Hikertrashiness. Passing tourists give us dirty looks and steer clear as we walk by. Sorry…but not sorry. Word seems to get around and no one will give us a ride to the highway. Oh well.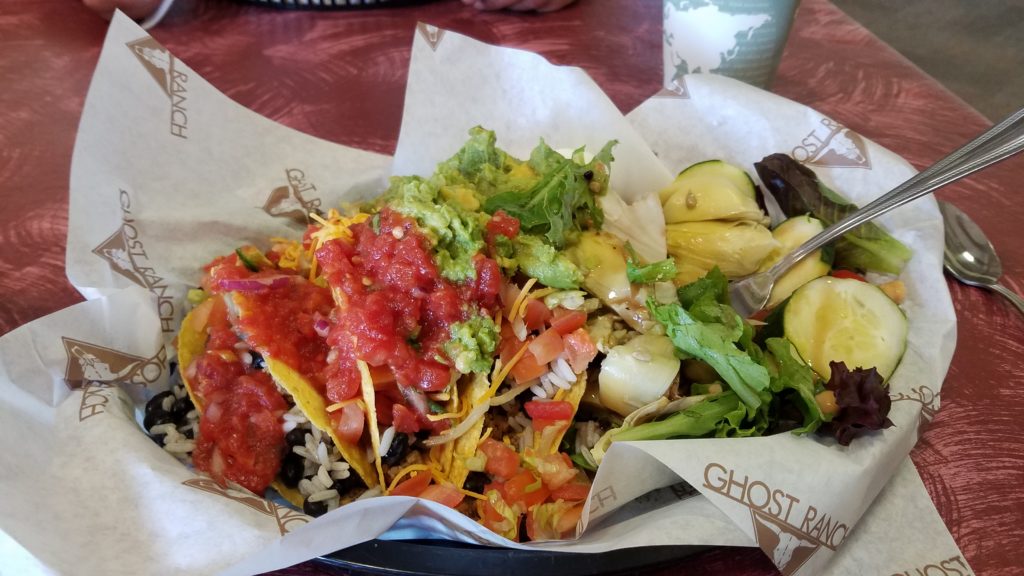 DNA and Etch are at the highway waiting for the bus, so we join them. One free bus will take is to Española and a second will take us to Santa Fe. Most hikers send boxes to Ghost Ranch but we have a free place to stay in Santa Fe, thanks to Chadi, our new friend that we met in Chama. I also want to see Relentless off by having a nice (non-puking) dinner. He flies home the next morning.
Chadi picks us all up at the bus station and drops off the couple where they need to catch their next bus to Denver. They flipped and started just one day behind us, but we never knew of them until Lake City. It's too bad because they're both great people. DNA just got his PhD in geology (volcanology—how cool is that!) and Etch a Sketch is a talented artist (buy some of her here nice work on Etsy here). They're flying back to stay with relatives near DC until they figure out what to do next…their triple crown is complete but I can tell they aren't done hiking just yet.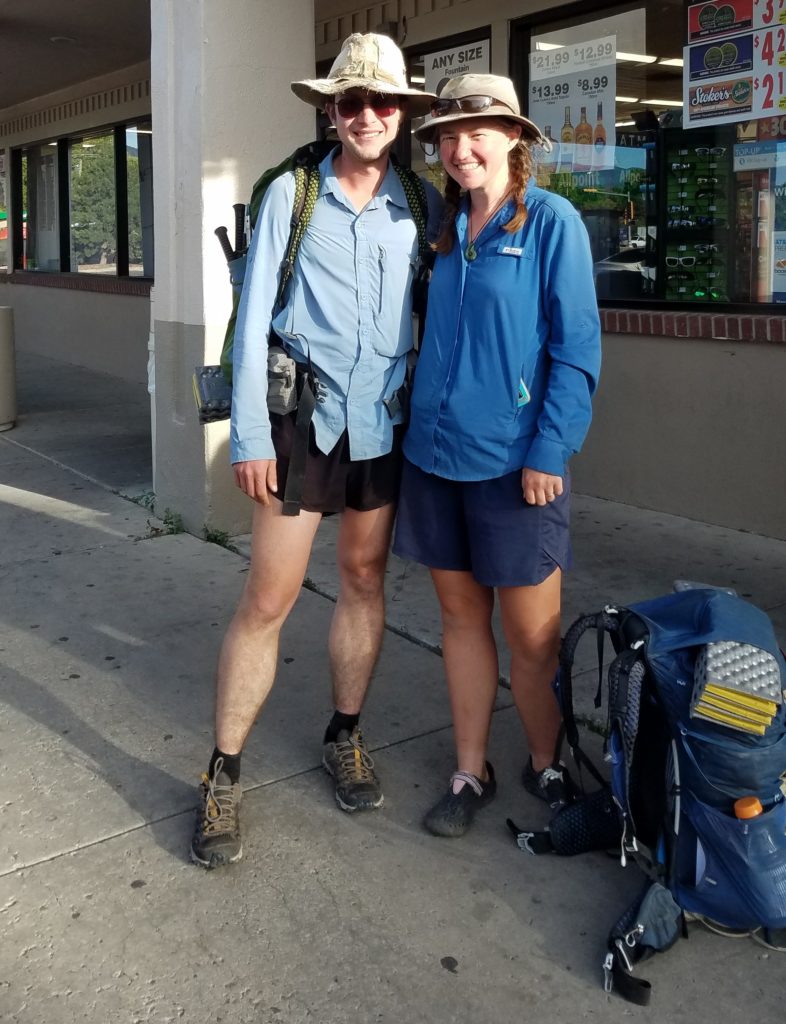 We settle in at Chadi's house and walk to a pub for dinner. She let's me borrow some of her clothes since all of mine are being washed. She's my height and very slim, but even her skinny jeans are a bit loose on me. Still, it's not often that I find a friend whose clothes fit so well. It's also lucky that her roomate is out of town, enabling her to easily accommodate 2 smelly semi-strangers. Chadi, you're a great trail angel and soon to be thru-hiker!
At dinner, Relentless's burger comes with a chili relleno on top…Santa Fe. We talk about Chadi's job as a solar project manager, suggesting how she might forsake it all to thru-hike. We're a bad influence. Her co-worker, Eden, is also at dinner and kindly offers to drive Relentless to the airport in the morning, since Chadi has to leave super early for an assignment.
We crash in Chadi's living room, but not before showing her all our gear. The poor lady. I hope she'll at least get some section hiking started. She's a New Mexico native and there's a ton of splendid hiking in this great state!