September 25th, 2019
HWY 84 mm 8.9 of Ghost Ranch alt to mm 2340.9
Distance in miles: 21.2 plus 2 miles walking through town and on the highway
1245-1910
We get up early since everyone has to be out and about. Chadi takes off first, leaving us her house to lock up. Then Eden arrives to take Relentless to the airport. It's a sad parting after all this time. I've never had a trail buddy for a whole trail and I can't imagine what the CDT would've been like without him. The trail is so hard, being alone too might have sucked.
By 7 am, I'm alone in the house and looking at bus schedules. A bus leaves Santa Fe at 1020 and I can be back on the trail by around noon. I lock up and walk about a mile to the station. There's a plaza nearby with a dollar store, Trader Joes, and a Subway…perfect. I do most of my resupply at the dollar store, then wonder around TJs wishing I could get all the stuff I normally buy, which requires a refrigerator and kitchen. I do score a 5 pack of mini-brie bites, each individually packaged. I hope they'll be ok not being refrigerated for days.
I'm sad to say that I don't see much else of Santa Fe. I consider walking downtown but it's another mile and I would probably miss the bus. The next bus isn't until the late afternoon. I just want to get back on the trail and finish this thing already. It's another 170 miles to Grants, with a pit stop in Cuba. I'm so close to being done.
I make all my bus connections and am back on trail by 1245. First, I have to walk a mile on the highway from the bus stop to where the trail crosses. Then I walk a dirt road for 8 miles to reconnect the alternate to the CDT. The road leads to the Chama River and then winds along it. Pink and golden rock buttes abound and the artists are all along the road trying to capture the splendor.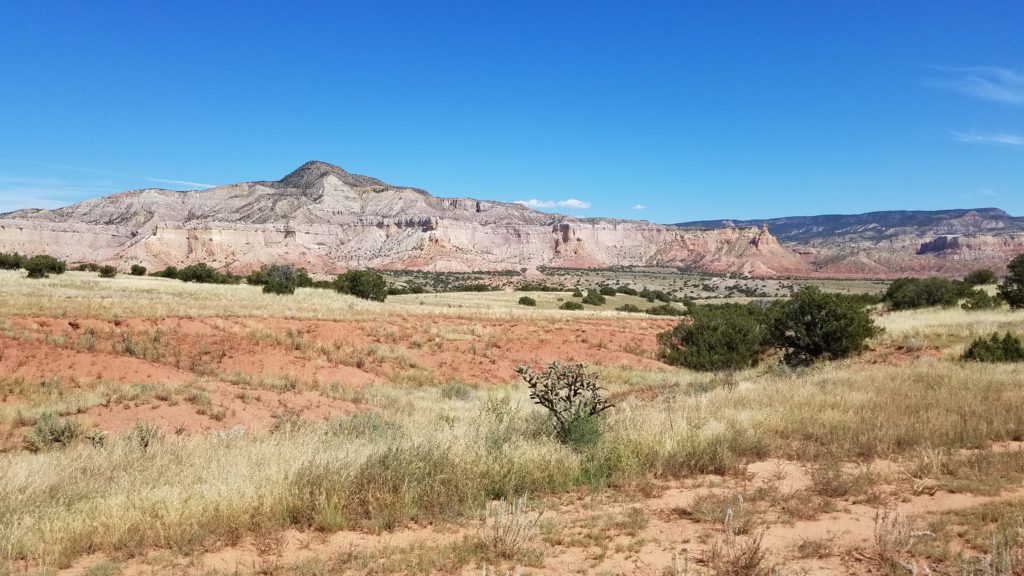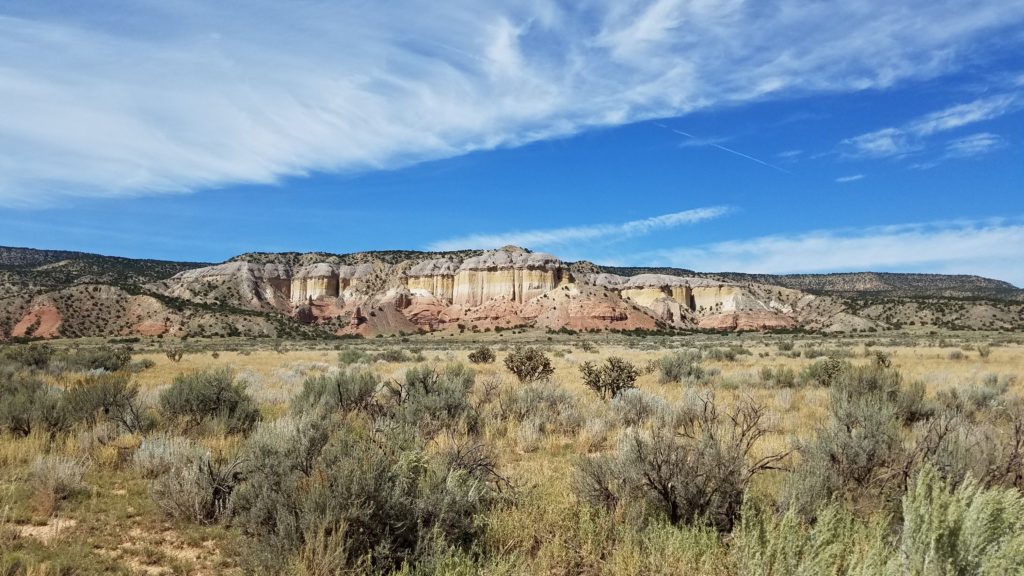 There are many cars on account of the visiting artists but they all drive really slow as they go past. The recent rain keeps the dust down. It's one of the most pleasant and scenic road walks I've ever done, albeit a little warm. After being so cold at elevation, I've sworn not to complain about being hot again. It's not so bad that I even need my umbrella.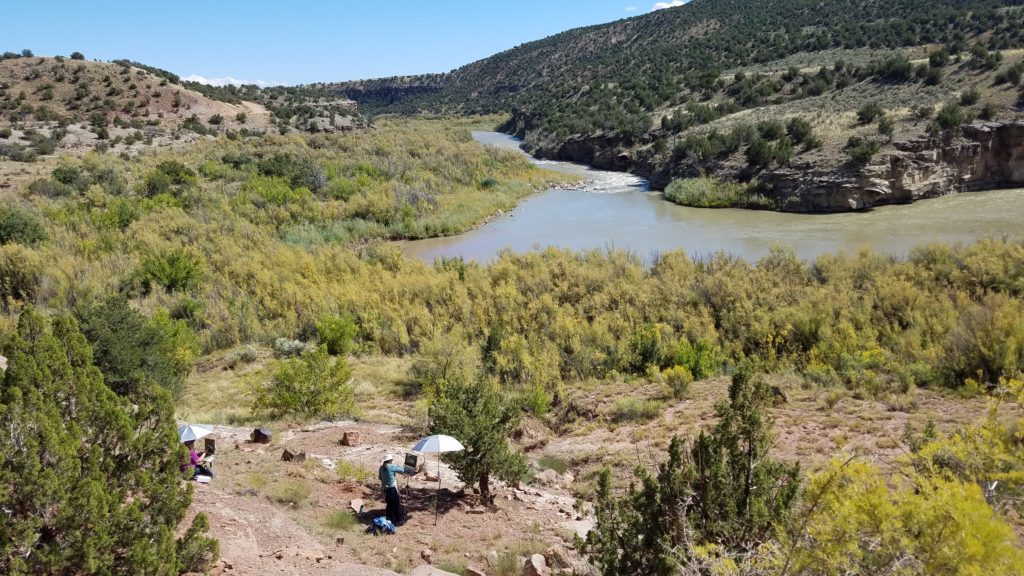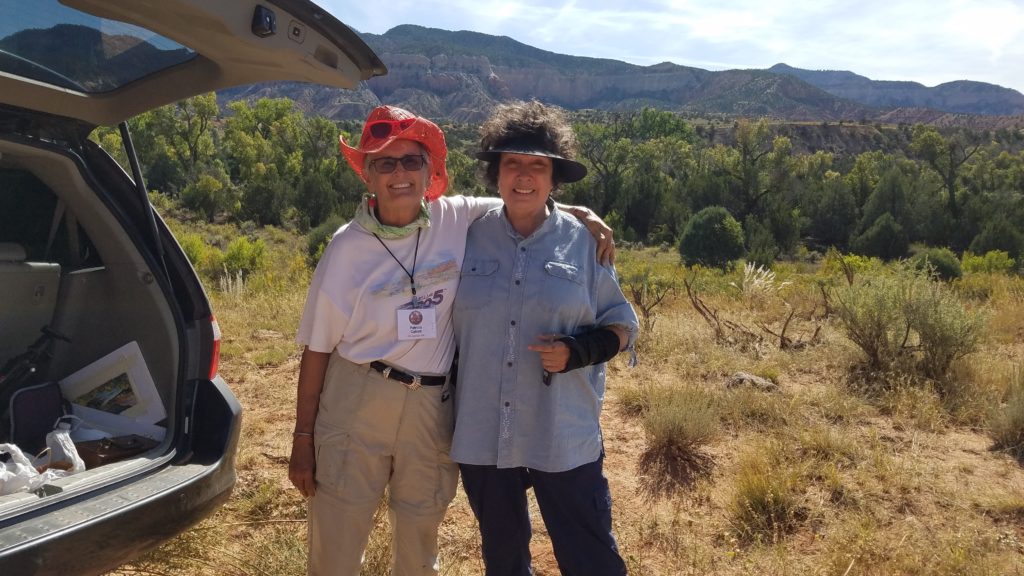 Just before I leave the road, 2 artists offer me cold water, cheese crackers and Godiva chocolates. This is very welcomed since I'm almost out of water and would otherwise have to filter more at the next cow trough. These sweet ladies, Pat and Elizabeth, tell me that there's a Swedish hiker just a few hours ahead. Oh good, I think, someone to catch. I thank them for their kindness, cross the river on a bridge, and begin a singletrack trail on the official CDT.
This trail winds up a broad canyon to a stream, crossing it many times. I see the tracks of several in front of me, including the very fresh Altra Lone Peaks of the guy just ahead. It's reassuring that 1, I'm on the right trail and 2, there are others out here. I'm very comfortable on my own but it's an adjustment, even still. I hiked the whole basin alone and I know I'll be fine on this similar-in-length stretch.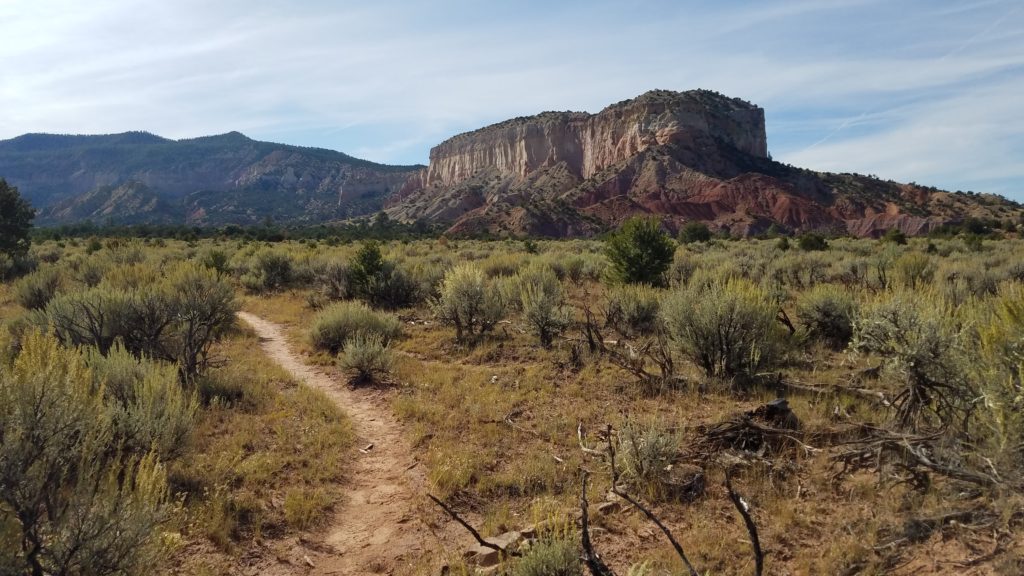 I climb about 1,000′ to the top of a mesa, then walk a jeep road for awhile. I hear elk calling very close but don't see them. I see lots of cows instead. There are meadows and dense forests at the top and it's cooler. I miss a junction from the road and walk about half a mile off trail. I find another jeep trail to reconnect but in the process, bypass the last water source in 12 miles. Oops.
I have 1.5 liters and calculate that will be enough for overnight and through the next morning. I walk until it's just getting dark and find some nice flat duff under scrub trees. I've gone halfway down from the mesa and it's very dry and warm once again. The crickets lull me to sleep and the night shift of the desert keeps watch. I feel very much at peace.