September 23rd, 2019
Rio Vallecitos mm 2275.3 to Harris Bear Spring mm .5 of Ghost Ranch alt.
Distance in miles: 26.0
0620-1700
It's so cold in the valley in the morning, as I knew it would be. But at least we're dry under the trees. We have to climb about 2000′ up and over the last big hill on this stretch at 10,500′. The climb is stretched out over 9 miles, so it's pretty easy.
We run into DinoDNA and Etch a Sketch, a thru-hiking couple that we met in Lake City. They are completing their Triple Crown and first met on the AT. Now, years later, they are a day away from finishing the last of the 3 long trails, together. They have also lived and studied in New Zealand, so of course they did a part of the TA. We walk and chat with them for the better part of the morning. The miles pass quickly and easily until…
The whole day consists of a series of confusing trail and jeep road intersections. On a few occasions, we walk roads that are more straightline and just reconnect to the trail. For most roads, it's hard to tell by the map if they connect back. Plus, the GPS line is offset or inaccurate for more than a quarter of the distance today. I guess that the trail has been re-routed a lot and Guthooks didn't bother to update the positions.
This fumbling around is all well and good in nice weather but by noon, things take a turn. First some high clouds roll in, then low soggy clouds fill the sky to the south. The forecast was for a chance of thunderstorms and some rain showers but it becomes totally socked in, right where we're headed.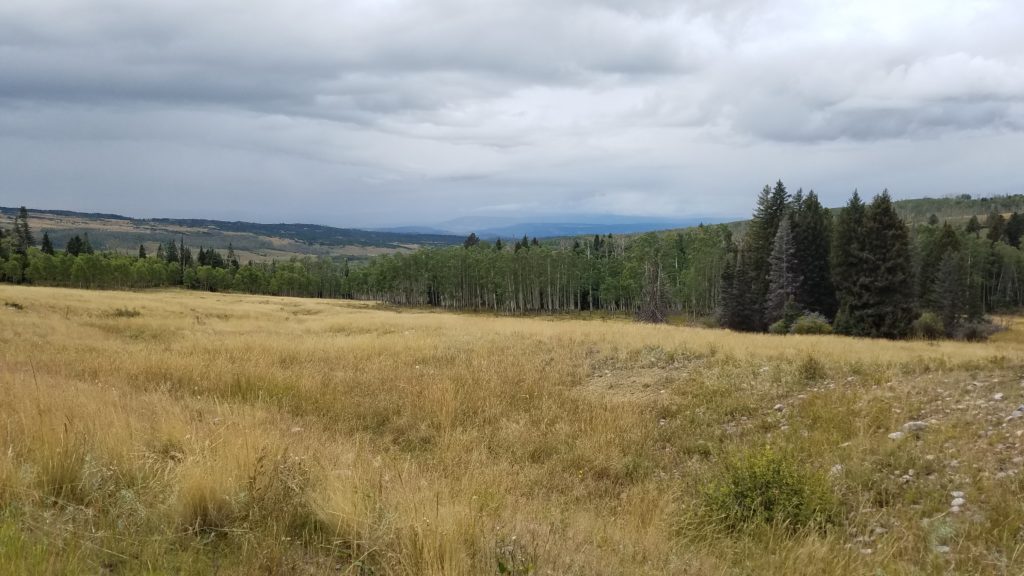 I prepare for rain and gradually it comes. First a sprinkle, then a drizzle, and finally full on hypothermia rain. It goes on for hours, all afternoon. I just walk, listening to podcats, and wondering how arid New Mexico suddenly turned into a temperate rain forest.
The trail winds down through scrub oak, aspens, and open grasslands. I think it would be beautiful if I could just see it. It's foggy and dreary, with visibility down to 100 feet at times. I struggle to figure out the trail at many points, frustrated by the poor mapping and lack of markers. The rain has washed away any footprints and the bad visibility makes it even harder to see what I'm heading for.
It stops raining by the time I reach the last water source for the day, a piped spring. I collect water and move down the trail just a few hundred yards before setting up under some Ponderosa. I had wanted to do more miles in the late afternoon but the rain has got me in a bad mood. The mud clings to my shoes and it feels like I have 10 lb weights strapped to my feet. I have to wash the mud off my legs at the cow trough, it's so gross. I just want to stop, get warm and eat dinner.
Relentless finds me hidden away and we settle in for our last night together on trail. He finishes at Ghost Ranch tomorrow. I'm happy for him but sorry that his penultimate day was so crappy. Many others are finishing a NOBO thru-hike in the northern Cascades on the PCT, in Glacier NP on the CDT, and in Maine on the AT. Cold rain and snow are common at those locations this time of year. But we SOBOs are getting freezing rain in New Mexico. This isn't the way it's supposed to be…what gives?