September 22nd, 2019
Lagunitas Campground mm 2245.2 to Rio Vallecitos mm 2275.3
Distance in miles: 30.1
0630-1800
I sleep so well in our perfect campsite. And I get to use a toilet in the morning! The day starts off very cold. We walk through fields covered in frost wherever there's a stream or seep. First rays hit us right at 7 am and just as a I spot a herd of elk up the hill. They quickly filter into the protection of the trees. You have to get up early to be able to see these guys, especially during hunting season when everybody is out looking for them.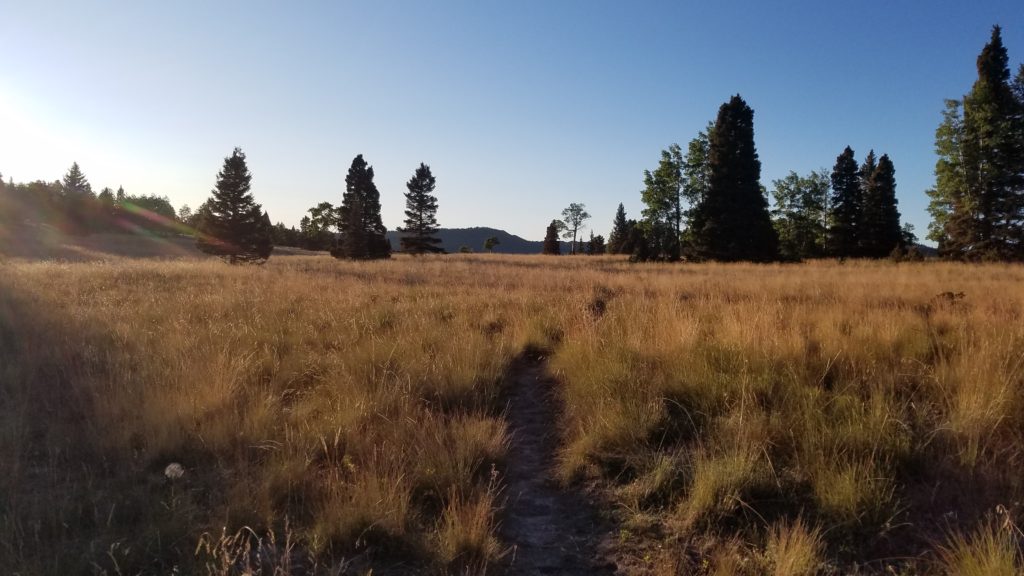 We walk through more open fields of high grass, interspersed with aspen and conifers. It's so idyllic that I feel I'm walking through a park most of the day. Or maybe a savanna. At one point, we walk along the top of a canyon, looking down at a broad valley below. There are cows and then a lone fox. I'm loving the vantage points.
Later, I cross paths with a few bow hunters and right after they pass, 4 turkeys walk across the field. One finally spots me looking at them and they scurry back into the trees. It's as if they waited for the hunters to go by but didn't account for me. I also spook a group of 3 adult grouse and wonder if they are gathered for a Lek, whereby the males dance for the females.
We walk until the mid afternoon to take a lunch break at a lake and rec area. The lake is full of weird green stringy stuff, like algae or worms, so I walk a ways to collect from the outflow. I sit down at the pavilion to eat my meager lunch and have to sit on the ground, not at the picnic table, just to avoid the cold wind. Otherwise it's perfect weather.
We walk downhill to a river valley most of the rest of the afternoon. There we camp, knowing it will be quite cold and maybe damp in the morning. But it's a nice spot among some trees. Relentless builds a fire and we just enjoy another quiet night. We're winding down to our last days on the CDT and there's a deep sense of fulfillment that permeates these nights, but also a touch of sadness. It's almost over. How does one ever come to terms with the end of such a long journey?